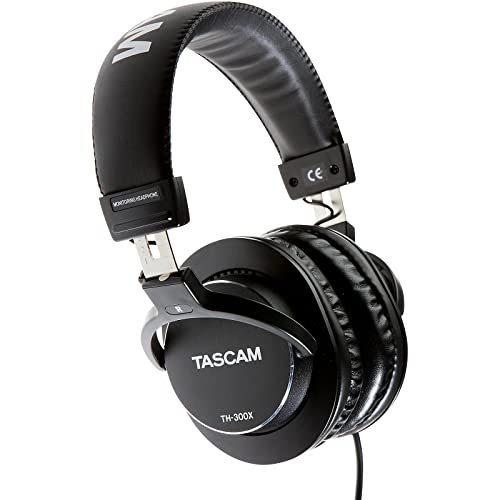 Tascam TH-300X
TH-300X Studio Headphones
TASCAM's TH-300X provides the...
The closed-back design isolates the...
Are you interested in a set of studio headphones? Maybe you need a studio headphone badly. But you are confused among all those headphones in the market; which one to pick up!!
If your situation is like that, then don't worry.
I have come up with a good headphone that will be perfect for your studio use.
And it is Tascam TH 300X headphones. Today I am here to present my Tascam TH-300X review.
So, get ready to explore it.
Tascam TH-300X Review
I have included every detail of this Tascam TH 300x, including all its functions and features.
Well, I would like to start my review with the important features of this headphone. See them in a blink.
At A Glance
Large-Diameter Drivers.
No Sound Leakage.
Great Sound Isolation.
No Distortion.
Cable Is Not Detachable.
Not Waterproof.
Tascam TH 300X is an over-ear, wired headphone for studio monitoring. It performs great for home listening to studio monitoring.
Anyway, are you interested to know about Tascam Brand? Just check Tascam TH-200X. I have written about this Brand there.
Since I am a top fan of Tascam, I could not control my greed when Tascam released TH-300X. At that time, I purchased this headphone and have been using this for a long time.
Now let's know-how was my first impression.
In The Box
When I got TH 300X headphones on my hand, I felt delighted. Yes! Again I got a new set of studio monitoring headphones. What an exciting moment it was!
When you open the box, you will see your desired
Closed-back Tascam TH 300X headphone.
An attached cable.
A ¼ inches stereo adapter.
Two manuals.
The instruction manual informs you of its specs, how to use, caution, and warranty information in detail.
Unfortunately, this TH-300X headphone doesn't come with any extra accessories, not even a carrying pouch.
See the cable details below.
Cable Details
You know Tascam 300X headphone comes with an attached cable with 3.5mm audio jack. Unfortunately, the cable is not detachable, which makes me a little bit unhappy.
Regardless, the attached cable is coiled and long enough for comfortable movement.
The cable is 6 feet when coiled and 12 feet when stretched.
The long cord will be helpful for comfortable moving while listening or monitoring.
You know a ¼ inches adapter is also included. It makes this headphone compatible with most devices. 
The gold plated adapter won't be rusted and crackled after a few years of use. 
Right now, I am going to mention the specs and pros-cons of Tascam TH-300X headphone.
Have a look here.
Key Specifications
Headphone Type: Over-Ear, Closed-Back.
Frequency Response: 10Hz-26kHz.
Impedance: 40 ohms.
Sensitivity: 98 ± 3dB.
Driver: 45mm Diameter.
Connector: Wired/3.5mm Audio Jack.
Cable Type: Coiled.
Weight: 14.4 Ounces.
Color: Black.
Pros
Excellent Sound Quality.
Great Comfort.
Sturdy Build Quality.
Superb For Studio Monitoring.
Cons
Slightly Bulky.
Uncomfortable With Glasses.
Are you worried about its comfortability? Definitely, you won't want to spend money on an uncomfortable headphone.
So, it's important to check it before buying.
Are They Comfortable?
Tascam TH 300X headphone provides enough comfort that you can expect from a quality studio headphone.
The soft leatherette earpads give you extra comfort to your ears. The earpads are very large, which is well-suited to the most ear size.
It comfortably fits my ears. I never felt hurt or even hot when I was wearing this headphone for an extended period.
The adjustable headband also makes it very comfortable for multiple hours of wearing. The headband is well-padded, and it is fit for most small or bigger head sizes.
The clamping force is perfect too.
You may feel comfortable when listening by lying in bed. But the long cord may disturb you somehow.
However, you cannot wear this headphone with glasses comfortably. If you wear glasses for a long time, it can create pressure on your ears, and you will be hurt.
Now, I will describe one of the most significant parts of a headphone. That is the sound profile.
Stay with me to know the details.
Sound Profile
The sound quality of Tascam-300X is superb. The sound is very rich and full.
The large-diameter drivers offer plenty of bass response, with an accurate treble without being harsh for extended recording sessions.
The frequency response of this Tascam TH-300X is 10Hz-26kHz. This range works great for all genres of music.
This headphone provides the clear, uncolored sound that musicians demand in the studio. It provides plenty of power handling and isolation for tracking and live use.
When I listen to music, I generally lock myself in a room, shut all lights off, and get immersed in the music.
At that time, this headphone always gives me crystal clear audio and an improved listening experience.
When mixing or recording in the studio, I heard very clear and real audio.
I felt this headphone provides a naturally balanced sound. And I really expected the clear and natural sound from this quality studio headphone. 
Sound Leakage
The Tascam TH-300X headphone has a decent sound leakage performance. As it is a closed-back headphone, it doesn't leak any sound.
The earpads cover the ears perfectly and prevent the sound leakage. 
So there is no chance that nobody will ever feel disturbed when listening at a loud volume.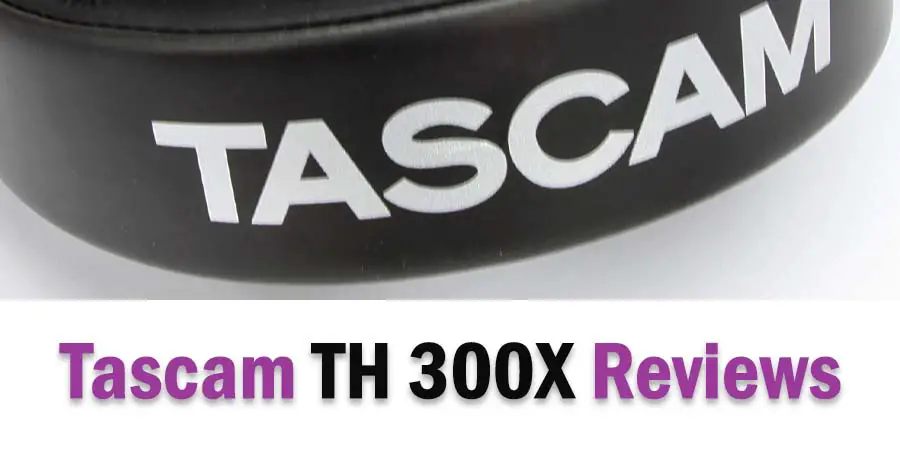 Noise Cancelling
This headphone has no Active Noise Cancelling feature. As an over-ear, closed design headphone, it can passively isolate background noise. That is not adequate, though.
When listening at a loud volume, it can slightly isolate unwanted background noise.
There are plenty of headphones that have active noise cancelling feature. If you want noise-canceling headphones, you may go for Sony WH-1000XM4.
Microphone
The Tascam TH-300X headphone doesn't come with a microphone.
If you want a headset with a mic, Tascam 300X is not for you. You may go with MAIRDI M USB headset if the mic is essential for you.
Build quality of a headset is important. As it determines the durability of a headphone, you should check it before purchasing.
How Is The Build Quality?
The TH 300X headphone has a sturdy build quality.  It is made of a metal skeleton and plastic.
The overall building materials feel very strong and durable.
My headphone survived a few accidental drops but still, it is ok. It only starts to peel off. 
So, overall this headphone is long-lasting and durable enough.
Now let's know how it looks.
Design
The Tascam-TH-300X headphone comes in black color, which looks superb to me.
At the top of the headband, the highlighted writing "TASCAM" in white color gives this headphone a different look.
Is It Portable?
The TH 300X headphone is not excellent for portability. The weight of this headphone is 14.4 ounces which is not lightweight at all.
It is not foldable also. So it won't be easy to carry it anywhere. 
The long attached cord will be problematic too. But if you have to carry it, you can use an extra bag.
Stability
The Tascam TH-300X is stable enough when listening by sitting at a desk or other. But when you do heavy workouts or sports activities like running, biking, skiing, hiking, cycling, etc., it will not be stable enough.
As the headphone is bulky, there is a chance that it will fall from your ears.
Is Tascam TH-300X Waterproof?
This studio headphone is not waterproof. It is not sweatproof either. Therefore, always keep your headphone away from water and heavy sweating.
If you want waterproof, you may go with Plantronics 211856-99 earbuds; it is sweatproof also.
Are you worried about whether you can use this studio headset with your other devices or not? Don't worry.
You will get your answer below.
How Much Compatible With Other Devices?
Tascam TH 300X is compatible with most devices that support a 3.5mm audio jack. 
If your device doesn't support a 3.5mm jack, you can connect it with the ¼ inches adapter.
However, the device needs to have a ¼ inches audio jack port in that case.
This TH-300X headphone is compatible with Windows 10 and Mac. You can use it with Android also but not with iPhone.
Cause the latest version iPhone doesn't come with an audio jack. You need to use a third-party dongle to connect it with your iPhone. 
Now let's know how much it is suitable for gaming.
Is It Suitable For Gaming?
The TH-300X studio headphone is not a professional gaming headset. But you can use this headphone with gaming consoles only for audio.
It provides you loud and clear audio when playing a game. The long cord also provides you comfortable movement when gaming.
But you can't talk to other players as it has no mic.
It is most compatible with PS4, Xbox One, and Nintendo Switch.
So, this headphone is suitable for gaming if you don't need voice chat.
You know Tascam TH-300X is a studio headphone. Do you know how does it perform for studio monitoring?
I am going to reveal it now.
How Much Suitable For Studio?
This headphone performs great for studio monitoring. I have said it from my personal experience.
It provides me clear, loud, and natural audio when mixing or recording. It always keeps me focused on my work. Sound leakage and background noise never distracted me.
No matter how soft or loud you are monitoring, the TH-300X can handle plenty of power without distortion.
Besides the positive sides, this studio headphone has some shortcomings too. It is not suitable for all purposes. That's why you need to know who can buy it and who should skip it.
Who Should Buy It?
You know, for studio monitoring, Tascam TH-300x is an ideal headphone.
Besides, it is also superb for audiophile listening.
If you want a headphone for home listening, this headphone is perfect for you. 
This 300X headphone is suitable for official use also.
Who Might Skip It?
Do you want a headphone for outdoor sports, gym, running, or cycling? If yes, then you can skip it.
For heavy workouts or sports, you may check AfterShokz Trekz Titanium headphones.
You cannot use this headphone for online teaching or meeting, as it has no mic.
Customer Support
Tascam provides very user-friendly customer support. They always love to hear the customer and give the best service to them.
Right now, maybe you have no question about the features of Tascam TH-300X headphone.
So, it's time to compare it with other headphones.
Compare With Other Headphones?
To know why Tascam TH-300X headphone is different from others, we need to compare this headphone with others. 
1. Tascam TH-300X Vs Sony MDR 7506
TH-300X and Sony MDR 7506 both are over-ear, closed-back headphones.
Sony MDR 7506 is a professional stereo headphone ideal for sound monitoring in a recording studio. It provides high-quality sound.
This headphone is foldable, while TH-300X is not foldable. Besides, MDR 7506 is more lightweight than TH-300X.
2. Tascam TH-300X Vs Tascam TH-02
Tascam TH-300X and TH-02 both are over-ear closed-back headphones for studio monitoring.
The price of TH-02 is relatively affordable than 300X.
The TH-02 has a decent sound quality. But the overall building quality is cheap and plasticky. It is not comfortable also.
The small earcups don't seal the ears well enough and not suitable for a loud environment.
Overall, TH-02 is not a quality headphone like TH-300X.
3. Tascam TH-300X Vs Tascam TH-03
Both are closed-back headphones for studio monitoring. But the TH-03 is cheaper, and its quality is also lower than TH-300X.
The TH-03 is somewhat more portable than 300X because of its adjustable arms. It also provides crisp and rich sound quality but not like 300x.
The price of TH-03 is lower than 300X.
4. Tascam TH-300X Vs Tascam TH-05
Tascam TH 300X and TH-05 are both studio monitoring headphones. They have some significant differences between them.
The price is a major issue between them.
The TH-05 is lightweight and flexible. But the sound quality is very poor.
At the same time, the TH-300X is a quality studio monitoring headphone with excellent sound and comfort.
5. Tascam TH-300X Vs Tascam TH-06
Tascam TH-06 and 300X are both closed-back studio headphones. The TH-06 is a headphone for convenience and versatility.
The bass  of this headphone is strong enough and suitable for those who love strong bass.
But overall, TH 300X is sturdier enough than TH-06.
6. Tascam TH-300X Vs Tascam TH-07
Both are studio-style headphones. TH-07 has 50mm drivers that deliver a high resolution, comfortable listening experience.
Its cable is detachable, while TH 300X has an attached long cord.
The TH 07 comes with a leatherette carrying bag to protect the headphone when transporting. But you won't get any carrying pouch with the Tascam TH-300X.
In contrast, the 300x provides more robust features than the TH-07.
If you have a plan to buy this headphone, it is important to know how worthy it will be.
How Worthy Is It?
As a studio monitoring headphone, TH-300X provides strong features for studio monitoring like mixing or recording.
This headphone offers a very neutral and clear sound. It can block a good amount of background noise too.
Its soft earpads and padded headband give extra comfort for long time wearing.
Besides studio use, it is also suitable for home listening.
So, if you compare the features with its price, it is an excellent and budget-friendly studio headphone.
After going through my Tascam TH 300X review, don't worry if you think it is not ideal for you or need an alternative. See the next segment. You will find your solution there.
Alternative To Tascam TH-300X
You can choose one of the following headphones as an alternative to our described headset.
All three headphones are almost identical to our TH 300X. So, pick one out of these three if you need an alternative.
That's all for today.
Conclusion
Finally, you have got a clear-cut idea from my Tascam TH-300X review. I explained everything from a neutral point of view. I hope it will be handy for you to make your decision.
Therefore, go with your right choice.
Thanks For Reading This Article.