Indeed you are a fan of Sennheiser, and that's why you want to purchase a pair of Sennheiser HD280Pro headphones. Right?
Sale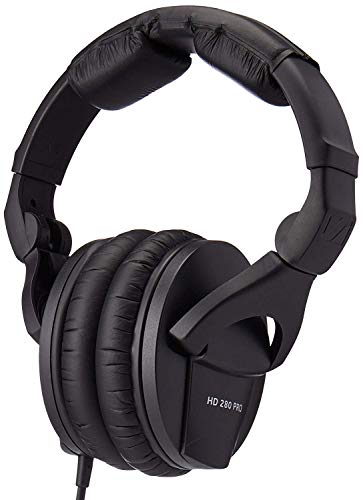 You may have heard that Sennheiser has come out again with a new model the HD280 Pro. They launched the same HD280 Pro with a few changes.
If you are looking forward to getting the new model, you must know the details about this headphone.
Now smile and be happy as I am here today with my Sennheiser HD280Pro review!!!
However, before taking a deep dive into the review, I would like to let you know about this Sennheiser brand in brief.
Brand Overview Of Sennheiser
Sennheiser is mainly well-known for its consumer headphones and professional headphones and microphones.
The Sennheiser was founded in 1945 by Fritz Sennheiser. It is located at Wedemark, Germany, near Hannover.
Sennheiser has a long and well-established history in the technology industry.
Now this company is represented in more than 50 countries over the world.
In 1968, Sennheiser launched the world-first open-back headphones.
However, as a top fan of Sennheiser, I could not control my greed to get this HD280 Pro headphone when released in 2003.
Finally, I purchased the new model of this headphone.
I will share both its strong sides and shortcomings in this review.
At the very beginning, I want to give a quick overview of this Sennheiser headphone.
Let's see what is waiting for us.
At A Glance
Closed-Back & Over-Ear.
Passive Noise Isolation.
Replaceable Earpads And Headband.
Neutral Balanced Sound.
No Sound Leakage.
Suitable For Mixing And Recording.
Cable Is Not Detachable.
Not Stylish.
Sennheiser HD280 Pro is a closed-back, wired headphone. It is mainly designed for pro-monitoring applications.
When I got my Sennheiser HD280 Pro new model in my hand, I was so excited. I couldn't wait to open the box.
Are you curious to know what they deliver in the box with the headphone?
Have patience. I am going to reveal it.
In The Box
Unfortunately, it did not come with any pouch or case. So, I felt a little bit unhappy. It is not a big issue, though.
In the box, you will see your desired
Sennheiser HD280 Pro headphone.
A ¼' stereo adapter screwed onto a 3.5mm plug.
A coiled cable.
A user manual.
Now I will add the cable details in the below section for you.
Cable Details
You have already known that this HD280 Pro comes with an attached coiled cable.
There is no way to detach the cable and it made me a little bit worried. But you will find a TRS adapter pin with your headphone. You can connect this pin to an audio interface or an amplifier.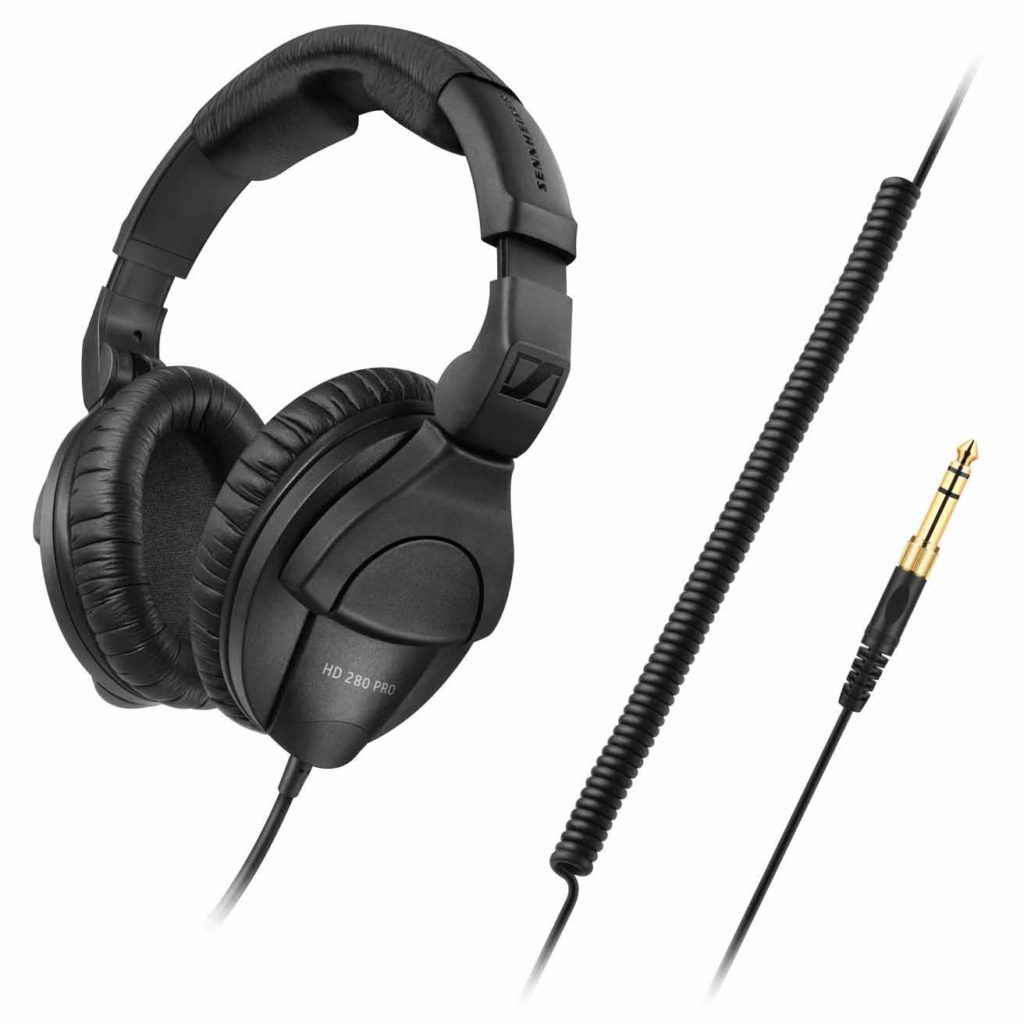 As the attached cable is coiled, it is perfect for use in the studio or production environment.
If you want some cable flexibility but don't need a lot of extra wire, it is perfect.
The cable length is 3.3 feet (1 meter) when it is coiled. But it is 9.8 feet (3meter) when it is extended.
The 3.5mm plug has a good joint in the earcup with a ¼" screws adapter which is secure for fit. It helps you to prevent accidental detach.
Now I am going to mention their keys specs with pros and cons.
Key Specification
Type: Over-ear, Closed-Back.
Frequency Response: 8Hz-25000Hz.
Impedance: 64 ohms.
Sensitivity: 113dB.
Connection: Wired-3.5mm jack.
Cable Length: Coiled Cable (min-1 meter / max-3 meter).
Weight: 285 grams ( without cable).
Color: Black.
Pros
Decent Build Quality.
Extremely Comfortable.
Passive Ambient Noise Reduction.
Superb Sound Quality.
Cons
Cable Is Not Detachable.
Bulky, Not Stylish.
Everyone wants to have a headphone that can provide great comfort. So, comfortability is important.
Are They Comfortable?
At first, I thought this HD280 Headphone might not be comfortable as it looks bulky. But I was wrong.
I felt more comfortable during my long-time listening.
The ear cups are incredibly soft and squishy. They are also very large and well-padded that easily fit around most ears.
The spacious design prevents your ears from getting touched with the inside of the cups.
If your ears do touch, don't worry, as Sennheiser has thought ahead. They include a ring of thick foam along the inside of the pad.
But when I was wearing this headphone for a long time, I noticed they got a bit sweaty after an hour.
Many people complain that the ears get hot after a long time of use.
But I did not felt like that. However, the experience may vary from person to person.
Come to the headband now. There is a major difference between the HD280 pro old model and the new model in this case.
Sennheiser launched HD280 pro new model only for a comfortable headband. 
The older version does not provide much comfort, and the headband feels tight on the outer part of the head.
The new model headband is sleeker than the older HD280 version.
The headband padding has a large cutout in the center.
It is mainly designed to prevent the creation of a hot spot in the middle of your head.
Overall, I think this newly professional headband makes this pair very comfortable.
The clamping force is also appropriate for improved isolation.
The headband doesn't hurt me at all.
Besides, you will be pleased to know that their earpads and headband are easily replaceable.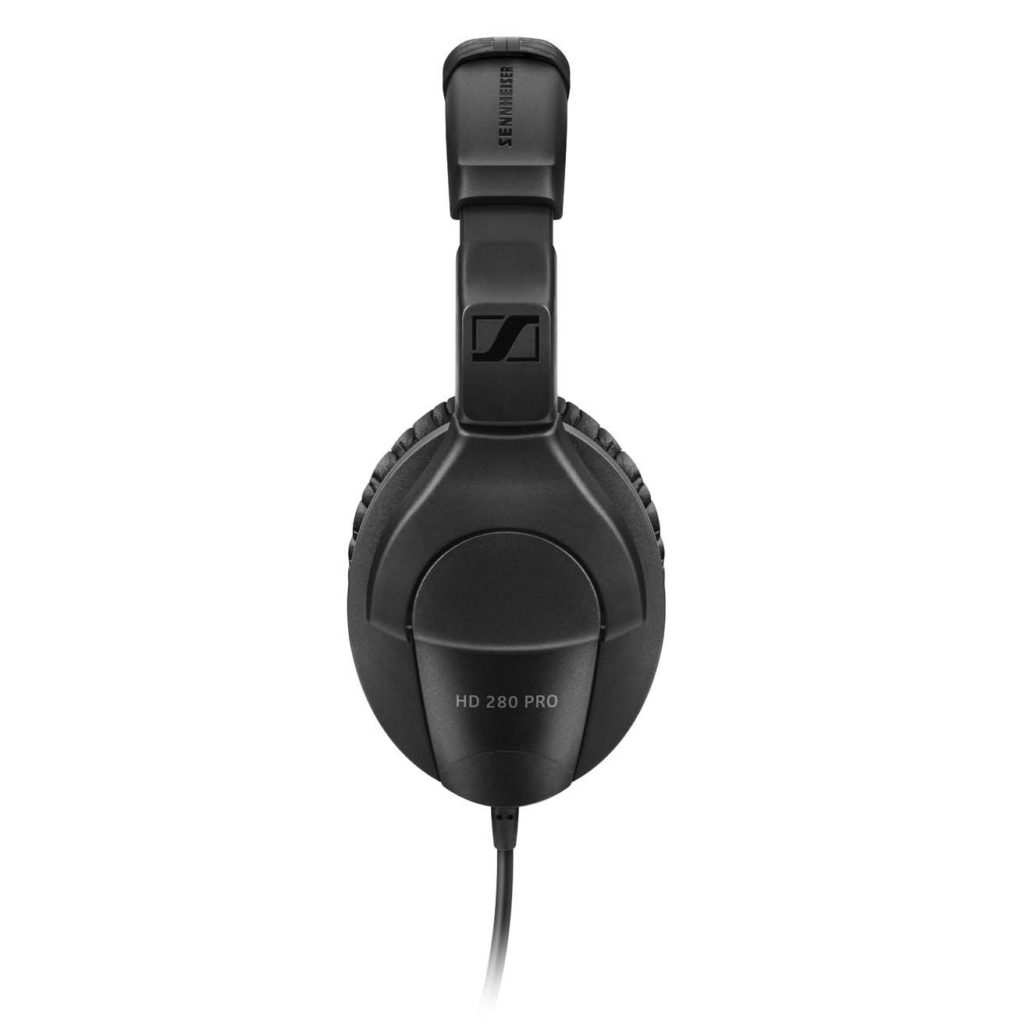 Here comes the most important part now. That is the sound profile of the Sennheiser HD280 Pro. I tried to cover every detail of a sound profile in the below section. Just go through it.
Sound Profile
Its closed-back design makes it perfect for listening in a loud environment, like a recording studio, commuting, or around a noisy area.
Musicians, DJs, audio engineers always appreciate the neutral balanced sound profile of this headphone.
It is great for the 64-ohm impedance with dynamic drivers and transducer.
The sound pressure level (sensitivity) is 113dB, which is appropriate for natural sound reproduction.
Overall, I found the sound very enjoyable, and I have no complaint at all. Yet, if you want the same sound quality with some extra facilities, you can check Shure SRH1440.
Now reveal the sound profile step by step.
Frequency Response
The frequency response of Sennheiser HD280 Pro is 8Hz-25000Hz. It is reasonably flat frequency response and suited for a wide variety of listening tasks.
Bass Accuracy
The bass accuracy is excellent.
Many audiophiles love the sound quality of this new model only for its accurate and precise bass response.
Mid Range
The mid-range of HD280 Pro is surprisingly detailed and clear. The response through the range is relatively even and flat.
It is crucial considering that's where the majority of tracks sound information lives.
Treble And Low Accuracy
The treble performance of this HD280 Pro headphone is excellent. The high response is well-balanced, and the low accuracy is superb too.
Their overall combination is enough for crystal clear listening.
Soundstage
The HD280 Pro new model wired headphone has a sub-par soundstage.
The overall soundstage is perceived as relatively small and located inside the listener's head.
Sound Leakage
The sound leakage performance of Sennheiser HD280 Pro headphone is outstanding.
Therefore you can listen with confidence that nobody will be able to hear your music even if the sound is loud.
Passive Noise Isolation
The padding around the ear cup fully covers the outside of the ear. It provides a great seal for increased bass response and noise isolation.
It has passive noise isolation.
Passively reduce noise with 32dB noise isolation. This closed-back headphone has one of the best noise attenuation ratings.
It can not completely block out loud noise like active noise cancellation. But its passive isolation is quite impressive.
Microphone Features
The Sennheiser HD280 Pro does not have a microphone. If you want a headset with a mic, you may look at Sony WH-1000XM4. It provides you mic with active noise canceling feature.
When you buy a new headphone, you must wish to use it for a long time. That's why durability or build quality is important.
How Is The Build Quality?
The build quality of Sennheiser HD280 Pro is very sturdy.
The earcups and headband are made of dense plastic. They can handle a fair amount of physical stress.
However, the ear cup joints are the weak points where this headphone is most likely to get damaged.
I found a slight scratch on one side of the headband. But it seemed like it happened during manufacturing process.
However, it's not a big issue. Fortunately, my headphone survived a few accidental drops. So it has pretty good durability.
Now I will talk about the portability, stability, and design of this Sennheiser headphone.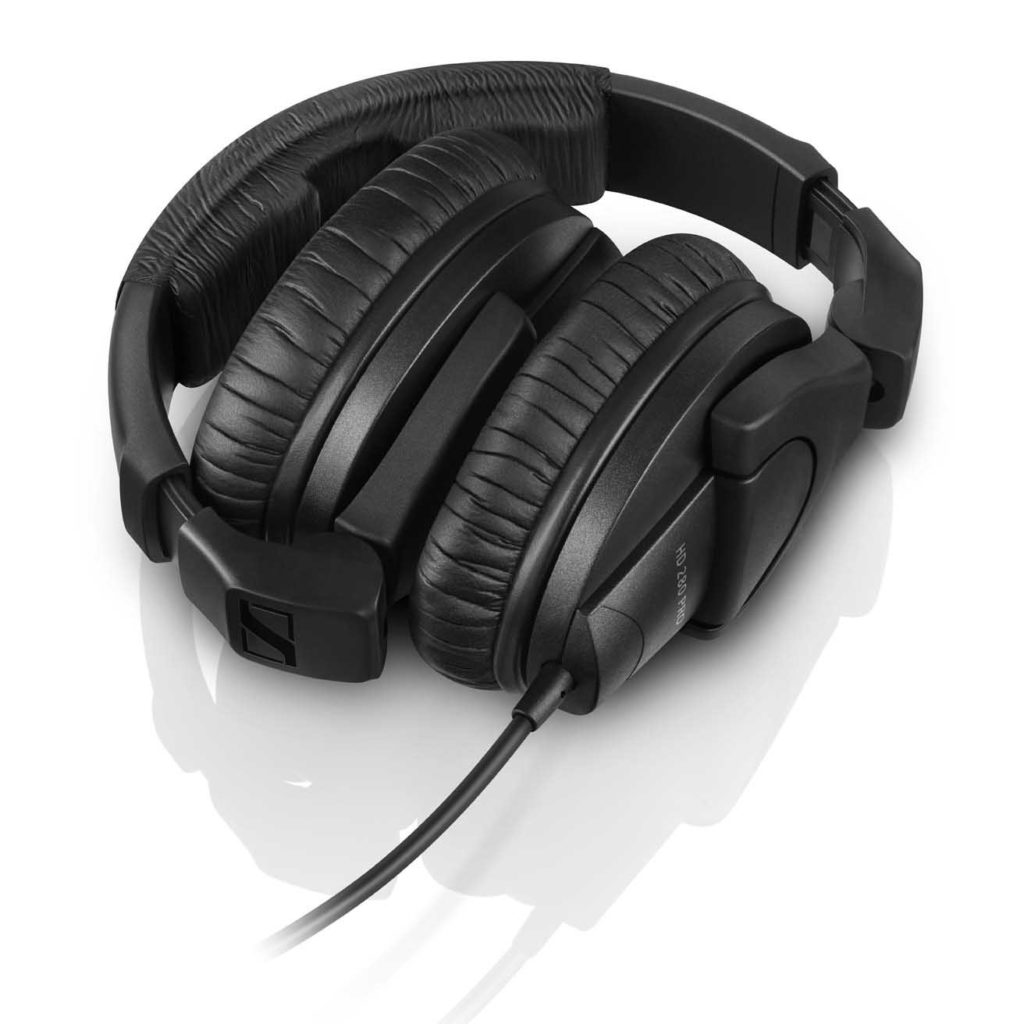 Portability
The HD280 Pro seems very bulky, but actually, it's not. You cannot tell that it is lightweight, though.
Its weight is 285 grams without wire.
This headphone is not good for portability.
Luckily, it can fold up into a more compact design, making it easier to carry around.
It fits comfortably in a backpack. But you can not carry it even in a larger jacket pocket.
Stability
The HD280 Pro headphone is not very stable.
It can easily slide off your ears during heavy activities like running or jogging.
Sennheiser HD280 Pro New Model, solid fit during casual use but not for a heavy workout.
How Is The Design?
Do you like stylish headphones or want to present yourself uniquely?
Then this HD280 is not for you.
For stylish headphones, you may look at Bose Quiet Comfort II headphones.
When I was wearing this headphone, I felt like wearing an old telephone on my head!
But this design helps it to achieve the clamping force that is necessary to do work properly.
So from my thinking, Sennheiser HD280 Pro Closed back headphones are not stylish looking at all.
But overall, it is good.
Is It Waterproof?
Ops! The Sennheiser HD280 does not provide a waterproof feature. It is not ideal for swimming.
If you need waterproof headphones, you may look at Sony NW-WS413LM earbuds.
You can not use this HD280 headphone for a heavy workout if there is a chance of sweating. It is also not sweatproof either.
Let's dig it to the compatibility now.
How Much Compatible Are They?
This headset is compatible with MP3, iPod, DVD, and CD players and mobile phones supporting a 3.5mm jack plug.
HD280 PRO also supports only listening with the latest tablets, from the iPad to the most recent Android tablets and the Blackberry Playbook.
You can also connect this headphone with your PS4 or Xbox One.
But unfortunately, you can only hear audio. There is no talking option as this headphone has no mic.
Is Sennheiser HD280 Pro Suitable For Gaming?
The Sennheiser HD280 provides only audio for equally the ps4 and Xbox One.
It would be a decent set of headphones for gaming if you didn't need voice chat.
It has good sound and a low latency wired connection which is suitable for gaming.
Anyway, I have mentioned earlier that this Sennheiser HD280 Pro is a great studio monitoring headphone.
So, let's know how perfect it is for studio use.
How Much Suitable For Studio?
The Sennheiser HD280 Pro is mainly designed for studio environments such as mixing or recording.
This closed-back headphone can block out the outside noise. Therefore, it is perfect for mixing.
In a recording studio, you can trace all the sound properly. The background noise won't distract you when wearing this headphone.
This headphone is a suitable option for studio monitoring. You can entirely focus on your work.
Well, you have already known a lot about this headset.
Are you still confused?
To ease all your confusion, I am going to discuss who can buy this headphone and who should skip it.
Who Can Buy This Headphone?
You know this HD280 Pro Closed-back headphone is ideal for studio monitoring work.
If you are professionally creative to do work or field recording, you can keep it on your shortlist. It is also good for voice over.
Besides, if you are working in a noisy coffee shop or loudly office environment, you may also look at it.
If you don't need to talk to other players and want to play alone, it will be great for your gaming too.
This HD280 Pro is also superb for everyday home listening.
So overall this headphone is perfect for home listening to studio monitoring.
Who Should Skip It?
For the lack of a microphone, it is not ideal for the phone call.
If you need headphones for a call, you can check Best Neckband Headphones For Calls.
The Sennheiser HD280 Pro is not perfect for a heavy workout.
If you need a headphone for sports, gym, or other heavy activities, you may go for Sennheiser CX Sport Headphone.
It is also not ideal for online teaching or classes.
This is my overall Sennheiser HD280Pro Headphone review.
Now let's compare this headphone with other headphones. I hope you can have a more precise idea with this comparison.
Compare With Other Headphones
To know which features make this headphone different from others, we should compare it with others.
1. Sennheiser HD280 Pro Old Vs New
Both the old and new models feature the same technical specification. They also provide the same characteristics.
However, the new HD280 has been redesigned to provide a more comfortable fit. That's why they have brought some changes in the headband.
2. Sennheiser HD280 Pro Vs Beats
The HD280 Pro is a completely wired headphone for studio monitoring.
The Beats offers the most wireless headphones for studio monitoring. Like Beats Studio 3 Wireless headphone.
It provides active noise cancelling features, while HD280 offers passive noise cancelling.
The Beats Studio 3 is more comfortable than the HD280 headphone.
3. Sennheiser HD280 Vs AKG K371
The Sennheiser HD280 is slightly better than AKG K371. Both are good for the studio.
But AKG K371 is great for listening than studio use.
HD280 provides passive noise isolation, but K371 has not this feature.
So HD280 is more suitable for studio use than K371.
4. Sennheiser HD280 Pro Vs DT770 Pro
The Beyerdynamic DT770 Pro is a better neutral listening headphone than Sennheiser HD280. The DT770 Pro has a more accurate sound profile than HD280.
It is also tremendously more comfortable than HD280.
Overall, Beyerdynamic DT770 Pro is better than HD280 Pro for studio work.
My comparison part ends here.
Knowing all the features of Sennheiser HD280 headphone and going through the comparison section,
Are you thinking it will be worth buying or not?
No problem, let's go for the final result.
How Worthy Is It?
The Sennheiser HD280 Pro is a decent critical listening headphone for studio monitoring. It provides superb sound isolation technology.
It passively blocks out up to 32dB of external sound.
Moreover, this HD280 has good sound reproduction, and it feels durable enough to withstand multiple accidental drops.
Overall the HD280 Pro is worth buying for studio monitoring for its price point.
It is best for studio monitoring than everyday listening.
Still, you may not want to buy this Sennheiser headphone. I know it can happen. That's why I have come up with some alternative options for you.
Alternative Of Sennheiser HD280 Pro
Here is the list:
You can select one of them as an alternative to our Sennheiser HD 280 Pro headphone.
Conclusion
Finally, you have known all the ins and outs from my Sennheiser hd280pro review.
I explained all the features from my own experience so that you can make a wise decision. Now, it's up to you totally.
I hope you will invest your hard-earned money in a good product.
I always give priority to your choice.
Thanks For Reading This Article.