Isn't it surprising that a headphone of the '90s is still equally popular among todays professional audio engineers? Even with all the advancements we've made!
I think you may be able to guess the name I am about to announce… It is nothing other than the Sony MDR7506.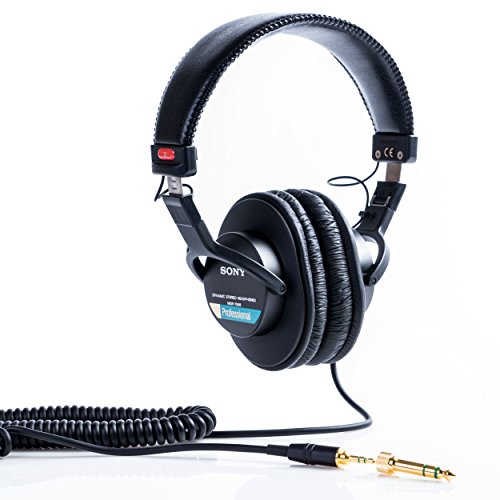 Sony MDR7506
Neodymium magnets and 40 millimeter...
Closed ear design provides comfort...
9.8 foot cord ends in gold plated...
The history of this headphone goes back to 1991, read on to find why it is still a great choice.
There are countless reasons why it has been so well appreciated in the music community still until this day.
So today I present to you a Sony MDR-7506 Review.
At A Glance
40mm PET Diaphragm And Neodymium Magnet.
Excellent Power Handling And High-Quality Sound.
Best For Studio Monitoring And DJ.
Excellent Noise Isolation.
Folding Construction For Easy Carrying.
Gold Connectors And OFC Cord.
Cable Is Not Detachable.
Ear Cups Don't Swivel.
Sony MDR – 7506 is an over-ear closed-back professional large-diaphragm headphone. It is ideal for studio monitoring and every general listening.
It's a budget pair of headphones that provides studio-level sound quality and some awesome features.
Sony MDR-7506 was released in 1991 and still now it is considered one of the most reliable headphones in the market.
At first, let's see the accessories that come with the box.
What's In The Box?
As a studio worker, I couldn't control my greed to use these well-renowned headphones. I was too delighted to get such a praised headphone.
This headphone comes with a soft carrying pouch.
In the box, you will find your desired…
Sony MDR7506 pro stereo headphone.
An attached cable.
¼ inches adapter.
A user manual.
A warranty card.
Apart from these, this headphone doesn't come with any extra accessories.
I have included the cable details too. Check it out.
Cable Details
I highly expected a detachable cable. So I was a little bit sad as this 7506 headphone came with an attached cable.
The cable is coiled. This coiled cable is 1.8 meters but it can stretch up to 3 meters when fully extended. This cable uses a 3.5mm audio jack which is always a useful inclusion.
It's a professional-quality OFC ( Oxygen Free Copper ) cord and perfect for a studio environment.
Sony MDR – 7506 is a totally wired headphone and doesn't support a Bluetooth connection.
For Bluetooth headphones, you may check out Sony WH-CH700N Wireless Headphones.
Right now, I am going to mention its specs and pros-cons. See them in a blink.
Key Specifications
Headphone Type: Over-Ear, Closed-Back.
Connector: Wired/3.5 mm Jack.
Driver Size: 40 mm.
Frequency Response: 10 Hz – 20 kHz.
Impedance: 63 Ohms.
Sensitivity: 106 dB/mW.
Power Handling: 1000 mW.
Weight: 8.1 Ounces.
Color: Black.
Pros
Superb Sound Quality.
Great Comfort.
Prevent Sound Leakage.
Affordable Price.
Cons
Not Stable For Heavy Workouts.
No Mic.
Maybe you are super excited to know about its every feature. So let's start with how much comfort it can provide.
How Much Comfortable Is It?
Sony-7506 is a very comfortable pair of headphones. It is designed to wear for extended periods. So, you will get a long time wearing comfort.
The ear cups are so soft, well-padded, and large enough to fit nicely around most ears. They won't be too tight, so you won't feel uncomfortable during long listening sessions.
I was wearing it for multiple hours and never felt any pain.
However, my ears got a little bit hot and sweaty after 1 hour of usage.
So I took a break after 1 hour.
Closed ear design and soft ear pads ensure long-time wearing comfort.
The headband is also well padded and good-sized. It can fit in any heads.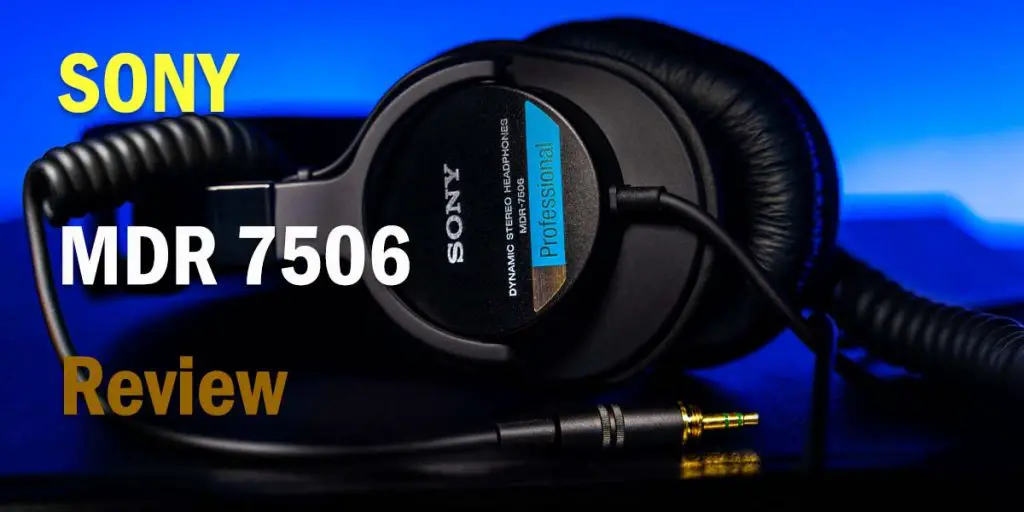 It's very comfortable to wear with glasses. You can also wear this headphone when lying in bed. But the long cord might distract your happy listening.
The clamping force of the Sony MDR7506 is very standard. The well padding ear cups and headband give you the right fit, and you will feel a nice clamping force.
You have already known that these headphones have been much appreciated for their quality sound. So, aren't you curious to know their sound profile?
Ok, then let's go for it.
Sound Profile
It is well-renowned for its bright and signature sound. The sound profile is just awesome for this price range.
The 40mm drivers provide great sound with 63 ohms rated impedance.
It is primarily considered as studio headphone. But the sound is excellent when you use it for listening to a wide range of musical genres.
When I was listening to the song, I felt the sound very crystal clear, and well-balanced. I was too impressed by such a neutral quality sound.
Frequency Response
The frequency response of Sony MDR 7506 headphones is 10 Hz – 20 kHz.
It's well suited for all genres of music. The response is very flat and detailed.
Bass Accuracy
The bass accuracy of this headphone is great.
The low bass (2.56 dB) response is thump and rumble for bass-heavy genres like hip-hop.
The mid-bass is also flat but overemphasized by 2.5 dB.
The high bass response is well balanced, which is excellent.
Overall this headphone has powerful and punchy bass without being boomy or muddy.
Mid Accuracy
The mid accuracy is also excellent. This response throughout the range is quite smooth.
It provides a well-balanced and precise reproduction of vocals and lead instruments.
Treble Accuracy
The treble accuracy of this headphone is very decent. The low treble is also smooth and brings a bit of extra presence to vocals and instruments.
Does It Leak Any Sound?
The sound leakage performance of the Sony-7506 is excellent. It doesn't leak sound even if you are listening at a loud volume.
Nobody will ever feel bothered with you while listening to music. Due to its over-ear and closed-back design, it is always safe without any sound leakage.
Noise Cancelling
This headphone doesn't have an active noise cancellation (ANC) feature. However, it can isolate a good amount of unwanted background noise.
Its well-padded over-ear ear cups block the outside noise in a greater way.
Once I was listening at a moderate volume. Still, it did a great job of reducing the noise around me.
So even if you are in a noisy area, you can still be immersed in your listening.
That's all about the sound profile. Now come to its control system. Let's see what is waiting for us.
How To Control It?
Sony MDR7506 doesn't have a control scheme. You can't control the volume, pause, play, or skip your music from this headphone.
To control it, you have to get help from your devices.
This headphone also doesn't come with a microphone. So you can't make phone calls with this.
If you are looking for a headphone with a mic, you may go for Behringer HLC 660M. It's one of the best Behringer headphones for studio and DJ.
One of the key features of a headphone is its build quality. The durability of a headphone mainly depends on it.
So, take your eyes below to know about its build quality.
How Strong Is The Build Quality?
At first glance, I thought its build quality might not be too strong. But it proved me wrong with the time. It is very sturdy and built to be long-lasting.
The Sony MDR-7506 is entirely made of plastic. The making materials feel enough robust and durable.
This headphone can withstand a few accidental drops.
But there is a problem with the hinges. They are relatively weak. They have a chance to get damaged through regular use.
Don't worry if your headphone gets damaged within 1 year. Sony is committed to giving 1 year of hassle-free warranty.
Design
The MDR-7506 has a simple over-ear design in black color. Its branding logos highlight the black color scheme.
Its overall design looks good but nothing special.
Let's go for its portability and stability now.
Is It Portable?
It is a decent pair of portable headphones. It's very lightweight; weight is 8.1 ounces, and it is foldable enough.
You can fold it into a compact format. So you can carry it easily. As it comes with a carrying pouch, it's also handy for carrying.
Wherever you go, just carry it with your backpack. But the attached long cord will be a hassle in this case.
How Much Stable?
This over-ear headphone is very stable for casual listening. But it is not stable when doing heavy workouts.
It can slide off your ears when doing intense activities or sports. You can't do running or jogging with this headphone.
If you love to listen to music when doing sport or heavy work, you should look at earbuds like NANAMI Bluetooth earbuds. they are fairly stable for outdoor listening.
Is It Waterproof?
This Sony MDR7506 professional headphone is not waterproof. It is not sweatproof either.
It cannot withstand any water splashes or heavy sweat. So never think of using this headphone while swimming or taking a shower.
Well, by this time, you have already known a lot about this headphone.
But you must be concerned about its compatibility, right?
I am letting you know about it now.
How Much Compatible With Other Devices?
I have said earlier that this headphone comes with a 3.5mm audio jack and ¼ inches adapter. So, it is well-suited with most devices that support these audio connections.
You can comfortably use this MDR-7506 headphone with Windows 10 and Mac.
It is also compatible with Android, iPad but not with an iPhone. If you want to connect it with iPhone, you need a third-party dongle.
This headphone also can be compatible with any guitar amp.
You can also use this headphone with Xbox One, PS4, Nintendo Switch, and other gaming consoles that support a 3.5mm or ¼ inches connection.
I hope it is clear to you now. But what do you think about playing games with it? Let's find out.
Is It Suitable For Gaming?
Sony MDR-7506 is not a professional gaming headphone, but it is still suitable for gaming.
However, you only can hear the audio. There is no talking option as it has no mic.
It is great for PC gaming.
As the sound is very precise and the cable is long, it will give you an excellent feeling while gaming.
But never expect the perfect gaming features that only a professional gaming headset can provide.
If you need a professional gaming headset, you can try SteelSeries Arctis 7.
You know that Sony-MDR7506 is a studio-style headphone. But how does it perform in the studio? Maybe you are eagerly waiting to know this.
So don't delay. Have a look below.
How Much Ideal For Studio?
Sony MDR7506 is ideal for studio recording and mixing monitoring or mastering. This headphone is very popular in home recording studios.
Besides, it performs great for radio, film production, video editing, and voice-over where high-quality sound is required.
Its every feature makes this headphone ideal for using in broadcast and studio environments.
Overall it is a perfect set of headphones for studio monitoring.
Though it is a studio headphone, it can be used for some other purposes too. That's why, you need to know who can give it a try and who should skip it.
Who Should Buy It?
You have already known that it is a studio monitoring headphone.
Besides, it will be a great pick if you want a headphone for everyday casual or critical listening.
This 7506 is also excellent for audiophile listening and DJ listening.
Moreover, you can use this headphone for gaming if voice chat isn't needed.
Who Might Skip It?
This headset is not for outdoor listening. It is not suitable for sports, gym, running, cycling or other heavy activities.
Also, you can not use this headphone for online teaching or classes. You may check out Taotronics TT-BH041, which is one of the best headsets for online teaching.
It is not ideal for official use or zoom meetings too.
Do you want me to compare this studio headset with some other headphones? It may help you in better understanding.
Compare With Other Headphones
To know the difference between MDR-7506 and other headphones, let's go for a comparative discussion.
1. Sony MDR 7506 Vs. V6
The Sony MDR 7506 and MDR V6 are both similar performing headphones. These two look almost identical, and their sound is also very similar.
However, the Sony MDR-V6 produces a little more bass than 7506. Besides, The V6 is slightly bulkier than MDR7506.
2. Sony MDR 7506 Vs. MDR-7509
Sony-MDR-7506 and MDR 7509 are both over-ear closed-back headphones for studio monitoring. MDR 7506 is a better headphone than 7509.
The MDR 7506 is more lightweight than 7509. Moreover, it is foldable, while 7509 is not foldable.
Both are excellent for studio monitoring. But MDR-7509 is the best headphone for DJ.
3. Sony MDR 7506 Vs. Sennheiser HD 280 Pro
Both are studio monitoring headphones. The Sony MDR7506 is a slightly better headphone than Sennheiser HD280 Pro.
The MDR 7506 provides a more accurate sound profile than HD280 Pro. Besides, MDR-7506 is more comfortable and portable than HD-280 Pro.
4. Sony MDR 7506 Vs. Audio Technica ATH M50X
The ATH-M50x is a better headphone than Sony MDR-7506. The M50x is more comfortable and feels better built than the 7506.
The sound is also very accurate, especially in the treble range.
Apart from these, both are fairly similar headphones, and they are also well-renowned.
5. Sony MDR 7506 Vs. Audio-Technica ATH-M30X
The MDR-7506 and ATH-M30x both are over-ear closed-back headphones. They are very similar performing headphones.
MDR 7506 has an attached coiled cable, and M-30x has an attached straight cable.
However, the MDR-7506 provides a better build quality and more comfort than M30x.
Overall, MDR7506 is a better headphone.
6. Sony MDR 7506 Vs. Beats
Beats by Dr Dre provides many legendary headphones. Studio3 is one such headphone from Beats.
If you compare Beats Studio 3 with Sony-7506 for listening to music, the Beats 3 is more precise than MDR 7506.
It is a wireless Bluetooth headphone, while MDR 7506 is a wired headphone. So there are many significant differences between them.
7. Sony MDR 7506 Vs. Sony MDR 7502
Both are closed-back headphones for studio monitoring. Sony-7506 is a better headphone than 7502.
The MDR 7506 provides excellent sound, better comfort, and build quality than MDR-7502. The 7502 is bulkier than 7506.
Do you have a plan to purchase this Sony-7506 headphone? Then I am going to reveal whether it will be worthy or not.
How Worthy Is It?
Sony-MDR-7506 is a budget headphone that most audio engineers and audiophiles praise.
Its price, wearing comfort, sound, and other features all make this headphone great for home listening to studio monitoring.
If you compare this headphone with its price, it's worth buying.
Both professional and non-professional listeners will fall in love with this headphone.
Thanks to its incomparable sound, durability, and ease of use.
Well, I hope you perfectly considered my Sony MDR7506 professional large diaphragm headphone review.
But if you think it won't be ideal for you, the following section is for you.
Alternative To It
Here's a shortlist of alternatives.
All of them are over-ear closed-back headphones for studio monitoring. You can pick any of them as an alternative to MDR-7506.
Let's conclude it here.
Conclusion
Finally, you have got a vast idea about this headphone from my Sony MDR7506 Review. I tried to give this review from a neutral point of view.
I hope it will be handy enough to ease all of your confusion.
If you think it will be ideal for you, then go for it. Otherwise, you can skip it or choose an alternative.
I always honor your right choice.
Thanks For Reading This Article.