Is it too hard to find a headphone with fantastic sound, well-isolating features, and great durability?
You may find that it's slightly difficult as there are so many good-quality headphones currently available on the market.
One such great option are these Audio-Technica M50X headphones.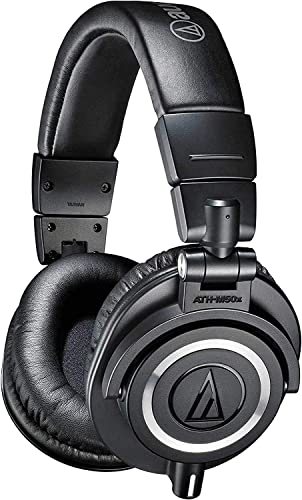 Audio-Technica ATH-M50X
Critically acclaimed sonic...
Proprietary 45 millimeter large...
Exceptional clarity throughout an...
Audio Technica ATH-M50X is a well-rounded, solid pair of headphones suitable from studio monitoring to home listening.
And yes! You have picked the right site for an Audio Technica ATH M50X review.
Before taking a deep dive into the review, find out the important features of this headphone at a glance.
AT A Glance
Passively Isolate Noise.
90 Degrees Swiveling Ear Cups.
45mm Large Aperture Drivers.
Provide Great Sonic Performance.
Great Choice For Studio Mixing, Recording, And Tracking.
No Wireless Option.
Not Sweat And Waterproof.
Audio-Technica ATH-M50X is an over-ear closed-back headphone that has a reputation in the gadget world.
It provides excellent sound with great comfort and is praised by the top audio engineers.
It is a professional monitor headphone that features a sonic signature with the additional feature of detachable cables.
Anyway, if you want to know about the Audio Technica brand, then you can check the Audio Technica ATH M60X review. I have described this brand in detail there.
As I have been working in a studio, I have tasted a lot of studio headphones.
The ATH M50X was released in 2014. When I heard much praise for M50X, I wished to purchase it.
I ordered this headphone online. Right now, I'm very excited, and I want to share with you how my first impression was.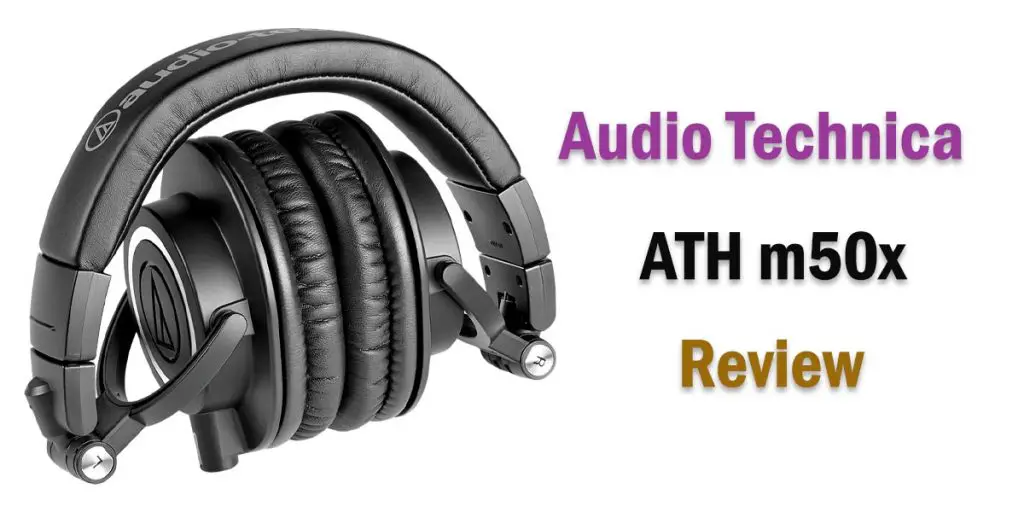 In The Box
Oh! Finally, when I got the ATH-M50X in my hand, I was too delighted.
I opened the box with great excitement.
In the box, you will find
A soft carrying pouch. The carrying pouch can protect your headphone from scratches.
In that pouch, you can find your desired…
Audio-Technica ATH-M50 wired headphone.
3 detachable cables.
¼ inches adapter.
A warranty card, and
A user manual.
By following the manual, you can properly use this headphone.
Besides these, this headphone doesn't come with any extra accessories.
Now see the cable details below.
Cable Details
Thanks, Audio Technica, for giving detachable cables.
You will get three different kinds of audio cables. Two straight cables one is 3 meter, and the other is 1.2 meter.
You will also get one 3 meters coiled cable.
All the cables use a standard 3.5mm jack.
All three cables use a special Audio-Technica proprietary twist and lock mechanism. As a result, unfortunately, you can't use any other detachable cable that is lying around you.
As this headphone has extra two cables, I hope you won't need another cable.
The ATH M50X is a totally wired headphone and has not any wireless option.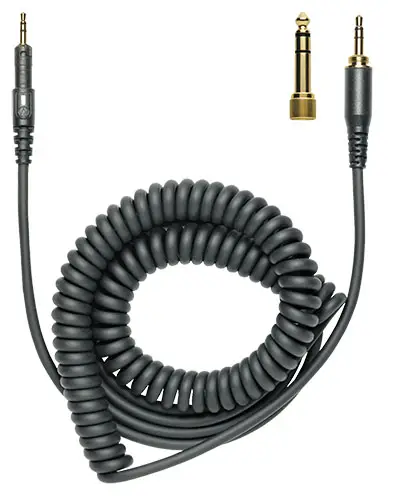 For wireless headphones, you may check Audio Technica ATH M50X BT.
Now let's see Audio Technica ATH M50X specs and pros-cons in the twinkling of an eye.
Key Specifications
Headphone Type: Over-Ear, Closed-Back.
Frequency Response: 15Hz-28kHz.
Driver Diameter: 45mm.
Sensitivity: 99dB.
Impedance: 38 ohms.
Connector: Wired/3.5mm Audio Jack.
Cable Type: Detachable Straight And Coiled.
Weight: 10.1 Ounces
Color: Black.
Pros
Amazing Sound.
Sturdy Build Quality.
Superb Comfort.
Detachable Cables.
Cons
Cable Is Proprietary.
Slight Sound Leakage.
When you decide to purchase a new headphone, you must want it to be comfortable.
Right? Then let's know if it is comfortable or not?
How Much Comfortable Is It?
Audio-Technica ATH-M50X is a very comfortable pair of headphones. It always provides me a long time wearing comfort.
This ATH M50X offers a good amount of padding on the earcups encased in soft faux leather.
The soft ear cups are large enough to fit around larger ears.
But one of my friends who have this headphone felt his ear touching the inside of the earcups. Fortunately, there is a soft lining here, too, so it never created any uncomfortable hot spots.
90 degrees swiveling earcups provide easy one-ear monitoring.
The M50X headphone fits well even in bigger heads.
The headband is well padded. But it is a bit stiff and might create some pressure on top of the head after multiple hours of wearing.
Luckily, you can wear it comfortably with glasses. This headphone is not so convenient for listening by lying. The long cord will be problematic too.
The clamping force of Audio Technica ATH M50X headphones is very nice. The soft ear cups and padding headband provide a standard clamping force.
I am going to discuss the sound profile of this headphone right now.
Look below to know the details.
Sound Profile
I have tasted many headphones, and when it comes to sound quality, the Audio Technica ATH-M50X is one of my recommended pairs.
This M50X presents an amazing sound profile. It provides a neutral balanced sound.
Whether you use this headphone for home listening, studio monitoring, or DJ, you will feel a more precise and crisp sound.
You can only expect this sound from quality headphones.
Frequency Response
The frequency response of Audio-Technica ATH-M50 is fairly neutral.
But there is still a little emphasis on notes in the lower frequencies that you won't find on expensive studio headphones.
Bass Accuracy
This headphone has superb bass accuracy. It is fairly flat and neutral, resulting in a deep bass.
Overall I felt the bass is more strong and deep.
Mid Accuracy
The mid-range of ATH-M50X is excellent.
The low-mid is underemphasized by 2dB. The middle-mid and high-mid are very flat.
It indicates a clear and well-balanced reproduction of vocals and lead instruments.
Treble Accuracy
The treble is also great. It is slightly boosted for clarity.
It is smooth enough to avoid harshness, even when cranked up.
Sound Leakage
The sound leakage performance of ATH M50X is average. It leaks a little bit of sound.
When you are in a quiet area, you feel the sound is leaking, even if you listen at a moderate volume.
Noise Cancelling
The Audio Technica ATH M50X lacks active noise cancellation. You have to depend on the earcups and padding to remove the ambient noise.
This headphone can passively isolate a good amount of background noise.
The circumaural design contouring around the ears offers excellent sound isolation in loud environments.
But never except sound isolate like an active noise cancelling headphones.
If you want active noise cancelling headphones, you may go with Audio Technica ATH-ANC 900 BT.
Microphone
The Audio ATH M50X doesn't come with a microphone. So you can not make phone calls or audio recordings.
If you want a headset with a mic, you may go with the MAIRDI USB headset.
You may be curious about its controlling system.
Let see whether it has got any control system or not.
Does It Have Any Control Scheme?
The Audio Technica ATH M50X doesn't have a control scheme and does not come with an in-line remote like other wired headphones.
Pause, play, or skip functions are also missing in this headphone.
Let's go for its build quality and design now. Good building quality and design will influence you to take that headphone.
How Is The Build Quality?
The ATH M50X is a pair of well-built headphones. This headphone is totally made of dense plastic. The making materials feel very sturdy and durable.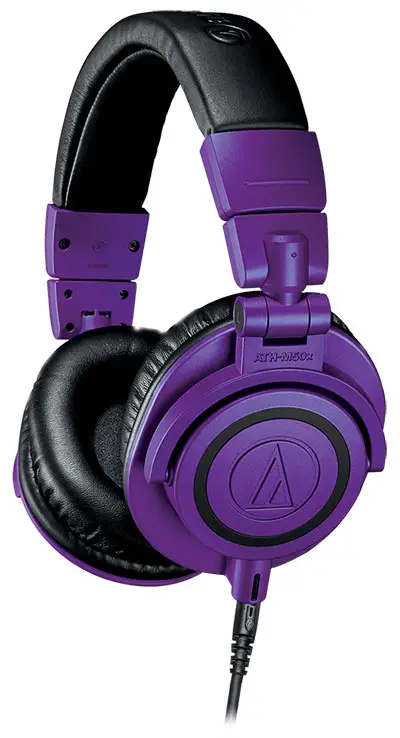 The headband and earcups are made from decent quality synthetic leather.
The headphone will be able to withstand a few drops.
Once my M50x faced an accidental drop, but it is still ok.
However, it seems like it will start to peel off very soon.
If your headphone gets damaged within 2 years, don't worry. Audio Technica is committed to giving two years of hassle-free warranty.
Design
This headphone looks very sleek with the black color.
The flat oval ear cups add a bit more shine to its overall look with silver accents around the logo.
It has multiple color options; white, purple, blue, gunmetal, etc.
They are also very eye-catching.
But the price might vary with color.
Is It Portable?
The ATH M50x is a wired over-ear headphone, and its weight is 10.1 ounces. So, it is not portable enough.
However, as it is foldable, you can fold it into a more compact format and carry it in a backpack.
But it can't be carried in your pockets.
The swiveling earcups are also lying flat, which takes up less space.
Stability
The Audio ATH-M50x is fairly stable during casual use, even if you are often tilting your head.
But it won't be stable when you are doing heavy workouts.
It will easily slip off your ears if you do intense activities like running or jumping.
Is It Waterproof?
This headphone is not waterproof. It is not sweatproof either.
Therefore, it is not suitable for swimming or shower time.
You also can't use this headphone where it has a chance to get sweat.
You will find numerous waterproof earbuds on the market. If you need waterproof earbuds, you may check TOZO T10 Bluetooth earbuds.
Let's dig it to its compatibility right now.
How Much Compatible With Other Devices?
As the Audio Technica M50x comes with a 3.5mm jack and ¼" adapter, it is compatible with most devices that support this audio connection.
You can comfortably use it with Windows 10 and Mac. It is also compatible with Android and iPad but not with the latest version iPhone.
Cause they don't come with an audio jack. But if you want to use this headphone with your iPhone, you need a third-party dongle.
How Much Suitable For Gaming?
It is suitable for most gaming consoles. Since this headphone has no mic, you can't talk to other players.
This headphone provides excellent sound, and as it comes with long cables, it is perfect for gaming.
You can comfortably use this headphone with PS4, Xbox One, and Nintendo switch.
But you can only hear the audio.
Since the ATH M50x is a professional studio monitoring headphone, you have to be clear about its performance in studio monitoring.
Let's dig it.
How Much Suitable For Studio?
As a studio headphone, the Audio ATH M50x does real justice to it by providing superb quality sound and long-time wearing comfort.
This headphone is ideal for the studio, especially for mixing, recording the tracks, and voice-over.
While working in the studio for a long time, you can focus on your monitoring all day.
So, there is no doubt that it is a great choice for studio monitoring.
Well, this studio headphone is perfect for studio use and some other casual or home listening.
But you cannot use it for all purposes.
That's why you have to know who can buy it and who should skip it.
Who Should Buy This?
You know, as a studio headphone, ATH M50x is ideal for the studio.
Besides, if you want a headphone but never compromise with the sound, you may look at this M50x.
It is also perfect for video editing.
If you are an audiophile, you also may choose it.
This headphone can be perfect for gaming if the voice chat is not important.
Overall this M50x is a pair of headphones that is perfect for home listening to studio monitoring.
Who Might Skip It?
This headphone is not ideal for outdoor sports.
It is also not for you, if you want a headphone for the gym, running, cycling or other heavy workouts.
This M50X is not suitable for every day phone calls too. If you want a headset for phone calls, you can choose LG Tone Triumph HBS 510.
Do you need a headphone for official use or zoom meetings? This M50x is not for you.
You also can't use this headphone for online teaching or classes.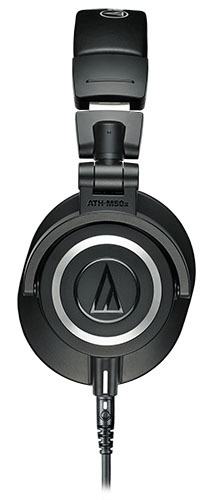 Customer Support
Audio Technica provides user-friendly customer support. The support team respects the customer and love to listen to them.
They are always ready to offer the customer the best service within a very short time.
Now, I am going to compare this M50x headphone with some other headphones for your easy understanding.
Compare With Other Headphones
Take your eyes below to know the differences between ATH M50x and other headphones.
1. Audio Technica ATH-M50x Vs Beyerdynamic DT 990 Pro
The Beyerdynamic DT 990 pro is a better headphone than ATH M50x.
Beyerdynamic DT 990 is an open-back headphone, while M50x is a closed-back headphone.
The Beyerdynamic DT990 pro has a better build quality, and it feels sturdier than M50x.
For mixing in the studio, it is more accurate than M50x.
2. Audio Technica ATH-M50x Vs M40x
Both Audio Technica M50x and M40x are in the same series. Their looks, designs, and features tend to be alike in many ways.
There are no significant differences between them.
But the ear cups of M50x are more flexible and can give a more comfortable fit than M40x.
3. Audio Technica ATH-M50x Vs Beyerdynamic DT 770 Pro
The Beyerdynamic DT 770 pro and the Audio Technica ATH-M50x both have a very similar performance.
But some might prefer the build quality of the Beyerdynamic. Its metal frame feels sturdy, and the soft padding fabric feels very nice.
But it may not be fit for big heads, unlike ATH M50x. It also doesn't come with many cable options like the M50x.
4. Audio Technica ATH-M50x Vs Sony WH1000XM4
The Audio Technica ATH-M50x and the Sony WH1000M4 wireless are two different headphones.
The Sony WH100XM4 is a Bluetooth headphone. It provides dual noise sensor technology.
Their features are totally different.
5. Audio Technica ATH-M50x Vs Sennheiser HD 280 Pro
The Audio Technica ATH-M50x is pretty much better headphone than the Sennheiser HD 280 pro in every category.
The HD 280 pro gets very hot easily and isn't breathable.
Overall the M50x offers better value, and it is one of the best critical listening headphones.
6. Audio Technica ATH-M50x Vs Sennheiser HD 650
Audio Technica ATH-M50x is a closed-back headphone, while the Sennheiser HD 650 is an open-back headphone.
Both are similar performing headphones for critical listening.
The HD 650 provides a more spacious and wide soundstage and lacks in low-bass.
However, the ATH M50x delivers more bass, slightly better build quality, and leaks less sound.
7. Audio Technica ATH-M50x Vs Astro A40
Audio Technica ATH-M50x and Astro A40 are completely different kinds of headphones. Their functionality is also totally different.
The ATH-M50x is a closed-back headphone for studio monitoring. But the Astro A40 is a closed-back gaming headset.
Do you have a plan to purchase this M50x headphone? Let's reveal how worthy it will be.
How Worthy Is It?
If you are looking for great headphones for casual listening or studio use, ATH M50x will be your ideal option.
This headphone is not only great for sound or comfort but also provides many other excellent features.
You can use this M50x for multiple purposes.
Whether you are listening to music or tracking it, it will be a perfect choice within the budget.
Considering the review, if you think ATH M50x will not be ideal for you, then go through my below section.
Alternative To Audio Technica ATH M50x
You can go for an alternative if you don't want to purchase this M50X. Here is the list:
You can choose one of these headphones mentioned above as an alternative to Audio Technica ATH M50x. You will find almost similar or somewhat better features than the M50x in them.
So, it was all for today.
Conclusion
Finally, you have got an honest concept of M50x from my Audio Technica ATH M50x review. I hope it will be useful enough for your decision-making.
Now it depends on you whether to pick it or not. I always respect your decision.
Thanks For Reading This Article.
Frequently Asked Questions: