Maybe you are searching for a stylish neckband headset for your daily listening.
Am I right? If yes, then you are in the best place.
Sale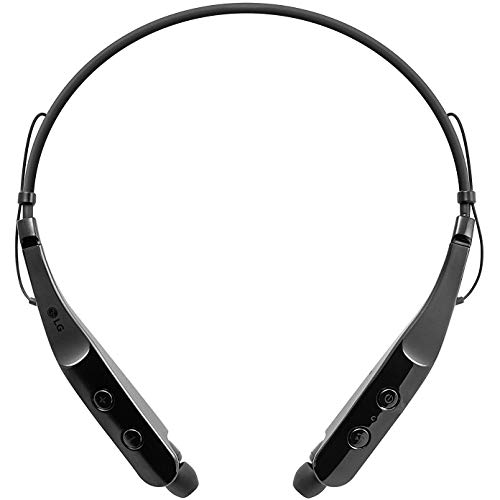 LG TONE TRIUMPH HBS-510
Advanced Quad layer speaker...
Dual MEMS microphones - delivers...
Delivers crystal clear conversation
The LG Tone Triumph comes with a slim and sleek design to make your listening experience special. If you have any confusion about the features of this headphone, all of them will vanish into the air today.
For that, you have to go through my LG Tone Triumph HBS 510 review.
I hope it will be handy for you to make the right decision.
So, let's go for it without any further do.
LG Tone Triumph HBS 510 Review: Enjoy Your Call And Outdoor Listening
You will find all the important features, specs, pros-cons, comfortability, sound profile, stability, portability, battery, Bluetooth details, and many more in this write-up.
In the starting, get a quick overview of this LG Tone Triumph HBS 510 headphone.
At A Glance
Advanced Quad Layer Speaker Technology.
Dual MEMS Microphone.
Slim And Sleek Design.
Deliver Crystal Clear Conversation.
Easy To Control.
Don't Provide Fast Charging Or USB C Charger.
Not Sweat And Waterproof.
Don't Provide Active Noise Cancelling.
LG-Tone Triumph HBS-510 is an In-ear Bluetooth neckband headset for everyday outdoor listening. This headset has many praiseworthy features along with some downsides too.
LG is a delightfully smart brand, and "Life's Good" is their slogan.
If you want to know about LG Brand, you may go with the LG Tone Style HBS-SL5 review. I have described the LG brand in detail there.
At first, let's see what's come with the box.
In The Box
When I first opened the box, I was too excited. I got a stylish neckband headset. What a moment it was!
In the box, you will see your desired…
LG Tone HBS 510 headset.
A warranty card.
A manual.
You will also get one pair of extra earplugs with this headphone. Except for the earplugs, they don't provide any extra accessories, not even a carrying pouch.
LG Tone Triumph manual includes all the ways of how to use it properly.
Before going to the in-depth explanation, let's see the LG Tone HBS-510 specs and pros-cons.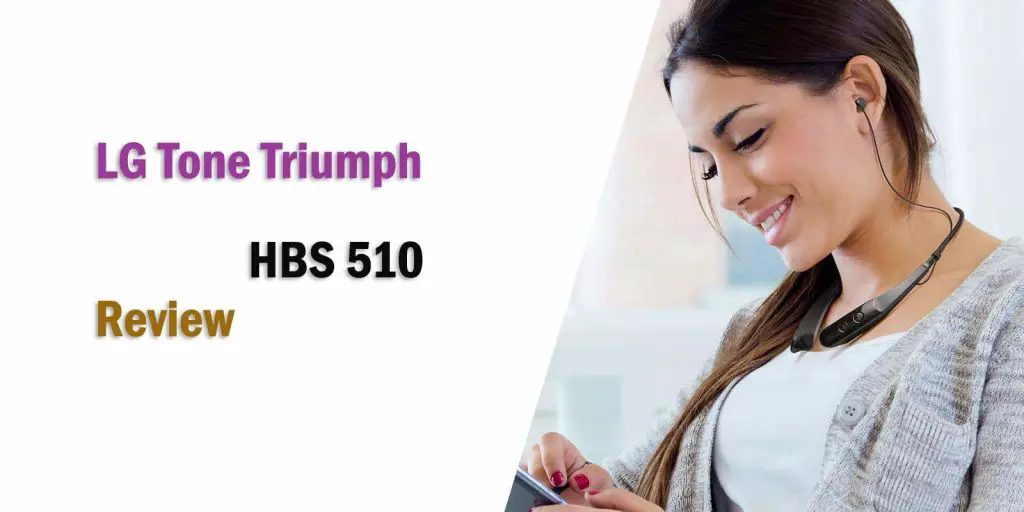 Key Specifications
Headphone Type: In-Ear.
Connector: Wireless/Bluetooth.
Bluetooth Version: 4.1
Wireless Range: 33 Feet.
Battery: Lithium-Polymer.
Charging Time: Less Than Two Hours.
Music Time: 13 Hours.
Talk Time: 14 Hours.
Standby Time: 22 Days.
Weight: 1.06 Ounces.
Color: Black.
Pros
Great Comfort.
Superb Sound Quality.
Extremely Lightweight.
Stylish Design.
Cons
The Wire Is Thin.
Mic Can't Block Outside Noise.
The comfortability of a headphone is a great concern for everyone. You must not want to spend your money on an uncomfortable headphone.
So, let's know how much comfortable it will be.
How Much Comfortable Is It?
As a neckband headset, the LG Tone HBS-510 provides great comfort when wearing it for a long time. Its lightweight design provides extra comfort.
You know this headset comes with one pair of extra earplugs. The earplugs are perfectly fitted to any ear size.
Whatever your ear size is, small or big, you will never feel any discomfort or wearing fatigue.
The earplugs are very soft and provide extra softness.
The neckband fits comfortably around the neck.
You can also wear this HBS 510 headset with glasses. But it might not be comfy if you want to listen by lying.
Right now, I am going to describe the sound profile of this headphone. You will find the details below.
Sound Profile
The LG Tone-510 has a very well-balanced sound profile. This headset comes with Quad Layer Speaker Technology. It offers you truly balanced sound with robust bass and clear, crisp treble.
The frequency response is also superb and provides an appropriate balance with all genres of music.
When I was listening with this headset, I felt it delivered a neutral stereo sound.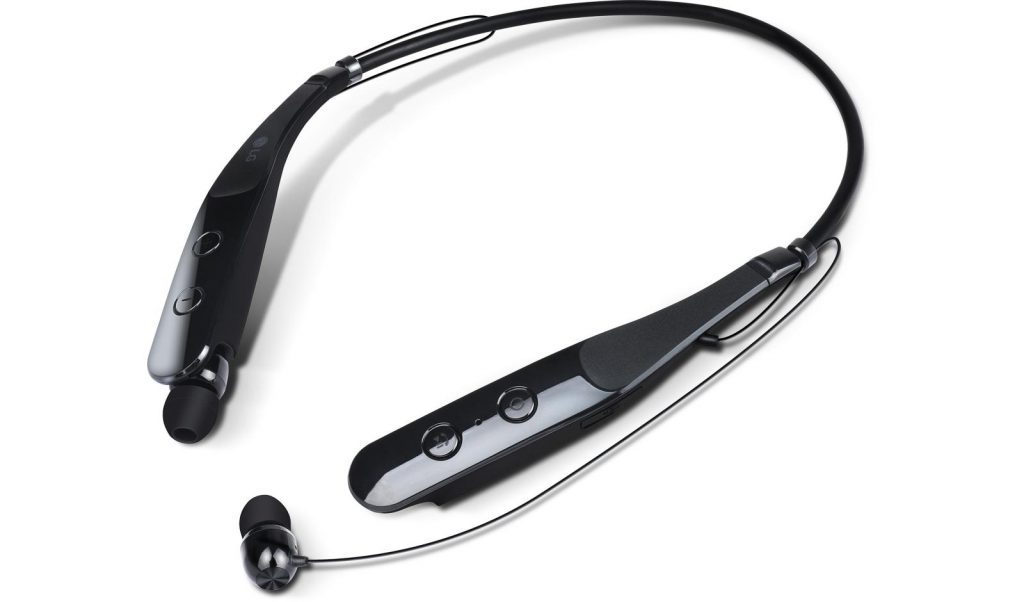 Sound Leakage
The sound leakage performance of LG Tone HBS-510 is very decent. As an in-ear headset, it doesn't leak any sound.
But if you listen at an extended volume, then there is a chance to leak a little sound.
To avoid sound leakage, you have to listen to a moderate volume.
Noise Cancelling
This headphones doesn't come with Active Noise Cancelling features. It can't block outside ambient noise.
When you are listening, you will hear all the background noise as well.
If you need an Active Noise Cancelling headset, you may go with AMORNO Foldable Neckband Headset.
Microphone Quality
The LG Tone Triumph comes with dual MEMS microphones. The dual microphones deliver crystal clear conversation for enhanced voice quality.
When I was calling someone, my partner heard my every word very clearly and loudly.
The mic can't reduce background noise.
When you are in a noisy situation and call someone, your partner might hears all the background noise.
This headset also doesn't offer mic mute feature.
You will be pleased to know that this headset will notify you with vibration when there is an incoming call. So, there is no chance of missing any calls.
However, at first, you have to set the vibration alert for that.
But how? Let's know.
Vibration Alert Setting for LG HBS 510
To active the vibration alert, press and hold the volume up button for two seconds.
It will be activated and provide you a vibration alert for incoming calls or messages. If you want to deactivate the vibration alert, do the same process.
Recording Quality
As LG 510 Bluetooth headset comes with microphones, it is eligible for recording audio.
The recording quality is excellent.
When recording the audio, you will feel the sound very bright and perspicuous.
Now we will know the control system of this headphone.
How To Control It?
This HBS-510 is very easy to control. It has a well-balanced, easy in-line control button.
On the left side of the earphone, you will see the power button and the multi-function button.
Press the power button to on/off the headset.
Press the multi-function button to answer the call and play music. And again, press to end the call and pause the music.
You will see the volume (+) button and (-) button on the earphone's right side.
Press the volume (+) button to up the volume and hold it for the previous song.
Press the (-) button to down the volume and hold for the next song.
That's it. Now let's go for its building quality. Building quality is important as it determines the durability of a headphone.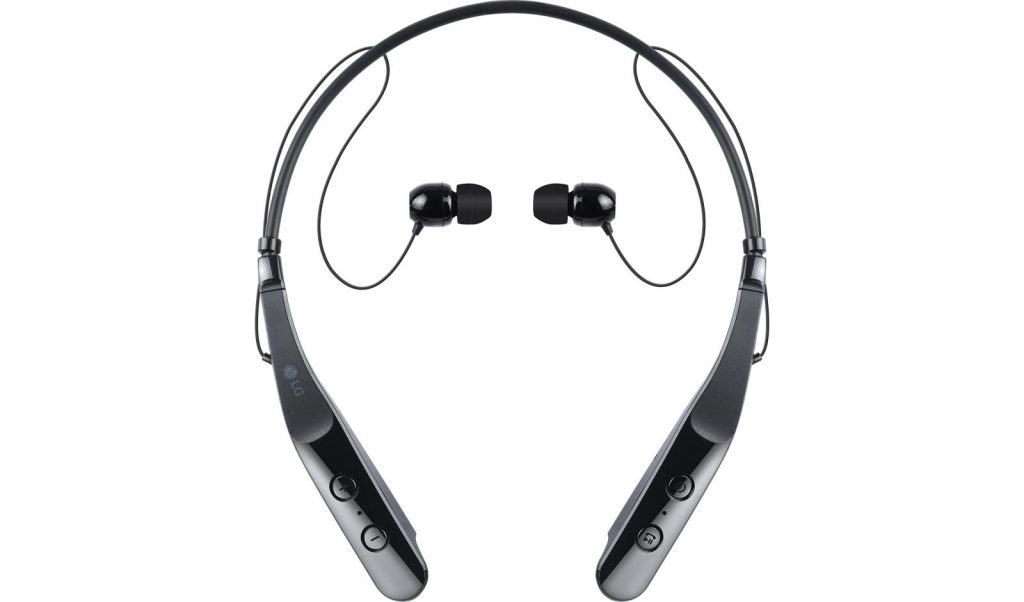 How Is The Build Quality?
The building quality is sturdy enough. This headset is totally made of plastic.
But still, it feels very durable.
But the earbud's wire is looking very thin. It has a chance to be ripped at any time.
Besides these, the overall neckband design feels very durable and strong.
This headset can survive accidental drops.
But there is a complaint about this headset that it might stop working after using somedays.
Some users have complained that the multi-function button doesn't work well.
But honestly saying, I have been using this headset for a long time, and I never faced these issues.
My headset is still ok, and it is working great as well.
If your headset gets damaged within one year, don't worry. LG is committed to giving one year of hassle-free warranty.
Design
As I earlier said, LG Tone Triumph HBS 510 comes with a very stylish design. The black color with its slim and sleek design makes this headset very innovative.
It comes in another color which is red. The red one also looks very attractive.
If you don't like black, you may go with the red one. Both provide the same features.
I am going to let you know about its portability and stability now.
Is It Portable?
This LG HBS 510 headset is extremely lightweight and flexible, which makes it very portable.
Its weight is only 1.06 ounces. You can carry it anywhere you go. Just carry it with your pocket or bags.
Stability
This headphone is fairly stable. The earbuds will always stay in your ears, and the neckband will also perfectly fit on your neck.
You can even do heavy workouts wit it. There is no chance of falling or sliding off.
The earbuds can magnetically attach to the headset's body for a clean look around your neck.
The wire is also lightly retractable so that you can adjust the wire to your preferred length.
However, this headset is not like a true magnetic or retractable earbud.
Is It Waterproof?
Unfortunately, the LG Tone Triumph 510 is not a waterproof headset. It is not sweatproof either. You can't use it for swimming or a shower.
Also, keep it away from sweat.
If you want waterproof earbuds, you may go with Anker Soundcore Life U2 Headset.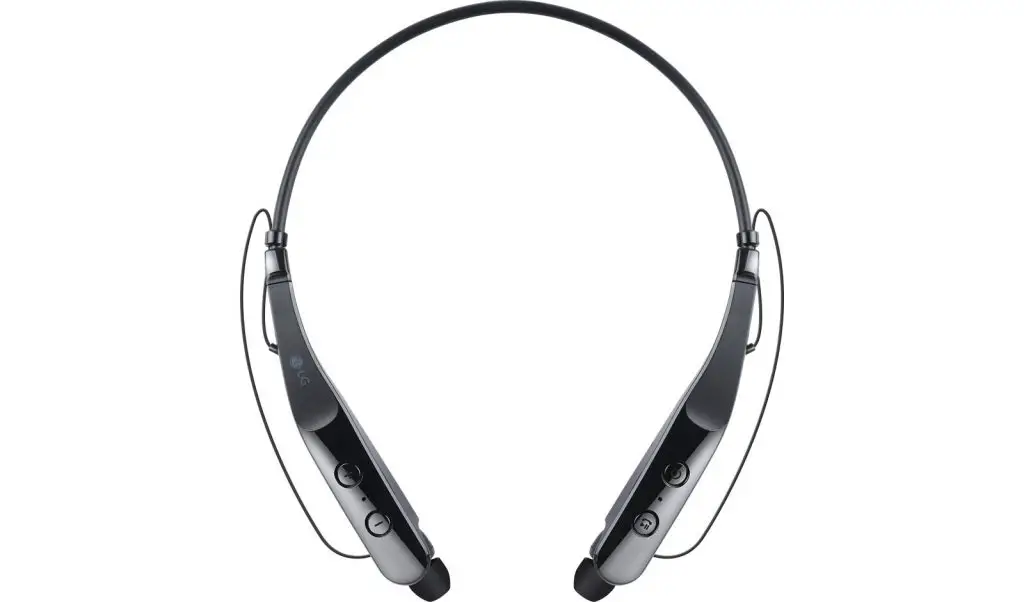 This LG Tone Triumph is Bluetooth headphone. But I haven't explained it yet. Are you tensed about that?
Don't worry. Check the below section. You will find the detail there.
Bluetooth Details
This wireless stereo headset comes with Bluetooth version 4.1. The wireless range is around 33 feet/10 meters, which is pretty good.
When you are out of the range, this headset will start to vibrate, and a voice message will notify you that you are out of range. Then it will be trying to reconnect.
When you come back within the range, it will automatically reconnect with your device.
If the headset is not automatically reconnected, press the multi-function button to connect it again.
It supports multi-pairing. You can connect 2 devices at the same time.
The HBS-510 can be connected to a mobile phone and pc simultaneously.
It doesn't support non-Bluetooth wireless connection.
Well, right now, you are clear about its Bluetooth compatibility. Don't you need to pair it with your device? Of course, you have to pair it for listening.
But how can you do it? Look here to know it.
How To Pair LG HBS 510?
It is simple to pair this Bluetooth headset with other Bluetooth devices. Let's know the steps.
-At first, turn on Bluetooth from your device's settings.
-Then press and hold the power button of your headset for three seconds to turn the power on.
-You will see the blue indicator light turns on, and the headset switches to search mode.
-Now select LG HBS510 from your device to connect.
-A voice message will suggest that the connection is completed.
If you want to connect this headset with another device at the same time, follow the same process. 
But you have to press and hold the power button and the multi-function button for three seconds to turn the power on.
You have got the proper instruction to pair this headset with other devices.
My friend also used this headset. Suddenly his headset was being quiet, and he told me his LG HBS-510 has no sound.
Then I suggested him to reset his headset.
If your headset doesn't work or you face any problem, you can reset it. But how can you reset this headset? Let's know.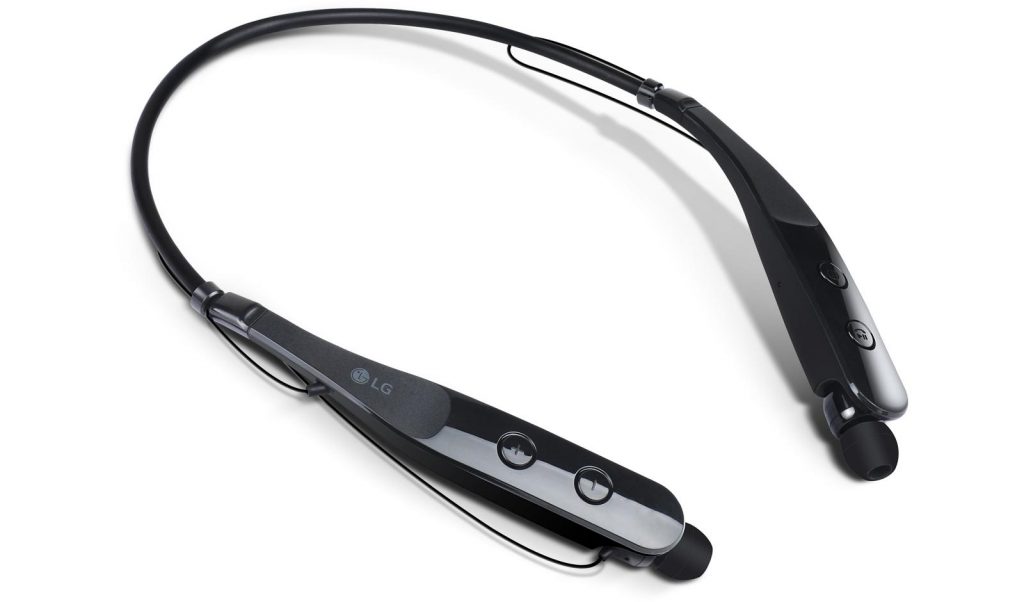 How To Reset LG HBS 510?
While your headset is on, hold down the multi-function button and both the volume up and down button simultaneously. Hold until the indicator light glows steady blue. It will be reset.
Are you waiting to know about the battery? Let's dig it.
Battery Details
The LG Tone Triumph HBS-510 wireless headset comes with a rechargeable lithium-polymer battery. It has strong battery life.
This headset provides 14 hours of talk time, 13 hours of playtime, and 22 days of standby time with a single charge.
 It takes less than 2 hours to charge fully.
Are you worried about whether you can use this headphone with your devices or not?
Keep your worries aside and find your answer below.
How Much Compatible With Other Devices?
The LG Tone HBS-510 has decent compatibility with most Bluetooth devices.
It is compatible with Windows 10 and Mac. You also can use it with Android, iPhone, iPad, or other Bluetooth-enabled devices.
This headset is also compatible with the most Bluetooth-active smart TV.
How Much Suitable For Gaming?
These Bluetooth earbuds are not suitable for gaming. They can't pair with most gaming consoles.
Now let's know who should take or skip LG Tone Triumph HBS-510.
Who Should Buy This?
If you want a stylish headset for outdoor listening, the LG Tone HBS 510 will be your ideal choice.
This headset is also suitable for sports, gym, running, cycling, biking, hiking, skiing, etc.
For every day phone calls, online teaching, or classes, it can be a great pick.
Do you need a headset for zoom meetings or official use? You may go with this headset.
If you want a headset for commuting or traveling, you can also choose it.
Who Might Skip It?
These Bluetooth earbuds are not suitable for studio monitoring.
If you need a headphone for audiophile listening, this headset is also not for you. For audiophile listening, you may check Audio Technica ATH M60X.
The LG HBS 510 is not ideal for gaming too.
Anyway, do you want to know the difference between LG Tone HBS-510 and other headphones?
Then let's go for a comparative discussion.
Compare With Other Headphones
Just keep reading. It will be handy for your better understanding.
1. LG Tone Triumph HBS 510 Vs. LG Tone Ultra A Bluetooth Wireless (HBS-830)
HBS 510 and HBS 830 both are very similar headphones. They have nearly identical performance in most aspects.
The HBS-830 headset provides a very crystal clear sound and conversation. It offers great comfort and versatility too.
There is no significant difference between them. But their design differs from one another.
2. LG Tone Triumph HBS 510 Vs. LG Tone Style HBS-SL5
The LG Tone HBS-SL5 is a slightly better neckband headset than HBS 510. 
The HBS-SL5 is tuned by meridian technology and uses multi-layer metal for better sound. But the battery life is shorter than HBS-510.
The HBS-SL5 provides fast charging, but the 510 doesn't offer it.
3. LG Tone Triumph HBS 510 Vs. BEARTWO Bluetooth Headphones
Both are in-ear wireless neckband headsets. The BEARTWO Bluetooth headset is designed with CVC active noise cancelling.
It provides retractable earbuds and an auto vibration alert with great comfort. This headset is also sweatproof.
However, the HBS-510 headset is more lightweight than BEARTWO Headset.
4. LG Tone Triumph HBS 510 Vs. Mpow Jaws Gen5 Bluetooth Headphones
LG HBS-510 and Mpow Gen5 both are neckband headsets for everyday listening. The Mpow Gen5 is designed with CVC6.0 noise cancelling Bluetooth V5.0 while the LG 510 has only 4.1 Bluetooth version.
The Mpow Gen5 provides enhanced sound transmission, faster pairing, and a more stable wireless connection. It also provides a more powerful bass.
5. LG Tone Triumph HBS 510 Vs. LG Tone Flex HBS-XL7
The LG Flex HBS-XL7 is a better neckband headphone than LG HBS 510.
The LG Flex HBS-XL7 offers fast access and response from Google assistant. It also offers premium quality audio.
Besides, this headset provides fast charging, but its battery life is shorter than LG HBS 510.
Now you have got a clear concept about this headset. If you have a plan to purchase this headset, let's know how worthy it will be.
How Worthy Is It?
The LG Tone Triumph HBS 510 wireless stereo headset is the ideal mobile solution for people on the move.
It is very exceptional with its comfortable, lightweight, and innovative contoured design.
This neckband headset provides you a wonderful wearing experience. If you compare this headset with its price range, it is worth buying from my viewpoint.
Well, considering the whole review, you may think it's not ideal for you.
Then the next part is for you.
Alternative To LG Tone HBS-510
If you need an alternative, you can check the list:
You can go for one of these three headphones as an alternative to LG Tone HBS-510.
So, that's all for today.
Conclusion
Finally, I hope all of your confusion has gone away after going through my LG Tone Triumph HBS 510 review. Now it's up to you.
If you think this headset is not ideal for you, you may look for an alternative. Otherwise, you can skip it.
I always respect your right decision.
Thanks For Reading This Article.