Are you looking for a convenient neckband headphone for your daily listening? LG TONE Ultra Hbs 830 might be the best choice for you.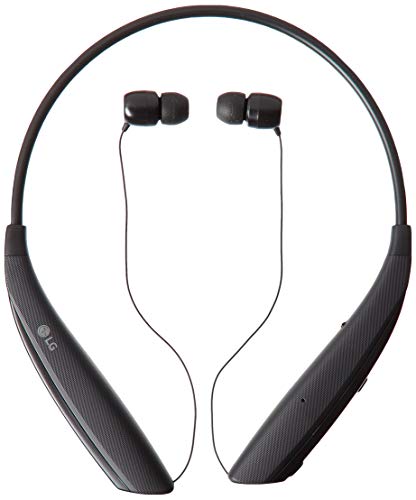 Why am I saying this?
Go through this LG TONE Ultra Hbs 830 Review, and you will get the answer.
If you are confused about whether you should get it or not, I hope after reading this article you will have no more confusion.
LG TONE Ultra Hbs 830 Review- In Details
Before buying headphones, the information you need to learn is the key specs, pros and cons, sound quality, comfortability, stability, and many more.
Therefore, in this write-up, I'll cover every detail of them for you.
But before jumping into the review, check out some quick facts about the LG Hbs 830.
At A Glance
Bluetooth stereo headset.
Advanced quad-layer speaker.
Dual MEMS microphone.
Slim and sleek style.
Fast charging.
Retractable earbuds.
Fast pairing.
LG-Hbs 830 is a Bluetooth neckband earphone. The famous LG company developed these headsets as an everyday listening widget.
If you wish to know about the LG brand overview, check out my previous article, which is LG Tone Style HBS-SL5 review.
There I talked a bit about LG.
However, do you want to know about my first impression when the earphone first came into my hand?
I was so excited after seeing the box.
I will tell you about what came with the box in the next section.    
In The Box
LG-Hbs-830 comes with a simple box. There I found-
A LG Tone Ultra Alpha Hbs 830 headset.
A USB cable for charging.
LG Hbs-830 manual.
Warranty Statement.
Two pairs of small silicone ear tips.
See the LG TONE Ultra Hbs-830 specs with the pros and cons below.
Key Specifications
Type: in-ear.
Connection: Wireless.
Bluetooth Version: 5.0.
Standby time: 15 Days.
Music playtime: 15 Hours.
Talk Time: 13 Hours.
Charging Time: 2 Hours.
Battery: 3.7 v, Lithium-ion Polymer.
Frequency Range: 2402 MHz to 2480 MHz.
Color: Black, White.
Weight: 1.4 oz.
Wireless Range: 10.1 m.
Pros
Beautiful Design.
Comfortable to wear.
Excellent sound quality.
Long battery life.
Cons
Slightly expensive.
Poor noise-canceling feature.
While purchasing a headphone, I always keep a close eye on the comfortability.
Do you want to know how comfortable these pairs of earphones are?
How Much Comfortable Are They?
LG TONE Ultra Α Bluetooth wireless stereo neckband earbuds provide excellent comfort.
The lightweight neckband wraps around your neck loosely. You will barely notice it after wearing it for a few moments.
Besides, you don't need to worry about your ear size. Since the ear tips come in two sizes, you can use one of them according to your convenience.
Personally, I use the small tips as it suits me better.
A neckband headset can support your active lifestyle.
 Moreover, the LG Tone Ultra Alpha Hbs 830 is suitable for glass wearers too.
You can wear spectacles and this headset at the same time without feeling any nuisance.    
Now that you know about comfortability, you might be curious about the sound quality. After all, the sound is the main fact of a headphone.
Therefore, let's talk about the sound features of these earphones now.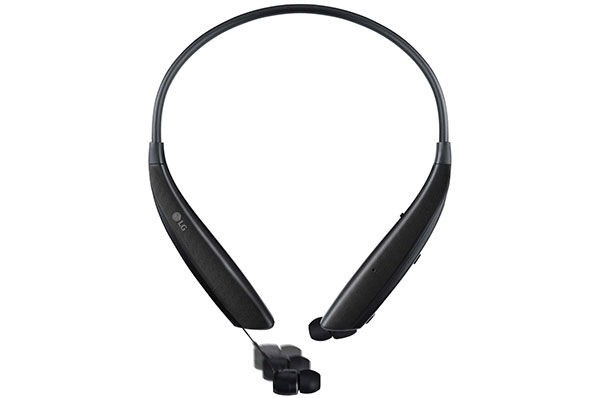 Sound Profile
LG-Hbs 830 has impressive sound quality. The quad-layer speaker technology helps to produce a well-balanced sound.
You can hear a deep bass if the ear tips conceal your ear canal properly.
The treble and mid provide a clear and crisp sound. The headset also delivers a neutral stereo sound which I like the most.
Frequency Response
The operating frequency of these headphones is 2402 MHz to 2480 MHz.
So, you can enjoy almost all genres of music with them. 
Are you worried about the sound leakage?
Have a look here to know how it performs in this case.
Does It Leak any sound?
As an in-ear headphone, the sound leakage feature of the LG Hbs-830 works very well.
But if you listen to music at a high volume, it may leak a little bit of sound.
To avoid sound leakage from a headphone, keep the volume at a moderate level.
Does It Have A Noise Cancelling Feature?
The earphone has no active noise cancellation feature.
However, as an in-ear headphone, it can isolate noise very well.
Yet, you might want another product from the same series that has an ANC feature.
In this case, you can check out LG Electronics Tone Ultra (HBS-800).
Microphone Feature
LG 830 comes with a dual MEMS microphone.
As a result, it can enhance voice quality and help to deliver crystal clear conversations.
But one of my close friends said he didn't have a good experience with the call quality. He told me that during a call, the other person couldn't hear him properly.
Although I've been using the headset for the last couple of months, I haven't faced this kind of problem yet.  
Now, let's see how you can control the headset.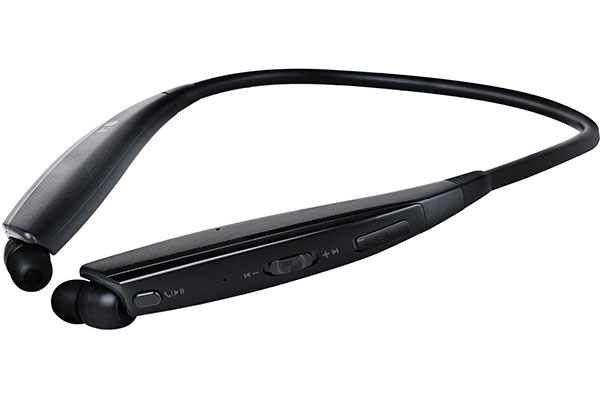 Controlling Option
These headsets are very easy to control. LG-830 contains a call button and volume control buttons.
The buttons can be used for controlling different functionalities.
Like as,
Long press on the Call button rejects a call.
One press on the Call button pauses a track.
After one press + long-press on the Call button:
Plays music redial.
Slide and hold the volume (+) button:
Switch audio path/ play the previous song/ on or off the vibration notification.
Slide and hold the volume (-) button:
On/off the ambient sound/ play the next song/ show battery status info.
That's all about the controlling option. You might mistake these options at first!
But after using them a few times, you will become used to them.
Anyway, everyone wants to buy a headphone that is durable and long-lasting.
So, this time I'll talk about the build quality of these headsets.
How Strong Is The Build Quality?
The building quality of Hbs 830 is solid and robust. They are long-lasting enough.
But it seems to me that the earbud wire is so thin. It's better to be careful about it.
Besides, there is a complaint that the wire stops retracting after a while. Hence, you should use the headset attentively.
LG-Hbs-330 can endure accidental drops.
The good news is, LG provides a one-year warranty.
For that reason, if anything happens in this period, they will repair or exchange your product.
Design
The design of this LG neckband is very innovative and stylish.
They come in black and white colors. However, the white color is a little bit more expensive than the black one.
Are They Portable?
As a neckband headphone, the LG-Hbs 830 is portable enough.
Moreover, the weight is only 1.4 oz which is very lightweight.
So, don't think twice about taking it with you anywhere you go.
The headset is foldable too. As a result, you can keep it in your bag also.
Stability
LG-Hbs-830 is basically famous for its stability. The neckband will sit tightly on your shoulder.
You can easily wear it while doing sports or any heavy workout. It will not fall from its place.
Is The LG-Hbs-830 Pro Waterproof?
These earbuds are not waterproof.
Therefore, they are not suitable for swimming and shower time.
If you are looking for a waterproof neckband headset, you can check Beartwo Lightweight Retractable Bluetooth Headphones for Sports & Exercise.
As LG Hbs-830 is a Bluetooth headset, you need to know the Bluetooth details.
Hence, without any delay, let's know about it now.
Bluetooth Details
The Hbs 830 comes with Bluetooth version 5.0. It provides very fast pairing. In addition, the Bluetooth range is 10.1 meters, which is excellent.
These earbuds are compatible with LG Tone & Talk apps for Apple and Android.
Moreover, the earphones contain a voice assistant for pairing. It will notify you if you are going out of range. And when you come back, the headset will automatically reconnect with your device.
Another benefit of these headsets is, they will vibrate for any incoming call. So, you will not miss any call even if your phone is far from you.
Since it works with wireless technology, you need to learn how to pair it with other devices.
Therefore, next, I'm going to discuss the pairing method in detail.
How To Pair LG Hbs-830?
The pairing system of LG Hbs-830 is very simple. With a few steps, you can do it quickly.
Press and hold down the call button and then ON the power switch.
You will see the LED light will start blinking or glow solid blue. The color indicates that the headset is in pairing mode.
Select the headset from your device to connect.
Now that you have known the pairing method, it's time to know about the reset method. You can apply it if the headset stops working properly. 
See the process below.
How To Reset?
You can reset your Hbs 830 with the following steps.
Press down the volume and call button for a couple of seconds.
You can see an indicator light will start flickering
Wait until the blue light becomes steady.
After successfully resetting your headset, it's ready to pair with a new device.
Are you waiting to know about the battery details?
You don't need to wait any longer because this time I'm going to discuss it.
Battery Details
LG Bluetooth headsets are famous for their excellent battery life. And the Hbs-830 is not an exception. 
Hbs 830 comes with a rechargeable Lithium-ion polymer battery. It takes around 2 hours to charge fully. 
It contains a micro USB charging cable.
Basically, it contains type A USB on one end and Micro-B USB on the other end. 
However, with one single charge, you can get 15 hours of music playtime, 13 hours of talk time, along with 15 days of standby time. 
Compatibility is another feature that we all check before going for a headphone.
Therefore, to know the compatibility of the LG Tone Ultra Headset, take a look here.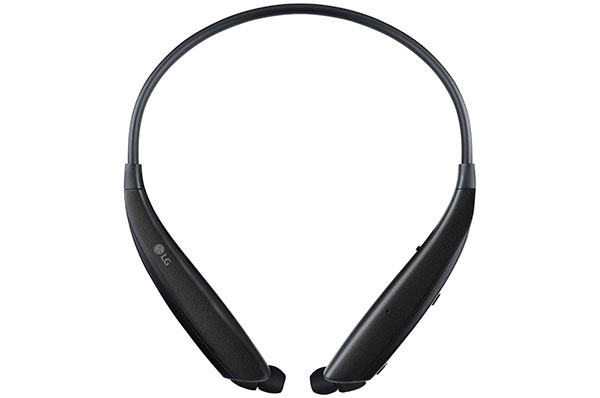 Compatibility With Other Devices
The LG-Hbs-830 has outstanding compatibility with almost all Bluetooth-enabled devices.
You can connect it with android, iPhone, iPad, and also Bluetooth-active smart TV.
The headphone is also compatible with Windows 10, mac iOS.
Is It Suitable For Gaming?
Unfortunately, these headphones are not compatible with most gaming consoles. So, they are not suitable for gaming.
If you need an affordable headphone for gaming purposes, it's better to go with Razer BlackShark V2 Gaming Headset.
Customer Support
The LG company provides friendly customer support. You can contact them through the email address and phone for any of your queries.
Visit this link to get the contact details of LG.
Now that you have seen all the details of these earphones let's get a precise idea about buying them from the following segment.
Who Should Buy This?
These headsets are very much suitable for traveling and outdoor use. You can use them while running, cycling, or doing heavy workouts like gyms.
Hbs 830 is also a perfect headphone for official use. This ultra-lightweight device will provide you great comfort in a long session of online meetings or teaching.
However, you can also use them in your office. But remember to keep the volume in the medium range. Otherwise, it will leak sound.  
Who Might Skip It?
Are you an audiophile or looking for a studio headphone? In both cases, it's better to skip the LG Tone Ultra headset.
These earphones are not suitable for monitoring, mixing, recording, or other studio work.
For studio headphones, you may go for OneOdio Pro-10 Wired Over-Ear Headphones.
Anyway, a comparison between headphones will give you a more explicit idea about the overall performance.   
So, check out the comparative discussion.  
Compare With Other Headphones
Here, I will compare the LG Hbs 830 with a few other popular Bluetooth wireless headsets.  
LG Hbs-830 Vs. 835
The features of LG Hbs-830 and Hbs-835 are almost the same. For example, they both work with the Bluetooth 5 version, and their wireless range is also the same. 
However, you can enjoy the renowned JBL signature sound with Hbs-835. You can also make a call and listen to music through an external speaker.
The Hbs-830 does not provide this type of benefit. 
LG Hbs 830 Vs. LG HBS-1120 TONE Platinum SE Bluetooth Wireless Stereo Headset
HBS-1120 TONE Platinum SE Bluetooth Wireless Stereo Headset comes with the Google Assistant feature.
It provides Harman Kardon Platinum sound to ensure exceptional audio performance.
Comparing the LG Hbs 830 with the LG HBS-1120 TONE, their weight difference is almost 6 oz. The Hbs 830 is way more lightweight. And that's why it's more convenient. 
LG Hbs 830 Vs. LOVOCOO Neckband Bluetooth Headset
The Lovocoo Neckband Bluetooth Headset is a foldable Bluetooth headphone.
It provides 18 hours of talk time and 16 hours of music time, which is better than Hbs-830. But the Lovocoo needs more time to be fully charged. Its standby time is also less than Hbs 830.
However, in the case of warranty support, Lovocoo is better than LG. They offer a two-year warranty.
LG Hbs 830 Vs. Monster iSport Solitaire Lite Sport Wireless Headphones
The Monster iSport Solitaire Lite Sport Wireless Headphones are more affordable than LG Hbs-830. These colorful earbuds are specially made for sports and exercise.
But their battery life is not as good as the Hbs-30. It provides only 10 hours of playtime.
LG Hbs 830 Vs. Origem HS-3pro Bluetooth Headphones
Origem HS-3pro Bluetooth Headphones provide powerful bass and HD sound quality. It comes with built-in voice assistance.
Unlike Hbs-830, it offers only 8 hours of run time.
However, Origem HS-3pro takes only 40 minutes to charge fully, while the LG-Hbs-830 needs two hours.    
LG Hbs 830 Vs. Phaiser Bluetooth Headphones, Retractable Neckband
Phaiser Bluetooth Headphones, Retractable Neckband is a low-budget neckband headphone. It works with Bluetooth version 4.2.
Therefore, the pairing is not as fast as LG Hbs 830.
LG Hbs 830 Vs. TECNO Wireless Neckband Bluetooth Headphones
TECNO Wireless Neckband Bluetooth Headphones provide a fantastic long battery life.
It offers 38 Hours of Play Time and 500 Hours of Standby Time, which are far better than Hbs 830.
Unlike Hbs 830, TECNO Wireless headphones are waterproof. Hence, it can be worn in heavy rain.  
LG Hbs 830 Vs. Bluenin BlueWave Pro 1 Bluetooth Headphones
Bluenin BlueWave Pro 1 Bluetooth Headphones come with CVC 8.0 Noise Canceling Technology. It can filter out background noises.
The battery life of Bluenin BlueWave Pro 1 is a little bit better than Hbs-830. However, the Hbs 830 is lighter than Bluenin BlueWave Pro 1. 
Well, I have explained almost every detail of LG-Hbs-830. Lastly, I'll let you know how worthy these headphones are.  
Is It Worth Buying?
The LG Tone Ultra Alpha Hbs 830 is one of the best neckband headphones for outdoor usages.
The lightweight and comfortable headset will meet your everyday listening needs.
Moreover, they are also well-built and durable.
So, according to the features, the Hbs-830 is definitely worth buying.
Yet, it is possible that you don't want to go for this headset. Maybe you want to try something else.
Considering your situation, I will suggest some alternatives to LG-Hbs-830 in the following section.
Alternative To LG-Hbs-830
The following headphones are the alternatives of LG Hbs-830. Check out the list carefully.
These are also good-quality Bluetooth neckband headsets within a similar budget. You can go for them if you want.
Let's conclude the article here.
Conclusion
That's all about the LG TONE Ultra Hbs 830 review. Here, I tried to explain every detail from a neutral point of view. 
I hope this write-up will help you to choose your preferred headphone. But, of course, the ultimate decision is totally up to you.
So, think carefully about what you truly want and purchase a headphone that suits your requirements.
Thank you for reading the whole article. 
Frequently Asked Question: