Are you a bass lover and planning to purchase an extra set of bass headphones?
Finding earbuds with quality base is super difficult, but these Sony WI-XB400 might be the perfect choice when it comes to performance and also a low price tag.
Sale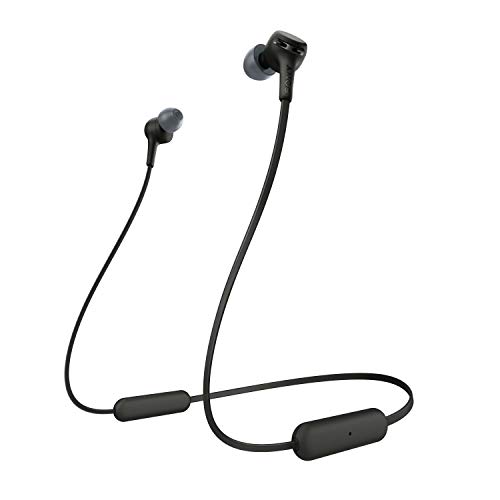 Sony WI-XB400
Feel the power of extra bass.Note :...
Product Note : If the size of the...
Wireless Audio with Bluetooth...
You might have heard about these headphones, but don't know much about their function and features.
Below is a detailed review of the Sony WI XB400 earbuds. I hope it will help you to learn all the ins and outs of this headset.
Brand Overview Of Sony
Sony is a Japanese multinational conglomerate corporation.  The company was established in 1964 by Akio Morita and Masaru Ibuka. The headquarters is in Konan, Minato, Tokyo.
It operates as one of the largest manufactures of consumer and professional electronic products in the world.
Sony is also involved in films, music, and financial services, among the ventures. Its first consumer product was an electric rice cooker.
Anyway, that was all about Sony in brief. Let's go for the review now.
Sony WI XB400 Review
Here you will find all the features that are needed to know a headphone thoroughly.
I am going to start my review with the important features of the Sony XB400.
See them at a glance.
At A Glance
Extra Bass For Deep, Punchy Sound.
Bluetooth 5.0 And Standard Wireless Technology.
Magnetic Earbuds For Easy Storage.
Voice Assistant Compatible.
USB Type C Charging Cable.
Fast Charging.
No Active Or Passive Noise Cancellation.
Not Waterproof.
The Sony WI-XB400 is an in-ear, neckband style Bluetooth headphone. These earbuds are budget-friendly and decent for everyday use. They also provide superior fit and comfort.
Besides, this XB400 has extra features, which you will find later in the section of Special Features.
Anyway, what do you think they deliver with the headphone? Let's look into the box.
In The Box
I had purchased this Sony WI-XB400 as I'm also a bass lover like you.
As it is a small wireless in-ear, the XB400 comes in a very small box.
In the box, you will see…
Sony WI XB400 earbuds.
Two extra pairs of replacement earplugs.
A USB Type C charging cable.
A warranty card.
A user manual.
Sony WI-XB400 manual describes all the ways of how to use it.
Besides these, WI XB400 doesn't come with any extra accessories, not even a carrying pouch.
Sony WI XB400 is a totally wireless Bluetooth earphone and doesn't support any wired connection.
Before taking a deep dive into the review, let's see sony XB400 specs and pros-cons at the twinkling of an eye.

Key Specifications
Headphone Type: In-Ear.
Frequency Response: 20Hz-20kHz.
Drivers: 12mm.
Connector: Wireless/Bluetooth.
Bluetooth Version: 5.0.
Wireless Range: 30 Feet.
Control: Play, Pause, Answer-End Call.
Battery: Lithium-Polymer.
Charging Time: 3 Hours.
Battery Life: 15 Hours.
Weight: 0.74 Ounces.
Color: Black.
Pros
Superb Comfort.
Excellent Balanced Sound.
Lightweight And Portable.
Strong Battery Life.
Value For Money.
Cons
No IP Ratings.
No Aptx Support.
I know comfortability is a great concern for anyone who wants to buy a new headphone.
You must not spend money on a pair of uncomfortable earbuds. Right?
How Much Comfortable Are They?
Sony WI XB400 provides extra comfort like other neckband headphones. I didn't feel any discomfort while wearing this headset for extended periods.
You know this earphone comes with two extra pairs of ear tips. The ear tips are fairly fit for any ear canal.
Whether your ears are small or big, that doesn't matter. You just have to find out which earplug provides the right fit.
They are also very soft and never hurt you. They don't even get hot when you wear them for multiple hours.
This XB400 is very comfortable when wearing with glasses.
You might not get comfort if you want to listen by lying. You might feel pressure on the backside of the neck.
Right now, I am going to describe one of the essential parts of a headphone. That is its sound profile.
Keep going through. You will find every detail there.
Sound Profile
The Sony WI XB400 doesn't provide only extra bass. Its overall sound quality is very exceptional at an affordable price.
When I was listening to music with this earphone, I felt it's very clear and crystal. Let's know the overall sound profile step by step.
Frequency Response
The 20Hz-20kHz frequency response with 12mm driver unit provides a very neutral balanced sound.
The frequency range is perfect for all genres of music.
Bass Accuracy
The XB400 earbuds have impressive bass accuracy. As you know, these earbuds come with extra bass; it does real justice to them.
I felt there is no muddy or clutter in the sound. Cause the low bass, and the high bass handle it very well.
Mid Range
The mid-range is not great enough when tuning the superb bass accuracy. It is slightly down in the middle mid-range, and the high mids are also barely noticeable.
Besides, you can clearly notice the voice of the singer and the musical instrument.

Treble Accuracy
The treble accuracy of WI-XB400 is very decent. The mid treble dip can make vocals. It leads the sound less detailed and lacks brightness also.
The mid treble also contributes to the sharpness, particularly on tracks that are already bright or poorly recorded.
Soundstage
The soundstage is not so convenient. But if you think of its price range, it is pretty good.
Though you won't hear a ton of depth, you will get a good height and instrument placement feeling.
Sound Leakage
The sound leakage performance of the Sony WI XB400 is excellent. If you are listening to a moderate volume, it never leaks any sound at all.
But if you listen at a higher volume level, there is a chance to leak a little sound.
Noise Cancelling
The Sony WI-XB400 doesn't come with active noise cancelling feature. It can't block out any ambient noise.
When listening to the song, you will be able to hear all the background noise.
If you want a headphone with active noise cancellation, you may go with AMORNO wireless headset. It can block outside noise.
Microphone Quality/Call Quality
The microphone doesn't perform great like a high-end headset. But it provides a moderately clear and loud call in a quiet place.
The mic can't block the outside noise and doesn't provide mic mute feature.
For this price range, the microphone is good, but not extraordinary. So never expect an excellent call quality from this headset.
Recording Quality
As the Sony WI-XB400 comes with a microphone, it is suitable for recording audio. The recording quality is acceptable.
When recording the speech, the sound is very clear and understandable.
However, my friend also purchased these XB400 earbuds as I recommended him. But he was confused about the controlling system. Though it's very easy!
Once, he asked, "How do I use my Sony XB400"? Then I told him the way how to use or control it.
How To Control Sony XB400?
These earbuds are very easy to control.
Near the left side of the earphone, you will see 3 standard adjustment buttons. Two volume up and down buttons and one power button.
Press the power button to play music or answer the call. Again, press the power button to pause the music or end the call.
Press the (+) button to increase the volume and (-) button to decrease the volume.
That's it, nothing hard.
Now let's dig how strong the building quality is.
How Strong Is The Build Quality?
If you compare its building quality with the price, it is very decent. It is totally made of plastic and rubber material.
The combination of the materials makes this headphone very strong.
The wire and neckband joint are also made with a rubberized material. It will be able to survive several accidental drops.
Overall these earbuds feel very sturdy and durable.
If your earphone gets damaged within 1 year, don't worry. Sony provides you 1 year of warranty.
Design
The design of the Sony WI XB400 is really simple, like other normal neckband headphones.
This headphone comes in two colors, black and blue.
I personally preferred the black color. The overall design looks good, nothing special.
Now I will talk about its portability and stability.
Portability
The Sony WI XB400 is a decent set of portable headphones. Its weight is only 0.74 ounces which is extremely lightweight.
The neckband is flexible enough and perfect for carrying anywhere you go. Just keep it on your neck or in your pockets or backpack.

Stability
The Sony XB400 earbuds are fairly stable. If you are able to get a good fit with the provided ear tips, you will never face any stability issues.
Whether you are doing heavy work, exercise, or sports, the earbuds always stay with your ears.
There is no chance to slide off your ears if you get a proper fit.
Is It Waterproof?
I highly expected the Sony WI XB400 earbuds would be waterproof. But unfortunately, they have no IP ratings, so they are not waterproof, not even sweatproof.
It is not suitable for swimming or shower time. It has a risk of damage if exposed to water.
If you want waterproof earbuds, you may go with NANAMI Bluetooth headset.
I have said earlier that it comes with some extra features.
This is the time to expose them.
Special Features
The earbuds support the voice assistant function with Google and Siri. The control button will allow you to activate your voice assistant.
These features have not often seen in low-priced earbuds.
So I considered these as special features.
Just say what you want to know; the voice assistant will answer your every question.
If you say "what's the weather," it will answer you with the weather report of that day and location.
The magnetic earbuds are also very convenient. You can easily snap them together for tangle-free carrying and storage.
They will stay like a necklace around your neck when not in use.
Since the Sony XB400 is a Bluetooth headphone, maybe you are thinking why I'm not explaining the Bluetooth yet.
Don't worry. You will get the details below.
Bluetooth Details
The WI-XB400 has decent Bluetooth capabilities. It comes with Bluetooth version 5.0 and has a good wireless range of up to 30 feet.
No doubt, the range, and strength of connection are excellent.
It supports multi-pairing. You can pair with multiple devices, but only play from one paired device.
This Bluetooth earphone doesn't support the "Sony headphone connect app" and "non-Bluetooth connection."
The Sony XB400 only supports SBC and AAC audio codec. But if it supported Aptx or Aptx HD, it would be great.
Do you know how to pair Sony WI-XB400 with other devices? If you don't, then let's know it.
How To Pair With Other Bluetooth Devices?
It is simple to pair WI XB400 with other Bluetooth devices.
Let's see the steps.
-At first, turn on the headset.
-If you pair the headset with a device for the first time, the headset will automatically enter pairing mode.
-But when you are pairing a second device, press and hold the power button for about 7 seconds.
-Then check that the blue indicator repeatedly flashes two times in a row. You will hear voice guidance "Bluetooth Pairing."
-Then you will see the WI-XB400 displayed on the screen of the Bluetooth device for pairing.
NOTE: If passkey (*) input is required, input "0000." A passkey may call Passcode, PIN Code, PIN Number, or Password.
Now make the Bluetooth connection from the Bluetooth device. You will hear the voice guidance say, "Bluetooth Connected."
How To Reset Sony WI XB400?
If the XB400 is not turning on or can't be operated even when it is turned on :
Press the power button and the volume (-) button simultaneously while charging.
The headset will be reset.
After resetting the headset, disconnect and reconnect the USB C charging cable.
If the earbuds don't run properly after resetting, initialize the headset to restore factory settings.

Now it's time to explain battery details. Maybe you are waiting for that.
I am going to disclose it now.
Battery Details
The Sony WI-XB400 wireless headphone comes with a lithium polymer rechargeable battery. It has a strong battery life and lasts up to 15 hours with a full charge.
It provides fast charging also.
When your battery turns low, just charge it for 10 minutes; it provides you up to 60 minutes of playback time.
Another positive thing is, it has a USB Type C charging cable.
The USB C charging cable is really a good thing for this price point.
How To Charge WI-XB400?
Along the top of the 3 button cluster, you will see a USB charging port. The port is covered under the plastic cover.
-To charge it at first open the USB C port cover.
-Then connect the headset to an AC adapter.
Use the supplied USB Type C cable and a commercially available USB AC adapter.
-Then you will see the indicator (red) of the headset lighting.
-The charging is completed in about 3 hours, and the indicator (red) turns off automatically.
When the charging is complete, disconnect the USB C cable and close the USB C port cover to prevent water or dust from entering the headset.
Are you worried about whether you can use this earphone with your devices or not? No problem.
Look here to know it.
How Much Compatible With Other Devices?
The Sony WI XB400 wireless headphone is compatible with most Bluetooth active devices.
It has excellent compatibility with Windows 10 and Mac. You can also connect it with an Android, iPhone, and iPad.
How Much Suitable For Gaming?
The Sony WI XB400 is not suitable for gaming. It is not compatible with gaming consoles such as Xbox One, PS4, and Nintendo Switch.
If you need a gaming headset, you may go with a HyperX Cloud Stinger Core Wireless gaming headset.
You have already known a lot about these earbuds. Are you planning to purchase them? Before that you should know for whom they are perfect and who should skip them.
Who Should Buy This?
Who loves to listen to music with extra bass, this Sony WI-XB400 is perfect for that. 
This WI-XB400 will be ideal for you if you want a headset for outdoor sport.
These earbuds are also suitable for gym, running, cycling, or other heavy workouts.
Do you need a headset for online teaching or every day phone calls? You may also go with this headset.
If you want to use this headset for official use or zoom meeting, it is good but not excellent. Cause it can not block outside noise.
The Sony WI-XB400 is also a perfect headset for traveling or commuting, as it is portable enough.
Overall for everyday home listening to outdoor listening, this XB400 headset will be your ideal choice.
Who Might Skip It?
Do you need studio monitoring headphones? Never thinking of using these Sony WI-XB400 Wireless In-ear extra bass headphones for studio monitoring. It is the worst choice for that.
If you want studio monitoring headphones, you may go with Tascam TH-02.
If you want a headphone for audiophile listening, it is also not for you.
This WI-XB400 is also not suitable for gaming.
Customer Support
Sony provides hassle-free & friendly customer support. They always appreciate your query and feedback. They try to give their best service within a very short time.
Right now, I am going to compare this headphone with other headphones for your better understanding.
Compare With Other Headphones
If you want to know the differences between WI-XB400 and others, you need to compare this XB400 with other headphones.
1. Sony WI-XB400 Vs OnePlus Bullets Wireless Z
Sony XB400 and OnePlus Wireless Z both are neckband wireless headphones.
But OnePlus Z supports wired connection also. It provides fast charging of 10 minutes for 10 hours of music time.
On the other hand, WI XB400 provides 60 minutes of playtime for 10 minutes charge.
OnePlus z is water resistance, while XB400 has no IP ratings.
2. Sony WI-XB400 Vs WI-C400
Sony XB400 is a better neckband headphone than the WI-C400.
The C400 has NFC pairing and a Bluetooth sync button. But the WI-XB400 has Bluetooth 5.0 and has a noticeably better wireless range.
3. Sony WI-XB400 Vs WI-C310
The Sony WI-C310 wireless is a bit better than the WI-XB400 for mixed usage. They perform similarly in most cases.
But the C310 has a more neutral sound since it doesn't have the extra emphasis on the bass.
The C310 has better noise isolation. But the microphone quality is significantly worse.
4. Sony WI-SP510 Vs. Sony WI-XB400
Both neckband headphones provide extra bass. They perform similarly in most aspects.
The WI-SP510 is designed with a water-resistant IPX5 rating. But the WI-XB400 doesn't provide it.
The WI-XB400 is more lightweight than WI-SP510.
5. Sony WI-XB400 Vs. WI-C200
Sony WI-XB400 and C200 are both very similar headphones. They have nearly identical performance in most aspects.
The C200 has less bass. But it tends to sound a bit muddy and cluttered. Its treble sounds much more piercing than the XB400.
The microphone of XB400 is better than C200.
6. JBL Endurance Run BT Vs. Sony WI-XB400
Both are wireless neckband headphones. They provide amazing sound quality. The JBL Endurance Run BT is sweatproof, while WI-XB400 is not suitable for that.
The battery of WI-XB400 is stronger enough than the JBL Run BT.
The JBL Run BT doesn't provide fast charging, while XB400 provides quick charging.
7. Sony WI-XB400 Vs. Beats Flex
Sony WI-XB400 and Beats Flex are both similar performing headphones. The Beats is more comfortable, stable, and has a better build quality. It also isolates more noise.
However, Sony has a better-balanced sound profile and long battery life.
8. Sony WI-XB400 Vs. Beats X
The Beats X is a better wireless headset than Sony WI-XB400.
The Beats X has a better wireless range and latency performance than Sony XB400.
It also has a better sound quality and a more durable design. It is flexible enough to fold and fit into your pockets.
The WI-XB400 has a longer battery life but doesn't perform better than the Beats in most categories.
If you plan to purchase the Sony WI-XB400, you need to know how worthy it will be.
How Worthy Is It?
The Sony WI-XB400 in-ear wireless earphone delivers a great bass and quality sound, which is rarely seen on low-budget headphones.
For everyday indoor to outdoor use, it is fantastic.
If you compare this headphone with its price range, it is worth buying.
You want a neckband style wireless earphone, but you think Sony WI-XB400 is not ideal for you.
You may look for an alternative in this case.
Alternative To Sony WI-XB400
For an alternative, you may go with following list :-
All these three headphones can be an excellent alternative to Sony WI XB400.
That's all for today. I am going to conclude it here.
Conclusion
Finally, you have got a straightforward idea about these earbuds from my Sony WI XB400 review.
I hope all of your confusion has gone away, and now you can make the right decision about whether to buy or skip it.
I always respect your decision.
Thanks For Reading This Article.