A friend of mine was looking for a budget-friendly set of headphones from a well-known brand. He wanted to use them for casual listening but also while doing workouts at the gym, he expected to be pumped up by his favorite jam on occasion. He asked me for my advice for a suitable pair of earphones that would match his needs.
The Beats Flex Wireless In-Ear Earbuds – were the first idea that came to my mind that would meet his requirements.
Sale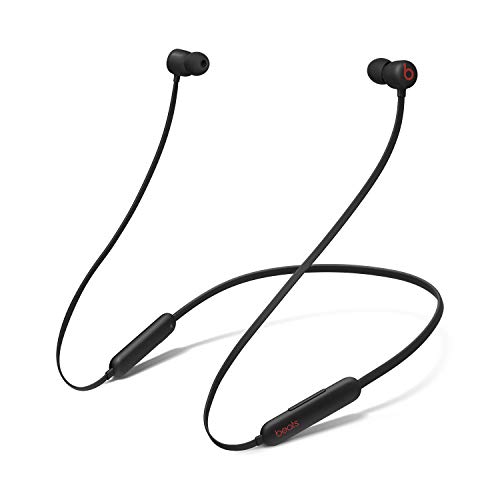 Then I thought of sharing the detailed information about these Flex earbuds with you too.
So, today I am here to present my Beats Flex review.
Before starting the Beats review, let's find the answer to one of the most queried questions regarding the Beats. Take your eyes below.
Is Beats Owned By Apple?
If you are not in touch with everything that led up to the purchase of Beats by Dre, you can read it here.
In short, Apple bought the Beats in 2014 for a huge amount of money. Apple released a few Beats products after this initiation.
The Beats Flex are the modified version of the BeatsX at a lower price. The Flex headphones have Apple-exclusive features. They also pay well with android smartphones, though.
Beats Flex Release date
The Beats Flex were announced on 13 September 2020 and launched in two colors on Apple's website in October 2021.
On 20 January 2021, they added two more colors.
Are you getting impatient to explore my review? Okay, don't need to wait anymore.
Let's know these Flex earbuds at one glance.
At A Glance
Beats Magnetic earbuds with auto play/pause.
Accurate bass and ultra-low distortion with an advanced acoustic platform featuring a custom layered driver.
10 minutes fast fuel for 1.5 hours of playback when the battery is low.
Built-in microphone with wind reduction for elevated voice clarity.
Up to 12 hours of listening time.
Class 1 Bluetooth for extended range and fewer dropouts.
Superb sound for movies and podcasts.
Wireless audio sharing with another pair of Beats or Apple headphones.
Stay tuned to the world you love with all-day wireless Beats Flex Earbuds.
Now, it's time to look into the box. What do you think they deliver us with the package? Anyway, let's see.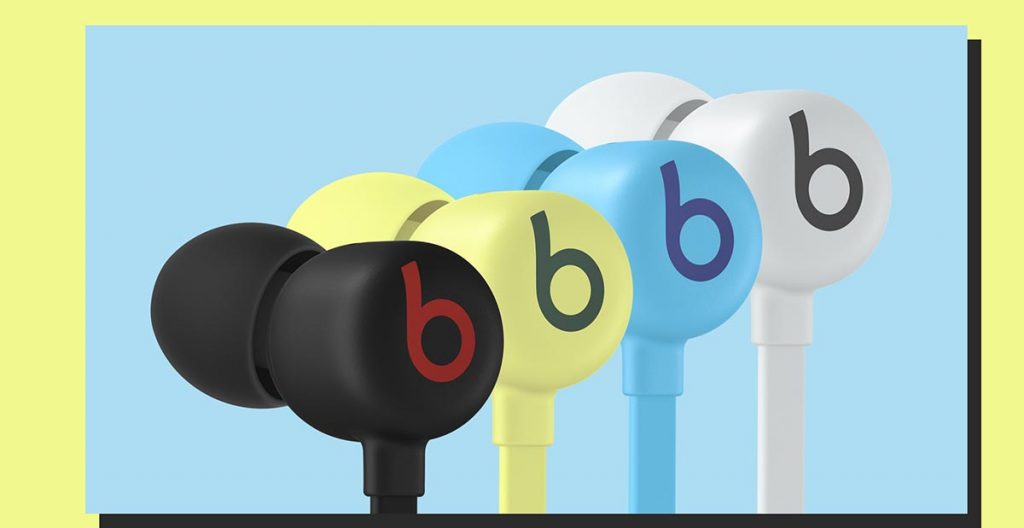 What's In The Box?
Flex earbuds come up with lovely packaging. It is surprising that it contains the least plastic and is made from 87% plant-based materials sourced from recycling fiber or sustainable forest.
After opening the box, you will find your desired
Beats Flex Wireless Earphones.
Eartips with four size options.
USB-C charging cable.
Quick start guide.
Warranty card and
Beats sticker.
Before going through the in-depth Beats earbuds review, I am going to mention some key specs and their pros – cons.
Key Specifications
Type: Closed-back in-Ear.
Connection: Bluetooth, Wireless.
Drivers: Proprietary layered drivers.
Color: Black, Yuzu Yellow, Flame Blue, Smokey Grey.
Weight: 18.6g or 0.66 ounces.
Wireless range: Up to 300 feet.
Pros
Apple W1 chip for instant and easy pairing.
Consistent connection strength.
Seamless device switching.
Cons
No official IP ratings.
Lack of automatic switching between Apple devices.
When you buy a new pair of earphones, their comfortability must be a great concern for you.
Are Flex Earbuds Comfortable Or Not?
The Flex headphones are comfortable and lightweight in-ears. They won't go very deeply into your ears.
The soft flex form cables rest around the back of your neck. The evenly balanced design allows the buds to hang down at your chest comfortably. You can enjoy listening to music, even lying on a bed without any hassle.
Moreover, they come up with four different sizes of eartips to help you get the best comfortable fit.
So, no doubt they are a comfortable pair of earphones.
Here comes the most significant part now. It is the sound quality of Flex wireless earbuds. Have a look here to know in detail.
Sound Profile
These earphones utilize a dual-chamber acoustic design and a layered driver to attain outstanding stereo separation with rich and precise bass response.
It is well suited for thumpy genres like EDM and hip-hop.
You can quickly notice their amplified bass response in the song No Fear No More by Madeon.
Unfortunately, the treble is underemphasized, which may result in a cryptic vocal.
The advanced digital processors finetune the audio for a perfect and heartwarming listening experience.
There is a good amount of focus in the mids around 1000 Hz. It gives a good bump both in volume and vocal. A conquered continuing from the bass range to the low mid can be found. It makes the sound a bit muddy and chaotic.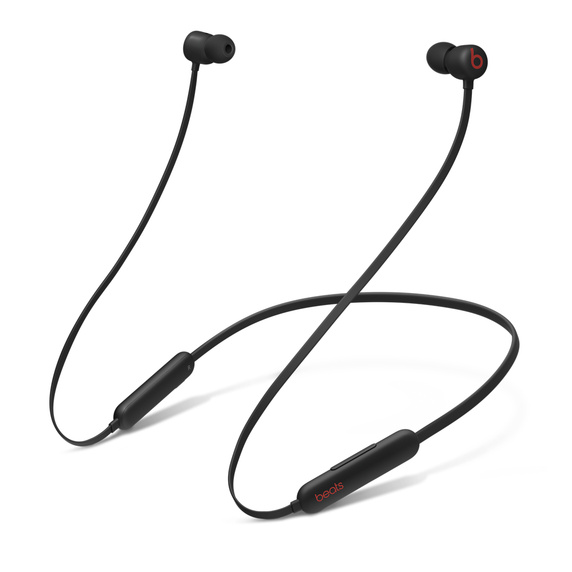 The mid-mid is pretty well-balanced, though. Also, you will feel a bump in the high-mid. So, lead instruments and the vocals may sound a little cracky.
But overall, the optimized driver angle ensures clear and crisp sound. In one line, Flex earbuds sound good for the money.
Frequency Response
Though Beats magnetic earbuds lack an accurate frequency response, the response is quite good and consistent.
When you achieve a proper fit and seal, you will get steady bass and treble delivery each time you use them.
How Is Their Soundstage?
Beats wireless earbuds generate a passive soundstage but it is not so good.
Their soundstage is small and it feels like the sound is coming inside your head. They cannot produce a broad and large soundstage like the open back ones.
Sound Leakage Performance
The Flex Beats show an outstanding leakage performance. People around you cannot hear any sound even if you are listening at a high volume.
Are beats flex noise cancelling? What do you think? Okay, let's know it.
Noise Cancelling And Noise Isolation Feature
Flex wireless earbuds have no fancy noise-cancellation tech inside of them to block out unwanted noise. However, they can provide passive noise isolation, which is above average. This sound reduction is achieved from the tips and earpieces physically blocking your ear canal.
They can isolate a bit of bass range noise. But they do some better with mid-range noise such as ambient natter and can cut down a great amount of high-pitched noise like the hum of an AC unit.
My discussion on the sound profile of Flex wireless headphones ends here. I hope this is clear to you now.
The Control system of a headphone is also a headache. Don't worry. The Beats Flex has a straightforward and responsive control arrangement.
How To Control Flex Beats?
The left side of the neckband has most of the controls. There is a rocker switch for volume control. You can also find a multifunction button here to execute the following commands: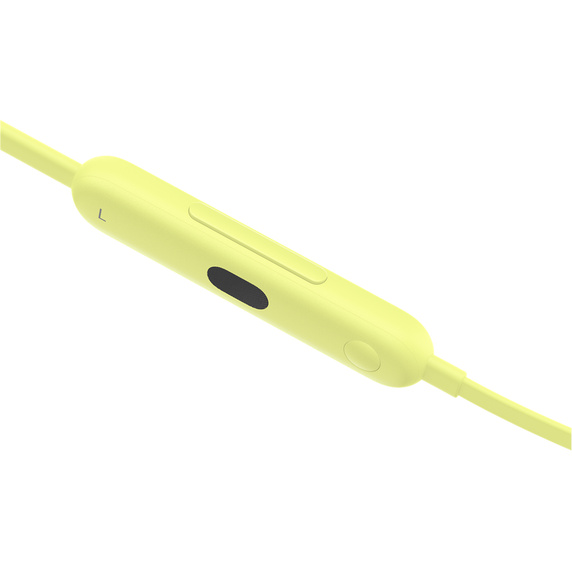 Play/pause (1x press).
Skip track (2x press).
Previous track (3x press).
Digital and voice assistance (long press or press and hold).
The right side has the power button.
You can also manage calls and music automatically with the Beats magnetic earbuds. When you snap the buds together, that will pause/resume music and start/end calls.
Are you curious about the mic and recording quality? If so, then stay with me with patience. I am going to enlighten you about them.
How Is The Microphone?
Flex earbuds have got an advanced built-in microphone. It helps decrease wind noise for getting a clear voice. You won't sound great, though. It performs poorly in rejecting background noise too.
Their mic is perfect for short-duration calls and voice messages.
For extended conference calls and meetings, you better go for Black Gumy In-Ear Earbuds. No doubt, you will love the mic.
Recording Quality
The mic has an ordinary recording quality. Your voice sounds boxy, thin, and somewhat dull or indistinct.
But the person on the other side will clearly understand what you are talking about.
Robust build quality and eye-catching design influence a person to get any earphones. So, they play a vital role in deciding whether to purchase it or not.
Right now, I am describing these two features of flex wireless headphones below.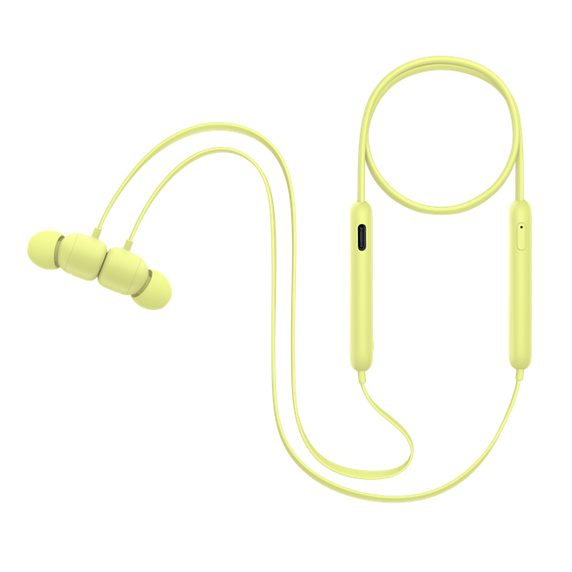 Are They Durable?
The build quality of flex earbuds is good enough. They are mostly made of silicone and rubber, which makes them very bendable. They can even withstand a couple of accidental drops.
Yet, they lack IP ratings for dust and water resistance. It is disappointing that the earbuds seem like they are prone to ripping.
You will get one year warranty for your Flex earphones and their accessories against manufacturing defects.
The Apple Limited Warranty doesn't cover damages caused by any accidental or unauthorized modifications.
Design Or Style
You can choose your favorite one from their multiple color options. Black, yuzu yellow, smokey grey, and blue are the colors.
The look is very decent and simple. The flex form neckband cable gives these flex earbuds a pretty sporty look.
Beats has redesigned the inline control a bit in Flexes. There are a round multifunction button and a volume rocker on the left side. A pill-shaped grille covering the microphone can be seen here. Also, the USB-C connector is on this side.
On the right side module, there is just a power button.
The power button of Flex Beats features a LED light to indicate power and battery life; this glows white for on, flashes when pairing, and blinks red when charging.
Let's dig it to its portability and stability now.
Are They Portable?
Flex wireless earbuds don't come up with a carrying case or pouch. But you can fold and then keep them in your pocket without any worries, as they are flexible enough.
These lightweight earbuds can also be worn around your neck when you are on the go. Also, you can leave them dangling from around your neck, wearing them like a pendant.
So, the Beats Flex are very much portable.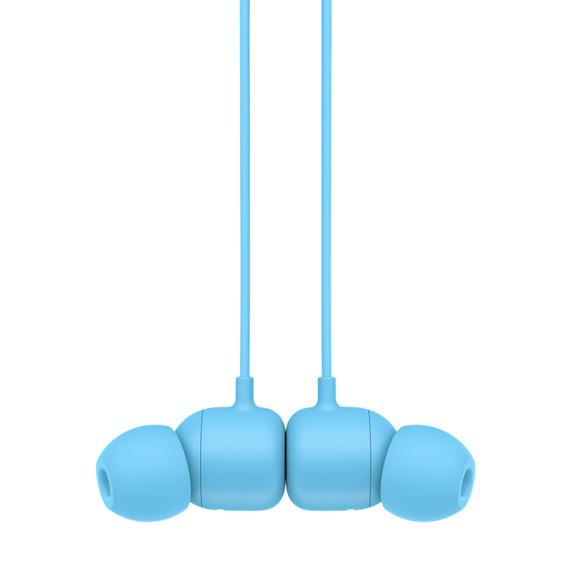 How Is Their Stability?
Flex earbuds are quite stable and well-balanced. They don't have ear hooks. However, once you get a strong seal, they won't move too much. You can also improve its stability by choosing the best-fitted earbuds from four different sizes options.
Are Beats Flex Waterproof?
These headphones don't have any official IPX ratings for water and sweat resistance. So, don't use them while swimming and taking a shower.
There is one thing that Beats has gotten right with every new wireless earbuds' release. It is their battery life. The Beats Flex also doesn't disappoint you.
Yes, you are right. I am going to disclose the battery of the Flex now. Stay with me to know the details.
All About Battery
There are some common queries regarding the battery. I am trying to answer all of them one by one.
How long do Beats earbuds last?
Apple claims that the Flex Beats have a 12 hours battery life. However, it is around 11 hours actually.
You will be pleased to know that they deliver higher playtimes than the popular models in their price range.
How long to fully charge Beats Flex?
Well, it takes less than 90 minutes to charge fully.
Here comes another question. Can you use beats while charging?
Yes, you can. First, turn it on and connect and then plug in the charging cable.
The Flex are the first Apple headphones that have USB-C charging.
You have to carry a USB-C charger or power bank that contains a USB-C port to recharge on the go. That's a small compromise, though. 
The positive thing about this is you can charge them with the same cable that charges your Android phones, and new iPads.
Beats advertise a Fast Fuel feature that allows you to listen for 1.5 hours on a 10 minutes charge.
These are wireless Bluetooth earphones, yet I haven't explained its Bluetooth till now. Does that make you worried? Okay, no problem. I am going to discuss it without any further delay.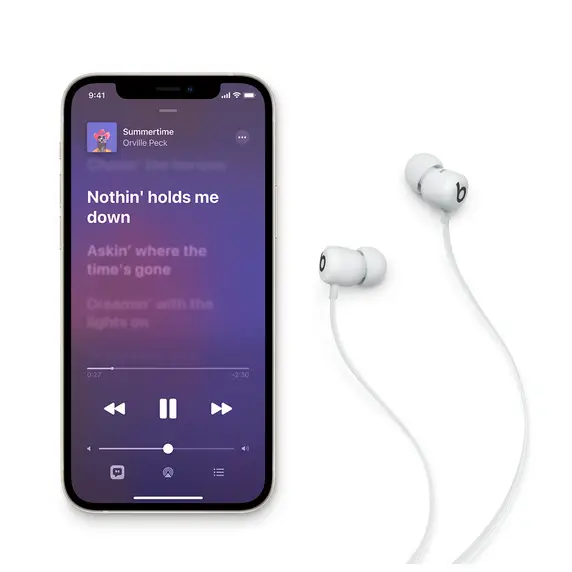 Bluetooth Details
The Bluetooth compatibility of the Flex wireless earbuds is adequate. They support AAC and SBC Bluetooth codec but no aptX. It's quite frustrating but acceptable at this price point.
They don't support multi-device pairing or NFC either. However, they have Apple's older W1 chip. This chip gives you an easy pairing feature with any Apple devices that are synchronized to iCloud. It also permits you to switch between Apple devices.
Class 1 Bluetooth rating provides connections up to 300 feet that are beyond imagination with class 2 Bluetooth devices.
Bluetooth 5.0 integration also makes it simpler to pair with android smartphones. The app for android provides additional features, including instant pairing, firmware updates.
Audio sharing is available too. You can stream audio such as songs, podcasts, or movies with Beats Flex and another set of Beats or Apple headphones.
Well, you have to pair it first before you start listening to your music. Do you know the process of pairing? Anyway, I am making it understandable to you. Take your eyes below.
How To Pair With Devices?
The pairing process varies depending on whether you use an iOS or Android device. When you are using something else, then the pairing process is simple.
Hold down the power button and it will automatically enter pairing mode. From there, just look through Bluetooth settings in your device and select [Beats Flex].
How To Pair Beats Flex On iOs?
If you want to pair it with iOS devices, then follow the rules given here.
Power on the earphones. A white card will pop up on the iOS device.
Then click on the connect button.
The headphone will establish a connection to your device and all the devices on your iCloud account.
How To Pair Beats Flex On Android?
The process is slightly different for Android. You have to download the Beats app first and give it the appropriate permission. After that, the process is the same as iOS.
Is your earphone not working? Can't it be set to pairing mode also? Well, no worries. You have to reset it in that case.
How do I reset my Beats Flex? Maybe you are thinking that right now.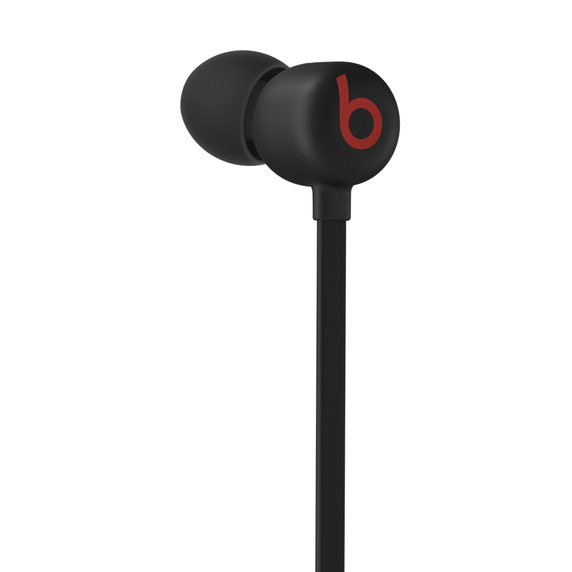 How To Reset Flex Headphones?
Step 1: At first, hold down the power and the volume button simultaneously for 15 seconds.
Step 2: The LED indicator light will flash. Now release the buttons. The reset is done.
Your earphones are now ready to set up with your devices again.
I think you have already got a brief idea about its compatibility from my Bluetooth description. However, I have some more to inform you.
Are They Compatible With Other Devices?
Flex earbuds are compatible with any Apple device that is synced to iCloud. You can also use them with windows ten and android smartphones.
They are not compatible with PS4 and XBOX1.
Are They Suitable For Gaming?
The Flex Beats are Bluetooth-only headphones. They can be used via Bluetooth in PCs but their latency is too high. So, they are not appropriate for gaming.
Don't be sad if you are a gamer. I want to suggest a fantastic gaming headset which is the Logitech G430 Gaming Headset. Go for it without any hesitation.
Are you curious about their customer support? What if your earbuds have any manufacturing defect or they get damaged somehow. Let's know about the services they can provide in that case.
Beats Customer Support
Suppose your product fails due to a manufacturing defect in the battery and the Apple One Year Limited Warranty still covers it on consumer law. In that case, they will either repair your product or replace it. In claim of accidental damages, you need to pay an additional fee for repairing service.
I guess you have got a vast idea about these Flex wireless earbuds by this time. Are you still confused about buying it? Then, I am removing all your confusion. Let's know for whom these earbuds are perfect and who should skip them.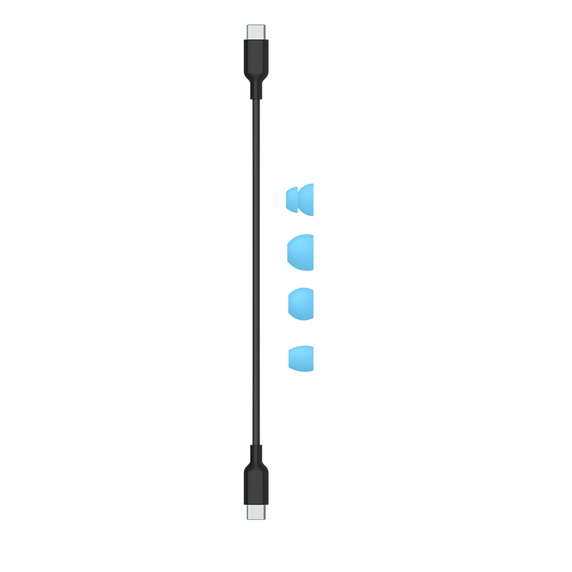 Who Should Buy These Earphones?
The Flex earphones are decent for mixed usage and casual listening. Their lightweight, portable and bendable structure is ideal for traveling and commuting.
They are stable enough for moderate exercise, sports, and fitness activities. You will remain energized by their bass-heavy sound profile at the gym.
The Beats Flex work nicely as running and gym earphones, even without official IP ratings or water resistance.
You may also use them at the office for listening purposes to concentrate deeply on your work. Their 11 hours of continuous playback time should be more than enough for your daily 9-5 office. They barely leak sound and are also able to cut down ambient chatter around you.
Who Should Not Buy Them?
They cannot isolate or reduce low-frequency noise like buses and plane engines. So, Flex earbuds are not suitable for long bus or plane trips.
Don't use these earbuds for online teaching or zoom meetings either. They are fit for quick calls and voice messages, not for long-time communication.
You shouldn't purchase it for close listening and if you are a hardcore audiophile. Their audio quality is good for the price but cannot meet up the standard or need of an audiophile.
Do you want me to compare the Flex Beats with some other similar earphones? It may help you understand more deeply. Okay, let's go for a comparative discussion then.
Compare With Other Headphones
I am going to compare the Flex earbuds with Beats X, AirPods, AirPods Pro, Powerbeats Pro, Powerbeats high performance, and urBeats 3 one by one. Stay with me and observe the comparison.
Beats X Vs. Beats Flex
The Flex are better in-ears for most users than the Beats X. They have long-lasting continuous battery life.
The Flex earbuds are superior in terms of build quality and comfortability too. Audio latency is also lower than the Beats X on iOS and Android.
However, the Beats X comes up with a case and they are more stable fit in-ears. Their sound profile is also well-balanced, unlike the Flex ones.
Beats Flex Vs. Airpods
The AirPods have the H1 chips, not the older W1 chip like the Flexes. H1 chip delivers a stable low latency wireless connection. You can even play games using them. But the Flex cannot be used for gaming.
However, AirPods may be lost easily in your bags as these tiny earbuds don't have any cable attached to them. 
So, which one is better? Are Beats Flex better than AirPods? This is a most common question.
Beats Flex is better than AirPods as they have 7 hours longer battery life and 3.5 hours shorter charge time. They also support fast charging. Passive noise reduction and an inline control panel can also be found in Beats. The sound quality is also superior.
The only downside is the Flex doesn't have any IPX ratings.
Beats Flex Vs. Airpods Pro
The AirPods Pro has active noise cancellation with transparency mode. Auto-switching is also available in them between iOS devices.
Moreover, they have IPX ratings for sweat and water resistance.
Unfortunately, all these features are absent in Flex wireless earbuds.
But the listening time of AirPods Pro is only up to 4.5 hours which is much less than the Beats. So, our described earphones are the winner in this case.
Beats Flex Vs. Powerbeats Pro
The Powerbeats pro is the best headphones for sports and fitness activities than the Flex. Their sound profile is also better and reasonably balanced.
Moreover, their carrying case offers an additional charge. They also got a standby mode to conserve power when not in use.
However, Flex can isolate more noise and leak less sound than Powerbeats Pro.
Beats Flex Vs. Powerbeats High-Performance
Powerbeats High Performance is more comfortable and stable as they have adjustable, secure-fit ear hooks. They have IPX4 ratings too; they are resistant to sweat and water splashing.
Both the two earphones have class 1 Bluetooth for extended range and Fast Charging feature.
Beats Flex Vs. UrBeats3
The UrBeats are wired in-ears which is opposite to the Flex wireless earbuds. You can activate Siri with remote talk in these earphones.
The volume controls on the Urbeats3 only work on iOS devices like the iPhone, iPod, and iPad. They do not work on Android devices. The Flex can work on both.
Both of them got magnetized earbuds.
Are the Flex Beats worth buying? Are you still confused thinking that? Don't be puzzled. I am always here to clear all your confusion.
How Much Worthy Are They?
The Beats Flex are a good option for casual music and podcast listeners. You can find a great connection with solid battery life and USB-C charging at such an affordable price.
Well, definitely, they lack a few things such as accurate frequency response, sweat resistance, and a sub-standard microphone system, but all these can be ignored at this price point.
So, if you are looking for a new pair of earbuds for running errands, you may go for it. They will be worthy as long as you keep your expectations realistic.
You have gone through my Beats Flex review all this time. But still, you may not want to buy it.
Do you want to know some alternatives?
Okay, have a look below.
Alternative To The Beats Flex
Here are some earphones which you can use as an alternate option to Flex wireless earbuds.
All these three are almost similar to Flex in functions and features.
Anyway, let's conclude the topic here.
Conclusion
I always like to give an honest review from a neutral position. I hope my Beats Flex review may help you to choose the right earbuds. However, the ultimate decision is totally up to you. The last thing I want to say is that always try to focus on your primary concern before purchasing a headphone.
Thanks for reading this article.
Frequently Asked Questions: