Choosing a gaming headset for hardcore gamers is a little tough if they want to be totally immersed in the game, at least as much as technology allows.
To make this decidion easy, Logitech G430 provides the best gaming features at an affordable price.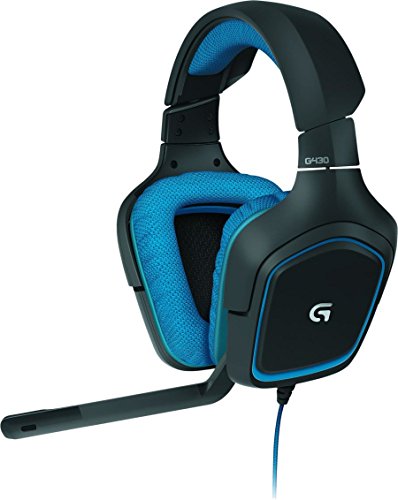 G430 Gaming Headset
DTS Headphone: X and Dolby 7.1...
Built for comfort: Lightweight...
Folding, noise-cancelling boom mic:...
Yes! You are on the best site if you want to know more about the Logitech G430.
Just keep reading below for an in-depth Logitech G430 Gaming Headset review; all your confusion will melt away.
Are you curious about The Logitech brand? Then let's know about it in short before starting the review.
Brand Overview Of Logitech
Logitech is a computer accessories company and best known for manufacturing mouse.
The company was founded in Switzerland in 1981. It is one of the largest hardware companies in the world.
Bracken Darrell became CEO in 2013. He poached Nokia's Alastair Curtis to be chief design officer and emphasized new product categories.
Such as- Bluetooth speakers and gaming peripherals.
Logitech added the G430 to their product line in 2013.
I was looking for a gaming headset at an affordable price. Then one of my friends recommended this G430 headset to me.
Finally, I purchased this headset.
Anyway, lets get to the point now.
Logitech G430 Gaming Headset Review: Enjoyable Gaming Experience
At the very beginning, I would like to mention the important features of this gaming headset.
See them in a blink.
At A Glance
Immersive Dolby 7.1 Surround Sound.
Powerful 40mm Neodymium Drivers.
Rotating Noise-Cancelling Boom Mic.
90 Degree Swiveling Earcups.
ON-Cable Mute And Volume Controls.
Best For Gaming Not Ideal For Casual Listening.
Incompatible With Mobile Devices.
The Logitech G430 is an over-ear closed-back gaming headset. This headset comes with a noise cancelling boom mic and 7.1 Dolby surround sound.
Maybe you are thinking about what surround sound is. I will describe it later as a special feature.
Now l am going to share about my feelings when I first received this gaming headset. You will also know what they deliver with the headphone.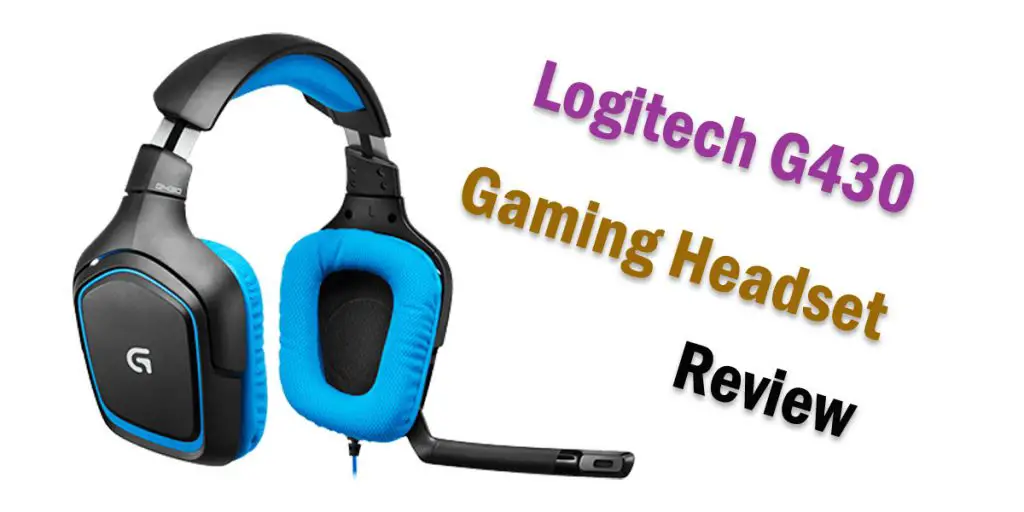 In The Box
When I first opened the box, I was too excited.
I got a gaming headset!!!
What a pleasant moment it was!
In the box, there were..
Logitech G430 headphone.
A USB headset adapter.
A warranty card.
A user manual.
By following the manual, you can setup this headset and can get a proper user guide.
Besides these, this G430 headset doesn't come with any extra accessories, not even a carrying pouch.
I have included the cable details also. Check it.
Cable Details
The Logitech G430 comes with an attached cable, neither detachable nor replaceable.
The cable is straight and uses two 3.5mm jacks.
One audio jack ( aux cord ) works as speaker output and the other is for the microphone. 
Logitech G430 is a totally wired headset and doesn't support any wireless option.
If you want a wireless gaming headset, you can go for Logitech G533 Gaming Headset.
Now let's see Logitech G430 specs and pros-cons in the twinkling of an eye.
Key Specifications
Headphone Type: Over-Ear, Closed-Back.
Connector: Wired Audio Jacks/ USB Adapter.
Frequency Response: 20Hz-20kHz.
Driver: 40mm.
Impedance: 32 ohms.
Sensitivity: 90dB.
Weight: 10.6 ounces.
Color: Black.
Pros
Impressive Surround Sound.
Great Comfort.
Good Audio Reproduction.
Superb Microphone Quality.
Cons
Questionable Build Quality.
Fairly Leaky.
To be fully immersed in gaming, you must need a comfortable headset. You cannot enjoy your gaming time with a discomfort feeling. Right?
Therefore, let's see how much comfort this Logitech G430 can provide.
How Much Comfortable Is It?
This gaming headset offers long-time wearing comfort. I was wearing this headset for multiple hours and never felt any discomfort or wearing fatigue.
It didn't even get hot.
The soft earcups are spacious and large enough to fit comfortably around most ear sizes.
But the earpads get dirty easily as it is made of fabric. So you need to clean it sometimes.
But how do you clean it?
You will find the process in the FAQ section.
The soft sport cloth ear cups with 90 degrees swivel offer maximum comfort and personalize the fit.
The headband is also well-padded.
However, it may be tight for the larger heads.
You can comfortably wear this headset with glasses and long hair also.
Besides, the clamping force of this Logitech-G430 is very nice. The padding ear cups and the headband provide a standard clamping force.
Now, I am going to describe the sound profile of this headphone.
Take your eyes below.
Sound Profile
The sound quality of the Logitech G430 gaming headset is excellent. When I was listening to music, I found it very crisp and clear.
But the sound is more loud and clear when gaming than listening to music.
Let's know the sound profile step by step.
Frequency Response
The frequency response of Logitech G430 is 20Hz-20kHz. The performance is average.
This headset is liable to consistency issues throughout the range, especially in the bass range.
Bass Accuracy
The bass accuracy is superb. The mid-bass and high-bass are overemphasized by more than 3dB.
Overall the bass is thumpy, punchy, and well-balanced.
But the bass delivery varies noticeably across the users. The response here represents the average bass, and your experience may vary.
Mid Accuracy
The mid-range of the Logitech G430 is excellent. The response is very flat.
This range ensures a clear mix and well-balanced reproduction of vocals and lead instruments.
Treble Accuracy
The treble accuracy is good also. The response is relatively balanced and underemphasized by only 2.5dB.
Sound Leakage
The sound leakage performance of the Logitech G430 is average. Though it is an over-ear closed-back headset, it leaks a bit more sound.
When you are in a quiet place, you feel the sound is leaking more.
Always try to listen to a moderate or low volume to prevent sound leakage.
Noise Cancelling
This gaming headphone doesn't come with active noise cancelling feature, and the isolation is poor too.
Though its enclosure design is closed-back, the ear pads perform like open headphones. This headset doesn't provide any isolation.
It can't block outside ambient noise when listening in a loud environment.
But there is plenty of noise-isolating headphones available in the market.
If you need noise-isolating headphones, you may check Sony MDRZX110NC. It provides more noise isolation.
How Is The Microphone?
The Logitech G430 has an excellent noise-cancelling boom microphone.
The Microphone provides very loud and clear conversation when gaming or online calling like skype calls on pc.
It makes every speech very clear and understandable, even if you are gaming in a noisy place.
In a noisy environment, it performs great and is able to separate speech from unwanted background noise.
Recording Quality
The mic has a decent recording quality. When recording, you will listen to every speech with great clarity.
Are you worried about the control system of this gaming headset?
Don't worry. I am explaining it here.
How To Control It?
The Logitech G430 has a simple in terms of on-cable control as well.
The controls are situated on the 2-3 meter cable. The on-cable controls allow you to change the volume and turn the mic on and off in seconds.
They are always fast and easy to reach.
Now, I am going to describe its build quality and design. Good build quality can influence anyone to have that headset.
How Strong Is The Build Quality?
The building quality of Logitech G430 is not sturdy enough. This headset is totally made of plastic. The plastic materials feel very cheap too.
If you want a headset with the sturdy build quality, you can try Razer BlackShark V2 Gaming Headset.
However, if your headset gets damaged within 3 years, don't worry.
You will be pleased to know that Logitech is committed to giving 3 years of warranty.
Design
With a beautiful black and blue color structure, the Logitech G430 looks very sleek.
It has large square-ish ear cups and a wide headband. Overall it is a very stylish headset.
Let's go for its portability and stability now.
Is It Portable?
The Logitech – G430 over-the-ear gaming headset is not a pair of portable headsets.
Its weight is 10.6 ounces which is not lightweight at all.
The bulky design with large earcups only lays flat and cannot be folded into a compact format.
It's a hassle to carry without any bag or backpack. It also doesn't come with any carrying pouch.
Stability
This headset is stable enough for casual or indoor use only. But it won't be stable for running or working out.
It can possibly fall off your head if you use them while doing physical activities.
Is It Waterproof?
If you want a waterproof headset, the Logitech G430 is not for you. Cause it is not waterproof, not even sweatproof.
So never think of using this headset for swimming or shower time.
You also can't use it where it has a chance to get sweat.
Sweat can damage your headset.
Now it's time to describe the special feature that I mentioned earlier.
Special Feature
The Logitech G430 headset comes with 7.1 Dolby surround sound.
Surround sound is a technique for boosting the fidelity and depth of sound reproduction by using multiple audio channels from speakers that surround the listener.
It will give you a fully immersive 360 degrees sound experience.
With this headset, you will have the most accurate experience in any game that you play.
Well, as G430 is a gaming headset, it must be compatible with most gaming consoles. But do you want to use it with other devices as well?
Then let's know about its compatibility in detail.
How Much Compatible With Other Devices?
The Logitech G430 has quite a good compatibility. The 3.5mm jacks are compatible with most devices, and the USB adapter is also compatible with the devices that support surround sound.
You can comfortably use this headset with Windows 7,8,10, and Mac.
You can also use it with your smart tv.
As Logitech G430 is a gaming headset, let's know how it performs for gaming.
How Much Perfect For Gaming?
This G430 headset is excellent for gaming. It has a balanced sound, a decent mic, and a wired design.
All the features make this headset pretty superb for gaming.
It is compatible with most gaming consoles like PS4, Xbox One, and Nintendo Switch.
While playing, you will be lost in the gaming world.
This gaming headset is not suitable for all purposes. That's why you need to know who can give it a try and who should skip it.
Who Should Buy This?
You have already known that Logitech G430 is great for gamers. 
If you are a hardcore gamer, it will be the best gaming headset within your budget.
It also can be your best surround sound headphones for movies as it provides 7.1 Dolby surround sound.
If you want a headset for online skype calls or zoom meetings, you may go with this headset.
Besides, you can also use it for online teaching or classes, as the microphone is good.
Who Might Skip It?
Don't think of using this gaming headset for studio monitoring.
This headset is not for audiophiles also. For audiophile listening, you may go for Audio Technica ATH M50x.
Besides, you cannot use this headset for outdoor listening
As it is not compatible with mobile devices, you can't use it outside.
Still, if you want to use it when going outside, carry your laptop in your bag! But won't it seem funny and awkward?
It is not suitable for traveling or commuting too. This headphone is not made for running, jogging, cycling, or gym either.
Customer Support
Logitech provides user-friendly customer support. They are always ready to offer the best service to the customer.
If you want to claim a Logitech warranty, you need to register in Logitech support. Then upload your invoice as payment proof.
Then select your product and file a warranty claim.
Right now, I am going to put a comparative discussion between this G430 and other headsets.
It will help you to understand well.
Compare With Other Headsets
Do you want to know the difference between Logitech G430 and other headsets?
Then look here.
1. Logitech G430 Vs G432
Both Logitech G430 and G432 are wired gaming headsets.
The G430 is slightly better than the G432. But the microphone quality of G432 is greater than G430.
The sound quality is the same.
However, the earcups of G430 headset are more comfortable than the G432.
2. Logitech G430 Vs G431
Both of them are gaming headsets. They provide almost similar features.
But the G431 provides a slightly better gaming experience than the G430.
The G431 has 50mm drivers and a 6mm mic.
So it delivered a more loud and clear conversation than G430.
3. Logitech G430 Vs G433
G430 & G433 both are made for gaming.
The G433 is compatible with the new G HUB app, which G430 does not support.
The G433 has a slightly sturdier build quality.
However, the mic of G433 is not better than G430.
From an overall consideration, the G430 will be a better choice if you play a lot of online games.
Are you going to purchase this Logitech G430 surround sound gaming headset?
Let's know how worthy it will be.
How Worthy Is It?
If you are searching for an affordable headset and unwilling to compromise its performance and features, this headset can be a great pick.
The Logitech G430 gaming headset delivers truly interesting surround sound and other suitable gaming features.
You may go with this headset if you don't want to drop much money.
From my Logitech G430 review, if you think it is not ideal for you or need an alternative, the below section is for you.
Alternative To Logitech G430
Here is a list of some alternatives to the Logitech G430 headset:
They are similar performing headsets and a great alternative to the Logitech G430 headset.
During the using period of Logitech G430, many people face different problems. Among them, most people complain that the mic of G430 is not working.
Now I'm going to share two simple ways to solve the problem if the Logitech G430 mic doesn't work.
How To Fix The Mic Problem?
If your Logitech G430 microphone stops working, you can fix it by the following method.
Allow Access To Microphone:
To do it, go to Windows settings and click on Privacy.
Then click Microphone and make sure to allow it to access your system.
If it is off, then turn it on.
Now re-plug your Microphone jack again to see if it works.
If the mic is not working, then restart your pc. 
If it is still not working, then check your microphone setting by following the steps. 
Check Your Microphone Setting:
Your Logitech G430 mic may not work cause it's disabled or not set as the default device for your computer.
Follow the below steps to check your microphone setting.
Right-click the volume icon at the right corner on your desktop and select Sounds.
Now click the recording tab, right-click your Microphone and click Enable.
Then right-click on your microphone name and select Set as Default Device.
Finally, save the changes and restart the computer.
In this way, you can fix the mic related issues.
Ok, that's all for today.
Conclusion
Finally, you have got a vast idea from my Logitech G430 gaming headset review. I hope this review has eased all of your confusion.
Now you can make your decision whether you should buy or skip it.
I always honor your right decision.
Thanks For Reading This Article.
Frequently Asked Questions: