Getting confused while finding a top-rated noise-canceling headphone is quite obvious, especially when the market is flooded with this type of headphones nowadays.
However, if your mind has finally got stuck between Beats Solo Pro and Bose 700, then I think I can help you.
Recently I had the opportunity to use these two headphones on a regular basis. So, I can let you know about their dissimilarities in a broad way as an expert.
And that is why I am right here today with a comparative discussion on Beats Solo Pro vs Bose 700 based on my personal experience.
You may go through this write-up to reach a decision by removing all your confusion.
Bose Noise Cancelling Headphones 700 Vs Beats Solo Pro: A Complete Guide
At the start, let's have a quick look at their key specs. The side-by-side comparisons that I am going to present below will help you understand the basic differences between them.
| Features | Beats Solo Pro | Bose 700 |
| --- | --- | --- |
| | | |
| | Up to 22 hours (with ANC), Up to 40 hours (without ANC). | |
| | Around 1 hour 45 minutes. | |
| | | |
| | 10 min charge = 3 hours playback. | 15 min charge = 3.5 hours playback. |
| | | |
| | | |
| | | |
| | | Triple Black, Silver Luxe. |
| | | |
| | | |
I know this little information is not enough for you to make up your mind. Well, don't worry. It was just a preview. The real story is yet to come.
Firstly, I would like to compare the outer look and build of Bose 700 and Solo Pro.
Design & Build
Let's start with the Beats Solo Pro.
It is a very stylish-looking headphone that feels premium with its metallic headband and matte finish.
Following the traditional Beats design, they keep the headband wide enough, and no doubt I loved this fact.
Solo Pro also has some other metallic parts in its body except for the headband, such as the joining point of the headband and earcups.
This headphone comes with an on-ear design, but it is fairly big and almost looks like over-ears, especially if you have smaller ears.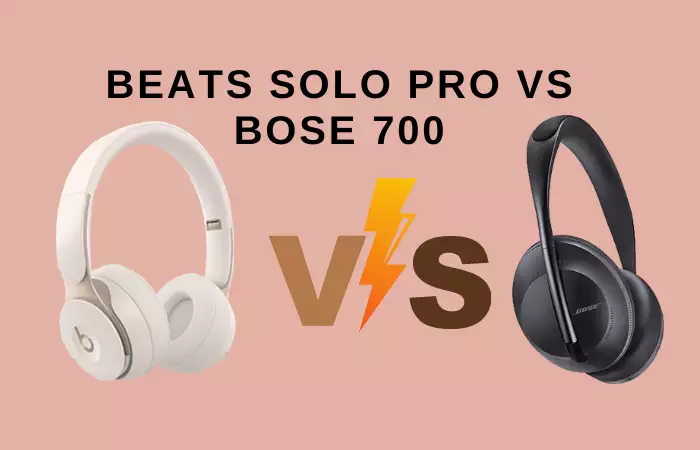 Speaking about the Bose 700, Bose incorporated durable stainless steel and soft plastic to make it.
Previously, I didn't believe in love at first sight, but this Bose's headphone made me do that from the moment I saw it.
Yes, I was totally impressed by its ultra-modern look and unibody appearance. It seemed to be molded from one piece of metal.
The headband also features a unique shape that connects directly to the ear cups without any visible hinges.
I think this one single thing has given the Bose 700 plenty of wow factor.
The integrated extenders on the tracking system will allow for seamless length adjustment, which looks even more striking to me.
I also couldn't hold myself back from praising the basic details like the fully padded headband, laser-etched logo, and microphones placements.
Among all these positive things, one single drawback that I felt after using this headphone is it doesn't fold up.
But it's not a major concern when you have so much to get from this pair.
Design is all about the external look, but you also need to be sure whether these headphones can provide you with enough comfort or not.
Well, now I am going to let you know about that at this moment.
Which One Is More Comfortable?
Moving onto the comfort feature, Beats Solo Pro is a comfortable pair of headphones, not enough to compete with Bose 700, the king of comfort.
The earcups of Bose 700 have enough padding, which will give you a gentle touch to your ears. Besides, they are breathable enough to resist any type of moisture build-up inside the ears, without making it uncomfortable in any way.
The clamping force also felt so decent and appropriate, not so tight or loose.
And thanks to its easily adjustable extenders that have a unique sliding mechanism to offer maximum stability and seamless adjustment.
On the other hand, though Solo Pro is an on-ear headphone, it is slightly bulkier than the 700. And no doubt it will surely affect the comfortability.
The padding of the earcups was nice, but they didn't feel plushier against my ears when I put them on.
The headband also felt too tight. Yes, it is not like you cannot adjust its size, but still, the extension is quite limited, and I think it won't fit people with bigger heads.
This time I am gonna reveal their sound profile to help you find out your required one. So, do concentrate on it as it is the most important characteristic of headphones.
Sound Profile: Bose 700 Vs Beats Solo Pro
Beats Solo Pro features a slightly bass-forward sound profile, which is the key feature of all Beats headphones.
It delivers emphasized lows for what Beats headphones are well-known. The bass is a bit overpowering, but still, it felt so accurate and didn't sound muddy at all.
The Mids of this headphone is not bad either. It was exactly on point.
And as for the highs, they are well-detailed and crystal clear as well. However, they may sometimes sound harsh and piercing while listening to high-pitched vocals and instruments.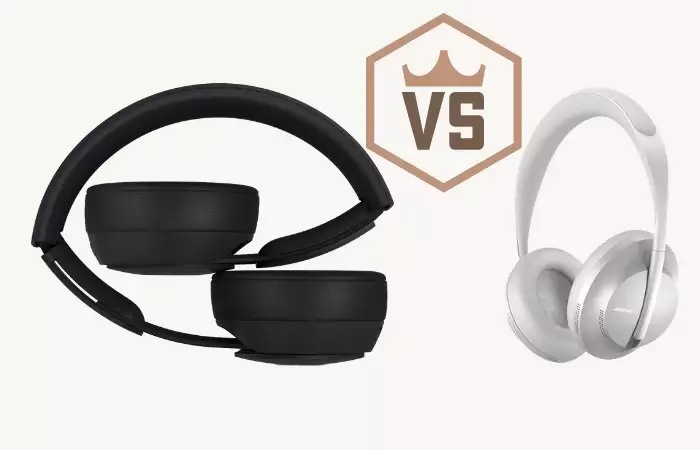 Now let's focus on the Bose 700.
It comes with a well-balanced sound profile that reproduces the music retaining its neutral and natural tones.
Lows are slightly prioritized, but not something overpowering, while the mids and highs are not left back either.
Brass and string instruments are reproduced perfectly, and vocals are pronounced nicely as well.
Due to its balanced audio reproduction, you can listen to any genre of music on this headset, which I liked the most.
I even tried listening to classical music on it! And guess what? It sounded so incredible and fantastic that I literally fell in love in a second.
You already know that these two are active noise-canceling headphones. So, this time I am going to compare their ANC features.
Nosie Cancellation
Which is the superior one in this aspect, Beats Solo Pro or Bose 700? Let's find it out.
Though Beats is Solo Pro not so good as its competitor Bose 700, it can still work well against some sound frequencies.
It can nicely eliminate mid-range noises like ambient chatter. So, Solo Pro can help you concentrate on your study, blocking out the voices of your family members.
It is also able to wipe out the humming of AC units.
But unfortunately, this headphone is not so effective against low-frequency noises. It can slightly minimize the sound of airplane and bus engines.
When I was quite okay with the performance of Solo Pro, Bose 700's ANC was something that can only be defined with the word "excellent".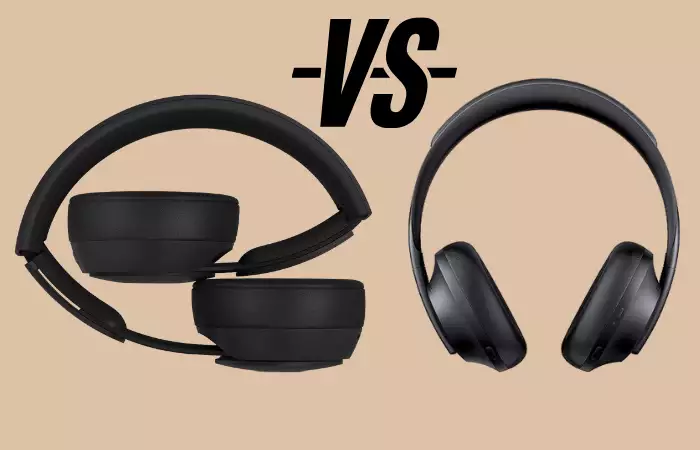 Well, it is not that I expected something else. Why should I, when it is a headphone from the renowned brand Bose that is considered the gold standard for noise-canceling headphones?
Once you set its highest ANC level, it will block almost 90 percent of the surrounding noises while also mitigating high frequencies to the point where they will sound like background effects on music.
From a doorbell sound to the police siren, or the crying of a baby, this Bose's headphone can eliminate them all in a moment.
Unlike the Solo Pro, it is also an expert in blocking the Airplane noise to a greater extent.
Therefore, you can go for this true gem to enjoy music without any distraction no matter where you are- on public transportation, in the office, or at home.
Microphone or Call Quality
Beats Solo Pro's mic has a decent noise handling capacity. Yes, I felt the presence of moderate noise while speaking, but my voice was totally understandable to my calling partner.
Even when I took a phone call in a busy street, he could hear me well.
In contrast, Bose's microphones are used to produce exceptional clarity, cancelling the surrounding noise at the highest possible level.
While talking outside on my Bose 700, the person on the opposite end heard me loud and clear. She just faced a little difficulty when I encountered the wind, but not to the point where we could not carry on the discussion.
Anyway, its performance will be out of the ordinary if you talk in a relatively quiet setting.
Recording Quality
The recording quality of Beats Solo Pro is disappointing. Recorded voices sound muffled and lack a lot of detail, while recorded speech sounds pretty natural and clearly understandable on Bose 700.
So, the winner is once again the Bose Noise Canceling headphones 700.
You might be waiting to know about their battery life in detail. Right? Okay, let's get into that without any further ado.
Battery Life
Solo Pro can run up to 40 hours when both the ANC and transparency mode are disabled. However, with the ANC on, it can last up to 22 hours, which is quite good for a noise canceling headphone.
Contrarily, Bose 700 offers only 20 hours of battery life, which is less than its competitor.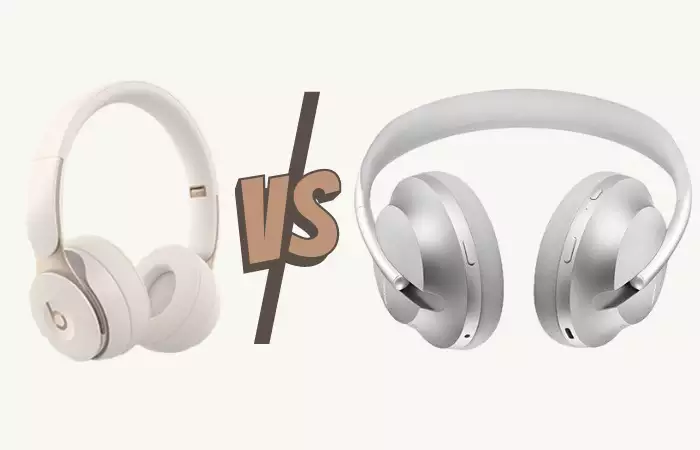 Besides, I felt a bit disappointed when I found that there is no option to turn off the ANC. That means its power will continuously be depleted no matter what mode is enabled.
The 700 offers less battery support while also taking longer time than the Solo Pro to be fully charged.
However, don't be disheartened as it supports a fast charging feature. You can plug it into the charge for 15 minutes before rushing out to the door to get 3.5 hours of playback support.
Solo Pro has this feature as well, which will provide 3 hours of playback from only 10 minutes of charging.
Well, this is the very first segment where Solo Pro has beaten the Bose 700. So, let's celebrate its first win with a big hand.
How Is The Control System?
All the playback controls and call management options of Beats Solo Pro are on its left earcup.
You can play/pause and answer/end calls with the left "b" button, which is clickable.
Pressing it twice will skip the track forward and, thrice will skip it backwards. You need to press the upper part and lower part of the "b" button to increase and decrease the volume, respectively.
This button is also used for voice control. For that, press and hold down this button.
There is another dedicated button on this same earcup to enable the ANC or transparency mode.
Bose 700's control scheme, on the other hand, consists of both physical buttons and a touch sensor.
The power button and the voice assistant button are on the right ear cup, and an ANC button is located on the left.
You will see the touch sensor on the right ear cup, which is very responsive to some swipe and tap gestures.
Using it, you can play/pause, adjust the volume, skip the track forward and backwards, and answer/end calls.
So, that was all about their control system. Now, what do you think? Who should be the winner of this round?
Well, I found both of them handy and quite responsive. Hence, I am keeping the score level.
Now I will talk about their connectivity.
Wireless Bluetooth Connectivity
Both headphones feature Bluetooth 5.0 version, but the connectivity of Beats Solo Pro is better than the 700 due to its H1 chip, which offers a lot of extra benefits.
You can quickly connect this headphone to all your iCloud devices and smoothly switch between different devices.
In addition, the chip also ensures a better connection when connected to an iOS device.
Neither of them features NFC pairing or any high-quality codec support, only the SBC and AAC.
On the upside, Bose 700 supports multi-device pairing. Hence, you can connect two devices at the same time.
As for the latency, it is lower on iOS devices for Beats's headphone. Otherwise, their performance on Android is the same. You will have to face a little bit of latency in this case, which is negligible.
However, latency is likely too high on PC or for gaming on both headphones. But your experience may vary as some apps and devices offer latency compensation.
Wired Listening
Bose provides a 3.5 mm to 2.5 mm audio cable to let you enjoy wired listening. So, if you prefer the nuances of wired listening, Bose 700 is readily available for you.
On the other hand, you won't get any cable with Solo Pro, but you can still enjoy music in wired mode. And for that, you have to purchase a Lightning to 3.5 mm audio cable.
So, Bose 700 is the winner here in terms of the convenience of wired listening.
If you want to customize your listening, you need to know about the app support and its features elaborately. Right?
Then, let's see which one can make us happy.
App Support & Features
Bose 700 is compatible with the Bose Music app, which features a number of things like a music player, standby timer, volume slider, battery level indicators, toggle controls, digital assistant selection, and firmware updates.
This is not the end. Also, there is an option to adjust the ANC via a slider. I could even set my preferred ANC levels with it.
Another impressive thing about this app is the Self-Voice setting. It will allow you to adjust how loud your voice will sound on calls. Besides, you can assign Spotify Tap to the Action Button via this app.
What more you will get on this app is the option to customize the bass, mids, and treble manually, along with four presets (Bass Boost, Reducer, Treble Boost, Treble Reducer) to enjoy music based on your own taste and preference.
While Bose music app is full of some mind-blowing features, the Beats Solo Pro has poor app support, which is disappointing.
There is an app available on both Android and iOS devices, but it rarely can do anything. It only let me enable or disable the ANC and control talk-through (transparency) mode.
So, the winner should be nothing other than the Bose 700.
By this time, you have known a lot about the differences between Bose 700 and Beats Solo Pro.
I think you already guessed the winner, but still, I am going with it to make it clearer.
Who Is The Winner?
I wholeheartedly recommend Bose Noise Canceling Headphones 700 over the Beats Solo Pro.
Bose Noise Canceling Headphones 700
It has won almost all the segments for its uncompromised comfort, studier built, well-balanced sound profile, class-leading noise cancellation, and crystal-clear call clarity.
It only lacks a bit in battery life and connectivity, but you know what? Sometimes you need to compromise a little to get something best.
And great things always come at a good cost. Won't you agree?
That's why I suggest you go for the comparatively expensive Bose 700 instead of the relatively low-priced Solo Pro.
What!!! Don't want to buy any of them?
Okay, I have a solution to this situation also. Just check the below section.
Alternative Options
You can try any of the following headphones as an alternative to both Beats Solo Pro and Bose NC 700.
Sony WH 1000XM4 is an industry-leading ANC headphone, which will offer enhanced comfort and let you enjoy a neutral sound profile. And even if you don't like a neutral sound profile, just customize it with your own color using the Sony's Headphones Connect app.
Beats Solo Pro, at the same time, is a high-performance Bluetooth noise-cancelling headphone that works great both on iOS and Android devices. It will allow you to experience premium listening with 22 hours of battery support.
I have nothing more to inform you. Let's end it here.
Conclusion
Hopefully, you will manage to get the right product after going through this discussion on Beats Solo Pro vs Bose 700.
Explore all the variances thoroughly, and then go for the one which will be well-suited for you.
Have a happy listening all the time.
Thank you and goodbye for now.