Beats Studio 3 and Bose 700 are two of the most popular headphone models available on the market from two prominent brands that manufacture high-quality audio equipment.
Their sleek designs and superior sound quality make it harder for you to choose between them. However, when it comes to investing in a new pair of headphones, it is worth taking the time to make the right decision.
And to help you with that, today I am going to show you how Beats studio 3 and Bose 700 compare with each other in terms of value and features.
So, get ready to enjoy the head-to-head battle: Beats Studio 3 vs Bose 700.
Bose Noise Cancelling Headphones 700 Vs Beats Studio 3: Which One Is Worth Buying?
Now I am presenting their key weapons that will be used to fight against each other. Well, I was talking about their key specs.
However, it's not enough to reach the conclusion, but this will give you an initial idea about the two products.
| Features | Beats Studio 3 | Bose 700 |
| --- | --- | --- |
| | Up to 40 hours (ANC off), up to 22 hours (ANC on). | |
| | | |
| | | |
| | 10 min charge = 3 hours playback. | 15 min charge = 3.5 hours playback. |
| | | |
| | | |
| | | |
| | Matte Black, Red, White, Blue, Shadow Gray, Black-Red, Midnight Black. | Triple Black, Silver Luxe. |
| | | |
| | | |
| | | |
This is just a preview of these two headphones. Check out the whole write-up for detailed information.
From now on, I will compare each feature of them one by one. How about starting with the design and build?
Design & Build: Beats Studio 3 Wireless Vs Bose 700
Starting with the physical appearance of Studio 3, it has a sleek and curved design without any sharp edges.
Its body is mostly made of plastic with a beautiful matte finish. Only the fold-up hinges and the frame of the headband are metal built for increased durability.
The foam earpads are covered with synthetic faux leather. It may sound good, but the fact is this one seemed entirely plastic-based to me, while synthetic stuff looks almost identical to the real thing nowadays.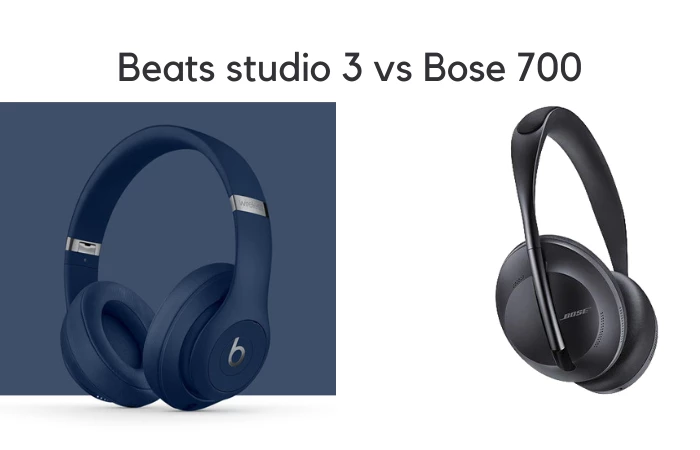 While I was a little bit disappointed at this fact, it made me feel more down when I found that the plastic coating of the headband is prone to scratches.
So, Beats Studio 3 clearly failed to satisfy me with its build and design, but Bose 700 played a totally opposite role in this aspect.
It is built with robust stainless steel and soft-touch plastic, which is way more exceptional than the company's other traditionally designed over-ear headphones.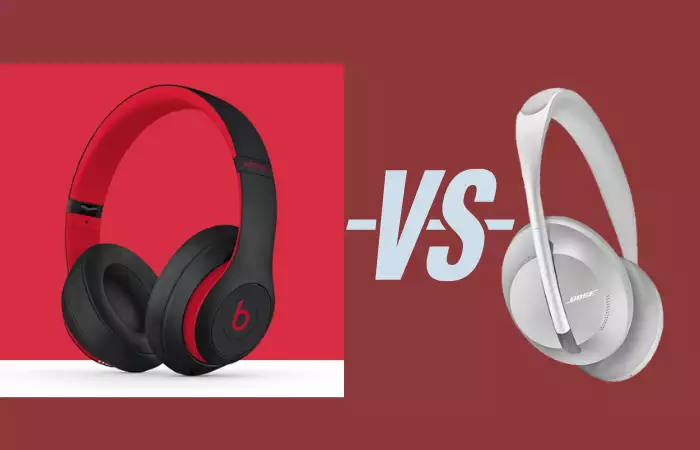 I was impressed by its futuristic look and unibody appearance. It looked to be shaped from one piece of metal, which seemed really unique and beautiful to me.
What is more striking is the integrated extenders that are set on a tracking system for seamless length adjustment.
And not to mention the invisible hinges and its specifically shaped stainless-steel headband, which make Bose 700 look more elegant.
Even if you want to explore the basic detail to find out any flaws, Bose 700 will leave you in awe. From the fully padded headband, microphone placements to the laser-etched logo, everything is eye-catching.
Well, unfortunately, this headphone doesn't fold up, and it is my only objection.
Now I will enlighten you with how I felt while wearing these two headsets. Yes, you guessed it right. I am about to reveal their comfort features.
Comfort & Fit: Beats Studio 3 Headphones Vs Bose 700
Moving onto the comfort feature, Bose 700 is a very comfortable set of headphones.
The earcups were well-padded as expected, and they seemed quite breathable to me. To test this, I tried doing some light exercises in the gym, and it didn't trap any heat or allow any kind of moisture build-up.
And as for the extenders, it is super easy to adjust them, thanks to the unique sliding mechanism that can offer you maximum stability and seamless adjustment.
To talk about the downsides, the clamping force felt a bit strong on my ears, which became fatiguing after 2 hours of use.
Hence, I suggest you take a break in the middle.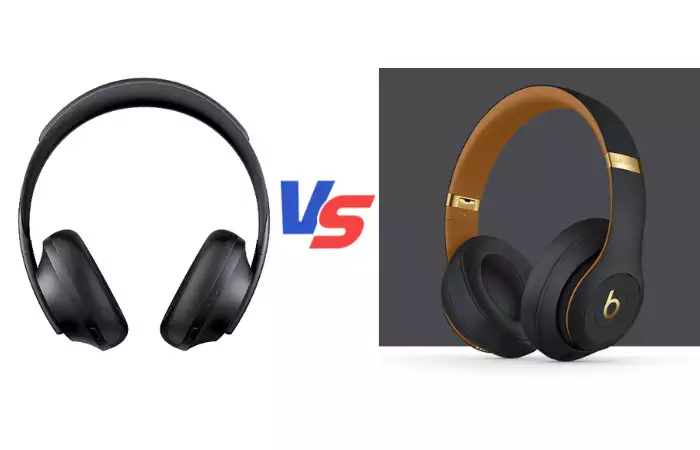 You cannot wear Beats Studio 3 for a long time either. I did the same while using this headphone as well.
Having a short break in the middle can give you complete relief from fatigue.
Apart from this, the ear cups got enough padding, which is good, but its headband was not as well-padded as the earcups. It felt a bit rigid to me, which will undoubtedly affect your comfortability.
Unlike the Bose 700, its clamping force was decent, distributing the pressure evenly around my head and ears.
As both headphones have some drawbacks while also providing great comfort for a certain period of time, I am keeping the score tied for this segment.
Here comes the most significant feature of a headphone. Yes, it is the sound quality.
Let's get into the details of it.
Sound Quality: Bose Headphones 700 Vs Beats Studio 3
So, what is the difference between Beats Studio 3 and Bose 700 in terms of audio quality?
I am starting with Bose 700.
I found this headphone to deliver a more well-balanced sound, which is necessary to reproduce the music in a neutral and natural way. And this is what Bose 700 was doing perfectly.
Lows are prioritized a bit, while not being overpowering. It was just on point. Mids and highs are not left back either. The vocals sounded clear and perfect, while brass and string instruments were reproduced nicely as well.
This headphone is ideal for listening to most genres of music. I also tried listening to classical music on it out of curiosity, but the outcome was something jaw-dropping.
What I liked most about Bose 700 is that you can fine-tune the audio to your ears with the customizable EQ in the companion app.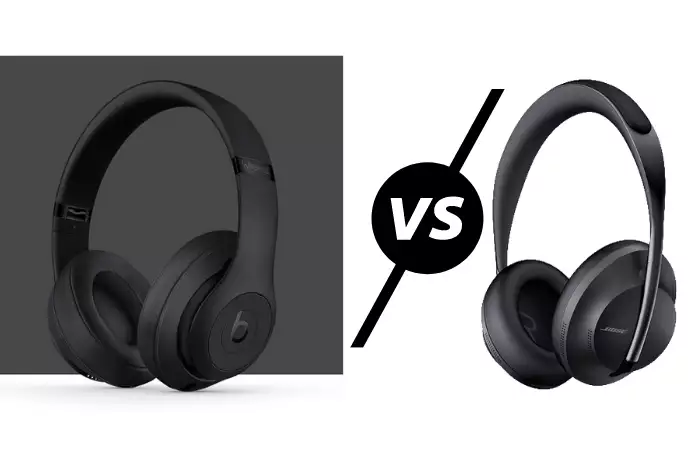 Beats Studio 3, on the other hand, has a bass-heavy sound profile. So, this headphone can be your bet if you are a bass-head.
They are well-suited for the genres like hip-hop and rap songs, delivering intense thumps and rumbles.
Well, it is pretty obvious when the strong bass response is the signature trait of Beats headphones.
When it comes to talking about other frequencies, the mids sounded a little unclear and indefinite.
Its treble performance is also disappointing as well. It is weak and lacks depth which results in some mixes sounding muddy and muffled.
I think you already have guessed the winner for this round. It is none other than Bose 700.
As both of these two headphones are noise-canceling, you need to check beforehand how well they can perform in this aspect.
Noise Cancellation: Beats By Dre Studio 3 Vs Bose 700
Beats Studio 3 cannot compete with high-performance noise-canceling headphones like Bose 700 or QuietComfort 45, but its noise cancellation is quite decent.
Though it cannot eliminate or reduce the low-frequency noises such as the low rumbles of bus or plane engines, it works quite well against mid-range noises like ambient chatter.
If your colleagues are talkative enough to distract you from your office work, you can use this headphone to block out their voices.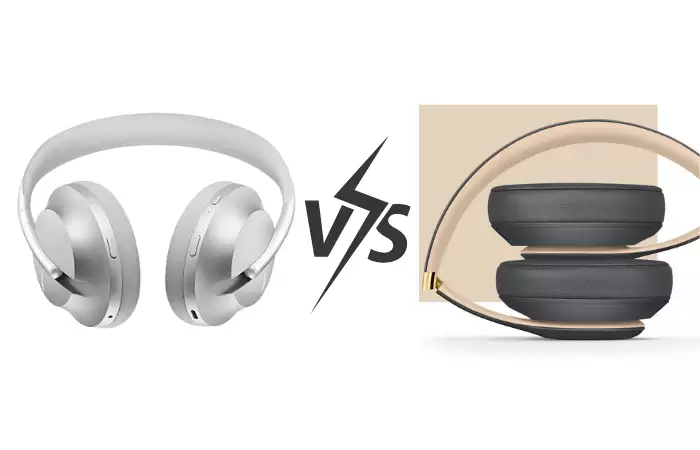 Or suppose your younger sibling is preparing himself for an upcoming exam but cannot focus on his study due to the chatter of your family members. In that case, this headphone can help him concentrate on his study.
Studio 3 can also efficiently eliminate the high-pitched noises like the humming sound of AC.
Anyway, now come to the performance of Bose 700. It is the boss of noise canceling headphones.
This headphone features eight microphones, and six of them are used for noise cancellation. In addition, their adaptive microphone technology is renovated to provide 11 levels of ANC.
Just set the highest level and see the magic. The noisy world around you will turn into a silent kingdom in a moment.
Yes, it blocks almost 90 percent of ambient noises while also reducing high frequencies to the point where they sound like background effects on music.
I had the opportunity to fly with this headset. It blocked the engine noise so well that the roaring sound became a second thought for me.
You can also use it while riding public transportation, in the office, or at home to enjoy distraction-free listening.
Bose 700 also doesn't fail to show its expertise in eliminating any police siren, crying of a baby, or doorbell sound as well.
So, based on the hardware and my experience, I am giving this round to the Bose 700.
Call Quality: Beats Studio 3 Vs Bose NC 700
No matter which headphone you are going to get, be sure to enjoy a high-end calling experience. However, still, Bose 700 is better in this competition.
I tested its call quality both inside and outside of my house. Its performance was outstanding while I was talking indoors. According to my friend, my voice couldn't be more crystal clear than this.
And while I was outside, he heard me loud and clear as well. Well, you may need to deal with some issues in a windy environment, but not to that point where you cannot continue the conversation.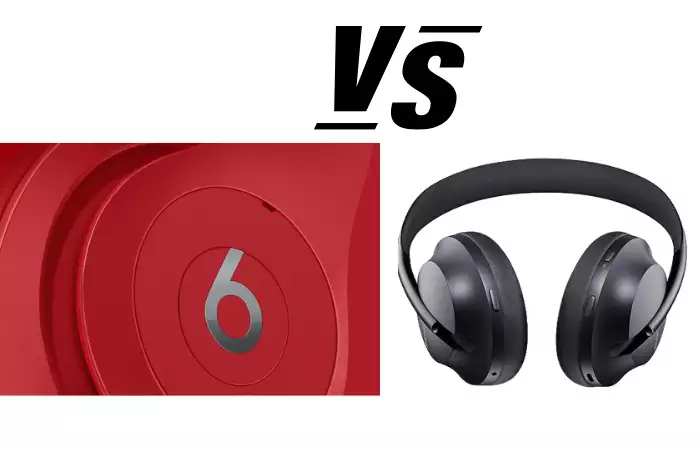 At the same time, Beats Studio 3 has come with a better microphone to let you enjoy solid and stable call quality.
Its performance both at home and outside was also up to the mark.
How is The Recording Quality?
The integrated microphone of Studio 3 has just an ordinary type of recording quality. The recorded voice lacks detail, and it sounds slightly thin and distorted.
Bose Noise Canceling Headphone 700 is the winner in this case also. The recorded voice sounds simply natural and understandable.
You have already got an idea about their battery life from the table. However, you can check the below section for further details.
Battery Life: Bose 700 Vs Beats Studio 3
Well, this might be the only area where Bose 700 cannot beat its competitor Beats Studio 3.
The 700 offers only 20 hours of battery life, whereas Studio 3 has 22 hours with ANC and 40 hours without ANC.
A big downside of the Bose's headphone is that you can't turn off its ANC. That means it will continue to drain power no matter what mode is enabled.
A bit disappointing. Right?
So, here is the score.
How Is Their Control System?
Speaking about Beats Studio 3, its left earcup has all the playback control and call management options.
You will find a "b" button on both earcups, but only the left one is clickable.
Press it once to play/pause the music, answer/end calls, twice to skip forward, and thrice to skip backward.
And if you press the upper and lower part of this "b" button, it will increase or decrease the volume, respectively.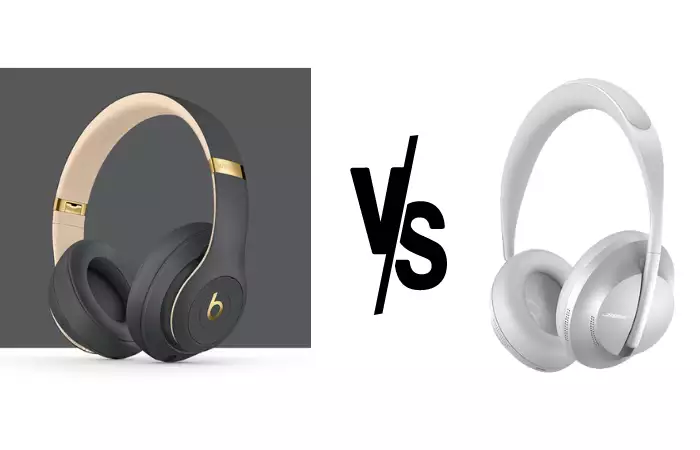 Press and hold this button to summon the digital assistant.
You need to press the power button twice to activate the ANC.
The control scheme of the 700 consists of buttons and touch control.
There are the power button and voice assistant button on the right ear cup and a dedicated ANC button on the left.
You will find the touch sensor on the right ear cup, which is very responsive to some specific swipe and tap gestures.
Using this touch sensor, you can play/pause the music, adjust the volume, skip forward and backward, and answer/end calls.
I liked both of their controls. They seemed quite convenient and responsive. Hence, the score should be the same for this round.
Connectivity is an important issue of Bluetooth headphones. You cannot enjoy your listening if you face continuous interruptions. That's why you should check it before making any final deal.
Wireless Bluetooth Connectivity
Who is the better one, Beats Studio 3 or Bose 700? Let's check it.
Bose 700 features Bluetooth 5.0 while Studio 3 supports the 4.2 version. So, definitely, it is going to make some difference.
700's connection quality seemed more solid and stable to me, and it let me enjoy the music without any single dropout.
Moreover, it supports multi-pairing. You can connect two devices to this headphone at the same time, but Studio 3 won't offer this benefit to you.
And as for latency, both of them have lower latency on iOS and Android devices, which is okay if you stream video. However, you will get a better outcome in this case when you use Beats Studio 3 on your iOS device. 
Anyway, my experience was not the same when I used it on my PC. The latency was much higher in this case, and it was affecting the audio and video syncing.
So, despite having some flaws, Bose 700 is the superior one in this segment for its better Bluetooth version and stronger connection quality.
Wired Listening Convenience
If you prefer the nuances of wired listening, both the Bose 700 and Studio 3 will let you enjoy that.
Beats's headphone has come with a detachable 3.5 mm TRRS cable that even has an in-line remote and microphone.
On the other hand, Bose provides a 3.5 mm TRS to 2.5 mm TRS audio cable with the 700, which is less common and a bit trickier to find.
However, it doesn't have to do anything with the audio quality, and that's why the score should be level.
Now I will compare how well their app support can improve or customize your listening.
Stay with me for the details.
App Support & Features
The Beats app on Studio 3 totally left me disappointed. I couldn't use it on my android device. Then I tried it on my friend's iPhone. Well, fortunately, it worked on that but supported only a few features.
You can only get the battery information and disable the ANC in the Bluetooth settings. Nothing more than that, even on iOS devices.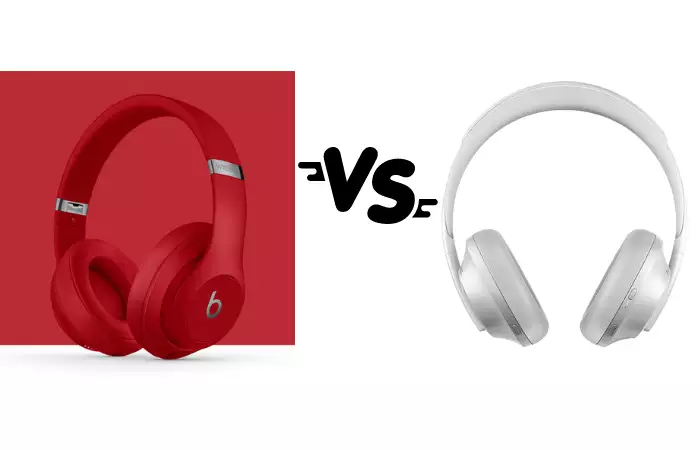 The Bose Music app on the Bose 700, on the other hand, has a lot to offer, such as a music player, volume slider, standby timer, battery level indicators, digital assistant selection, toggle controls, and firmware updates.
Not only that, you can also adjust ANC via a slider and set three preferred ANC levels, use the Self-Voice setting to adjust how loud your voice sounds on call, and assign Spotify Tap to the Action Button via this app.
Besides, you can also fine-tune the bass, mids, and treble manually, along with four presets (Bass Boost, Reducer, Treble Boost, Treble Reducer) to simplify sound customization.
So, we have a clear winner here.
These are the possible comparisons shown between Beats Studio 3 and Bose 700. Now it is time to select the final winner.
Who is The Winner?
Well, after such an elaborate discussion, it is pretty obvious that the final winner is the Bose 700.
It is a better headphone in almost all aspects. Its sturdy build quality, attractive design, high-end audio quality, incomparable noise canceling ability, and outstanding call clarity make it worth buying.
Though it is a little bit expensive, its extraordinary features totally justify the price tag. It is nearly impossible to get such a complete package in one wrap-around.
So, I am wholeheartedly recommending this headset.
But, still, if you are not satisfied with their performance, I have more options for you. Just keep reading to know that.
Alternative Options
Now I am presenting two suitable alternatives to both Beats Studio 3 and Bose 700.
Shure AONIC 50 headphone comes with a top-rated noise-canceling feature. If you wish to enjoy some of the best quality wireless audio with a wide range of codec support, you may consider getting this comfortable headset.
The Sony WH-1000XM4 is the best alternative you can go for. It is a class-leading ANC headphone with superior comfort and high-end customizable sound. It has robust connection stability and good microphone quality as well, along with 30 hours of continuous battery support.
Okay, I am done with the topic finally. Now let's conclude it here.
Conclusion
I hope this comparative discussion on Beats Studio 3 vs Bose 700 will help you get the right product.
I shared my own experience with all of you. Now it is your turn to choose.
Let's meet again through another article.
Till then, goodbye.