What about comparing an elephant with an ant? Sounds weird, right?
But sometimes the weird things are most interesting to explore.
Why am I saying all this?
Well, it's because today I am going to compare the tiny AirPods Pro with the oversized Bose 700.
There may be a huge difference in their size, but more or less, they serve the same purposes in their respective area.
So, people easily get confused about whether to go for the expensive Bose 700 or the inexpensive AirPods Pro.
But don't worry, as today you will get to know my personal experience with these two earpieces, which will assist you in your decision-making.
Then let's start enjoying the battle of AirPods Pro vs Bose 700 without any further ado.
Bose Noise Cancelling Headphones 700 Vs Airpods Pro: Broadly Explained
Before getting into the detailed comparison, let's have a quick look at their key specifications. It will help you get a basic idea about them.
| Features | AirPods Pro | Bose 700 |
| --- | --- | --- |
| | | |
| | 4.5 hours (ANC on), 24 hours (with charging case). | |
| | | |
| | 5 minutes of charge = 1 hour of playback. | 15 minutes of charge = 3.5 hours of playback. |
| | | |
| | | |
| | | |
| | | |
| | | |
| | | Black, Luxe Silver, Soapstone. |
| | 0.19 ounces (each earbud). | |
| | 1.22 x 0.86 x 0.94 inches. | |
| | | |
When you go to buy a headphone or earbuds, the first thing that catches your attention is their design and build. It's the outer look that we judge in the first place.
That's why I thought of starting with that.
Design & Build: Apple AirPods Pro Vs Bose 700
Comparing a pair of tiny earbuds with a bulky over-ear headphone is kinda weird, but still, I am going with it as per your demand.
Starting with the physical feature, Bose 700 is constructed with durable stainless steel and soft-touch plastic, which is way more unique than the company's other traditionally designed over-ears.
It has a unibody appearance with a futuristic ultra-modern look. I admire the way how it looks to be molded from one piece of metal.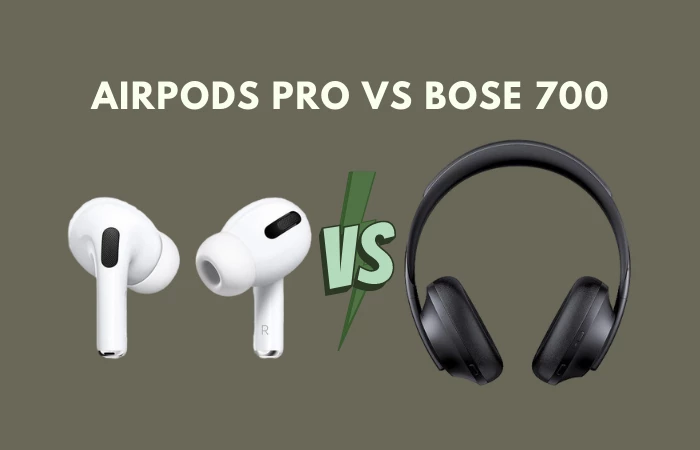 The more striking factor is its integrated extenders that are placed on a tracking system for seamless length adjustment.
Besides, you cannot overlook its distinctively shaped stainless steel headband and the invisible hinges, which give this headphone plenty of wow factor.
I cannot even resist praising the basic details like its well-padded headband, microphone placements, and laser-etched logo. Well, I have come up with one objection: this headphone doesn't fold up.
A bit disappointing. Right?
Anyway, now come to the look of the Apple AirPods Pro.
It has almost the same minimal and sleek design as the original AirPods, but I found a polarizing kitschy retro-modern aesthetic in its look.
Its stems are a bit shorter than the AirPods, where you will find a small notch cut. This certain part has an embedded force sensor for necessary controls.
Now get a closer look. You will notice that its head is wider than its predecessor with two black mic vents.
There is another vent at the top of the stem which is hiding another microphone. I also loved the slim, glossy chrome circle at the bottom.
Another premium addition is the silicone ear tips at the end of the bud that enters your ear.
And as for the build quality, the AirPods Pro is made of high-quality plastic to make it able to withstand a couple of accidental drops. And not to mention its IPX4 water-resistance rating, which is like a cherry on top.
Well, it is a tough call to announce a winner for this segment, as both of them are capable enough in their own individual way.
Hence, let's make justice by making it a tie.
No matter how beautiful a headphone is, it will be worthless if you cannot get enough comfort while wearing it.
Therefore, you also need to check the comfort feature before the final deal.
Comfort & Fit: Bose NC 700 Vs AirPods Pro
Proceeding with the Bose 700, it is a very comfortable pair of headphones. You can easily adjust the extenders. Its unique sliding mechanism offers maximum stability with seamless adjustment.
The earcups are nicely padded and breathable enough to allow the air in and out to resist moisture buildup. So it won't trap any heat either.
The only drawback I had to deal with was its strong clamping force, which became fatiguing after a couple of hours.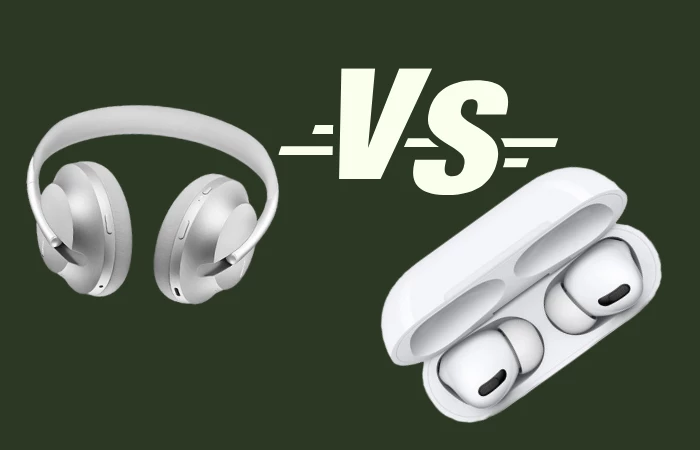 AirPods Pro, on the other hand, has been developed with an innovative vent system to equalize the pressure inside the ears to reduce discomfort.
While wearing them, even for a few hours, I felt like nothing was in my ears. They are so lightweight and won't even go much deeper into your ear canals to cause any irritating sensation.
Breathability is also good, and you won't have to deal with issues like any kind of heat-trapping inside them.
So, use them during your gym workout if you are a fitness lover. And do not worry about the sweat either, as they are IPX4 rated.
And to provide you with the best possible fit, Apple offers three pairs of silicone ear tips of different sizes.
Once my friend wanted to try them out, but he was worried about his small ear canals. Later, its medium-sized tips could bring a smile to his gloomy face.
It seems like we have got a clear winner for this round.
Portability: Bose Noise Cancelling Earbuds 700 Vs AirPods Pro
Well, it is actually a kind of no-brainer choice when it comes to picking one of them in terms of portability.
Tiny AirPods Pro is way more portable than the bulky Bose 700.
On top of that, you cannot even fold the Bose 700 to give it a compact look. So, overall, it is not anything near around the AirPods Pro.
Hence, AirPods Pro is going to win one more time.
I know you are eagerly waiting to know the sound profile of these two earpieces. Okay, I won't want to make you wait any longer.
Let's explore it together.
AirPods Pro Vs Bose 700 Sound Quality
Apple has developed AirPods Pro by following the same way as it did with its other products.
It always prioritizes clarity and neutral tonal balance instead of lots of weighty basses.
AirPods Pro is no exception to that, which makes it ideal for listening to classical music.
I didn't find tons of bass here, but that doesn't mean it sounded lightweight. The low notes are just more balanced and well-controlled.
Mid-range is where the AirPods Pro shines the most. I noticed a notable emphasis on the vocals along with plenty of texture and details.
The highs are sparkling too, but without any touch of brightness sneaking in.
That said, the AirPods Pro will offer you a pure, crystal-clear, distortion-free immersive sound on the go.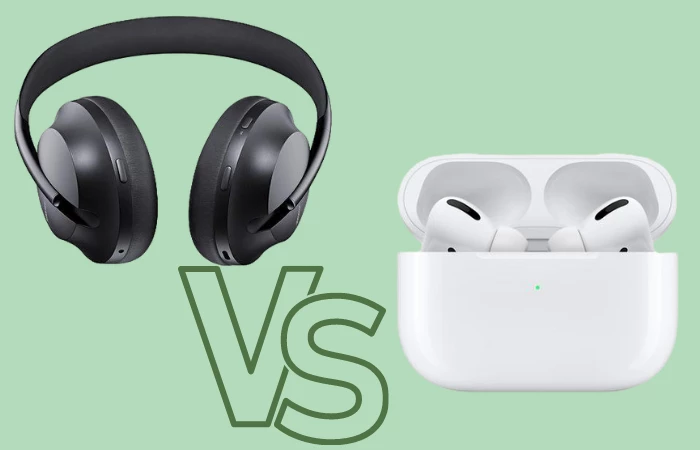 Bose Noise Canceling Headphone 700 sounds fantastic as well.
It offers music a natural feel with a more well-balanced sound signature.
Yes, the lows are prioritized a bit, but it is not something overpowering.
Mids and highs are not left behind either. Vocals are pronounced perfectly, while the brass and string instruments are reproduced nicely as well.
Bose 700 is ideal for listening to most genres of music, including classical ones.
Apart from all these, you can also fine-tune the audio to your ears by playing with the customizable EQ in the companion app.
Actually, I couldn't find any notable flaws in their sound quality. AirPods Pro performs amazingly well if I consider its cheap price tag.
However, still, I want to keep the Bose 700 ahead for its more well-balanced audio delivery, which makes it an ideal audio gadget for listening to versatile genres of music.
Right now, I will compare their noise-canceling ability. Let's see how well they can accomplish this task.
Noise Cancellation: Bose 700 Vs Apple AirPods Pro
AirPods Pro is some of the best noise-canceling true wireless earbuds that you can find on the market.
The bass range noises like the low rumble of bus or plane engines will go completely inaudible with AirPods Pro in your ears.
It works well against the mid-range noises as well. The ambient chatter sounds half as loud as it would sound without any ANC.
Though its performance against the high-frequency sound is relatively weaker, still, it can efficiently minimize those noises.
One of my friends even uses them as sleep earbuds as they can silence the surrounding quite well.
No matter whether you go for the earbuds or the headphone, be sure that you are getting top-rated noise cancellation, but comparatively, Bose 700 is way better in this aspect.
Well, it is quite obvious and expected, especially when Bose's headphones are true gems in the world of noise cancellation.
This headphone features eight microphones, six of which are utilized for noise cancellation. In addition to that, their adaptive microphone technology is revamped to ensure 11 levels of ANC.
Once you set the ANC to its highest level, it will block almost 90 percent of ambient sound while also reducing high frequencies to the point where they will sound like background effects on songs.
I had the chance to fly with the Bose 700. It blocked the low rumble of the airplane engine so well that the engine noise became a second thought for me.
You can also enjoy distraction-free listening while riding public transportation or using them in the office or at home.
And this is not the end. Bose 700 didn't even fail to show its expertise in diminishing the police siren, crying of a baby, or doorbell sound as well.
So, from overall consideration, I am giving this round to Bose 700.
Call Quality: AirPods Pro Vs Bose 700
Moving onto the call quality, Bose 700 has eight microphones, and six of them are used to offer exceptional clarity and block the surrounding noise at the highest possible level.
I tested its call quality while being outdoor, and its performance was outstanding. The person on the opposite end heard me loud and clear. He only struggled a little when I encountered wind, but not to that point where carrying on the conversation became impossible.
Anyway, if you talk in a relatively quiet setting or indoors, its calling performance is something extraordinary.
On the contrary, AirPods Pro also has good microphones for picking up human voices.
Most human voice frequencies range from 100Hz to 3000Hz, and these earbuds do not necessarily over-emphasize or de-emphasize any part of that frequency range.
However, your calling partner may still feel some variations here and there as they are not entirely neutral.
So, Bose 700 is going to win once again.
How Is The Recording Quality?
Bose Noise Canceling Headphone 700 is the better performer in this case too. The recorded voice sounds quite natural and understandable on this headset.
And speaking about the AirPods Pro, its recording quality is disappointing. Recorded speech lacks details and sounds muffled and distorted, though you can still be able to understand what's being said.
So, here is the score.
You have already got an idea about the battery life of these Bluetooth headphones. However, for more details, check the below section.
Battery Life
While the AirPods Pro has only 4.5 to 5 hours of battery life, you can use the Bose 700 for up to 20 hours on a full charge. Therefore, if you travel for long hours, this long battery life will come in handy.
And to provide this long battery support, Bose 700 takes one hour more time to be recharged than the AirPods Pro.
An upside to the AirPods Pro is you can conveniently use its charging case for an extra 19 hours of battery life.
Anyway, both are equipped with fast charging feature. Charging the AirPods Pro for 5 minutes will offer 1 hour of playback, whereas you can enjoy 3.5 hours of playback time on Bose 700 from 15 minutes of charging.
The winner of this round is undoubtedly the Bose 700 for its long battery life.
Both headphones have come up with a handy control system. Let's know how you can control them.
Controls: AirPods Pro Vs Bose Noise Cancelling Headphones 700
The control system of Apple's AirPods Pro is very straightforward and handy, and it even works on Android devices.
Each stem of these earbuds has an intended force sensor, as I said earlier in the design. It is very responsive to different gestures but doesn't provide any tactile feedback.
Pressing this force sensor for different times will accomplish different tasks. Using it, you can play/pause, answer/end calls, skip back and forward the track, and activate ANC, or transparency mode.
One downside is there is no physical volume control on AirPods Pro. However, you can request Siri to increase or decrease the volume.
These earbuds are giving you the flexibility to customize the "Press and Hold" command if you want the voice assistant control instead of ANC.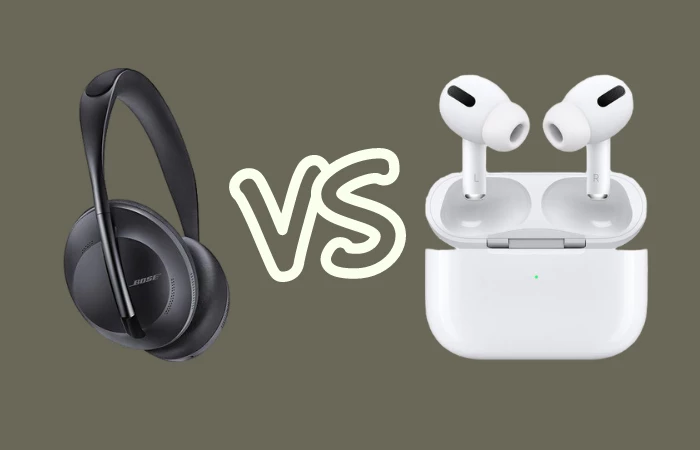 Talking about the Bose 700, its control scheme consists of both physical buttons and a touch sensor.
There are a power button and a voice assistant button on the right ear cup and a dedicated ANC button on the left.
You will find the touch sensor on the right ear cup, which is very responsive to some swipe and tap gestures.
This sensor offers complete control like play/pause, skip track forward and backward, answer/end calls, and volume adjustment.
Now, what do you think? Who should be the winner?
Well, according to my judgment, it is the Bose 700.
Though both of them have smart on-ear control, AirPods Pro cannot provide full functionality as it lacks on-ear volume control, which is a big minus.
Connectivity: Bose 700 Vs AirPods Pro
Both of them are equipped with 5.0 Bluetooth connectivity, but AirPods Pro doesn't support multi-device pairing like the Bose 700.
However, Apple's earbuds have an H1 chip which allows seamless pairing with other devices in an Apple ecosystem.
And as for the latency, both have low latency on iOS and Android devices, while it is higher for PC.
However, your experience may vary as some apps and devices offer latency compensation.
Neither of these headphones supports any high-quality codec like AptX or LDAC, only the SBC, and AAC, which is a bit disappointing.
On the upside, you can enjoy wired listening on Bose 700 alongside Bluetooth connectivity, as a 2.5 to 3.5 mm TRRS cable is provided with them.
Well, it is not something you will see lying here and there in your house. Hence, be extra careful not to lose it.
Taking all these things into consideration, I think the winner is once again the Bose NC 700.
App Support & Features
The Bose headphone is compatible with the Bose Music app, which will offer you a handful of features to customize your listening experience.
It includes functions like a standby timer, music player, battery level indicators, toggle controls, digital assistant selection, volume slider, and firmware updates.
You can also adjust the ANC level via a slider and cycle through three ANC levels.
Moreover, its Self-Voice setting will let you adjust how loud their voice sounds on calls and assign Spotify Tap to the Action Button.
What more you will get is four EQ presets (Bass Boost, Reducer, Treble Boost, Treble Reducer) to simplify sound customization.
Unfortunately, AirPods Pro doesn't have any companion app, just a settings screen on iOS devices, which is limited only to the ANC and transparency mode toggling, and the long-press customization on each earbud to either ANC control or Siri activation.
Apart from these, you can do a Fit Tip Test to get the best fit, though my experience was not so convenient.
Another big downside is AirPods Pro doesn't offer any customization options for Android devices.
So, we have got a clear winner here.
By this time, you have seen all the possible comparisons between AirPods Pro and Bose Noise Canceling Headphones 700.
Now I am introducing you to the final champion.
Who is The Ultimate Winner?
You probably have already guessed the winner. Yes, it should be the Bose 700 without any second thought.
 Bose Noise Cancelling Headphones 700
It might not be budget-friendly like the AirPods Pro, but its excellent performance in almost all aspects is totally worth the cost.
Its outstanding noise-canceling ability, mind-blowing sound quality, and high-end call clarity totally justify the high price tag.
So, I wholeheartedly recommend Bose 700 over Airpods Pro.
If you cannot be satisfied with any of them, check the following section for alternatives.
Alternative Options
Here are the two alternatives to both Bose 700 and AirPods Pro.
You can go for Sony WH-1000XM4 as an alternative to Bose 700. It has a class-leading noise-canceling feature with dual noise sensor technology and long 30 hours of battery life with amazing sound quality.
And if you want small in-ears instead of over-ear headphones, you can consider Bose QuietComfort earbuds. These comfortable earbuds feature top-class noise-canceling with high-fidelity audio and long battery life. They are also IPX4 rated like AirPods Pro to protect against sweat, water splashes, and some inclement weather.
I have nothing more to discuss. Let's wrap it up here.
Conclusion
I hope now you can remove all your confusion and decide wisely based on my discussion on AirPods Pro vs Bose 700.
Explore the differences and get the right product for you.
Have a hassle-free listening time.
Thank you.