Bose and Jabra are both two renowned brands that develop high-quality headphones. And today, I am going to compare two famous models from these two companies, which will be Jabra Elite 85h vs Bose 700.
If you want a top-rated wireless noise-canceling headphone and somehow get stuck between these two, I suggest you go through this write-up.
It will remove all your confusion and help you understand which product will be suitable for you.
Then let's start without any further ado.
Bose Noise Cancelling 700 Vs Jabra Elite 85h: Well-Detailed Comparisons
At the beginning, I would like to compare their key specs, keeping them side by side to give you an initial concept about these two headphones.
Get a quick look at the table presented below.
| Features | Jabra Elite 85H | Bose 700 |
| --- | --- | --- |
| | Up to 36 hours (ANC on), Up to 41 hours (ANC off). | |
| | | |
| | 15 min charge = 5 hours playback. | 15 min charge = 3.5 hours playback. |
| | | |
| | | |
| | | |
| | | |
| | | |
| Dust Proof & Water Resistant | | |
| | Black, Copper Black, Gold Beige, Navy, Titanium Black. | |
| | | |
| | 10.75 x 9.69 x 3.5 inches. | |
| | | |
| | | |
Now I am getting into the detailed comparison.
What about starting with their outer look and build quality.
Design & Build: Jabra Elite 85H Or Bose 700
Bose Noise Canceling Headphone 700 is made with durable stainless steel and soft plastic. It has a futuristic look with a unibody appearance, which looks to be molded from one piece of metal.
Its distinctly shaped headband connects directly to the ear cups without any visible hinges, giving the Bose 700 plenty of wow factor.
The integrated extenders placed on the tracking system are more striking, which will allow you to adjust length seamlessly.
I also loved all the basic details- the fully padded headband, microphones placements, and laser-etched logo. One downside is that this headphone doesn't fold up.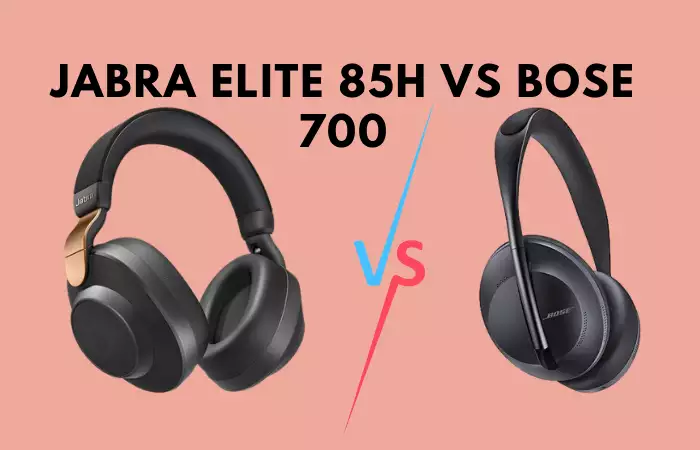 Jabra Elite 85h, on the other hand, is a sleek-looking headphone with a touch of minimalistic chic in its design.
Each set of headphones comes with one color approach with slight changes in the color of its arms and delicate logos on each side of the headband.
It is mostly made out of plastic, though the extendable arms have a brushed-metal appearance. The plastic is quite sturdy and flexible, which can accommodate both smaller and larger heads.
There is an aesthetically pleasing meshed fabric material on each ear cup's outer side and along the headband's top, which adds an extra touch of elegance to the Elite 85h.
On top of that, the woven fabric has nano-coating to protect the circuitry from water damage.
Another thing I liked about the Jabra 85H is its large ear cups, which will even fit well on your big ears.
Besides, this headphone is foldable as well.
Though both of them are good-looking pairs of headphones, if I want to find out the better one in terms of build quality, I think it should be Jabra Elite 85H.
Now I will discuss the comfort feature. It is something that we don't want to compromise in any case. In fact, how can you do anything with continuous discomfort?
Which One Is More Comfortable?
Speaking about the comfortability of Bose 700, this headphone is quite comfortable. You can easily adjust the extenders due to its unique sliding mechanism that offers maximum stability and seamless adjustment.
The earcups are nicely padded and breathable enough to regulate the airflow to resist moisture buildup. So, this over-ear headphone will be ideal for your light gym workout.
Ηowever, it clamped onto my head more tightly, which is a bit disappointing. I also didn't like its shallow ear cups, which might be annoying for some listeners.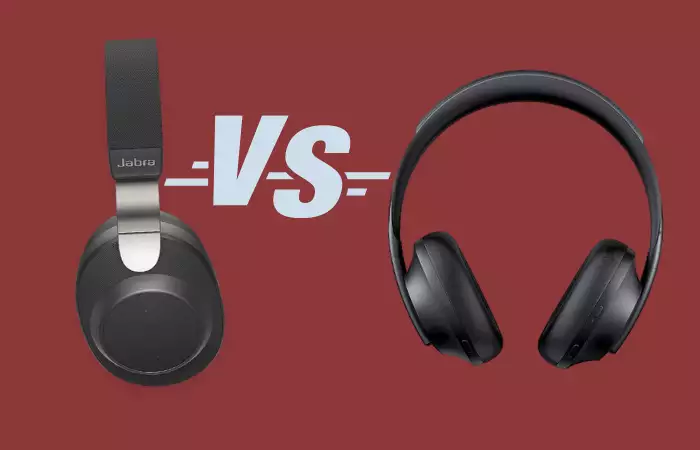 In contrast, Jabra Elite 85H is very comfortable with its ultra-soft foam ear cushions and great padding.
I really admire how plush and buttery the material felt on my skin. Besides, its wide and deep ear cups will also give plenty of room for enough breathability.
And thanks to its pre-tensioned headband, it conforms to your skull and offers flexibility to move without striving any unwanted pressure.
Therefore, you can continue listening for a long time without feeling fatigued.
The winner is once again the 85H for not having any flaws in this aspect.
This time, I am revealing the most important characteristic of a headphone: its sound quality.
Sound Quality: Jabra 85h Vs Bose 700
Bose 700 has a balanced sound profile that can retain the natural tones of music.
I noticed that lows are prioritized when it comes to the frequency range, but that doesn't mean mids and highs are left with negligence.
Vocals are pronounced well, while brass and string instruments are reproduced perfectly.
You can listen to most genres of music on this headphone. I even enjoyed classical music on it, and guess what? The outcome was incredible and fantastic in a word.
Anyway, if you want to experience a very immersive and lifelike sound, Jabra Elite 85h will be your perfect deal.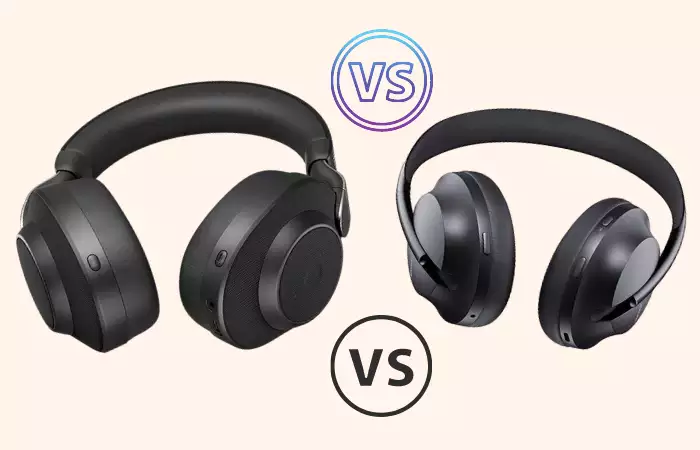 Yes, Bose 700 does offer balanced audio, but the 85H takes it to another level. It favors warmth and clarity, allowing the instruments to shine more brightly without muddiness.
The overall bass is deep and punchy, making it perfect for genres like EDM and hip-hop.
The midrange is clear and natural as well, which makes the vocals sound present and nicely textured.
The response throughout the treble range is relatively flat and well-balanced but slightly underemphasized, but it may vary noticeably across users. Hence, your experience may not be the same as mine.
Based on the experience that I shared with all of you, I am giving this round to Jabra Elite 85h.
As both of them are noise-canceling headphones, let's see how well they can perform in this field.
Noise Cancellation: Elite 85h Vs Bose 700
Moving onto the noise cancellation, Jabra claims that 85H's noise-cancellation is better than Bose QC 35 II or Sony WH1000XM3.
Well, I couldn't agree fully with the statement, but it is quite effective.
I tested its ANC technology both indoors and outdoors, and it worked well against different frequencies of sound.
Most of the uproar in my apartment went inaudible when I put on this headphone with ANC on.
An explosion-heavy weapon was playing in the background at high volume, but I could still continue my work on the laptop without getting bothered.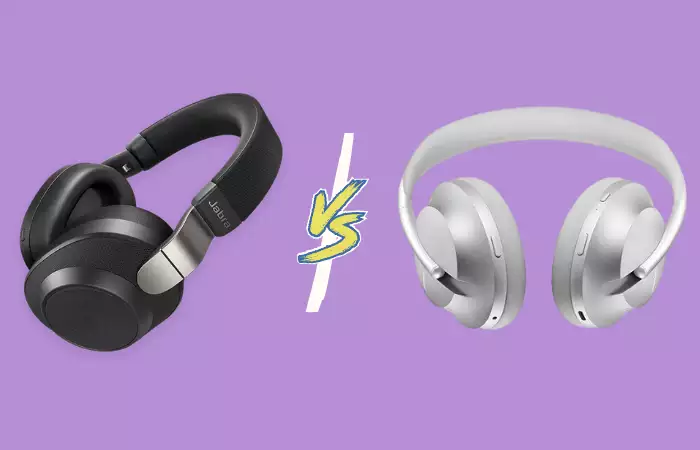 When I was quite okay with the ANC performance of Jabra's headphone, Bose 700's was something that I can only define with the words "excellent & mindblowing".
Well, it is not like I did expect something else. Why would I, especially when it is a headphone from the renowned Bose that is considered the gold standard for ANC headphones?
When I set the highest ANC level, it blocked almost 90 percent of ambient sound while also reducing high frequencies to the scale where they sounded like background effects on songs.
Whether it's a police siren, doorbell sound, or the crying of a baby, Bose 700 eliminates them all in a moment.
It is also an expert in blocking the Airplane noise to a great extent.
So, you can enjoy listening without any distraction no matter where you are, on public transportation, in the office, or at home.
Jabra Elite 85h Vs Bose NC 700 Call Quality
Six of Bose's eight mics are used to produce exceptional clarity and cancel the surrounding noise at the highest level possible.
While talking outdoors on Bose 700, my calling partner could hear me loud and clear. He just faced some problems when I confronted the wind, but still, we could carry on the conversation.
Anyway, if you talk in a relatively quiet environment, its performance will be extraordinary.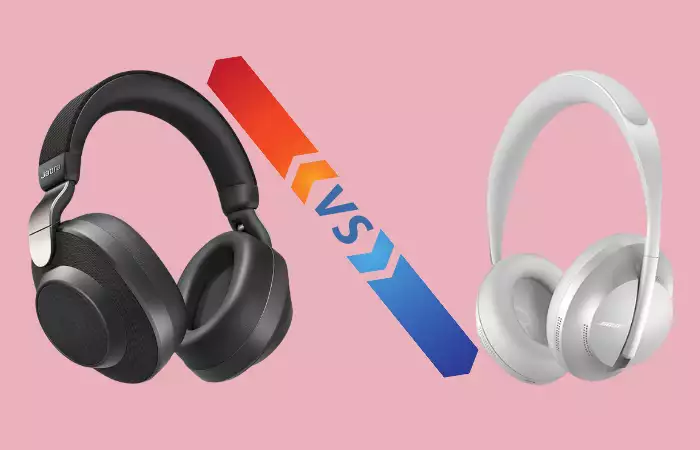 The call quality of 85h is also good, but not something near the Bose 700. Its mics are highly-engineered to reduce distractions and pick up the voice nicely.
My friend heard me clearly and never noticed any background noise, but the problem was I had to speak too loudly to make him hear.
Another drawback is that my voice sounded like it was coming from a distance when speaking in a calm tone in my quiet living room.
So, the winner is once again the Bose 700.
What About The Recording Quality?
The recording quality of Jabra Elite 85H is quite decent. The recorded voice may sound relatively thin, but it is still understandable.
It sounded crystal clear and detailed to me, but I felt a bit lacking in airiness.
The Bose 700, on the contrary, is the better one in this case also. The recorded voice sounds natural and understandable on it.
The battery life of a Bluetooth headphone is important. You need to make sure whether the headset you are buying will meet your needs or not.
So, go through the following section for the details about it.
Battery Life
Well, what is the difference between these two headphones in terms of battery life?
Let's start with Jabra's headphones.
Battery Life is the area where Jabra Elite 85H really makes its mark. It has 36 hours of playtime with ANC on. And when you are not using the ANC, it can even go up to 41 hours, which is truly amazing. You might even last the whole week without plugging the headphone in for charging.
Bose 700, on the other hand, has just 20 hours of battery life, which is not enough.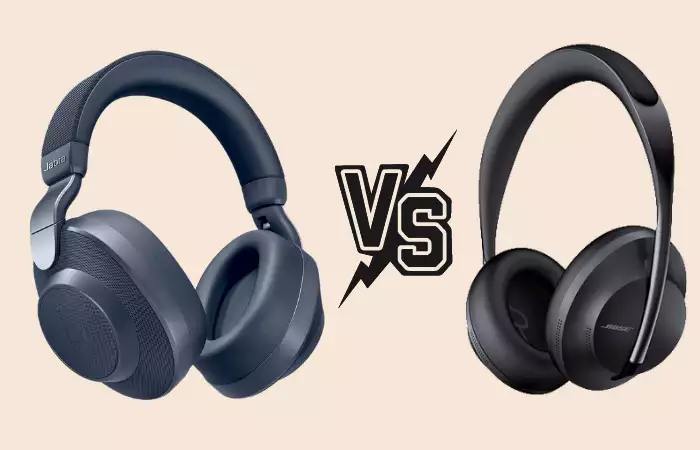 Another downside is that you cannot turn off its ANC. So, it will continue to drain power no matter what mode is enabled.
Jabra 85H is quite impressive in this case. Once you put it off, the music will pause, and you can make some changes in settings that will make it sleep after some idle time. This also saves the battery. So, it is great to have such a feature in addition to such incredible battery life.
And the best part is – even if you are in a hurry, 15 minutes of charging will give you an additional 5 hours of playtime, whereas Bose 700 can provide only 3 hours from the same amount of charging.
Therefore, it is crystal clear which one is the winner in this section.
How Is Their Control System?
Bose 700 has both physical buttons and a touch sensor for all the necessary controls.
You will find the power button and the voice assistant button on the right ear cup and a dedicated ANC button on the left.
The touch sensor located on the right ear cup is very responsive to some swipe and tap gestures.
Using this touch sensor, you can play/pause, skip the track forward and backward, answer/end calls, and adjust the volume.
Speaking about the control scheme of Jabra Elite 85h, it consists of physical buttons and on-ear detection gestures.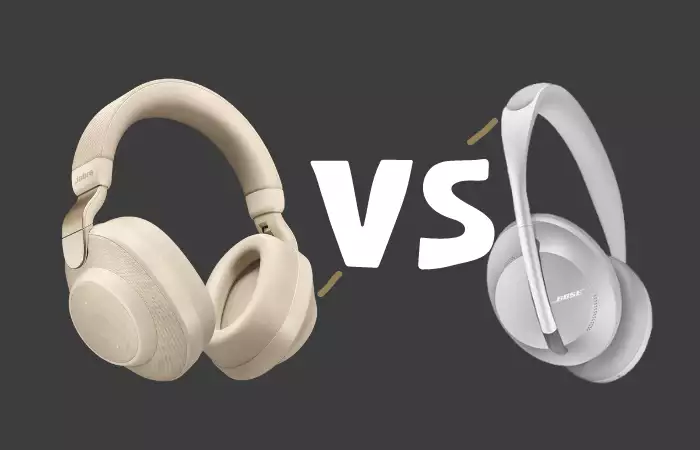 Once you unfold the ear cups, the power will automatically be on, and the headset will enter pairing mode while swiveling them inwards will disable the power.
You can also play/pause the music and answer/mute calls by placing or removing the headphones from your head.
All these gestures worked so smoothly during testing.
And as for the physical button, Jabra implemented a three-button control process on the right panel.
There you will find two small protruding dots, which work as the volume (one press) and navigation buttons (hold), and the circle in the middle serves as the multifunction button.
There is also a dedicated button on the edge of each ear cup. The left one is for the ANC/HearThrough mode, and the right one is for the digital assistant/microphone mute function.
Well, that's all about their control system.
Now it is time to give the score for this round.
Actually, I found the control of Jabra 85h more convenient and complete. So, my vote will go to the basket of 85h.
Wireless Connectivity
Both of these two headphones offer quite stable wireless connectivity with Bluetooth 5.0 version, and they share the same wireless range (10 m).
NFC support for quicker and easier pairing is absent on these headsets, but these two can connect with up to two devices at the same time.
Anyway, I felt a little disappointed that neither of them supports any high-quality codecs, only the SBC and AAC.
They have a little bit of latency on Android and iOS devices, but still, you may not notice it in your daily usage, as some apps and devices offer some latency compensation.
However, latency is likely to be high on PC or for gaming.
So, the performance of these headphones is almost the same in this aspect. Hence, the result will be a tie.
Wired Listening Convenience
Apart from the wireless Bluetooth connectivity, you can also use both of them in wired mode if you like the nuances of wired listening.
A 3.5mm audio cable is provided with the Jabra Elite 85h, while the Bose 700 comes with a 2.5 to 3.5 mm cable, which is less common and can be a bit trickier to find than a regular 3.5 to 3.5 mm cable.
So, you should be extra careful not to lose it.
Depending on the offered cable type, I am making 85H the winner of this segment.
Now we will see which one is superior in terms of app support and its features, Jabra Elite 85h 0r Bose 700?
App Support & Features: Bose 700 Vs Elite 85H
Bose Noise Canceling Headphone is compatible with the Bose Music app. This application has a sleek interface that is relatively easy to use.
You can set three different ANC presets, adjust the auto-off timer, change voice assistant settings, enable talk-through, and access a list of Bose AR-enabled apps.
Besides, there is also a three-band graphic EQ for sound customization. However, you have to create an account to use the application, which may seem annoying to some.
Jabra Sound+ app, on the other hand, will offer a handful of features.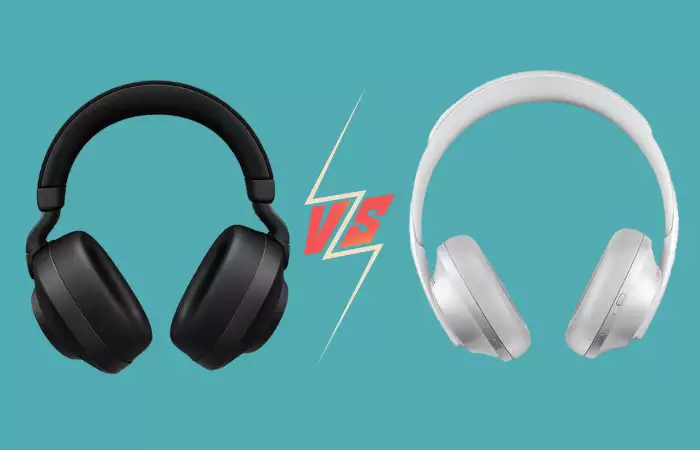 It has a 5-band EQ, by which you can customize your music according to your preference.
You will also have control over ANC and talk-through mode. Besides, this app will let you set the power-saving timer as well.
Jabra Sound+ app also has different presets for specific situations like commuting, when you are alone, or on a public street. These are called Moments. Moments act like different profiles for your different everyday situations.
Jabra Elite 85h has revolutionary SmartSound Audio technology to utilize the appropriate Moment preset, which listens to your surrounding environment efficiently and automatically sets the perfect Moment as per your demand.
I personally prefer the Jabra Sound+ app as it offers smarter features to enhance your listening experience. I find it more effective and convenient as well.
I have shown all the comparisons in detail between them. Now it is time for the final announcement.
Who Is The Final Winner?
As most of the segments are won by Jabra's headphone, I am making it the winner.
However, there is still much to say about Bose 700.
While you will get a better sound quality, comfort, build, control system, and battery life on the Jabra Elite 85h, Bose 700 will offer you incomparable noise canceling and crystal clear call quality.
So, you can go with any of them according to your priority or need.
Then again, I will say that Jabra Elite is the more cost-effective headset here, and it is really difficult to find such a complete package in a cheaper wrap-around.
I have given my very honest opinion. Now it is your turn to choose.
But if you are still confused and can't decide anything, or want something else, then my following section is for you.
Alternative Options
You can go for any of the headphones mentioned below as an alternative.
You are getting class-leading noise cancellation on Sony WH-1000XM4. Moreover, its superior, customizable sound and comfortable build can give you the highest level of satisfaction. It has strong connectivity and good microphone quality as well.
On the other hand, Jabra Evolve2 85 is mainly designed for professional users with industry-leading battery life. And it can eliminate more ambient noise than the Elite 85h. You will also get to enjoy a better call quality due to its better-performing microphones.
I have nothing left to inform you regarding this topic. Let's conclude it here.
Conclusion
I hope this guide on Jabra Elite 85h vs Bose 700 will show you the right path toward getting the right product for you.
Go through the write-up thoroughly and then decide as per your practical use.
Have a pleasant time with your headphone.
Thank you.