While looking for a pair of noise-canceling headphones, it might happen that you have come across the two names Jabra Elite 85h and Beats Studio 3.
But you are planning to buy one, not two. Right?
So, which one will you go for? This is the point where confusion builds up.
Okay, no worries! Now get rid of all your confusion and be ready to explore my comparative discussion on Jabra Elite 85h vs Beats Studio 3.
It will help you understand every little difference between them to finalize your decision.
Jabra Elite 85h Vs Beats Studio 3: Broadly Explained
First, I am going to include a table to give you an initial idea about these two headphones by keeping their key specs side by side.
See it at a glance.
| Features | Jabra Elite 85h | Beats Studio 3 |
| --- | --- | --- |
| | | |
| | | |
| | Up to 41 hours (ANC off), up to 36 hours (ANC on). | Up to 40 hours (ANC off), up to 22 hours (ANC on). |
| | | |
| | 15 minutes of charging = 5 hours of playback. | 10 minutes of charging = 3 hours of playback. |
| | | |
| | | |
| | | |
| | | |
| | | |
| Weather Sealed (Splashproof) | | |
| | Black, Copper Black, Gold Beige, Navy, Titanium Black. | Matte Black, Red, White, Blue, Shadow Gray, Black-Red, Midnight Black. |
| | | |
| | 10.75 x 9.69 x 3.5 inches. | |
| | | |
| | | |
Now let's move onto the detailed comparison.
Well, suppose both the two headphones are kept before your eyes. Now, which one will you take first to observe?
The one that looks more appealing! Am I right?
Okay, then I am starting with the design and build of these two headphones.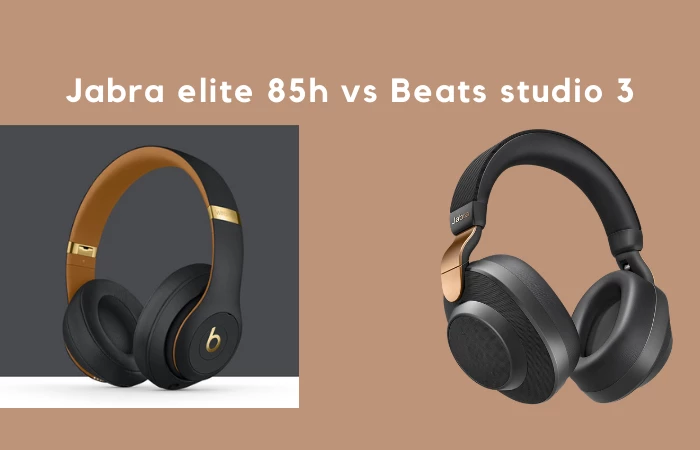 Design & Build: Studio 3 Vs Jabra 85h
Starting with the physical appearance, Studio 3 has a sleek and curved design with no sharp edges.
Most of their body is made of plastic with a beautiful matte finish except for the fold-up hinges and the frame of the headband. They are metal built for increased durability.
The foam pads are covered with synthetic faux leather, which sounds good, but the fact is this one seems clearly plastic-based, while nowadays synthetic stuff looks almost identical to the real thing.
And that is why I was a bit disappointed.
When I found that the plastic coating of the headband is prone to scratches, I was feeling more down.
Now let's see if our other competitor can make us pleased with its design.
Jabra Elite 85h has a sense of minimalistic chic in its design, which you can find in multiple colors.
Each set of headphones has one color approach with slight changes in the color in its extendable arms and delicate logos on each side of the headband.
These headphones are mostly made of plastic, including extendable arms that have a brushed-metal appearance.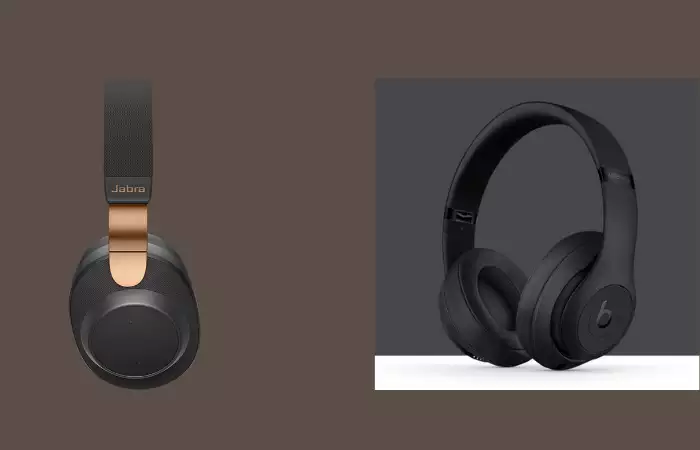 Thankfully, the plastic itself is pretty sturdy, but at the same time, it is flexible enough to accommodate both smaller and larger heads.
On the outer side of each ear cup and along the top of the headband, there is an aesthetically-pleasing meshed-fabric material, which adds an extra touch of elegance to the Elite 85h.
The woven fabric on both sides has nano-coating to protect the circuitry from water damage, which hits the point between luxury and sporty.
Another standout feature is the curvy yoke, which gives the headphone an ultra-modern look.
And as for the padding, the ear cups and the headband are well padded with faux leather covering, and its ear cups are large enough to fit well, even on your big ears.
So, it is undeniable that Jabra's headphone is going to win here.
Whenever I go to buy a new headphone, I always check its comfortability before finalizing the purchase.
You should do it too. You can't carry on doing anything with continuous discomfort. Right?
Comfort & Fit: Beats Studio 3 Vs Jabra Elite 85h
Speaking about the comfortability of Jabra Elite 85h, these headphones are very comfortable. It comes with ultra-soft foam ear cushions with great padding.
I really appreciate how plush and buttery the material felt on my skin. The oval-shaped wide and deep ear cups will also give plenty of room for your ears to breathe.
With its pre-tensioned headband, this headphone conforms to your skull and provides flexibility to move around without exerting any unwanted pressure.
So, you can continue your long listening session without feeling fatigued.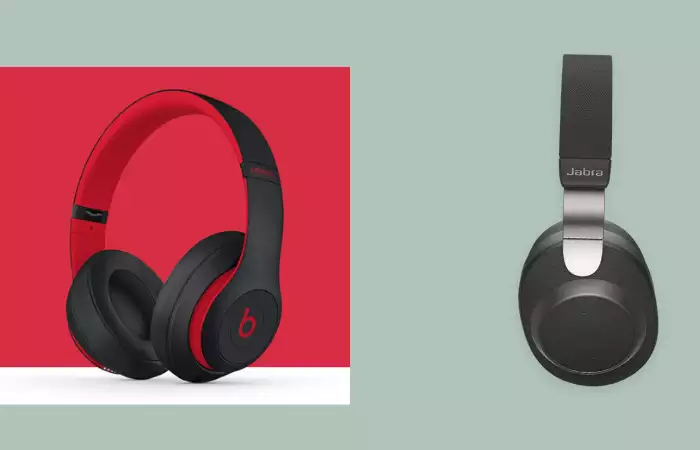 And once you adjust the extenders at the proper setting, it will secure the headphones in place as well.
Moving onto the comfort feature of Studio 3, they are comfortable also, but not enough to compete with Jabra Elite 85h.
The ear cups have enough padding, while its headband is not as well-padded as the earcups. It feels a bit rigid to me, which will undoubtedly affect your comfortability.
Otherwise, the clamping force is decent, distributing the pressure evenly around your head and ears.
However, you cannot wear this headphone for a long time, like the Jabra 85h. in that case, I suggest you take a break in the middle.
So, it is clear that Jabra's headphones will provide you with more comfort than the Beats Studio 3.
This time I will talk about the most important feature of a headphone, which is its sound quality.
Sound Quality: Elite 85h Vs Beats Studio 3
Proceeding with the sound quality of Jabra Elite 85h, this headphone offers a very immersive and lifelike sound. It has fairly balanced audio that favors warmth and clarity, allowing the instruments to shine brightly without any muddiness.
They have an excellent bass response, while the low-bass is slightly overpowered, which results in a bit of excess thump and rumble.
The rest of the bass response is also nearly flawless and very accurate, which means that the overall bass is deep and punchy but slightly thumpy. So, Jabra 85h is well-suited for genres like EDM and dubstep.
The midrange is clear and natural, making the vocals sound present and nicely textured without any muddiness that is usually found in the mids of bass-heavy headphones like Beats Studio 3.
The Jabra Elite 85h has outstanding treble performance as well. The response throughout the range is fairly flat and well-balanced but slightly underemphasized.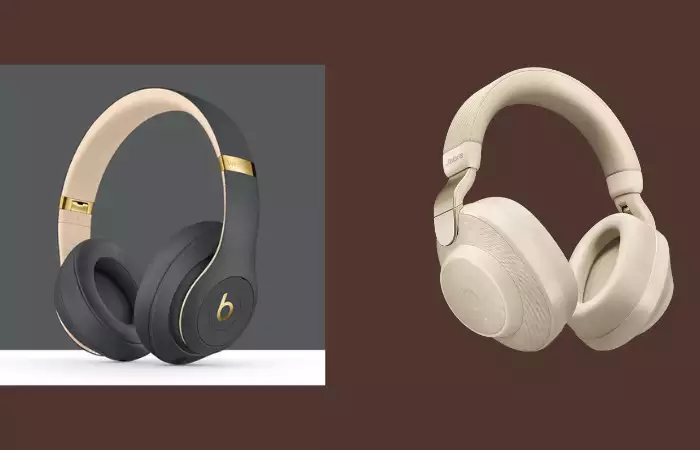 However, the treble delivery may vary noticeably across users. Hence, your experience might not be the same as mine.
Beats Studio 3, at the same time, features a bass-heavy sound profile like the Jabra Elite 85h.
They deliver intense thumps and rumbles, making them ideal for genres like hip-hop and rap music.
Well, it is pretty obvious, as the strong bass response is the key feature of a Beats headphone.
Anyway, the mids may sound a little unclear and indefinite in this model, as I said earlier. Its treble performance is not so good either. It is weak, which lacks depth and results in some mixes sounding muddy and muffled.
As these two headphones are noise-canceling, you should know about their performance before making up your mind.
And now I am going to enlighten you with that.
Noise Cancellation: Studio 3 Vs Elite 85h
Let's talk about the Beats Studio 3 first.
Though Studio 3 cannot compete with high-performance noise-canceling headphones, its noise cancellation is quite decent.
They work so well against mid-range noises like ambient chatter.
Therefore, in case you cannot concentrate on your office work due to your talkative colleagues, this headphone will solve your problem by blocking out their voices.
You can also suggest Studio 3 to your younger sibling to help him focus on his study without being distracted by the family members.
High-pitched noises like the humming sound of AC are also efficiently eliminated by this headphone.
However, Beats Studio 3 can't reduce low-frequency noises like the low rumbles of bus or plane engines.
Moving onto the noise cancellation of Jabra Elite 85h, Jabra claims that its noise-cancellation is better than Bose QC 35 II or Sony WH1000XM3.
Well, it is not as good as them, but it is definitely quite effective.
I tested its active noise cancellation technology indoor and outdoor, and it performed well against different levels of sound.
When I wore this headphone, most of the uproar in my apartment became inaudible.
Even with the explosion-heavy weapon playing in the background at high volume, I could continue to work on my laptop unbothered.
They are not the best at reducing airplane noise or bus engine rumbles, but much better than Beats Studio 3.
Considering the overall, my vote for this round will undoubtedly go to the basket of Jabra Elite 85h.
Call Quality: Jabra Elite 85h Vs Studio 3
The call quality of Jabra Elite 85h is good, but not the best. Its mics are highly-engineered to eliminate distractions and pick up your voice thoroughly.
I talked with my friends at home or in the park. They heard me loud and clear and never noticed any background noise.
My only complaint about the Elite 85h is that you need to speak loudly on this headphone to be heard.
When speaking calmly in my quiet living room, my voice sounded like it was coming from a distance.
On the other hand, Apple's Beats Studio 3 has a better microphone.
Whether you are talking on a busy street or at home, the call quality will always remain solid and stable. And the person on the opposite end will hear you clearly without any problems.
So, for the very first time, Beats Studio 3 is going to win.
Recording Quality
The integrated mic of Beats Studio 3 has just an okay type of recording quality. The recorded voice sounds slightly thin and distorted. It also lacks in detail and presence.
In contrast, the recording quality of Jabra's headphone is quite decent.
The voice may sound relatively thin, but still, it is understandable. You can hear the voice clearly and in detail. However, it lacks a bit of airiness, which is not a major issue.
Now get a detailed idea about the battery life of these two headphones.
Battery Life: Jabra 85h Vs Beats Studio 3
If I compare the battery life, Jabra's headphone wins here once again.
Jabra claims 41 hours without ANC and 36 hours with ANC. I could use this headphone with ANC mode for up to 35 hours and 48 minutes, which is more than impressive.
I think Jabra won't disappoint you while being used without ANC, either.
In contrast, Beats Studio 3 will offer you 22 hours of battery life with ANC and 40 hours without ANC.
Jabra's quick charging is also better than Studio 3, as I mentioned earlier on the table. Moreover, it has one year of standby time, which is unbelievably good.
So, here is the score for this round.
How easily you can control your headphone defines how handy or user-friendly the headphone is.
If you are concerned about this feature, take a look at the below section.
Control System: Studio 3 Vs Elite 85h
Speaking about Studio 3, you will find all the playback control and call management options on its left earcup.
There is a "b" button on both earcups, but the left one is clickable. You need to press it once to play/pause, answer/end calls, twice to skip forward, and thrice to skip backward.
And to summon the digital assistant, press and hold this button until you hear a chime.
Press the upper and lower part of the "b" button, respectively, to increase or decrease the volume.
And pressing the power button twice will activate the ANC.
On the contrary, the control scheme of Elite 85h consists of physical buttons and on-ear detection gestures.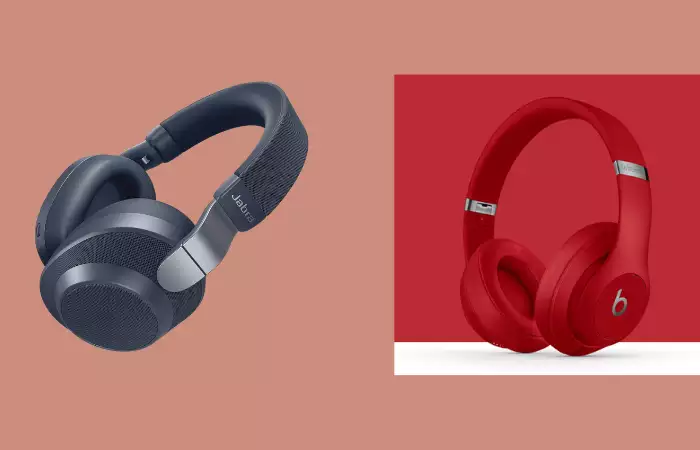 They work so well, although I am more impressed with the latter one.
When you fold out the ear cups, it will automatically power on and enter pairing mode, while swiveling them inward will enable power off.
You can also play/pause and answer/mute calls by placing or removing the headphones from your head.
These gestures just worked smoothly during testing.
And as for the physical button, Jabra incorporated a three-button control scheme on the right panel.
The two small protruding dots work as the volume (one press) and navigation buttons (hold), while the circle in the middle acts as the multifunction button.
You will also find a dedicated button on the edge of each ear cup. One is for the ANC/HearThrough mode (left) and the other for the digital assistant/mic mute function (right).
So, that's all about their control scheme.
I found the control of Jabra Elite 85h more convenient and complete. I think you won't disagree also.
One of the most important things about a Bluetooth headphone is its connectivity. And now I will reveal which one is better in this aspect.
Connectivity: Studio 3 Vs Jabra 85h
The Beats Studio3 has decent Bluetooth compatibility, but unfortunately, it doesn't support multi-device or NFC pairing. However, it is very easy to pair.
They have low latency on iOS and Android devices, which is okay if you stream video.
Nevertheless, your experience may not be the same while using it on a PC. Usually, their latency on PCs is much higher, which may affect the audio and video syncing.
And as for the connection quality, it remained solid and stable within the range, but I found the Jabra Elite 85h much better in this case. They offer stronger connections, and I could enjoy my music without any single dropout.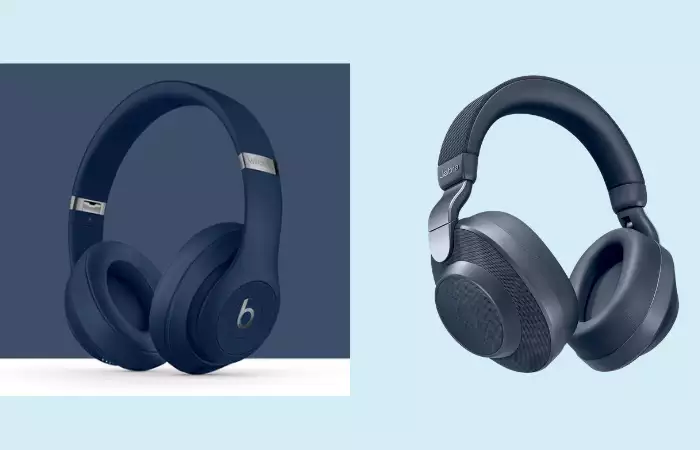 Jabra doesn't support NFC pairing either, but you can connect two devices simultaneously with this headphone.
They have a little bit of latency, but still, you may not notice any delay in your daily usage, as some apps and devices offer some compensation. So you might not experience it while watching video content.
However, latency is more likely to be high for gaming.
Anyway, you can use both headphones in wired mode with the provided 3.5 mm audio cable to avoid latency issues.
App Features: Studio 3 Vs Elite 85h
The Beats app on Studio 3 will offer you only a few features that are available only on iOS.
On an iOS device, you can get the battery information and disable the ANC in the Bluetooth settings, whereas this setting is not available on Android, which is totally disappointing.
Jabra Sound+ app, on the other hand, is packed with a handful of features to offer you.
You can personalize the music according to your preference using the 5-band EQ.
You will also get control over ANC and talk-through. This app will allow you to set the power-saving timer as well.
Jabra Sound+ app also has Moments, which are different presets for specific situations like while commuting, when you are alone, or on a public street. These act like different profiles for your different daily situations.
And to utilize the appropriate Moment preset, Jabra 85h has revolutionary SmartSound Audio technology, which listens to your surrounding environment and sets the perfect Moment automatically as per your need.
I have shown all the possible comparisons between Jabra Elite 85h and Beats Studio 3.
Now, let's see who is going to wear the victory crown.
Who Is The Winner?
I think you already have guessed the winner. We saw that Jabra Elite 85h wins all the segments except for one, which is the call quality.
So, detecting the winner is a kind of no-brainer choice here.
Yes, I wholeheartedly recommend Jabra Elite 85h over the Beats Studio 3.
Jabra Elite 85h is the more comfortable headphone while offering class-leading battery life, great design, top-rated ANC, and loads of personalization options when it comes to sound colorization.
So, it is superior in every major trait of a headphone that you can consider.
Well, if you don't want to go for any of these two headphones, the following section is for you.
Alternative Options
You can consider these two headphones instead of the discussed ones as alternatives.
Sony WH 1000XM4 will be a great option for a noise-canceling headphone if you have enough budget.
This headphone is better built, more comfortable, and features a neutral sound profile. Moreover, their companion app offers a graphic EQ and presets to help you customize the sound to your liking.
With industry-leading battery life, Jabra Evolve2 85 is mainly designed for professional users. It can block out more ambient noise and have a better-performing microphone as well.
I have nothing more to inform you regarding this topic. Let's end it here.
Conclusion
Hopefully, this write-up on Jabra Elite 85h vs Beats Studio 3 will help you get the better headphone.
I explained all the differences between these two headphones to make your decision-making easier.
Now it's your turn to choose.
Lastly, have a good day.
Thank you.