If I say Bose is the gold standard for noise-canceling headphones, it's not an exaggerated at all.
Yes, this renowned headphone brand didn't fail to show its expertise in developing class-leading noise canceling and well-sounding headphones.
No matter which Bose headphones you choose, you won't get disappointed, and this is what makes you confused.
In this write-up, I am going to put an end to the debate on Bose QuietComfort 25 Vs 15 by comparing all the features that you need to check before buying a headphone.
Both of them are capable enough, but they serve different purposes. So, explore my journey with these two headphones to choose the right one for you.
Bose QuietComfort 25 Vs Bose QuietComfort 15: Find The Superior One
In the beginning, I would like to present a side-by-side comparison of their key specs to give you a primary concept of the two.
Just have a look at the table given below.
| Features | Bose QC 25 | Bose QC 15 |
| --- | --- | --- |
| | | |
| | | |
| | | |
| | | |
| | | |
| | | |
| | | |
| | | |
| | 2.5 x 5.88 x 9.38 inches. | 8.5 x 8.75 x 2.75 inches. |
| | | |
Now let's get into the in-depth comparison.
I am starting with the design and build.
Design & Build: Bose QuietComfort 15 Vs 25
Starting with the physical features, both the headphones look quite good and pleasing to me. They have a glossy metallic finish on the outer side of the ear cups.
The ear cups of QC 15 are round, whereas the QC 25 has oval-shaped ear cups, which cater to all sizes. So, this is an improvement upon QC 15.
Bose also managed to fix some of the flaws in the QC 25 model that the users of QC 15 pointed out. It was difficult to identify which ear cup was for which ear in the previous model, but Bose QC 25 has clear markings for both the right and left sided ear cups.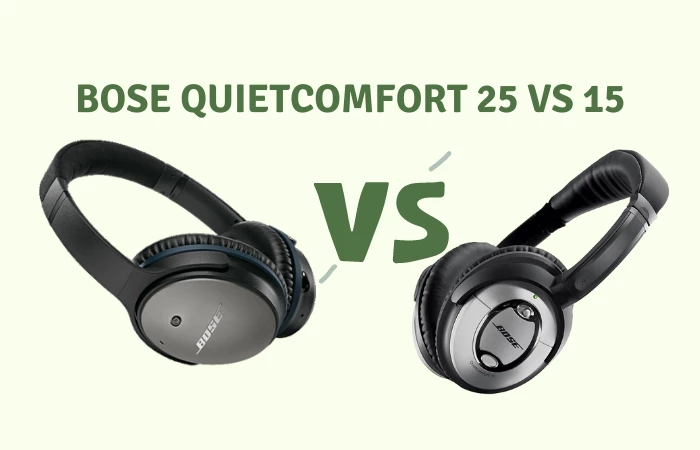 Another cool aspect of the design of QC 25 is that it can be folded into a comfortable package. This flexibility is truly priceless, especially when you move around a lot and would like to carry your headphones all the time.
Now let's look at the cord. The cord of QC 15 seemed kind of cheap and flimsy to me, and it almost looked like it would break down any minute. QC 25, on the other hand, has a sturdier and thicker cord, and that's why it is less prone to damage.
Well, it's time to find out the better headphone in terms of design. Both are good, but QC 25 looks more elegant and professional, and you can pair this up with any costume.
Moreover, it has the convenience of markings for ear cups and has a better quality cord. So, from overall consideration, I think that QC 25 slightly edges out the Bose QC 15, but only by a small margin.
Design is just the outer look, but comfort is what you feel while wearing any headphone, and it is not a feature that you can compromise.
Who wants to do anything with continuous discomfort?
So, let's compare these two headphones in terms of comfort now.
Which One Is More Comfortable?
Bose always invests considerable time, effort, and money to make their headphones comfortable enough. And these two are also no exception.
So no matter whichever you choose, you can be sure that you are getting a comfortable pair, but as I am here to compare, then there must be a better one.
Let's see which one is this!
When you wear the QC 15, your feeling will be like, "wow! The earpads are so soft and comfortable, and the fit is great too. It is also sitting nicely on my head without giving any discomforting sensation".
But when time passes, you will gradually realize that it is not something you can wear for extended hours.
It will cause a weird pressure feeling in your ears, making them uncomfortable to wear for long periods of time.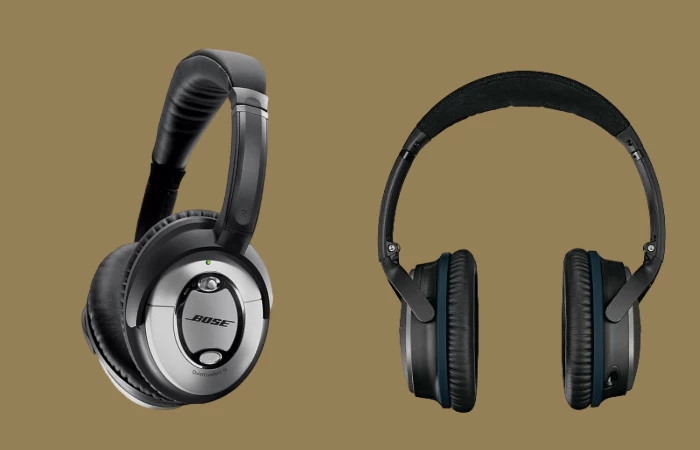 Bose QC 25, on the other hand, is super comfortable and more lightweight than QC 15.
The clamping force felt just right on my ears, and if you like to wear headphones around your neck, it will be a great option for you as well because it does not press down on the neck area.
Besides, its ear cups are large enough to fit well into any ear, turning it into a more usable and versatile set of headphones. So don't worry, even if you have big ears.
The ear pads that are made out of soft leather combined with memory foam will give you a gentle cushiony feel to your ears.
There is a significant difference in the headband materials too. The headband padding in QC 15 has been done with faux leather, while the QC 25's headband feels much better and softer due to the usage of high-quality soft Alcantara fabric.
The level of comfort I felt was simply hard to describe. I can just say that you will need to experience this to understand it fully.
So, we have got a clear winner here.
I know you are eagerly waiting to know the sound quality of these Bose headphones.
Yes, I tested their sound quality, too, and now I am going to share that experience with all of you.
Sound Quality: QuietComfort 25 Vs Bose QuietComfort 15
Both models are considered to be the top choices in the market when it comes to sound quality. In fact, they are some of the best in the industry.
QC 25 is supposed to be the next version of QC15, so I didn't expect any substantial difference in their sound quality.
But I was quite surprised by the difference between how the same piece of music sounded differently on these two.
Yes, that's the way Bose has developed them, and it might also be because Bose wanted the two headphones to have their own sound signature!
Bose QC 15 is slightly a toned-down version of 25. It has well-balanced and smooth sounds that will provide a pleasant listening experience. There is nothing too rough or bumpy and out of place, and everything mixes well together in a friendly way.
There is nothing significant to mention about the lows, mids, and highs. The bass exists, but it is not something that is prominent. QC 15 just relays back the sound, just like how the original sound was made.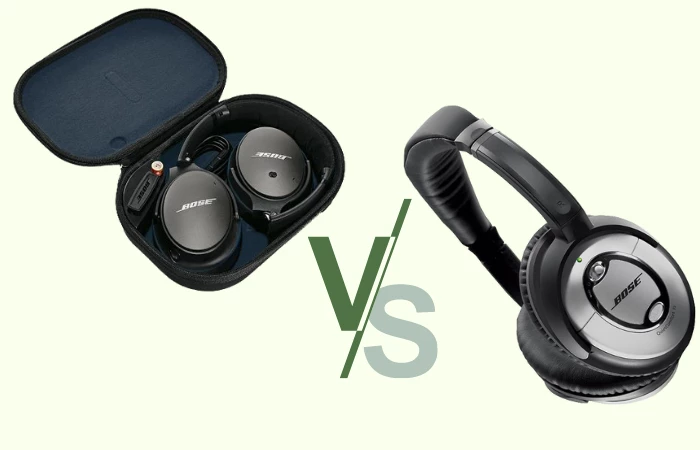 If you are expecting something glaringly intense, then the QC 15 is not for you.
QC 25 has a fantastic sound quality as well, taking the listening experience to a new height. It captures each note perfectly, and there is a degree of crispness in each note.
However, this headphone is not structured for the highs. They are not as clear as they should be, especially at high volumes.
Sometimes I also noticed some sharp transitions at highs, but everything in the middle and lower notes are on point. The clarity in the mid-range and lower tones make the QC 25 ideal for genres like acoustic, pop, jazz, Indie, and other forms of laid-back music.
Now, what do you think? Which one is better? Well, it's a tough call, as they both sound great in their own way.
QC 15 has a clear edge in bass output, so you can listen to bass-heavy genres on this headphone. I can assure you that it won't disappoint you in this case.
Otherwise, I suggest you choose QC 25 if you are more of a jazz or indie person.
So, the final verdict is that neither headphone sounds bad; it totally depends on what kind of music you prefer listening to.
That said, the result should be a tie.
This time I will compare their noise-canceling ability for which they are specially made.
Let's see which one can do this job in a better way. Bose QuietComfort 25 Or 15?
Noise Cancellation
Noise-canceling is one of the prominent features of Bose's headphones, which they have perfected over the years. And the brand is considered to be the leader in the area of noise-canceling technology.
Though QC 15 was one of the first headphones to come with this feature, it has become comparatively outdated in the face of the new, technologically advanced models like QC 25, which is one of the best noise canceling headphones available in the market nowadays.
This model is ideal for extremely noisy environments. When I turned on the noise-canceling mode, it canceled almost 85% of the surrounding noise, and I could hardly hear anything except the music that was playing in my ears.
You can rely on it while traveling on public transport, taking phone calls in public, or just about anywhere else that is noisy.
Another notable thing I want to share with you all is that I even tried to sing along with the music, and surprisingly, I was not able to hear my own voice. Yes, this is the best part, and that's how the noise-canceling feature is in Bose QC25.
On top of that, the QC 25 has both active and passive noise cancellation, especially at the lower frequencies.
You can get this same feature in QC 15, but a strange noise comes from the headphone when you turn on the active noise canceling mode. Thanks to Bose that it has been taken care of in QC 25.
So, the winner for this segment is quite obvious, and it is QC 25.
Call Quality Or Recording Quality
What is the difference between the call quality of Bose QC 25 and 15? Well, nothing much.
Firstly, let's focus on the Bose QC25.
My voice sounded loud and crystal-clear to my friend while I was talking with him, even on a busy street. It could shut out all the traffic and other street noises.
I was even able to continue my talking when passing by a construction site.
At the same time, the phone calls on QC 15 sounded crystal clear on both ends as well.
The person on the other end felt like I was right next to him. He reported loud, clear audio without any background noise, despite my walking along a busy New York City Street.
And speaking of the recording quality, both headphones perform average in this case. The recorded voice may sound thin and muffled.
Now it's time to give the score. As their performance is more or less the same, let's do justice by making it a tie.
Now I am revealing the details about their battery life.
Battery Life: Bose QC 15 Vs QC 25
The Bose QuietComfort 25 doesn't have a rechargeable battery like the QC 35 II or Bose 700. It uses a single AAA battery to fuel the active noise cancellation.
This headset will offer you up to 35 hours of battery life, which is quite good. You need to replace the battery when needed as there is no way to charge the headphone.
You can still play music on QC 25 even if the battery dies, but the ANC won't work without the battery. And the main difference between QC15 and 25 in terms of battery features lies here.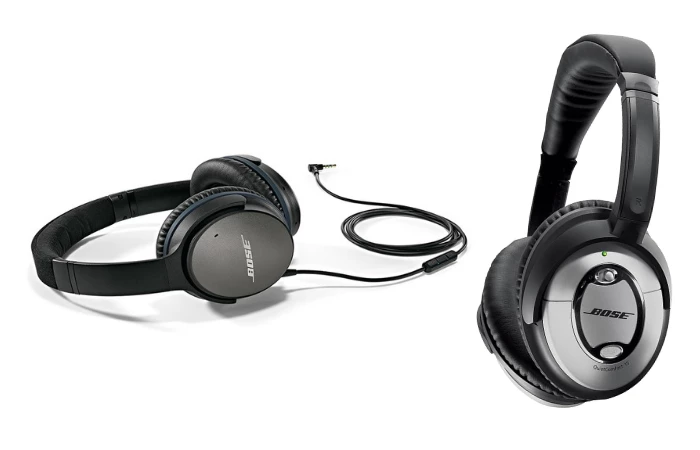 Bose QuietComfort 15 also shares the same battery life (35 hours) on a single AAA battery, but neither can you play music on it nor power on the ANC once the battery dies.
This headphone always needs battery power to run.
So, Bose QC 25 has a clear edge over the QC 15 in this round.
Anyway, before giving the score I would like to share that I personally couldn't like the thing that Bose used non-rechargeable batteries on these headphones. You know, it is something that is quite old fashioned and most importantly inconvenient. It doesn't go with this modern age.
How Is the Control System?
Both headphones come with an audio cable that features an inline mic and a three-button remote.
However, a big downside is that, like most other wired headphones' remotes out there, their remote only offers full functionality when used with Apple devices.
When I used the QC 25 with different Android mobile phones, sometimes it let me adjust volume, answer or reject calls, play/pause music, and skip tracks, while in some cases only the play/pause button worked.
In fact, it will remain the same with almost all android devices.
And as for the QC15, I could only stop/play music and answer/ignore calls when I operated it with an Android device. Its remote couldn't help me with any kind of volume adjustment.
Now, what do you think? What should be the score?
Yes, it's a tie as their performance in this category is the same.
This time, let's have a look at their connectivity.
Connectivity: Bose QC 25 Vs 15
Neither of them supports Bluetooth functionality. You can only use them wired.
You have to connect the 3.5 mm cable to the compatible device to use them.
However, the cable of QC 25 doesn't have a 3.5 mm jack on both ends. The end that plugs into the headset is a 2.5 mm micro jack.
It is not a cable that you can commonly find like the 3.5 mm to 3.5 mm. I wonder why on earth Bose has made this awful decision.
I have shown all the possible comparisons that you may consider before finalizing your decision.
Now it is time to announce the winner of this head-to-head battle.
Who Is The Winner?
You have already seen that Bose QC 25 wins in more categories. Its superior noise-canceling technology, balanced sound output, and comfier and sturdier construction are the improvements on the QC 15.
Besides, you can even listen to music on this headset even after the battery is all drained out, which is a big plus.
Considering all these things, I wholeheartedly recommend Bose QuietComfort 25 over QC 15.
After going through all of their features, if you are not willing to go for any of them, then check the following section for alternatives.
Alternative Options
Here are the two alternatives to both Bose QC 25 and 15.
Bose QuietComfort 35 II is an upgraded wireless version of the Bose QuietComfort 25. It has even better noise cancellation than the QC 25 and feels slightly better built. It is mainly a wireless Bluetooth headphone, but you can use it wired as well.
On the other hand, Sony WH-1000XM2 is a fun-sounding headphone with well-detailed audio. It offers 30 hours of battery life, and digital noise-canceling technology, where you can get four noise-canceling modes to choose from.
I have provided all the necessary information by this time. Let's conclude it here.
Conclusion
Hopefully, this comparative discussion on Bose QuietComfort 25 vs 15 will help you get rid of all your confusion.
Explore the differences thoroughly and then make your decision accordingly.
Wishing you a hassle-free time with your headset.
Thank you.