When it comes to developing noise-canceling headphones, Bose has always been leaving a good impression showing their utmost talent.
Bose 700 and QuietComfort 35 II are two famous noise-canceling headphones from this renowned brand.
If you are confused between these two, which one to pick or not, just go through this write-up on Bose 700 Vs QC35 II.
All your confusion will vanish in the air, and you can swiftly reach a fruitful decision.
So, let's start the discussion without any further ado.
Bose Noise Cancelling Headphones 700 Vs QC35 II: Which One Is Better?
I want to present a comparative discussion between these two headphones in terms of several important factors.
At first, have a glance at the table below to know some important specs of these two headphones. It will help you to understand the differences side by side.
| Features | Bose 700 | Bose QuietComfort 35 II |
| --- | --- | --- |
| | | |
| | | |
| | | |
| | | |
| | Triple Black, Soapstone, Silver Luxe. | |
| | | |
| | | |
| Lowest Frequency Response | | |
| | | |
| | | |
| | | |
| | | |
| | | |
This table is included here to give a basic idea about Bose 700 and QC35 II.
Let's go for the details now to get a broad concept and reach a decision easily.
Then I am going with the design and build quality first.
Design and Build
Both of them are over-ear closed-back headphones, and each has come with three color variations.
Bose 700 Noise Cancelling Headphones feature an ultramodern and sleek design with matte finished ear cups and an adjustable steel headband.
The ear cup covers have a special anti-stick coating for touch gestures that are adorned with the Bose logo.
This headphone is constructed with durable stainless steel and soft-touch plastic.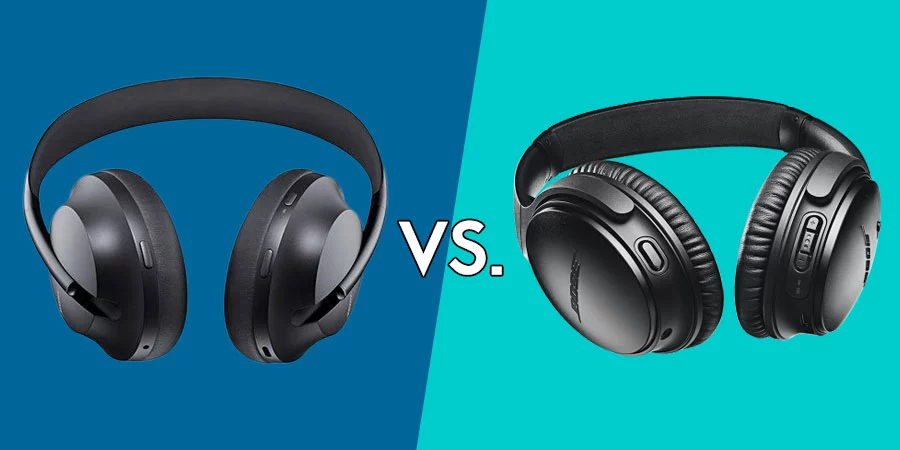 Bose gave the extenders a pioneering design, placing them on the outside of the ear cups. The track holding both pieces together feels a bit flimsy, though.
Unfortunately, the thick ear cups do swivel but can't be folded up in a compact format for easy storage, while you can fold the QC35 II due to their hinges.
So, it has better portability than the Bose 700.
Besides, QC35 II is a handsome set of headphones with an identical shine factor.
They might not look as sexy as the Bose 700.
However, it is still a fashionable set of headphones, which is well-suited for business class.
Their corrosion-resistant stainless steel and glass-filled nylon are the latest from the plastic used on the first-gen version.
Like the Bose 700, it also has a brand logo on each ear cup though it is reflective.
The build quality of QC35 II suggests that they can survive even when kept in a backpack. These are robust and sturdy headphones that are built to be long-lasting.
Right now, I will discuss their comfort and fit. Let's find out which one can offer more comfort and a perfect fit.
Comfort and Fit: QC35 Vs 700
Despite having a heavier frame, the Bose 700 are lighter than most in-class models.
However, as I am comparing it with Bose QuietComfort 35 II, then I must say that 700 is a bit heavier than QC35 II. It is not a big issue, though.
It rests comfortably on the head. You can wear them for 2 to 3 hours continously without any discomfort.
The memory foam ear cups feel luxurious, and the cushioning of the headband easily adjusts to your head to offer a relaxed and stable fit.
The extenders also have a natural movement to add superior comfort.
In this case, the QC35 II has most of these positive sides, but you may get a looser fit with them.
If you have a small head and don't set the extenders in a secure setting, this headphone will slip off, especially when you are rushing through crowds.
Except for this, it sits gently on your head and ears and offers great comfort without making you feel fatigued.
The additional thing about QC35 II is that these headphones are perfect for glass wearers. They won't interfere with the hand of your spectacles.
Sound quality is undoubtedly one of the significant features of a headphone.
What will be the use of this gadget if it sounds worse?
That's why you need to know about it before sticking to any of the two.
Sound Quality: Bose 700 Headphones Vs QC35 II
With these two headphones, you will get a fairly well-balanced and spacious sound that gives life to the lows, mids, and highs.
The QuietComfort 35 IIs can properly deal with any music you play.
They pick up an impressive amount of detail that would have gone unheard otherwise. Specifically, they perform so well in the midrange.
Bass has more kick on QC35 II than Bose 700, which makes these headphones ideal for listening to hip-hop, rock and metal music.
Don't think that the extra bass will destroy the other notes of the music. Bose QC35 II handles it in quite an impressive way.
Even with more thumps, this headphone offers great instrument separation, placing the focus on background instruments.
You will also get a fantastic feel for ambiance when playing live recordings.
I was so immersed while listening to Knock Me Down by Red Hot Chili Peppers that it felt like I were in the audience.
Besides, the QC35 II has a more finely tuned soundstage.
Then, what are their downsides?
Yes, they could use a bit more bass, and the timing and dynamics could be better; highs could sound a shade more refined compared to its modern rivals.
Bose 700 resembles QC's sonic character, which is bold, clear, and upfront, but they give you a bit more across the board.
They lack a little in the bass response, while their clarity and directness are impressive.
However, it was only noticeable when I played Be Nice 2 Me by Bladee.
The soundstage of 700 is great too, and it is well-suited to most of the music genres.
Still, you need to be selective sometimes. The famous melodic track My Heart Will Go On from Titanic sounded airy and crisp with this Bose 700.
To enjoy punchy sonics with the 700, you need songs with serious bass content, as Bose toned down the low ends on this headphone.
In addition to that, I also noticed hissing in Spotify songs and a slight lag on YouTube videos.
So, considering the overall, I will keep Bose QC3 II a few steps ahead of 700.
As both headphones are noise canceling and we were talking about the sound quality, it is high time to know about this feature.
Which one will be more effective? Let's find it out.
Is Bose 700 Better Than QC35 in Terms of Noise Canceling?
Bose featured an adaptive eight-mic system for the 700, giving these headphones a major advantage over their predecessor.
This technology works brilliantly well, where six microphones can effectively cancel high amounts of ambient sound.
This headphone makes common sounds like doorbells and loud coworkers and high-frequency noises such as police sirens and crying babies inaudible.
I have never flown with these headphones, but one of my friends has had this opportunity.
According to his experience, the engine noise becomes a second thought with its ANC on.
Therefore, the overall noise-canceling performance of Bose 700 is genuinely breathtaking.
The QC35 II also comes with industry-leading noise cancellation. I will always appreciate its ability to drown out airplane engines and isolate listening to music at home.
However, after testing both models, I noticed that the QC35 II lets in certain high-frequency noises, like air horns and police sirens, into its soundstage, where the Bose 700 works better against high-frequency sounds. 
Though the entry of these sounds in QC35 won't keep you off-track completely, I prefer the Bose 700.
Now that you know about the noise cancellation of these two headphones, I will inform you of their mic performance.
Microphone and Call Quality
Among the eight microphones of Bose 700, four mics will help deliver crystal clear call quality amplifying the vocals during calls.
So, you can enjoy crystal clear calls with this headphone.
When I use them for calling, it feels like I am speaking directly from my phone.
Even if I am talking in a noisy area or walking around on a windy day, the background noises are managed to a noticeable degree. The calls remain audible on both ends.
The QC 35 II also delivers clear mic audio, but it still suffers from distortions, which is common in most typical Bluetooth headphones.
Though the mic distortion is nothing notable, there is some fuzziness around the edges of words.
It also doesn't offer better wind resistance.
So, the Bose 700 is the champion here.
Right now, I am going to talk about the details of their battery life. Check it out so that you can compare.
Battery Life: Bose QC35 II Vs 700
As I have said earlier, both Bose 700 and QC35 II provide the same battery support, which is up to 20 hours.
Their charging time is almost identical too.
However, there is a difference between their quick charging features.
Bose 700 will give you 3.5 hours of playback from about 15 mins of charge, while QC35 II offers extra 2.5 hours of playback for the same amount of charging.
You have to connect these headphones with a device first. Then you can use them. Right?
Let's see who is better.
Connectivity
You have already seen on the table that Bose 700 is equipped with Bluetooth 5.0, whereas Bose QuietComfort has a 4.1 Bluetooth version.
They both share the same working range, which is about 33 feet.
However, Bose 700 has the latest Bluetooth version. Therefore, it provides a more stable connection and signals transmission than Bose QC 35 II.
While mainly featuring wireless connectivity, both of them also support wired mode via a 3.5 mm jack.
Some audiophiles even believe that wired mode provides superior audio quality compared to wireless listening.
Isn't it surprising?
But I think the difference may be negligible if you use the best wireless headphones.
Control System: QC35 II Vs 700
The QC35 II keeps the operational procedure a bit simple with a three-button module on the right ear cup.
You can manage calls and playback with them. They are placed intuitively, and it feels good to use.
You will get used to the series of taps needed to rewind or skip your songs very soon.
Bose 700 is the first Bose noise-canceling headphones with touch controls along with the buttons. It makes the button layout pleasantly distributed and less crowded.
The touch controls are quite handy. You need to tap twice to play, pause or answer calls, swipe your finger up/down to adjust the volume, and swipe to the side to skip tracks.
Hold the Bose logo for knowing battery level, and press it for one second to reject incoming calls.
It might only take a couple of days to learn these.
One drawback is their sensitivity.
Sometimes the double-tap functions don't work for the first time, and you might have to repeat it.
Also, a slight touch can accidentally start any unwanted action.
Voice Assistant
Both headphones have Amazon Alexa, Siri, Google Assistant support, but they are implemented differently.
In QuietComfort 35 II, you will have an Action button that should be pressed to summon Alexa or Google Assistant.
If you don't use a voice assistant, you can consign the Action button to control noise cancellation.
In fact, that's how it is set by default. Unless you add Alexa or Google Assistant, the Action button will remain as the ANC button.
On the other hand, Noise Cancelling Headphones 700 is the winner once again by adding a dedicated voice assistant button and built-in wake-word functionality.
Besides, there are dedicated voice assistants and ANC buttons as well.
Therefore, you don't have to choose which function you want to assign to a single button.
With these smart voice assistants, you can ask the headphones to play your favorite songs and albums, read out and respond to messages and notifications, ask questions, or even sing happy birthday.
So, they will provide a hands-free experience making you live smarter.
App Support
Bose already had a free mobile app, which is Bose Connect app. This app is available on Qc35 II headphones.
The Bose Connect app gives you easier access to everything. Get tips and customize your settings so that you can spend more time enjoying the music instead of setting it up.
You can adjust the ANC manually and set up your three preferred levels. Besides, the latest software update offers an adjustable EQ to fine-tune the bass, mids, and treble.
Some other notable features are power-saving function, playback or volume controls, the voice assistant selection, and Self Voice mode to adjust how loud your voice is heard on calls.
And remember that sharing is caring.
You can connect 2 wireless Bose headphones to enjoy listening together with your friend or loved one.
However, the company launched a new app, called Bose Music App, which is made especially for the Bose 700.
The Bose Music app has a sleeker interface and more features that will enhance your listening experience.
Both Bose 700 and QC35 II have an ambient listening mode, which will let you remain aware of your surrounding environment when listening to music.
Bose managed to add an adjustable EQ for the Noise Canceling 700 via the Bose Music update.
Three fields are here to adjust: bass, mid, and treble, and each one can reach a maximum level of 10.
After the latest update, it has even more audio customization options. The four presets are the Bass Boost, Bass Reducer, Treble Boost, and Treble Reducer.
Immediate access to Spotify is another feature that can be assigned to the Shortcut button.
I individually liked some features of 700, while some others of QC35 II.
Overall, I didn't notice a massive difference between the two.
So, according to my judgment, it's a tie.
Well, I have presented all the possible comparisons by this time.
Now it's time to announce the winner.
Who Is The Winner?
Both of the two headphones perform so well. Actually, you can go for any of the two.
But as I have to pick one as the winner, I am choosing Bose 700.
It gets the highest ratings for all except the sound quality.
However, the difference is so little that you can ignore it for getting an overall good performance from Bose 700. Its noise cancelling is upgraded too.
Don't you want to go for any of the two? Well, I think you are satisfied with neither of them.
If your situation is like this, the following section is for you.
Alternative Options
The following two headphones can be the appropriate alternative to both Bose 700 and QuietComfort 35 II.
The Shure AONIC 50 headphones offer numerous high-quality codecs support, a pleasant sound signature, and a super ANC performance with a leather-wrapped design.
On the other hand, The PXC 550-II noise-canceling headphones have excellent low-frequency noise cancellation, AptX and AptX Low Latency support, and also a comfortable design.
I guess you have no more queries left to know.
So, I am ending it here.
Conclusion
I hope this writing on Bose 700 Vs QC35 II will help you a lot in finding the best pair of headphones.
Explore all the comparisons deeply and then stick to the one, which you think can serve better.
Have a joyful time with your listening.
Thanks for being with me till now.