Bose 700 and Sony 1000xm3 are the stars in the noise-canceling headphones world.
They both have unique and outstanding traits to offer.
Therefore, people become perplexed when they have to choose one between them.
Are you one of those people?
Then congratulations! You find the right place to remove your confusion!
The head-to-head comparison of Bose 700 Vs Sony 1000xm3 will surely help you decide which one is supreme.
After going through this write-up, you can make your decision with full confidence.
So, let's start the discussion now.
Bose 700 Vs Sony 1000xm3: Who Steal the Show?
I've included some of the key specs of Bose 700 and Sony 1000xm3 in the following table.
After seeing the specs side by side, you will get a primary idea about their differences.
Take a quick look at it.
| Features | Bose 700 | Sony 1000xm3 |
| --- | --- | --- |
| | | |
| | | |
| | Triple Black, Silver Luxe. | |
| | | |
| | | |
| | | SBC, AAC, aptX, aptX HD, LDAC. |
| | | Maximum 30 hours (when NC on), Maximum 38 hours (when NC off). |
| | | |
| | | 3.5 mm gold-plated stereo mini-plug. |
| | | |
| | | 7.26 x 3.03 x 9.93 inches. |
| | | |
Now that you have a brief idea, it's time to discuss the dissimilarities elaborately.
At first, I'll talk about the design and build quality.
Design and Build
Bose 700 and Sony 1000xm3 are both closed-back designs and come with two color options.
And surprisingly, the colors are also the same.
Although Bose 700 looks more premium to me, you can have a different opinion too.
Along with robust plastic earcups, the headband of Bose 700 is made out of stainless steel. Besides, it comes all the way down to the middle of the earcups.
This unique structure gives them a modern look, and at the same time, more protection against accidental fall than a general headphone.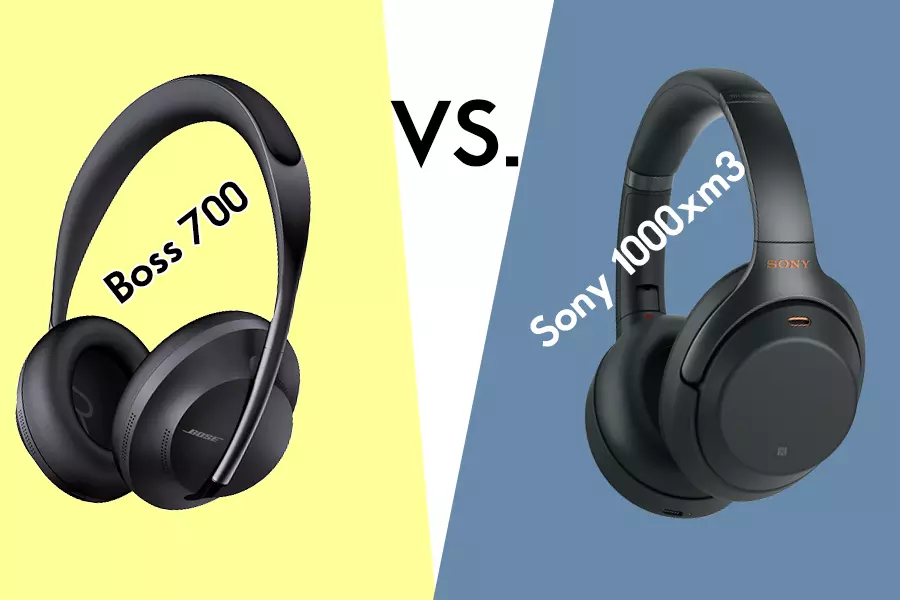 On the other hand, Sony 1000xm3 comes in a typical design. But they have an exceptionally sturdy and flexible build.
The earcups can swivel inwards and make a compact shape so that you can store them easily.
In a word, both headphones provide different kinds of benefits. Therefore, you are free to rate them as you want.
But in my opinion, I like to keep the Bose 700 in the winning position because of their aristocratic vibe and more durable structure.
Well, can Bose still be the winner in terms of comfortability and fit?
Let's see what happens.
Comfort and Fit: Sony 1000xm3 Vs Bose 700
As you have seen in the table, both headphones have almost the same weight, which is extremely light. These two headphones are capable enough to give you fatigue-free listening sessions.
Sony 1000xm3 contains a flexible headband that follows the contour of your head. The headphone is perfect for big headed people.
Furthermore, the large ear cups provide enough ventilation to prevent sweating.
On the other hand, Bose is a legendary brand for comfortability. And this 700 model is not an exception.
Their padding is thicker than Sony 1000xm3. The plush padding on the memory foam ear cups feels soothing on the skin.
They also have an adjustable headband to get a perfect fit. But the thick padding might give extra pressure while wearing it for longer hours.
As a whole, there isn't a huge difference between the two models in comfort. But I prefer the Sony 1000xm3 more as they are more suitable for extended use.
After comfortability, which feature is the most important to describe a headphones eligibility?
Right! It's none other than the sound feature!
So, it's time to explore it.
Sony WH-1000xm3 Vs Bose 700 Sound Quality
Sony WH-1000xm3 is a bass-heavy headphone. If you prefer more power on the lower note, you will definitely be going to love this.
The headset is best suited for genres with extra thumps and rumble music.
Listening to songs like Benny Benassi ft. Gary Go – Cinema will blow your mind for sure.
Anyway, the WH-1000xm3 will also let you customize your sound profile through their app.
Bose 700 also possesses almost similar types of sound. The well-balanced mid of these two headphones is ideal for voice content like Podcasts.
But compared to the WH-1000xm3, Bose 700 has less bass depth, but the extra boom makes hip-hop or EDM music sound good.
They also have dedicated app support to customize the music.
Oh! I forgot to tell you that Sony WH-1000XM3 offers 360 Reality Audio!
The Virtual Surround sound delivers directional audio that makes you believe that you are in a live concert! Or, while playing games, you can understand the position of your enemies vividly.
Unfortunately, you won't get this feature in Bose 700.
I know sound perception varies from person to person. So, you can definitely have a different opinion, but to me, the overall performance of the Sony WH-1000xm3 sounds more lucrative.
Well, you must be aware that these two headphones are mainly famous for their active noise canceling technology.
Now I'm going to tell you which one is more effective among them.
Which One Has Better Noise Canceling?
These two pairs are simply the best in the ANC criteria. Both of them will make you feel like you are the last person on earth, even if you are in the middle of Times Square.
But be careful! Sony or Bose, none will take responsibility if you accidentally collide with a car!
Anyway, Bose 700 offers 11 levels of ANC to let you only hear the music. The highest level works fantastic for blocking out low-end and mid-range noises.
Therefore, they are very effective against engine rumbling sound, voice chattering, or humming sound of AC. WH-1000xm3 headphones are also capable of blocking these types of noises.
But the unique trait that this Sony 1000xm3 offers is the dedicated NC processor. It ensures that your music won't face any power issues.
Along with it, the close-fitting ear pads will give you complete silence. You can also adjust the ANC level through the app.
Meanwhile, both headphones contain situational awareness mode.
Regarding noise-canceling, picking one as the best between Bose NC 700 and Sony WH-1000xm3 is like declaring one winner from the Coca-Cola vs. Pepsi war.
Impossible, right?
So let's stay simple and let them win together.
By the way, are you curious to learn about their calling performance?
Okay, I will remove all your confusion right now.
Bose NC 700 Vs Sony 1000xm3 Call Quality
Since these two headphones have world-class noise-canceling quality, you can be sure that while you are on the phone, you can hear other people like they are right before your eyes.
But the question is how well they can hear you, isn't it?
Well, you know, Bose 700 contains eight built-in mics. Four of them work to relay your voice as clearly as possible. They can separate your voice from any background noise, even in a crowded environment.
But Sony WH-1000XM3 lacks a little bit in this case.
Their microphone shows mediocre performance to isolate voice from loud ambient sound.
However, both headphones sound thin and muffled like a typical Bluetooth ANC headset. But it's not a big issue at all.
All right, it's time to rate them.
In the below section, you will see the battery performance of these two headphones.
Battery Life
You have already seen in the table that the Sony 1000xm3 has longer battery life than the Bose 700. But unfortunately, Sony 1000xm3 doesn't have any fast charging feature.
Meanwhile, Bose 700 supports fast charging.
For 15 minutes charge, you can get up to 3.5 hours of playtime. Moreover, they also take less time for a full charge than the Sony 1000xm3.
So despite having less battery hour, I announce the Bose 700 as the champ here because of its up-to-date features.
Connectivity
Bose 700 headphone supports a more advanced Bluetooth version than Sony WH-1000XM3. Therefore, they possess a stronger connection without fewer dropouts.
Bose 700 can support two devices at a time, while Sony WH-1000XM3 doesn't support multi-pairing.
Sony WH-1000XM3 is a little backwards in this case. They feature an older Bluetooth version. But one positive side is that they support NFC for faster pairing.
They also support more Bluetooth codecs than Bose 700.
The two headsets have one thing in common. They both can work with a wired connection.
Therefore, when you are running out of battery or want to play video games, you can use these headphones as wired.
Well, it's pretty confusing to declare a conqueror here.
But I would choose the Bose 700 since the lag-free connection matters most, and they are more promising in this case.
Control System
These Bose and Sony headphones feature touch-sensitive controls to adjust volume, skip between tracks, pause/play music, answer/reject calls.
If you cover the entire touchpad, the WH-1000XM3 will mute your music temporarily. You can use this feature when you need to pay attention to something or talk with others.
Besides, there is a button on the left ear cups to activate the Aware Mode or voice assistant.
You can also change the functionality of this button through the app.
There are two buttons on the right ear cup in the Bose Noise Cancelling Headphones 700, along with the touchpad. The buttons work to control power, Bluetooth, mic muting, and to activate voice assistant.
However, their unique headband extender makes the touch-sensitive surface a little bit small.
Overall, I feel that the Sony headset is much more convenient regarding the control system.
You see, these two headphones support Voice Assistant. In the section below, I will tell you about it elaborately.
Voice Assistant
Well, Bose 700 and Sony 1000xm3 work equally well in this case. They both support Siri, Google Assistant, and Alexa.
So, for hands-free mobile experiences, they both are good.
You know, Bose and Sony both have app support for their headphones. This time I'll let you know how well you can utilize the apps with these headphones.
App Support
Bose 700 headphones are compatible with Bose Music app. The easy-to-use app will let you control the ANC level, change voice assistant settings, access a list of Bose AR-enabled apps, etc.
The app contains graphic EQ, but sadly it doesn't have any presets.
You need to create an account in the Bose Music app to use it.
On the other hand, the app support of Sony 1000xm3 is far better than Bose 700.
The Sony | Headphones Connect app has a broad range of options. It includes graphic EQ with presets, room and surround sound effects, an in-app media player, etc.
Moreover, you can also on/off ANC through the app instead of the NC/ambient button of the earcup.
Altogether the compatibility of this Sony 1000xm3 headset with the app is really appreciable.
This time let's focus on their gaming and outdoor performance.
Gaming and Outdoor Performance
I've already told you that you can use these headphones as wired while playing games. But are they fully compatible?
Well, unfortunately, they are not.
Their wired connection of both headphones is compatible with PC, PS4, PS5, XBOX 1, XBOX One S, XBOX Series X, Nintendo Switch, etc.
But the wires don't have in-line microphones.
For this, you can't voice-chat with others while playing games.
However, for listening to in-game soundtracks, they are outstanding. And Sony 1000xm3 is much more effective in this case due to its positional sound ability.
How Suitable Are They for Outside?
For outside activities, both headphones are not very decent. As they are not breathable enough, your ears might get sweaty in the outside environment.
But in terms of portability, Bose 700 is better than Sony 1000xm3 as they are less bulkier.
The earcups of both headphones can swivel inwards and give them a compact format. Hence, it's easy to carry them in the backpack.
So for traveling, they are quite suitable.
All right, we have successfully discussed all the crucial comparative features of these Bose and Sony headphones.
It's time to announce the winner between Bose Noise Cancelling Headphones 700 and Sony 1000xm3.
Who Is The Winner?
I think you already understand who will get the crown today.
Yes, it's the Sony 1000xm3!!!!
We know that they have come into the market before Bose 700, and their connectivity technology is also older.
Despite that, they contain rich features in many other aspects. And the reasonable price makes them much more eligible than Bose 700.
However, you can definitely have a different opinion, and I respect that.
In case you don't like both of them I have a solution for that situation too!
Check out the next segment for it.
Alternative Options
Here I'll mention two alternative headphones of Bose 700 and Sony 1000xm3.
You know, there are plenty of options available in the market, but I think the following two will be better.
AirPods Max is undoubtedly one of the best premium options with top-notch performance.
The headphone features ANC, Transparency Mode, Spatial Audio, and so many things that every audio enthusiast wants.
Still, if you are looking for a low-priced option, Life Q30 won't be a bad deal at all!
This inexpensive headphone has an incredible battery life as well as a customizable ANC. From design to sound, their performance is truly amazing.
Hopefully, you don't have any more questions left.
So, let's jump to the conclusion now.
Conclusion
This debate of Bose 700 Vs Sony 1000xm3 headphones may have cleared all your confusion by now.
It's so tough to find differences between two top-rated headphones.
I must say they both are the best in their own way. So, stick to the one that you find most suitable.
And lose yourself in the musical world!