When it comes to purchasing a headphone for portability, it is wise to choose wireless earbuds. And for modern or classy listening, neckband earbuds are becoming very popular.
Apart from this, there are also many reasons why neckband headphones are appreciated among travelers or outdoor listeners.
Today I am going to review such a wireless neckband headphone. And this is Anker Soundcore Life U2. It is the first neckband headphone of Soundcore.
Are you curious to know more about these earbuds? Or maybe you are planning to purchase this Life U2 headphone.
Whatever it is, just go through my Anker Soundcore Life U2 review.
Well, before starting the review, I would like to inform you of the Anker brand in short.
About Anker Company
Anker Innovation is a Chinese electronics company. In 2011 Steven Yang founded this company in Shenzhen, Guangdong.
The company is well-known for manufacturing computers and mobile peripherals, including earbuds, headphones, charging cables, etc.
4 legendary brands are leading this Innovation; Anker, Soundcore, Eufy, and Nebula.
Soundcore produces Bluetooth earbuds, headphones, and speakers. Eufy makes smart home appliances and security devices. Nebula produces video projectors.
Life U2 is a product of Soundcore and it was released in 2020 by Anker.
Anyway, let's get ready for the review now.
Anker Soundcore Life U2 Review
I have included all the function and features of these earbuds in this article. I hope it will be handy enough for your ultimate decision-making.
At first, I am going to give an overview of these Soundcore Life U2 earbuds. See them in a blink.
At A Glance
Mic With CVC 8.0 Noise Reduction Technology.
10mm Drivers For High-Quality Sound.
Ultra Lightweight And Flexible.

Multi-Pairing Option.
IPX7 Waterproof Rating.
5 Minutes Fast Charging For 2 Hours Of Playtime.
No Vibration Alert For Incoming Call.
Not Safe For Deep Swimming.
Anker Soundcore Life U2 is an in-ear neckband style Bluetooth headphone. It's a budget neckband headphone that provides high-quality sound and comfort by ensuring all-day battery life.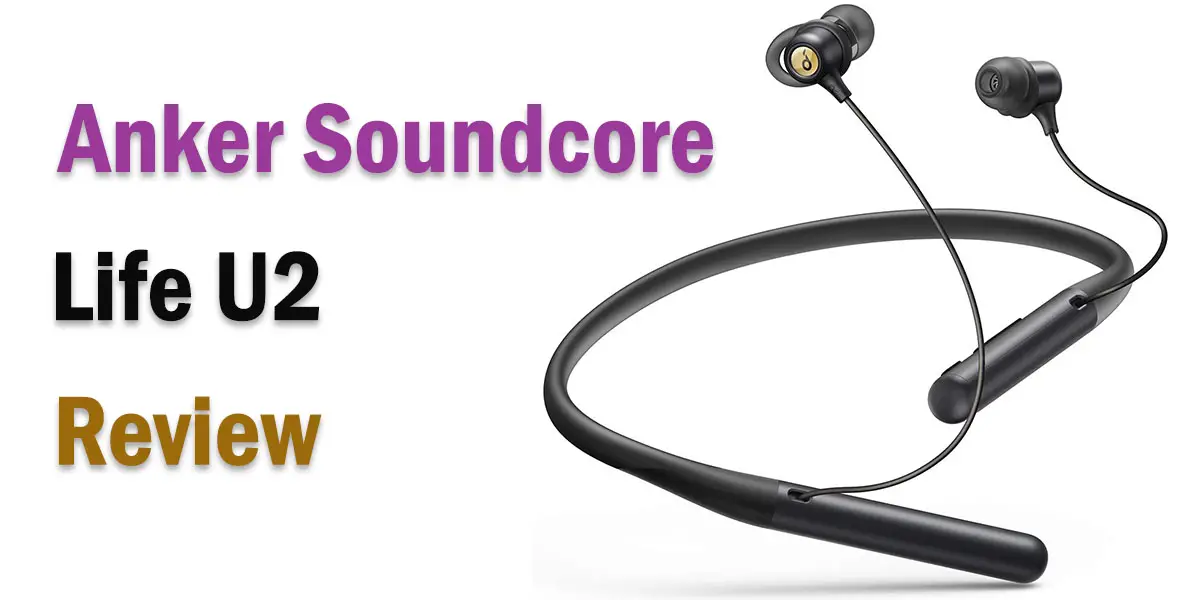 Now, let's take a look in the box and see what's come with it.
What's In The Box?
As I have to commute maximum time a day, I purchased this Life-U2 headphone for that.
After opening the box, you will get your desired
Soundcore Life U2 wireless headphone.
A USB-C charging cable.
A user manual.

A warranty card.
You will also get 5 pairs of ear tips of different sizes (XS/S/M/L/XL) and 3 pairs of ear wings (S/M/L).
They don't provide any other extra accessories except for these.
Now, see the Life U2 headphone specs and pros-cons in the twinkling of an eye.
Key Specifications
Headphone Type: In-Ear, Neckband.
Connector: Wireless/Bluetooth 5.0.
Wireless Range: 33 Meters.
Driver: 10 mm × 2.
Impedance: 16 Ω (Ohms).

Frequency Response: 20 Hz – 20 kHz.
Battery Type: Lithium-Ion.
Battery Life: 24 hours.

Weight: 1.12 Ounces.
Color: Black/Blue.
Pros
Decent Sound.
Great Comfort And Fit.
Strong Battery Life.

Affordable Price.
Cons
Slightly Leaky.

No APtx Codec.
Are you a hardcore listener? Then you have to choose a headset that ensures a long time wearing comfort.
The neckband earbuds are always extraordinary in providing great comfort. As Life U2 is also a neckband headset, maybe you are eager to know how much comfort it can provide.
How Much Comfortable Is It?
This is a super comfortable pair of neckband headphones. Ensuring your long time wearing comfort, it gives you a natural and fresh feeling.
You know it comes with different sizes of ear tips to provide the right fit. Whatever your ear is, small, medium, or large, you just have to find out which one is perfect for you.
The medium-sized ear tips suited me well. I wore it 8-10 hours a day but didn't feel any discomfort or pain.
The neckband is also very flexible and fit for most head sizes. You won't feel any pressure around your neck.
It's wise to take a break after 1-2 hours of usage for hearing protection.
You can wear this Anker neckband headphone with glasses too.
But it might not be comfy when lying in bed.
Most people judge headphones or earbuds by their sound profile.
Right now, I am going to describe every detail of its sound profile.
Stay with me to know it.
Sound Profile
This neckband headphone provides a neutral and balanced sound profile. It will give you superb sound with a great listening experience.
Its precious sound always immerses me in the music world.
The frequency response is very flat and perfect for all genres of music.
10mm oversized dynamic drivers are 20% larger than the standard.
If you are a heavy bass lover, there is no doubt it's perfect for you.
It supports dual EQ modes. Just switch on BassUp mode and it will provide you up to 70% more bass than normal mode.
The 10mm drivers have a bio-cellulose diaphragm. It gives a high-detail treble with superior clarity.
So, overall the sound quality is excellent.
Does It Leak Any Sound?
The sound leakage performance of Soundcore Life-U2 headphone is poor. It leaks a bit more sound while listening at a loud volume.
When you are in a quiet place, there is a chance that people around you will feel bothered by it.
However, the leaked sound is not very understandable in a noisy area.
Therefore, it is always safe to listen at a moderate volume.
Noise Cancelling
This headphone comes with active noise cancellation features. It can isolate a bit more sound due to its in-ear design.
But the sound isolation is not enough like other active noise-canceling headphones.
While listening, I felt it couldn't isolate sound actively.
As they claim it has an active noise cancelling feature, it should be much more improved.
How's The Microphone?
The Soundcore-Life-U2 comes with an excellent microphone for making calls. The microphone is constructed with CVC 8.0 noise reduction technology.
It can enhance your call quality by reducing background noise. When making a call, your partner will hear you very clearly. The background noise won't interfere with your conversation.
CVC 8.0 noise cancellation technology improves your call quality.
Whether you are driving, cycling, walking, or doing other workouts, it will ensure a great voice clarity.
However, it has no mic mute feature. You can't mute your mic when you need it.
Recording Quality
As the mic is superb, you can record audio perfectly. The recorded audio will be obvious and understandable.
My friend recorded a podcast with this, and the recording was excellent.
Are you worried about its control system?
Don't worry. I am going to enlighten you with it now.
How To Control It?
The Life-U2 consists of a power/multifunction button and volume up and down button. It's very easy to control.
To control it, follow the system.
Press the power /multifunction button to play/pause the music.
Press the power button to answer/end the call.
Press the volume (+) button to up the volume and (-) to down the volume.
Press and hold the volume (+) to go to the next song and (-) button for the previous song.
Press and hold the power and volume (-) button simultaneously for 1 second to BassUp mode.
So, that's it.
I haven't informed you of its build quality and design.
Good build quality can make a headphone durable and long-lasting. Therefore, it is important. Now we will know about it.
How Strong Is The Build Quality?
The building quality of this Life U2 headset is sturdy enough. It's made of silicon and titanium alloy steel core. The making materials are also very robust and durable.
But the wire is very thin. It has a chance to be torn off during heavy activities. Be careful about it.
I have been using it for the last several months, and still, it is good.
The earbuds are magnetic that stick together when not in use.
The silicon neckband ensures a snug fit on your shoulders and superior shape retention.
But if your headset gets damaged within 18 months, don't worry. Soundcore by Anker is committed to giving an 18-month hassle-free warranty.
You will also be pleased to know that they provide lifetime technical support. Apart from this, they offer 30 days money-back guarantee to ensure customer satisfaction too.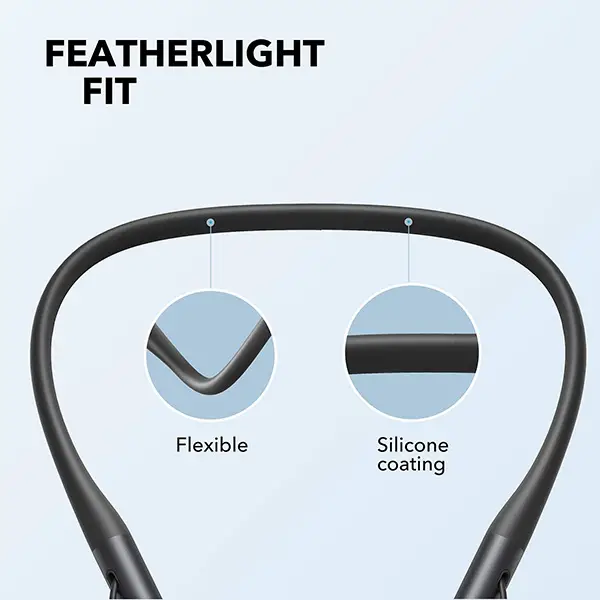 Design
The life U2 comes with an ergonomic and lightweight design. These neckband earbuds look so stylish.
This headset comes in two colors: back and blue.
I personally love the black color. It seems sleek and pretty to me. But if you don't like it, you can choose the blue one. Both have the same performance.
Let's go for its portability and stability now.
Is It Portable?
It's a decent pair of portable headphones. This headset is very lightweight and flexible enough. You can fold it compactly.
You can carry it wherever you go. Just carry it with your pockets or little backpack. It is also very convenient to carry around your neck.
How Much Stable?
This headset is stable enough for any activities as it is mainly designed for outdoor listening.
Whether you are running, jumping, or doing other heavy workouts, it will still gently sit around your neck. There is no chance to slide or drop off your ears.
The magnetic earbuds are also handy for stability when not in use.
Is It Waterproof?
Yes, you are right.
The Anker Life U2 is a pair of waterproof earbuds with IPX7 ratings. It can protect against rainwater, heavy sweat, dust, and so on.
But you cannot use it for deep swimming or long showers. Too much water might affect the sound quality.
IPX7 certified for surviving rain and water splashes.
Anyway, Soundcore-Life-U2 is a Bluetooth neckband headphone.
Maybe you are thinking why I am not explaining it yet. Just jump to the below section. You will find the detail there.
Bluetooth Details
Life U2 neckband comes with upgraded Bluetooth version 5.0. The wireless connection is 33 feet.
The Bluetooth and wireless range are superb, which ensures fast pairing.
It supports multi-devices pairing.
Don't worry, if you need to listen to songs on your pc and make a phone call on your phone.
Just connect two devices at the same time via Bluetooth.
It supports only the SBC codec for audio, not APtx. It doesn't support non-Bluetooth wireless connectivity.
As it is a Bluetooth headset, you have to pair it first to use it, right?
But do you know the pairing process? Don't worry. Just look below.
How To Pair It?
The Soundcore Life U2 pairs automatically with your device.
-When your headphones are powered on and your device's Bluetooth is also on.
-You will see "Soundcore Life U2" in your device Bluetooth list.
-Then select it, and your headset will pair automatically.
But when your headphone's power is off, press and hold the power/multifunction button for 3 seconds until the LED indicator flashes blue.
You know it supports a multi-pairing connection. How do you connect it? Let's see.
Multi pairing Connection
When you successfully connect your headphone with the first device.
-Then press and hold the volume (+) and (-) buttons simultaneously for 3 seconds.
-Now your headset will pair with your second devices.
But if you notice your headphones are not pairing or not working, it's better to reset the headphone.
Do you know how to reset it? If you don't, then let's know about it.
How To Reset It?
-At first, power off your headset and give it charge.
-Then press and hold the power/multifunction button and volume (+) button simultaneously for 5 seconds.
Press and hold it until the LED indicator flashes red twice.
-Your headphone will be reset.
NOTE: All the memory data will be cleared when reset your headphones.
Now It's time to disclose the battery.
Battery Details
This neckband earphone comes with a rechargeable lithium-ion battery. It provides you 24 hours of continuous playtime with a single charge.
24 hours is too much time to boost your playlist. But the battery life depends on how loud you are listening to the song.
Thanks for USB C charging. It provides fast charging.
Just charge it for 5 minutes and it will offer you 2 hours of playtime.
Enjoy high-quality music for 24 hours.
Now that you have known about the battery, let's dig into its compatibility now.
How Much Compatible With Other Devices?
As a Bluetooth headphone, Life U2 is compatible with most Bluetooth-enabled devices. It can be compatible with Bluetooth active Tablets, PCs, laptops, etc.
You can connect it with Windows 10 and Mac. It is also well-suited with Android, iPad, and iPhone. You can also connect it with Bluetooth active smart TV.
But it can't be compatible with gaming consoles like Xbox One, PS4, and Nintendo Switch.
A question may emerge in your mind at this moment. Is it suitable for gaming or not?
Ok, I am going to reveal it now.
Is It Suitable For Gaming Or Not?
No! It's not suitable for gaming. As it can't be compatible with gaming consoles, it is not ideal for gaming.
But don't worry, there are plenty of gaming headsets available in the market. If you are willing to buy a gaming headset, you may look at the Logitech G430 Gaming Headset.
No headphone is perfect or suitable for all the purposes.
That's why, you need to know for whom it is ideal and who shouldn't buy it.
Who Should Buy This?
I have said earlier that Life U2 is mainly designed for outdoor listening.
It is perfect for running, jogging, cycling, biking, or any intense activities like gym, yoga for its great stability.
You can use it for traveling or commuting too, as it is portable enough.
Also, it will be a great pick for online teaching or classes.
Do you want a headset for official use or a zoom meeting? Then you can go for it.
Who Might Skip It?
Don't think of using this little neckband headset for studio monitoring. It is not suitable for this purpose.
If you are looking for studio monitoring headphones, you may check out Tascam TH-300. It's one of the best Tascam headphones for studio monitoring.
It's also not ideal for audiophile listening.
You may also skip Life U2 if you want a gaming headset.
Right now, let's go for a comparative discussion between this Life U2 and other headphones. It may help you to get a more precise idea.
Compare With Other Headphones
To know the difference between Life U2 and other headphones, look here.
1. Anker Soundcore Life U2 Vs. ZMYGOLON Foldable Bluetooth Headphones
The Life U2 and ZMYGOLON are both Bluetooth neckband headphones. Both provide superb sound quality, comfort, and Bluetooth 5.0.
Life U2 provides long battery life with fast charging.
In comparison, ZMYGOLON gives short battery life and doesn't offer fast charging.
The ZMYGOLON offers CVC 6.0 noise cancellation, and it's not waterproof. But it provides a vibration alert while Life U2 doesn't offer it.
Overall, Life U2 is a slightly better headphone than ZMYGOLON.
2. Anker Soundcore Life U2 Vs. Philips Performance PN402BK
Life U2 and PN402BK are both neckband headphones. The Philips PN402BK provides powerful bass, with clear and loud music and conversation, and smart pairing.
It also has IPX4 waterproof rating and 14 hours of playtime.
On the other hand, Life U2 provides 24 hours playtime and IPX7 rating.
Both provide fast charging. The PN402BK gives a vibration alert, while Life U2 doesn't offer it.
Overall the Philips PN402BK is a slightly better headphone than Anker Life U2.
3. Anker Soundcore Life U2 Vs. LG Tone Style HBS-SL5
LG Tone SL5 is a better headphone than Life U2. The SL5 provides multi-layer metal for better sound and dual microphones.
It also has a slim and sleek design and gives a clear crystal call and retractable earbuds.
Both provide fast charging, but SL5 provides shorter battery life than Life U2.
The SL5 has no waterproof ratings but provides a vibration alert for incoming calls.
4. Anker Soundcore Life U2 Vs. LG Tone Flex HBS-SL7
LG Tone Flex HBS-XL7 is a better headphone than Life U2. The HBS-XL7 provides 32-Bit-Hi-Fi-DAC premium quality sound and audio files for higher resolution.
It is tuned by meridian experience with rich bass and treble. This XL7 also supports Google assistance and comes with two microphones.
Both provide fast charging, but life U2 has longer battery life than HBS-XL7. The Life U2 is waterproof, but XL7 is not waterproof.
Do you have a plan to purchase this Life U2 headset? Then it's important to know it will be worthy or not.
How Worthy Is It?
The Soundcore Life U2 by Anker is a decent budget pair of headphones.
This headset is ideal for outdoor listening ensuring excellent sound, great comfort, and the right fit.
Its every feature makes this headset great for your stylish daily listening.
High-quality audio, lightweight, stylish design, and clear crystal calls make this headset praiseworthy.
If you compare its features with the price, I must say it is worth buying.
Customer Support
Soundcore provides straightforward customer support in the most hassle-free way. They are always sincere with the customers and take any question or query with respect.
I hope you perfectly considered my review. But if you still don't want it, then the following part is for you.
Alternative To It
You can choose one of the following headphones as an alternative to Anker Soundcore Life U2.
All of them are almost similar or slightly better performing Bluetooth neckband headphones.
No more today. I am ending it here.
Conclusion
Finally, you have got an authentic idea from this in-depth Anker Soundcore Life U2 review.
I tried to share my experience with a neutral view-point. I hope it will help you make the right choice.
Now it depends on you whether to buy it or skip it.
Always try to focus on your primary concern when buying a new headphone.
I always respect your decision.
Thanks For Reading This Article.