Are you looking for a nice pair of wireless headphones with good sound quality and extended battery life? At the same time, you may not want to spend too much on them. Okay, no problem! I have a great option which will be best suited to your needs.
They are the Sony WI-C400 Wireless In-Ear Headphones.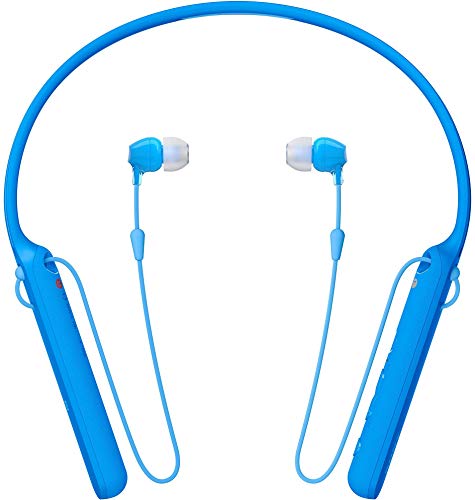 Today I am here to present my Sony WI C400 review. So, stay with me to know the details about these headphones.
First, let's take a quick overview glance.
At A Glance
Comfortable behind-the-neck style.
Extended battery life of up to twenty hours.
Easy Bluetooth connectivity with one-touch NFC.
Multiple color options.
Easy to use on the move.
Not suitable for gaming and watching lots of videos.
Not foldable.
The Sony wi-c400 are sub-par wireless in-ear closed-back headphones with decent battery life. They are suitable for average listeners. The lightweight design of this headphone is stable enough for sports activities.
Well, before getting into the depth, let's know what they deliver in the box.
What's In The Box?
When you open the box, you will have your desired
Sony wireless wi c400 headphones.
A 50 cm USB cable.
Three ear tips of different sizes-small, medium, and large.
The manual.
Unfortunately, they don't come up with any cases or pouches, but the packaging is lovely.
You may want to thank Sony for providing three different sizes of ear tips.
Now, have a look at the key specs and the pros and cons of these headphones.
Key Specifications
Type: Close Back In-Ear.
Connectivity Type: Wireless.
USB Cable Length: 50 Cm.
Driver: 0.35 Inches Neodymium Driver.
Frequency Range: 8 To 22 kHz.
Color: Red, Blue, Black, White.
Weight: 1.23 Ounces Or 35g.
Wireless Range: 30 Feet.
Pros
Lightweight and comfortable.
Vibration notification.
Tangle-free cable management.
Easy operation with buttons.
Low sound leakage.
Cons
Poor noise isolation.
Latency is high.
Heavy treble.
Micro USB charging.
Everyone wants to have comfortable headphones. So, it is necessary to talk about the comfortability of these headphones.
Are They Comfortable?
The behind the neck design of these headphones is shaped for comfortable all-day listening. They are lightweight, and you can keep your cable clipped neatly out of the way in your neckband with the adjuster and stopper.
You can also get an option for adjusting the length of the cable so that they don't pull the earbuds.
The ear tips are available in three different sizes. There is no other way to improve the comfort level without these silicone tips. You can't insert them so deeply like others in-ear. 
If you are a big fan of in-ear design, you may not want to purchase it. In this case, I will suggest you to try Sony WI-XB 400.
As it is a neckband design, you won't feel any clamping force around your head.
So, overall it is a comfortable pair of headphones.
The sound quality of a headphone is one of the most important things we consider before purchasing it. Have a look below to know the sound profile of wi-c400.
The Sound Profile
We cannot say that its sound quality is excellent, however it is pretty good.
The frequency response of these headphones is 8 kHz to 22 kHz. They cannot be recommended for hardcore audiophiles. They are average for general listening.
They have a consistent bass range which lacks a lot of thump and rumble. So, they may sound a little bit flat or dull. That means it is not the best for hip-hop lovers.
Mid-bass from instruments like kick drums, bass guitars lack a little bit where the high-bass is quite dominating.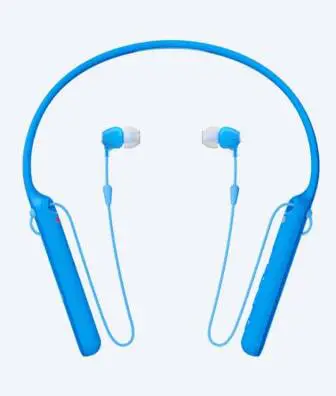 The mid-range is pretty much impressive. There is a slight bump in the low mid. It generates chaotic vocal and instrumental sounds. Equally, there is a bump in high mids too. It makes the high-pitched vocal and instrument sound cracky.
The treble of These headphones is heavy. In some cases, the mid-treble and the low treble feels slightly overemphasized.
The Sony WI C400 have 0.35 inches or 8.9mm neodymium drivers for dynamic sound.
How Is The Soundstage?
They are closed-back in-ear headphones. So, they cannot create a broad and open soundstage like open-back ones.
So, the soundstage is very small, and it feels like the sound is trapped in the listener's head.
Do Sony-WI-C400 Headphones Leak Sound?
The sound leakage performance of the Sony WI-C400 is outstanding, unlike most in-ear headphones.
A quick charge of 15 minutes will give you one hour of playback time.
There is minimal leakage in the mids and bass. A significant portion of leakage is found in a narrow range in treble between 3 kHz to 6 kHz. It is heard out of the headphones about a foot away. The overall leakage is not very loud either.
Noise Isolation Feature
Sony wireless WI C400 headphones don't have an active noise cancellation system, but they got sub-par isolation.
They don't isolate the bass range at all. In the mid-range, they achieve about 14 dB of isolation. It is above average.
However, they can reduce outside noise in the treble range by about 35 dB. It is suitable for removing harsh sounds.
Well, a profound discussion on the sound profile of WI C400 ends here.
Are you worried about the controlling system of these headphones? Okay, no problem. I am going to describe it now.
How To Control Them?
The controlling system of the Sony wi-C400 is straightforward and user-friendly.
They have all the essential functions of a Bluetooth headphone; play-pause, next-previous tracks, track skipping, pick or disconnect calls, and volume controls.
You can skip the tracks by pressing down the volume buttons for a few seconds. You will get familiar with the controlling system within a short time.
Let's know about the performance of the microphone and its recording quality now.
Performance Of Microphone
The mic is pretty good for calls in an isolated environment. The person on the other end won't notice any sound reduction or silence at any point.
However, they capture ambient sounds at busy places like streets, metro trains. If you are on a call at a noisy place, the person you are talking with will hear those sounds louder than your voice.
How Good Is The Recording Quality?
They have ordinary or average recording quality. The recording lacks quite a bit of detailing and brightness, and it can affect the distinctness of speech.
The microphones have a good bass extension. Yet they are prone to pick up unwanted thumps and grumble from the surroundings. So, they are not the best microphones for making recordings.
Do you want to know about the build quality and design of these headphones? Okay, I am here to let you know.
Build Quality
The build quality doesn't seem very strong and durable. These headphones don't look like cheap ones, though.
The neckband is quite flexible, though you can't twist them.
It gets scratches on it very quickly.
Besides, the earbuds look like low end, and the audio cable is also very thin and delicate.
These headphones have a one-year manufacturer's warranty.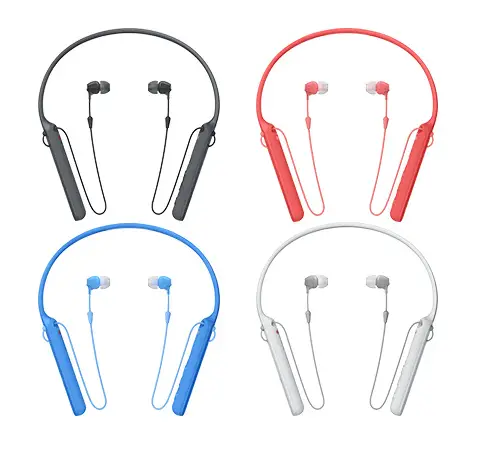 Style Or Design
When you look at the Sony-WI-C400 headphones, your first impression will neither be mind-blowing nor awful.
It has a simple and decent behind-the-neck design with two casings at both ends.  The casings house the battery, mic, and other components. The plastic casings are connected by a slim neckband stem that looks fragile but actually isn't.
The skinny audio cables and the cheap earbuds are the inferior things in Sony WI-C400 headphones.
You will be pleased to know that these headphones come up in four different colors- red, blue, black, and white. You can take your favorite one from these multiple color options.
Now, I am going to discuss the portability and stability of Sony WI-C400 headphones. Have a look here to know the details.
What About The Portability?
They are relatively portable, especially while dangling around your neck.
These headphones are not flexible enough to carry in your pockets. They don't come up with a carrying pouch or case. If you don't mind having them around your neck, there won't be a problem in carrying them.
How Is Stability?
The Sony WI-C400 has a sturdy behind-the-neck design for fitness activities. They stay put gently around your neck even during intense physical activities.
The neckband has a decent cable management system. Keeping the cable length right requires a little bit of adjustment from time to time.
The neckband can get caught on an item of clothing that pulls on cables, and the earbuds may slip off from the ears.
Are They Waterproof Or Not?
They are not waterproof. So, don't wear this headphone while swimming or taking a shower.
Now, it's time to let you know some unique features of Sony WI-C400 headphones.
Special Features Of Sony WI C400
I have said earlier about the vibration notifications.
When paired with your phone, you will get the message and incoming call alert through vibration.
Additionally, you can stream effortlessly using Bluetooth technology. Gently tap your device on the NFC logo.
I guess you are thinking that it is a wireless headphone, but why I haven't explained the Bluetooth yet. Well, you are right. Without any further delay, let's know the Bluetooth details.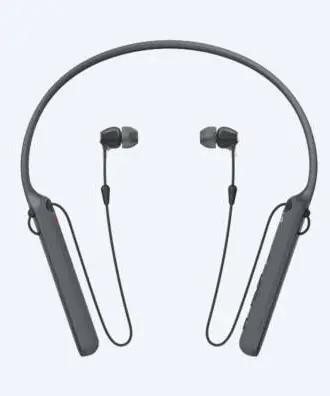 Bluetooth Details
They have got the Bluetooth version 4.2, not the newer 5.0 version. The wireless range is about 30 feet. They use AAC and SBC audio codec instead of aptX and Sony's LDAC.
Though It may sound better, they come with the cost of battery life.
These headphones have NFC support; still they don't have a multi-device pairing option.
Wireless Sony WI-C400 is a Bluetooth headphone, and you have to pair it first to connect with other devices. So, how to pair it? I am going to discuss the pairing process now. Give your concentration below.
How To Pair With Devices?
To put your Sony WI-C400 in pairing mode with android smartphones and iPhones, follow the steps given below.
Step-1:
Unlock the screen of your device if it is locked.
Step-2:
Turn on the headset. Then press and hold the button for two seconds. Make sure that the blue indicator flashes after you release the button.
Step 3:
Display the devices that can be paired with the smartphone. Select [Setting] – [Bluetooth]
Step 4:
Touch [WI-C400]. You will hear voice guidance BLUETOOTH CONNECTED.
If you want to connect your headphone to a paired computer (Windows 10), you have to maintain the following rules:
Step 1:
Right-click the volume sign on the windows toolbar, then click [Playback Devices]
Step 2:
Right-click [WI-C400]. If WI-C400 is not displayed, right-click on the [Sound] screen, then select [Show Disabled Devices].
Step 3:
Click connect. The connection is established.
Is your headset not turning on, not pairing, or working? Then you have to reset your headphones. Let's know how to do it.
How To Reset?
Firstly, disconnect the micro USB cable and turn off the headset.
Then press and hold the power button and play/pause button simultaneously for more than seven seconds.
The blue indicator will flash four times, and the settings such as the volume adjustment will be reset to the factory settings.
All pairing information will be deleted then.
Anyways, I haven't disclosed the battery of these headphones yet. I know you are eagerly waiting to know about it. Don't worry. Just take your eyes below.
Battery Details
They have lithium polymer batteries with up to 20 hours of battery life.
Although Sony advertises 20 hours of listening, you can manage the highest 19 hours of continuous playtime or talk time with these.
It needs a long time to charge as well, which is 3 to 4.5 hours. Their standby time is around 30 hours.
It is quite disappointing that they use micro USB for charging instead of reversible USB-C.
USB-C charging, especially fast-charging, could make these headphones great to outstanding.
Are you confused about whether this headphone would be compatible with your device or not?
Okay, don't be puzzled anymore. I am clearing all your confusion.
What About The Compatibility With Other Devices?
You can use these headphones with windows ten and Mac. It is also very compatible with Android smartphones and iPhones.
A question may appear in your mind at this moment. Is it suitable for gaming purposes? Then Find your answer below.
How Much Suitable For Gaming?
Sony Wireless WI C400 headphones are below average for gaming as they have too much latency for it.
Moreover, they don't support Sony's headphones connect app. So, they have no customization options, which are typical for a gaming headset.
You may not want a gaming headset, but you are still confused about whether you should buy it or not. I will try to provide information about who should buy these headphones and who might skip them.
Who Should Buy?
The behind-the-neck design is very much convenient for sports or fitness activities like gym, running, cycling, biking, etc.
These headphones are also suitable for online teaching and meeting as their mic performs very well in an isolated environment.
You may also use them at your office. They struggle to isolate the sound in a noisy environment,  although they have very low leakage. So, they won't distract your colleagues.
They are not bad for travelers also, as they have long battery life.
Who Can Skip Them?
You shouldn't purchase these headphones if you are a hardcore audiophile. Don't choose it for studio monitoring either.
In this case, I want to suggest a perfect headphone for studio monitoring. You may go for Tascam TH 200X headphones for this purpose.
Do you want me to compare these headphones with some other similar headphones? Okay, let's go for a comparative discussion with five other identical headphones to it.
Compare With Others
Sony WI C400 Vs. Skullcandy Ink'd
Sony WI-C400 is a wireless in-ear headphone, but Skullcandy Ink'd is a wired headphone.
The noise isolation feature of Skullcandy Ink'd headphones is good. However, Sony WI-C400 shows an average performance in noise isolation.
Besides, Skullcandy Ink'd headphones have a better frequency response (20Hz to 20kHz) and sound quality as they have got bigger drivers.
Sony Wi C400 Vs. Sony Wi C300
Sony WI C400 headphones have 20 hours of running time while Sony WI-C300 have 8 hours of music or playtime.
The battery of the Sony WI-C300 needs only 2 hours for charging, which is shorter than WI C400.
They both have the same driver size. Neither of them can provide active noise cancellation.
Sony Wi C400 Vs. Adidas RPD-01 In-Ear Wireless Bluetooth Sport Headphone
The build quality of Adidas RPD-01 is fantastic- the earbuds are lightweight, magnetized, and have a silicone neckband. On the contrary, WI C400 headphones don't come up with good build quality.
Our described headphones are not waterproof, but Adidas RPD-01 headphones are IPX4 rated water-resistant with sweatproof and splash-proof construction.
Both of them are good for sports activities; nonetheless Adidas RPD-01 is the best one.
Sony Wi C400 Vs. EXFIT BCS-700 Wireless Bluetooth Headphones
EXFIT BCS-700 headphones have audio transparency mode to hear ambient sounds. These headphones also come up with a call auto answering feature. You can accept an incoming call by simply pulling the earbuds. However, Sony WI-C400 headphones don't have these features.
Both of the two headphones get vibration notifications for incoming calls and messages.
Sony Wi C400 Vs. EXFIT BCS-A1 Wireless Bluetooth Headphones
EXFIT BCS-A1 headphones provide a robust sound quality as they have a 12 mm driver. On the other hand, the sound quality of our described headphones is not so solid and powerful.
The call quality of these headphones is also excellent. You can hear a crystal clear HD voice on it.
Besides, they are retractable, unlike Sony wireless WI C400 headphones.
Should I spend money on these headphones? Maybe you want to justify it before purchasing a new headphone. Let's know how worthy it is.
Are They Worth Buying?
If you want a headphone with pretty good sound quality and extended battery life, you can go for it.
Yes, the sound quality could be a little bit better, but you can not find any better with this budget.
They are more than adequate for all-day listening.
Comparing the price with their features, Sony-WI-C400 headphones are worth buying.
You have gone through my Sony WI C400 review. Yet you don't want to purchase it. Well, don't worry. It can happen. I have some other options for you.
Alternative To Sony wireless WI-C400 Headphones
I am mentioning four alternative headphones to Sony wireless wi c400. Those headphones have almost similar functions to our described one. They are-
Let's conclude this article now.
Conclusion
I tried to give an honest review on Sony wireless wi C400 headphones from a neutral point of view. I hope you have got enough information to make your decision. Now it's up to you whether to buy it or not. The last thing I want to say that always try to focus on your primary concern before purchasing a headphone.
Thanks for reading this article.