Are you looking for a budget-friendly studio headphone?
Then I have a good option for you. And it's the Tascam TH 200X closed-back, over-ear headphone.
Sale
I won't say that it is excellent for studio use, but they are good enough for this price point.
Besides, don't think that it is only for studio use. You can also use this headset for your everyday listening.
Are you feeling curious about this headphone now?
Luckily, I am here today with all of you to give a broad idea about this headset.
Then get ready and go through my Tascam TH 200X reviews.
At first, I would like to give a brief idea about the Tascam brand.
Brand Overview Of Tascam
TASCAM is a unit of four divisions of TEAC Corporation. TEAC Corporation is a 1.2 billion dollar manufacturing company situated in Japan.
TASCAM stands for Teac Audio Systems Corporation America.
The headquarter of Tascam is in Santa Fe Springs, California, and it was founded in 1971.
TASCAM's first products were TEAC brand multitrack recorders.
It launched many kinds of headphones worldwide. The Tascam TH-200x headphones are the latest addition to their acclaimed line of headphones.
Tascam launched TH-200x headphones in 2014.
Then a few days later, I bought this Tascam TH 200x.
At first, I used the headphone only for music listening. After then I started to use it for video editing work at the studio.
Let's get to the point now.
Tascam TH 200X Reviews
I have included some great features of this Tascam headphone at the starting of my review. See them at a glance.
At A Glance
Adjustable Arms.
40mm Neodymium Magnet Driver.
Good For Price Point. 
Great For Studio Use.
Cable Is Not Detachable.
Tascam TH-200X is mainly designed for studio use but also suitable for everyday music listening.
If you don't want to spend enough money and still want a good pair of headphones, I think TH-200x is perfect.
It is not excellent for studio use, but it shows an outstanding performance at its low price point.
What did I get after opening the box? Maybe you are waiting to know it eagerly. Okay, then let's see.
In The Box
When I got my TH-200X headphone, I was too excited. I received my parcel and opened the box in smiley mode.
I saw a closed-back, black color headphone.
But it didn't come with any case or pouch. It made me a little bit unhappy.
Anyway, in the box, you will see your desired
TH 200x headphone.
¼" screw adapter.
A user manual.
You won't get any extra accessories like extra earpads except for these things.
Now know about the cables in detail.
Cable Details
The Tascam TH-200x headphone comes with an attached cable. Unfortunately, it is not detachable.
I highly expected a detachable cable. But what to do? I felt sad.
The attached cable is 9.8 feet (3 meters).
It is very large and enough for comfortable moving.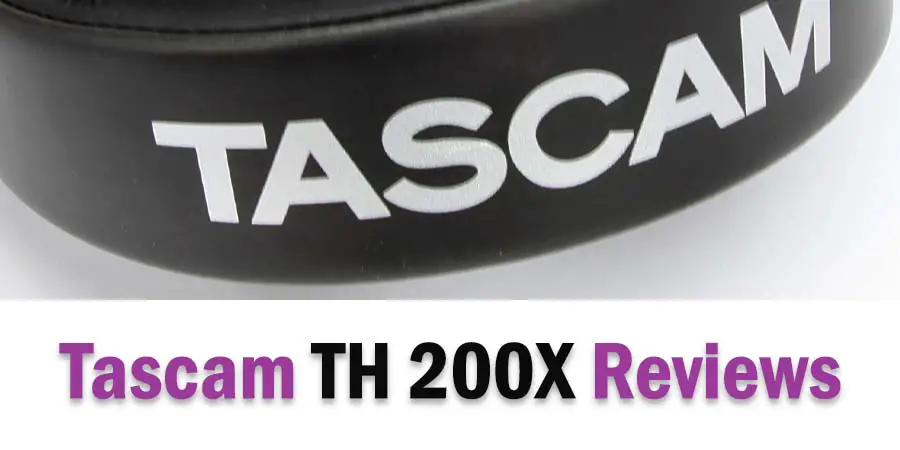 Right now, I am going to enlighten you with the key specs and the pros and cons of this Tascam TH 200X headphone.
Key Specifications
Type: Over-Ear.
Back-Design: Closed-Back.
Frequency Response: 15Hz-22KHz.
Impedance: 32 ohms.
Sensitivity: 95dB.
Driver: 40mm Neodymium Magnet.
Transducer: Dynamic.
Connector: Wired – 3.5mm Jack.
Cable Length: 9.8 Feet (3 meters).
Cable Type: Straight.
Color: Black.
Weight: 13 Ounces.
Material: Stainless Steel.
Pros
Good For Mixing And Recording.
Great Comfort.
Neutral Sound.
Relatively Affordable.
Cons
Cable Is Not Detachable.
Cheap Making Quality.
Everyone wants to have a headphone that is comfortable.
So, its comfortability must be a great concern for you.
Are They Comfortable?
I didn't expect much comfort from this cheap headphone. It is fairly comfortable in terms of price.
The earpads are very soft and well-padded. It ensures long-lasting wearing comfort.
The earpads fit in my ears very comfortably (my ear is small).
But I do not know what will happen to the bigger ears.
It might not fit with the bigger ears.
When I was wearing this headphone for multiple hours, I was sweating.
One of my friends felt hot in the ears after wearing it for a long time. But honestly, I didn't felt like that. So I think your experience may vary.
The arms of this headphone are adjustable.
The headband is tightly-stitched and well-padded. It's enough to give a comfortable fit.
But when I was wearing it for a long time, I felt it digging me on top of the head, and I felt hurt.
The Tightly stitched stainless steel frame has an extra cushion to ensure a cozy fit.
The clamping force is somewhat excellent. But I think the clamping force will not be decent for big head.
It won't be comfortable if you want to lay down by wearing this. If you want a headphone that gives you comfort when lying, you may go for Status Audio CB 1.
Now I will explain the sound profile of this Tascam studio headphone. You will find every detail of its sound in the below section.
Sound Profile
Tascam TH 200X headphone has a neutral and well-balanced sound profile.
I was surprised to listen to such a precise representation of its audio, which is quite unexpected at this price range.
The new 40mm neodymium-magnet drivers deliver an authentic, balanced sound.
The frequency response of ths headphone is 15Hz-22kHz. It is perfect for all genres of music.
But the upper-frequency response is not good enough for my taste.
The 40mm neodymium drivers and dynamic transducer give you excellent and accurate bass and good treble.
However, if you have got a tight-fit on the ears, your experience may vary. The mid and low-range also won't disappoint you.
Sound Leakage
The Tascam TH-200X headphone has a decent fit around the ear. And it has a fair sound leakage performance.
The over-ear, closed-back design doesn't leak any sound.
When listening to loud volume, nobody can be bothered with you.
Noise Isolation
This headphone doesn't offer great noise isolation.
They don't have active noise cancelling feature.
As an over-ear, closed-back design, it can block only a little bit of sound when listening to a loud volume.
If you want a headphone with decent passive sound isolation, you can look at Sennheiser HD280 Pro new model. It can passively isolate most of the sound.
Microphone
The TH-200X closed-back headphone doesn't have a microphone.
If you want a headphone with a mic, you can try Sony WH-100XM3. It has a mic with active noise-cancelling feature.
If you compare the sound of TH-200X with its price range, the overall sound quality is good.
Let's go for its build quality now.  
Build Quality
The Tascam TH-200X headphone has a sturdy build quality. It is entirely made of stainless steel. 
However, the materials seemed very cheap. 
I carefully used my TH-200X headphone for a long time, and it was still good. But after some days, it started to peel off.
Although many people complain that it breaks within a short time, but I felt it enough sturdy and durable.
Tascam gives you 1 year of warranty.
If it gets damaged within this period, you can contact its customer support for free repair.
But how is their customer service? Is it really helpful?
Just keep reading. You will get your answer.
Customer Support
Tascam provides friendly customer support. They prioritize all the calls of the clients and hear their every problem with great importance.
They will transfer your inquiry directly to the support group, and they handle it within a short time.
How does this Tascam TH headphone look?
Okay, let's see.
Design
The Tascam TH-200X over-ear headphone comes in black color.
Though it doesn't look very stylish, it is beautiful with a decent look.
The black color is my favorite, so it seemed nice to me.
Anyway, now I am going to talk about the portability and stability of this Tascam 200X headphone.
Portability
This headphone is not good enough for portability because of its weight.
Its weight is 13.6 ounces.
So, it is not lightweight at all.
It has only adjustable arms, but it is not foldable.
I think you can not carry it easily. The three-meter cable is also very long, and there will be a problem handling it outside.
Stability
It is not a headphone with great stability. You can use it for home listening but not during a heavy workout, running, jumping, etc.
There is a chance that it will fall from your ears.
Is It Waterproof?
If you want a waterproof headphone, TH-200X is not for you. It is not waterproof and not suitable for swimming.
It is not sweatproof either. Therefore, don't use it at the time of a heavy workout.
Well, are you worried about its compatibility? Then, go to my below segment and get a clear idea about it.
How Much Compatible Is It?
The TH-200X headphone has a 3.5mm audio jack, including a ¼" screw adapter. It is compatible with devices that support a 3.5mm & 6.35 mm audio jack.
If the device doesn't have 3.5mm jack, you can use the 1/4″ adapter. However, the device must have a ¼" supported port in that case.
It is perfectly compatible with windows 10 and mac. You can comfortably use it with mac and windows as it has a long cord.
The TH-200X headphone is also compatible with android devices but not with iPhone. After iPhone 6, no latest model iPhone comes with an audio jack.
How Much For Gaming?
I have said earlier that TH-200X headphone has a long cord and loud & clear sound.
It is excellent for most gaming consoles.
But you cannot talk with other players as it has no mic.
You can use it with PS4, Xbox One, and Nintendo Switch if you don't need voice chat.
This headphone is suitable for your everyday gaming when playing alone on pc or other gaming consoles.
Tascam TH 200X is mainly a studio headphone. But how much it is ideal for studio use, let's know it.
How Much Suitable For Studio?
The Tascam TH-200X headphone is mainly tailored for recording and mixing.
As it provides supreme audio and great comfort, it will be suitable for mixing and recording.
It is also good for voice over.
But if it got a passive or active noise isolation feature, it would be excellent for studio use.
Overall, TH-200X is good for studio use within a low budget.
You have already got enough information about this Tascam headphone. Still, you may be confused about whether to buy it or not.
To remove all your confusion, I am going to reveal who can buy this headset and who should skip it.
Who Should Buy Tascam TH-200X Headphone?
Though TH-200X headphone is suitable for studio use, it is also perfect for everyday listening.
It will also be ideal for the audiophile.
I personally used this headphone for video editing. I was always in a creative mode and listened to exact audio when editing.
You can also use it for gaming if voice chat is not that important for you.
It is suitable for official use too.
Who Might Skip It?
If you want a headphone for sport, gym, running, or cycling you should skip this headphone.
It is also not suitable for those who wear glasses. When wearing it with glasses, it can dig your head and hurt you.
The TH-200x is also not for online teaching or meeting.
As it is not portable, you will face a problem when carrying it. The long cord is problematic too. Therefore, don't use it for traveling also.
I hope the conception is now clear to you.
Here I am going to put a comparative discussion between our Tascam TH 200X headphones and some other headphones. It will be handy enough for your decision making.
Compare With Other Headphones
To know which features make Tascam TH 200x different from others, we need to compare it with other headphones.
1. Tascam TH 200X Vs TH 02
Tascam TH-200X and TH-02 both are over-ear, closed-back, wired headphones.
The TH-02 is not comfortable like TH-200X. The TH-200X is sturdy enough and more durable than TH-02. 
Both two headphones have the same sound quality. But the TH-02 is foldable and portable while the TH-200X is not portable. 
Overall, Tascam TH 200X is better than TH-02.
2. Tascam TH-200X Vs TH-300X
Tascam TH 200X and TH-300X both are mainly designed for studio monitoring.
The TH 300X is somewhat better than TH-200X.
TH-300x provides more exact and crystal sound than 200X. It also has a decent build quality while the TH 200X has not.
The TH-300X is also more comfortable than TH-200X. But the price of 200X is lower than 300X.
3. Tascam TH-200X Vs Sony MDR 7506
The Sony MDR 7506 and Tascam TH-200x both are over-ear, closed-back headphones.
The Sony MDR 7506 is more comfortable and lightweight than 200X. It is foldable also, but The TH-200X is not foldable
So the 7506 is a decent portable headphone, unlike the Tascam 200X.
However, The price of TH-200X is lower than Sony MDR 7506. Overall, the Sony MDR 7506 is better than TH 200X.
4. Tascam TH-200X Vs AKG K240 Studio
Tascam TH 200x and AKG K240 both are studio-style headphones. But the AKG K240 is a semi-open-back design headphone.
It provides accurate sound reproduction and long time wearing comfort.
The cable of K240 headphone is detachable, while the TH 200X has an attached cable.
From an overall point of view, AKG K240 studio headphone is better than TH-200X.
5. Tascam TH-200X Vs Audio Technica M50X
Tascam TH 200X and Audio Technica M50x both are closed-back studio headphones.
ATH M50x is pretty much better than TH-200X for studio use. Moreover, it has a decent sound with great comfort and sturdy build quality.
All the features of M50x are quite better than 200x.
Maybe you are planning to buy this Tascam TH 200x headphone. Before purchasing, let's see it will be worthy or not.
Is It Worth Buying Or Not?
Tascam TH-200X headphone is ideal for recording and mixing. Besides, it is also nice for everyday music listening.
It provides excellent sound quality, outstanding comfort for long time usage periods.
If you compare it with its price point, it is worthy.
Considering all the features of TH 200X, if you don't wish to buy it, you can go for other alternative options.
Which one will be a better alternative to this TH 200x?
Just go down. I have listed it there.
Alternative To Tascam TH-200X
You can choose one of the following headphones as an alternative to it.
All these three headphones provide almost similar or sometimes a little bit better features than The Tascam headphone. So, that's all for today.
Conclusion
Finally, you have got a clear idea about this headphone from my Tascam TH 200X reviews. I hope it will be helpful for you when purchasing a new headset.
If you think TH-200X headphone is ideal for you, you can have it.
Otherwise, you can go for an alternative option.
I always respect your right decision.
Thanks For Reading This Article.