I was trying to get myself a new budget headphone for a few days that can offer an overall decent performance. I wanted to use it for everyday casual listening for a longer time. Consequently, after so much research, I reached a decision about my desired headphone.
I bought Sony WI-C200 wireless in-ear headphones. I have been fully satisfied, and pleasantly surprised with the performance of this new pair.
Sale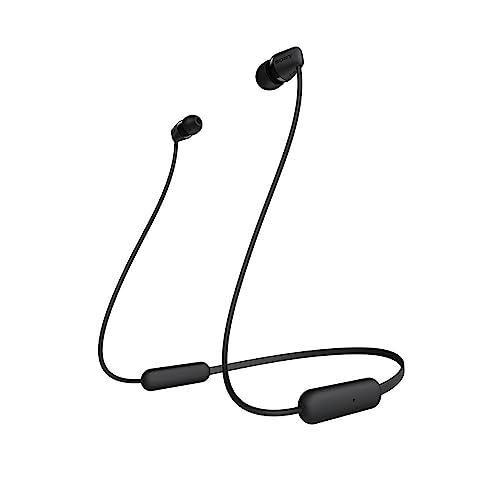 I thought of sharing my experience with you too. So, I am here today with my Sony WI C200 review.
Sony WI C200 Review
I will try to cover all the topics needed to know a headphone in detail. I am going to discuss their sound profile, specifications, pros and cons, comfortability, portability, stability, compatibility, Bluetooth and battery details, and many more.
Well, get ready to explore it.
Let's have a quick look at this WI C200 headphone first.
At A Glance
Wireless audio with Bluetooth technology.
Battery life of up to 15 hours when fully charged.
9mm driver unit for crisp and clear sound.
Built-in mic for hands-free calls with HD voice.
10 minutes of power charging for 60 minutes of playback.
Magnetic earbuds for tangle-free carrying and storage.
USB-C charging cable.
Support Siri or google assistant.
Sony WI C-200 is made for life on the go. Take your music wherever you go and listen in comfort anytime, anywhere. Enjoy hand-free calling and voice assistant with this lightweight headphone.
Before going to further discussion, I will show you what I found in the box.
In The Box
I was so excited about having my new headphone. I couldn't resist unboxing it. Finally, I opened the box and found
Sony WI C-200 headphones.
USB-C charging cable.
The manual and,
Three different sizes of hybrid earbuds.
Now, I will speak about the specs and the pros-cons of these Sony wireless headphones Wi C 200. Take your eyes below.
The Specifications
Type: Closed-back in-ear.
Connection: Wireless, Bluetooth.
Charging cable length: 7.87 inches/ 20cm.
Driver: 0.35 inches/ 9mm.
Frequency response: 20 Hz to 20kHz.
Color: Black, White.
Weight: 0.67 ounces/ 19g.
Wireless range: 53 feet.
Pros
Decent audio reproduction.
Portable and flexible around the neck design.
Good battery life.
Cons
Cheap build quality.
Always on feedback when using the mic.
Are Sony WI C200 headphones comfortable or not?
I was concerned about it from the very beginning. Fortunately, I got nice feedback.
Is It Comfortable Or Not?
Wi c200 is a soft, flexible, and fairly comfortable pair of headphones. They don't go very deep inside your ear canals. The earbuds are very small and I didn't feel any pressure in my ears.
Moreover, they come up with three different sizes-small, medium, and large. It will help you to find the most comfortable and suitable fit.
However, their long cables felt quite bothersome to me. These cables tend to create large dangling loops which could get hooked on something very easily.
Now, here is the description of the sound profile of the Sony WI C-200. Stay with me and know the details.
Sound Profile
Their 9mm dynamic driver unit delivers an amazing sound performance with intense bass and crystal clear audio. They have excellent bass, a great mid-response, and a crisp treble.
The bass is very deep and extended, which means they can provide thump and rumble in dubstep, hip-hop, or house music. There is a small bump in high bass. It brings some extra beats but also adds a little bit of muddiness to the sound.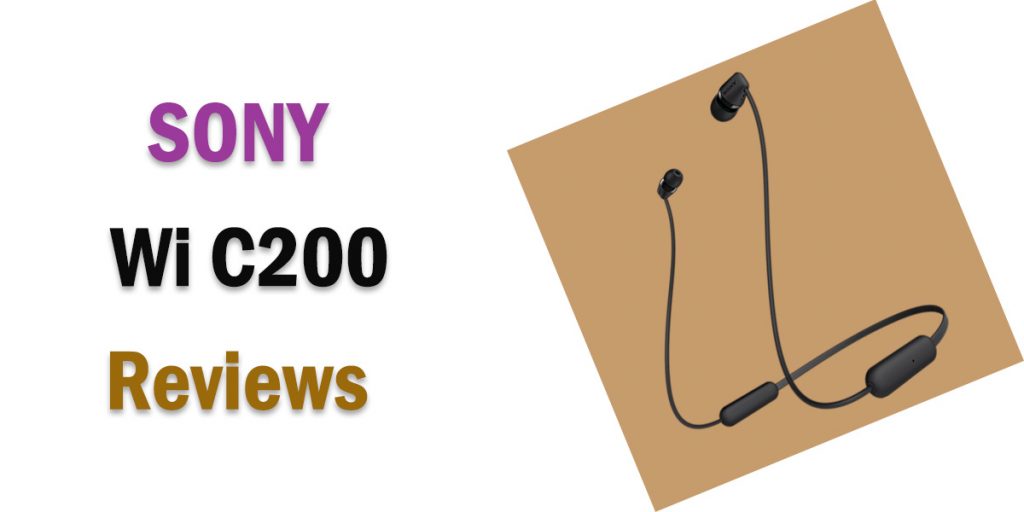 I found the mid-range great also. The vocal and lead instruments are generated accurately without so much jumble. However, a small drop in the mid-mid drives them to the back of the mix. It's not that noticeable, though.
The treble response is pretty well-balanced until midway through the range where things get a bit rough or bumpy. Some frequencies lack brightness and detailing, while others sound very sharp and piercing. But overall, their treble is adequate and more detailed. Not everyone can hear the treble frequencies the same way. So, your experience may vary.
Frequency Response
The frequency response of the sound ranges from 20Hz to 20kHz, which is quite consistent. I got a proper fit and an airtight seal using the best fitting tips. Hence, I was able to get persistent bass and treble delivery at each time.
How Is The Soundstage?
The soundstage feels poor and inadequate to me.
The speaker-like soundstage mainly depends on activating the resonance of outer ears(pinna). But this Sony WI c-200 entirely bypasses the pinna and also, they have a closed-back enclosure. That's why their soundstage is not spacious like the open back ones.
Sound Leakage
The leakage performance is outstanding. They don't leak any sound in the bass and mid-range. You will find a significant portion of leakage within a very narrow range of 2kHz to 5kHz. Overall leakage of this wi c200 is quite satisfactory, though.
Noise-Cancelling Or Noise Isolation
These headphones don't get any fancy noise cancellation feature but they do an ordinary job in noise isolation.
They can only block out some ambient chatter and isolate noises in the treble ranges, like the ham of an AC unit.
However, they are not best fitted for isolating bass range noise. This Sony WI C200 headphone cannot block out the rumbles of the bus and plane engines.
Are you worried about the control system of this headphone? Don't worry. They have a straightforward controlling system.
Control System
They have an inline remote with a three-button scheme for audio and call management.
Press the multifunction button or power button once for play/pause or answer calls.
Double-tap it to get instant access to Siri or google assistant. Check the weather, news, and many more with your voice now.
You can also find the volume up and down buttons.
Hold them for either skipping tracks or going to the previous one. You will hear a voice prompt when skipping and when reaching maximum and minimum volume.
Now, I will let you know how the microphone and its recording quality seemed to me. Without any further due, let's get to the point.
How Is The Microphone?
The Sony wi c-200 has a mediocre and integrated microphone. I found it suitable for a call in a quiet environment.
But I faced problems in a noisy place. I also noticed that it could not separate speech from ambient noise. So, the person on the other side will find it harder to understand your voice when you are in a busy street or at a subway station.
Additionally, the mic provides feedback constantly when in use. It may seem helpful in some ways but also very irritating when you can never turn it off.
Recording Quality
The recorded speech sounded very thin and muffled in it. It lacks detailing too. However, the distinctness of speech will still be apparent in a calm and quiet environment.
You must want to have a headphone with the robust build quality. However, sometimes you need to compromise with some features to get other better functions.
Build Quality
To be honest, their build quality couldn't make me happy. They are not durable enough. The earbuds and the control modules are housed in a thin, cheap-feeling plastic. The control buttons are very fragile and sensitive too.
The cables are very thin and looked like they could break easily if I pulled them out forcefully from my ears.
One positive thing about them is they could survive a couple of accidental drops.
You will get one year warranty from Sony, which covers manufacturing defects.
Style Or Design
The Sony wi C200 headphones come up in two different colors. Black and white with a matte finish. The black one seemed more attractive to me. So, I took it.
They are pretty decent-looking headphones with a soft and flexible neckband design. Two slim and magnetized earbuds are connected by a thin cable in them.
Let's go for its portability and stability right now.
Is It Portable?
Thankfully, this headphone has slim earbuds and flexible cable to make it super portable. I can easily wrap them up and keep them in my pocket. 
Moreover, the magnetic earbuds increase the portability of this headphone. You can snap them together and carry around your neck without any hassle.
I felt disappointed that I didn't get any carrying case or pouch to protect them on the move.
How Is The Stability?
They are stable enough for a long run or workout. But I always need to be careful that there won't be any pulling on the cable. Because it makes them fall from my ears.
As they have very long cables, they tend to create hanging loops, which feel annoying to me. But I use to manage them by snapping the magnetized earbuds together.
Is It Waterproof Or Not?
The Sony WI C200 doesn't have any waterproof rating. Don't use it while swimming or taking a shower.
Now, I am going to disclose the battery of the Sony Bluetooth earbuds WI-C200.
All About Battery
They have rechargeable lithium metal batteries with up to 15 hours of playtime or talk time. It is pretty surprising for wireless in-ears. The standby time is a maximum of 200 hours.
However, they take a little bit long time to charge and it is 2 hours. You have to use the USB-C charging cable to charge the earphones.
Unfortunately, they don't have any power-saving features. So, you have to turn them off when not using them.
Are you eagerly waiting to know about Bluetooth?
Well, no need to wait anymore. I am going to explain it below. Just have a look.
Bluetooth Details
The Sony Bluetooth earbuds WI-C200 do have Bluetooth 5.0 version. They don't support multi-device pairing or NFC. But they have an outstanding range of approximately 53 feet.
I walked away from my device to check it. There was no audio cutting.
They support A2DP, AVRCP, HFP, HSP, AAC, and SBC Bluetooth codec.
It's quite disappointing that the Sony WI C200 is not compatible with the Sony Headphone Connect app. It should be okay at their price point, though.
You have to pair it first to use this headphone with your devices. Don't you know how to pair Sony wi-c200? Well, no problem. I am going to enlighten you with my own experience.
How To Pair Sony Wi C200?
Turn on the headphone when you want to pair it with a device for the first time. It will enter pairing mode automatically.
When pairing it with a second or subsequent device,
Press and hold the power button for about 7 seconds. The indicator will flash blue repeatedly twice in a row. You will hear a voice prompt Bluetooth Pairing.
To connect to a device in pairing mode,
Activate the Bluetooth settings on your device and select [Wi-c200]. If passkey is required, input 0000.
Your headphone will connect in a second and you can hear a voice prompt Bluetooth Connected.
Some devices may connect automatically with this headphone when pairing is complete.
If you find that your headset cannot be operated or paired when turning on, you have to reset it to solve the problem. So, let's know the resetting process.
How To Reset Sony Bluetooth Headset Wi-C200?
You have to press down the power button and volume down button simultaneously for a few seconds while charging.
Reset is done.
To charge the headphone after resetting, disconnect and reconnect the USB-C cable.
Are you curious about whether you can use these Sony Bluetooth earbuds WI-C200 with your devices or not? Okay, I will talk about their compatibility now.
Compatible With Which Devices?
The Sony wireless headphones wi c200 are compatible with all iOS devices and Android smartphones, tablets, Mac, PCs, and laptops.
However, they are not compatible with PS4 and XBOX1.
Are They Suitable For Gaming?
As their wireless latency is too high, they won't be suitable for gaming. Also, the recording quality of the mic is not comparable to that of gaming headset boom microphones.
They cannot be recommended for watching TV either.
Is It A Studio Headphone?
Never expect to have a studio headphone at this price point. You cannot use this headphone for studio monitoring but don't be disappointed. I have an excellent suggestion for this purpose. You may check AKG Pro Audio K271 MKII professional studio headphones.
You have already got a massive idea from my above discussion about Sony wireless headphones WI C200. Are you still confused about whether to buy it or not? Well, I am always present here to clear all your confusion.
Let's know who can buy it and who should skip it.
Who Can Buy It?
These headphones are decent for commuting and traveling. As they are much flexible and portable and they have long battery life, they are the perfect choice for long trips and rides. You can carry them around your neck effortlessly.
They are good for sports too. The earbuds are tiny and won't trap heat inside your ears. So, I enjoyed using them while working out.
You can also use this Sony wi c200 at the office for listening purposes. It will increase your concentration on work as it can block the ambient chatter around you.
Who Should Skip It?
Don't use it if you are an audiophile. It cannot meet up your desired standard.
Besides, their microphone quality is not that good. So, these earphones are not appropriate for online teaching or meeting either.
I have already said that they are not ideal for gaming and studio monitoring too.
Do you want me to compare this headphone with some other headphones to get a more precise conception? Okay, no problem, I am doing it then. Look below to check the comparative discussion.
Compare With Other Headphones
I am going to put a comparative description between the Sony WI C200 with JBL T110BT, Sony WI C 310, JBL T205BT, OnePlus Bullets wireless Z, and Sony WI C300 one by one.
Sony Wi-C200 Vs. JBL T110BT
The building quality of JBL T110BT headphones is more durable than our Sony Bluetooth earbuds wi-c200.
This headphone generates pure bass sound, which you can hear in concert halls and stages worldwide. But WI C200 cannot give you the experience of a concert as their soundstage is so poor.
Sony Wi C200 Vs. C310
Both of the two headphones have almost the same features and functions.
The main difference between them is Sony 310 has a flat cable and the C200 has a thin cable.
Besides, Sony 310 shows slightly better noise isolation performance than our described headphones.
Sony Wi C200 Vs. JBL T205BT
JBL T205BT produces impressive sound with deep and powerful bass, which can be found in big venues around the world. This is an exception to our Sony C200.
However, their battery life is much shorter than C200 earphones. It is only up to 6 hours.
Otherwise, the two headphones are identical.
Sony Wi C200 Vs. Oneplus Bullets Wireless
These headphones are not so lightweight as our described ones.
OnePlus Bullets also require two lithium polymer batteries, while our Sony wireless headphones WI C200 need one battery.
Apart from these, other roles and characteristics of the two headphones are almost similar to each other.
Sony Wi C200 Vs. C300
Sony WI C300 has easy Bluetooth connectivity with one-touch NFC but C200 doesn't support NFC. The Bluetooth version is also different from our headphones and it is equipped with a 4.2 Bluetooth version.
Also, their battery life is almost half compared to our Sony WI C-200.
Other roles and features are equal in both headphones.
This part ends here.
Before buying this Sony WI C-200, I was thinking that will it be worth buying or not. Then finally I bought it and I am still satisfied with my decision.
Is It Worth Buying?
If you are looking for a portable wireless in-ear headphone at a great budget, then go for the WI C200 Sony.
They have a surprisingly well-balanced frequency response, especially for the price.
They are fairly stable, fit, and breathable, which makes them perfect for sports.
You can also get a good mid and treble-range isolation in them. So, they are alright for office use also.
Overall, the WI C200 Sony headphones may not be ideal for one specialized purpose, but their bendable design and decent performance make them a solid choice for everyday casual use.
You have gone through my Sony WI C200 review but you may still not want to buy it. Anyway, it can happen. I can suggest some other headphones in that case. You can find better features at almost similar prices in them.
Alternative To Sony Wi C-200
Here are some alternative options to Wi C200 Sony headphones:
You may try one of them as an alternative to Sony WI C-200.
Well, I am going to conclude this topic now.
Conclusion
I tried to give a genuine review from my very own experience. I hope it will help you in decision making. But the ultimate decision is totally up to you. Lastly, I want to say that always try to focus on your primary concern when purchasing a new headphone.
Thanks for reading this article.