Do you need to talk online frequently? For this reason, you may want to have a headset that can give you very clear communication abilities.
Maybe you've heard MAIRDI M USB headset is ideal for everyday phone calls.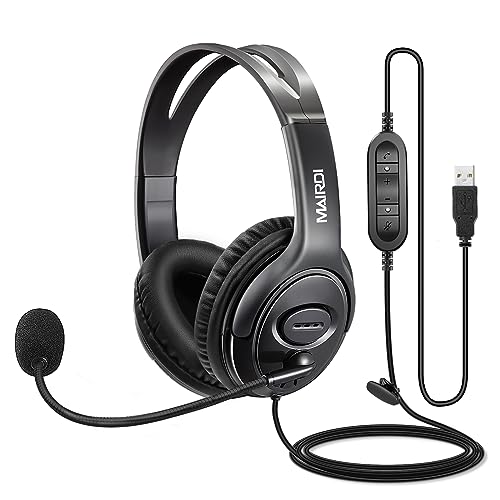 That's why you have picked this MAIRDI USB headset review.
Today I'm going to inform you on the MAIRDI USB headset with both its praiseworthy features and shortcomings.
Before getting immersed in the review, let's learn something about the MAIRDI brand.
Brand Overview Of MAIRDI
MAIRDI is a professional communication headset provider. It was founded in 2001 in China. The headquarter is in Xiamen, Fujian.
MAIRDI is the outstanding manufacturer of call center headsets.
They focus on call center headsets featured with high performance, easy to use, and affordable price. MAIRDI provides the customer with good quality and fashionable design headset solutions.
So, that was all about the brand. Now let's go for the review of the MAIRDI USB headset.
MAIRDI USB Headset Review
I tried to cover all the topics that are needed to know to explore a headphone.
At the very beginning, know the important features of this headphone in a flash.
At A Glance
Hearing Protection.
Digital Signal Processing.
Support Multiple Use.
Only Plug And Play.
Wideband Audio.
Performs Great At A Low Price.
Cable Is Not Detachable.
Sensitive Microphone.
Not Waterproof And Sweatproof.
MAIRDI M USB is an over-ear communication headset. It provides you high-quality wideband audio and a microphone with hearing protection.
This headset is fit for Dragon Nuance Voice Recognition.
Dargon Naturally Speaking is a software. It allows the speech recognition program to speak into a microphone on a computer or other devices.
I have been using this headset since 2018. Now I am going to tell you how my first impression was after receiving this headphone.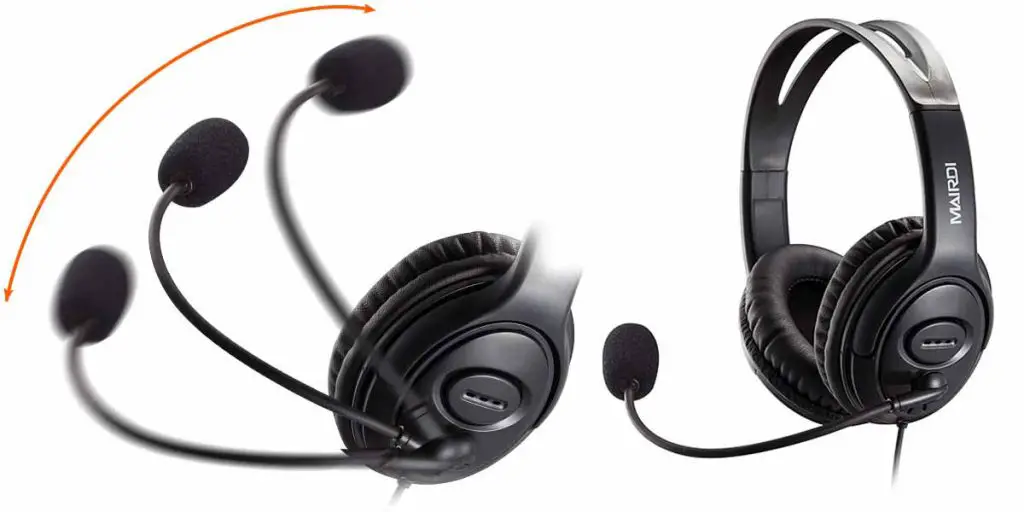 In The Box
I was looking for a headset for skype communication. My friend recommended this headset to me. I ordered it online.
When I got this headset in my hand, I was very excited. It was a pleasant moment for me.
In the box, there were…
MAIRDI USB headset with a microphone.
An attached USB cable.
A user manual.
A warranty card.
The user manual explains how to use it properly.
Besides these, it doesn't provide any extra accessories, not even a carrying pouch.
I have included the cable details too. Please check it.
Cable Details
The MAIRDI USB headset comes with an attached cable. I was missing a detachable cable. If the cables were detachable, I would be very happy.
The cable is straight, not coiled. It is long enough for comfortable moving.
MAIRDI USB headset is a totally wired headset. If you want a wireless headset, it is not for you. For a wireless headset, you may go with MAIRDI M890DBT headset.
Here I have mentioned the key specs and pros-cons. Go through them to get a clear idea.
Key Specifications
Headphone Type: Over-Ear.
Connector: Wired (USB Cable).
Cable Type: Straight.
Microphone: Rotatable, Noise Cancelling.
Control: In-Line Mute And Volume Control.
Weight: 5.8 Ounces.
Color: Black.
Material: Plastic.
Pros
Great Comfort.
Superb Sound.
Easy And Clear Conversation.
Quite Affordable.
Cons
May Not Be Fit For Big Ears.
Extra Loud Audio.
Are you concerned about its comfortability? No doubt, everyone wants to get comfortable headphones. let's know about it then.
How Much Comfortable Are They?
The MAIRDI USB is a very comfortable pair of headset.
I was wearing this headset for multiple hours but never felt a little bit of discomfort or fatigue.
The earcups are very soft with plush soft protein leatherette ear cushions.
It provides you user-friendly hygiene.
You may feel a little bit hot if you wear it for a long period. Once my friend was wearing this headset, he felt very tight to the ears as his ear size is big.
So, you may face this problem if you have bigger ears.
180 degree rotatable joint of speaker and headband for easy adjusting ear cover to make sure that it properly sits on ears.
The adjustable headband is very much fit for different head sizes.
I have a complaint that the top of the headband is not padding. If it is a tight fit for you, it will create pressure on the top of your head.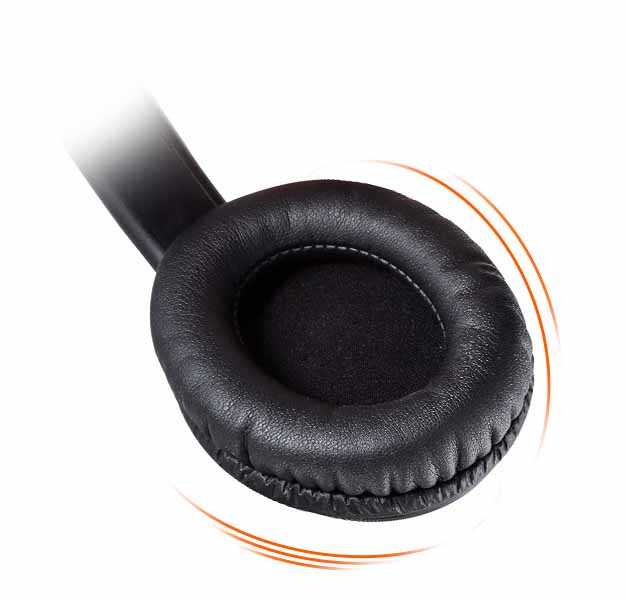 The clamping force is very nice for average-sized heads and ears.
Right now, I am going to disclose its sound profile. You will find every detail there.
Sound Profile
You know MAIRDI USB M headset provides high-quality wideband audio. The wideband audio solution offers you natural and clean hearing.
It significantly enhances the audio experience, making communications and music entertainment more intelligible.
I felt no sound-related problem. I was surprised to hear such a very loud and clear audio from this price point.
The frequency response of this USB headset is good and perfect for all genres of music.
The bass accuracy is superb for all the treble and low ranges. It will give you crystal clear and natural sound.
However, the sound is very loud, which is sometimes annoying. It is the only downside of its sound profile.
Sound Leakage
The sound leakage performance is somewhat superb. As it is an over-ear close type of headphone, it does not leak any sound.
If you listen at a too-loud volume, it has a few chances to leak sound as it provides very loud audio.
If you want privacy or feel sound leakage can hamper your listening, then listen at a moderate volume.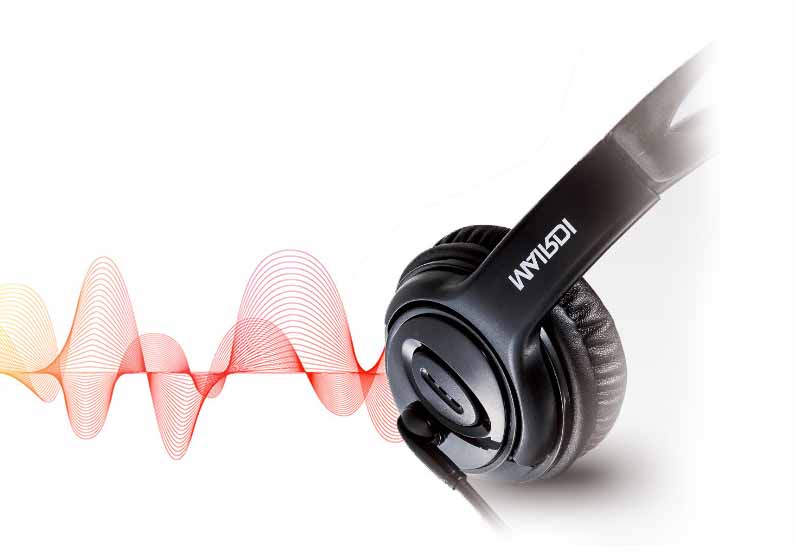 Noise Cancelling
The MAIRDI M806UC over-ear headset has no Active Noise Cancelling feature. It can not reduce any unwanted background noise.
When listening to a loud volume, it can only isolate a little bit of sound.
However, the microphone is noise cancelling. Let's know how the microphone performs.
Microphone
The MAIRDI USB comes with a noise cancelling microphone.
Though it demands that the mic is noise cancelling, it didn't work for me. I felt very disappointed.
The mic is very sensitive. It can pick up all kinds of sound, even breath. If the mic is very close to your mouth, your opposite partner will hear your every breath.
When talking, put the mic to a bit of distance. Then you will get very clear and loud communication. I felt very comfortable when talking on skype.
It has customized microphone specifications that are perfect for voice speech recognition.
Its arm is 330 degrees rotatable for wearing a mic on the other side. It gives you great flexibility for adjusting precise talking positions.
Now I will let you know about its controlling system.
How To Control MAIRDI USB Headset?
The MAIRDI M806UC USB headset has integrated in-line mic mute and volume control.
The in-line control is optimized for Microsoft Lync and skypes with a call button to answer and end calls.
1. In-Line Microphone Mute
At the top of the in-line, you will see the mute button. You need to press that button to active mute. And press again to deactivate it.
You will see a microphone mute LED indicator below the mute button. When the mic is mute, it indicates red light.
2. In-Line Speaker Volume Controller
In the middle of the in-line, you will see the volume controller, press the "+" button to increase the speaker volume. And press "-" to decrease speaker volume.
3. In-Line Hook For Answer/End Call
In the last of in-line, the answer/end call button is situated. Press the button to answer the call, again press to end the call.
Below the volume button, you will find a hook LED indicator. When answering the call, it indicates green light.
As a wired headset with a microphone, you can use it for recording.
So let's know the recording quality of MAIRDI M USB headset.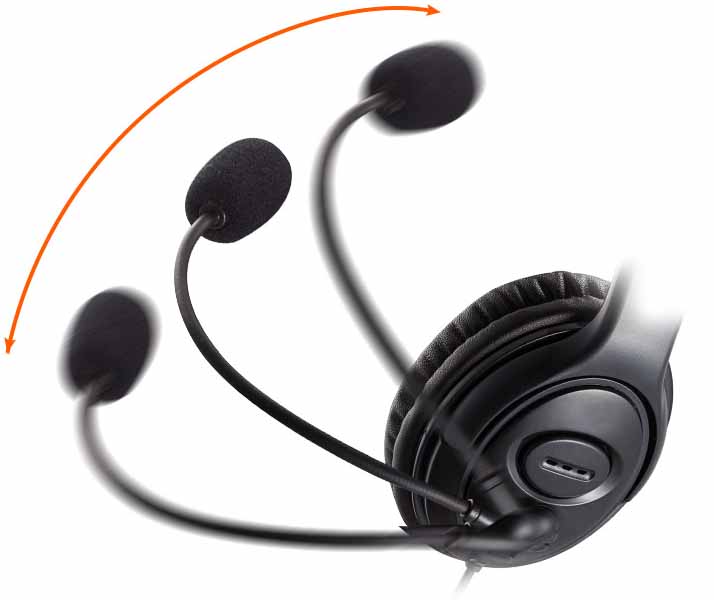 Recording Quality
As the microphone of this headset can't reduce background noise, it performs great without that.
This headset is suitable enough for podcast recording or other audio recordings.
Overall the recording quality is good if you think of its price range.
The build quality of a headphone decides how long you can use it. Therefore, it is important.
How Strong Is The Build Quality?
The building quality of MAIRDI USB Headset is sturdy enough for its price point.
It is made of 100% original raw material of plastic.
I have been using this headset for a long time; still, now it is ok. It seems like it will start to peel off very soon, though.
The reinforced long cord is also very robust. It is built with Kevlar to withstand a demanding environment.
Don't worry if your headset gets damaged within two years. Cause MAIRDI provides 2 years of warranty.
How Is The Design?
The MAIRDI Binaural USB headset comes in black color. The overall look is superb with a rotatable mic, soft earpads, and adjustable headband.
Let's go for its portability and stability now.
Portability
The MAIRDI M USB headset is somewhat portable, but not enough.
Its weight is only 5.8 ounces which is very lightweight. You can carry it, but the cord will be problematic.
Besides, it is not foldable; there is only an adjustable headband. If it were foldable, it would be portable enough.
Stability
The MAIRDI M USB headset is slightly stable. When listening by sitting, it is stable.
However, it will not be stable if you want to do a heavy workout.
The headset is slightly bulky, and it can fall from your ears. So, you can not do heavy workouts by wearing this headset.
It is perfect for indoor use but not for outdoor use.
Is It Waterproof?
The MAIRDI M USB headset is not waterproof. If you want a waterproof headset, it is not for you.
It is not perfect for swimming or shower time.
You may go with Sony NWWS623/B for a waterproof headset.
This headset is not sweatproof either.
Well, you will be pleased to know that this headphone has a special feature too. Now it's time to reveal it.
Special Feature
The headset comes with Anti acoustic shock to block out sudden sounds for hearing protection.
There is a PCB circuit attached to the headset speaker.
If there is a sudden loud sound of more than 118dB, it can block out to protect hearing health.
Let's dig it to its compatibility now.
How Much Compatible With Other Devices?
The MAIRDI USB headset comes with a USB cable. It is easy to set up with most devices that support USB connections. You just need to plug and play.
No drivers are needed to connect. You can directly connect it with your USB cable-supported devices.
It is most compatible with windows 10 and mac.
You can also use it with android with the help of a driver & adapter. However, it is not compatible with iPhone.
How Much Suitable For Gaming?
As the headset comes with a USB cable, it is suitable for most gaming consoles that have a USB audio jack.
The headset is somewhat good for gaming. The microphone works great when talking to other players.
You can use it with PS4, Xbox One, and Nintendo Switch using USB connection.
It is not a professional gaming headset, so do not compare it with a professional gaming headset.
Well, you have known its compatibility with other devices and gaming consoles.
Now I would like to inform you about who can take this headphone and who can skip it.
Who Can Buy This Headset?
If you want a headset for everyday online calls through skype or others, MAIRDI USB is great for you.
Do you work in a call center? Then this headphone can be a great pick for you.
This headset is also suitable for official use.
If you are an online teacher or need a conference call, it will be perfect for you.
It is also suitable for everyday listening as a wideband audio provider.
Do you wear glasses? You can comfortably wear it with glasses. But if you wear it for a long period, it may hurt you.
Who Should Skip It?
Do you want a headset for audiophile listening? The MAIRDI USB Headset is not for you. For audiophile listening, you may go for AKG Pro K371 headphones.
This headset is not suitable for outdoor sport or exercises like gym, running, cycling, etc.
You also cannot use it for studio like recording or mixing, not even for voice-over.
If you need studio headphones for voice-over, you may go with the best headphones for voice over.
Besides, this headset is not perfect for traveling or commuting too. The long cord will be problematic in that case.
Customer Support
The MAIRDI provides user-friendly customer support.
If you face any problems or have questions about using the headset, you can inform them by messaging on their official website. They will reply within 24 hours.
You can call them also. They sincerely hear you and handle your problem within a very short time.
I hope right now you have no question about MAIRDI USB Headset.
So let's compare it with other headphones now.
Compare With Other Headphones
To know why MAIRDI M USB headset is different from others, you need to compare it with other headphones.
1 . MAIRDI USB Headset Vs Mpow 071 USB Headset
MAIRDI USB and Mpow 071 both are over-ear USB headset. There is no major difference between them.
The Mpow 071 is built-with a unidirectional microphone.
It can be twisted discretionarily and it picks up your voice loud and clear. It can remove unwanted background noise for clear conversation.
While MAIRDI USB also provides clear crystal call but its noise cancelling feature doesn't work properly.
2 . MAIRDI USB Headset Vs Mpow HC6 USB Headset
The Mpow HC6 USB headset is an on-ear headset, while MAIRDI USB is over-ear. Both are good for a skype call.
But the Mpow HC6 has a special feature. This headset is supported by listening to your own voice. It will be very handy if you want mic monitoring. 
The headset is engineered with a noise reduction sound card in the control box. It helps you to reduce static noise and echo.
In this case, the MAIRDI USB is on the backside.
3 . MAIRDI USB Headset Vs Logitech USB Headset H390
Both are wired USB Over-ear headsets for everyday calls.
The MAIRDI USB works somewhat better than Logitech USB H390.
But the Logitech H390 is slightly more comfortable than MAIRDI. It provides a well-padded headband that provides extra comfort.
Well, the comparison part ends here.
Are you planning to buy this MAIRDI USB headset? If so, then let's know it will be worthy or not.
How Worthy Is It?
If you want a quality headset for everyday calls but don't want to spend a lot of money, MAIRDI USB headset with mic is a great option.
It provides you crystal clear audio and communication with great comfort.
You can use it for multiple purposes and also it is compatible with most devices.
Besides, the microphone works great too. The noise cancelling does not work, though. But overall, if you consider its price range, it is worth buying.
Do you think MAIRDI USB is not ideal for you or need an alternative? Don't worry. Here I have included some alternatives for you.
Alternative To MAIRDI USB Headset
You can go for one of the following headphones as an alternative to our headset.
All of them provide more or less similar features like MAIRDI USB headphones. Therefore, choose one from them if you want.
Conclusion
Finally, you have got a broad idea about this headphone from my  MAIRDI USB headset review.
I hope you have no confusion about its features anymore.
If you think it will be ideal for you, you may go for this. Otherwise, you can skip it.
Always go with the best choice and right decision. I always give priority to your best choice.
Thanks For Reading This Article.