I was looking for a studio headphone few months ago. I wanted to use it for my studio work as well as for casual use.
Since I used to wear headphones for a long time, I always try to buy the most comfortable set I can. Then after a lot of research, finally, I made my decision.
I bought the Audio Technica ATH M60x on-ear headphones. And for the last few months, I'm so satisfied with the performance.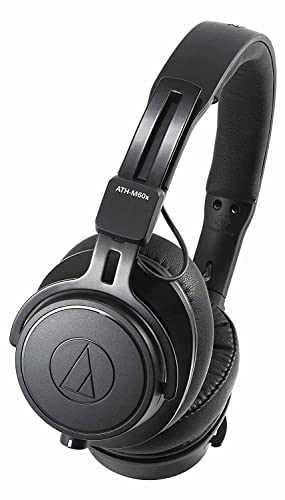 Therefore, I thought of sharing all of its detailed information with you.
So, today I'm here to present my Audio Technica ATH M60x Review.
Before starting the review, I am going to tell you about the Audio Technica brand in short.
Brand Overview
Audio Technica is a Japanese company that manufactures microphones, headphones, turntables, and other audio equipment.  
The company was founded in 1962 by Hideo Matsushita. At first, its headquarter was in Shinjuku, Tokyo, but now it is located in Ohio.
Audio Technica started its journey as a phonograph cartridge manufacturer company. They launched their first headphone into the market in 1974.
And today, they are one of the most renowned headphones-making companies in the world.
Time Magazine ranks Audio Technica 74 out of 100 as a headphone maker.
Now you have known about the brand overview, let's start the review segment.   
Audio Technica ATH M60x Review
In this write-up, I'll try to cover every ATH M60x specs, features, and functions. Here, I'll discuss the pros and cons, sound profile, potability, suitability, and everything you need to know about these headphones.
Hence, if you are planning to buy ATH M60x, this review will help you decide.
At first, let's have a look at some quick facts about Audio Technica-M60x
At A Glance
Close back, low profile, on-ear design.
Suitable for the studio, broadcasting, and mobile applications.
Build with metal components for long-lasting durability.
Large aperture drivers for clear sound.
Expanded frequency range.
Accurate bass response.
Since I ordered the headphone online, they came to me through online delivery. Now let's see how my first impression was after receiving it.
In The Box
Indeed, the best feeling after getting a parcel is unboxing them. I feel the same excitement every time.
However, the Audio Technica M60x came with a usual cardboard box. I opened the box with a happy face, and I found-
A soft carrying pouch.
An Audio-Technica M60x headphone.
A 3 m coiled cable.
Two straight cables ( 3m and 1.2m ).
3.5 mm to 6.3 mm adapter plug.
A User Manual.
Before going into the details, I am going to mention the key specs of ATH M60x headphone. You will also see the pros and cons there.
Key Specifications
Type: Closed-back, on-ear.
Connection: Wired.
Drivers: 45 mm Large Aperture Drivers.
Frequency Range: 15 Hz- 28000 Hz.
Sensitivity: 102 dB.
Color: Black.
Impedance: 38 Ohm.
Weight: 7.1 oz.
Maximum input power: 1600 mW at 1kHz.
Pros
Good sound quality.
Compact build.
Lightweight and comfortable.
Detachable cables.
Replaceable cushion.
Cons
Sound isolation is not good.
No control options.
Isn't foldable.
Anyway, are you curious about whether this headphone will be comfortable or not? Everyone wants to have a comfortable headphone. For this reason, it is an important feature to check before purchasing.
Are They Comfortable?
Actually, it's tough to find comfort in closed-back headphones. But the Audio Technica M60x has more breathability than the rest of the ATH-M series.
The earpads are made with protein leather which works really well to prevent sweating.
Besides, the ear cups are also well-padded, and the frame is lightweight.
Unfortunately, the padding of the headband is not sufficient. It felt a little bit uncomfortable. But the clamping force is 0.8 lbs., which is okay to me.
You can wear an ATH-M60x nearly all day with comfort.
People with bigger heads can find these headphones comfortable as the headband is adjustable. Yet, if you wear glasses, then using them for a long time might create headaches.
After comfortability, another most important feature of a headphone is the sound profile.
So, I'm going to explain it now.
Sound Profile Of Audio Technica M60x Headphone
Basically, the M60x is mainly famous for its clear and detailed sound with proper bass response.
It is suitable for almost all genres of music.
Audio Technica ATH M60x offers a pretty good and clear sound in the low and the mid-end. It keeps the sound as it is.  
However, the upper mid sometimes sounds harsh, especially in vocals and lead instruments.         
Let's see how well it responds to the frequency in the following segment.     
Frequency Response 
The frequency response of ATH M60x is 15 Hz-28,000 Hz.
Moreover, the consistency is also excellent. With proper fit and seal, you can get a decent bass and treble delivery.  
Soundstage
Sad to say that the sound stage of ATH M60x is relatively small. It has a compact width and depth.
You can feel like the sound is coming from your head.
But the fact is, it cannot give a truly multi-dimensional experience.
Does it Leak any sound?
The Audio Technica-m60x leaks a little bit of sound in mid and treble ranges.
However, it's not a big issue. In a slightly noisy place, no one will notice it. 
I usually wear this headphone in my studio, where the environment is too quiet. Yet, the sound leakage doesn't create any problem for others.
Does The ATH M60x Have A Noise Cancelling Feature?
The M60x has no active noise canceling feature. But it can slightly isolate noise.
Like over-ear headphones, an on-ear headphone can't isolate a sound very well. You can say it's one of the shortcomings of these headphones.
An ANC headphone can cause headaches, but noise-isolating headphones don't.
Yet, if you want an Audio Technica headphone with a noise cancellation feature, you can try Audio-Technica ATH-MSR7NC SonicPro.
Well, maybe you want to know the control system of this headphone. Okay, let's see what is waiting for us.
Does It Have Any Mic?
The Audio-Technica M60x headphone has no microphone.
You can wear it only for listening purposes.
However, if you need a headphone with a mic, you can check the Sony WHCH710N.
I have discussed every detail of the sound profile for your better understanding. I hope it is clear to you now.
After the sound, durability is an important factor which decides how long you can use this headphone.
So, let's go for it.
How To Control It? 
Unfortunately, it has no controlling button. It can't receive a call, change volume, or control music.
How Strong Is The Build Quality?
The durability of this headphone is not very satisfying. Though it has thick and robust ear cups, the headband is thin.
It feels weaker and seems to me that it may break easily under physical stress.
But don't worry. If you want a headphone with a robust build quality, then you can go for ATH M50x.
Fortunately, Audio Technica provides you two years of warranty. If any error happens from the manufacturer's side, you can replace your product or get a refund.
Design
Actually, the design of Audio Technica M60x is very basic.
The headphone is very professional looking and comes with only black color.
As I like simplicity, the looks of a headphone really don't matter to me. Therefore, I don't feel anything negative regarding the design of M60x.
Now come to some other important facts such as portability and stability.
What do you think will it be portable enough?
Find your answer below.
Are They Portable?
Though the M60x comes with detachable cables, it doesn't fold in any way. So, it's not a portable gadget.
But since the weight of ATH M60x is only 7.1 oz, it's easy to carry.
Stability
As ATH M60x is specially designed for studio use, it provides great stability in this case. 
However, as it can displace easily with a bit of movement, it is not suitable for outdoor usage.
You cannot use it for sports activities like running, cycling, biking, skiing, hiking, etc. It is also not stable for heavy workouts like the gym.
Is The M60x Waterproof? 
ATH M60x is not waterproof. Therefore, it's not suitable at all for the swimmers.
Are you worried about whether you can use this studio headphone with your devices or not?
Just go through the below section. You will have your answer.
Compatibility With Other Devices
It is compatible with devices that support a 3.5mm & 6.3 mm audio jack.
You can also connect this ATH M60x headphone with PC, XBOX, PS4, and others. But as the headphone has no mic, you can use it for only listening.
Is It Suitable For Gaming?
If you play a single-player game or don't need to talk with others, the headphones will provide an excellent service.
On the other hand, If your gaming needs two-way communication, then M6Ox will not be suitable for you.
I have played Assassin's Creed II with this headphone, and the experience was so good. 
You have already known that This ATH M60x is a studio headphone. But how much will it be suitable for that?
Let's see.
How Much Suitable For Studio?
ATH M60x is ideal and specifically built for studio use. It is perfect for listening and broadcasting purposes.
You can enjoy long session monitoring with its improved sound quality and great comfort.
Customer Support
Audio Technica provides friendly customer service. You can contact them by visiting the website, phone, and email.
They will hear all your problems with great importance and try to offer the best service within a short time. 
After knowing these aspects, are you still confused about whether you should get it or not?
In the next point, I will tell you for whom these headphones are perfect and who can skip them.         
Who Should Buy This?
As a studio headphone, ATH M60x is perfect for the studio. You can choose this headphone too if you are an audiophile. 
At the same time, you can also use this pair of headphones for gaming where voice chat is not needed.
In a word, the M60x is perfect for home listening to studio monitoring. 
Who Might Skip It?
Audio Technica M60x is not suitable at all for the outdoor environment.
You can't take it with you while traveling.
This headphone is not suitable for online teaching or zoom meeting also, as it doesn't have any mic.
If you want the best online teaching headphones, then you can check this article.
Besides, it's not suitable for any sports, gym, running, or cycling.
Hence, if you want headphones for these activities, it's better to skip the M60x.
Well, now I am going to put a comparative discussion between this M60x headphone and some other headphones. I hope you will get a more precise idea from it.
Compare With Other Headphones
I'll compare the Audio Technica M60x with the other versions of the ATH M series in this segment.
At first, I'm going to talk about the ATH M50x. Check out below to know if the M60x is better than the M50x or not.   
Audio Technica M60x vs. M50x
The ATH M50x is an over-ear headphone, while the M60x is an on-ear headphone. 
The two headphones have almost similar features, but the M50x offers earcups swiveling option. And the M60x doesn't have this option. 
On the other hand, the weight and clamping force of M50x are 0.65 lbs and 1.00 lbs. The M60x is a bit more lightweight, and the clamping force is also less.
But the durability and the sound quality of the M50x are slightly better than the M60x.
In short, the M50x offers a higher sound performance, but the M60x is better for lightweight design.
Audio Technica M60x vs. M70x
Audio Technica M70x is also an over-ear headphone. It is famous for its great sound quality. 
The frequency response of M70x is 5 Hz- 40000 Hz, which is far better than the M60x.  
As an over-ear headphone, the M70x offers better sound isolation features.
Besides, the sensitivity and the impedance of M70x are 97 dB and 35 ohms respectively which are less than M60x.  
However, M70x headphones are too heavy, and they are hard to carry.
Audio Technica M40x vs. M60x
ATH M40x is an over-ear headphone that comes with less frequency response than ATH m60x. The frequency response of the M40x is 15 Hz-24,000 Hz.
Although the rest of the features are almost similar, the sensitivity value of M40x is 98 dB. And the driver size is 40mm, which is smaller than the M60x.   
The M40x also offers earcups swivel option.
Therefore, in a word, if you want better sound quality, try other headphones from the M series. But if you want to avoid a heavy one, ATH M60x will be the better option for you.   
Are you planning to buy this headphone? If so, then check the below section. It will tell you whether this M60x will be worth buying or not.
Is ATH M60-x Worth Buying?
The ATH M60x is overall a well-balanced on-ear headphone. As you have seen, it provides pretty good service for studios.
It is suitable for home listening and audiophile listening also.
This headset will offer you a long time wearing comfort. Your ears won't even get hot after an extended period of use.
So, if you want breathable headphones with balanced sound quality, ATH M60x is totally worth buying.
After knowing everything about these headphones, don't you still want to go for them?
Okay, then take a look below to see some of the alternatives of ATH M60x.
Alternative To Audio-Technica M60x  
Here are some of the alternatives-
These three headphones have almost similar or sometimes a few better features than the ATH M60x headphones. You can try one out of these three if you want.
Let's conclude the article now.
Conclusion
I'm going to finish up my writing here.
Here, I tried to give my honest opinion about m60x. So, I hope this Audio Technica ATH M60x Review will help you make the right choice.
Lastly, I want to say that the decision is totally up to you. If you think ATH M60x will be perfect for you, then go for it. Otherwise, you can skip it.
And always prioritize your needs before choosing a headphone. Don't fall for the features.
Thank you for reading this article.
Frequently Asked Question: