With the rise of e-sports, the demand for a gaming headset is increasing day by day. As the demand increases, confusion is also growing.
The most common confusion is whether you should buy a wired or wireless gaming headset.
What if you get both wired and wireless options together in one headphone?
Maybe you haven't thought about it before.
Right?
The SteelSeries Arctis 7 comes with both wired and wireless options.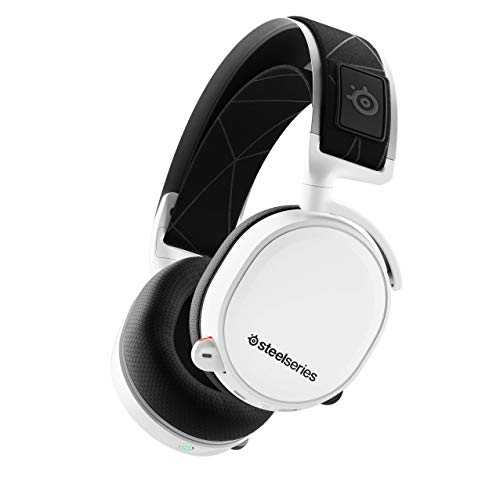 SteelSeries Arctis 7
Designed for gaming, the 2.4 grams...
Widely recognized as the best mic...
Sound is your competitive advantage...
If you are going to purchase Arctis 7 gaming headset, you are on the best site to explore all the features with this SteelSeries Arctis 7 review.
Before starting the review, let's know some information about SteelSeries.
About SteelSeries
SteelSeries is a global leader in gaming peripherals and accessories. It was founded in 2001 by Jacob Wolff Petersen.
The original name of this company was Soft Trading, and it was changed into SteelSeries in 2007. Its headquarter is in Frederiksberg, Denmark.
The primary motto of this company is to manufacture the best gaming equipment. In 2019 SteelSeries was owned by Axcel.
SteelSeries released Arctis 7 wireless gaming headset in 2018.
Well, that's all about the SteelSeries in short.
Now get ready for the review.
Steelseries Arctis 7 Review: Pleasant listening And Gaming Time
In this write-up, you will find all the functions and features of this gaming headset. It will also help in your decision-making, removing all your confusion.
I am starting the review with the important features of this headphone.
See them in the twinkling of an eye.
At A Glance
Lossless 2.4 GHz Wireless Audio Designed.
DTS Headphone: XV2.0 7.1 Surround Sound.
Clear Cast Bidirectional Microphone.
Detailed Sound With S1 Speaker Drivers.
Premium Woven Ski Goggle Fabric.
24 Hours Battery Support.
The SteelSeries Arctis 7 has good non-Bluetooth wireless connectivity.
It has a low latency which is perfect for playing video games or watching movies.
Besides these, Arctis 7 has some unique features that I will describe later as special features.
Anyway, let's open the box and see what is waiting for us!!!
What's In The Box?
The Arctis 7 came with a simple cardboard box.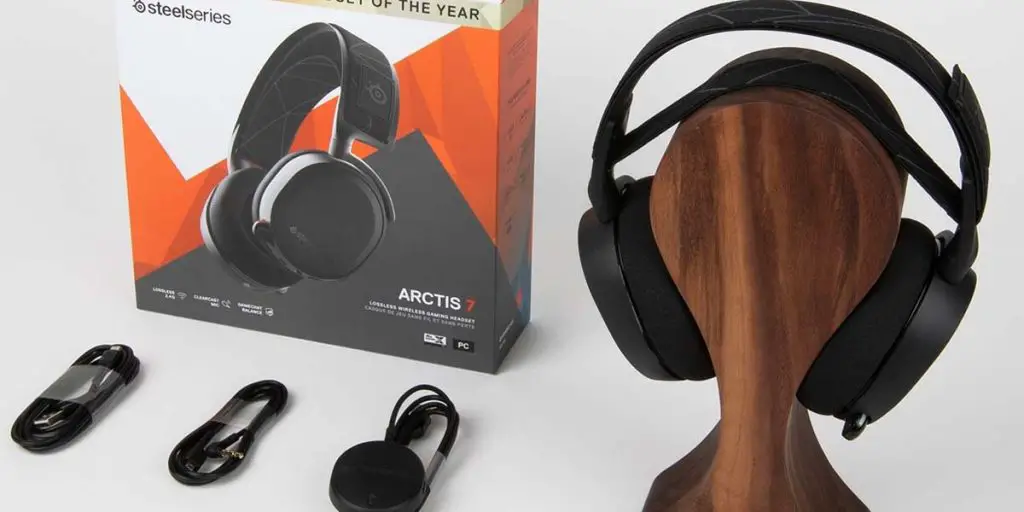 In the box, you will see…
SteelSeries Arctis 7 headset.
A USB dongle.
micro-USB to USB-A charging cable.
Audio jack.
A manual.
It doesn't provide any other extra accessories without these, not even a carrying pouch.
The SteelSeries Arctis 7 is a wireless gaming headset that connects using a 2.4GHz wireless RF USB dongle.
Right now, I am going to mention the Arctis 7 specs and pros-cons.
Have a look here.
Key Specifications
Headphone Type: Over-Ear, Closed-Back.
Connectivity: USB (Wireless Receiver).
Frequency Response: 20Hz-20kHz.
Sensitivity: 98dB.
Impedance: 32 ohms.
Driver: 40mm.
Wireless Type: 2.4GHz Lossless.
Wireless Range: 40 Feet (12 Meters).
Battery Life: 24 Hours.
Weight: 12.5 Ounces.
Color: White.
Pros
Great Comfort.
Solid Connectivity.
Excellent Sound.
Strong Battery Life.
Low Latency.
Cons
Bulky Design.
Might Not Fit For Big Head.
A comfortable headset can make your gaming time enjoyable. So, it's an important fact to check before the purchase.
How Much Comfortable Is It?
The SteelSeries Arctis 7 is a pair of very comfortable headphones. When gaming for a long session, it ensures your long-term wearing comfort.
The earpads are very soft and well-padded. They feel very soft on the skin.
When I was wearing the Arctis 7 headphone for multiple hours, I never felt any pain, not even hot or sweaty.
But if your ears are too big, the headset may touch the ear's contour.
The well-padded headband feels very soft in the head.
The unique ski-band headband may feel a little tight on a large head.
You can also use this headset with glasses.
It still provides you enough comfort if you want to use it when lying in bed.
The clamping force of Arctis 7 is very nice. It creates a good tight seal around the ears and keeps the headphone securely in place without ever pushing down too restrictively.
Are you curious to know about the sound profile of this amazing gaming headset?
Just keep reading to remove all your curiosity.
Sound Profile
The SteelSeries Arctis 7 provides pretty excellent audio output. The sound is more clear and accurate. Whether you are gaming or listening, the sound provides almost the same accuracy.
The sound profile also depends on how it fits on your head.
If you get a proper fit to your head, you will get a proper audio delivery.
Overall, the sound is very neutral and well-balanced. It improves the listening experience for both music and gaming purposes.
Frequency Response
The frequency response of this headset is 20Hz-20kHz. The range is acceptable and perfect for all genres of music.
If you get a proper fit, you can realize the accurate frequency response.
Bass Accuracy
The SteelSeries Arctis 7 has superb bass accuracy. It leaks some low bass that reduces thump and rumble.
It is somewhat overemphasized on mid and also adds punch.
However, the bass delivery may vary with the fit.
Mid Accuracy
The mid accuracy of SteelSeries Arctis 7 is very great. The overemphasis on the high bass continues a bit into the low-mid range.
It makes the sound cluttered and muddy, but the rest of the range is quite neutral.
Treble Accuracy
It has excellent treble accuracy. A small dip in the low-treble covers the instruments and lead vocals.
The treble represents the average response, and your experience may vary.
Does Arctis 7 Leak Any Sound?
The SteelSeries Arctis 7 has a superb leakage performance. It doesn't leak more sound.
The over-ear closed-back design prevents sound leakage.
But when you are in a quiet place and listen at too high volume, it may leak a small amount of sound.
Does It Have Active Noise Cancelling Features?
This headphone doesn't come with active noise canceling feature. The noise isolation performance is also not excellent.
It can block only a little noise due to its closed-back design. When you are in a loud area, it can't block much ambient noise.
If you want a headphone with active noise cancelling feature, you may check out JBL Quantum 800.
Microphone
The SteelSeries Artics 7 comes with an excellent microphone. The microphone is retractable and flexible. It is capable of capturing and reproducing the voice very clearly.
It also provides clear communication during live gaming or streaming.
The call quality is also very clear. It has mic mute feature, and the mic can't block outside noise.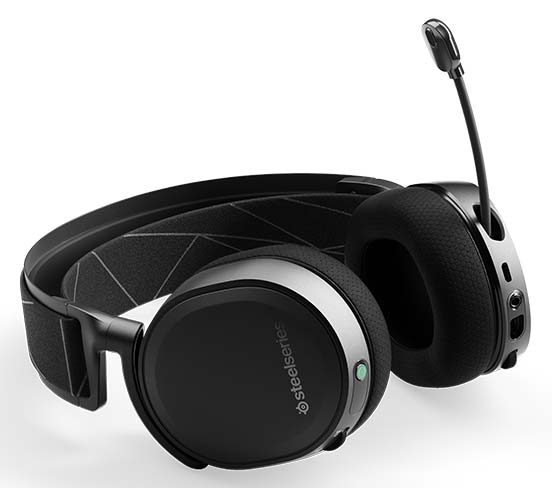 Recording Quality
Its mic has a superb recording quality. The recording sound will be very clear and rich.
But it lacks a bit of brightness.
I will talk about the control system now. Maybe you were waiting for this.
How To Control It?
In both ear cups of Arctis 7, you will see the control line.
You will get the mic mute button, a volume slider for the mic, a USB charging port, and a 3.5mm input to use wire on the left earcup.
In the right ear cup, you will see a power button and a volume control slider.
Build quality of a headset should be good. No one will be interested in a headset of poor build quality.
Therefore, it's important.
How Strong Is The Build Quality?
The SteelSeries Arctis 7 has a sturdy build quality. It is made of solid and durable plastic.
The headband and earcup padding feel dense, and the boom microphone is also very strong.
This headset can survive a few accidental drops with its robust build quality.
You will be pleased to know that the SteelSeries provides 1 year of warranty from purchasing date.
During that period, if your headset gets damaged, you can file a warranty claim to SteelSeries.
How Stylish Is It?
This gaming headphone comes in white color. The white color with a black headband and earpads looks pretty nice.
This model has another color which is entirely black. Both look very stylish.
So you can choose your favorite one between these two.
What do you think about its portability and stability?
Let's know these two facts about this gaming headset.
Is It Portable?
The SteelSeries Arctis 7 is not a portable headset. Its weight is 12.5 ounces which is not lightweight at all. This headset is fairly bulky and not foldable.
You cannot fold it into a more compact shape, only the earcup is swivel to lay flat.
However, as you mostly use this gaming headset at home, I think portability won't be an issue.
How Much Stable?
The Arctis 7 has good stability. It won't move around too much when you are doing light physical activity like a walk.
It may fall off during heavy workouts or other more intense physical activities as it is fairly bulky.
Is It Waterproof?
It is not a waterproof headset, not even sweatproof. So never use this headset when swimming or shower time.
There is also a chance of damage if it gets dense sweat on it.
However, there are many waterproof earbuds available in the market. If you need waterproof earbuds, you may go for VANKYO X200.
As I said earlier, this headset has some special features, and now it's time to reveal it.
Special Features
The Artics 7 comes with 7.1 digital surround sound for gaming using DTS Headphone:X 2.0 tech.
It offers you a very realistic 3D audio environment when gaming.
You will be glad to know that Arctis 7 have a good mic monitoring feature.
This feature is called "Slidetone," and it can be adjusted via the SteelSeries Engine software.
Due to the mic monitoring feature, you can hear how loud you are talking.
The mic volume button also works as a mic Sidetone slider. When you turn it on, it gently plays the sound of your own voice through the headphone.
Let's dig it to its compatibility right now.
How Much Compatible With Other Devices?
You have already known that SteelSeries 7 provides both wired and wireless connectivity options.
When going wireless, you need to use the including USB dongle into your devices.
The dongle is compatible with PC, Mac, PS4, and Nintendo Switch.
The included 3.5mm cord is compatible with Xbox One, Android, and iPad.
Mac and Xbox One doesn't provide surround sound.
As it is a gaming headset, let's know how it performs for gaming.
How Much Suitable For Gaming?
The Arctis 7 is mainly designed for gaming, so there is no question about its gaming performance.
It really does the real justice to it.
It provides some excellent features for gaming needs. 
Already I have described its compatibility with gaming consoles.
The 7.1 surround sound provides you better gaming experience.
Moreover, the retractable 4-inch mic also makes clear communication for multiplayer games. The sound is also very precise.
Overall for gaming, it is an ideal pair of headset within this price range.
As you know, the SteelSeries Arctis is a non-Bluetooth wireless headset; you may wonder why I am not explaining that.
Don't worry. You will find about it below.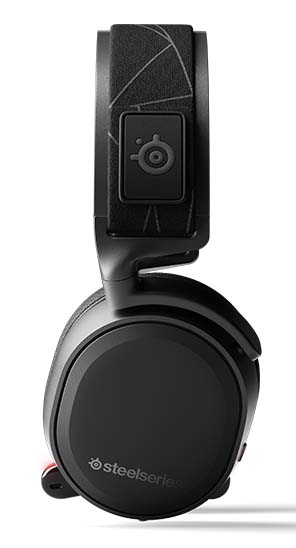 Wireless Details
The Arctis 7 has 40 feet (12 meters) wireless range. Undoubtedly, the range is pretty nice for wireless connectivity.
It has low latency, which is good for playing video games.
Does This Headset Support App?
The SteelSeries Arctis 7 have impressive app support. "SteelSeries Engine" is its great companion app.
It offers plenty of useful features. The software is easy to use.
You may want to know about the battery life and its charging feature.
Right? Okay, let's go.
Battery Life
This gaming headset provides a strong battery life. A full charge provides you around 24 hours of the continuous usage period.
It is enough to last the most extreme of gaming sessions.
How To Charge Arctis 7?
The SteelSeries Arctis 7 comes with a micro-USB to USB-A charging cable. To charge this headset, follow the steps.
At first, connect the USB charging cable to the Micro USB port on the headset.
Then plug the opposite end into any USB power source.
It needs approximately 3.3 hours to be fully charged.
When it is fully charged, you will notice that a green indicator is blinking.
To use this headset, you have to pair it first.
But do you know how to do that?
Let's see the process then.
How To Connect It With PC Or PS4?
The Arctis 7 can easily be set up to a PC or PlayStation 4 by following the below steps.
At first, connect the USB dongle to the Pc or PS4 into the USB port.
Then turn on your Arctis 7.
And hold the power button for three seconds.
Your headset pair automatically to the dongle/transmitter.
Follow the system settings for Windows:
Go to sound settings.
Select playback, and you will see the highlight Arctis 7 Game Audio and select "Set Default."
Then select Recording and see highlight Arctis 7 Microphone and select Set Default.
Finally, in your Volp ( Chat ) application, select Arctis Chat Audio as the Default Audio Device.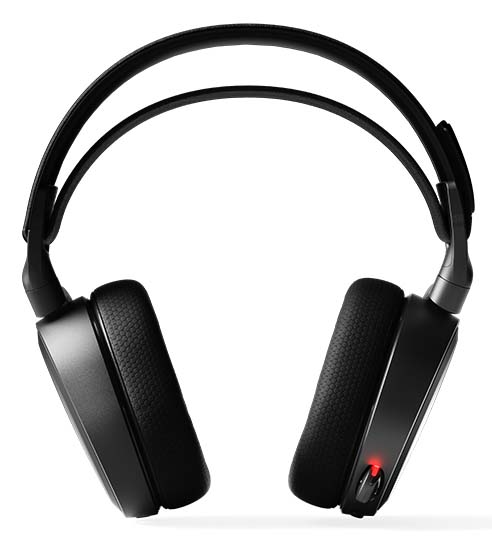 Suppose your headset is not working, or it cannot be turned on! What will you do then?
Yes! You have to reset it.
But how?
I am letting you know about it now.
How To Reset Arctis 7?
To reset Arctis 7, you have to find the reset switch. 
You will see it has a hardware/firmware reset switch under the cushion on the left ear cup ( side of the mic). 
The switch is a pinhole, so you need a paper clip or pin to press into it. Press the switch and hold it down for a second. 
Your headset will be reset.
Well, though this Arctis 7 is a gaming headset, you can use it for some other purposes. However, the use of this gaming headset is limited too.
That's why you need to know for whom it will be appropriate and who shouldn't buy this headset.
Who Should Buy This?
As a gaming headset, Arctis 7 is perfect for gaming, and you know it.
Besides, it is also great for everyday home listening, watching movies, and YouTube videos.
This headset also will be your best surround sound headphones for movies.
As the mic is excellent, it will also be suitable for online teaching, zoom meetings, or everyday phone calls.
If you want a headset for official use, you may also go with this headset.
Who Might Skip It?
Don't be funny by thinking of using a gaming headset for studio monitoring.
It is not ideal for studio monitoring. For studio monitoring headphones, you may go with AKG Pro Audio K702 headphones.
The Arctis 7 is also not ideal for audiophile listening.
Do you need a headset for outdoor listening like sport, gym, running, or cycling? You can skip Arctis 7.
As this headset isn't portable, it is not ideal for traveling or commuting.
Customer Support
The SteelSeries always provides friendly, hassle-free customer support. They try to give their best services within a very short time.
Do you want to know the difference between Arctis 7 and other headsets?
Then let's compare Arctis 7 with others.
Compare With Other Headphones
I am going to compare this gaming headset with six other headsets to give you a clear idea of its features.
1. Arctis 7 Vs 7P For PS5
The Arctis 7 and 7P both are similar performing headsets. For use with PS5, the Arctis 7p is the best. Cause it is mainly designed for PS5.
The main difference between Artics 7 and 7P is the dongle.
Arctis 7 provides a USB dongle, and 7P provides a USB-C dongle.
Besides, the Arctis 7p headset's boom mic and the recording quality are better than Arctis 7. But Arctis 7P is bulkier than 7.
But overall, all the features are the same.
2. Arctis 7 Vs Arctis Pro
The SteelSeries Arctis Pro is a slightly better headphone than Arctis 7.
The Arctis pro wireless has more connectivity options since they support Bluetooth.
It also has a base that acts not only as a wireless transmitter but also as a charging station.
The microphone of Arctis pro is also superb than Arctis 7.
However, the Arctis Pro doesn't work with Xbox one, while Arctis 7 does.
3. Arctis 7 Vs 7X
The Arctis 7 and 7x are both wireless gaming headsets. The Arctis 7 is designed for versatile use like Ps4, Xbox One, and other gaming consoles.
But Arctis 7X is mainly designed for Xbox One. It is also compatible with pc, Android, and Nintendo Switch.
4. Arctis 7 Vs 9
The Arctis 7 and 9 are both superb gaming headsets.
The Arctis 9 is mainly designed for Pc gaming. It provides lag-free high fidelity gaming audio on Pc and Playstation.
It provides wireless and Bluetooth options, while 7 provides wired + wireless options.
The battery life of Arctis 9 is shorter than 7.
5. Arctis 7 Vs Pulse 3D
The SteelSeries Arctis 7 is a better gaming headset for Ps4 and Xbox One than the Sony Pulse 3D.
The Arctis 7 is more comfortable and better built than Pulse 3D. Its mic is also better than Pulse 3D.
6. Arctis 7 Vs Arctis 9X
Both of them are wireless gaming headsets. The Arctis 9X is mainly designed for Xbox One. It supports Bluetooth + Wireless options.
The battery life is 20 hours, while Arctis 7 provides 24 hours.
Moreover, the Arctis 7 is compatible with PS4, Xbox One, or other gaming consoles.
Are you planning to buy this headset?
Then you must need to know it will be worthy or not.
How Worthy Is It?
The SteelSeries Arctis 7 is certainly one of the best wireless gaming headsets for PC and other gaming console users.
It is very comfortable to wear for long-session gaming. It is compatible with most devices and easy to setup.
The sound and mic are also very accurate.
So overall, if you compare it with other headphones, it is worth buying.
Considering my SteelSeries Arctis 7 review, if you think it is not ideal for you or want some alternatives, go through the following section.
Alternative To Arctis 7
Considering my SteelSeries Arctis 7 review, if you think it is not ideal for you or want to see some alternative. You may go with an alternative.
Here are some alternatives…
All these three are gaming headsets, and you can choose one of them as an alternative to Arctis 7.
I am going to end it here.
Conclusion
Finally, you have got a vast idea from my SteelSeries Arctis 7 Lossless Wireless Gaming Headset review.
I hope it will help you choose easily. Always go with your best choice.
I always respect your decision.
Thanks For Reading This Article.
Frequently Asked Questions: