Selecting a studio monitoring headphone, especially for mixing, isn't always an easy task. However, as there are many studio headphones available nowadays, it is slightly confusing but not too difficult when you know what to look for.
To make thing easier for you, the AKG Pro Audio K702 comes with all the excellent features needed for studio monitoring.
Sale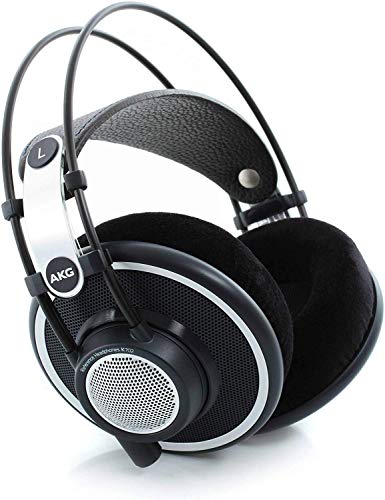 You might have heard about the K702 headphone, and maybe you have some confusion about its features.
Just go with my in-depth AKG K702 review. Then, all your confusion will melt away.
Well, let's get to the point now.
At first, I am going to mention the important features of this headphone.
See them at a glance.
At A Glance
Sophisticated Open Technology.
Two-Layer Diaphragm For Improved High-Frequency Range.
Great For Longer Mixing/Mastering/Listening.
Replaceable Cable And Earpads.
No Noise Isolation.
The AKG K 702 is an over-ear open-back headphone mainly design for studio monitoring and critical listening.
For more than 65 years, the AKG has created iconic sounds for the world's most well-known audio artists, engineers, and producers.
If you want to know the detail about the AKG brand, go with AKG K371 Review. In that article, you will find the AKG brand overview.
Anyway, now let's open the box and see what they deliver in it.
What's In The Box?
As a studio worker, I need to use many studio-style headphones. therefore, I purchased this K702 headphone.
When I got this headphone in my hand, I was too excited.
Oh! Again I had got a quality studio monitoring headphone.
This AKG K702 comes with a simple cardboard box.
In the box, you will get your desired…
AKG-K-702 headphone.
An audio cable.
¼ inches adapter, and
A manual.
The K702 manual describes all the rules of how to use it.
Besides these, the K702 headphone doesn't come with any extra accessories, not even a carrying pouch.
I have also included the cable details for you. Have a look.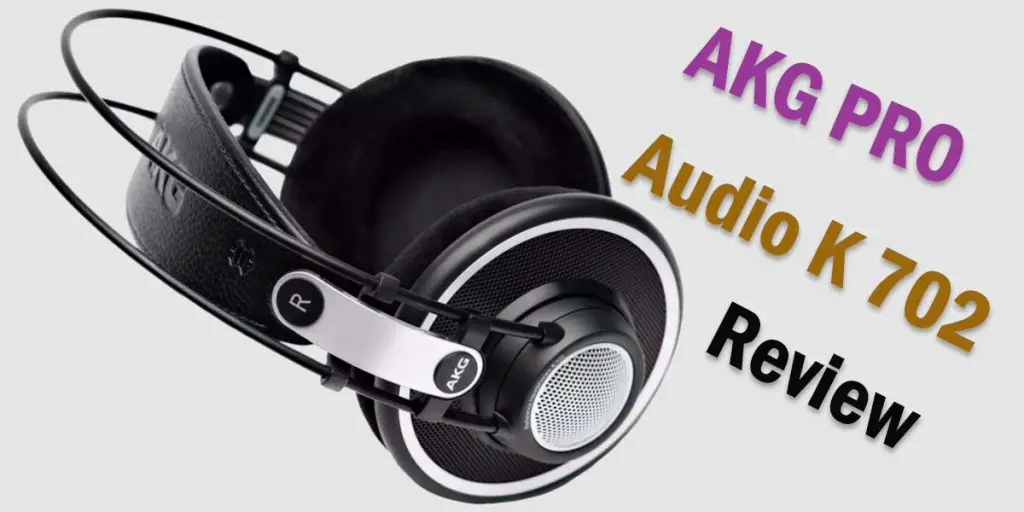 Cable Details
AKG 702 headphones come with a straight detachable cable that connects to the left earcups.
The length of the cable is 3 meters. It comes with a mini XLR and uses a 3.5mm audio jack.
You can replace the cable easily. But if it provided any extra cables, I would be pleased.
AKG-K702 is a totally wired headphone and doesn't support any wireless connection.
If you need a headphone with wired and wireless both options, you may check out AKG K371BT.
Before immersing yourself in the review, let's take a look at the AKG Pro K702 full specs and pros-cons.
Key Specifications
Headphone Type: Over-Ear, Open-Back.
Connector: Wired-3.5mm Audio Jack.
Frequency Response: 10Hz – 39800Hz.
Driver Size: 45mm.
Sensitivity: 105 dB.
Impedance: 62 ohms.
Weight: 8.2 Ounces.
Color: Black.
Pros
Superior Comfort.
Well-Balanced Sound.
Sturdy Build Quality.
Detachable Cable.
Cons
Open-Back Design Leaks Sound.
Bass Is Not Powerful.
Comfortability of a headphone is a great concern for everyone.
Who wants to have an uncomfortable headphone??
So, let's know about this feature now.
How Much Comfortable Is It?
The AKG K702 is a set of comfortable headphones. It provides long-time wearing comfort with an ultra-comfy and lightweight build.
It improves your wearing experience as well.
The earpads are covered with velour memory foam. These well-padded ear cups are very large and easily fit around most ear sizes.
I was wearing this K702 headphone for multiple hours; it neither hurt me nor even got hot or sweaty.
The 3D foam earpads are specially shaped for optimum fit and comfort.
The headband doesn't put much pressure on the head. It is large enough to fit most users.
You will see there is no padding on the actual headband. But the secondary headband has well-padding.
You can also wear this headphone comfortably with glasses.
The clamping force of AKG702 is very nice. It is not overpowering or too loose. It provides a nice balance in the middle.
Sound profile plays a vital role in purchasing studio headphones.
When you get the most out of it, then you must want to buy it.
Am I right?
Let's see what is waiting for us.
All About Sound Profile
The AKG K702 Pro headphone provides a very neutral and well-balanced sound. This high-quality stereo sound makes this headphone great for studio monitoring and mastering.
The sound clarity is superb.
The music does not ever become too destructive or too thinned out.
According to the audiophiles, this headphone can provide the ideal balance between smoothness and resolution.
It has a unique flat-wire voice coil for higher sensitivity, better impulse, and treble response.
You can listen to all music very accurately. Also, the sound is not too boosted at all.
The mids can create a good balance between the singing voice and instruments sound very authentically.
The treble is also peaceful with a touch of warmth.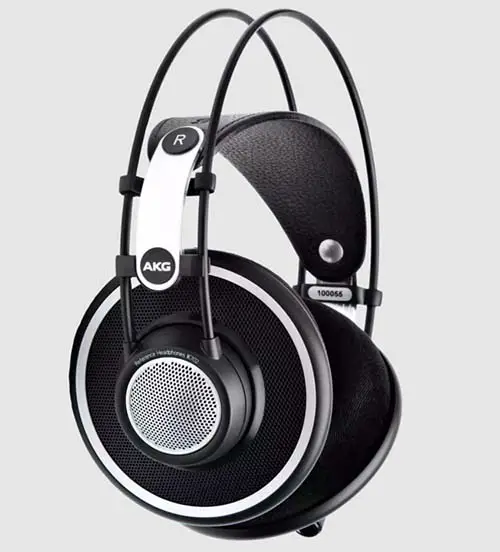 Does K702 Leak Sound?
Because of the open-back design, it leaks a bit more sound.
While listening at a loud or even moderate volume, you can feel that the earcups are leaking sound.
Does This Headphone Have Active Noise Cancelling Feature?
The AKG-K-702 doesn't provide active noise cancelling and the noise isolation is also not acceptable.
Due to its open-back design, this K702 doesn't offer any noise isolation.
It can't block outside ambient noise like other closed-back headphones. You will hear all the background noise as well.
If you need a headphone with great noise isolation, you may go with, Sennheiser HD 280 Pro.
Does It Have A Microphone?
The AKG K702 headphone doesn't come with a microphone. So it is not for audio recording or every day phone calls.
If you need a headphone with the mic, you may go with OneOdio A70.
Now, we will know about its build quality and design. Good build quality can influence you in a greater way to have that headphone.
How Is The Build Quality?
The AKG-Pro-Audio-K702 headphone comes with sturdy build quality. It is entirely made of plastic, and the making materials are also very solid and durable.
It has dense ear cups and a headband that can handle a good amount of physical force.
I have been using this headphone for a long time, but it is still ok. It even survived a few accidental drops.
Thanks, AKG, for such a robust build quality.
Anyway, there is also a good point that AKG provides 1 year of warranty.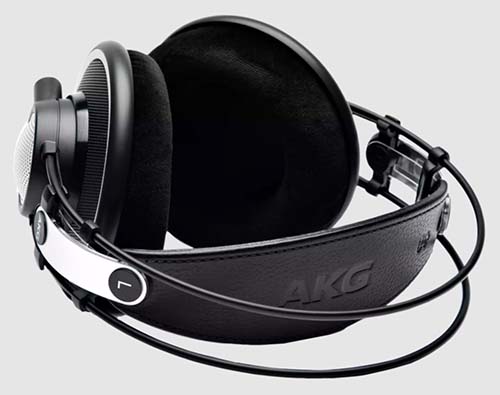 How Stylish It Is? 
This AKG K702 headphone comes with a very sleek design in black & white color.
The overall open-back design looks very nice and stylish to me.
Let's go its portability and stability at this moment.
Is It Portable?
The AKG-K702 is not a pair of portable headphones. Its weight is only 8.2 ounces, which is lightweight, but it is very big and not foldable.
If you really have to carry it, you will need a backpack for that.
As this headphone doesn't come with any carrying pouch, it is also a hassle.
How Is The Stability?
This headphone is stable enough for casual listening. But it is not stable for running, jogging, or any sports activities at all.
The ear cups can slip off your ears when doing physical activities.
As the detachable cable locks into the ear cups, it can pull the headphone to fall off your head.
Is It Waterproof?
The AKG K702 is not a waterproof headphone. It is not even sweatproof. So never try to use it while swimming or during shower time.
There is also a chance of damage if it gets heavy sweat on it.
Anyway, if you want waterproof earbuds, you may go for Jaybird Vista True Wireless Bluetooth earbuds.
Are you worried about its compatibility?
Maybe you are thinking about whether you can use it with your devices or not.
Don't worry. You will get your answer below.
How Much Compatible With Other Devices?
This headphone is compatible with most devices. The 3.5mm jack and ¼ inches adapter make this headphone very compatible.
It is also compatible with Windows 10 and Mac. You can comfortably use it with Android, iPad but not with the latest iPhones.
As the latest version of iPhones doesn't come with any audio jack. You need a third-party dongle to use these headphones with them.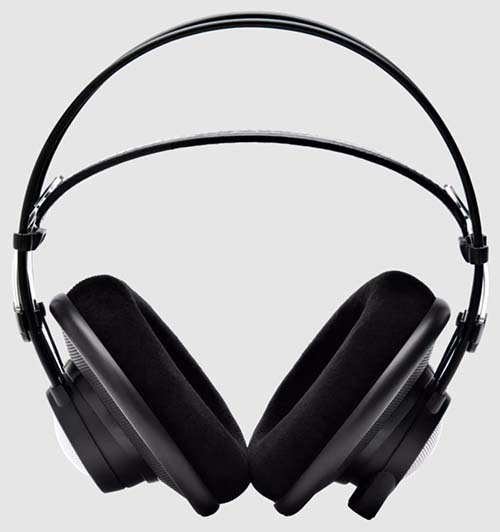 How Much Suitable For Gaming?
The K702 headphone is perfect for gaming if you don't need voice chat. You know this headphone comes with a long cord and amazing sound profile; it is great for any Pc gaming.
You can use this K702 headphone with PS4, Xbox One, Nintendo Switch, or other gaming consoles.
You only can hear the audio and can't talk to other players.
Though AKG K702 is not professional gaming headphones, it is still more suitable for gaming.
Since you know this K702 is a studio-style headphone, let's know how it performs in the studio.
How Much Suitable For Studio?
You know this K702 is a perfect headphone for studio monitoring or mastering, especially for mixing. Besides this, the K702 headphone is also suitable for recording.
Even if you do mixing or mastering for a long time, it will still provide great sound and comfort.
From my experience, I can say K702 is an ideal headphone for studio monitoring.
Besides studio use, you can use this headphone for various purposes.
However, it has some limitations too.
So let's know who should take or skip it.
Who Should Buy This?
Already you have known AKG K702 is ideal for studio monitoring.
This K702 is also perfect for audiophile listening.
It is also great for gaming if the voice chat is not needed.
You can choose this headphone for everyday casual or critical listening too.
Whatever you are, a video editor or a podcast editor, this K702 can be a great pick for you.
Who Might Skip It?
Do you need a headphone for outdoor listening? The AKG K702 is not for you.
You cannot use this headphone for sports, gym, running, or cycling.
As this headphone is not portable, it is not suitable for traveling or commuting too.
Besides, you cannot use it for online teaching, classes, or zoom meetings.
You may also try MAIRDI M USB Headset for online meetings and teaching.
The K702 is also not for official use.
Do you want me to compare this AKG K702 headphone with others?
It may help you to get a clear concept.
Compare With Other Headphones
To know the difference between AKG K702 and others, let's compare it with other headphones.
1. AKG K702 Vs K712 Pro
The AKG K702 and K712 pro both are almost similar quality headphones. The K702 has a bit more bass, and the sound is a little brighter.
The sound of K712 headphone is less harsh to most people. However, its soundstage is not so impressive.
2. AKG K701 Vs K702
The AKG K702 is a slightly better headphone than K701. But overall, both are very similar, and there is no significant difference between them.
The driver size of K701 is 50mm while K702 has 45mm and they have difference between color and price. 
For studio monitoring, the K702 performs better than the K701.
3. AKG K701 Vs K702 Vs K712
All three headphones are from AKG. They are over-ear, open-back headphones for studio monitoring. They provide almost similar features.
However, among them, the K712 is the best for studio monitoring.
The K712 pro provides more stereo quality sound for mastering and offers superior comfort than K701 and K702.  
Besides this, there is no significant difference between them without design and price.
4. AKG K240 Vs K702
The AKG K240 is a semi-open-back headphone, while K702 is an open-back headphone.
The K702 is a better headphone than K240.
The K240 provides advanced 30mm XXL transducers with patented varimotion diaphragms.
5. AKG K702 Vs Sennheiser HD 599
AKG K702 and Sennheiser HD599 both are over-ear, open-back headphones.
The performance of K702 is greater than HD 599 in most cases.
The HD 599 comes with 2 detachable cables, while K702 has 1 cable.
6. Sennheiser HD 600 Vs AKG K702
HD 600 and K702 are both open-back headphones, and both have similar performance for monitoring or listening.
HD600 has slightly less bass than the K702. But it has a balanced treble range, and it is more stable.
On the contrary, the K702 is more comfortable and has a wider soundstage.
7. AKG K702 Vs AD700X
AKG K702 and Audio Technica ATH AD700X are both over-ear open-back headphones.
The AD700X provides 50mm drivers with a bobbin-wound CCAW voice coil. But the K702 offers a unique flat-wire voice coil for higher sensitivity.
The K702 is more lightweight than the AD700X.=
Do you have a plan to purchase this studio headphone? Then you need to know how worthy it will be.
How Worthy Is It?
If you search for a pair of studio monitoring headphones, you need to choose a headphone that provides a neutrally balanced sound profile.
And the AKG pro audio K702 provides a fairly flat, clean, and balanced sound profile that is perfect for studio monitoring.
As it is a comfortable pair of headphones, it provides you a long time wearing comfort.
Though its price is somewhat high, it honestly deserves it. So overall, the AKG K702 is worth buying.
Considering my overall AKG K702 review, if you think K702 is not ideal for you or need an alternative, go through the below section.
Alternative To AKG K702
Here is a list of some headphones that are alternative to AKG K702.
You can choose one of these three headphones as an alternative to K702. All of them are almost similar or slightly better-performing headphones.
No more today. I am ending it here.
Conclusion
Well, you have got a massive idea about this studio headphone from my AKG K702 review. I tried to review it, maintaining a neutral position.
I hope it will be helpful for your decision-making. Now it is up to you whether to pick it or not.
I always give priority to your right decision.
Thanks For Reading This Article.