When you plan to purchase a headphone, you might get confused about whether you should buy a wired or wireless headphone?
Things become so much easier if you simply get a pair of headphones with both wired and wireless options.
Am I right?
Yes!
I'm talking about AKG Pro Audio K371 BT headphone that has both wireless and wired options.
Sale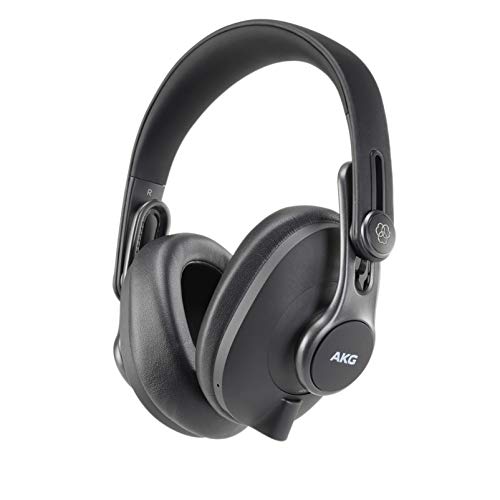 AKG Pro Audio K371BT
Foldable, notched 8-position...
Slow-retention foam earpads for...
Sleek style - pro performance with...
If you want to know all the ins and outs of the K371-BT headphones keep reading this AKG Pro Audio K371BT review.
I hope it will be handy enough to relieve all your confusion.
Therefore, let's get to the review without any further delay.
AKG Pro Audio K371BT Review: Enjoy Both Wired And Wireless Option
You will find every detail of this K371BT here, including its specs, all the functions, and features.
Well, in the beginning, I would like to give an overview of this headphone.
See it in a blink.
At A Glance
Largest-In Class 50mm Titanium Drivers.
Superior Performance With An-Extended Frequency Response.
Wired Or Wireless Listening.
Foldable For Maximum Portability.
40 Hours Battery Life.
Bluetooth 5.0.
AKG K371-BT is a closed-back over-ear headphone. It provides great sound and comfort from studio monitoring to home or outdoor listening.
AKG is a part of Harman International Industries and a subsidiary of Samsung Electronics.
Do you want to know more about the AKG brand? You can go with AKG Pro Audio K371 review. I added a short description of this brand there.
Before going to the in-depth review, at first, let's open the box.
In The Box
When I have received my K371BT headphone, I saw it came in a simple-looking lightweight cardboard box.
In the box, you will find…
A protective soft carrying pouch. In that pouch, there will be your desired…
AKG Pro Audio K371BT headphone.
3 cables.
A ¼ inches adapter, and A USB-A charging cable.
Besides these, this headset doesn't come with any extra accessories.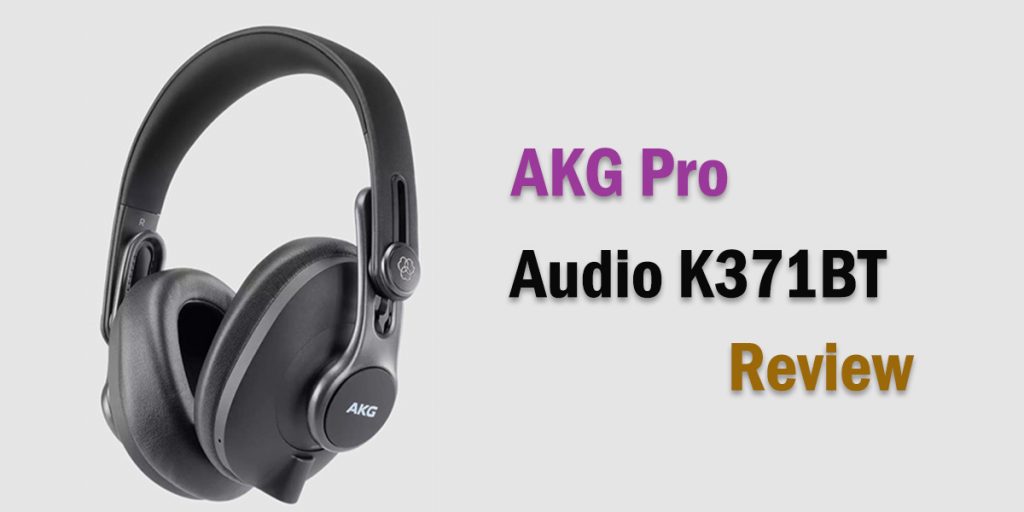 I have included the cable details too. Check it out.
Cable Details
Though AKG Pro Audio K371BT is a Bluetooth headphone, it still supports a wired connection.
Thanks, AKG, for providing 3 detachable cables.
You will find two straight cables, one is 3 meters, and the other is 1.2 meters.
You will also get a 3-meter coiled cable.
All the 3 cables use 3.5mm audio jacks. The cables are long enough for comfortable moving.
Now let's take a look at AKG K371 BT specs and pros-cons.
Key Specifications
Headphone Type: Over-Ear, Closed-Back.
Connector: Wired/Bluetooth 5.0
Frequency Response: 5Hz-40kHz.
Driver Size: 50mm.
Impedance: 32 Ohms.
Sensitivity: 114 dB.
Battery Life: 40 Hours.
Weight: 10.6 Ounces.
Color: Black.
Pros
Great Comfort.
Excellent Sound Quality.
Lightweight And Portable.
Strongest Battery Life.
Cons
Poor Headband Design.
Slightly Leaky.
Whenever I buy a new headphone, I always want it to be comfortable. I think you are also not an exception in this case.
Therefore, let's see how much comfort it can provide.
How Much Comfortable Is It?
The AKG K371-BT is a comfortable pair of headphones. It provides you a long time wearing comfort.
The earcups are very soft and thick padded, and it doesn't press against any ear size.
When I was wearing this headphone for a long time, I never felt any wearing fatigue. It also didn't hurt me or even never got hot.
The foam earpads provide superior comfort, and they are fit for long listening sessions.
The headband is also well-padded with faux leather. It sits comfortably on your head, and it is fit for most head sizes.
You can also wear this headphone with glasses.
Besides, there won't be any problem if you want to listen by lying.
The clamping force of this headphone is average.
Here I am going to describe the sound profile of this headphone.
Look below to know the details.
Sound Profile
Whether you use K371BT as a wired or wireless headphone, it will deliver a detailed and accurate neutral sound.
When I was listening to the song, I felt the sound is very clear and crystal.
Its flat and accurate frequency response across lows and mids make this headset an ideal wireless headphone for studio monitoring or casual listening.
The bass accuracy is pleasant, with a good rumble in the low end. This K371BT delivers clear bass without crushing vocals or tones in the midrange.
It's tuned to the AKG Reference Response Curve and provides superior performance with extended frequency response.
The mid-range is also accurate and detailed.
But the treble is not much crispy and detailed. The response is fairly average in the high-ranges.
Overall the sound quality is well-balanced and superb for daily usage.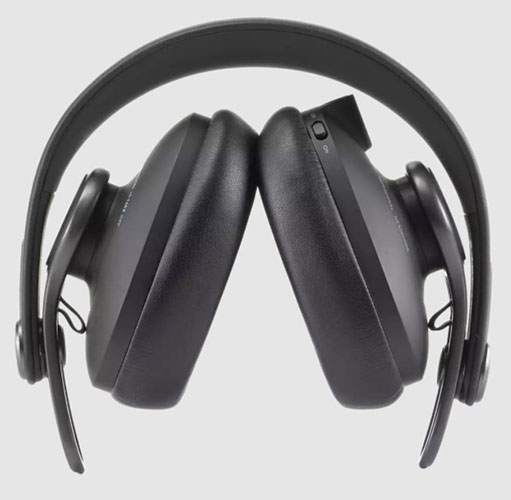 Sound Leakage
The sound leakage performance of AKG K371 Bluetooth is average.
It can leak sound when listening at a loud volume or even at moderate volume.
In a noiseless area, you feel the sound leakage more. There is a gap at the lowest of the earcups, so it can leak sound.
Is It Active Noise Cancelling?
The AKG K371-BT doesn't come with active noise cancelling features. But it can isolate an amount of sound.
The over-ear closed-back design helps to prevent unwanted background noise.
Even if you are in a noisy situation, you can still hear the loud and clear audio.
Microphone Quality
The AKG Audio K371BT comes with a microphone. The microphone quality is average.
It does a good job at picking up voice, but the audio quality lacks clarity.
The microphone can't block any ambient noise.
Recording Quality
This K371 BT comes with a microphone; it is able to record audio. The recording quality is below average.
The recorded audio will not be very understandable and clear.
Are you curious about the control system of this headphone?
Don't worry! You will find it in the following section.
How To Control It?
On the left side of the earcups, you will find the controls button. The K371BT supports touch controls.
Let's see how you can control it.
Double-tap the button to play/pause.
Swipe up to up the volume.
Swipe down to down the volume.
Swipe forward to skip ahead.
To go to the previous track swipe backward.
The touch control doesn't support answering or hanging up a call. To control the calls, you have to use your phone.
The build quality of a headphone is important as it determines how long you can use it. Look here to know it.
How Strong Is The Build Quality?
The building quality of AKG K371-BT is sturdy enough. It is made of synthetic materials with plastic.
The making materials also feel very durable.
But it has a weak point in the earcup and the headband joint. The joint point is very poor. It looks like it can break at any time.
I was disappointed to see such a thing in this quality headphone of AKG.
Besides these, the overall building quality is pretty good.
If your headphone gets damaged within 1 year, don't worry. AKG is committed to giving 1 year of warranty.
Design
The design of K371BT is pretty nice with black color.
Overall the over-ear closed-back design looks very stylish to me.
Let's go for its portability and stability now.
Is It Portable?
The AKG K371-BT is a pair of portable headphones. This headphone can be folded to a more compact profile for easy storage.
The weight is also only 10.6 ounces, which is lightweight.
The lightweight and foldable design make this K371 BT headphone more portable.
Wherever you go, you can always carry it in your backpack or in the carrying pouch.
Stability
The K371BT headphone is stable enough for casual listening. But it might not be stable for a heavy workout.
It has a chance to slide off or fall off easily while running or jogging.
Is It Waterproof?
This AKG K371 BT is not a pair of waterproof headphones for swimming or shower time.
You also can not use it where it has a chance to get heavy sweat.
Water and dense sweat can damage your AKG K371BT headphone.
I haven't explained the Bluetooth yet. Are you worried about thinking that?
Keep your worries aside and go through the next part.
Bluetooth Details
The AKG-Pro-K371-BT comes with Bluetooth version 5.0. This headphone doesn't support multi-paring.
You can only connect it to a single device at a time.
The Bluetooth connection is somewhat poor.
It takes a long time to connect and automatically disconnect if you don't use it for a few minutes.
For audio, these K371BT AKG Bluetooth headphones support only SBC and AAC codecs.
Don't worry about poor Bluetooth connection as you know it has another option for wired connection.
Now it's time to disclose the battery.
Battery Details
This headphone has an excellent battery life, and it lasts for 40 hours. The battery life is long-lasting enough to provide you a long time of wireless use.
You need to charge this headphone via a micro USB-A charging cable provided in the package.
It takes two hours to charge fully.
When the battery level is low, you will see the indicator turn white and blink and remain a steady white when charging.
When the battery is charged fully, the indicator light turns off entirely.
You might be confused about whether you can use this headphone with your device or not. Don't be confused anymore.
I am here to remove all your confusion. Just keep reading.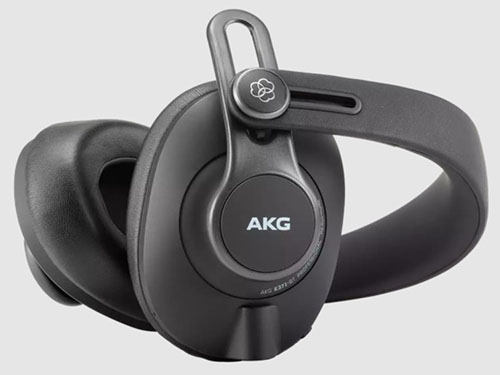 How Much Compatible With Other Devices?
The AKG-K371-BT is compatible with most devices. The 3.5mm audio jack and  ¼ inches adapter and wireless connection are more compatible with most devices.
You can comfortably use this headphone with Windows 10 and Mac.
It is compatible with Android and iPad, but the iPhone is only compatible with Bluetooth mode.
The included long straight cable is perfect for a digital guitar amp or piano.
How Much Suitable For Gaming?
The K371BT headphone is suitable for gaming. It can be compatible with most gaming consoles.
The wired connection is more stable, and the audio reproduction is great enough for gaming.
You can use this K371BT headphone with PS4, Xbox One, or Nintendo Switch.
You know the AKG Pro Audio K371BT is a studio-style headphone.
Right now, I am going to reveal how it performs for studio monitoring.
How Much Suitable For Studio?
This K371BT, as a studio headphone, works great for studio monitoring.
Whether you are editing, mixing, or recording, you can always focus on your monitoring.
The AKG K371BT professional studio headphone provides the perfect balance between studio-quality sound, plush comfort, and a sleek, sturdy design.
So it is suitable enough for studio monitoring.
This studio headphone is perfect for various purposes besides the studio use. However, it has some limitations too.
Let's see for whom this headphone is ideal and who should skip it.
Who Should Buy This?
You have already known the AKG K371BT is perfect for studio monitoring.
Besides, this headphone also will be ideal for musicians, vloggers, and podcasters.
You can also choose this headphone if you are a gamer.
If you want a headphone for traveling or commuting, you may also go with this K371BT headphone.
Do you need a headphone for audiophile listening? You can use this K371BT headphone.
The K371BT is also good for online teaching, everyday official use like zoom meetings and everyday phone calls. But if the mic worked well, it would be excellent.
Overall, you can choose this K371-BT headphone for casual listening to studio monitoring.
Who Might Skip It?
Do you need a headphone for outdoor sports or gym? You can skip K371BT headphone.
You also cannot use this headphone for running, cycling, biking, skiing, hiking, or other heavy workouts.
For your better understanding, I am going to present a comparative discussion between K371 and other headphones.
Compare With Other Headphones
You need to compare it with other headphones if you want to know the difference between them.
1. AKG K371-BT Vs K361
The AKG K371-BT and K361 are both studio-style headphones. The K361 is a totally wired headphone, while the K371BT support both wired and wireless connection.
Both work similarly, but the K371BT is a slightly better headphone than k361.
The K371BT comes with a mic, but K361 doesn't have the mic. However, the K361 is more lightweight than k371BT.
2. AKG K371BT Vs Audio Technica M50x
AKG K371BT and Audio Technica M50x are both over-ear closed-back headphones for studio monitoring.
The ATH M50x is a totally wired headphone, but the K371BT supports both wired and wireless connections.
But for studio monitoring, the M50x is more ideal than K371BT.
3. AKG K371 BT Vs AKG Pro Audio K361BT
AKG K371BT and K361BT both headphones are over-ear closed-back studio headphones. Both headphones support wired+wireless connection.
The K371BT is a slightly better headphone than K361BT. They have the same performance in the studio.
There is no significant difference between them.
4. AKG K371 BT Vs AKG N700NC M2
The Akg K371BT and N700NC M2 both are over-ear closed-back studio headphones.
The N700NC provides active noise cancelling feature and can isolate a lot of background noise.
Both headphones support wired and wireless connections.
However, the sound of K371BT is more precise than N700NC M2.
5. AKG K371 BT Vs Audio-Technica ATHM50XBT
Both of them are studio monitoring headphones. But the ATH M50x BT performs better for the studio than the K371BT.
The M50xBT supports only a wireless connection. The K371BT supports both wired and Bluetooth connections.
However, the Bluetooth connection of M50xBT is more excellent than K371BT.
6. AKG K371BT Vs Sony MDR-7506
The AKG K371BT and MDR 7506 are both over-ear closed-back headphones.
The MDR-7506 is a totally wired headphone and the K371BT support both wired and Bluetooth connection.
The MDR-7506 provides 40mm PET diaphragm and neodymium magnet for exceeding the requirements of digital audio sources.
But the AKG K371BT is a better headphone than the MDR-7506.
Do you have a plan to purchase this AKG K371BT? Then let's know how worthy it will be.
How Worthy Is It?
If you search for a pair of versatile studio monitoring headphones, you may go with AKG Pro Audio K371BT headphones.
It provides you very neutral sound with great comfort and fit.
This headphone can also be used for various purposes, as I mentioned earlier. So, you can call it a multi-purpose headphone.
If you compare this headphone with its price range, it is worth buying.
From my overall review, if you think it is not ideal for you or want an alternative, then the next segment is for you.
Alternative To AKG K371 BT
Here is a list of K371BT alternatives.
You can pick one of these three headphones as an alternative to AKG K371BT if you want both wired and Bluetooth connections.
Well, I am going to conclude it here.
Conclusion
Finally, you have got a clear concept of K371BT from my AKG Pro Audio K371BT review.
I hope now you have no confusion about its performance.
So take your right decision about whether to buy it or skip it. The choice is yours.
I always respect your right decision.
Thanks For Reading This Article.