"Have you heard about the Status Flagship ANC Headphones?" Flagship is one of the most in demand headphones these days.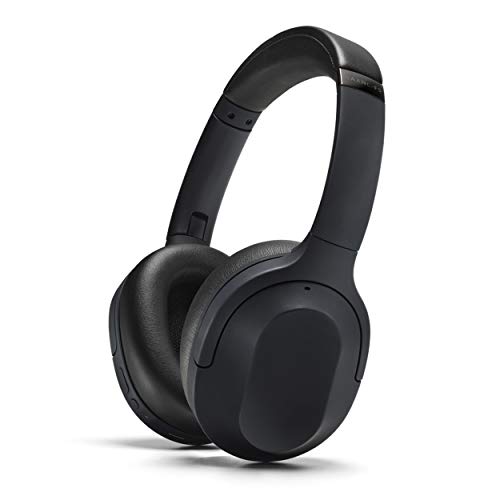 You may have many questions regarding these headphones. So, today I am here to give you a review of these latest over-ear headphones.
Status Flagship ANC Headphones are closed-backed, over-ear headphones with the latest cutting edge technology. One of these awesome pieces of technology is its "Touch Controlling Feature." This fantastic feature pushed me to write this review today.
So, let's not waste time. I will show you all the necessary detailed information that will help you choose the best headphone for you.
Now, I reveal to you a quick glance at the Status Audio Flagship ANC Headphone:
Status Flagship ANC At A Glance
Hybrid Digital Active Noise Cancelling Headphones.
4x external microphones.
Touch controlling feature.
Transparency mode.
Multipoint pairing support.
35 hours of battery life with USB-C charger cable.
"Are you super excited to know what was there in the box?" Keep patience. I am disclosing it now.
In The Box
As I ordered Flagship ANC from the online store, I was so delighted when I got my parcel from the delivery man.
I didn't wait anymore. I just opened the box and saw a hard-shell box was looking at me. I unzipped the box and looked at my desired headphone.
I also had some extra accessories like-
1.2-meter aux audio cable with 3.5 mm jack.
An airline adopter.
USB-C charging cable.
One manual.
Warranty card.
You already know it is a Bluetooth headphone. To give you the Non-Bluetooth Wireless Support, they have provided you an extra audio cable. You can use your headphone when the Bluetooth connection isn't available, or the battery is dead.
They also have provided airline adopter, which is two-prong plugs. You can also enjoy plane traveling by this airline adopter.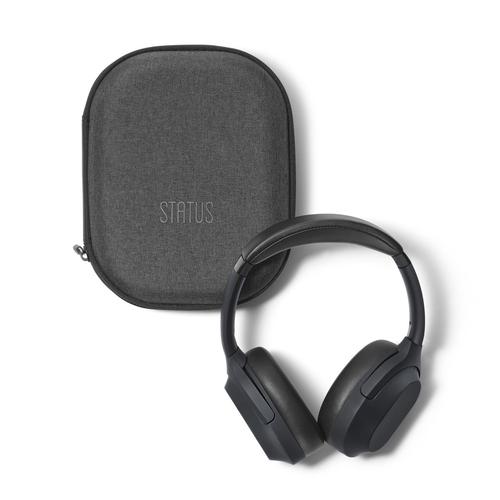 You need to use only that USB-C cable which they have provided. Now you might have a question- "Why shouldn't I use another USB-C charger to charge it?"
Because different charging standards are outside of their control. For example, your laptop's USB-C charger won't charge your headphones.
If you need to use a third-party charger, that should originate in a USB-A connection.
Now for your better understanding, I am sharing with you some Key Specs. Let's have eyes on below:
Key Specification
Type: Over-ear, Closed-back.
Connection: Wired/Wireless.
Bluetooth Frequency: 10Hz-30kHz.
Bluetooth Range: 15- meter.
Noise Reduction: cVc noise reduction (for calls).
Cable Length: 1.2 meters.
Jack Size: 3.5mm.
Driver: 40mm high performance.
Weight: 260grams/9.2 ounces.
Color: Matte Black.
Pros
Voice Assistant Access.
HD ANC Feature up to 35db.
4x External Microphones.
Active Transparency Mode: ANC on (default), Hear the surrounding, Just audio.
Cons
 Matte finish color leaves fingerprints.
 Questionable touch controlling.
Changing mode one to another takes an annoyingly long time.
Do you have any questions regarding Flagship's comfortability?
If so!! Then let's talk about that…
How Much Comfortable The Status Flagship Is?
Status Flagship ANC headphones are comparatively light-weighted and comfy to wear. These fit in-ear very gently.
The Earpads are super soft and made with memory foam, and lined with sumptuous vegan-leather like material.
The headband can also be adjusted. So, you can easily adjust your headband to your size. The underside of the headband is also made of the same leather, which feels comfortable to wear.
People with bigger heads can also use these headphones without any hesitation.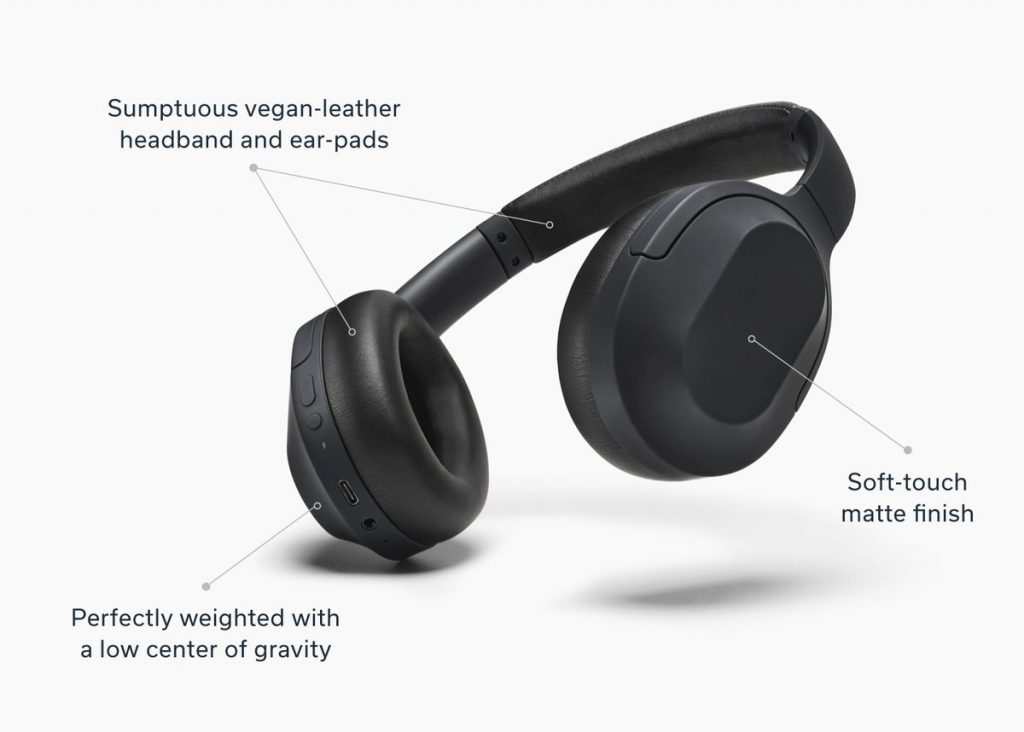 The clamping force is also very favorable. So, it will not fall out while wearing. As its clamping force is good, so you can use it while lying on the bed.
Flagship is also comfortable with wearing glasses. As it is an over-ear headphone, its soft pads won't make any hassle while wearing glasses.
Maybe a question arises about- Flagship headphone's sound profile in your mind. Don't worry. I am also giving you all the detailed information about Flagship Sound Profile now.
Sound Profile Of Status Flagship ANC
Flagship ANC headphones provide a mind-blowing Stereo Sound Profile. I have experienced that the sound quality is too good. The sound is clear because of the frequency range, which is 10Hz – 30kHz.
Bass Accuracy
As we know, the driver is 40mm, which means the bass accuracy of Flagship headphones is upstanding.
You will feel every beat of a song. So, we can say the bass is high here.
Treble-Range
I personally felt that the treble range of Flagship is decent but not more than the Mid-Range. I must say that it is very well balanced.
"Lonesome Lover"- Max Roach song felt decent when I listened to it while wearing this headphone.
Mid-Range
The Mid-Range is outstanding. "The Holy Men"-World Saxophone Quartet song felt so smooth. I could listen to the singer's voice with low harmonics.
Let's talk about the sound stage of Flagship ANC. Keep your sight on below:
Sound Stage
The soundstage of Status Flagship is comparatively better than Status Audio BT One.
I could hear "Linkin Park- In The End" very clear, and the bass was also excellent.
Sound Leakage
Many of my friends were asking me about Flagship's sound leakage. So, I am letting you know about it from my personal experience.
Status Flagship's Headphone is quite decent in sound leakage.
If you listen at a high volume level in a quiet room, then a little bit of sound may hear your near person. BUT NOT THAT MUCH LEVEL.
Noise Cancelling
Now maybe you are thinking about the Noise Cancelling feature, Right??? Nothing to worry about at all. LET'S KNOW IT.
Flagship is the best Hybrid Digital Active Noise Cancelling headphone. It cancels a staggering ambient noise up to 35db. The Qualcomm cVc noise cancellation technology reduces background noise.
For this reason, these headphones are market-leading headphones of all others.
Turn the sound level low before placing the headphones on your ear.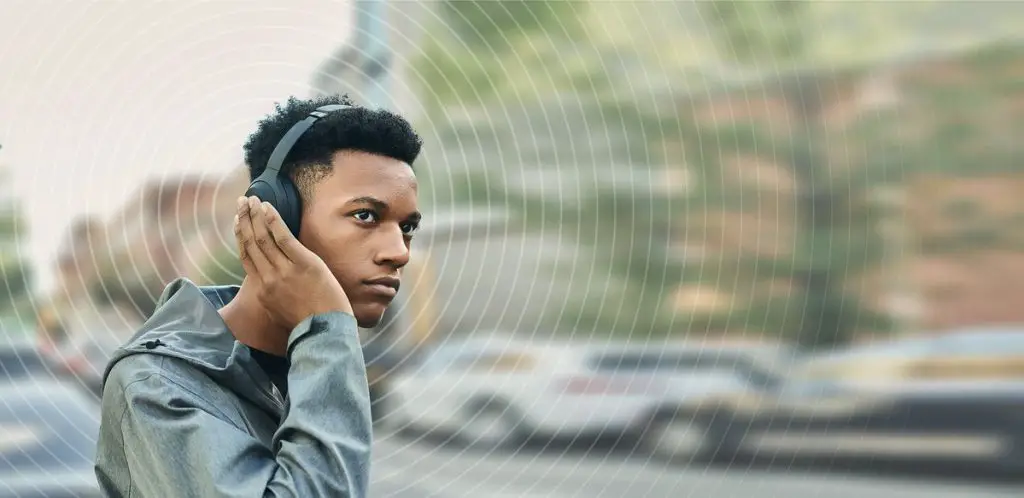 As I have already said, Flagship has touch control features. You might be confused about this, Right??? Let's take off your confusion in the blink of your eyes.
How To Control?
Operate
Two buttons are on the right ear-cup. At first, hold the small button for Power On/Off.
Then tap the big button to cycle through listening modes:
Active Noise Cancelling.
Ambient Sound Mode (you will hear your surrounding sounds).
Normal Listening Mode (no ANC or Ambient sound).
You will hear voice prompts so you will know which mode you are in.
Touch Control (Tracks)
If you want to control tracks, then swipe left and right.
A swipe right will skip the track forward. Again, a swipe left will rewind the current track and go back to your previous track.
To play/pause music, you need to double-tap the center of the right earcup.
These three listening modes made this headphone so special. You can easily change your mode as your wish.
Touch Control (Volume)
If you want to control your volume level then, swipe up and down on the right (R) earcup.
Quick swipe up or down will adjust your volume level.
For larger volume adjustments, you need to swipe and hold your finger in that place. Volume will adjust as your finger in that contact with the ear-cup.
Touch Controls (Other)
There is a great feature which is voice assistant (Siri, Google Voice, Cortana). You just need to hold your finger in the center of the right earcup for a voice assistant.
This same command will work for hang-up the phone call during a phone call.
Again, transparency mode- you need to place your three fingers on the right ear-cup to instantly pipe in ambient noise.
But transparency mode will take time to change one to another mode.
Microphone Feature
There are 4x external mics that enable you to have clear-crystal, frustration-free calls.
These mics work far better than Status Audio CB 1.
But there is a lack of a mute mic feature. You need to mute your mic from your device.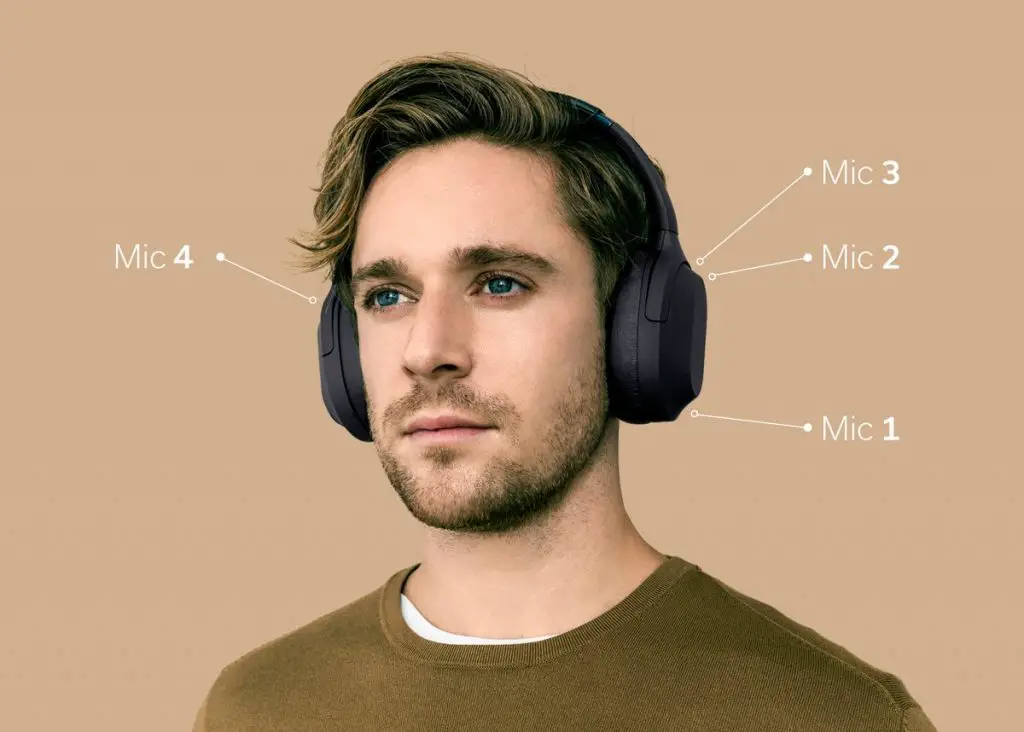 Recording Quality Of Status Flagship
As I have already said, Status Flagship has 4x external mic features and it reduces noise very gently. So, it can be a great option for recording.
Audiophiles, musicians, and everyday music lovers can smoothly go for this headphone.
Build Quality
Are you worried about the building quality of Status Flagship? I am disclosing everything about its building quality now. Have a look here:
Building Material
Flagship headphones are made of plastic. I have noticed that most of their Status Audio headphones are made of plastic. This might look a little bit cheapy.
Again, the joints of the headband are not durable, I think. They may break anytime.
But just because of this plastic material, the headphones are light weighted.
The earpads are not changeable. So, you cannot replace the earpads. This is one of the negative issues, I guess.
Warranty/Guaranty
Status.co provides a 1-year warranty and 30-Day Performance Guarantee to their customers. Within 30-Days, if the headphone doesn't meet your expectation, then you can ask for a refund.
Only U.S. customers will get free return shipping.
Do you want to know about the style? Now let's talk about Flagship's style and design.
Style/Design
There are no other designs or colors of Status Flagship. This is available only in one color, which is Matte Black.
These headphones also look classy and stylish at an affordable price.
Portability
You must be confused about Status Flagship's portability. No worries at all. Your confusion is going to over very soon. Because now I am going to disclose about the portability of Status Flagship.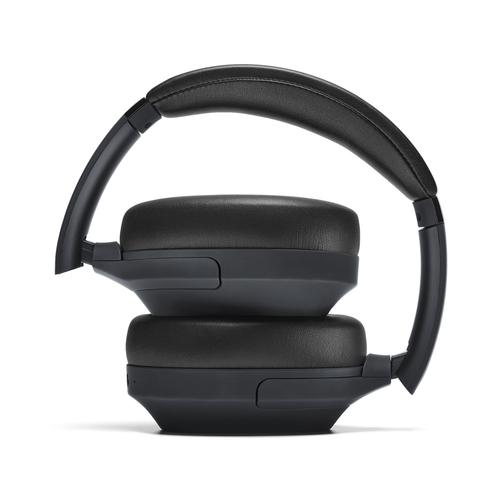 This headphone's weight is 260 grams or 9.2 ounces so that you can assume it as a very lightweight headphone.
Again, you can fold it without any hesitation. As it is light weighted and foldable, you can easily carry these headphones wherever you want.
You just need to fold and carry it in the hard-shell case.
Stability
I have already mentioned to you about the clamping force earlier. So, I can say there is a narrow possibility of falling the headphone.
But I think it is not suitable for jogging or exercising. It may fall that time.
You can use earbuds for that. You make check- "Apple AirPods" You can enjoy music while doing exercise or jogging.
Waterproof/Sweatproof?
I am sorry to say that, Flagship is not waterproof. If you want to take it underwater, like-swimming, then it will damage.
I have experienced that; these headphones aren't sweatproof at all. Maybe it varies from person to person.
I think you are waiting to know its Bluetooth details. Your waiting time is over. Have a look below to know all the detailed information about Flagship Bluetooth.
Bluetooth Details
You will have the latest version of Bluetooth, which is Bluetooth 5.0 with Apt-X HD. This Bluetooth range will cover 15-meter.
So, you can easily enjoy your headphones within a 15-meter range. But you can lose Bluetooth connection if you take more than a 15-meter range.
Multi-Device Pairing
Another great feature is the multi-device pairing option. You can easily connect two devices at a time. Like you can connect this headphone from both your phone and laptop at a time.
To pair again and again is frustrating. So, this option has made these headphones super easy to pair.
No need for any App Support. You can easily operate these headphones.
Now it's time to know about the Battery Life of Flagship. So, let's see it.
Battery Details
The performance of the battery life of Status Flagship ANC Headphones is fantastic. The battery is made of Lithium lon, which supports Qualcomm's Quick Charge Technology.
It will provide you 35-hour playback music just in one charge. They offer a USB-C charger for charging your headphones.
It will take time like 1 hour to charge up fully. So, you don't need to wait hours and hours for charging your headphones.
I didn't find any Power-saving features in these headphones.
How To Pair Status Flagship Headphone With Device?
A question may arise in your mind- How to pair a Flagship Headphone with the device. So, I am going to answer your problem now.
Step-1:
-Hold the small button to power on.
-You will see an LED light flashing on alternating red and blue.
-This means that your headphones are ready to connect to your device.
Step-2:
Now go to the Bluetooth menu on your device, and select "Flagship ANC Headphones." It will take a while to connect.
If you don't see LED lights, then power off them and again turn the power on; hold the small button for a full 5 seconds.
Compatibility
The Flagship ANC Headphones work with any Bluetooth-enabled & Non-Blutooth device.
All modern phones, tablets, laptops, desktops, PS4, XBOX, Nintendo Switch, and TVs will connect with the Flagship ANC headphone.
How Much Suitable For Gaming?
I am not a game loving person at all. But I think you can play games while wearing these headphones.
As there are 4x external microphones and also have active noise canceling features. So, I think you can easily play games while wearing Flagship headphones.
A question may arise in the musician's and audiophile's mind- Is this headphone suitable for studio work? Now I am also going to answer their question. Have patience.
Is Flagship Suitable For Studio Work?
Yes!!!! Flagship ANC headphones are quite suitable for studio work.
We already know this is an over-ear, closed-back headphone. Usually, over-ear headphones are suitable for studio work. The audiophiles, musicians, will perfectly love these headphones. Though there is an HD ANC feature, so you can easily record, mix audiophile music.
Customer Support
The customer support is 24/7 there for answering your queries. You can even know any features through their website @Status.co
There are some FAQs given on their website. These may help you out. But if it is not, nothing to worry about!! Contact Form provided on their website. You can take the help of that.
Again, you can mail them by their given email address or take advantage of social media like- Instagram, Facebook, Twitter, or YouTube.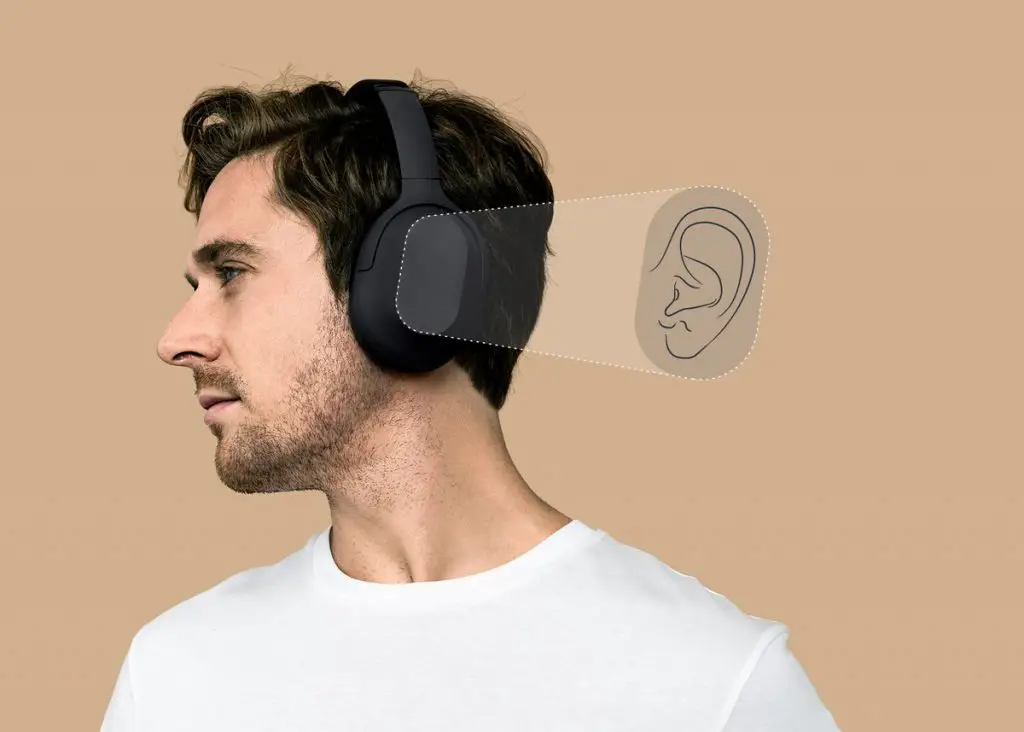 Who Should Buy This?
Status Flagship ANC headphones are much suitable for traveling. These can be your best companion while traveling. You can also get lost in the music and avoid the world through the ANC feature.
You can also enjoy music on the airplane because you can use the Airline adopter they provided. So, no more boring flights anymore.
Suitable For Official Work/Online Meeting/Online Teaching?
Definitely, yes!!! Status Flagship ANC headphones are suitable for official work, online meetings, and online teaching.
You can have crystal clear communication through Flagship headphones. The 4x external mics enable frustration-free phone calls and have hangouts or zoom meetings and online classes.
The Qualcomm cVc noise cancellation technology will reduce the background noise. So that you can easily do official work or can-do online meetings or teaching as well.
Who Might Skip It?
The person who is doing outdoor work. Like sports, gym, running, cycling might skip these headphones. In these such cases, the possibility is too high to fall while doing these.
Again, the person who is driving should also skip these headphones. As it has ANC technology, an accident may occur if you activate ANC mode.
Compare With Other Headphones
Status Flagship ANC vs. Audio-Technica ATHM50XBT
Do you want to compare Audio-Technica ATHM50XBT with Status Flagship ANC? Then, I would like to show you some features which are alternative to Flagship.
Audio-Technica ATHM50XBT has a control and volume button. If you feel hesitant with Status Flagship's Touch Control Feature, then you can go for Audio-Technica ATHM50XBT.
But if you want quick charging, then Status Flagship is better than best. Because Audio-Technica takes 7 hours to charge up fully. However, they don't provide a USB-C charger cable. In this case, you can go for the Status Flagship Headphone.
Status Flagship ANC vs. Sennheiser PXC 550-II:
Status Flagship and Sennheiser PXC 550-II are both over-ears, closed-back headphones.
Do you want to compare these headphones?? I would say that Status Flagship has a Hybrid Digital Active Noise Cancellation feature. This is the most effective noise-canceling feature ever. On the other hand, Sennheiser PXC 550-II has the same feature but not that effective.
Again, Sennheiser PXC 550-II takes 3 hours to charge up fully. In comparison, Flagship takes not more than 1 hour to get charged.
So, Flagship is better in my point of view.
Now you may have a question on your mind- Is It Worth Buying??? Don't worry, Dear!!! I am going to answer this question too,
Is Status Flagship Worth Buying?
Of course, Yes!! I think Status Flagship is worth buying.
Status Flagship is the best headphone with an affordable price value. The HD ANC feature, 4x External microphones, Touch controlling, Quick Charging made these headphones so worthy.
I also have some headphones with some of these features, but they are more costly than Flagship. Again, those features are not that effective like Flagship.
So, I can say you will get stylish and fabulous featured headphones at an affordable price.
Alternative
If you are not still satisfied with the features of Flagship ANC Headphones, have doubts in mind.
Then I would like to suggest to you some other alternative headphones.
These headphones are also the best alternative to Status flagship ANC headphones.
Conclusion
Flagship Headphone means the best of all headphones in Status Company, with all the best features. Their most famous and best headphone is Flagship.
I personally felt that Status Audio Flagship ANC headphone is remarkably best featured high end headphones with a cost-effective price.
I think this Status Audio Flagship review would help you to choose your desired headphone. Whatever your decision will be, I would appreciate and respect your decision.
Thank you for reading this article.