Are you searching for the best review of AfterShokz AS600BK Titanium Open Ear Bone Conduction Headphones? Then you have come to the right place.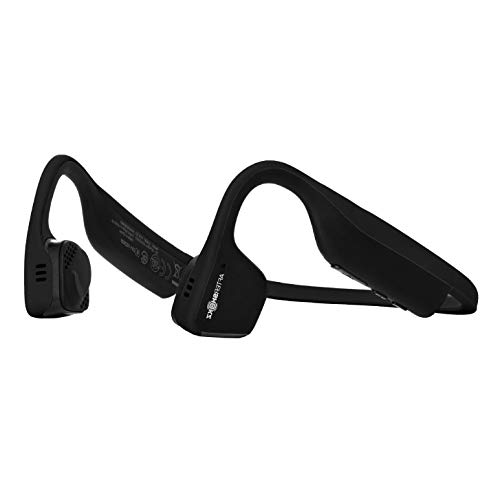 I am here today to ease all your confusion about AfterShokz Trekz Titanium Headphones.
Do you love to enjoy music when going outside for running, cycling, biking, skiing, driving, etc, like me?
If yes, then the AfterShokz AS600BK Bluetooth Headset is ideal for you.
To know all the ins and outs of this headphone, just go through my AfterShokz Trekz Titanium review.
Before immersing yourself in the review, would you like to know about the AfterShokz brand? I think you will love that.
Brand Overview Of AfterShokz
AfterShokz is a well-known brand for manufacturing Bone Conduction headphones. The company was founded in 2011 in New York.
The headquarters of AftrerShokz is in Austin, Texas.
They keep on improving the product user experience.
AfterShokz relentlessly promotes the underlying bone conduction technology.
Their bone conduction headphones have won the Red Dot, IDEA, Good Design awards.
They work with local PR agencies, distributors, and retail partners to ensure success in store performance.
Anyway, that was all about the AfterShokz brand in brief. Now, let's go for the review.
AfterShokz Trekz Titanium Review
I tried to cover all the features of AfterShokz AS600BK bone conduction headphone. You will get to know about its key features, specs, sound profile, comfortability, portability, stability, and many more.
So, stay with me to explore it.
I am starting my review with the features of this AfterShokz Bluetooth headset. Look below to know them at a glance.
At A Glance
Bone Conduction.
Lightweight And Foldable.
Sweatproof.
Bluetooth Version 4.1.
Suitable For Indoor And Outdoor Sports.
The AfterShokz Titanium Headphone is a set of bone conduction headphones. It is an open-ear, wireless/Bluetooth neckband headphone.
If you want wired headphones, you may go for AfterShokz Sportz Titanium Headphones.
I guess you are thinking, what is bone conduction headphone, and how does it work?
If so, then check this article. I hope it can remove your curiosity.
Bone Conduction headphones are not like usual traditional headphones or earbuds. The headphones stay on top of your cheekbones. They sit in front of your ears, not into your ears. You need to place the curved frame up to the ear and behind the neck.
With this headphone, you can listen to your favorite music while being aware of your surroundings at the same time.
It will provide you situational awareness that you cannot get in traditional headphones.
I was seriously missing a headset that would be ideal for outdoor listening rather than home listening.
Then, my friend recommended this headset as it is perfect for the outdoors.
Now I am going to share how was my first impression.
In The Box
I received my parcel and felt very excited and opened the box in a cheerful mode. I saw my Titanium headphone in a carrying pouch.
The headphone comes with a drawstring carrying case.
In the box, you will see
AfterShokz AS600BK headphones.
A carrying case.
USB charging cable.
User manual.
Warranty card.
You will find all the instructions in the manual.
AfterShokz provides extra accessories too.
Let's know what those are.
Extra Accessories
AfterShokz Titanium headphone offers you an extra carrying pouch and a set of earplugs.
You can use the earplugs if you don't need to be aware of background noise.
Thanks, AfterShokz, for giving extra earplugs. It helped me when I felt bored of unwanted noise.
Right now, I am going to mention the key specs with the pros and cons of this AfterShokz Trekz Titanium bone conduction headphone.
Take your eyes below.
Key Specifications
Headphone Type: On-Ear.
Frequency Response: 20Hz-20kHz.
Sensitivity: 100±3dB.
Connector: Wireless/Bluetooth.
Bluetooth Version: 4.1.
Wireless Range: 33 Feet/10 Meters.
Control: Volume, Play, Pause, Answer/End Call.
Microphone: Yes.
Battery: Rechargeable Lithium-Ion.
Charging Time: 1.5 Hours.
Play Time: 6 Hours.
Standby Time: 240 Hours/10 Days.
Weight: 1.27 Ounces/36 gm.
Color: 7 colors.
Pros
Lightweight Design.
Allows To Hear Surroundings.
Perfect For Outdoor Activities.
Easy To Use.
Cons
Mediocre Sound Quality.
Short Battery Life.
Are you worried about the comfortability of this headset? Don't worry. AfterShokz Titanium is a comfortable pair of headphones.
How Much Comfortable Is It?
As a bone conduction headphone, AfterShokz Titanium provides excellent fitting for everyone. It also offers much comfort.
The Titanium enclosing headband is lightweight and flexible. It gives you maximum comfort during extended wear.
Once I was wearing this headset for more than 4 hours but didn't feel fatigued or hurt at all. Only my cheekbones got a little bit hot. It's not a big issue, though.
Not only that, but bone conduction headphones also have health benefits. As they keep the ears open, there is no chance your ears get dirty or unhygienic due to listening to the headphone.
It is perfect for big heads. But don't worry if your head is too small.
The AfterShokz Titanium comes in two sizes; one is standard, and the other is mini.
You can try AfterShokz Trekz Mini for your small head.
The Clamping force is perfect too.
Overall the AfterShokz Titanium offers you a natural comfort feeling, and you can hardly feel it.
I am going to explain its sound profile now.
Just keep reading. You will have all your answers there.
Sound Profile
The sound of this bone conduction headphone is not good enough like traditional headphones.
But it is somewhat perfect for all genres of music.
I listened to all kinds of podcasts, folk, rocks, hip-hop, and electronic music. I heard a clear and neutral sound.
AfterShokz Titanium headphones deliver a premium audio experience with dynamic drivers.
The frequency response is ideal for all ranges of sound. But the main problem is in the bass range.
The bass accuracy doesn't perform well in the range of treble.  I felt that the sound generated in the treble was thin.
Besides these, its overall sound quality is good. 
If your main purpose is to listen to music at home, it is not perfect enough.
Sound Leakage
The AfterShokz Titanium does a fair amount of sound leakage.
If you are planning to wear this headphone outdoor while cycling or running, it is absolutely fine.
But when you are in the office, home, or sitting in a quiet place, the sound leakage can bother your surrounding people.
I used it while running, and the sound leakage didn't bother anyone in that situation.
Noise Cancelling
Bone conduction headphones are specially designed for maintaining situational awareness. So, they cannot block background noise at all.
The ambient noise can interfere with the listening experience.
But it has a positive side, and that's the main purpose of this kind of headphone.
You can hear traffic or car signals while enjoying music. It will prevent you from any accident.
But if you need to block background noise, don't worry. This AS600BK headphone comes with extra earplugs, and you can wear it to block unwanted noise.
Microphone
AfterShokz Titanium Bone Conduction comes with dual-noise cancelling microphones for hands-free calling.
But as a noise cancelling microphone, it doesn't handle background noise, even wind noise.
Once I called my friend while driving the car, he heard me clear and loud. My car windows were closed, and the wind sound couldn't interfere with our conversation.
But another time I called when I was washing my dishes, unfortunately, he could hear the noise.
You don't have to worry about its control system. It's very easy to control this headset.
How To Control AfterShokz Trekz Titanium Headphone?
It has simple volume control and a multifunction button.
The large multifunction button works as a simple one-touch play/pause.
It is easy to interrupt your audio if you need absolutely all of your hearing or answer the phone.
The volume is adjusted using the two small buttons on the right-hand side.
How Is The Build Quality?
The AfterShokz Trekz Titanium is a pair of wireless neckband style headphones.
The neckband itself is made from Titanium alloy.
The frame is made of Titanium-coated with silicon rubber which is very lightweight and also sturdy.
The overall making quality is strong enough to give you a long-lasting usage period.
But if your headset gets damaged within two years, don't worry.
The AfterShokz provides you two years of hassle-free warranty.
Design
The design of AfterShokz AS600BK is quite impressive with black color.
Besides this black color, they have multiple color options like Gray, Green, Pink, Red, Canyon Red, Ocean Blue.
But the price varies from color to color.
Portability
The AfterShokz Titanium Trekz Bone Conduction headphone is mainly designed for outdoor use.
Its weight is only 1.27 ounces which is very lightweight.
You can carry it anywhere you go.
Stability
This headphone is superb for stability. It is more effective to use in a heavy workout than home listening.
It is designed for sports and heavy outdoor activities like jogging, running, biking, cycling, skiing, or others. Therefore, it will stay in your neck very securely.
Are AfterShokz Titanium Waterproof?
If you want a headset for swimming or shower, the AS600BK Trekz is not for you. Cause it is not waterproof.
But if you want a sweatproof headset, it is an excellent option for you.
AfterShokz Titanium is IP55 rated sport headphones that can repel sweat, dust, and moisture.
Whatever you do, indoor or outdoor exercise or other heavy workouts, it performs well.
It is supported with a water-resistant polymer to keep out inevitable sweat.
We have already known that Aftershokz Titanium is a bone conduction headphone. Many bone conduction headphones can work as hearing aids for deaf or hearing impaired people.
So, a question may arise in your mind. Does it also work as a hearing aid?
Find your answer below.
Is It Helpful For Deaf Or Hearing Impaired People?
The AfterShokz Titanium is not a hearing aid. But as a bone conduction headphone, it works sometimes as a hearing aid.
It depends on what type of hearing loss you have.
If your inner ear/cochlea is perfectly fine and your hearing loss comes from the eardrum and Eustachian tube malfunction, then the AfterShokz Trekz will work for you.
If your inner ear is injured, it may not work for you. It also does not work for you, if your hearing loss is due to nerve damage.
We know this is a Bluetooth headphone, but I haven't explained it yet. Are you getting impatient to know about its Bluetooth?
Okay, don't worry. I am going to disclose it right now.
Bluetooth Details
The AfterShokz AS600BK Titanium headphone comes with 4.1 Bluetooth version.
The wireless range is 10 meters (33 feet) which is quite good.
This headset provides an easy pairing option and stable connections.
It uses SBC audio codec, which is the most common Bluetooth codec. It is considered the universal standard and is present on practically every Bluetooth device.
For a Bluetooth headphone, it is important to know how to pair or reset. Let's go for it now.
How To Reset AfterShokz Titanium?
The reset function of Trekz Titanium is very easy.
-At first, turn off your headphone.
-Then input pairing mode by pressing and holding the power/volume (+) button for 5-7 seconds.
-Now, your headphone will turn on, and the LED light starts to flash red and blue.
-Next, press and hold the multifunction button. Power/volume (+) button, and volume (-) button ( all three buttons) simultaneously for 3-5 seconds.
-Now you hear two beeps or feel vibrations or both beep and vibration.
-Again, turn off your headset and turn it on.
Finally, your headphones be re-paired/ reset with your device.
Don't you want to know about its battery? Just look below. You will find the details there.
Battery Life
The AfterShokz AS600BK Titanium offers 6 hours of playtime on a single charge.
But the 6 hours is not enough time for a wireless headphone.
This headset comes with a rechargeable lithium-ion battery with 10 days of standby time.
It needs only 1.5 hours to charge fully. I didn't face any battery-related issues without short battery life.
If you want a headset with healthy battery life, you may go with AfterShokz OpenComm Bone Conduction Headset. 
You may get tensed about its compatibility. Whether you can use this headset with your devices or not? Then check it.
How Much Compatible With Other Devices?
The AfterShokz Trekz Titanium is compatible with most devices.
But multipoint pairing does not work. If you want to connect it with pc, you need to disconnect your phone first.
It is compatible with windows 10 and mac. You can also use it with iPhone, iPad, and Android.
How Much Suitable For Gaming?
AfterShokz Trekz Titanium is somewhat useful for gaming.
You can connect this headset with PS4 and Xbox One. It can pair with the Nintendo switch or other gaming consoles.
But the microphone is not great enough for talking to other players. It can not isolate any sound.
Do you want to be immersed in your game? Unfortunately, AfterShokz Titanium doesn't provide that like other professional gaming headsets.
But there is a big question. Can you wear it with glasses? Let's dig it.
Suitable For Glasses?
Yes. AfterShokz AS600BK Trekz headset is perfect for wearing with glasses.
But if you want to wear it with glasses and a helmet simultaneously, it does not work well. They will constantly interfere with one another.
So you can only wear it comfortably only with glasses.
Customer Support
AfterShokz loves to hear from its existing customers and provides user-friendly customer support. They take your query with great importance and handle it within a short time.
AfterShokz provides customer support from Monday to Friday from 9 am-5 pm ET. The customer support stays closed on every holiday/weekday.
Now let's know who should take and skip this AfterShokz Titanium headphone.
Who Should Buy It?
Do you want a headset for outdoor sports or other heavy exercises? If yes, AfterShokz Titanium is great for you.
It is also suitable for everyday phone calls and listening.
You can also use it for online teaching or meeting.
The AfterShokz Trekz is good for commuting (Travelling). But its sound leakage can disturb others.
If sound leakage is not an issue for you, it is usable at the office too.
If you can not wear headphones for a long time as your ears get hot, the AS600BK bone conduction headphone will be a great pick for you.
Who Might Skip It?
Do you want a headphone for studio monitoring like recording or mixing? If yes, AfterShokz Titanium Bone Conduction is not for you.
For studio monitoring headphones, you can try MAONO AU-MH601 headphones.
The AS600BK is also not suitable for the audiophile.
I hope you got a straightforward idea of the AfterShokz Titanium Bone Conduction headphone. Now let's compare it with other headphones.
Compare With Other Headphones
If you want to know why AfterShokz Titanium is different from others, you need to compare it with other headphones.
1. AfterShokz Trekz Air Vs Titanium
The AfterShokz Titanium and AfterShokz Trekz Air are both different models. They have some significant similarities. Such as sweatproof, 6 hours battery life, and the ability to take music and calls.
But they have some differences too.
AfterShokz Trekz Air is more lightweight and flexible than Titanium.
2. AfterShokz Aeropex Vs Titanium
AfterShokz Areopex and Titanium both allow the same sound quality and situational awareness. But they have some differences also.
The Aeropex comes with Bluetooth version 5.0, and battery life is better than Titanium. The Aeropex provides 8 hours battery life. It is also lighter than Titanium.
3. AfterShokz Titanium Vs Sportz
AfterShokz Titanium and AfterShokz Sportz are both Bone-conduction headphones.
The main difference between the sportz Titanium and Trekz Titanium is the cable.
The Sportz comes with a cable about 4 feet/120 cm long and is equipped with remote control. This remote control permits you to adjust the volume easily.
4. AfterShokz Titanium Vs Vidonn F1
AfterShokz Titanium and Vidonn F1 are both bone conduction wireless sports headsets.
The Vidonn F1 comes with an upgraded 5.0 Bluetooth version. But its build quality is not sturdy enough like Titanium.
Its sound quality also not superb like Titanium. The Vidonn F1 offers 1 year of warranty while the Titanium gives 2 years of warranty.
Since you have a plan to buy AfterShokz Titanium Bone Conduction headphones, let's know it will be worthy or not.
Is It Worth Buying?
The AfterShokz AS600BK Trekz Titanium open-ear headphone is a very comfortable pair of headset.
It gives you open-ear listening with the awareness of outside ambient noise.
Whenever you are running, cycling, or biking on a busy road, you can still hear outside traffic and car signals.
If you need a headset for outdoor sport, gym, it is an excellent option. Only the sound leakage can bother you.
After going through my AfterShokz Trekz Titanium review, don't worry if you can not choose it or need alternatives. Have a look below.
Alternative To it
If you want an alternative to bone conduction, you may go for Vidonn F1 Bone Conduction Headphones.
Do you need neckband headphones, not bone conduction? You can try LG Tone Style HBS-SL5.
But if the sport is your main purpose, you better go for Jlab Audio Epic2.
Well, that's all for today.
Conclusion
Finally, you have got a clear idea about this AfterShokz Titanium headphone.
I hope it will help you to make the right choice.
If all the features seem perfect to you, you may go with this headphone. But if not, then go for an alternative.
Always invest your money in an ideal product. I always honor your choice.
Thanks For Reading This Article.