Are you searching for a good and reliable review of MAONO AU-MH601 headphones? Indeed you have picked the right site.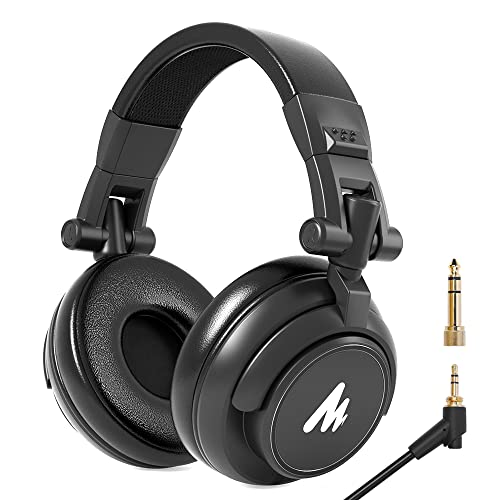 Maybe you want to buy this headphone, but you have no clear idea about its functions and features. So, you are worried and confused about what to do!
If your situation is like that, then keep all your worries aside and go through my MAONO AU-MH601 review.
You will find every detail of this headphone here, including both positive and negative sides.
Let's start with the overview of this MAONO brand.
Brand Overview Of MAONO
MAONO Technology Co. Ltd was founded in 2014 by Alex Lu in China. MAONO Technology is one of the fastest-growing audio equipment suppliers in the world.
It supplies audio equipment such as microphones, headphones, speakers, and other electro-acoustic products.
They are mainly focusing on microphones. MAONO soon transitioned to selling products outside China.
Now their 50% of company sales come from North America and 15% from Western Europe.
MAONO Headquatar is situated in Longgang, Shenzhen, Guangdong, China.
MAONO AU-MH601 is a great addition to their product line.
Anyway, now come to the main review.
MAONO AU-MH601 Review
In the opening stage, I would like to mention some important features of this AU-MH601 headphone. See them in the twinkling of an eye.
At A Glance
Upgraded DJ Studio Headphone.
Support Headphone Sharing.
Noise Isolation Feature.
Adjustable And Foldable Headband.
90 Degree Swiveling Earcups.
No Extra Cable.
MAONO AU-MH601 is a closed-back headphone mainly designed for studio use. It is ideal for all genres of music, DJ, and podcast.
It  is an over-ear, wired headphone. If you want a wireless or Bluetooth headphone, you may go for Anker Soundcore Life Q20 headphones.
If you need a studio headphone and don't want to spend a lot of money on that, I think it will be an excellent option for you.
The AU-MH601 also has a special feature, and surely I will explain it later.
I have been using this MAONO-MH601 headphone for my studio work.
So, you will get a proper idea about its merits and demerits.
Now let's know-how was my first expression when I got my AU-MH601 headphone.
In The Box
When I got my AU-MH601 headphone, I was very excited. Oh! Again I got a new pair of studio headphones at a very low price. I was pleased.
I recieved the parcel and opened the box with a cheerful mode.
It came with a sturdy standard cardboard box. I felt a little unhappy as it didn't come with any case or pouch.
Regardless, in the box, you will see your desired
MAONO AU-MH601 Headphone.
A replaceable cable.
Two 6.3mm adapters.
One instruction manual.

I have included the cable details for you better understanding.
Cable Details
The MAONO-AU-MH601 headphone comes with a 9.8 feet (3 meters) cable.
Happily, the cable is coiled and detachable.
I was glad as I expected a detachable coiled cable. The cable comes with a 3.5mm audio jack. It is compatible with most devices.

Extra Accessories
The MAONO AU-MH601 gives you two extra 6.3mm stereo adapter. It doesn't offer any extra earpads or any extra cable.
I was expecting an extra cable, though.
Now I am going to mention the specs of this MAONO AU-MH601 headphone. Here you will also find its pros and cons.
Key Specifications
Type: Over-Ear.
Back-Design: Closed-Back.
Frequency Response: 20-20kHz.
Impedance: 32 ohms.
Sensitivity: 116dB ±3dB.
Driver: 50mm.
Connector: Wired-3.5mm/6.3mm Stereo Adapter.
Cable Type: Coiled ( Detachable ).
Cable Length: 9.8 Feet (3 Meters).
Color: Black.
Weight: 14.1 Ounces.
Material: Plastic.
Pros
Neutral Sound.
Great Comfort.
Good For Mixing And Recording.
Excellent Value For Money.
Cons
Cheap Making Materials.
No Mic.
You must be curious about its comfortability. Okay, I won't let you be curious anymore.
Look below to know about it.
Are They Comfortable?
I was surprised to feel such great comfort from this low-budget headphone.
The large protein leather earpads give you an extra cushion to the ears. Your ears get enough space for breathability.
The ear cups are swiveling up to 90 degrees. It gives you movable comfort at any angle.
When I was wearing my headphone for a long period, I felt my ears got hot after 1 hour.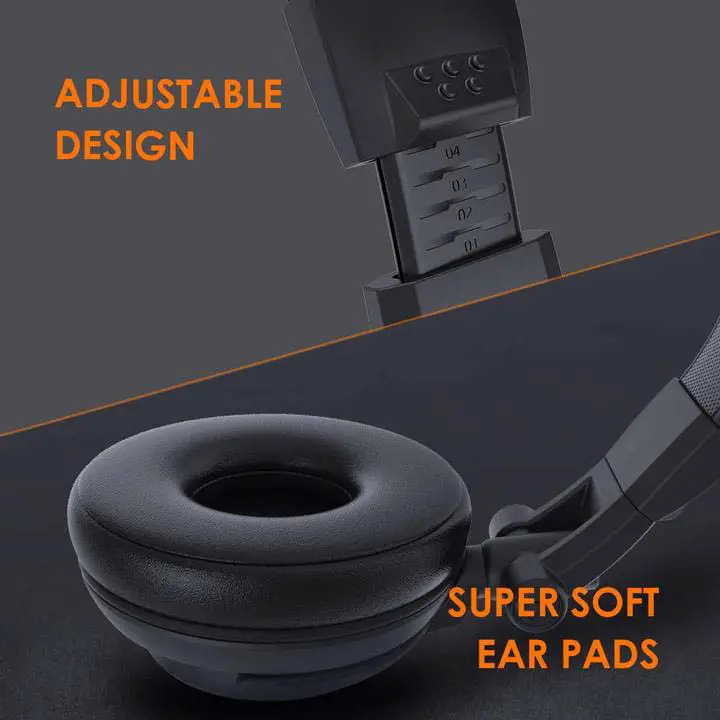 As the earcups are extra-large, they fit most of the ear size. But if your ear size is too large, you may feel tight.
The earpads will bring you a more skin-friendly and silky experience.
The headband is soft and well-padded. It is also adjustable and flexible. You only need to adjust the headband to your desired and comfortable angle.
You can even listen to music by lying down with this headphone.
Moreover, this AU-MH601 headphone has a decent clamping force.
The extra soft protein earcups and well-padded headband have a great fit around the ears and provide a nice clamping force.
So, overall it is a comfortable pair of headphones.
Right now, I am going to discuss the sound profile of this MAONO headphone. It will answer your every sound-related question.
Sound Profile
The sound quality of MAONO AU-MH601 is superb. I was truly shocked at its amazing sound when comparing it with its price point.
This MAONO-MH601 has a 50mm large-aperture driver, which gives you better listening enjoyment.
Sound is exceptionally clear throughout an extended frequency range. It also has a deeper and accurate bass response.
The frequency response is 20Hz-20kHz. It is very much suitable for all genres of music.
The bass accuracy is good at all ranges of sound. When you listen to music, you will fully feel the bass and get immersed.
The treble and low accuracy are also very fascinating.
Besides, no matter how loud you turn the volume, the sound won't get cracky at all.
Sound Leakage
The sound leakage performance of this headphone is great.
As a closed-back, over-ear headphone, it doesn't even leak a little bit of sound. It mostly covers the ear and prevents sound leakage.
Even if you keep the volume high, nobody won't get bothered.
Noise Cancelling
The MAONO-MH601 doesn't have the function of noise cancelling.
Its soft earpads have a certain effect on noise isolation.
It can passively reduce most unwanted background noise. It can remove airplane noise, city traffic, or a noisy office and make you focus on listening.
Microphone
Unfortunately, it doesn't have a microphone.
The build quality of a headphone is important as it decides how much durable it will be. So, let's dig it to the build quality of AU-MH601.
How Is The Build Quality?
This MH601 headphone is totally made of cheap quality plastic. It is not sturdy enough, but the 3 meters cord is somewhat sturdy.
However, if you consider its price range, then it is okay.

It can break in case of accidental drops. So you have to use it very carefully.
My MH-601 is still now good though it starts to peel off.
For a decent build quality headphone, you may go for Sennheiser HD280 Pro.
If your headphone gets damaged, don't worry.
The MAONO committed you to provide 1 year of warranty.
Within this period, if your headphone gets damaged, they will repair it at free of cost.
They also offer you 30 days of return facilities.
Customer Support
You will get very good and friendly customer service. They always honor their clients. They directly send your inquiry to the support team and handle it within a very short time.
Design
The MAONO MH601 looks nice. It is designed with DJ styling. The black color on plastic material gives it a lovely look.
Let's go for its portability and stability now.
Portability
The weight of this headphone is 14.1 ounces, which is not lightweight at all.
But it is portable enough.
The headphone is foldable.
The adjustable headband and foldable design make it much portable. You can carry it anywhere you go. It will even save space in your bags.
If you face a problem with the 3 meters long cord, don't worry. You can carry it by detaching.
Stability
The MAONO AU-MH601 is not a stable headphone. It is too bulky and It can slide off your ears easily.
The headphone is suitable for home listening but not for heavy exercise. The long cord will be problematic too.
Is It Waterproof?
If you want waterproof headphones, it is not for you. Cause MAONO-MH601 is not waterproof. It is not sweatproof either.
So, don't use it for swimming or during any heavy workout.
Well, I have said earlier that the MAONO-MH601 headphone has a unique feature. Now it's time to reveal it.
Special Features
The headphone has 2 in 1 plug system. It supports an extra audio port to plug another headphone with a 3.5mm or 6.35mm audio jack.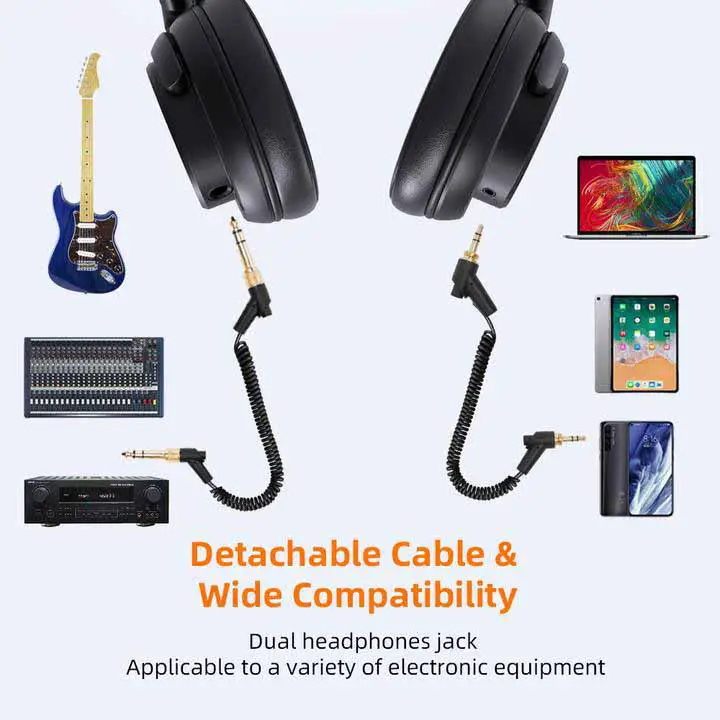 Just plug your MAONO MH601 into a device and connect another headphone to its extra port.
In this way, you can enjoy and share movies or music with your friends and family.
It offers you an opportunity to share your headphones listening with others.
I will talk about its compatibility now. You must want to know it.
How Much Compatible With Other Devices?
You know the MAONO-MH601 comes with two standard-size, a 3.5mm jack and two 6.35mm adapter.
They are compatible with most devices.
You can use it with Smartphones, Pcs, Tablets and so on. It is also compatible with Android, iPad, Windows 10, and Mac.
Is It Suitable For Gaming?
The MAONO MH601 headphone would be perfect for gaming if it had a mic.
If you don't have to talk with other players, it will be superb for everyday gaming.
It has a long 3 meters cord, which is compatible with most gaming consoles.
This headphone is ideal for PS4, Xbox One, Nintendo switch, or other gaming consoles.
Overall the headphone is suitable for everyday gaming if you don't need to do voice chat.
As it is a studio headphone, how much will it be ideal for studio work? I am going to disclose it.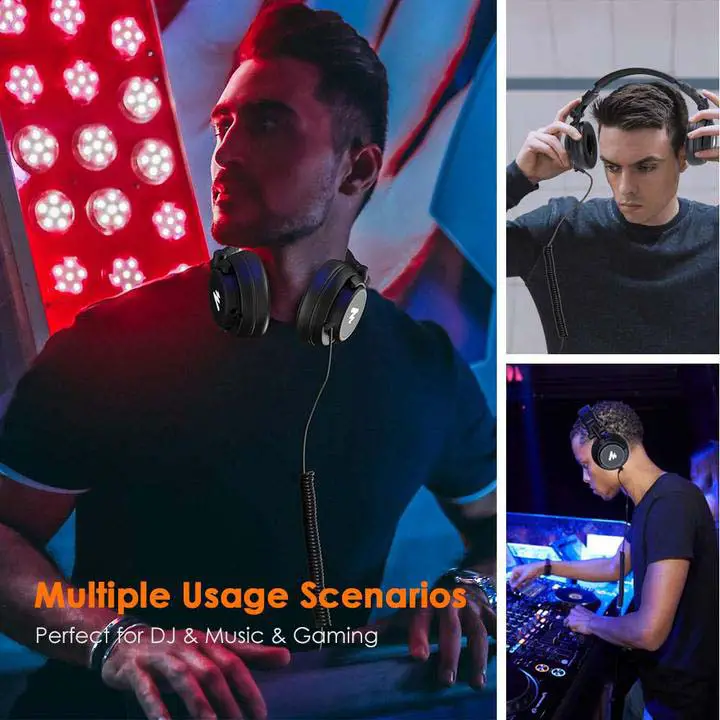 How Much Suitable For Studio?
This headphone provides loud audio, great noise isolation, and no sound leakage. Therefore, it is perfect for studio use.
It performs a great performance for mixing and recording.
You can concentrate on what you want to do in a studio and listen to the exact audio.
So it is quite okay for studio use.
Are you planning to buy this MAONO AU-MH601 headphone?
Then go to my below section before that. You will be able to know for whom it is perfect and who should skip it.
Who Should Buy AU-MH601 Headphone?
If you want a headphone for studio use, the MAONO AU-MH601 is ideal. It is also superb for everyday listening.
Besides, you can use this headphone for gaming if voice chat is not needed.
As a foldable headphone, it is good for traveling too. The long cord will be problematic, though.
The headphone is suitable for video editing, podcast editing, and DJ monitoring.
You have already known that it doesn't leak any sound and can isolate the background noise. So, you can also use it for the office.
It is also an okay type headphone for audiophiles for its price point.
Who Might Skip It?
Do you want a headphone for heavy exercise like sport, gym, running, or cycling?  Then it is not for you.
As the headphone has no mic, you can not use it for online teaching or meeting.
If you want a headphone for every day phone calls, you should skip it.
The headphone is also not suitable for those who wear glasses.
Hopefully, you have got a clear idea about who should buy it or skip it. Now let's compare MH601 with other headphones.
Compare With Other Headphones
We need to compare MAONO AU-MH601 headphone with other headphones, to know why it is different from them.
1. MAONO AU-MH601 Vs AU-MH501
The MAONO AU-MH601 and AU-MH501 both are over-ear, closed-back headphones. Both are good for studio use.
They provide almost the same features and have no significant difference between them.
But overall, our MH601 is better than MH501.
2. MAONO AU-MH601 Vs TH-200X
AU-MH601 and Tascam TH 200X both are over-ear, closed-back headphones for studio use.
Tascam TH 200X has great comfort, sturdy build quality, and decent sound.
But the build quality of MH601 is not sturdy enough. The TH-200X is not portable and has no noise isolation feature, while the MH601 has got all that features.
3. MAONO AU-MH601 Vs Samson SR850
MAONO MH601 is a closed-back headphone, while Samson SR850 is a semi-open-back headphone. Both are designed for studio monitoring.
The Samson SR850 delivers a wide sound stage with a bass response in a truly dynamic listening experience.
The MAONO-MH601 headphone also provides superb sound with great comfort. The SR850 doesn't provide such comfort as MH601.
The MH601 is a pair of portable headphones, but the Samson SR850 is not portable.
The semi-open-back design can leak sound, but the MH601 doesn't leak any sound.
4 . MAONO AU-MH601 Vs Yamaha HPH-100B
The MAONO-MH601 and HPH-100B both are over-ear, closed-back headphones. The MH-601 is mainly designed for studio use.
But the Yamaha HPH 100B is not good enough for studio use. The HPH-100B provides high-quality, dynamic sound. It looks so beautiful more than AU-MH601.
Both have adjustable headbands, but HPH 100B is not foldable. So HPH 100B is not portable also.
5 . MAONO AU-MH601 Vs JVC HARX500
The MH601 and HARX500 both are over-ear, wired headphones for studio monitoring.
The JVC HARX500 provides great comfort and faithful sound reproduction.
It provides 40mm drivers, while MH601 has 50mm drivers. And its bass accuracy is better than HARX500 headphone.
The price of JVC HARX500 headphone is somewhat lower than MH601.
Since you are planning to get the MAONO-AU-MH601 headphone, let's know how worthy it will be.
Is It Worth Buying Or Not?
The MAONO-MH601 headphone is suitable for home listening to studio monitoring.
It provides a decent listening experience with great comfort.

Headphone sharing is also a fantastic feature. It is also compatible with most devices.
Overall, by considering its price, the MH601 headphone is worthy of my taste.
From my overall MAONO AU-MH601 review, if you think the MH601 is not perfect for you, you can look for an alternative.
However, which one will be a perfect alternative to this headphone?
Don't worry. You will find some options below.
Alternative To MAONO AU-MH601 Headphone
You may choose one of those following headphones as an alternative to our MAONO headphone.
Conclusion
Finally, you have got a crystal clear idea of MH601 from my MAONO AU-MU601 review.
I explained all the features from my experience.
Considering its overall feature, if you think it is ideal for you, you can get it. Otherwise, you can skip it.
I always want that your hard-earned money doesn't go in vain. So always try to invest your money in the best product.
Go with your choice now.
Thanks For Reading This Article.