Generally, sounds are transmitted through the air to our eardrums. But do you know we can also hear sound through the vibration of our cheekbones?
The sound waves directly go to the inner ear, specifically to the cochlea bypassing the eardrum.
Is it possible?
Of course!
Bone conduction headphones make this possible.
Ludwig Van Beethoven first discovered a bone conduction headset when he tragically lost his hearing.
After that, bone conduction headphones became very popular.
AfterShokz is such a renowned brand that provides legendary bone conduction headphones. And the AfterShokz OpenComm is the first bone conduction headphone from this brand.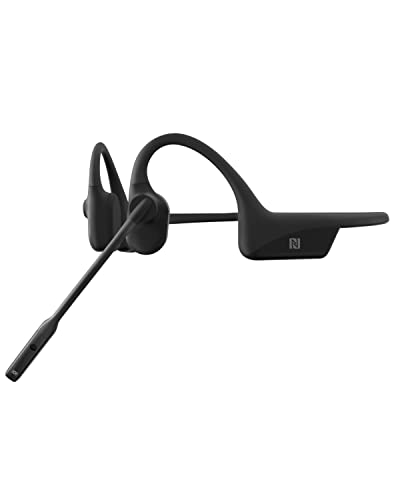 Are you thinking of purchasing this headphone?
Welcome! You have picked the right site to know AfterShokz OpenComm stereo bone conduction Bluetooth headset reviews.
Take a deep breath and go through the review to know its every feature in detail.
Well, at the starting, I would like to give an overview of this headset in brief.
See them in a blink.
At A Glance
Open-Ear Design For Situational Awareness.
DSP Noise Cancelling Boom Mic.
Bluetooth 5.0 And NFC Pairing.
5 Minute Fast Charging For 2 Hours Talk Time.
IP55 Water-Resistant.
Not Suitable For Swimming.
No Way To Isolate The Sound.
AfterShokz OpenComm is an open-ear wireless bone conduction headphone. This headset allows you to hear the sound while leaving your ears open.
While listening to music, you can hear the surrounding sound. It is mainly designed for outdoor listening and communication, specially where situational awareness is important.
AfterShokz OpenComm is engineered with 7th generation open-ear design to provide an impressive experience with superior comfort and fit.
Now, let's open the box and see the accessories that come with it.
What's In The Box?
For everyday outdoor listening, I purchased this headset. It was a very delightful moment when I first got this headphone in my hand.
In the box, you will see your most preferred…
AfterShokz OpenComm Stereo Bone Conduction headphone with a boom mic.
A proprietary magnetic charger.
A manual.
A warranty card.
This headset comes with a very nice and soft carrying case/pouch.
AfterShokz OpenComm manual helps you to use your headphone properly. Besides these, it doesn't come with any extra accessories.
But I was highly expecting one pair of extra earplugs. If they provided earplugs, it would be convenient to block the outside noise.
Before taking a deep dive into the review, let's see AfterShokz OpenComm specs and pros-cons in a twinkling of an eye.
Key Specifications
Headphone Type: Open-Ear, Bone Conduction.
Connector: Wireless/ Bluetooth 5.0
Wireless Range: 33 Feet.
Frequency Response: 20 Hz – 20 kHz.
Sensitivity: 96 ± 3 dB.
Microphone Sensitivity: -38 ± 3 dB.
Battery Type: Lithium-Metal.
Talk Time: 16 Hours.
Music Time: 8 Hours.
Standby Time: Up To 14 Days.
Charging Time: 1 Hour.
Weight: 1.06 Ounces.
Color: Slate Grey.
Pros
Situational Awareness.
Great For Long Time Wearing.
Excellent Sound.
Strong Battery Life.
Cons
Bass Is Not Heavy.
Proprietary Charger.
Comfort is one of the most vital parts of a headphone. You cannot enjoy anything with a discomfort feeling.
Right?
Have a look here to know about its comfortability.
How Comfortable Are They?
Bone conduction headphones are always exceptional in providing better comfort than traditional headphones.
As a bone conduction headphone AfterShokz OpenComm ensures your long time wearing comfort. Its open-ear design solves the hot ears or ear fatigue problems.
Experience all-day comfort with nothing over your ear.
I was even wearing it for 5 to 6 hours with glasses, but I never felt any pain, or discomfort.
One of my friends who is a biker, always wears this headphone with helmet and sunglasses together. But he never feels fatigued, or any pressure.
However, this headset will not be comfy if you want to listen to music by lying.
The headband is very flexible and fits perfectly in medium & big heads. But it might be loose for petite head sizes.
The clamping force will be standard too if you get the right fit.
Right now, I am going to describe the sound profile of this headset. You will find every detail of it here.
Sound Profile
Bone conduction headphones have a downside in their sound part. They don't provide a rich sound profile like usual traditional headphones.
As a bone conduction headphone AfterShokz OpenComm also doesn't provide a more precise sound profile. But listening to music with OpenComm is not an unpleasant feeling at all.
The sound is clear, and every tone is well balanced too.
The frequency response 20 Hz – 20 kHz is also well-suited for all genres of music.
There is a lack of total bass response.
As the bone conduction headphone transmits sound through the cheekbone, they always lack in the bass.
Heavy bass is harmful to the cochlea.
The midrange is plump, and the treble is also represented well.
But AfterShokz has another headphone called Aeropex that has broken the mold of bone conduction by providing a quality sound. 
So if you want an excellent sounding bone conduction headphone, you may check out AfterShokz Aeropex.
Does It Leak Any Sound?
AfterShokz OpenComm leaks a little bit of sound. When listening at a high volume, it leaks more sound.
But it is safe when you listen at a moderate or low volume. To prevent sound leakage, always listen keeping the volume at a moderate level.
Noise Cancelling
Don't expect noise cancelling feature from a bone conduction headphone. They are mainly designed for providing surrounding awareness.
So AfterShokz OpenComm also does not cancel noise actively or passively. While listening to music, you can still hear the surrounding noise.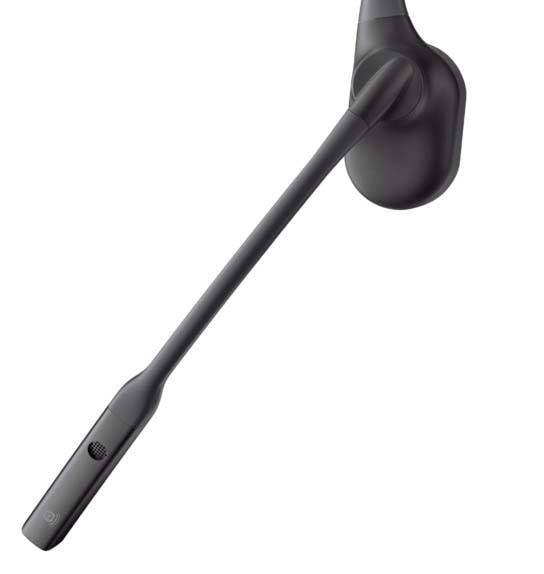 How's The Microphone?
AfterShokz OpenComm comes with a DSP noise cancelling boom microphone. It made this headphone great for communication.
The DSP ( Digital Signal Processor ) microphone can cut background noise.
It allows you to make a call even if you are in a noisy area. The call quality is superb too.
The mic provides clear and loud communication by reducing ambient noise.
The mic is adjustable so that you can position this to your preferred fit. Whether driving, biking or working in a noisy environment, it still eliminates the background noise.
Once I was driving my car by opening the window and called my friend. But still, he was hearing me very clearly and loudly.
The wind noise couldn't interfere with our conversation.
Recording Quality
As this headset comes with a boom mic, it is great for audio recording. The recorded audio will be very clear and understandable.
My friend was recording the podcast with this headset. His recorded podcast was very excellent and seemed very natural.
Are you worried about the control system of this bone conduction headset?
Don't worry. I am making it clear to you now.
How To Control It?
This headset is very easy to control. It consists of three buttons. You will find the power button, volume up and down button on the left side, and a multifunction button on the right side.
The power and volume buttons are bright orange color.
To answer the call, press the multifunction button and again press to end the call.
Press and hold volume (+) for 3-5 seconds to power on the headset and do the same to off the headset.
Press and hold volumes (+) and (-) for two seconds to mute the mic.
Press volume (+) and (-) to up and down the volume.
Another key thing of a headphone is the building quality. The durability of a headphone depends on its materials and build quality.
A question may arise in your mind at this moment. Will the OpenComm be durable or not?
How Strong Is The Build Quality?
AfterShokz OpenComm has a sturdy build quality. It's constructed from titanium that's coated in silicon-type material.
The titanium band is very flexible and strong. The making materials feel very robust and durable.
I have been using this OpenComm headphone for a long time, and it is still good.
It's also a great point that AfterShokz provides 2 years of warranty. In this period, if your headset gets damaged, they will freely repair it.
Another good news is they also offer 45 days return policy.
Design
This headset has a modern, sleek design. It comes in a Slate Grey color which looks very stylish.
Overall, this neckband-style bone conduction headphone seems very pretty.
Let's go for its portability and stability now.
Is It Portable?
AfterShokz OpenComm is a decent set of portable headphones. You can carry it wherever you go.
Its weight is only 1.06 ounces which is very lightweight.
It's flexible enough to carry with a little backpack. You can also carry it in the carrying pouch when going on a long journey.
How Much Stable?
This headset is stable enough as it is primarily designed for outdoor listening. Whenever you do intense workouts, it will gently sit around your neck.
There is no chance to slide off. It will never fall off your ears when you are jumping, running, or doing other heavy activities.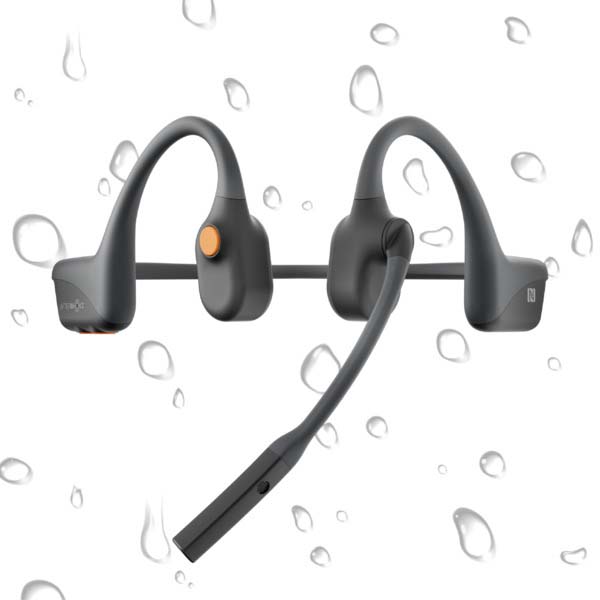 Is It Waterproof?
AfterShokz OpenComm is rated by IP55 water-resistance. IP55 rating means it can withstand light water like gentle rain. It can even handle heavy sweat, dirt, dust, and sand.
But don't use it for swimming or shower.
Well, you know that OpenComm is a Bluetooth headphone. Are you waiting to know about Bluetooth details? Okay, no problem.
Just take a look below.
Bluetooth Details
This headphone comes with Bluetooth version 5.0 and has great wireless connectivity. The Bluetooth 5.0 ensures fast pairing.
The wireless range is also enough for long-distance connectivity.
This headset supports multi pairing. You can connect two devices simultaneously.
It also supports NFC pairing which helps you to auto pair with an NFC-compatible device.
NFC stands for Near Field Communication. It is a wireless touch technology that pairs with two devices without the physical pairing system.
Just touch your headset with NFC compatible device; it will pair automatically.
This headset supports only the SBC Bluetooth codec for audio. It doesn't support a non-Bluetooth wireless connection.
As it is a Bluetooth headphone, and you need to pair or multi-pair it with other devices for listening.
Besides if your headset doesn't work or pair, you need to reset it.
But how do you do these?
The following segment is for you.
How To Pair/Multi-Pair/Reset It?
If you don't know how to pair/multi-pair or reset this headset, check it and follow the instructions properly.
Now it's time to disclose the battery.
Battery Details
This headphone comes with a rechargeable lithium metal battery. It provides 16 hours of talk time and 8 hours of listening time on a single charge. You need 1 hour to charge it fully.
You will be pleased to know that it provides fast charging. Just charge it for 5 minutes and it will give you 2 hours of talk time.
The charger is magnetic.
Unfortunately, it comes with a proprietary charger!
If the charger gets damage once, you can't use any other chargers.
Besides, it provides only one chagrining cable.
Right now you have got a bit more information about it.
But are you confused that it will be compatible with your devices or not?
Don't be confused anymore. I am always here to ease all your confusion.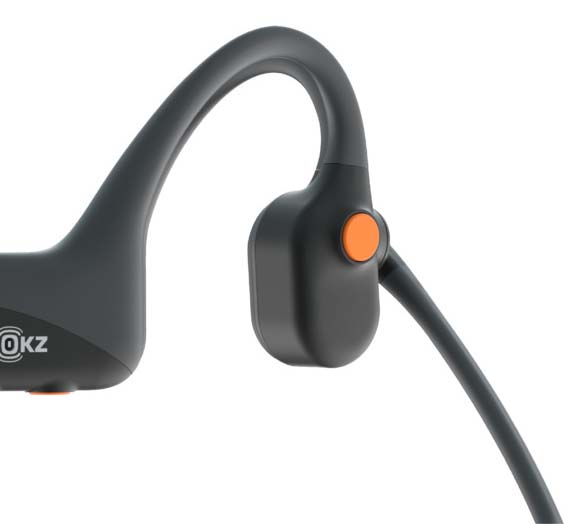 How Much Compatible With Other Devices?
As a Bluetooth headphone, it has broad compatibility with most Bluetooth-enabled devices. It's compatible with Bluetooth active PCs, Smartphones, TV, etc.
You can connect it with your Windows 10 and Mac. It is also compatible with Android, iPad, and iPhone.
Now that you have known about its compatibility, let's see whether it is suitable for gaming or not.
Is It Suitable For Gaming?
This Bluetooth bone conduction headphone isn't suitable for gaming. It is not compatible with gaming consoles.
You can't connect it with Xbox One, PS4, Nintendo Switch, or other gaming consoles.
If you want a gaming headset, you may look at SteelSeries Arctis 7.
This bone conduction headset is not suitable for all purposes. That's why you need to know who can buy it or who should skip it.
Who Should Buy This?
You already know that AfterShokz OpenComm is mainly designed for outdoor listening and communication.
Whether you do gym, running, cycling, or biking, it will be excellent for that.
It is also superb for drivers like truckers, car drivers, etc.
Do you need a headphone for every day phone calls? It can be a great pick for you.
This headphone also will be your best wireless headphone for online teaching or classes.
If you want a headphone for official use or zoom meetings, you can also go with this headset. It is also perfect for traveling or commuting.
As a bone conduction headphone, it slightly acts for the deaf as a hearing aid, considering the type of hearing loss.
Who Might Skip It?
Never think of using this bone conduction headphone for studio monitoring. It is not for studio monitoring.
If you need a studio monitoring headphone, you may check out Audio Technica ATH-M50X.
This headset is not ideal for audiophile listening too.
You cannot use it for gaming either.
This headset is also not perfect for watching movies. You may check out Sennheiser RS 175 headphones for watching movies with surround sound.
It is also not for you if you want a headphone with noise cancelling feature.
Customer Support
AfterShokz provides user-oriented customer support. AfterShokz's team has a mission to enhance lives through their technology.
They always work for the happiness of the customers. They love to hear the customers and ensure a hassle-free service within a short time.
Do you want me to compare this headset with some others? It may help you to get a more precise idea.
Compare With Other Headphones
To let you know the differences between AfterShokz OpenComm and other headphones, I am going to put a comparative discussion here.
1. AfterShokz OpenComm Vs. Aeropex
AfterShokz OpenComm and Aeropex are both open-ear bone conduction headphones. They are very similar performing headphones.
But Aeropex is better bone conduction than OpenComm.
Aeropex provides an IP67 rating while OpenComm has IP55. It also offers two magnetic chargers and extra earplugs, while OpenComm gives one charger and doesn't provide any earplugs.
However, OpenComm offers 16 hours of battery life while Aereopex gives only 8 hours.
2. AfterShokz OpenComm Vs. Razer Ifrit
AfterShokz OpenComm is a better headphone than Razer Ifrit. They are totally different headphones.
Razer Ifrit is a wired neckband headset, while OpenComm is a Wireless bone conduction headphone.
Their features are very different from each other.
3. AfterShokz OpenComm Vs. Plantronics HW540 Encorepro Convertible Headset
Both are totally different headphones, and they have many significant differences between them.
Plantronics HW540 is a wired neckband headset. You can wear it in your comfortable position. You can wear it over the head, over the ear, or behind the head.
AfterShokz OpenComm is a bone conduction headphone and delivers sound through the cheekbones.
4. AfterShokz OpenComm Vs. Logitech G933 Artemis Spectrum
Both of them are different from each other.
Logitech G933 is a wireless gaming headset. This headset provides the best gaming features for PS4, Xbox One, Nintendo Switch. It provides 7.1 Dolby surround sound.
But AfterShokz OpenComm is a bone conduction headphone for outdoor listening.
5. AfterShokz OpenComm Vs. KLIM Puma
Both are different style headphones. KLIM Puma is a USB gaming headset for pc and ps4. It provides 7.1 surround sound.
AfterShokz OpenComm bone conduction headphone is good for communication and outdoor listening.
Are you planning to buy this bone conduction headphone?
Then let's see whether it will be worthy or not.
How Worthy Is It?
AfterShokz OpenComm will be a great catch if you need a headphone for outdoor listening. You can enjoy your music along with situational awareness with this headset.
To provide the right fit and long-time wearing comfort, it is excellent.
Its price is somewhat high and it works like a high-end headphone. If you compare this headset with its price, it is worth buying.
Considering the review, if you don't want to choose it, you may go for an alternative.
Look at the below section.
Alternative To It
Here is a list of some alternative:
They are almost similar performing headphones or somewhat better in some cases. Therefore, you can choose one of them as an alternative to OpenComm.
No more today. I am ending it here.
Conclusion
You have got an in-depth explanation from my AfterShokz OpenComm Stereo Bone Conduction bluetooth headset reviews.
I hope it will be handy enough for your ultimate decision-making.
If you think it is ideal for you, you should take it. But if you don't want it, you may go for an alternative.
I always respect your decision.
Thanks For Reading This Article.
Frequently Asked Questions: