There is no competition with bone conduction headphones when it comes to providing situational awareness and at the same time listening to music with a pair of headphones.
Bone conduction headphones are perfect for outdoor listening, especially where situational awareness is essential.
They are very different from traditional headphones that you may be used to.
There are a number of bone conduction headphones available in the market. And AfterShokz is one of them that provides unique design bone conduction headphones.
Among their all bone conduction headsets, AfterShokz Aeropex is one of the best.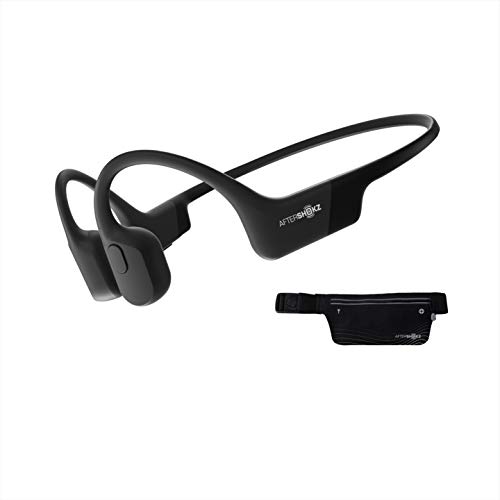 AfterShokz Aeropex
Rebranding Update - Aftershokz...
Open-Ear Design - Patented bone...
8-Hour Battery Life - Enjoy 8...
Therefore, I am here with my AfterShokz Aeropex review. Explore it to know all the features with its upsides and shortcomings.
Well, I would like to start the review with the important features of this headset. See them in a blink.
At A Glance
Open-Ear Design For Situational Awareness.
Mainly Designed For Outdoor Listening.
PremiumPitch 2.0+ Provides Wide Dynamic Stereo Sound.
Dual Noise Cancelling Microphones For Calls.
IP67 Rating Suited For Intense Workouts And Extreme Weather.
Not For Swimming.
Don't Provide Fast Charging.
Only 8 Hours of Music And Calls.
AfterShokz Aeropex is an open-ear wireless bone conduction headphone. Its open ear design leaves your ears open to ambient sound while delivering premium audio.
At first, let's see what's come with the box.
What's In The Box?
The AfterShokz Aeropex headphones come with a well-packaging, including a lot of accessories.
All the accessories were within a sealed box.
In the box, you will see
A soft silicone carrying pouch.
In that pouch, there are…
AfterShokz Aeropex open ear headphones.
1 pair of earplugs.
2 magnetic charging cables.
A user manual.
You will also find an extra sport belt.
The belt will help you to carry this headset when going outside.
Thanks, AfterShokz, for providing this extra sport belt.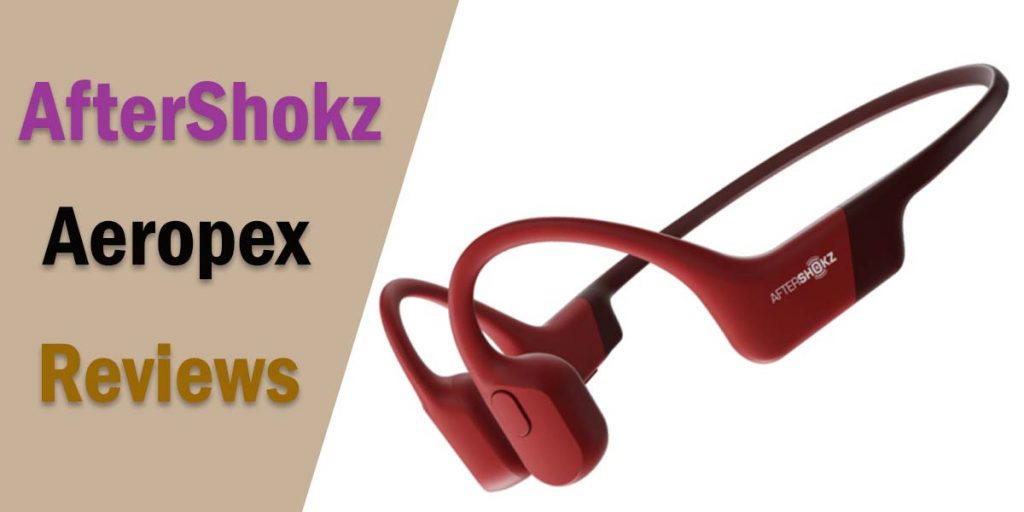 Before immersing yourself in the review, let's see AfterShokz Areopex specs and pros-cons in the twinkling of an eye.
Key Specifications
Headphone Type: Open-Ear, Bone Conduction.
Connector: Wireless/Bluetooth 5.0.
Frequency Response: 20Hz-20kHz.
Sensitivity: 105 ± 3dB.
Microphone Sensitivity: -33 ± 3dB.
Wireless Range: 33 Feet.
Battery Type: Lithium-Polymer.
Battery Life: 8 Hours.
Charging Time: 2 Hours.
Standby Time: 10 Days.
Weight: 0.92 Ounces.
Color: 4 Colors.
Pros
Slim And Lightweight Design.
All-Day Comfort.
Waterproof Rating.
Sturdy Build Quality.
Cons
Control Button Very Close To Each Other.
Proprietary Charging Cables.
Comfortability of a headphone is a great concern for everyone.
You definitely cannot enjoy your listening with discomfort.
So, it's an important fact to check before buying.
How Much Comfortable Is It?
As a bone conduction headphone, there is no doubt that this headset ensures your long-time wearing comfort.
It gently sits on the neck and doesn't block the ears. Its lightweight design gives you a better wearing comfort.
I was wearing it for multiple hours, and I never experienced any wearing fatigue. Actually, I forgot that I was wearing anything.
So maybe you can imagine how comfortable it is!
This headset is perfectly fit for a large head. But don't worry if you have a small head.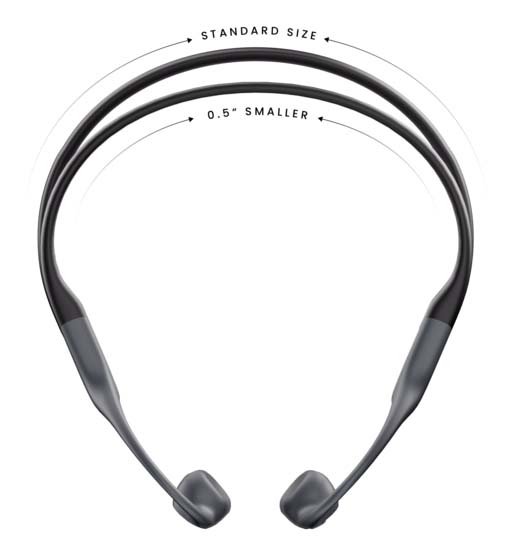 AfterShokz Aeropex comes in 2 sizes: mini and standard. So, you can take the mini size for your small head.
The mini size is 0.5 inches shorter than the standard size.
This AfterShokz Aeropex is well suited with sunglasses. It is also comfortable if you want to wear this headphone with glasses and helmet together.
But as a neckband style headphone, it may not be comfy when lying on the bed.
The clamping force of Aeropex is very standard if you get the right fit. So overall, it is a super comfortable pair of headsets.
Right now, I am going to describe the sound profile of this headphone. You will find every detail here.
Sound Profile
Many people have a concept that bone conduction headphones can't provide a decent sound profile.
But the AfterShokz Aeropex comes with alleviating this concept by providing a neutral and balanced sound profile.
You can enjoy all types of music with these headphones.
It comes with newer PremiumPitch 2.0+ transducers which are very loud.
The frequency response is very well balanced. The bass is slightly lacking. But if you want to get a stronger bass effect, you need to increase the volume.
But as it sends the sound wave directly into the inner ear, your cochlea may get damaged if you increase the volume too high. Be careful about increased volume.
The treble is very decent and performs better in the lower treble than in the high treble.
If you compare this headphone with other bone conduction headphones, the sound of this AfterShokz Aeropex is the best yet.
Does It Leak The Sound?
As AfterShokz Aeropex uses PremiumPitch 2.0+, it offers 50% less sound leakage than any other bone conduction headphones.
It can't leak sound when you are listening to a moderate volume.
But if you listen at too high volume, it has a chance to leak a bit of sound.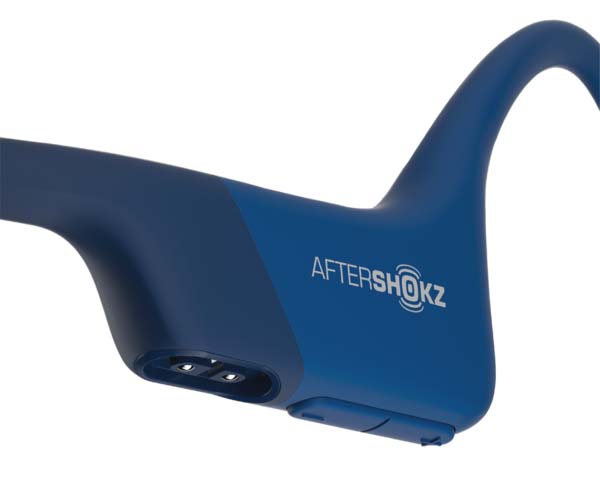 Noise Cancelling
Never expect sound isolation from a bone conduction headphone. Bone conduction headphones never cancel any sound actively or passively.
So this Aeropex AfterShokz also does not reduce any unwanted background noise.
This is great for everyone who wants to listen to music while being aware of their surroundings.
But if you need to block the outside noise, don't worry. This headset comes with a pair of soft earplugs.
You can use them while you need to block the outside noise. It helps you to reduce ambient noise.
How's The Microphone?
AfterShokz Aeropex comes with dual noise cancelling microphones. The microphones are excellent and provide a very clear and crystal call quality.
While calling, you and your partner will hear every word very clearly and loudly.
Even if you are in a noisy area, the microphones can pick up your every word clearly. But while biking or driving a car opening the windows, the mics can't block the wind sound.
Overall the microphones are good enough than other bone conductions.
Recording Quality
The recording quality of this headset is very great. The recorded audio will be very loud and understandable.
Are you curious about the control system of this bone conduction headphone?
Okay, I am not letting you be curious anymore. Let's find it out.
How To Control It?
AfterShokz Aeropex has simple inline controls. But the control buttons are very close to each other. It is slightly hassling. Cause it has a chance that you might press the wrong button.
You will find the power button and multifunction buttons in the right earbuds. In the left earbuds, you will get the volume (+) and (-) buttons.
Press volume (+) and (-) >>> Up and dowm volume.
Press Multifunction button >>> Pause, resume music and answer, end the calls.
Duble press multifunction >>> Next song.
Press and hold multifunction >>> Reject call.
Press and hold volume (+) and (-) simultaneously >>> Mute mic.
Build quality and design are two important facts of a headphone that can inspire you to buy that headset.
Am I right? Know the build quality of this headset from the below section.
How Strong Is The Build Quality?
The AfterShokz Aeropex comes with the sturdy build quality. The headset is made of matte rubber.
The making materials are also very robust and durable.
This headset feels pretty solid, and it can even survive a few accidental drops.
But if your headset gets damaged within 2 years, don't be upset. AfterShokz is committed to giving you 2 years of warranty.
AfterShokz allows the terms of 45 days stress-free returns.
Design
AfterShokz Aeropex wireless headphones come with cosmic black color. It has a unique style that looks very stylish.
This headset also has another 3 colors, which are Solar Red, Lunar Grey, Blue Eclipse. If you don't like cosmic black, you may go with another color. 
Overall this neckband style headphone looks so great.
Now, I will talk about its portability and stability.
Is It Portable?
It is a decent portable pair of headphones. The weight is only 0.96 ounces which is very lightweight.
You can't fold it more, but still, it is small and portable.
You can carry it into a bag or long pockets in pants, but it does not fit with most tight skinny jeans pocket.
As it comes with a small soft pouch, it will be convenient for traveling also.
How Much Stable?
The AfterShokz Aropex has good stability. It stays in the ears all day long and does not fall off.
This headset never slides of during heavy workouts.
So whether you are jogging or running, it will gently sit around your neck.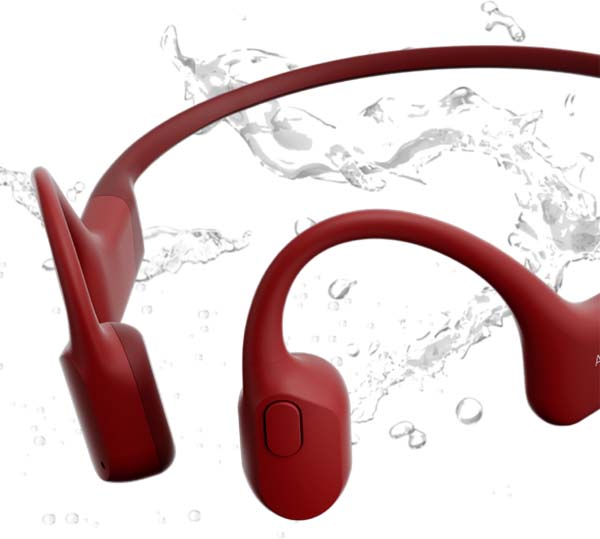 Is It Waterproof?
AfterShokz AS800 has IP67 waterproof ratings. But it is not intended for swimming or shower time.
This headset is made for strenuous workouts and extreme weather conditions. It can also withstand any adverse adventure.
It can protect itself from heavy sweat, dust, and light rainwater.
At this point, you may wonder why I am not explaining about its Bluetooth. Don't worry. Let's go for it.
Bluetooth Details
The AfterShokz Aeropex has excellent Bluetooth connectivity with version 5.0. It has 33 meters of wireless connectivity.
This headphone supports multi-device pairing. You can connect it to both your phone and laptop at the same time.
For audio, it supports only the SBC Bluetooth codec. It doesn't support any non-Bluetooth wireless support.
As it is a Bluetooth headset, you have to pair it first. But do you know how to do it?
Then check the following segment.
How To Pair/Multi Pair AfterShokz Aeropex?
If you don't know how to do it, just go with this link for pairing/multi pairing and get the proper instructions.
To know the reset system, check this.
Now, it's time to disclose the battery.
Battery Details
The AfterShokz comes with a lithium-polymer battery. It provides 8 hours of continuous playtime with a single charge. You will need 2 hours to charge it fully.
You know it comes with magnetic charging cables. The cables are proprietary by AfterShokz. For charging, you can't use another brand or, as usual charging cable.
It's slightly hassling. But don't worry about this, cause AfterShokz Aeropex comes with two charging cables.
Now let's dig it to its compatibility.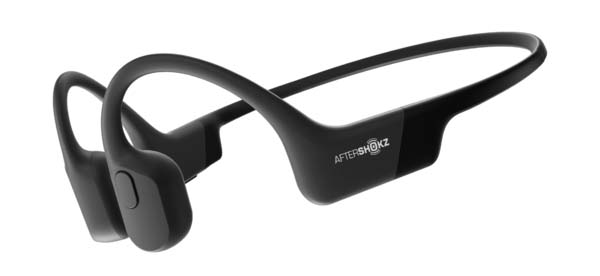 How Much Compatible With Other Devices?
The AfterShokz Aeropex bone conduction headphone has wide compatibility with most Bluetooth-enabled devices.
It is well suited for Bluetooth-enabled Pc, smartphones, and other devices.
You can comfortably use this headset with Windows 10, and Mac. You can also use this headset with Android, iPad, and iPhone.
It is also compatible with Bluetooth-enabled Smart TV.
Is It Suitable For Gaming?
AfterShokz Aeropex is not suitable for gaming. It has high latency on Pc. Therefore, it is not recommended to play games or watch movies on your computer.
It's not compatible with PS4, Xbox One, Nintendo Switch, or other gaming consoles. So it is not for you if you want a gaming headset.
For gaming headset, you may go with SteelSeries Arctis 7. It is one of the best gaming headsets.
You cannot use this bone conduction headphone for every purpose. That's why you need to know who should buy or skip it.
Who Should Buy This?
The AfterShokz Aeropex is mainly designed for outdoor listening. Like sports, gym, running, cycling, biking, or other heavy workouts.
This headset is also a great choice for all shorts of drivers like car drivers, truck drivers, etc.
Besides, if you want a headset that provides you situational awareness, it will be your best choice.
You can also choose this if you want a headset for traveling or commuting.
It is also great for every day phone calls and online teaching or classes.
Do you need a headphone for zoom meetings or official use? You may also go with this headset.
AfterShokz Aeropex slightly works for the deaf as a hearing aid depending on the type of hearing loss.
Who Might Skip It?
Never thinking of using this little bone conduction headphones for studio monitoring. It never ever works for the studio.
For studio monitoring headphones, you may go with Tascam TH 200X headphones.
This headset is also not for audiophile listening.
Do you need a noise-cancelling headphone? Then you shouldn't buy this too.
Compare With Other Headphones
Do you want to identify the difference between AfterShokz Aeropex or other headphones? Let's compare it with other headphones.
1. AfterShokz Aeropex Vs OpenMove
AfterShokz Areopex and OpenMove are both bone conduction headphones. But Aeropex is the best bone conduction headphone.
The OpenMove provides shorter battery life than Aeropex. It is rated by IP55 to repeal sweat, while Aeropex has IP67 waterproof ratings.
The OpenMove comes with a USB-C charging cable, but Aeropex comes with two magnetic charging cables.
So it is a special feature of OpenMove. Cause you can use any USB-type C charger to charge the OpenMove. 
But Aeropex has proprietary charging cables and doesn't allow the other charging cable.
Both provide Bluetooth version 5.0.
2. AfterShokz Aeropex Vs Xtrainerz
Both of them are bone conduction headphones. But Xtrainerz has built-in 4GB mp3 storage. You can load approximately 1200 songs on this headphone.
The main difference between them is that Xtrainerz is rated IP68 and Aeropex provides an IP67 rating.
IP68 rating allows you to swim in the water, and IP67 doesn't offer it.
Do you have a plan to purchase this headset? Let's see it will be worthy or not.
How Worthy Is It?
AfterShokz Aeropex will be a fantastic choice for those who need situational awareness.
It has broken the mold of bone conduction technology by offering a quality sound. It is also great for perfect fit and comfort.
Its price is not low at all, and it works like other high-end headphones.
So if you are going to purchase a bone conduction headphone, I think it will be your best choice.
Anyway, after going through my AS800 Reviews, if you think it is not ideal for you or doesn't match your criteria, you can choose an alternative.
Alternative To AfterShokz Aeropex
Here is a shortlist of alternatives.
They are very similar to Aeropex by providing almost similar features and functions. You can pick one of these headset as an alternative to Aeropex.
So, that's all for today.
Conclusion
Finally, you have got a clear concept from this AfterShokz Aeropex reviews.
I hope it will help you make the right decision. Now it depends on you whether to take it or skip it.
I always honor your right choice.
Thanks For Reading This Article.