The two most prominent names in audio technology, Bose and Sony, didn't fall back to show their expertise in developing top-rated noise-canceling headphones too.
If your chaotic neighborhood tends to interfere with your music nowadays, you might have already searched for the best noise-canceling headphone available on the market.
Then you must have come across the flagship noise-canceling headphones of two of these renowned brands- Bose QuietComfort 35 II and Sony WH-1000XM4.
Bose's one is relatively cheaper, whereas Sony WH 1000XM4 is comparatively expensive.
And that's where confusion builds up. Should I get this or that? Why shall I spend that extra cash if I get all the same features in an affordable wrap-around?
Okay, dear! Now chill out as I am here today with a comparative discussion on Bose QuietComfort 35 II Vs Sony WH 1000XM4.
Just go through this write-up. All your confusion will go away, and hopefully, you will be able to make a wise decision.
Bose QuietComfort 35 II Vs Sony WH 1000XM4: Who Is The Real King?
At the very beginning, I would prefer to present a short overview of these two headphones.
This side-by-side comparison will help you have a basic idea about them.
Have a glance at the below table.
| Features | Bose QuietComfort 35 II | Sony WH 1000XM4 |
| --- | --- | --- |
| | | |
| | | |
| | | |
| | | |
| | | |
| | | |
| | | |
| | 15 min charge = 2.5 hours playback. | 10 min charge = 5 hours playback. |
| | | |
| | | |
| | | |
| | | |
| | | |
| | | |
| | | |
| | | |
| | | 7.27 x 3.03 x 9.94 inches. |
| | | |
Now it's time to go for the details.
As the design is the very first thing you will see, all companies want to place a good amount of emphasis on it.
So, let's see which one can satisfy us more with the design.
Design & Build: Bose QC 35 II Vs Sony WH 1000XM4
Both of them are over-ear closed-back headphones, while Bose QC 35 II is available in two colors, and you will get three color options to choose from in the case of Sony WH-1000XM4.
Bose has used nylon plastic for the outer covering of the headphone, which is stronger than regular plastic. The headband is constructed with stainless steel to make it more durable and sturdy.
For the padding, they used soft Alcantara automotive fabric to add an extra touch of softness.
It seems that usage of plastic somewhat takes the premium look from these headphones.
However, to make up for it, they used good quality material for the earpads. And the best part of these earpads is they are replaceable.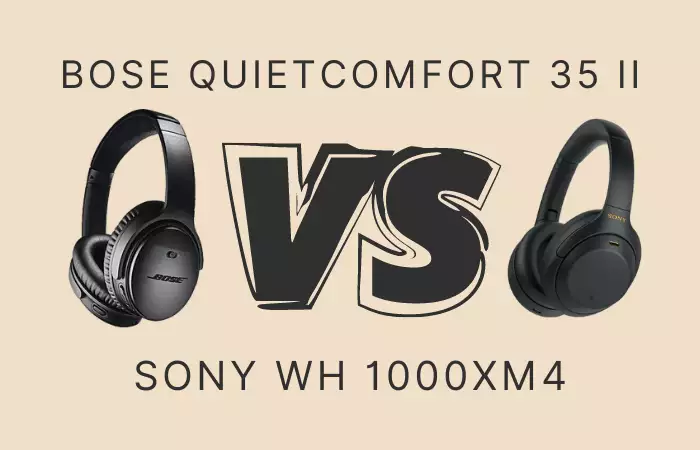 You will see a clear marking of left and right on the inner side of the ear cups, and there is a power button on the right-hand ear cup.
On the other hand, Sony used metal instead of plastic, which gives it a pleasant and rounded look.
There is a soft and glossy coating on the metal, adding a touch of richness to the overall look of 1000XM4.
They use plastic on the edges of the earcups and the outer part of the adjustment area. You will also see some plastic present along the inner side of the headband.
Its earcups are covered in leatherette, giving the headphone a more luxurious and premium look than the Bose's ones.
Its earpads are thick and replaceable as well.
Now, it is obvious that Sony WH 1000XM4 is going to wear the crown for this segment.
The design or outer look is for aesthetics, but comfort is how you will feel while wearing a headphone.
Hence, with a good look, you have to check the comfort feature also.
Comfort & Fit: QC 35 II Vs 1000XM4
When you wear these two headphones, you will notice a significant difference.
Bose QC 35 II is lighter than the Sony WH 1000XM4. So, it won't clamp down as much as Sony.
This lighter weight is definitely going to make it more comfortable to wear, especially when you plan to wear them for long periods.
The memory foam earpads are also very soft and smooth.
Besides, the ear cups of this Bose QC 35 II are pretty spacious and airy. Hence, neither will they touch your ears, nor will you get sweaty after a long time of wear.
But one drawback of this headphone is its stiffly padded headband.
Hence, you should put these headphones exactly in the right place on your head. Otherwise, you will surely feel a little discomfort.
Now, what about Sony WH-1000XM4?
Well, they are not any behind either.
The soft, smooth padding on the headband and earcups feel luxurious, making it comfortable to wear for long periods of time.
One thing here is that the ear cups are shallow and filled with soft foam that gently cradles the ears.
Though this is not something that many people like, it is a personal preference after all.
If this is something that you don't mind, go for it.
Well, though their performance is close enough in this part, and both of them have some drawbacks as well, I am going to keep Bose QC 35 II a few steps ahead due to its lighter weight.
Both these two companies are well-known for their top-notch sound quality. Yet who is ahead in this competition? Let's find out.
Sound Quality: Sony WH 1000XM4 Vs Bose QC35 II
Sony's monstrous drivers, together with QN1 technology, reproduce loud, vibrant, and distortion-free detailed sonics. You won't notice any muffled or lagging in any of the notes. The timing is brilliant, too.
When you listen to instrumental tracks, it will offer warm tones to give you a soothing vibe.
At the same time, it has a balanced level of bite and punches for those EDM tracks.
While playing the song I Can't Stop by Flux Pavilion, it sounded so mind-blowing that I couldn't resist head nodding.
The bass seemed to get a good amount of attention, where at the same time, it was not overpowering at all.
The vocals sounded clear and crisp, and there were no distortions in the high notes too.
So, altogether, it was a fun experience to listen to Sony WH-1000XM4.
One surprisingly good thing about these Sony headphones is that they manage to retain the audio quality in the wired mode too, which is rare to experience in most headphones.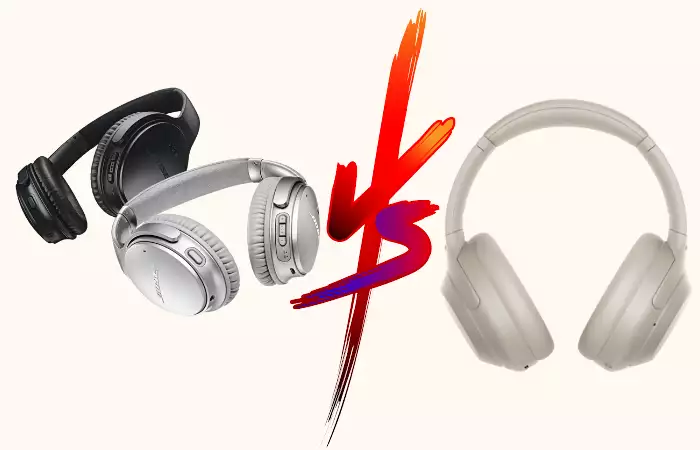 Moving on to Bose QC35, they also have a warm touch to the notes like the Sony WH-1000XM4, but this is where the similarity ends.
The bass of Bose QC35 II is quite punchy and aggressive. So, it is perfect for bass heads or anyone who loves to listen to bass-heavy genres.
Delivering impactful lows, they don't sound muddled but lack depth.
Professional or any smart listeners may notice some unevenness in the treble at the highest volumes.
Mid tones are managed fairly well to create a balance, though these headphones are not as well-balanced as they should be.
We also checked the wired sound of Bose QC35 II, and unfortunately, it sounded quite bad.
The bass was way too aggressive for normal hearing, and the mids sounded hollow. The highs just dropped abruptly into nothingness.
Now, which headphone do you think is the winner?
Well, it is undoubtedly Sony WH-1000XM4 because it sounds a lot more natural and well-balanced when compared to QC35 II's bass-heavy sound profile. Besides, the Sony's headphone sounds good in the wired mode too.
This time we will compare the noise-canceling feature of these two headphones.
Which one can take the lead over the other?
Let's discover it together.
Noise Cancellation: Bose 35 II Vs 1000XM4
When it comes to talking about ANC headphones, Bose has long been considered the gold standard.
But as time moves on, many companies have developed industry-leading noise-canceling headphones, and Sony is one of them.
Anyway, let's start with the Bose first.
The microphones inside and outside the Bose QC 35 II work efficiently to block out any disturbing background chatter.
No matter whether it's the 'whacka-whacka' of a jackhammer or 'whoosh' of wind, this Bose's headphone can eliminate everything with excellent proficiency.
Though Bose QC 35 II can attain a great amount of noise attenuation across the board, making them eligible for subway rides and flights, Sony 1000XM4 wins this head-to-head, as it can eliminate far more noises.
Speaking of Sony WH-1000XM4, I must say it is a few steps ahead of Bose's one.
Its HD Noise Canceling QN1 processor, dual Noise Sensor technology, and two feedforward microphones work combinedly to turn even the loudest sounds into subtle peeps.
To adjust ANC accordingly to the environment for maximum noise reduction, there is also an automatic Noise-Canceling Optimizer.
It can effectively block out household noises like loud TVs, fax machines, and smart cooking devices.
I can barely hear the sound of any cars whisking down the street or the sanitation trucks collecting trash on the front lawn.
Moreover, lower frequency sounds like air conditioner hums and jet engine rumbles are less likely to interfere with your listening with Sony WH 1000XM4.
While Bose's noise-canceling is so much good, Sony's one can just do exceptionally well in filtering out unwanted noises.
So, my vote for this round will definitely go to the basket of Sony WH 1000xm4.
Microphones or Call Quality: QC 35 II Vs WH 1000XM4
The built-in microphones of Bose QC 35 II can do a perfect job of blocking out ambient noise and producing clear vocals.
Whether you are at home or walking outside in windy conditions, its call quality always remains solid.
Even most callers thought that I was speaking directly into my smartphone.
They could hear me loud and clear.
On the other hand, the integrated microphone of the Sony WH-1000XM4 doesn't have the best recording quality.
So, your voice may sound thin and muffled. To be precise, according to the person I talked to, my voice sounded more harsh and cracky with this headphone.
Besides, if you are calling from a noisy environment, your voice may also be drowned out by background noise.
You already have got an idea about their battery life, but you can go through the below section for more details.
Battery Life: Bose 35 II Vs XM4
As you have seen earlier on the table, Sony Wh 1000XM4 offers 30 hours of battery life, while you will get only 20 hours of battery support from Bose QC 35 II.
So, which one sounds better? 20 or 30? The difference lies here between these two, with Sony securing the top position.
However, your experience may vary with the variations in the loudness of volume, ANC mode, and EQ settings.
Sony 1000xm4 can offer 10 hours longer battery life than the Bose's one as its battery capacity is far better than the QC 35 II.
And surprisingly, it takes almost the same time as the Bose QC 35 II to charge this high-capacity battery.
And for charging, Sony's headphone uses a USB type C charging cable, whereas the other one uses a micro USB charging cable.
If I compare the fast charging feature, Sony will be the champion once again.
1000 xm4 will provide 5 hours of playback from just 10 minutes of charging, and you will get only 2.5 hours playback time from 15 minutes of charging in the case of Bose QC 35 II.
Before buying a headphone, you also need to check its control system. It determines how handy the headphone will be.
Control System: Sony WH-1000xm4 Vs Bose QC35 II
Sony WH 1000xm4 has come with a modern touch sensor control panel with an ear-detection feature. When you take off the headphone, it will pause music automatically and resume again when placing them back.
Its touch controls are smooth and flawless, thanks to their responsive swipe and tap gestures. You can control the volume, playback, and phone calls very easily and conveniently.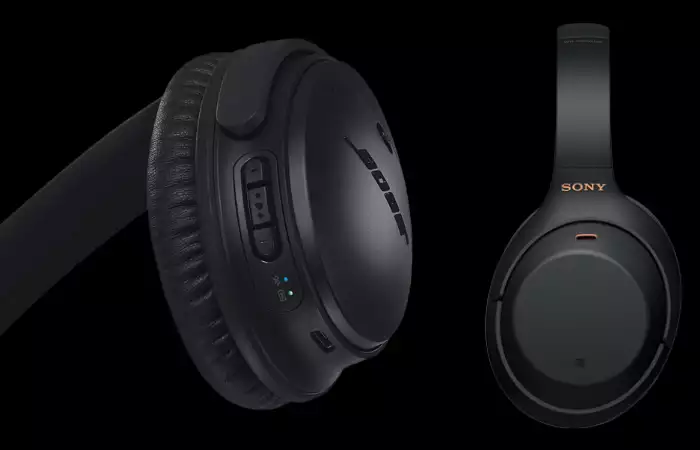 Activating the listening modes (ANC, Ambient) and digital assistant is simple, too.
You can assign specific commands using either the touch panel or the Custom button behind the left ear cup.
However, two of the notable features of this 1000xm4 headphone are Quick Attention and Speak-to-Chat. They will pause music if you place your hand over the right ear cup or speak aloud, respectively.
In contrast, unlike Sony, while not being ultramodern, the Bose QC 35 II is equipped with its series' signature control system, which you will find on the right side.
There is a power or pairing button on the ear cup that gives a strong recoil when pressed.
The volume and play/pause buttons are in the right bottom, while the left ear cup has the new dedicated Action button to activate noise-canceling modes. This button can also be customized to access Google Assistant.
The button layout on Bose 35 II makes functionality easy, but the touch controls on 1000XM4 are too impressive to overlook.
As they are wireless Bluetooth headphones and also support wired connectivity, we should examine the connection quality before finalizing a decision.
Connectivity: 35 II Vs 1000XM4
We already know that Bose QuietComfort 35 II offers Bluetooth v4.1 connectivity, whereas Sony XM4 supports stronger v5.0 Bluetooth connectivity.
Yes, there is a little difference in the Bluetooth version, but both of them have a similar working range.
If you power on the QC 35 II, it will put it automatically in pairing mode and connect instantly to your last synced device.
Both of these headphones support multi pairing which will let you connect and shift between two devices.
Anyway, it is a new addition in the case of Sony WH 1000XM4 as it was absent in their previous model.
Well, Bose's connection strength and pairing reliability are pretty good, but if I compare it with Sony, 1000xm4 will win once again.
It has more convenient multipoint connectivity as well.
Except for Bluetooth, Sony has more connectivity options such as NFC and Android Fast Pair.
All of them can connect to your smartphone seamlessly, especially NFC. It automatically enables Bluetooth on any compatible Android device and pairs the headphone.
Besides the wireless connectivity, you can also use these two headphones in wired mode with the help of a 3.5 mm jack.
Codec Support
Bose QC 35 II's codec support is only limited to SBC and AAC, whereas you can get the added benefit of Sony's proprietary LDAC along with SBC and AAC.
Therefore, Sony 1000XM4 is able to support high-quality music streaming, which is a great advantage over Bose QC 35 II.
The Bluetooth multipoint connectivity of WH-1000XM4 is only limited to AAC codec.
If you value the audio quality, you should go for Sony 1000xm4.
Each pair of headphones is equipped with its own companion app to offer multiple ways to enhance your listening experience.
Right now, I am going to compare the features of these two apps.
App Features
You can adjust the playback controls, active noise-canceling, and auto-off timer using Bose Connect app and Sony Headphones Connect app.
However, Sony's app has tons of features to offer you, unlike the Bose.
This app is loaded with sound customization options that can improve your listening experience in various ways.
You will find the options for EQ controls, Sony 360 Reality Audio setup for spatial in-ear audio, and DSEE Extreme for upscaling compressed digital music files.
Also, there are customization opportunities for features like voice assistant access, ambient sound controls, touch sensor control mapping, and speak-to-chat.
This Sony Headphone Connect app will also let you switch automatically between noise cancellation levels considering your location or activity.
Sony 1000xm4 also has a 'find my headphone' feature.
Both Sony and Bose apps are available for iOS and Android devices.
On the contrary, Bose Connect app is not even near the Sony Headphone Connect app.
It lacks an equalizer, which is a big minus.
But other unique functions are available on this app, such as Music Share. It will allow you to stream music on two pairs of Bose headphones at the same time, along with firmware updates.
By this time, you got to learn all the important comparable features of these two headphones.
So, my comparison part ends here.
Now, it's time to announce the winner.
Who Is The Winner Finally?
I guess you already have presumed the final verdict. Right?
As we saw, Sony WH-1000XM4 has won in almost all the segments except for two, which is not a big issue.
So, I wholeheartedly recommend the Sony WH-1000XM4 over the Bose QuietComfort 35 II.
Sony WH-1000XM4 is undoubtedly the better all-rounder with its super noise-canceling ability, extended battery life, and fantastic sound quality. And it has a superior app integration as well.
Though they are not relatively affordable like Bose QC 35 II, the extraordinary performance makes the Sony WH 1000xm4 headphones a value for money.
Couldn't you like either of the headphones?
Well, it can happen. Don't worry. Maybe they can't meet your needs or don't fit the budget.
In that case, you can check the following section for alternatives.
Alternative Options
Here are the alternatives to both Bose QC 35 II and Sony WH 1000XM4:
Sennheiser Momentum 3 is the headphone with outstanding audio quality, which will give you a much more neutral sound than the 1000XM4.
Besides, it has a more natural-sounding pass-through audio, along with superb noise cancellation. You can even play music on these headphones while charging over USB-C.
If you want a relatively inexpensive one, you can try Sony's another headphone, which is WH-CH710N.
This headphone is available in two colors- black and blue. It can effectively eliminate background noises using artificial intelligence.
What more you can get from this headphone is long 35 hours of battery life, instant pairing via NFC support, and many more.
Well, I have nothing more to inform you regarding this topic. Let's conclude it here.
Conclusion
After going through this comparative discussion on Bose QuietComfort 35 II vs Sony WH 1000XM4 headphones, I hope you will find the best pair.
Explore the differences deeply and then stick to the one you think can meet your need perfectly.
Have a happy time with your headphone.
Thanks for reading this article.