As you are here, I can assume that you are looking for a high-quality noise-canceling Bluetooth headphones.
How about a matchup between the Bose QuietComfort 35 II and Sony WH-1000XM2!
You have definitely picked two giants in the field of noise-canceling, but it's unlikely that you are going to buy both.
Choosing one between them is pretty confusing. Should I take this or that?
Well, keep your worries aside and pay attention to my today's discussion, which is on Bose QuietComfort 35 II vs Sony WH 1000XM2.
This is just what you were asking for. Right?
Then don't delay! Go through this write-up and make your decision.
Bose QuietComfort 35 II Vs Sony 1000XM2: Come to A Conclusion
I would like to start this comparative guide by keeping the key specs of these two headphones side by side.
I will help you get an initial idea about them.
| Features | Bose QuietComfort 35 II | Sony WH 1000XM2 |
| --- | --- | --- |
| | | |
| | | |
| | | |
| | | |
| | | |
| | 15 min charge = 2.5 hours playback. | 10 min charge = 70 min playback. |
| | | |
| | | |
| | | SBC, AAC, aptX, aptX HD, LDAC. |
| | | |
| | | |
| | | |
| | | |
| | | 7.29 x 2.92 x 9.81 inches. |
| | | |
Now let's get into the details.
When you go buying a headphone, what catches your attention at first?
I know you will say, 'its design and build.' Right?
Then, I am going to start with this.
Design & Build: Sony WH-1000XM2 Vs Bose QC35 II
Proceeding with the physical features, Sony WH 1000xm2 is a well-designed headphone with a semi-reflective plastic exterior.
The matte and textured finishing on each earcup gives it an appearance of leather-like material, which at the same time helps to maintain the overall decent look.
The headband is metal-built with a padded bottom, while the earcups are covered with faux leather.
Besides, an engraved Sony logo above each earcup contributes to its elegance even more.
However, there are some facts that I couldn't like.
When the headband is made of metal, the arms of the headphone are plastic made, as are the hinges.
Well, I don't think it will affect its build quality, though.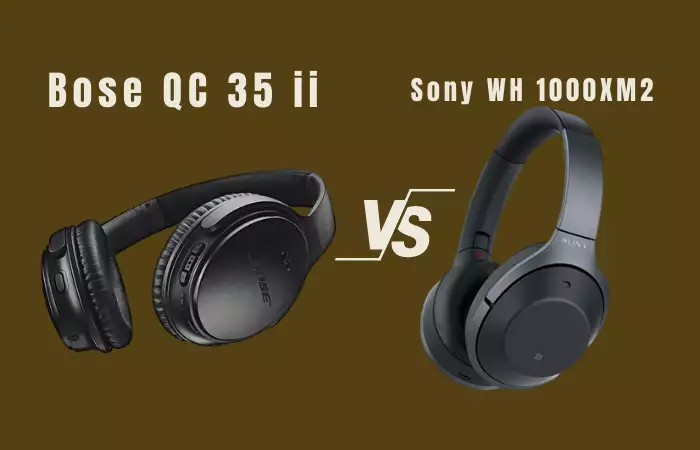 Anyway, let's take a look at the Bose QC 35 II now.
Bose has used durable glass-filled nylon plastic to make the outer covering of the headphone.
To make it sturdier, the headband is made of stainless steel, where they used soft Alcantara automotive fabric for padding, adding an extra touch of softness.
Unlike Sony's headphone, the brand logo is on top of the earcups instead of above the earcups.
Yes, there is nothing wrong with admitting that I liked it more.
However, I am confused whether plastic usage somewhat takes the premium look from this headphone or not. But again, we should keep in mind that Sony 1000xm2 is also plastic made.
Things apart, Bose used high-quality material for the earpads, and the best part of these earpads is they are replaceable.
So, what do you think? Who is the winner?
According to my judgment, it is Bose QC 35 II.
Now, what is the difference between our two competitors in terms of comfort?
You will definitely look for a comfortable headphone while purchasing a new one. That's why I am going to enlighten you with this.
Comfort & Fit: Sony WH1000xm2 Vs Bose QC35 II
Speaking of the comfortability of Sony WH1000XM2, I was able to continue my listening for a few hours without any notable issues.
The earcups are large enough to fit well even if you have big ears.
Its super soft leatherette earpads were cradling my pinna gently without putting much pressure.
However, the adjustable headband is not generously padded, but it is less fatiguing for a few hours.
As they create a good seal around the ears, it will make you sweat a bit more than usual by preventing airflow.
Hence, I suggest you not run or work out wearing this headphone, but it is totally fine for casual use. Your ears will only be warm after extended listening sessions.
When I was quite satisfied with the comfort of Sony 1000xm2, my satisfaction reached a different level after using the Bose QC 35 II.
This headphone is lighter than the Sony WH 1000XM2. It will offer a proper fit without pressing down much on your ears and head.
This lighter weight definitely makes it more comfortable than Sony 1000xm2, especially when you wear them for long periods.
Besides, the headband has enough padding, unlike Sony's headphone, and its memory foam earpads are soft and smooth enough to provide you with enhanced comfort.
On top of that, its ear cups are spacious and airy. So, neither will they touch your ears, nor will you become sweaty after a long-wearing session.
Which feature of a headphone seems the most important to you?
Undoubtedly it is the sound quality. Right?
When the sound quality is worse, what will you do with it?
So, check out this vital feature of these two headphones before finalizing any decision.
Sound Quality: Bose QC35 II Vs Sony 1000XM2
Moving onto the sound quality, Bose QC 35 II is a warm-sounding headphone with a fairly balanced sound signature.
It delivers a full and punchy bass, while the sub-bass is not pronounced. The good and fast bass extension gives the music a sense of tightness.
Besides, you can clearly hear the vocals and guitars with its full and slightly forward mids.
The highs also sounded clear, and there was no distortion even at a higher volume.
You can notice a peak on the upper treble, which helps to add more detail and clarity to the music.
However, the high frequencies may sound pretty harsh at times.
On the other hand, Sony WH 1000XM2 is a fun-sounding headphone with good details to the audio.
The bass is well controlled while also having a good punch. So, it works well with almost all music genres.
The mids are moderately forward at just the correct levels, and highs are emphasized and sound great with clarity and detail, especially on the upper registers.
Now, which headphone is going to wear the winning crown in this segment?
Well, though the sound signature of both headphones felt quite similar, if you notice carefully, you will say that Bose QC 35 II has a better balanced and neutral sound profile.
It delivers an equal amount of bass as the Sony but sounds a bit clearer with instruments and vocals. The credit goes to their better balanced mid and treble ranges.
As these two are noise-canceling headphones, now I will compare them in terms of noise cancellation.
Let's see which one can serve us better in this aspect.
Noise Cancellation: Sony 1000XM2 Vs QuietComfort 35 II
Bose has long been recognized as the gold standard for ANC headphones, but Sony didn't sit back idly either.
They didn't fall behind to show their expertise in developing leading noise-canceling headphones.
So, what is the difference between them in this case?
Well, nothing much, actually, but definitely, one is slightly better than the other.
Anyway, let's start with the Bose QC 35 II first.
The inside and outside microphones of this headphone work efficiently to block out any disturbing background chatter.
It can eliminate everything with excellent proficiency, no matter whether it's the 'wacka-wacka' of a jackhammer or the 'whoosh' of wind.
As this headphone can attain a great amount of noise attenuation across the board, it is also ideal for use on subway rides and flights.
Anyway, whatever it is, as I need to pick up one as a winner, I will pick Sony WH 1000XM2. This headphone will win this head-to-head competition for slightly better performance.
Sony 1000Xm2 has an upgraded noise cancellation system with ambient sound control, atmospheric pressure optimizing, an equalizer, and surround sound position control.
Sony introduced these added features to help you experience an advanced level of noise reduction.
Its Ambient Sound Control feature will detect your movement using the sensors on your smartphone and then switches between the noise-canceling levels accordingly.
Besides, they also provide some extra tricks that will give you additional benefits while traveling on a plane.
Its Atmospheric Pressure Optimiser can adjust the noise-canceling efficiently as per the altitude of a plane.
And when it comes to blocking out frequencies, Sony WH1000xm2 performs admirably well by eliminating exterior noise entirely. It can handle all the noise smartly and effectively in a comprehensive way.
Call Quality: Sony WH 1000XM2 Vs Bose QC35 II
While I was talking on Sony WH 1000XM2, the person on the opposite end could hear my voice loud and clear. Even they couldn't believe that I was using a headphone.
However, the fact is, I was at my home then, which is relatively much quieter.
But unfortunately, the experience will not be the same if you talk from a noisy place. The microphone will pick a fair amount of ambient noise in this case, which is a downside.
In contrast, Bose QC 35 II's built-in microphones will perfectly block ambient noise and produce clear vocals no matter where you are.
Whether I talk while being outside in windy conditions or at home, call quality always remains solid.
Most callers even thought that I was speaking directly into my smartphone.
It seems that we have got a clear winner here.
Though you already have an idea about the battery life of these two headphones, you can check out the following section for further details.
Battery Life: Sony 1000XM2 Vs Bose QuietComfort 35 II
Speaking about the battery life, you will get up to 20 hours of battery support from Bose QC 35 II, while the Sony WH 1000xm2 offers up to 30 hours of battery life with NC on.
So, here the clear winner is Sony.
However, if I consider the quick charging feature, Bose will be the champion.
As you saw earlier on the table, QC 35 II provides 2.5 hours of playback from 15 minutes of charging, whereas the 1000XM2 offers only 70 minutes from 10 minutes of charging.
Twenty hours of battery support is not that bad either.
Though it falls behind when compared to Sony's headphone, I think it makes it up with the best fast charging feature, which is really convenient at the time of necessity.
Yes, no doubt, Sony will be the champ here, but still, we cannot ignore the eligibility of Bose 35 II.
Hence, the score will vary a little.
Which one has a relatively handy control scheme? Don't you want to know that?
Then check out the following section.
Control System: Sony 1000XM2 Vs Bose QC35 II
Sony WH 1000XM2 has come with a smart touch-sensitive control system, which you will find on the right earcup.
The touchpad is very responsive to some swipe gestures, and you need to swipe it left or right for track navigation. You can control the volume of this headphone by swiping up and down, while a double-tap allows you to play and pause.
To activate your preferred voice assistant, you will need one long press.
Besides, there is a power button and NC/ambient button on the bottom of the left earcup.
On the contrary, the Bose QC 35 II is equipped with a three-button control scheme while not being ultramodern like Sony.
On the right bottom of the right earcup, there are volume up and down buttons and a play/pause button.
And you will find a power or pairing button on this same earcup.
To enable noise-canceling modes or access google assistant, you can customize the button on the left earcup.
So, which one seems more user-friendly to you?
I guess it's Bose QC 35 II.
Unfortunately, the touch-sensitive control system is not as precise as physical buttons, and it may cause a couple of accidental inputs.
Hence, my vote for this round will go to the basket of Bose QC 35 II.
Connectivity: Bose QC35 II Vs Sony WH 1000XM2
Sony WH 1000XM2 doesn't only support Sony's proprietary hi-res audio codec LDAC (only compatible with Sony, Android 8+ sources), but also it supports aptX, aptX HD, and AAC codecs that are the best for Android and Apple, respectively.
Hence, as long as your phone supports AAC and aptX, you can enjoy the highest quality Bluetooth audio on Sony WH 1000XM2.
However, if your phone doesn't have this codec support, you are going to end up with low-quality audio in the SBC codec.
Contrarily, codec support of Bose QC 35 II is only limited to SBC and AAC.
So, the 1000xm2 is able to support high-quality music streaming, which is an advantage over the Bose's one.
Both of these headphones have their own companion app to improve your listening experience.
This time I will compare the features of their compatible app.
App Feature: Bose QuietComfort 35 II Vs Sony WH-1000XM2
Sony's dedicated Headphone Connect app is packed with extra features to let you customize your listening.
You can switch between the ANC modes to set it accordingly to the changing environments and air pressure.
Besides, its all sorts of fun signal processing will let you modify how your music will sound.
Using this app, you can also set up a concert environment. Equalize your music, and give yourself the illusion of speakers in 3D space.
When I just used the standard EQ settings leaving the signal processors off, I found the Ambient sound control, ANC optimizer, and the quality preference to be very useful.
The only advancement I could think of would be the addition of an auto-off timer.
Now, let's discuss the features of Bose connect app.
Firstly, it lacks an equalizer, which is a big minus.
Well, I can talk about a unique function in this case, which is Music Share.
You can stream music simultaneously on two pairs of Bose headphones, along with firmware updates.
Therefore, from overall consideration, this last round is going to be won by Sony WH 1000XM2.
I have shown all the possible comparisons between Bose QuietComfort 35 II and Sony WH-1000XM2.
Now, it is time to announce the final winner.
Who Is The Champion Finally?
I think you already have guessed the winner. Right?
Yes! I wholeheartedly recommend Bose QC 35 II over the Sony WH 1000XM2.
QC 35 II is a better wireless headphone than 1000XM2. It is lighter weight and more comfortable with a relatively easy-to-use control system.
Bose also has a better-balanced and more neutral sound profile. While the amount of bass is equal in both headphones, the QC 35 II sounds clearer due to its well-balanced mids and trebles.
Sony 1000XM2 only has a slight edge in terms of high-quality codecs and a little bit of better ANC, which is not a big issue.
Anyway, if you are not satisfied with the performance of either headphone, I can suggest you some alternatives.
Jump to the below segments to know about that.
Alternative Options
You can go for any of the following headphones as an alternative to Bose QC 35 II and Sony WH-1000XM2.
Sennheiser PXC 550-II noise-canceling headphones have a comfortable design with 30 hours of battery life and excellent low-frequency noise cancellation.
It has a touch-sensitive control system and also supports AptX and AptX Low Latency codec support like Sony WH 1000XM2.
At the same time, you can experience a premium studio-quality sound with Shure AONIC 50 wireless noise-canceling headphones.
It is equipped with Bluetooth 5.0 wireless technology with numerous high-quality codec support.
Its ANC performance and leather-wrapped design are also very praiseworthy.
That's all for today. I am concluding this write-up here.
Conclusion
I think this comparative discussion on Bose QuietComfort 35 II vs Sony WH 1000XM2 has helped you understand the subtle differences between them.
Now, think carefully and then make your decision accordingly.
Lastly, enjoy your time with your favorite headphone.
Thank you.