Shopping for a new headphone is always an exciting experience.
However, at the same time, you may be worried that your hard-earned money will go in vain by purchasing a low-quality product.
That's why you want to do some research before making any decision. Right?
But we want you to spend less time researching and more time enjoying your music.
Bose QuietComfort 35 II and Sennheiser PXC 550 II.
Got stuck between these two noise-canceling headphones from reputed brands?
Don't worry! Just enjoy the battle named Bose QuietComfort 35 II vs Sennheiser PXC 550 II.
It'll help you make up your mind.
Bose QuietComfort 35 II Vs Sennheiser PXC 550 II Wireless
Before getting into an in-depth competition, let's try to identify the basic differences between these two headphones at a glance.
| Features | Bose QuietComfort 35 II | Sennheiser PXC 550 II |
| --- | --- | --- |
| | | |
| | | |
| | | |
| | | |
| | | |
| | | |
| | 15-minute quick charge = 2.5 hours playback. | 10-minute quick charge = 1.5 hours playback. |
| | | |
| | | SBC, aptX, aptX Low Latency, AAC. |
| | | |
| | | |
| | | |
| | | |
| | | |
Now I will go for an elaborate discussion.
When we look at a headphone, the first thing that catches our attention is its outer look. That means its build and design.
Hence I am going to start with this feature.
Build & Design: Sennheiser PXC 550-II Vs Bose QC35 II
Starting with the appearance of the Sennheiser PXC II, this headphone has come with a modern look while not being too flashy.
In fact, I think it is the design that helps it stand out from the crowd.
The oval-shaped ear cups are made of dense plastic, and the metal-reinforced headband is slightly wide.
Its padded headband is covered with synthetic leather, and the same material is used to wrap the memory foam earpads.
Anyway, it has a matte finish with leatherette tones on the headband and the circumaural earcups.
The earcups have a swiveling mechanism with farm hinges, and they can lay flat.
I also love their neat and clean Sennheiser logo at each end of the headband, which helps to keep the overall look humble and minimal.
Now let's move on to the part of Bose QC 35 II.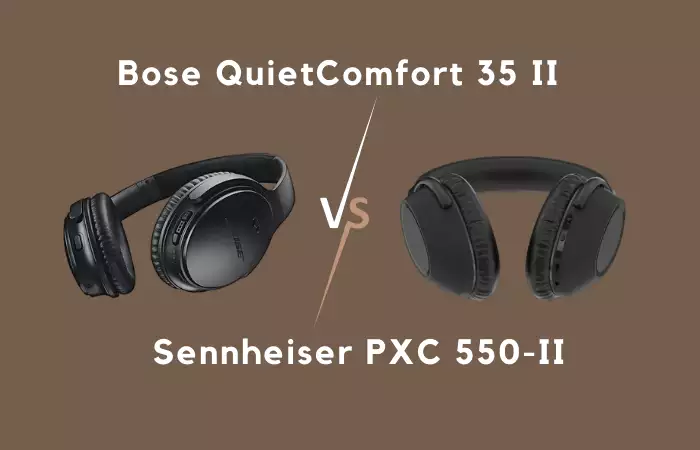 Bose used durable glass-filled nylon plastic to make the outer covering of the headphone.
For increased durability and sturdiness, they came up with a corrosion-resistant stainless steel headband. Soft Alcantara automotive fabric was used for its padding.
Besides, their earcups can lay flat like the PXC 550 II, and you can fold them into a compact format.
It also has memory foam earpads like its competitor, which are covered with soft protein leather.
Truly speaking, the only thing I like about the design of this QC 35 II is its logo placements. It is on the earcups instead of the headband end like the PXC 550 II.
This headphone is more durable than 550 II, but its design is not up to the mark to compete with Sennheiser PXC.
Though both headphones are plastic-made, I think the leather-like matte finish of the Sennheiser headphone helps maintain its premium look, whereas the QC 35 II looks a bit cheap due to the raw plasticky finish.
One wins for design while the other for build quality. So, what will be the result?
Okay, let's make justice by making it a tie.
I know you are ready to compromise with the outer look for better comfort and fit. Right?
Then let's see which one can provide more comfort to us.
Comfort & Fit: Bose QuietComfort 35 II Vs Sennheiser PXC 550 II
Speaking about the comfortability of Sennheiser 550 II, I could continue my listening for a short time without any significant issues.
Its padding was top-notch, and the padding materials for both headband and earpads felt comfortable.
The earcups were large enough to fit any ears. So, if you have big ears, don't worry about the fit.
Due to the well-cushioned headband, I didn't feel any head strain for a certain period.
However, your experience will not be the same when you use them for a more extended period.
The clamping force will be excessive with time, and you will feel tight and uncomfortable.
This is when you will notice that its headband is not that adjustable to fit any head size. In fact, it is perfect for people with small heads.
When I couldn't be satisfied with this headphone, Bose QC 35 II was able to bring a smile to my gloomy face.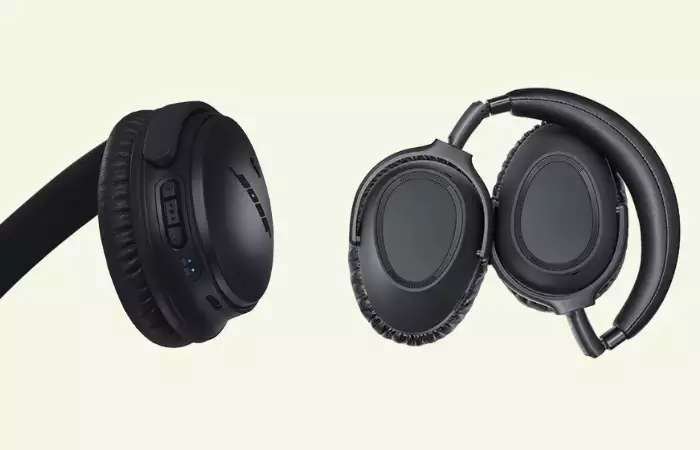 Its adjustable headband fits perfectly even on people with large heads.
It will sit in place without pressing down much on your ears and head.
Besides, the headband and earcups have sufficient padding to provide you with enhanced comfort.
Its memory foam earpads are also soft and smooth enough to let you wear them comfortably for long periods.
Another mentionable thing about this headphone is that its ear cups are spacious and airy.
Therefore, neither will they touch your ears, nor will you become sweaty after a long-wearing session.
Well, here is nothing more to explain. We have already reached our bottom line for this segment.
Why do we buy a headphone?
Most of you will answer, 'to listen to our favorite song privately in a better way.' Right?
Then what if it sounds worse!
But don't worry. Neither of the headphones sounds worse here, but there is definitely a better one. And today, I am here to help you find out that eligible one.
Sound Quality: QuietComfort 35 II Vs Sennheiser PXC 550 II
To start with the Sennheiser, its sound quality is overall good, but it seems to hesitate a bit in the mid-range and upper mid-range.
This somehow makes the vocals and vocal-like instruments sound so muddy and indefinite.
For example, if you listen to Jann Arden's Sleepless on this headphone, the congested voice will make you think that she was suffering from a cold while singing this song, but that was obviously not true.
Well, this example is just to let you know that some vocal tracks may sound this horrible on this headphone.
I think this happens due to the physical shape of the ear cups.
Anyway, the bass response is heavier and digitally enhanced, which is not bad for getting a fun listening experience.
When you compare them while listening to bass-heavy songs, the Bose will seem better to you.
Generally speaking, Sennheiser has a stronger bass sound while the effect is not very pronounced. And sometimes, this powerful touch feels very artificial to me.
On the contrary, QC 35 II's bass is more well-balanced. It doesn't give out that strong tone at all, but it lacked a little bit of presence.
After trying a few bass-heavy songs, I finally could reach a conclusion that bose QC 35 II has prioritized balance over presence, particularly when it comes to bass output.
Bose also performed well across all genres of music. Its highs were crystal clear and way more detailed than the Sennheiser.
Try listening to Anabela by Renato Braz and Paul Winter on this headphone. You will be amazed at the neutral and natural sax effect and enhanced voice clarity.
Now we can reach a conclusion. Both headphones sound better, but Bose has a much better-balanced sound profile than the other one.
That's why my vote for this round will go to the basket of Bose QC 35 II.
This time I will compare the noise-canceling features of these two headphones.
Noise Canceling: Sennheiser PXC 550 II vs Bose QC35 II
To talk about the noise canceling ability of Sennheiser PXC 550 II, its ANC feature is better than average.
If you put the ANC on the highest setting, the low-frequency noises will sound half as loud.
Obviously, I could hear the noise of construction as my apartment doors got installed, but when I powered on the ANC, it muted the sound of the drill machine to let me concentrate on writing this review.
When talking about the noise cancellation of this Sennheiser headphone, I also need to include its passive isolation.
It can attenuate the upper mid-range frequencies roughly by one-eighth as loud as you would hear in naked ears.
So, the better a headphone can isolate, the less work its ANC needs to do.
However, you must achieve a proper fit for that, which means the ear cups need to encircle your ears fully without leaving any gaps.
And I think this is why Sennheiser came up with spacious, ergonomically shaped ear cups.
Well, the experience will not be the same when you wear it in a quiet room.
This headphone will feel like an echo chamber as you will hear your own breathing.
The sound is almost like when we put on an empty shell to hear the noise of the ocean.
On the other hand, Bose QC 35 II can accomplish this task in a far better way than the Sennheiser 550 II.
With Bose on your ears, there will be absolute silence.
Whether it's the 'whoosh' of wind, disturbing background chatter, or the 'wacka-wacka' of a jackhammer, QC 35 II can eliminate everything with excellent efficiency.
That said, it can achieve a great amount of noise reduction throughout the frequency spectrum.
You can also use this noise-canceling headphone for airplane travel or subway rides.
Altogether, Bose QC 35 II is undoubtedly a gold standard for noise-canceling headphones.
So, here is the winner for you.
Microphone or Call Quality: QC 35 II Vs Sennheiser PXC 550 II
Now, what is the difference between 35 II and 550 II when it comes to microphone or call quality?
Well, both headphones are equally well equipped with excellent microphones to handle your professional and personal calls.
Bose implements a high-pass filter to its microphone to make the low frequencies sound quieter than expected.
This may seem to be a little strange to you, but it is tactical. It has been done to reduce the proximity effect.
In case you don't know what the proximity effect is, it is the bass notes being amplified too much when a speaker gets close to the microphone.
By the way, getting back to the point, once I was talking on this headphone outside in a windy condition. I was surprised when my friend from the opposite end complimented me on how well I was sounded.
The call quality remained so solid that he thought that I was speaking directly into my smartphone.
Gladly, I experienced the same while talking on Sennheiser PXC 550 II.
Though a less intense high-pass filter has been applied to this headset, unlike the QC 35 II, it can effectively transmit accurate audio without messing up with the proximity effect.
So, let's keep it fair by declaring the result a tie.
Now it's time to check out the connection quality of these two headphones.
Connectivity: Sennheiser PXC 550 II Vs Bose QC35 II
As you saw earlier in the table, QC 35 II is equipped with Bluetooth v4.1, which is backdated compared to the latest 5.0 version of PXC 550 II.
So, Sennheiser has efficient power consumption and greater transmission speed.
Bluetooth v5.0 boasts speeds of 2Mbps, which is double that of Bluetooth v4.1.
If you are a user who alternates between iOS and Android devices, you will get more benefits with the Sennheiser 550 II.
It supports a handful of Bluetooth codecs such as AAC, SBC, aptX, aptX Low Latency.
So, no matter which device you use, you can stream high-quality Bluetooth audio to this headphone.
In contrast, the codec support of Bose QC 35 II is limited only to SBC and AAC.
AAC performs inconsistently on Android devices because the operating system finds it difficult to encode the codec properly.
However, the lack of high-quality codecs doesn't mean it is a bad headphone. An average person will probably find this headphone more than great.
In fact, iPhone users can also benefit from its AAC codec support.
Besides, if you use the right device, the connection strength of QC 35 II will be consistent within the operating range.
Anyway, both of them support multipoint connectivity.
So, you can watch TV with these Bluetooth headphones while also keeping an ear on incoming calls and notifications.
Oh, I forgot to tell you that these two headsets also support wired audio through the provided audio cable for lossless playback.
Now come to the result. Who is the winner of this round?
Both are good, but one is better. Hence, it won't be right if I don't make the Sennheiser PXC 550 II the champion.
Battery Life: Bose QC 35 II Vs Sennheiser 550 II
Both of these two headphones have the same battery life of up to 20 hours with ANC on.
They use a micro USB cable to be charged, and fast charging is also available in two headphones.
However, Bose QC 35 II has better quick charging, as you saw earlier on the table.
QC 35 II can offer 150 minutes of playtime after just 15 minutes of charging, while PXC 550 II can supply 90 minutes of playtime after a 10-minute charge.
Besides, Bose's headphone takes just over two hours to charge, whereas Sennheiser's one takes three hours to charge fully.
Control System: Sennheiser PXC 550 II Vs Bose QC35 II
Sennheiser PXC 550 II uses a combination of three buttons and a touchpad for its control, and all of them are located on the right earcup.
To power on and off the headset, you just have to rotate the right earcup. That's it.
The touchpad is on top of the earcup, which is very responsive to some tap and swipe gestures.
By following those specific gestures, you can get full control on your track: play/pause, skip, forward, increasing or decreasing volume, answering or ending calls, etc.
On this same earcup, you will find Bluetooth, ANC, and a voice assistant button. The voice assistant button is also used for Bluetooth pairing.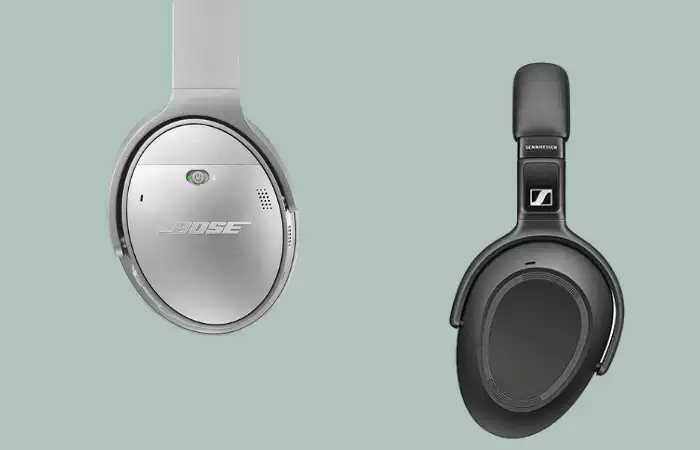 Speaking of the control of Bose QC 35 II, it is equipped with a three-button control scheme.
There is volume up (+) and down (-) buttons and a play/pause button on the bottom of the right earcup.
And here you will also find the power/Bluetooth pairing button, while there is an Action button on the left earcup.
You can customize this button either for ANC or google assistant.
Now, tell me. Which one looks more user-friendly to you?
Well, based on my experience, I will pick Bose's physical button control system instead of the smart touch-sensitive control of Sennheiser. There is a possibility that it can cause a couple of accidental inputs.
So, here I am in for Bose QC 35 II.
To provide us with a better listening experience, these two headphones have different app support.
Let's see which can serve us better in this aspect?
Software Features: Sennheiser PXC 550 II Vs Bose QuietComfort 35 II
You can toggle between three noise-canceling settings: Mode 1, Mode 2, and off with the Sennheiser PXC 550 II.
There is also an option to customize Mode 1 by assigning your preferable ANC (adaptive ANC or adaptive, anti-wind ANC) to it using the Sennheiser Smart Control app.
This app also features smart pause, call enhancement, and smart assistant preference settings.
In addition, only its Smart Control app will give you the option to make minor adjustments to the sound.
Okay, let's take a look at the features of Bose Connect app right now.
A big downside of this app is that it lacks in-app EQ and equalizer preset altogether.
However, this app will still let you find your headphone, set up the action button, and choose your preferred voice assistant.
You can only allocate one task to the Action button.
If your smartphone has a built-in Google Assistant, you can access it via the multi-function button.
Besides, switching option among the three levels of ANC (low, high, and off) is also available in this app.
Another unique function of this app is Music Share. It will let you stream music on two pairs of Bose headphones simultaneously, along with firmware updates.
Well, I called it unique as iPhones and some Samsung devices only support it, but other users will certainly enjoy this feature.
While both apps have some useful traits to offer, I am going to make Bose QC 35 II the winner for having a more pleasing and easier UI than the Sennheiser Smart Control app.
By this time, I informed you of all the possible comparisons between these two noise-canceling headphones.
You may be eagerly waiting to find out who the winner is.
Okay, I won't let you wait anymore.
Check out the below section.
Who Is The Winner?
Well, truly speaking, it would have been better if I hadn't had to pick one of them, as both of them are eligible in their own individual way.
But as there is no way to do it and I have to determine the champion, I am recommending Bose QuietComfort 35 II over the Sennheiser PXC 550 II.
You already know that this headphone has won most of the segments. It has a more balanced sound profile and better noise cancellation. And if you consider the comfort, it is also the superior one.
Anyway, you also can't go wrong with the Sennheiser headphone. If you are an operating system-agnostic listener, you will definitely find it better because of the vast high-quality codec support.
So, figure out your priority first and then decide.
However, if you still cannot decide and need alternatives, then the following segment is for you.
Alternative Options
Here are the two suitable alternatives to both Bose QC 35 II and Sennheiser PXC 550 II.
If you want to add some more to your budget, you can go for Sony WH-1000XM4. This headphone has a much better noise canceling ability than QC 35 II and PXC 550 II.
Its sound profile is not as neutral-leaning as the Bose QC 35 II, but you can customize it using Sony's Headphones Connect app. This app has more features too.
Shure AONIC 50 is another great noise-canceling headset. You can get this comfortable headphone if you want to enjoy some of the best wireless audio quality, with vast codec support and USB-C passthrough audio functionality.
I have nothing more to let you know. Let's wrap it up here.
Conclusion
Hopefully, this comparative discussion on Bose QuietComfort 35 II vs Sennheiser PXC 550-II will help you make your decision easily.
Lastly, have a happy time with your headphone.
Thank you.