The brand Sony has been ruling the headphones world for years now. And when it comes to noise-canceling headphones, they know how to grab users' trust by providing nothing but excellence.
Not long ago, when Sony WH 1000XM3 was launched in 2018, they left pretty much every other brand behind in the race.
However, after the arrival of the Sony WH 1000XM4 in 2020, the spotlight shifted to the newbie.
As a result, the older version's price was decreased, and the new model snapped a wider budget range.
Now the question is, should you splash your hard-earned money on the WH 1000XM4, or the WH 1000XM3 can satisfy you, which is in the budget-friendly range.
Hmm… Confusion! Confusion!
Well, don't give yourself a hard time deciding because today, I am here to remove your perplexity through my comparative discussion on Sony WH-1000XM3 vs WH-1000XM4.
Therefore, stay with me till the end to know who wins the competition.
Sony WH-1000XM3 Vs WH-1000XM4: Who Is The Worthy One?
If you get a quick glimpse of both of their key features side by side, you will be able to differentiate them instantly.
And that's why I arranged the table below. Hence, take a look at it, and then we will move on to the elaborate comparison.
| Features | Sony WH 1000XM3 | Sony WH 1000XM4 |
| --- | --- | --- |
| | | |
| | | |
| | | |
| | SBC, AAC, aptX, aptX HD, LDAC. | |
| | | |
| | | |
| | | |
| | | |
| | | |
| | 47 Ohms (Active), 16 Ohms (Passive). | 47 Ohms (Active), 16 Ohms (Passive). |
| | Up to 30 hours (ANC On), Up to 38 hours (ANC Off). | Up to 30 hours (ANC On), Up to 38 hours (ANC Off). |
| | | |
| | 10 mins charge = 5 hours playback. | 10 mins charge = 5 hours playback. |
| | | |
| | | |
| | | |
| | 7.31 x 2.94 x 10.44 inches. | 7.27 x 3.03 x 9.94 inches. |
| | | |
Alright, it's time to start our in-detail comparison.
First, let's talk about their design and see who is the eye candy.
Design & Build: Sony WH-1000XM3 Vs Sony WH-1000XM4
If you place both of these headphones right next to each other, you are likely to mistake one for another.
Yes, there is no difference between them in terms of look. But, you will notice the variance when you hold them in your hand. 
And the first thing is the plastics that are used around the sliders and earcups. In my opinion, XM4s feel slightly more textured and sophisticated than XM3s. Also, I feel like the XM4 has somewhat sturdier build quality.
Yet, the difference is little to ignore, and both look premium and stylish, along with the impression that they are built to last. I have been using these two for years, that's why I can assure you that they are constructed finely, and you can trust the quality.
However, from one side, WH 1000XM4 draws attention!
Any guesses??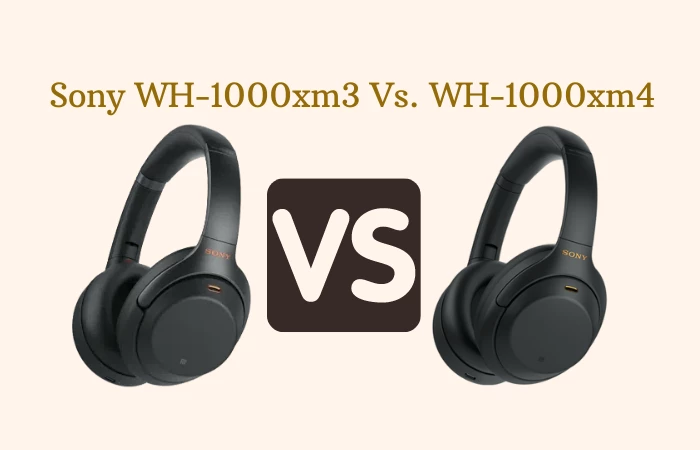 Well, it's the color variance. While XM3 has only two options (black and silver), XM4 is available in three (black, silver and blue). Personally, I like the black one a lot, which I found to be more fun & stylish.
But, of course, preference varies, and you find the blue and silver more appealing.
Anyway, there is also a slight difference in the hanger (the hinge that connects to the earcups) section.
In 1000XM4, the gap between the cups and hanger has been shrunk, which creates a more seamless appearance. And the space where the hanger connects to the earcups has been reduced to prevent sound leakage.
While talking about the earcups, the WH 1000XM4 has a thinner design, feels softer, and is a bit larger than those used on the XM3. The headband cushion is also a little bit slimmer.
Even the XM4 weighs 1 gm less than the XM3.
So, taking into account all of the slightly enhanced materials in 1000XM4, I am declaring it the winner of this section.
The design is just for soothing the eyes, but comfort is where you should focus more. I mean, who wants to keep adjusting their headphones or feel uncomfy.
Hence, you have to check the comfort feature too.
Comfort & Fit: Sony WH 1000XM3 Vs 1000XM4
1000XM4 has refined leather on the earpads and headband, giving cozy comfort for all-day listening. Sony stated that the design is updated in their latest model, where the ear cups provide a 10% larger surface for more contact with the head.
And while using it, I absolutely felt the changes. The extra room enhanced the level of comfort while offering more air to get inside, which prevents moisture buildup.
Even the texture on the earcups of XM4 has a soft-touch rubber finish, while XM3 has a plasticky feel. And that's why I found wearing the XM4 cozier and skin-friendly.
Speaking of the headband, both models have the same amount of padding. But, WH-1000XM4 has a slimmer headband. Also, it applies less pressure to the skull and ears.
Although I didn't feel any noticeable difference in their fit, one of my friends said he felt the XM4 has a more gentle fit on him.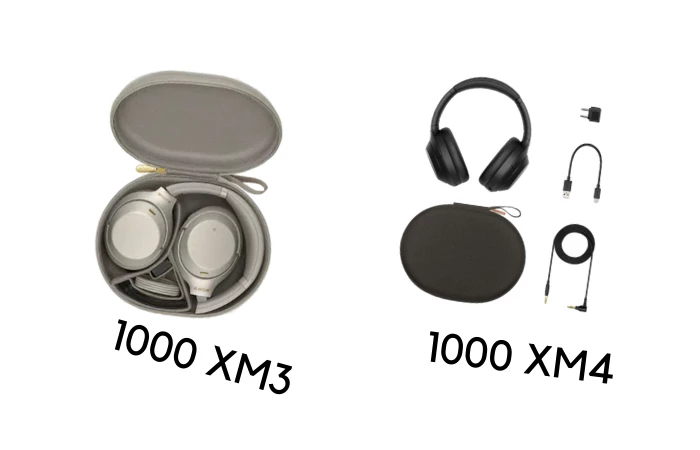 Now, which one is suitable for longer usage?
Well, they have almost similar weights, and when worn, you won't notice any variance. As they have a relatively light design, you can wear them for an extended time without feeling any fatigue.
Still, I recommend limiting the listening time to around 3 hours before fatigue starts to kick in.
Okay, considering the overall scenario, 1000XM4 is again taking the crown because of its comfier earpads and user-friendly fit.
I will now talk about one of the most prominent features of headphones.
Can you guess what it is?
In case you are thinking about sound quality, then you are absolutely right.
Let's see if XM4 will continue to win or fall behind this time!
Audio Quality: Sony 1000XM4 Vs Sony WH-1000XM3
These two models are right up your alley if loud, energetic, and clear sound is your desire.
They are equipped with Sony's 40mm dome-type drivers and QN1 chip. You will be rewarded with a wide soundstage with great detail and depth. These two deliver fantastic bass and sound quality that every casual listener is fond of.
By the way, don't worry about the loud bass because they won't damage your hearing.
Anyway, I must say that Sony has done an outstanding job balancing sound on both headsets, offering the right amount of boom so that you can hear subtle nuances in complex records.
If you listen to music with ANC mode on, it won't hamper performance either. Their mids and highs will still sound crisp.
Personally, I didn't notice any bass response difference between them. However, some users said that the WH-1000XM4 has less boosted bass than WH-1000XM3.
So, things may differ according to hearing status.
And, you know what, Sony has a solution to make up for this problem too!!
Using the Sony Headphones Connect app, you can set a custom EQ profile. So, even if you don't like the default sound profile of each one, you can change it according to your taste.
Hence, when you have such an option, there is no way you will complain about the sound quality.
As I am a bass lover, both of their audio features satisfied me. And if you are just like me, they will suit you too.
Hence, I will say that they did a great job of what they had claimed to do, and for this section, they are equal to me.
You already know that they are noise-canceling headphones that have been ruling. Yet which one is the king when it comes to kicking out the unwanted disturbances.
Okay, let's find out now.
Noise Cancelation: Sony WH-1000XM4 Vs 1000XM3
When you consider buying a pair of noise-canceling headphones, you want something that will block out almost everything. Right?
Well, Sony knows how to play this game accurately.
The noise isolation performance of XM3 is great. Their ANC system can filter out outside noise across the frequency spectrum, ranging from the low rumble of plane and bus engines to the high-pitched humming noise of AC.
However, when XM4 arrived, it started to dominate over XM3!
Yes, Sony WH-1000XM4 was built to improve the noise canceling performance, and it does the job finely. It's because Sony upgraded the noise-canceling algorithm and offered a new Bluetooth SoC to prevent more noise in the mid-range and higher frequencies.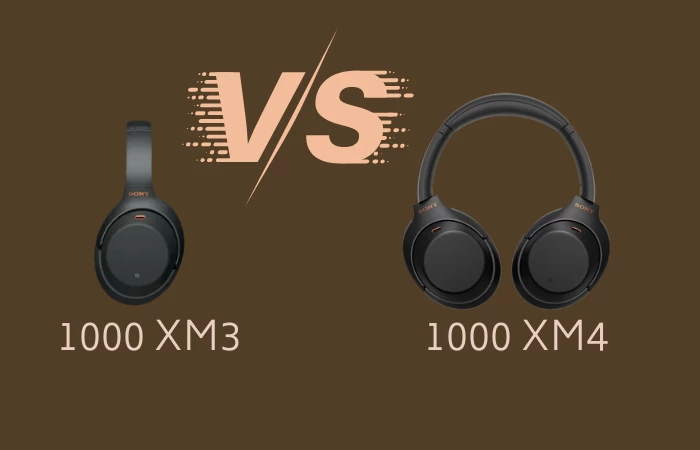 Its dual noise sensor technology and feedforwarded microphones work excellently to turn the loudest sounds into a delicate whisper.
An automatic noise canceling optimizer also adjusts ANC based on the environment for maximum noise reduction. It can effectively block out noises like constantly ringing doorbells, loud TVs, smart cooking appliances, and even barking dogs.
If you are a student and looking for ANC headphones to avoid all the disturbing noise of households, it can very much satisfy your needs.
Although XM3 is a good one, XM4 still has more grip on noise cancellation.
As you may already guess the result, my vote for this round goes to Sony WH 1000XM4.
Call Quality: Sony 1000XM3 vs 1000XM4
Before going into the details of this segment, I want to clear out something. None of these headphones are meant for those who are looking for a headset for busy calls.
Yet, of course, there is a noticeable variance between them that we need to discuss.
One of the major complaints about WH-1000XM3 headphones is that they have poor call quality. While talking with my sister over the phone, she could hear every little sound around me.
Simply, they are not good for making calls.
Sony did take this inconvenience into their account and changed the scenario with the Sony WH-1000XM4. It uses a new technology named Precise Voice Pickup to help your voice sound loud and clear to the other end.
Its microphones do a great job of reducing the ambient noise and precisely picking up your voice to deliver on the other end. So, you can trust it for zoom meetings and phone calls when you are at home.
However, if you are in noisy surroundings, don't expect that it will block every noise cause it won't.
But comparing the two models, it's certain that 1000XM4 is far better than XM3.
My next segment is about battery life. Although you got an idea about it from the table before, knowing the details is quite necessary.
Battery Life: Sony WH-1000XM4 Vs Sony 1000XM3
Everything is equal when it comes to overall battery features. Both of them last around 30 hours with ANC on and around 38 hours with ANC off. They use USB-C charging too. Approximately 3 hours are required to charge them fully.
And when you are in a hurry, a 10-minute fast charge will give you 5 hours of playtime.
Therefore, there is nothing that sets them apart. You are thinking this, right?
Well, no!!
The XM4 features Wearing Detection, which pauses the music automatically when you take them off. So, this trait may help to reduce battery drainage a lot.
But, as it's not a battery feature, I will not count this as a bonus point in this section and will give them the same score.
The control system is also an essential part that ensures the convenience of the usage.
Thus, let's find out who is more user-friendly in this regard.
Control Scheme: Sony WH 1000XM3 Vs WH 1000XM4
Sony WH-1000XM3 has smart controls, which are pretty easy to use. Swiping left and right rewinds and skips tracks, while swiping up and down controls the level of volume.
You need to tap twice for audio playback (pause or play) and call management (answer or end calls). And if you cover the touch-sensitive pad of the right earcup with your hand, the music will be turned down for instant.
Finally, the ambient button which is on the left earcup, lets you activate Aware Mode. You can also easily access the big three assistants: Siri, Alexa, and Google Assistant.
Although I like the controls, the touch sensor sometimes doesn't work perfectly. Occasionally I detected a slight delay in response, while a few times, it got extremely sensitive, causing accidental inputs from bumps and brushes.
On the other hand, WH-1000XM4 has similar touch panels and has all the control properties as XM3.
But, they come with several new features, such as a Speak-to-Chat function that pauses your music and lets the ambient sound in as soon as you start talking.
You can turn off the Speak-to-Chat function from the companion app.
It uses built-in mics and advanced signal processing which helps to recognize your voice and automatically pauses the audio.
There is also a Quick Attention trait that lets in ambient noise when you cover the right ear cup. Thus, you can be aware of your surrounding environment without pausing the music or talking.
Another plus point is what I already talked about in the previous segment, wearing detection. When you remove the headphone from the head, it pauses the music and resumes again when placed back.
Absolutely convenient, right?
So, with these added characteristics, XM4 took the spotlight again.
Connectivity: Sony WH-1000XM4 Vs Sony WH-1000XM3
Sony provides an NFC chip in each model, which lets you connect either headphone through a simple touch. Pairing is also super simple; just place the left earcup on the back of your smartphone, and it will easily detect the headphone.
As you saw previously in the table, XM3 has Bluetooth 4.2, while the XM4 is ahead in the race with Bluetooth 5.0.
Although there is a difference in the Bluetooth version, the working range is similar (10 meters). You will get a strong connection between your devices and a stable range to listen to music and take calls while roaming around the house.
Both the headphones also support wired connectivity.
Now, the deciding factor of this round is multipoint technology.
Yes, 1000XM4 again snatches the limelight as it supports multi-device connectivity missing in 1000XM3. 
I like to be connected to both my phone and laptop simultaneously. And XM4 gives me the benefit of switching audio from one device to another without any problem. 
You can also see which devices you are connected to from the Sony Headphones app.
I assume you know the result of this round, as it's obvious that XM4 is the worthy one.
Besides connectivity, codec support plays a major role too, which determines how the data will transmit from your device to the headphone.
And there is a twist in the result of the upcoming section so hurry up and find it out!
Bluetooth Codec Support: Sony 1000XM4 Vs WH-1000XM3
One of the biggest drawbacks of WH 1000XM4 is that it doesn't come with aptX codec support. It only features AAC, SBC, and Sony's proprietary LDAC.
Although the range is not bad if you compare it with other headphones in the market, XM3 has more to offer.
Apart from AAC, SBC, and LDAC, you will get the benefit of aptX and aptX HD from 1000XM3.
Hence, Android users will have a more consistent and high-quality option.
Now, determining which one is better completely depends on your needs. If you are a huge Apple user, the XM4 is your way to go.
And when you are an Android user, XM3 will give you the ultimate satisfaction because of the aptX support.
Overall, for comprehensive codec support, WH 1000XM3 gets the trophy for the first time in this battle.
App Feature: Sony 1000XM4 Vs Sony WH-1000XM3
Both of the headsets sync up with the Sony Headphones Connect app, which offers access to a bundle of features.
You can customize EQ profiles with different music presets, access Sony 360 Reality Audio, enable ambient sound control, map buttons, manage the sound position, etc.
However, WH-1000XM4 has access to a few more options. You can also adjust the auto-off timer for the "Smart-Pause" feature from the app. Also, you will be able to see which device is connected to the headphone which i mentioned previously.
Moreover, the updated app has the option of DSEE extreme for upscaling compressed digital audio files.
So, the newer model is a bit ahead this time.
By now, I have compared all the important features of these two headphones.
And now, it's time to announce the champion of the league.
Who Is The Winner?
Sony WH-1000XM3 or WH-1000XM4, who is the boss here? I think you already speculated.
There is no doubt that Sony WH-1000XM4 is a far better option.
They come up with dramatic improvements over their predecessor, WH-1000XM3. If you are looking for top-rated noise-canceling headphones with loads of amazing features, XM4 is the best of the best.
As I have personally used both these headphones and experienced the difference, I totally recommend the Sony WH-1000XM4 over the Sony WH-1000XM3.
If you like to commute, travel, or spend a lot of time in noisy surroundings, this headphone is undoubtedly become your best companion.
Although XM3 is budget-friendly, XM4 is worth every penny with all the added enhancements.
Anyway, after learning all of their characteristics, if you still don't want to opt for either one, then I have some excellent alternatives for you.
Alternative Options
Here are a few alternatives to Sony WH-1000XM3 and Sony WH-1000XM4.
While comparing Bose 700 and Sony WH 1000XM4 in terms of noise cancelation, Bose is definitely a few steps ahead. Even for call quality, you will be satisfied with Bose's performance.
Also, the Shure AONIC 50 is a fantastic headphone with broad codec support, excellent low-latency noise cancelation, and premium sound quality.
Anyway, as I am done with today's discussion, it's time to end our journey here.
Conclusion
Hopefully, this comparison between Sony WH-1000XM3 vs WH-1000XM4 will help you fix your mind on which one to opt for.
I wish only the best for you.
And lastly, thanks for staying with me till the end.