When it comes to noise-canceling headphones, Bose has long been considered the gold standard in this case.
After releasing the top-notch noise-canceling headphone QC 35 II, Bose got a massive positive response from the customers, and consequently, they introduced its successor Bose QC 45.
People may think that comparing Bose QC 35 II with the QC 45 model is quite similar to comparing apples to apples.
But this is not the true story.
Though their outer look is almost similar, there is a great difference in their features or characteristics.
And today I am here to explain every little difference between these two headphones so that you can make the right decision about which one you should buy.
Have a look here.
Bose QuietComfort 45 Headphones Vs 35 II: Know Every Subtle Difference
At first, I will present a side-by-side comparison of their key specs. It will help you get a basic conception of them.
Now see the below table in a blink.
| Features | Bose QuietComfort 35 II | Bose QuietComfort 45 |
| --- | --- | --- |
| | | |
| | | |
| | 15 min charge = 2.5 hours playback. | 15 min charge = 3 hours playback. |
| | | |
| | | |
| | | |
| | | |
| | | |
| | | |
| | | |
| | | |
| | | |
| | | |
| | | |
When you purchase a headphone, the first thing you see is the design. How great it looks or how well it is built! Right?
Then let's start our discussion with the design and build of these headphones.
Design & Build: Bose QC 35 II Vs 45
Both of these over-ear closed-back headphones are available in two different colors, as you saw earlier on the table.
The QC35 II and QC 45 share the same neat and clean, collapsible, minimalist design, keeping most of the construction and detailing intact.
Button and logo placement also remain the same as the previous version.
Instead of regular plastic, Bose has used stronger nylon plastic for the outer covering of these two headphones. Their headband is constructed with stainless steel to increase durability and sturdiness.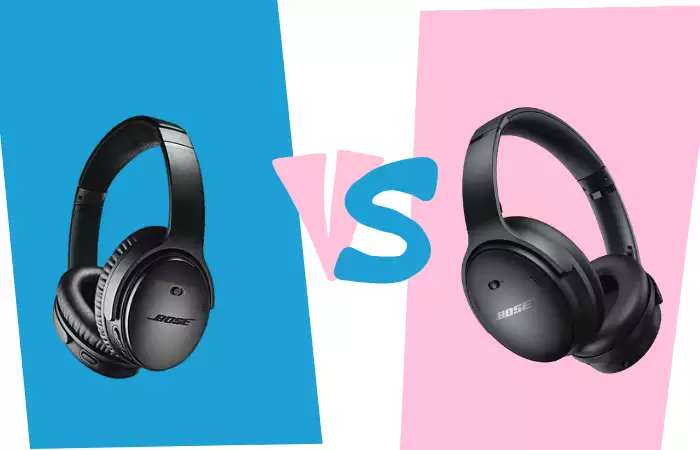 Speaking of the differences, soft Alcantara automotive fabric was used for the headband padding of QC 35 II, while they use leather instead of that material in QC 45.
Besides, the QC 45 comes with metal hinges at the swiveling point, making the headphone slightly more durable. I loved this change very much as the QC 35 II has a flimsier frame.
And you can see that the logo is no longer reflective or debossed as it is in QC 35 II. Instead, it is laser-etched, which adds a good amount of elegance to the overall look.
Another difference is they installed more microphones into the earcups of QC 45, which you can see with the multiple dimples on each side.
Bose has redesigned the ear pads on the QC 45. They have a relatively smoother finish of padding than on the previous headset.
So, the winner of our first segment is definitely the Bose QC 45.
Design is the outside look of headphones, but comfort is the feeling we experience while wearing them.
And no one wants to be in continuous discomfort. That's why you need to consider its comfort feature before the purchase.
Comfort & Fit: Bose QuietComfort 45 Vs QC 35 II
Both pairs are great in terms of comfort. Bose QuietComfort 45 is a little bit heavier, just 0.2 ounces, which is negligible.
Their lighter weight definitely has a great impact on ensuring premium comfort, but I will keep the QC 45 a bit ahead of the QC 35 II as I have to compare.
Bose QC 35 II has got a stiffly padded headband. So, you should put these headphones exactly in the right place on your head. Otherwise, you may feel a little discomfort.
On the contrary, the headband of QC 45 is nicely padded, and they even use leather for its padding instead of suede.
And while the memory foam earpads of QC 35 II are so soft and comfortable, they are strikingly better with a softer and smoother finish on QC 45.
Keeping the differences aside, both of their ear cups are pretty spacious and airy. Neither will they touch your ears, nor will you get sweaty after an extended period of wearing.
And to tell you about the fit, you can wear either headphone for lengthy stretches. You just need to adjust the extenders to the proper settings to ensure a perfect fit.
We have seen that though the fit is greatly equal for both, QC 45 is better for providing increased comfort.
So, we have a clear winner for this segment.
How does a headphone sound? Shouldn't you know it beforehand? What will you do with a gadget if it sounds worse!
Well, I can assure you that neither of them sounds bad, yet there are differences. And you should focus on your needs or priority when deciding.
Bose QuietComfort 35 II Vs Bose QuietComfort 45 Sound Quality
Some people may love Bose 35 II's warm sound profile, while others may not like it.
Well, if you are in the row of the second type of people, there is good news for you!
Bose worked on refining its sound quality on the QC 45, introducing proprietary TriPort acoustic architecture and a volume-optimized Active EQ.
It offers a better bass definition and clarity, unlike the Bose QC 35 II.
You can enjoy a great mix of dynamic, punchy lows and crispy mids, along with well-detailed highs that shine on the most tracks.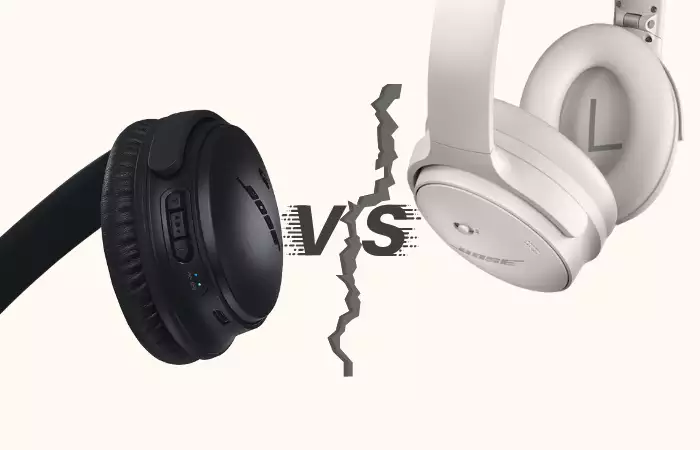 While listening to Lovely Day by Bill Withers on QC 45 headphone, I was very pleased to experience how well it handled the low notes.
It was not so overpowering but still so loud and impactful. Hence, you can enjoy the modern or latest music genres like EDM, alternative rock, and hip hop with this headphone.
Now, what about the QC 35 II?
The bass it delivers is quite punchy and aggressive. Therefore, if you are a bass head or someone who loves to listen to bass-heavy genres, this is the headphone for you.
However, remember that it comes at the cost of a less dynamic range.
While offering powerful lows, they don't sound muddled but lack depth.
Professional listeners may notice some unevenness in the treble, too, especially at the highest volume.
Mid tones are handled reasonably well to create a balance. Still, the overall sound profile is not as well-balanced as it should be.
Besides, highs are often flat or concealed on Jazz records, plus orchestral recordings may sound dull at times on this Bose QC 35 II headphone.
Considering the overall, my vote will definitely go to the basket of QC 45.
This time I will compare their noise-canceling efficiency. Let's see which one can block out the ambient noise better?
Noise Cancellation: Bose QuietComfort 45 Vs 35 II
With a smarter algorithm and more mics, the QC45 strongly attenuates the noise that nearly matches the industry-leading Bose 700.
The mic array of QC45 is a beast at eliminating low and mid frequencies. Besides, it can also reduce the high-pitched sound at the highest level possible.
Noises like loud chatter, the humming sound of an AC or engine rumble go completely unnoticed with this headphone.
Yes, baby cries and whistles may draw your attention from several feet away, but they aren't strong enough to drag your attention away from whatever is playing on your device.
In contrast, the QC 35 II can incredibly handle the surrounding noises across the frequency spectrum, even with two fewer microphones.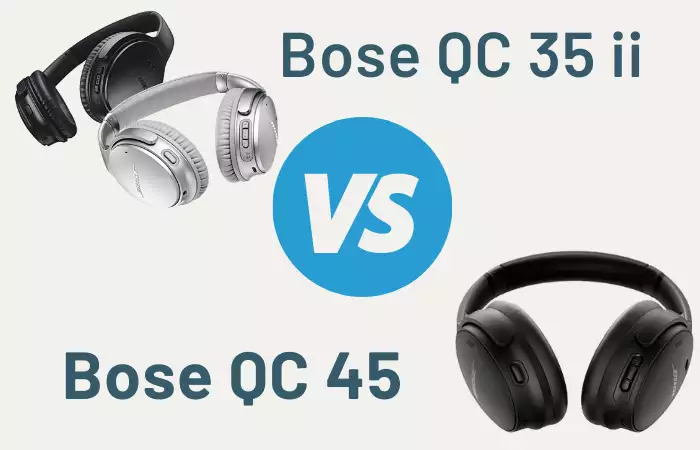 There are two levels of ANC mode (Low and High), which will let you personalize how much noise you want to block out.
This headphone can effectively eliminate disturbing background chatter.
Whether it is the loud sound of a jackhammer or the whisper of wind, everything goes inaudible with QC 35 II headphone.
You can also use them for subway rides or flights.
Well, an average listener might not notice any difference between the ANC of these two headphones, but those with detailed hearing will surely feel the differences.
High-frequency sounds can be heard a bit more on the QC 35 II, and QC 45 can eliminate far more noises than the 35 II.
So, Bose QC 45 is the winner of this head-to-head competition.
Ambient Listening Mode: Bose 35 II Vs 45
Both QC 35 II and 45 headphones have ambient listening mode, though Bose has labeled them differently on each set of headphones.
It is known as the Low Mode on the QC 35 II, which is effective for hearing surrounding environmental noises.
And it is called Aware Mode on the Bose QC 45. It performs much better than the QC 35 II's Low mode, letting in more noises that sound loud and distinctive. It helps to increase awareness of your surroundings.
This time, I will talk about the performance of their microphones. Let's find out which one can offer a better calling experience.
Microphone or Call Quality: QC 35 II Vs 45
I guarantee you that you are going to have some of the best calling experiences ever with either of these headphones.
However, as I must choose the better one, I am gonna pick up QC 35 II.
The reason behind this is it can even resist the sound of the wind. It works well in gusty conditions and eliminates any whisking effect caused by wind or speeding cars.
I got a few compliments from some callers on how crisp and clear I sounded over the phone and on video chats.
The performance of QC 45 is also much or less the same.
This headphone also produces loud and clear vocals for engaging conversations, but it struggles a lot in windy conditions.
Besides this, your voice may sound thin and dull as well.
So, the winner of this segment is Bose QC 35 II.
Battery life is a must-checking feature for wireless headphones. Though you already have an idea about it, you can check the below section for the details.
Battery Life: Bose 45 Vs QC 35 II
Bose has increased the ANC playtime up to 24 hours on QC 45 headphones, which is four hours longer than the previous Bose QC 35 II.
USB-C charging was also included for fast charging, while QC 35 II has a micro USB charging system.
I appreciate the longer battery life, but there is one drawback: you cannot disable ANC on QC 45 headphones.
That means you have to operate the headphone either in ANC or transparency mode. So, it won't allow you to preserve power.
In contrast, Bose QC 35 II offers up to 20 hours of battery life.
But your experience may vary with the ANC mode, loudness of the volume, or other settings.
One big complaint about this headphone is its micro USB charging cable which I mentioned earlier.
Anyway, both of these headphones have a fast charging feature, and it is almost the same.
You will get 3 hours of playtime from quick 15 minutes of charge on QC 45, whereas QC 35 II will offer 2.5 hours of playback time from the same amount of charge.
How Is Their Control System?
Bose QC 35 II and QC 45 both are equipped with their series' signature control scheme, which is found on the right side.
There is a power or pairing button on the right ear cup that gives a strong vibration when pressed.
You will find the volume and play/pause buttons in the right bottom, while the left ear cup has a dedicated Action button to activate noise-canceling modes.
Well, there is a little difference in this case. On QC 45, this button can no longer be assigned to another function. It is wholly reserved for activating ANC mode.
However, on QC 35 II, you can easily customize this button to access Google Assistant, Alexa, or noise cancellation.
And for this extra benefit, I will keep QC 35 II a bit ahead of QC 45.
As these headphones are wireless Bluetooth headphones and also support wired connectivity, let's see their performance in this aspect.
Connectivity: QC 45 Vs 35 II
We already know that Bluetooth v5.1 powers the QC 45 headphone, while QC 35 II is equipped with Bluetooth v4.1.
Well, as QC 45 has a better Bluetooth version, I expected a better working range.
But unfortunately, it has a less wireless range than the QC 35. The difference is very little, only 1 m short, which is negligible, I think.
However, don't think the better version of QC 45 is useless, as it can transmit eight times more data at twice the speed. So, you are getting this benefit from it.
Anyway, Bose QC 35 II is also ahead in some cases.
You can quickly pair it with devices as it has built-in NFC support. Just tap tap the back of a compatible smartphone onto the NFC logo on the right ear cup, and it will be all done.
Now, come to the similarity. Gladly, both of them support multi-pairing, allowing you to connect and shift between two devices.
Besides the wireless connectivity, you can also use either pair of headphones in wired mode using the provided 2.5-to-3.5mm cables for lossless listening.
While QC 45 has a better Bluetooth version and its extra benefit, QC 35 II also has the additional advantage of NFC.
So, considering the overall, I think the score should be tied.
Codec Support
Bose QuietComfort 35 II and 45 share the same Bluetooth codec configuration, SBC, and AAC.
So, iPhone owners can use a reliable, high-quality codec for music playback.
But unfortunately, AAC's performance is not consistent across Android hardware.
Hence, if you are an android user, you won't experience the same constant output from AAC.
However, the good news is, SBC has come quite a long way since its initiation, and now it sounds much better than before.
Well, we saw that both are equal in this round.
Both of these headphones are from Bose, but they don't use the same app to enhance the listening experience.
Isn't it surprising?
Now, I will compare their apps and the available features.
App & Features
Each headphone is compatible with a different Bose app. The QC 35 II uses the Bose Connect app, and the QC 45 works with the new Bose Music app.
These apps feature many of the same functions, including a volume slider, music player, standby timer, toggle controls, battery level indicators, and firmware updates.
You will find both of these apps on Google Play Store and Apple App Store.
The Bose Music app compatible with QC 45 comes with newer and more innovative features.
One notable feature of this app is Self-Voice.
When you enter the settings page, it will allow you to access this important calling feature. Through the function, you will be able to hear how your voice is sounding to others, and then you can adjust it accordingly to be sounded more natural.
It is very useful, especially in loud environments when taking voice or video calls.
SimpleSync is another prominent feature of QC 45.
This will let you pair the headphones to a Bose Smart Soundbar, offering the listeners independent volume controls. So, you can raise, lower, or mute sounds when watching TV.
You will get an in-app EQ on this as well.
On the other hand, Bose Connect app of Bose QC 35 II has limited features, unlike QC 45.
It doesn't even have an in-app EQ, which is a big minus.
There is a function called Music Share.
Using it, you can share music on two sets of Bose wireless headphones, along with firmware updates.
I have presented all the possible comparisons here.
Now, what do you think? Which one is going to wear the winning crown?
Who Is The Winner, Finally?
I guess you already have presumed the verdict.
I mean, isn't the answer so obvious?
Yes, I wholeheartedly recommend Bose QuietComfort 45 over the QC 35 II.
It is expensive, but its unparalleled passive isolation and top-rated noise cancellation make it one of a kind.
If you are someone who commutes by bus or train or flies a lot, you will wonder about how well the Bose QC 45 quiets all the surrounding sounds.
Regardless of which place you are in, be sure that you are getting an option to enjoy a totally silent place with this headphone.
Aren't you satisfied with either of the headphones?
Maybe they don't meet your requirements or don't match your budget.
Chill out, dear. It can happen.
In this case, I can suggest some alternatives.
Alternative Options
Here are the two alternatives to both QC 35 II and QC 45:
If you want a good alternative at an affordable price, the best option can be the wonderfully-named Panasonic RP-HD805N-T headphone.
Not only its name is a mouthful, but also they have come with a handful of features.
These headphones offer great noise-cancellation and fantastic sound profile and have a pass-through mode that will let you hear the outside world just by putting your hand to the right speaker.
Another alternative is Sony HW-1000XM4.
It is not relatively inexpensive, but it is a better all-rounder with long battery life, super noise-canceling ability, and outstanding sound quality. It has a superior app integration as well.
Well, I have nothing more to inform you. Let's wrap it up for now.
Conclusion
After going through this comparative discussion on Bose QuietComfort 35 II vs 45, hopefully, you can finally make a wise decision.
Check out the differences thoroughly, and then stick to the one which seems best to you.
Have a happy time with your headphone.
Thanks for reading this article.