One of the famous market leaders in the audio landscape, Sony isn't taking second place when it comes showing its expertise in producing top-class headphones.
And when it comes to top-rated wireless noise-canceling headphones, this renowned brand inevitably shows up on our site.
You may be stuck between these two – Sony WH-H900N and Sony WH-1000XM3.
Well, get ready as I am here to put an end to this debate.
Now get ready to enjoy the battle: Sony WH-H900N vs WH-1000XM3, and get rid of all your confusion.
Sony WH H900N Vs Sony WH 1000XM3: Go for The Best One
At the very beginning, I would prefer to give you a primary conception of their differences.
Have a look at the below table.
Features
Sony WH H900N
Sony WH 1000XM3

20 Hz to 20 kHz (Wireless) 5 Hz to 40 kHz (Wired).

4 Hz to 40 kHz (Wireless).

32 Ohms (Active).

16 Ohms (Passive).

47 Ohms (Active)

16 Ohms (Passive).

103 dB at 1 kHz (Active) 98 dB at 1 kHz (Passive).

101 dB at 1 kHz (Passive) 105 dB at 1 kHz (Active).

28 Hours (BT+ANC) 34 Hours (BT).

30 Hours (BT+ANC) 38 Hours (BT).

Max. 48 Hours (NC on)
Max. 200 Hours (NC off).

Max. 30 Hours (NC on)

Max. 200 Hours (NC off).

10 min charge = 65 minutes playback.

10 min charge = 5 hours playback.

AAC, LDAC, SBC, AptX, AptX HD.

AAC, LDAC, SBC, AptX, AptX HD.

6.9 x 4.53 x 7.88 inches.

7.31 x 2.94 x 10.44 inches.

Black, Blue, Dark Gary, Red.
Now that you got a basic idea about them, let's go for the details now.
Look at their comfort and design at first.
Design & Build
Both headphones are mainly made of hard and lightweight plastics.
However, there is not any fake plastic leather over the ear cups. Instead of that, it is a soft-touch material where your fingers can easily glide over.
With the foldable design and swiveling earcups, you can easily carry these headphones into your carrying pouch.
They have a touch sensor control system on the right earcups, and the control system is totally similar and handy.
To tell you the differences, in the case of XM3, the name of the headphone is also present near the middle of the headband from both sides, which is absent on Sony WH-H900N.
Besides, there are two wide microphones at the top of each ear cup, which gives the 1000XM3 a more premium look than the H900N.
Overall, the design of the XM3 looks more fashionable and futuristic.
Its build quality also feels superior to the other one despite being made of the same materials. It should easily withstand a few accidental drops, whereas the H900N is not that durable enough.
I always prefer comfortable headphones. No matter what you do with your headphones, you cannot continue doing that in constant discomfort. Right?
That's why comfort and fit are important.
Comfort & Fit: WH H900N Vs WH 1000XM3
Due to the lightweight, padded headband and memory foam earpads, Sony WH-H900N won't put any pressure on your skull.
It was okay to some extent, but my ears got hot when I wore them for more than two hours in a row. I think it's because of the synthetic leather.
Therefore, you can take a short break to avoid this in the middle of your extended use.
On the other hand, Sony WH 1000XM3 is 1 ounce lighter than the H900N.
Moreover, they have soft pressure-relieving earpads with larger and ergonomic ear space that maximize comfort over your ears, making them way more comfortable than the H900N.
Unlike the H900N, you can wear these Sony WH 1000XM3 for extended periods without getting fatigued. And you don't need to take any break either.
Speaking about the fit of these two headphones, both of them will fit quite perfectly on your head. You can extend the headband to get the proper fit.
The clamping force was also decent enough though I will keep the 1000XM3 a bit ahead due to its lighter weight.
Now I will talk about the sound quality of these headphones. What is the use of a headphone if it sounds worse?
Well, I can guarantee you that none of these two will sound worse, but there is a difference between the two.
And you should know that to make the right decision and choose according to your preference.
Okay, then let's go for it.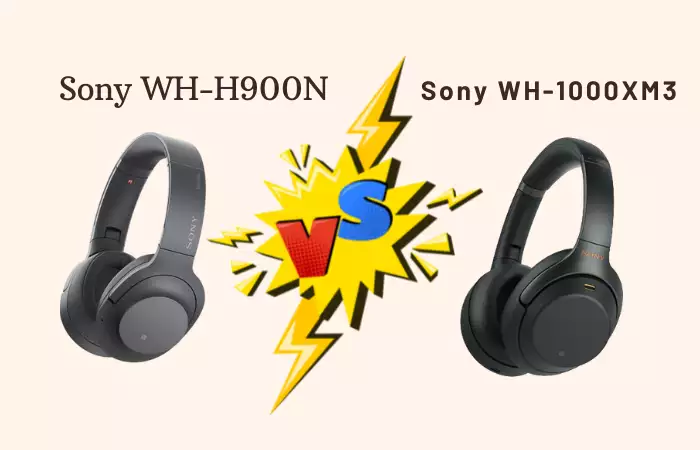 Sound Quality: Sony WH H900N Vs WH 1000XM3
Sony WH-H900N is some of the best-sounding wireless noise canceling headphones on the market.
While listening to the song Ready For The Floor by Hot Chip, I noticed that the sound was crisp and clear, and there was no distortion at all.
The low-end frequency means the bass wasn't as amplified as it was on the Sony WH 1000XM3.
So, along with the consistent bass delivery, it will offer you a well-balanced treble and mid-range as well.
However, be noted that the excellence of the frequency range is primarily determined by the type of music you are listening to.
On the contrary, Sony WH-1000XM3 brings the bass to its users. If you prefer to listen to balanced audio, the bass may seem overpowering to you.
But if you are a fan of bass music like me, try listening to the popular bass-heavy song Addicted to You (David Guetta Remix) by Avicii. You will've no other choice but to admit that this headphone is a gem in the audio world.
The WH-1000XM3 produces bass-heavy sounds, as they use their noise-canceling system to check for bass. As a result, they perform consistently in the bass range.
As the louder bass masked the high notes, the treble seemed to lack the details, making the sound a bit unclear. I enjoyed every beat to the fullest, though.
So, it is clear that Sony WH 1000XM3 is ideal for listening to music of some specific genres such as dubstep and electronica.
But gladly, there is a convenient way to make up for the people who don't like bass-heavy sound profiles.
Yes, you can personalize it according to your likings using the Sony Headphones Connect app, which offers many preset EQs.
And because of this, I couldn't make Sony WH-H900N the winner. I would rather prefer to show the result with a tie between them.
We know that Sony WH-H900N and WH-1000MX3 are noise-canceling headphones. Now, it's time to check which one can do this job better.
Active Noise Cancellation
The noise-canceling ability of the Sony WH-H900N is below average.
It can achieve about 9dB of isolation in the bass range like the rumble of airplane and bus engines, which is average.
Besides, it can decently block the sound of speech as well as the mid-range up to 11dB.
And they cancel by more than 30dB in the treble range, which is not bad.
So, overall, I can say that if you are gonna use this headphone in a largely calm environment, they can successfully draw out the surrounding noises.
However, I won't suggest you spend this much on a noise canceling headphone which cannot do its job very well.
I mean, why should I get my pocked robbed for this type of performance. Right?
So, for enjoying an incredible noise canceling performance, you should consider the Sony WH 1000XM3.
Their ANC system is outstanding in one word.
It allows them to filter out surrounding noise across the frequency spectrum, ranging from the low rumbling of bus and plane engines to the high-pitched hum of an AC unit.
Recording Quality: H900N Vs WH 1000XM3
Both headphones have come with integrated microphones. Their performance also seemed quite similar.
The recorded speech may sound relatively thin. Also, it is noticeably muffled and lacking in detail on the either headphone.
However, you can still understand the speech on Sony WH 1000XM3 headphones very well.
So, considering this, we can say that the recording quality of 1000XM3 is a bit better than the H900N.
Now I am going to discuss one of the most important features of a wireless headphone which is its battery life.
Battery Life: Sony WH 1000XM3 Vs WH H900N
Sony WH-H900N can last for maximum 28 hours on a single charge, whereas the battery life of the Sony 1000XM3 is 2 hours longer than the H900N.
Moreover, the H900N needs 6 hours to charge fully, which is totally double compared to the charging time of XM3.
If I consider the quick charging feature, Sony WH-1000XM3 wins here once again.
It will give you long 5 hours of playback just from 10 minutes of charging, but WH-H900N will support only for 1 hour for the same amount of charge.
The standby time with NC off is totally similar for both, but it will vary when the NC is on, and guess what?
Yes, you are right. XM3 is the winner in this case also.
Bluetooth Connection
Sony H900N uses Bluetooth 4.1 version, whereas the XM3 is equipped with Bluetooth 4.2.
So, 1000XM3 is a little bit better.
In addition to Bluetooth, both of them support NFC, which makes the pairing process very easy.
You can also pair them with non-NFC devices by pressing down the power button.
Be noted that they don't support multi-pairing.
Being Bluetooth headphones, they must have some latency issues where the Sony WH-1000XM3 has less latency than the other one.
So, once again, I am going to make XM3 the winner.
The comparison part between these two headphones ends here. I hope you enjoyed it.
Now it's time to announce which one is going to wear the winning crown?
Who Is The Winner?
I think you already have prepared your mind about which one you are going to buy, as the final result is pretty clear.
We have seen that the Sony WH-1000XM3 has won in all the segments except for one.
And it did not lose in that one segment but tied.
Therefore, I wholeheartedly recommend the Sony WH-1000XM3 over the Sony WH-H900N.
It has a more premium design, build quality, durability, extended battery life, better connectivity, and lower latency than the H900N.
And most importantly, 1000XM3 has the best-in-class noise canceling ability which you won't get in the WH-H900N.
Well, after going through the whole write-up, if you are not satisfied with any of their performances, you may check out the following section for alternatives.
Alternative Options
Here are the two alternative options for both Sony WH-H900N and Sony WH-1000XM3.
If you prefer to use a bit more comfortable wireless noise canceling headphones, you can go for Bose Quiet Comfort II. They have a fairly well-balanced and less-bass heavy sound profile.
Besides, you can even pair them with multiple devices simultaneously, unlike the Sony WH-H900N and WH-1000XM3.
If you have a smart budget, you can also consider another headphone from Sony, which is WH-1000XM4.
This expensive headphone comes with industry-leading noise canceling with dual noise sensor technology.
What more you can get from this headphone is 30 hours of battery life, a quick charging feature like the 1000XM3, superior call quality, and almost everything you could ask for.
I have nothing more to inform you. Let's conclude it here.
Conclusion
Hopefully, this comparative discussion on Sony WH-H900N vs WH-1000XM3 will help you a lot to remove all your confusion, and you can finally stick to the eligible one.
Have a happy time with the best one.
Thanks for reading this article.