As you are here, then I can assume that you already know that Beats by Dre develop some of the best pairs of headphones.
Beats didn't forget to show their expertise in developing Solo 3 and Studio 3 as well.
Because of their almost similar appearance, you might mistake them for the same headphone.
When the situation is like this, it is not surprising to get confused about which headphone you should go for.
But now it's time to get rid of all your confusion as I am here today to present a comparative discussion on Beats Solo 3 vs Studio 3.
It will help you finalize your decision as per your requirements.
Beats Headphones Solo 3 Vs Studio 3: Find The Superior One
Before starting the in-depth discussion, I would like to present a short overview of these two headphones to give you an initial idea about them.
Have a look below.
Features
Beats Solo 3
Beats Studio 3

Up to 22 hours (with ANC).
Up to 40 hours (without ANC).

5 minutes of charging = 3 hours of playback.

10 minutes of charging = 3 hours of playback.

Matte Black, Gloss Black, Silver, Citrus Red, Gloss White, Gold, Mickey's 90th Anniversary Edition, Rose Gold.

Matte Black, Red, White, Blue, Shadow Gray, Black-Red, Midnight Black.
Now let's dig into the details.
As design and build is the feature that catches our attention in the first place when buying a headphone, I am starting with it.
Design & Build: Beats By Dr Dre Solo 3 Vs Studio 3
Beats Solo 3 is an on-ear headphone, while Studio 3 has come with an over-ear design.
Except for this difference, there is almost no variation in their outer look. Both feature a sleek and curved look with no sharp edges.
Beats tried to keep their design clean and minimal. Most of their body parts are made with plastic with a beautiful matte finish.
Only the fold-up hinge and the skeleton of the headband are constructed with metal for increased durability.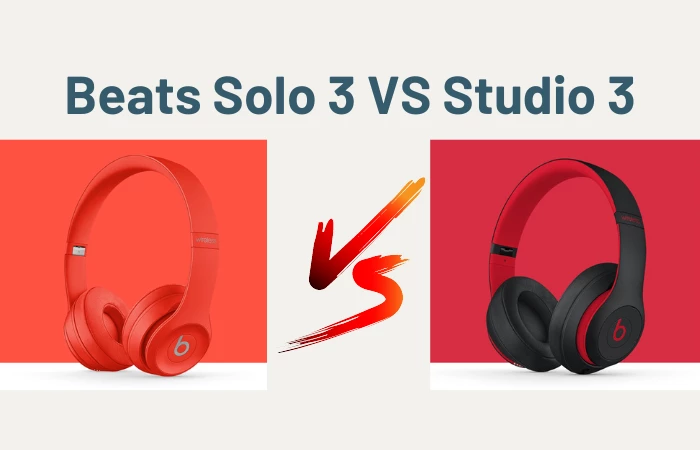 All Beats headphones have brash "b" logos on their both earcups, and these two are also not an exception to this.
The foam pads are covered with synthetic faux leather, but it is not that convenient.
While nowadays, synthetic stuff looks almost indistinguishable from the real thing, this one seems clearly plastic-based.
The plastic coating of its headband is prone to scratches, but its overall build quality feels high-end and well-made.
Besides, both models have adjustable headbands and can be folded into a compact format for easy transportation.
So, it seems that there are no significant differences between the design and build of these two.
Hence I am going to make it a tie.
We are done with the outer look. Now let's pay attention to their comfort features. Which one can offer us more comfort? What do you think?
Comfort & Fit: Beats Studio 3 Vs Beats Solo 3
Moving onto the comfort feature of Beats Studio 3, it is very comfortable.
The earcups have enough padding, and the pressure is evenly distributed around your ears.
The clamping force is decent as well, providing you with a good fit.
Yes, I can't deny that its headband is not as well-padded as the earcups, and it feels a bit rigid to me, but I can assure you that it won't be a major issue that can affect your comfortability.
I could carry on my long listening session with them without feeling much fatigue. They seemed quite okay to me.
As Studio 3 is an over-ear headphone, It has the edge over the on-ear Solo 3 in terms of comfort. It won't sit on your ears like the Solo 3. Instead, it will cover your whole ears without causing any irritating sensation.
Speaking about the Beats Solo 3, yes, this headphone is comfortable and well-padded, but still, it is not up to the mark to compete with Studio 3.
Its clamping force couldn't satisfy me that much.
Additionally, its headband won't meet the standard to let you continue the long listening period. You will feel fatigued over time.
And as for the breathability, both headphones are the same showing an average performance.
As long as you sit back idly and enjoy your music, they won't trap much heat making your ears hot, but they are not ideal for using during moderate physical activity or gym. These two headphones will make you sweat a bit more than usual during workouts.
However, if you want the best headphones for the gym, you can check out this article.
Anyway, let's conclude this part with the result.
The sound quality of a headphone is not a feature to ignore. In fact, I will say that it is the trait that you should be most concerned about.
Sound Quality: Beats Studio3 Vs Solo 3
Studio 3 and Solo 3 both offer good quality sound.
A good amount of bass is present in either model. They deliver intense thump and boom, which is well-suited for genres like EDM and hip-hop.
Well, I didn't expect anything else in terms of bass delivery of these two headphones. They wouldn't be worthy of the Beats brand if they didn't have a strong bass response, as this is what Beats is famous for.
Anyway, in the case of Solo 3, you may find the vocals and lead instruments somewhat muddy and messy due to the powerful bass.
And talking about the mids, it can be a little unclear and indefinite in both models, but this is more evident on the Solo 3.
The treble sounds bright and crystal-clear on each pair. They don't sound muddled and muffled at all.
If I consider individually, Solo 3 and Studio 3 both have good sound quality, but comparatively, Studio 3 is a better-sounding headphone.
It sounds louder and clearer than its competitor. Even if you increase the volume, the audio will still be evident and distinct in Studio 3.
So, altogether, Beats Studio 3 will be a better choice for you.
By the way, I forgot to let you know that you won't get any option to customize the sound on either headphone.
Now we will know the difference between Beats Solo and Studio 3 in terms of noise control.
Noise Control: Studio 3 Vs Solo 3
You already know that Beats Studio 3 is an active noise canceling headphone, while Solo 3 doesn't have any ANC feature.
Let's talk about Studio 3 first.
Yes, Studio 3 cannot compete with the top-rated noise-canceling headphones such as Sony WH 1000Xm3 or Bose QuietComfort 35 II, but its performance is quite decent.
They can do a greater job of cutting the mid-range sounds like ambient chatter.
So, if you cannot concentrate on your work due to the babble of your colleagues, this headphone will block out their voices pretty well.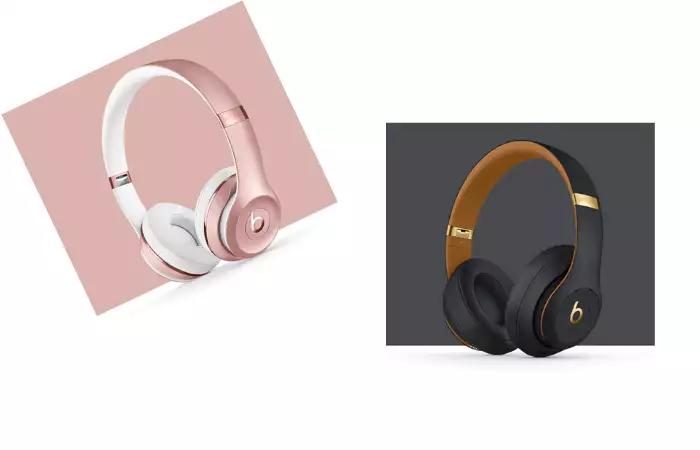 Besides, this headphone can help you concentrate on your study by eliminating the talking sound of your family member.
They can also effectively reduce the high-pitched noise like the humming sound of AC.
However, Studio 3 doesn't work well against low-frequency noises like bus or plane engines.
In contrast, Solo 3 passively isolates the ambient noise with its closed-back design.
Honestly, this headphone cannot serve you well if you are in a crowded area.
It even struggles to eliminate ambient chatter, which falls in the mid-range, let alone the bass-range noises.
Talking about the flipside, Solo 3 can only do a bit better with higher-pitched noise.
Microphone or Call Quality: Beats Studio 3 Vs Beats Solo 3
The noise handling capacity of the mic of Solo 3 is not good. In fact, it would be perfect if I entitled the microphone quality as bad.
Even if you are in a moderately loud environment, it struggles to separate your voice from surrounding noise.
And your voice will be drowned out if you attend a call in a noisy place.
On the contrary, the microphone of Studio 3 is far better than Solo 3.
Whether you have a phone conversation on a busy street or at home, the call quality will remain solid, and the person on the opposite end will hear you without any problems.
The battery life of a wireless Bluetooth headphone is an important characteristic that should be checked before the purchase.
Though you already have an idea about it, you can check the following section for more details.
Battery Life: Dre Beats Solo 3 Vs Studio 3
Both of these two headphones offer a good battery life. However, Solo 3 considerably surpasses Studio 3 in this aspect.
Solo 3 has 40 hours of battery life, whereas Studio 3 will offer you 22 hours of battery life with ANC enabled.
But if you play it, disabling the ANC, then it will support you up to 40 hours like the Solo 3.
I think, if you want to have something good, you need to compromise a little.
So, we need to remember that Studio 3 is an ANC headphone. And considering this, I cannot keep it behind the Solo 3 for less battery life.
Moreover, 22 hours of battery life is standard enough for a noise-canceling headphone.
Keeping it aside, both models feature a fast charging feature. Charge the Solo 3 for a mere 5 minutes. It will provide you with enough battery power to playback audio for 3 hours.
In contrast, Studio 3 will offer the same period of playback from 10 minutes of charging.
Finally, in my opinion, the result should be tied, considering all the points.
Now, let's have a look at their control system.
Control System: Beats Studio3 Vs Solo3
Well, the control system of Beats Studio 3 and Solo 3 is almost similar.
All the playback controls and call management options are on the left earcup.
You can click the left "b" button, and pressing it once, twice, or thrice and holding it down will accomplish different tasks.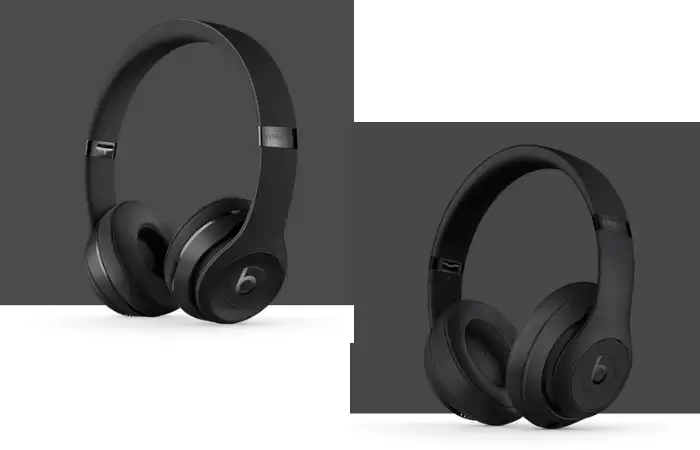 It works as a button for play/pause, skipping to the next or previous track, answering or ending calls, and activating the voice assistant.
And press the upper part of the "b" button to increase the volume and the lower part to decrease it.
To activate the ANC of Studio 3, you need to press the power button twice.
As there are no significant differences between their control system, their score should be tied for this segment.
Connectivity: Solo 3 Vs Studio 3
Beats Solo3 has a decent Bluetooth compatibility, while the performance of Studio 3 is more satisfactory in this case.
Unfortunately, neither of them supports multi-pairing or NFC pairing.
However, they have an Apple W1 chip, making it easy to pair with other iOS devices seamlessly.
On iOS and Android, you won't face much latency. It is quite okay and ignorable, but their latency is higher on PC. You may come across issues with audio and video syncing.
And speaking about the connection strength, I found Studio 3 a bit more consistent and stable than the Solo3.
Anyway, both of them support AAC and SBC Bluetooth codecs.
AAC is for high-quality streaming on iOS devices, but if you have Android, you need to use SBC streaming as AAC performs a bit inconsistently across non-iOS devices.
I have presented all the possible comparisons between Beats Solo 3 and Studio 3.
Now, what do you think? Who is the ultimate winner?
Okay, I am revealing it right away.
Who Is The Winner?
From the whole discussion, we can reach a conclusion that both headphones are good, but Studio 3 is better.
Studio 3 is an over-ear headphone that is more comfortable and has a good performing ANC feature.
It also wins when it comes to audio quality. Besides, the Studio3 has a better microphone and a more precise sound for phone calls.
So, I wholeheartedly recommend Beats Studio 3 over Beats Solo 3.
Anyway, if you are not pleased with any of them, check out the below section for a better alternative.
Alternative Options
You can go for any of the following headphones instead of Beats Studio 3 and Solo 3.
If you have enough budget, consider buying the Sony WH-1000XM4, one of the best noise-canceling headphones available in the market.
This headphone is very comfortable and comes with a neutral sound profile. However, if it doesn't match your requirements, you can personalize the sound using the Sony headphones Connect app.
On the contrary, AKG headphone maintains a great wireless audio quality over Bluetooth. It supports AptX and AAC codecs for good-quality streaming. Besides, it is a lightweight and comfortable headphone to wear for a long time.
If you want a cheaper option, this can be your ideal type of headphone.
I have nothing more to let you know. Let's end it here.
Conclusion
By this time, my discussion on Beats Solo 3 vs Studio 3 has let you understand every subtle difference between these two.
Now I hope this write-up helps you a lot to get your desired headphone.
Lastly, have a good day.