Maybe you are searching for a nice pair of headphones for everyday casual use, and you don't want to spend much.
Then it is no wonder that you have come across the names Beats Solo Pro and Solo 3.
And right now you are confused about which one to get between them. Right?
If your situation matches my word and you really got stuck on these two headphones, then don't worry.
You are exactly at the right place.
Considering their insignificant price gaps, pros-cons, and similarities and dissimilarities, I am going to present a head-to-head comparison between them.
It will help you choose which Beats headphone will be suitable for you.
So, let's enjoy the battle named Beats Solo Pro vs Solo 3.
Beats Solo Pro Vs Beats Solo 3: A Comparative Discussion
Before diving into my in-depth discussion, look at the table below to get a basic conception of them.
Features
Beats Solo Pro
Beats Solo 3

Up to 22 hours (with ANC).
Up to 40 hours (without ANC).

3 hours of playback from a 10-minute charge.

3 hours of playback from a 5-minute charge.

Matte Black, Gloss Black, Siver, Citrus Red, Gloss White, Gold, Rose Gold, Mickey's 90th-anniversary edition.

Active Noise Cancellation
Now that you have got a primary idea, let's start the detailed comparison part by part.
When shopping for a new headphone, what catches our attention at the very first?
It must be the design and build. Right?
Okay, then I am starting with it.
Design & Build: Beats Solo 3 Vs Beats Solo Pro
Starting with their physical features, both of them are on-ear headphones available in multiple colors, as you have seen earlier on the table.
Beats Solo 3 looks quite identical to the Beats Solo 3 2018 Wireless. They have come with a sleek and curved look without any sharp edges.
This headphone is mostly plastic built, yet they feel sturdy and high-end. Though its faux leather padding seems plush to me, they have a plastic coating that feels inflexible and can crack if bent.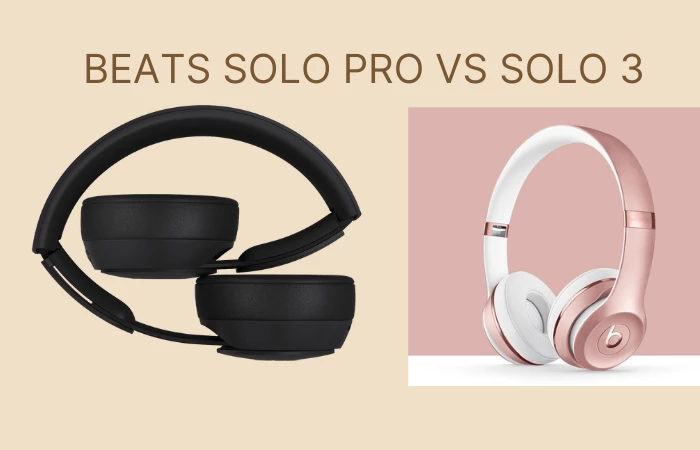 On the other hand, Beats Solo Pro headphone is very stylish-looking. It feels and looks more premium than the Solo 3 due to its metallic headband and matte finish.
This headband is wide enough, which follows the traditional Beats design. Though this headphone is on-ears, it is fairly big and looks like over-ears, particularly if you have smaller ears or head.
Except for the headband, it also has some other metallic parts in its body, such as the point where the headband and earcups meet.
Solo 3 is decent in terms of design and build quality but still not up to the mark to compete with Solo Pro.
So, the winner of the very first segment is Beats Solo Pro.
The outer look may define how beautiful the headphone is, but you need to check the comfort feature before finalizing your decision.
Beats Solo Pro Vs Solo 3 Comfort & Fit
Moving onto the comfort part, the two headphones will offer a good amount of comfort with their thick and soft padding.
Besides, you will get the right fit, thanks to their easily adjustable headbands. They have secured clamping force, which prevents them from sliding off easily upon head movement.
Talking about their breathability, both are impressively breathable due to their on-ear design. Heat cannot stay trapped under the ear cups. There is a decent amount of airflow, letting your ears breathe more than with over-ear headphones.
However, if I compare, the Beats Solo Pro is quite bulky for on-ears and appears like over-ear headphones at first glance.
It is also slightly heavier than the Solo 3, but not as heavy as some premium headphones that are mostly made of metal.
With its good weight distribution, you will barely feel the weight difference.
The earpads are also appreciably thicker, as I said earlier, but its tighter clamp affects the overall comfort level and prevents it from being as comfortable as the Solo 3 to use for an extended period.
On the other hand, you can carry on your long listening session with Solo 3 for its more relaxed and fatigue-free fit.
Portability: Solo Pro Vs Beats Solo 3
Beats Solo 3 is more portable than the Solo Pro, but the difference is not that significant.
This headphone is more compact with its typical on-ear headphones size.
It takes less space when you put it in your bag and looks a bit more discreet while wearing around your neck.
On the contrary, the Solo Pro is quite bulky for on-ear headphones, as mentioned, but they are still not as cumbersome as full-sized over-ear headphones to carry for everyday use.
Now I am going to disclose the most important feature of a headphone, which is its sound quality.
Sound Quality: Beats Solo 3 Vs Solo Pro
Despite being quite similar in appearance, these two headphones have very different sound profiles.
Starting with the Beats Solo 3, it has a more bass-heavy sound which is well-suited for genres like EDM and rap music.
Its low frequency is slightly overemphasized, resulting in punchy and boomy bass.
You will definitely love this headphone in case you are a bass head, but if you like the neutral sound, Beats Solo Pro will be your best option.
While listening to the popular bass-heavy song Coming Up by Paul McCartney, I was so impressed by how well this headphone could reproduce the low notes.
Anyway, its midrange sounds underemphasized, where lead instruments and vocals may sound a bit muddy to you.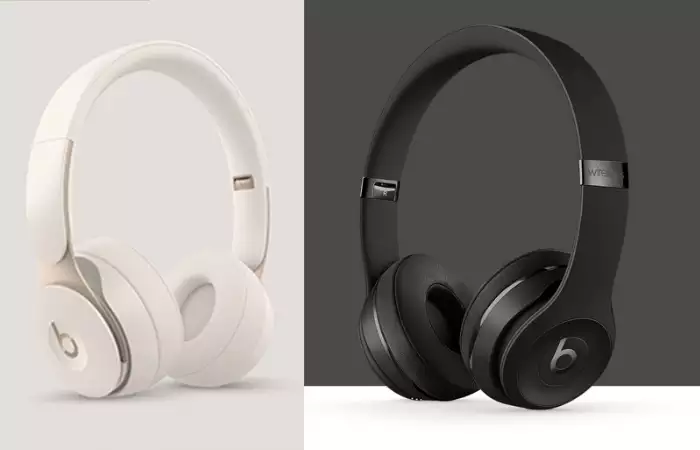 You will find the highs slightly dull but still detailed. The good thing about it is that even if you listen to tracks with high-pitched vocals and instruments, harshness and sibilance won't be an issue.
The Beats Solo Pro, on the contrary, has a pretty neutral sound profile suitable for a wide variety of music genres, including classical music.
However, it still delivers emphasized lows for what Beats headphones are well-known.
Even though the bass is a bit overpowering, it is still accurate and doesn't sound muddy at all.
If I compare the midrange between the two headphones, Beats Solo Pro is the better one. Its mids are a bit more forward and slightly more accurate than its competitor.
Talking about the highs of Solo Pro, they are crystal clear and well-detailed as well.
But they may sound harsh and piercing to you while listening to high-pitched vocals and instruments.
Noise Control: Beats Solo3 Vs Solo Pro
Beats Solo Pro has come with active noise canceling feature, whereas you won't get this facility with Solo 3 headphones. They provide passive isolation instead.
Let's see how well the ANC of Solo Pro can work against different sound frequencies.
Well, while not being so good as some of the best noise-canceling headphones like Sony WH-1000XM3 or Bose QC 35 II, it can still do significantly better in this case than the Solo 3.
This noise-canceling headphone is very efficient in blocking out voices. It can eliminate any office-related ambient noises like background chatter and the humming of AC units.
You can even study with this headphone without any disturbance as it will cut off the babble of your family members.
Besides, they can slightly block out the sound of airplane and bus engines as well.
Now come to the part of Beats Solo 3.
It can passively isolate the surrounding noise with its closed-back design. To be fair, if you are in a crowded or noisy place, this headphone cannot serve you well.
What you can do in such a situation is increasing the music volume to mask the background noise. It's not a convenient way, though.
Otherwise, it won't block out any bass-range noise like bus engines, which is frustrating while commuting with this headphone.
It also struggles to cut down ambient chatter, which falls in the mid-range.
However, Solo 3 can do a bit better with higher-pitched noise like the sound of an AC.
Microphone or Call Quality: Beats Headphone Solo Pro Vs Solo 3
Beats Solo 3 and Solo Pro are both equipped with integrated microphones, where the Solo Pro's mic has decent noise handling.
Yes, you will feel the presence of moderate noise when speaking, but your voice will still be understandable.
Even if you take a phone call in a busy street, the person on the opposite side should still be able to hear you well.
In contrast, the noise handling of Solo 3's mic is sub-par.
It struggles to separate your voice from surrounding noise, even in moderately loud environments. Your voice will be drowned out if you take a call in a noisy place.
So, we have found a clear winner for this segment.
You already have an idea about their battery life from the table, but you can check the following section for further details.
Battery Life: Beats Solo3 Vs Solo Pro
Beats Solo 3 offers 40 hours of battery life which is suitable for multi-day use. If you play it for a few hours per day, it will last for an entire week on just a single charge.
Contrarily, Beats Solo Pro also can run up to 40 hours only when both the ANC and transparency mode are disabled. However, they can last up to 22 hours when ANC is enabled, which is still good for a noise canceling headphone.
These two headphones also feature fast charging, and both of them require less than two hours to be charged fully.
Well, apparently, it seems that Beats solo 3 is better than Solo Pro in terms of battery life, but we have to keep in mind that Solo 3 is not an ANC headphone. And if you want to get something good, you need to compromise a little for that.
So, from overall consideration, I think the result should be tied here.
Control System: Beats Solo Pro Vs Beats Solo 3
Proceeding with their control system, the two are similar.
You will find all the playback control and call management options on the left earcup.
The left "b" button is clickable, and it works as play/pause and answer/end call buttons.
Press it twice to skip the track and thrice to skip to the previous one. To activate voice control, you need to press and hold down this button.
Pressing the upper part of the "b" button will increase the volume, and the lower part will decrease it.
The only difference is that Beats Solo Pro has a dedicated button on its left earcup to activate the ANC or transparency mode.
Anyway, one thing I need to mention about the Solo 3 is that the provided audio cable has a remote having the usual three-button scheme, which will allow for the basic controls in wired mode.
How Is The Connectivity?
What is the difference between them in terms of connectivity?
Well, almost nothing, actually.
Both headphones are featured with class 1 Bluetooth technology with an excellent wireless range. However, they don't support NFC or multi-device pairing.
Anyway, the pairing process is also easy and hassle-free, especially with Apple devices.
You won't experience much latency with iOS and Android devices, but the latency is somewhat high on PC.
One additional benefit you will get from Solo 3 is that they also support wired mode along with Bluetooth connectivity.
A 3.5mm audio cable is provided with this headphone which will let you switch to wired mode if you want to enjoy no latency connection or when the battery is low.
However, you can use the Solo Pro in wired mode, but you need to purchase a Lightning to 3.5 mm audio cable for that.
Well, I couldn't declare any winner for this round. Let's do justice by announcing a tie between them.
Bluetooth Chip: Beats Solo 3 Vs Solo Pro
You already know that Beats Solo Pro has the H1 chip, and you will get a lot of advantages from it. You can quickly connect to all your iCloud devices and switch smoothly between different devices.
On top of that, the chip also ensures the headphones last longer and offers a better sound when connected to an iOS device.
The Solo 3 also has a chip named W1, which is the predecessor of the H1 chip. It actually accomplishes the same tasks as the H1 chip, but H1 does all the things in a better way.
For example, access to Siri is available with both chips, but you can summon Siri just by addressing 'Hey Siri' with the H1 chip. You don't need to press any button first.
So, my vote for this round is going to the basket of Beats Solo Pro.
I have shown all the possible comparisons between Beats Solo pro and Solo 3. Now it's time to announce the ultimate winner.
Who Is The Winner?
By this time, we have seen that Beats Solo Pro is the winner of the maximum segments except for the tied ones.
So, I wholeheartedly recommend Beats Solo Pro over the Beats Solo 3.
This headphone offers better sound, more features, and a more durable build.
Moreover, with their better isolation and ANC, Solo Pros are more suitable for blocking out the ambient noises in a crowded area.
It is also featured with the newer Apple H1 chip that offers you a more reliable wireless connection.
Okay, I have completed my task by declaring the final winner. Now, if you are still confused and cannot be satisfied with any of them, then the next section is for you.
Alternative Options
You can consider trying any of the following headphones as an alternative to Beats Solo Pro and Solo 3.
If you don't have any headaches with the budget, you can buy Sony WH 1000XM4. It is one of the best noise-canceling headphones available in the market.
It will provide you with better comfort and let you enjoy a neutral sound profile. And if a neutral sound profile doesn't go with your likings, you can customize it using Sony's Headphones Connect app.
At the same time, Beats Studio 3 is a high-performance wireless noise canceling headphone which will work great both on iOS and Android.
You can enjoy a premium listening experience with 22 hours of battery support with this Beats headphone.
So, this was the complete guide for you. Let's wrap it up here.
Conclusion
Hopefully, this write-up on Beats Solo Pro vs Solo 3 will help you realize the differences between them and make the right decision.