Comparing Beats Studio 3 with Apple Airpods Pro may seem like comparing an elephant with an ant, which is truly weird.
However, sometimes weird things are most interesting. Don't you agree?
Well, for the time being, you don't know whether you need an elephant or an ant?
Sometimes, an ant can accomplish such tasks that an elephant cannot even imagine.
Hence, don't underestimate the power of a little thing and get ready to enjoy this funny battle: Apple Airpods Pro vs Beats Studio 3.
It will help you understand your needs and go ahead as per your requirements.
Beats Studio 3 Wireless Vs Apple AirPods Pro: No More Confusion
At the start, I would like to give a short overview of these two earpieces. Look at the below table for an initial concept about them.
| Features | Apple AirPods Pro | Beats Studio 3 |
| --- | --- | --- |
| | | |
| | | |
| | 4.5 hours (ANC on), 24 hours (with charging case). | 22 hours (with ANC), 40 hours (without ANC). |
| | | |
| | 5 minutes of charging = 1 hour of playback. | 10 minutes of charging = 3 hours of playback. |
| | | |
| | | |
| | | |
| | | |
| | | Matte Black, Red, White, Blue, Shadow Gray, Black-Red, Midnight Black. |
| | 0.19 ounces (each earbud). | |
| | 1.22 x 0.86 x 0.94 inches. | |
| | | |
Now that you have a primary idea about them let's get into the detailed comparison.
Firstly, I am going to enlighten you with their design and build.
Design & Build: AirPods Pro Vs Beats Studio 3
Starting with the physical structure, Apple AirPods Pro features almost the same sleek and minimal design as the original AirPods, but it does have a polarizing kitschy retro-modern aesthetic.
The stems are now shorter and have a small notch cut into them. Squeezing this certain part, you will discover an embedded force sensor for necessary controls.
Its head is wider than the previous buds and holds two black mic vents.
At the top of the stem, you will see another vent hiding another microphone. There is a slim, glossy chrome circle at the bottom.
A new and notable addition will be found, which is a silicone ear tip at the end of the bud that enters your ear. It gives the bud a premium look and feel.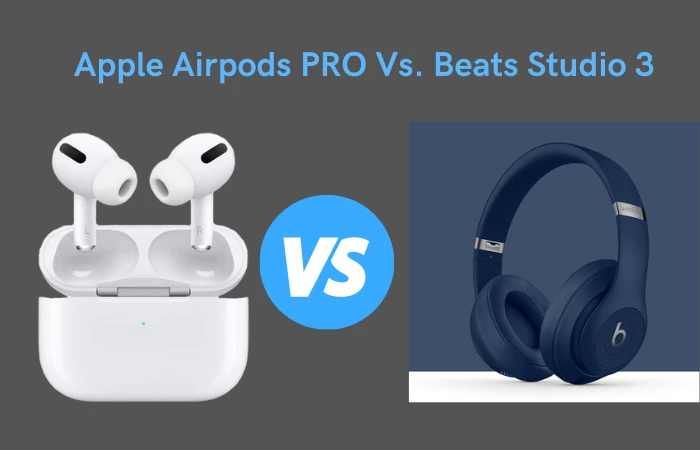 As for the build quality, the earbuds are made of high-quality plastic and should be able to survive a couple of accidental drops. Besides, they have an IPX4 water-resistance rating to protect against water splashes.
Well, comparing these tiny earbuds with bulky over-ear headphones is kinda weird.
However, Beats Studio 3 came up with a sleek and curved look with no sharp edges.
Most of their body parts are plastic made with a beautiful matte finish. Only the fold-up hinge and the frame of the headband are metal built for increased durability.
Synthetic faux leather is used for covering the foam pads. Though synthetic stuff looks almost indistinguishable from the real thing nowadays, this one seems clearly plastic-based.
Besides, the plastic coating of the headband is prone to scratches.
So, considering the overall, I will keep the Airpods Pro a few steps ahead of the Beats Studio 3.
Comfort is an important feature that you should not ignore while purchasing a new headphone or earbuds.
After all, you cannot carry on doing anything with continuous discomfort.
Comfort & Fit: Pro Vs Beats Studio 3
AirPod Pro has been developed with an innovative vent system. Apple claims that it is to equalize the pressure within the ears to minimize discomfort.
Well, I also agree with the statement of Apple.
They are comfortable in-ear headphones and don't go much deeper into your ear canals. These lightweight in-ears are designed in such a way that you will feel like nothing is in your ears.
Breathability is also good, and they won't trap any heat into your ear like most in-ears.
You can even carry on your workout with these true wireless earbuds without sweating more than usual. And don't worry about the sweat either, as they are IPX4 rated.
Speaking about the fit, AirPods Pro has come with 3 pairs of silicone eartips of different sizes to offer you the best possible fit. The tips have been designed to conform to the contours of each individual ear.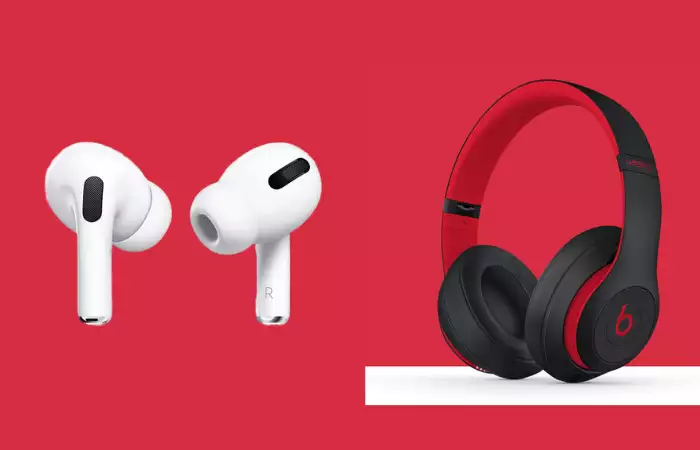 Even its medium-sized tips perfectly match my friend Jhon's ears, who has tiny ear canals.
Beats Studio 3 is also a comfortable headphone with enough padding on its earcups.
The headband is not so well-padded as the earcups. Though it feels a bit rigid to me, it won't affect your comfortability that much.
The pressure is evenly distributed, and the clamping force is decent as well.
You can continue your extended listening session without any fatigue.
Well, whatever it is, a bulky over-ear headphone cannot compete with a tiny pair of in-ears in terms of comfort, at least.
Who would like to bear that extra burden on the head? Right?
So, here we have got a clear winner.
Difference Between Their Portability
When it comes to picking one of them based on portability, it is actually a kind of no-brainer choice.
Obviously, those tiny pieces of earbuds are way more portable than the heavy over-ears.
Though you can fold the Beats Studio 3 into a compact format, it is not anything near around the AirPods Pro.
So, AirPods Pro is going to win one more time.
Sound Quality: Beats Studio 3 Vs AirPods Pro
Apple has followed the same path as with its other products in developing AirPods Pro. It always favors clarity and neutral tonal balance rather than lots of weighty basses.
AirPods Pro is also not an exception, which makes it perfect for listening to classical music.
You won't find tons of bass here, but that doesn't mean it sounds lightweight. The bass is just more balanced and well-controlled.
Mid-range is where these earbuds shine the most. There is a notable emphasis on the vocals with plenty of texture and details.
The treble has good sparkles too, but without any hints of brightness sneaking in.
So, altogether you will get to enjoy a pure, crystal-clear, distortion-free immersive sound with these AirPods Pro.
On the other hand, Beats Studio 3 features a bass-heavy sound profile. They deliver intense thump and rumble, making them ideal for genres like EDM and rap music.
Well, I didn't expect anything either, as the strong bass response is the key feature of a Beats headphone.
The mids may sound a little unclear and indefinite in this model. And the treble is weak, which lacks depth and results in some mixes sounding muddy and muffled.
So, my vote for this round will go to the basket of Apple AirPods Pro.
Both of these earpieces are noise-canceling. Let's see which one can accomplish this task in a better way.
Noise Canceling Ability: Beats Studio 3 Or AirPods Pro
Moving onto the noise cancellation of AirPods Pro, these are some of the best noise-canceling true wireless earbuds available on the market. Yes, they won't perform like Sony WF 1000XM4, but they still do a better job in this aspect.
With AirPods Pro on in your ears, the bass range sounds such as the low rumble of bus or plane engines will go completely inaudible.
They also work well against midrange sounds like ambient chatter by making it sound half as loud as they would sound without any ANC.
Their performance in the treble range is relatively weaker. However, they can still efficiently block those noises quite well.
In a word, Apple AirPods Pro silents your surrounding in such a way that you can even use them as sleep earbuds.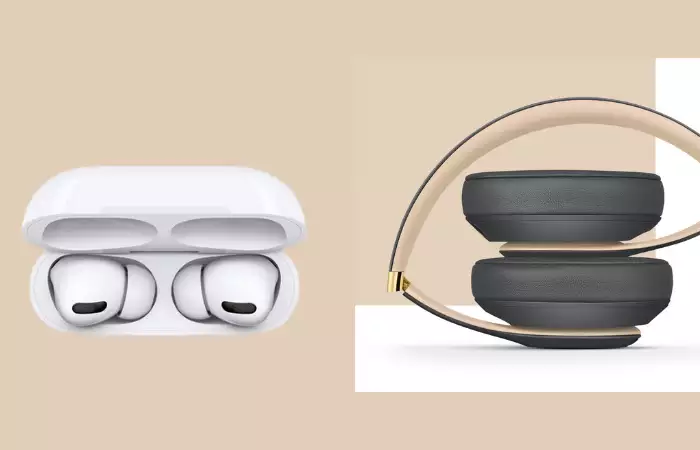 Now come to the part of Studio 3.
To be fair, its performance is not so good to compete with AirPods Pro.
If you cannot work attentively in your office due to the babble of your colleagues, you can use this headphone to block out their voices.
You can also suggest it to your siblings to use while studying as it performs well against mid-range noises.
Besides, this ANC headphone can reduce the high-pitched noises like the humming sound of AC, but they cannot do anything against the low-frequency sounds.
How Is The Microphone or Call Quality?
First, let's talk about Beats Studio 3.
Its microphone is quite good. Whether you carry on your conversation on a busy street or at home, the call quality always remains solid and stable.
The person you are talking to will always hear you loud and clear.
In contrast, AirPods Pro also has a really good microphone for picking up human voices.
We know that most frequencies in the human voice range from 100Hz and 3000Hz. And the AirPods Pro does not necessarily over-emphasize or de-emphasize any part of that frequency range.
However, there will still be some variations here and there as they are not perfectly neutral. But you won't face any issues for the most part while talking with these.
Yeah, this will be the very first segment where Beats Studio 3 will not lose. Let's do justice by making it a tie.
This time I will compare their battery life.
You should check the battery life of a Bluetooth headphone before finalizing the deal. Don't you want to know whether it can meet your need or not?
Battery Life: AirPods Pro Vs Beats Studio 3
Apple AirPods Pro offers 28.5 hours of battery life in total, up to 4.5 hours with the buds and 24 hours with the charging case.
Contrarily, Beats Studio 3 will provide battery support for 22 hours with ANC on. If you turn off the ANC, you can extend it up to 40 hours.
Well, there is a huge difference in their battery life, while two of them take the same time to be recharged.
The quick charging feature of Beats Studio 3 is also better than the AirPods Pro. Charge it for mere 10 minutes and get another 3 hours of playback.
At the same time, charging the AirPods Pro for 5 minutes will offer you 1 hour of playback.
Here we have found a clear winner, and for the first time, it is Beats Studio 3.
Now, let's pay attention to their control system.
How Is The Control System?
The control scheme of AirPods Pro is very straightforward and handy, and they even work on Android devices.
Each stem of these earbuds has an intended force sensor that supports different gestures, but they don't provide any tactile feedback.
Pressing the force sensor for different times will accomplish different tasks like play/pause, answer/end calls, skip back and forward, activate ANC, or transparency mode.
You won't find any physical volume control on AirPods Pro, but you can request Siri to increase or decrease the volume. You can also personalize the "Press and Hold" command if you want the voice assistant control instead of ANC.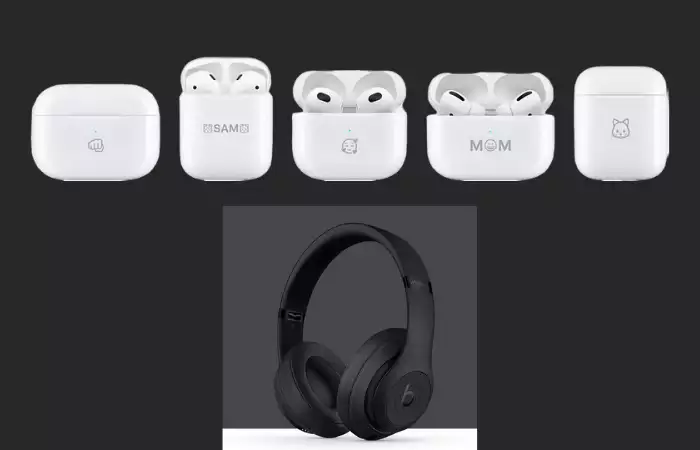 Talking about the Beats Studio 3, its left earcup has all the playback controls and call management options.
The left "b" button is clickable, and you have to press it in a different way to perform various functions.
For increasing or decreasing the volume, press the upper and lower part of the "b" button, respectively.
And to activate the ANC of Beats Studio 3, press the power button twice.
Though their control system is quite different, both of them are good in their own individual way.
Hence, there should be a tie between them.
Connectivity: Pro Vs Beats Studio 3
Both of these earpieces are integrated with class 1 Bluetooth technology. You can use them on both iOS and Android devices.
The connection quality is stable and consistent in both AirPods Pro and Studio 3. I could enjoy music with almost no dropouts.
Apart from this similarity, there is a significant difference between these two.
As I mentioned earlier in the table, Apple AirPods Pro has the H1 chip, from which you will get a lot of benefits.
You can easily connect to all your iCloud devices and switch smoothly between them. The chip also ensures the earbuds last longer and offers a better sound when connected to an iPhone.
In contrast, Beats Studio 3 has the W1 chip, which is the predecessor of the H1. It actually completes the same tasks as the H1, but the H1 chip does all the things in a better way.
So, the winner is once again the Apple Airpods Pro.
By this time, I have shown all the possible comparisons between AirPods Pro and Studio 3.
Now it's time to announce the winner.
Who Is The Winner?
I think you already have guessed about the winner. Right?
As AirPods Pro wins in most rounds, I wholeheartedly recommend Apple AirPods Pro over the Beats Studio 3.
These earbuds are well-built with better design and enhanced comfort. Its sound quality is also more praiseworthy, and not to mention the top-rated noise cancellation.
Moreover, its H1 Bluetooth chip ensures seamless connectivity with the fewest interruptions.
So, you can go for the cute little AirPods Pro without taking the extra hassle of bulky Studio 3.
By the way, if you cannot be satisfied with any of them, my following section is for you.
Alternative Options
You can consider buying any of the following options as an alternative.
Bose QuietComfort is a pair of comfortable earbuds that features effective noise-canceling, high-fidelity audio, and long battery life. These earbuds are also IPX4 rated like AirPods Pro to withstand sweat, water splashes, and some inclement weather.
If you have that luxury to splash some extra cash, you can go for Sony WH-1000XM4. It is a better alternative to Studio 3. It has a class-leading noise-canceling feature with a much more accurate sound signature than the Studio 3.
Conclusion
I hope this comparative discussion on Apple AirPods Pro vs Beats Studio 3 will help you a lot in your decision-making.
First, try to figure out your requirements and then go for your desired one accordingly.
Lastly, have a good day.