Bose is renowned for producing great-sounding headphones.
Though most of its headphones seem to get a quite similar look, they differ slightly or sometimes a lot in functionality.
For example, we can talk about Bose Soundlink and QuietComfort 35 II. As their look is pretty identical, you might have got confused about which one to get.
That's why today, I will present a comparative discussion on Bose Soundlink vs QuietComfort 35 II to let you know every subtle difference between them.
Go ahead to know which headphone has advantages over the other, and then decide for yourself.
Bose Soundlink Around-Ear Wireless Headphones II Vs QC35 II
At first, I would like to give a short overview of these two headphones. This side-by-side comparison will help you have a basic idea about them.
| Features | Bose Soundlink Headphones II | Bose QuietComfort 35 II |
| --- | --- | --- |
| | | |
| | | |
| | | |
| | 15-minute quick charge = 2 hours playtime. | 15-minute quick charge = 2.5 hours playback. |
| | | |
| | | |
| | | |
| | | |
| | | |
| | | |
| | | |
| | | |
Now let's go for the detailed comparison.
When we judge a headphone, the first thing that catches our attention is its design and build.
So, how about starting with that?
Design & Build: Bose Soundlink 2 Vs QuietComfort 35 2
Both Soundlink Wireless II and QC35 II are over-ear headphones with a padded headband, adjustable sides, and leather earcups.
Bose QC 35 II is available in two different colors. They wanted to keep it simple and minimalist.
Soundlink Wireless II also has two color variations, but the black one comes with blue highlights, and the white one has tan highlights on its body.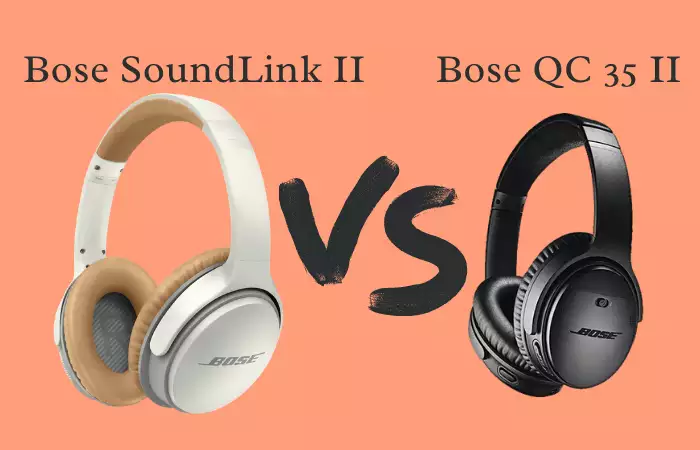 While the SoundLink Wireless Headphones II doesn't look so sturdy as the Bose QC 35 II, Bose claims that this model was built to survive accidental drops, bumps, and grabs.
Bose used durable glass-filled nylon for the outer covering of the two headphones. Their headband is built with corrosion-resistant stainless steel for increased durability and sturdiness.
The only difference in their design is that the foldability of ear cups is available only in 35 II. Its ear cups lay flat and can be folded into a compact format, whereas the cups of Soundlink II lay flat only.
So, my vote for this first segment is going to the basket of QC 35 II.
After judging their outer look, now it's time to compare their comfort feature.
Comfort is what you will feel while wearing them. So, it is important to carry on anything you do by wearing these headphones.
Comfort & Fit: Bose Soundlink II Vs QuietComfort 35 II
So, what are the differences between these headphones when it comes to comfort and fit?
Well, there is nothing much actually.
They are super comfortable with a good amount of padding on their earcups.
The clamping force is also very standard in both headphones. They will provide you with a proper fit without pressing down much on your ears and head.
Therefore, you can listen to music all day long without any discomfort.
Well, speaking about the dissimilarity, the QC 35 II is slightly heavier, but it doesn't have any significant impact on the comfort level.
In fact, both of them felt somewhat light on my head, and I faced no problem either.
Hence, the score is going to be tied for this segment.
Right now I will discuss one of the most important features of a headphone.
Yes, you guessed it right.
It's their sound quality.
Sound Quality: Bose Soundlink Headphones Vs QC35 II
The Bose Soundlink II will offer you a warm sound with well-balanced lows, mids, and highs, whereas the QC 35 II comes with a bass-heavy sound profile.
Let's compare the notes part by part.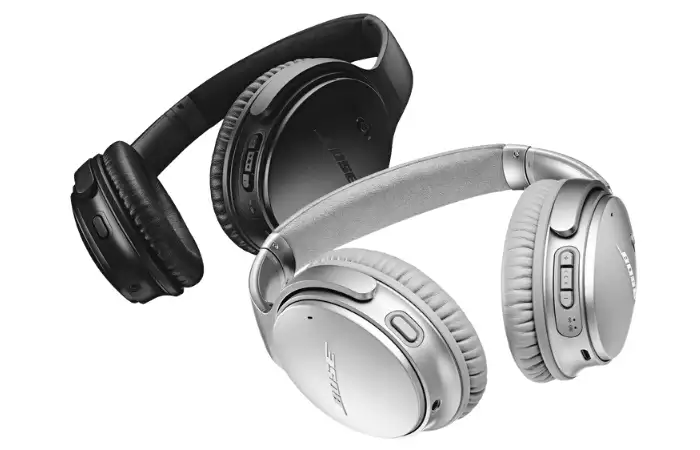 Lows
Bose QC 35 II does quite well with lows when you listen to songs like Lovely Day by Bill Withers, but it cannot do enough justice to the overpowering bass.
While listening to Sail by AWOLNATION, I could notice some weird rattle. However, you won't face this issue while listening by keeping the volume low. You have to increase the volume to figure it out.
On the other hand, you need to lower your expectations with the Soundlink Wireless Headphones II in case you are a bass head.
However, if you choose the happy media option, this will do fine for you. For example, try listening to Comfortably Numb by Pink Floyd on this headphone. You will feel like the sound is coming from a subwoofer somewhere in the room behind you.
Mids
Mids is the strength of a Bose headphone which you will get from the QC 35 II. Vocals and instruments like strings sound gorgeous. Nothing will get lost in the mix, and you won't notice any muddiness at all.
SoundLink II doesn't perform as good as the QC35 II, but it is considered one of the best. While listening to Damned's I Just Can't Be Happy Today, I was so impressed by how the vocals go smoothly with the keys. You won't easily find this feat in some other headphones.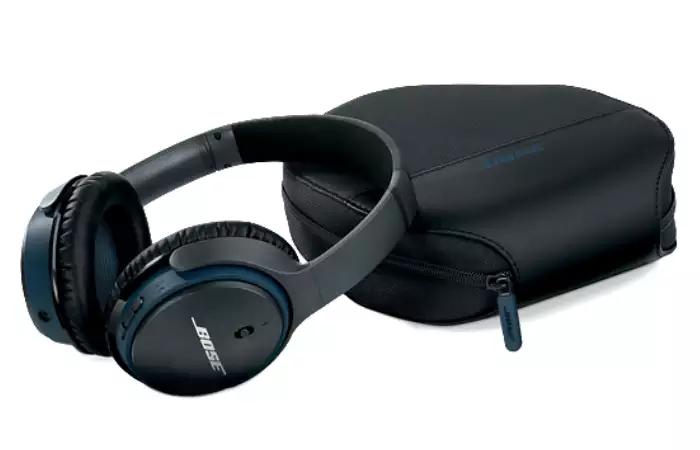 Highs
Highs sound pretty well with the QC35 II, and you won't find any harshness even at maximum volume.
The performance of Soundlink Wireless Headphones is totally the same in this case. There was some roll-off from the Active EQ, but they don't sound too artificial.
So, considering the overall, it seems that the Bose Soundlink Wireless Headphones II will offer you a slightly more comfortable and pleasant listening experience than the other one.
We know that Bose QC 35 II is a noise-canceling headphone, whereas the Soundlink II has no ANC feature, but it can block noise physically.
Let's see which one is more effective.
Noise Handling: Bose Soundlink Vs QuietComfort 35
Well, it is a kinda no brainer choice. How can a headphone without ANC compete with a class-leading noise-canceling headphone only with physical noise blocking ability?
The Bose Soundlink headphones II will block most ambient noises while listening at moderate volume, but it is not even near to compete with the QuietComfort 35 II.
QC 35 II can achieve a significant amount of noise reduction across the frequency spectrum, which makes them ideal for subway rides and flights.
Besides, it can also eliminate disturbing background chatter quite efficiently.
Whether it is the whisper of the wind or the loud noise of a jackhammer, everything goes inaudible with Bose QC 35 II headphones.
Call Quality: Soundlink II Vs Bose Quietcomfort 35 II
I can assure you that you are gonna enjoy some of the best calling experiences with these two headphones.
However, as I must pick up a winner, I am going to choose Bose Soundlink II.
Bose has developed this headphone with a major focus on calls. It supports HD Voice and features an adaptive audio adjustment to maintain good call quality, even in noisy or windy environments.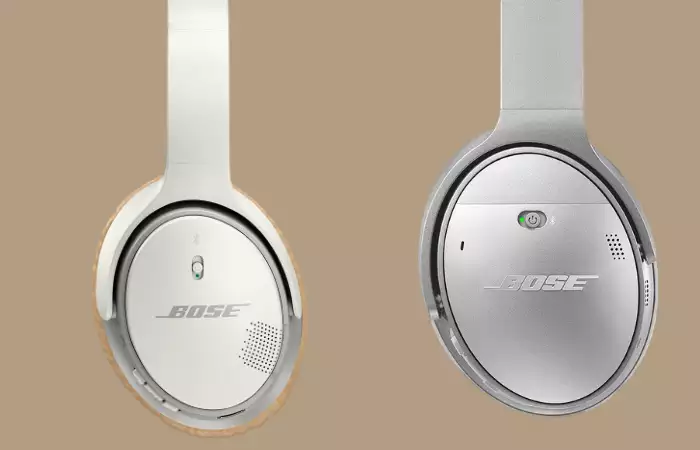 I got a few positive compliments from callers on how crystal-clear I sounded over the phone and on video chats.
Speaking about QC 35 II, it also works well in gusty conditions and reduces any whisking effect caused by wind or speeding cars, but not as good as the Soundlink II.
So, here the winning crown goes to Bose Soundlink Headphones II.
For a wireless headphone, battery life is a major feature. So, we need to know about it before finalizing a decision.
Though you have already got an idea about it from the table, check out the following segment for further details.
Battery Life: Soundlink II Vs QuietComfort 35 II
Bose QuietComfort 35 II provides 5 hours longer battery life than the Soundlink Headphones II. It provides 20 hours of playtime, whereas Soundlink offers only 15 hours.
Soundlink has less battery support while taking a relatively long time to recharge the battery as well.
And if I consider the quick charging feature, Bose QC 35 II wins here once again.
It will support for 2.5 hours from only 15 minutes of charging, and Sounlink II offers 2 hours from the same amount of charging.
Both of them use a micro USB charging cable to be recharged.
So, who is the winner?
The answer is pretty obvious. Right?
The control system of a headphone should be handy. It determines the ease of use.
Now have a look at the difference between their control scheme.
Control System: Bose Soundlink Vs QuietComfort 35 II
Bose Soundlink Headphones II has a standard three-button control scheme on its body.
The plus (+) and minus (-) buttons are for volume control, and the multifunction button is to take care of everything else.
To pause or resume music and answer or end calls, tap the button once. Tapping it twice and thrice will skip forward and backward, respectively.
On top of the same ear cup, there is a power or pairing button.
And you will find a pairing or power button on the right earcup of the Bose QC 35 II. It will strongly vibrate when pressed.
There are volume and play/pause buttons in the right bottom, while the left ear cup has a dedicated Action button to activate the ANC.
You can even customize this button according to your preference, such as assigning it to access Google Assistant.
As both headphones have come with complete control on their body, the score for this segment is going to be tied.
Connectivity: Bose Soundlink II Vs QC35 II
As you have seen earlier on the table, Bose Soundlink II is equipped with Bluetooth v4.0, while QC 35 II features v4.1.
As QC 35 II has a slightly better version, it offers a 1 m longer working range than the Soundlink. However, the difference is so negligible, I think.
Both of them showed superior connection stability with almost no dropouts within the range.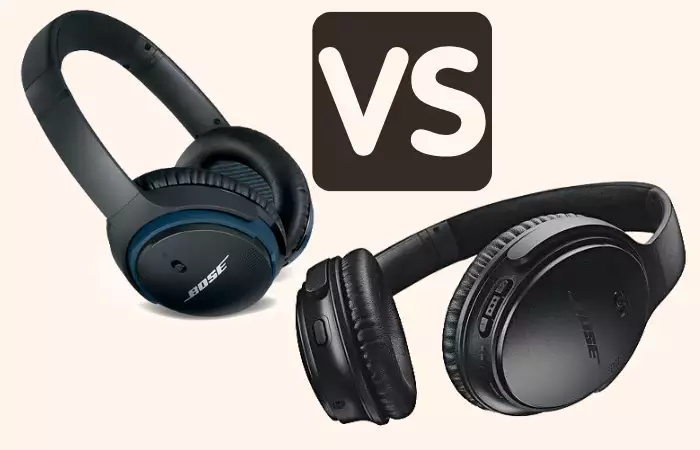 And these headphones have built-in NFC support besides Bluetooth. So, you can quickly pair them with devices.
After being paired with other devices, they will alert you with a voice prompt. The voice prompt also lets you know the battery level.
The Bose Soundlink II and QC 35 II also support multi-pairing, which will allow you to connect and shift between two devices simultaneously.
No matter which audio device is playing music, your headphone can receive phone calls from any device.
So, from the overall consideration, both headphones should get the same score for this round.
Voice Assistant: Bose QuietComfort 35 II Vs Soundlink II
Bose QC 35 II also gets an edge over the Soundlink with its built-in voice assistant feature.
This headphone supports Google Assistant or Siri along with Amazon Alexa.
Just say 'Okay Google' or 'Hey Siri' to activate your digital assistant. Then hear notifications from your phone, send texts, check the weather update, sports news, and many more.
However, unfortunately, the Soundlink II doesn't have any digital assistant integration. So, this headphone won't get any marks for this round.
Well, here I have shown all the possible comparisons between these two headphones.
Now, it's time to announce the winner.
Who Is The Winner?
After going through the in-depth discussion, you might have already guessed about the winner.
Yes, it is none other than the Bose QuietComfort 35 II. This headphone earns the top position here.
It is definitely not cheap, but it is worth it for the money.
The bass-heavy sound profile and excellent design already stand out as fantastic. And if you put that together with Bose's top-notch noise canceling and the availability of Google Assistant and Alexa, you will end up with a really good product.
And yes! Don't forget about the exceptionally good battery life also.
Anyway, if you cannot be satisfied with any of their performance, I can suggest some alternatives.
Check out the below section for that.
Alternative Options
You can go for any of the following two headphones as an alternative to Bose QC 35 II and Bose Soundlink Headphones II.
If you want a noise-canceling headphone, Sony WH-1000XM4 can be a perfect alternative to Bose QC 35 II.
It comes with industry-leading noise cancellation with dual noise sensor technology while offering up to 30 hours of battery life. Besides, it features a smart touch-sensitive control scheme, which is very user-friendly.
On the other hand, Bowers & Wilkins P5 Wireless headphone unites incredible sound and luxurious materials with advanced Bluetooth streaming for unparalleled acoustic performance.
Its 17 hours of battery life and ergonomic control will allow you to enjoy all the wireless freedom without compromising sound quality.
I hope you have no question remaining in your mind regarding Soundlink vs QC35 II.
So, let's end it here.
Conclusion
After going through this comparative discussion on Bose Soundlink vs QuietComfort 35 II, hopefully, you can finally make the right choice as per your needs and requirements.
Have a pleasant listening time with your headphone.
Thank you.