Maybe you are looking for a pair of headphones with high-quality sound and top-rated noise cancellation features at a relatively affordable price.
Bose QuietComfort 35 II & Beats Studio 3 are two headphones that can give you the most with their performance.
But obviously, there is a better one!
So, getting stuck between these two, you are probably asking yourself, which one should I go for?
Well, we have done in-depth research on both of these headphones to help you figure out which one is ideal for you.
So, get ready to enjoy the battle named Bose QuietComfort 35 II vs Beats Studio 3 headphones.
Bose QuietComfort 35 II Vs Beats Studio 3 Wireless
At first, I would like to compare their key specs, keeping them side by side. It will help you get a basic idea about them.
Features
Bose Quietcomfort 35 II
Beats Studio 3

Up to 20 hours (ANC on).
Up to 40 hours (ANC off).

Up to 22 hours (ANC on).

Up to 40 hours (ANC off).

Bose Quietcomfort 35 II: Micro USB.

15 min charge = 2.5 hours playback.

10 min charge = 3 hours playback.

Matte Black, Black Red, Red, White, Blue, Midnight Black, Shadow Gray.
When purchasing a headphone, what we prioritize at first is its design and build quality.
Hence, I will talk about the difference between their outer look and build.
Design & Build: Bose QC35 II Vs Beats Studio 3
Starting with the physical features, the Beats Studio 3 has a beautifully designed exterior with a premium finish.
The entire body is made from plastic, while the headband has nice padding for a better hold on the head.
Without the prominent Beats logo, Studio 3 might be one of the most elegant headphones available on the market today.
But Still, their classy, curvy design with clearly defined lines looks excellent. What makes these headphones more appealing is that they are available in many different colors.
Therefore, you can consider it an accessory to your outfit as much as a piece of technology.
In comparison, the Bose QC 35 II looks more reserved but definitely not bad. In fact, it has an aura of its own.
They are made of stronger nylon plastic. Soft Alcantara automotive fabric was used for their headband padding.
Instead of elegant lines, here you will get buttons, rugged hinges, and toggles.
This Bose QC 35 II's design has traditionally been popular among business people and techies. It is not for fashion-conscious commuters.
In case you want a pair of headphones that looks good but doesn't draw attention, Bose has it for you.
It has limited colors as well, as you saw earlier on the table.
So, in terms of build quality, both of them are equal but if I consider the designs, then Beats Studio 3 is more premium and better looking.
I always check the comfort feature before purchasing a headphone. You cannot carry on doing anything with continuous discomfort. Right?
Hence, let's see which one can offer us more comfort.
Comfort & Fit: Bose QuietComfort 35 II Vs Studio 3
Both headphones have come with adjustable headbands and foldable cups.
However, The QC 35 II features deep earcups providing more comfort and breathability. So, your ears will be cupped quite comfortably by these headphones.
You can wear them for a long time and not feel like your ear is getting crushed against the inner side of the earcups or up next to scratchy mesh.
The grip doesn't feel too tight and provides enough support to the ears while listening.
This makes it highly comfortable to use them for long periods without getting exhausted.
On the contrary, the Beats Studio 3 headphones clamp a bit more. Your ears may not sit just right inside the ear cups unless your ears are relatively small.
So, the Beats Studio 3 gets warmer with prolonged use, like 2 hours, and the ears begin to sweat a little.
It seems like the craftsmanship of these earpieces desires something more.
Compared to the Bose QC 35 II headphone, this Beats Studio 3 is a bit heavier too. They provide a tight fit, so they are less likely to slip off.
Considering the overall, Bose QC 35 II is a clear winner as far as comfort and lightness are concerned.
Now I will compare the sound profiles of these two headphones, which is a major feature.
What if your selected pair sounds worse? So, it's better to check out beforehand.
Jump to the below section to know about it.
Sound Quality: Beats Studio 3 Vs Bose QC35 II
Do you know the most noticeable difference that anyone would find about these headphones?
The Beats Studio 3 tends to be more bass-heavy than the Bose QC 35 II.
Diving in further, you will notice that the Studio 3 strikes slightly hard on the bass-dominant EDM and Pop genres, and the resonant boom is somewhat higher.
And sometimes, it also lacks the warmth that you can feel with the QC 35 II.
You can hear different musical instruments with great clarity and detailing in the mid-range frequency, but this is where a slight muddiness can be noticed on vocals.
So, the mids are not as bright as you generally expect from a Beats headphone.
So, if you want the bass to be on the strong side and don't mind losing some details under its weight, the Beats Studio 3 will likely put a smile on your face.
In contrast, the Bose QC35 II has a rich, warm, and balanced sound quality, more expansive soundstage, and balanced frequencies throughout the audio spectrum.
I felt no distortion or muddiness at all. Actually, they can bring any music genre under the sun.
Therefore, I would choose the Bose QC 35 II anytime over the Beats Studio 3.
We already know that these two headphones have Active Noise Canceling features.
Aren't you curious to know the details about their performance in this case?
Okay, then let's explore it.
Noise Cancellation: Bose QC35 II Vs Studio 3
Which headphone is better for noise cancellation? It is kind of a no-brainer choice if you want to pick one between these two.
Bose has always been considered the gold standard for noise-canceling headphones.
Bose QuietComfort 35 II is not an exception to this. It is far and wide considered one of the most effective noise-canceling headphones available on the market.
Therefore, it is no surprise that the Beats Studio 3 doesn't quite reach its level of noise-canceling performance.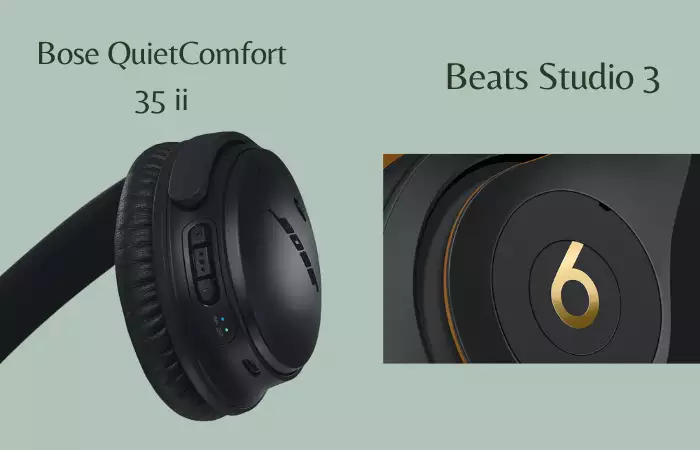 You can certainly notice the difference when you activate the noise-canceling feature on the Beats headphone.
The QuietComfort 35 II does a much better job of blocking out high-pitched noise and the human voice. With this Bose headphone, you can choose from three different levels of noise cancellation.
Beats Studio 3, on the other hand, offers a good amount of instant background noise isolation due to its stiff ear cups that touch the inside of the ears and perfect seal. However still, there is a noticeable difference in the noise-canceling area.
If you test the Bose QC 35 II first, you may not want the Beats Studio 3.
Call Quality: Beats Headphones Vs Bose
The built-in microphones of QC 35 II always do a perfect job of eliminating surrounding noise and generating clear vocals.
No matter whether you are walking outside in windy conditions or at home, the call quality always remains solid.
I got compliments from callers on how crystal-clear I sounded over the phone and on video chats.
Even most callers thought that I was speaking directly into my smartphone.
And speaking of Beats Studio 3, they also come with a built-in microphone and have the ability to handle phone calls.
The sound quality during the conversation was pretty good, but it felt a bit muffled at times.
The microphone worked well, and people on the other side could hear me without trouble, though it was not as good as the Bose QC 35 II.
Though I mentioned their battery life on the table, you can check the following section for further details.
Battery Life: Beats Studio 3 Vs Bose QC35 II
Beats Studio 3 offers 22 hours of battery support on a single charge. However, if you listen to music consistently by keeping the volume at 50% level, you can extend it to 23+ hours with ANC.
Moving on to the Bose QC 35 II, you can enjoy 20 hours of battery support. So, it needs to push the envelope a little further to win in this particular round.
If I compare their fast charging feature, Beats Studio 3 is ahead in this competition as well.
A quick 10-min of charge will provide 3 hours of playback, whereas Bose QC 35 II will offer you 2.5 hours of playback from 15 minutes of quick charge.
Now let's see the differences between their control schemes.
Control System: Studio 3 Vs Bose QC35 II
On Beats Studio 3, you will find all the volume controls outside the right earcup.
Here you will also find a power/pairing button and ANC on/off button with the charging port.
By double-tapping the power button, you can experience adaptive noise cancellation.
And press the Beats logo for play/pause/ skip track or virtual assistant access. Besides, the circumference can help you adjust the volume level too.
On Bose QC 35 II, there is a power or pairing button on the right ear cup.
You will find the volume up/down and play/pause buttons in the right bottom, and the left ear cup has a dedicated button to activate noise-canceling modes.
This button can be customized according to your preference to access the virtual assistant.
So, we have seen that the control system of these two headphones is more or less the same.
Therefore, the score has been tied for this segment.
Connectivity: Studio 3 Vs QC35 II
Technologically, the Beats Studio 3 takes away the title from the Bose QC 35 II in terms of connectivity.
They have the revolutionary Apple W1 chip that will offer you a Bluetooth range of 100 feet, which is really a cheering number in terms of coverage.
But still, it seems a gimmick to me as it leaves me wondering why anyone would leave their device at such a distance while listening to music or watching a video?
As long as I consider the connection quality, this tech piece will allow you to enjoy a solid and clear Bluetooth pairing experience without any distortion or breaking out on signal and consistency even when the battery is low.
And I didn't feel any difference in clarity between Bose QC 35 II and Beats Studio 3 when I played music on it within the 9 to 10 feet radius limit. The signal strength was excellent and consistent as well.
By the way, be noted that a long-range doesn't mean a stronger connection.
So, when it comes to considering the connectivity, I feel both brands remain committed to their claims.
So, here is the score.
Virtual Assistants: Bose QC35 II Vs Beats Studio 3
On the Bose QC 35 II, you can easily access Google Assistant and Amazon Alexa.
You can also access Siri on Bose QC 35 II headphones, but it is not built-in.
Bose headphone has a dedicated button for Virtual Assistants, which will allow you to launch them.
The button works well on all Android devices with 7.0 or newer versions. Besides, it is also compatible with iPhones, so thanks to the Google Assistant app, which can be downloaded from the App Store.
On the other hand, Siri and Google Assistant are available on the Beats Studio 3 Bluetooth headphones.
As Bose has additional options, I am going to make it the winner for this round.
Both pairs of these headphones are equipped with their own companion app to enhance your listening experience in multiple ways.
Now, I will compare the features of the two apps.
App Support: QC35 Vs Beats Studio 3
To improve their functioning, both the Bose QuietComfort 35 II and Beats Studio 3 have dedicated app supports.
Bose QuietComfort 35 II uses Bose Connect app, which is supported by both iOS and Android devices.
This app comes in handy for adjusting the ANC with some basic features like connection, updates, and rename.
It also helps with its battery level indicator and limited in-app player. Surprisingly the app does not have EQ settings which is a big downside.
On the other hand, the Beats Companion app doesn't offer full functionality in its Android version.
It connects with the headphones through a pop-up display with battery information on iOS devices.
You can also deactivate the Active Noise Cancellation in the Bluetooth settings, but this isn't available on Android. A big minus! Right?
Well, I have shown all the possible comparisons between these two headphones.
Now it's time to announce the winner.
Who Is The Winner Finally?
So, we have seen that Bose QC 35 II is the winner in most segments.
Well, that doesn't mean Beats Studio 3 is not good. But if I need to pick one, it will definitely be the Bose QC 35 II.
So, I wholeheartedly recommend the Bose QC 35 II over the Beats Studio 3.
The Bose's headphone has superior sound quality, better noise-canceling ability, and it is more comfortable to wear.
Not only it does well in these cases, but also it does better when I was comparing the two in terms of some other features.
So, the ultimate battle winner is Bose QuietComfort 35 II.
Anyway, if you cannot be satisfied with any of these two products, I will suggest some alternatives in that case.
Alternative Options
You can pick any of the following headphones as an alternative to Both Bose QC 35 II and Beats Studio 3.
Sennheiser PXC 550 headphone has NoiseGard Adaptive Noise Cancelling technology with 30 hours of battery life. Besides, it comes with touch-sensitive control. Its sound profile is very fun and engaging with powerful bass along with good details on mids and highs.
On the other hand, Sony WH-1000XM4 comes with industry-leading noise cancellation with dual noise sensor technology. And you can enjoy up to 30 hours of battery life with a quick charging feature. Besides, it features a touch sensor smart control scheme, which is very user-friendly.
I have nothing more to let you know.
Let's end it here.
Conclusion
I hope this write-up on Bose QuietComfort 35 II vs Beats Studio 3 will help you a lot to find the best pair of headphones.
Check out all the differences thoroughly and then make your decision according to your needs and requirements.
Lastly, have a happy time with your headphones.
You deserve a round of applause for sticking throughout the post.
Thank you.