When you are searching for a comfortable, warm-sounding, and class-leading noise-canceling headphone, then it is quite obvious that you are getting stuck between Bose QuietComfort 35 II and Apple AirPods Max, headphones from two renowned brands.
And confusion rises to a different level, especially when there is a remarkable difference in the price point.
Bose QC 35 II is relatively cheaper compared to the AirPods Max.
So, why should I spend those extra pennies if I get all the features in a budget-friendly wraparound?
This is the point. Right?
Okay, now keep all your worries aside and get ready to enjoy the battle named Bose QuietComfort 35 II vs Apple AirPods Max.
It will help you make up your mind.
Apple AirPods Max Vs Bose QuietComfort 35 II: Who Is The Best?
At the very beginning, I am gonna compare the specs of these two headphones keeping them side by side. It will give you a basic conception of them.
| Features | Bose QuietComfort 35 II | Apple AirPods Max |
| --- | --- | --- |
| | | |
| | 15-minute quick charge = 2.5 hours playback. | 5-minute quick charge = 1.5 hours playback. |
| | | |
| | Bose QuietComfort 35 II: 4.1. | |
| | | |
| | | |
| | | |
| | | Space Gray, Green, Pink, Silver, Sky Blue. |
| | | |
| | | 9.43 x 9.57 x 3.15 inches. |
| | | |
Now that you have had a primary idea about the two headphones, let's go for a detailed comparison.
I would like to start by comparing the design and build of these two, as it is what catches our attention at the very first moment.
Design & Build: AirPods Max Vs Bose QC35 II
Starting with the physical features, Apple AirPods Max comes with oval-shaped brushed aluminum ear cups that are joined to a retro-style U-shaped curved canopy headband with telescoping arms for easy size adjustment.
It features mesh earcups made from an acoustic fabric that conducts the sound better.
The headband is built with a stainless steel frame with a breathable knit mesh material inside. And the frame is covered by a soft-touch fabric.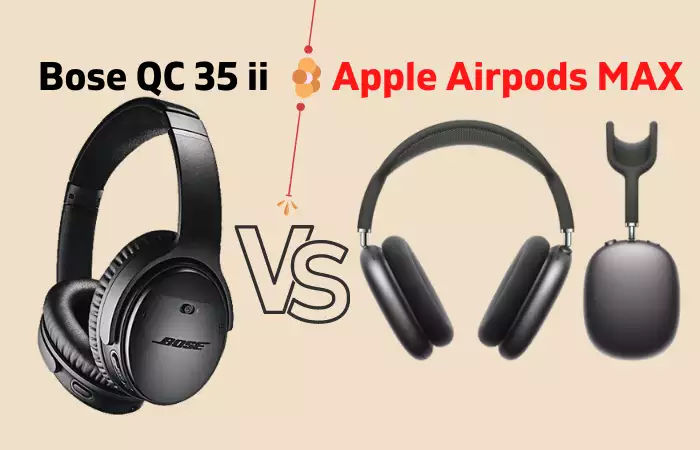 Each ear cup can rotate within the frame to balance pressure, and the ear cushions are made with memory foam.
Overall, the use of metal makes the headphone durable and look great.
On the other hand, Bose QuietComfort 35 II proves that plastic construction doesn't always mean cheap design.
Durable glass-filled nylon plastic is used for the outer part of the headphone.
The headband is made with corrosion-resistant stainless steel for increased durability and sturdiness, and for padding, Bose uses Soft Alcantara automotive fabric.
The earcups can lay flat, and you can fold them into a compact format. The memory foam earpads are covered with soft protein leather.
So, this is the build and design of the two. But who is the winner?
Yes, both headphones come with great durability, but if I consider the design, AirPods Max is way more premium and futuristic than the other one.
To add a new dimension to it, Apple is offering this headphone in five beautiful colors, as you saw earlier on the table. However, QC 35 II is available only in 2 colors.
You can compromise with the outer look and design, but not with the comfortability of a headphone. We cannot do anything with continuous discomfort. Right?
So, let's see which headphone can offer more comfort.
Comfort & Fit: AirPods Max Vs Bose QuietComfort 35-2
Apple has done a lot not to compromise with comfort, but the all-metal construction somehow didn't let them do it, making the headphone heavier.
They implemented a headband with a combination of mesh knit material and stainless steel, which was supposed to distribute the weight of the headphone evenly across the head.
Yes, it can definitely do that initially, but when I was wearing the Airpods Max for an extended period, the extra weight felt like a burden to me.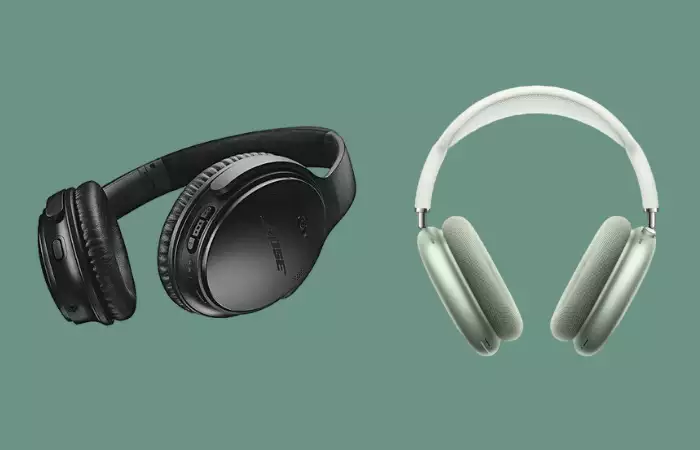 The independent rotation of the earcups was allowed to balance the pressure, but the increased clamping force of the AirPods Max destroyed it all.
Well, I am done with the downsides. Now let's have a look at some positivity.
The design of the AirPods Max allows for an uncompromising fit creating an optimal acoustic seal for any head size.
Besides, its ear cups are larger and deep enough to accommodate people with big ears, offering a proper seal to achieve the best isolation possible.
Now come to the part of Bose QC 35 II. They are the opposite in terms of comfort.
These headphones are super comfortable with sufficient padding on the earcups. The clamping force also felt very decent and standard to me.
They will offer a proper fit without pressing down much on your ears and head.
Hence, you can listen to music all day long without any discomfort.
I think you already understood who is going to make this round own.
This time I will talk about the most important feature of a headphone, and it is the sound quality.
What is the use of headphones if they sound worse?
Well, no headphone sounds worse here, but there is definitely a better one.
Sound Quality: Bose Q35 II Vs Airpods Max
It is no wonder that the Apple AirPods Max sounds really good if you consider its price tag.
Its frequency response meets the standard for almost all the notes. However, you will feel a little extra kick in the very low-frequency sub-bass region.
The extra volume in the low ends makes these a little friendlier to most genres of music. Well, I hope you won't likely use this headphone as reference studio monitors.
While listening to Sunday Vibes by Masego, I noticed that the sub-bass kicks were strong enough that I could feel a slight vibration even by keeping the volume at a moderate level.
There was a slight depth in the mids, but the vocals sounded pretty clear. Also, I felt no harshness in the highs. It was neither overwhelming nor unpleasant.
Moving on to Bose QuietComfort 35 II, it has a rich, warm, and balanced sound profile with a more expansive soundstage.
The frequency response is also very well-balanced throughout the all audio spectrum with a slight bass boost under 50Hz.
I listened to the world-famous song Bohemian Rhapsody by Queen on this headphone, and I was just overwhelmed with the output.
There was no distortion or muddiness at all. All the notes were perfectly brought under the sun, leaving me in awe.
Actually, Bose QC 35 II is ideal for accurate reproduction of your favorite music, regardless of the genre.
So, from overall consideration, my vote for this round is going to the basket of Bose QC 35 II. Though the performance of the other one is not bad, Bose's sound profile is relatively more pleasant and well-balanced.
We already know that both of these two headphones are noise-canceling. Now we will judge which one can do this job perfectly.
Noise Canceling Ability: QC35 II Vs Apple Airpods Max
Well, what is the difference between them when it comes to noise cancellation?
There is nothing much actually, but one is still slightly better.
Let's start with AirPods Max. It can effectively reduce all the surrounding noises, including the low-frequency ones, which is quite praiseworthy.
So, when you listen to music in-flight, you won't likely hear much of the jet engine rumble.
Besides the ANC, passive isolation is also excellent on the AirPods Max. It can block the roar of drill machines and hammers from outdoor construction.
In contrast, Bose QC 35 II helps reduce a significant amount of noise across the frequency spectrum, which makes them perfect for subway rides and flights.
It can adequately eliminate disturbing background chatter as well.
Hence, in a word, everything goes inaudible with this QC 35 II, whether it is the wacka wacka of a jackhammer or the hush of wind.
Both perform so well, but here the ultimate winner is Bose QC 35 II for slightly better functioning.
Microphone Quality: Airpod Max Vs Bose QC35 II
As long as you are operating the right device, you will get good feedback on Apple AirPods Max, whereas the microphone of Bose QC 35 II performs well regardless of the device.
When you use an older Android device, the mic of AirPods Max cannot reproduce clear vocal. It will lack clarity in highs and lows, making the audio worse, which may be enough for quick phone calls but not much more of that.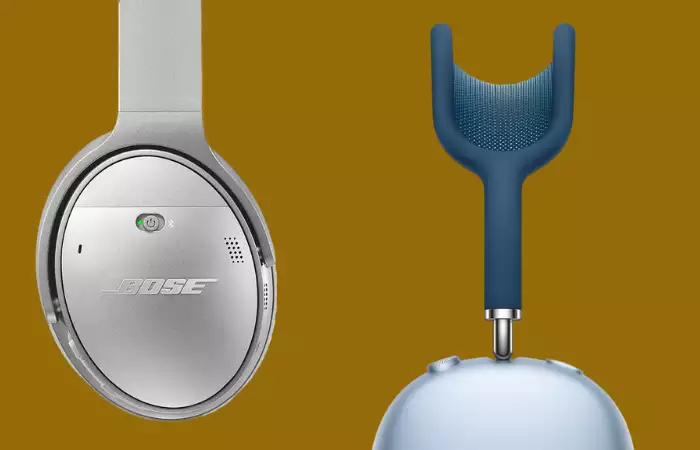 However, the story is totally the opposite if you pair it with an iPhone. You will notice more detail in the high frequencies. It helps retain clarity even in hissing sounds, improving speech precision during conference calls.
On the other hand, the Bose QuietComfort 35 II microphone is adequate enough for phone and conference calls. It always does a perfect job of eliminating surrounding noise and generating clear vocals.
You can enjoy a solid call quality regardless of your place, whether your home or windy outside condition.
Even the sibilant sounds can be heard clearly without distortion, which is usually challenging to achieve for built-in headphone mics.
And the best thing is that its microphone works great on both Android and iOS devices.
Before finalizing the purchase, checking the battery life of a wireless headphone is crucial as you should check if it will meet your need or not.
This time I will compare the battery life of these two headphones.
Battery Life: AirPods Max Vs Bose QC35 II
Bose and Apple both claim that these two headphones will offer 20 hours of battery life.
However, my experience varied a little in terms of Apple AirPods Max. Gladly, in reality, AirPods Max could exceed the claimed 20 hours of battery life. It will support you for 3 to 4 more hours.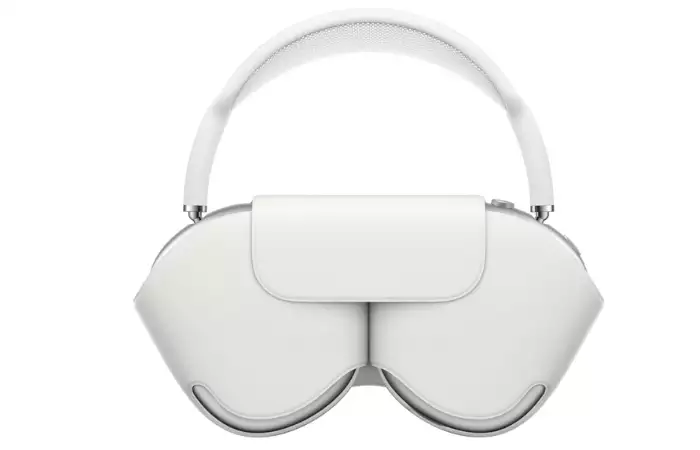 In addition, if I consider the fast charging feature, Apple AirPods Max dominates here too, as I mentioned earlier on the table.
Right now, I am going to talk about the differences between their control system.
Control System: Apple Max Vs Bose QuietComfort 35 II
Apple AirPods Max comes with two physical controls on the side of the right earcup.
Here you will find a simple button to switch between noise-canceling modes and a dial encouraged by the crown of the Apple Watch next to it.
You need to rotate it to increase or decrease volume, click once to play or pause, double click to stay forward, and triple-click to stay back.
To summon Siri, hold down the crown. But be noted that this AirPods Max is always ready to listen to the 'Hey Siri' command by default.
You won't find any power button to turn on or off the headphone, which is actually a downside. Putting the headphone on the case will make it enter a low power mode only, and when you bring it out, it is ready to go.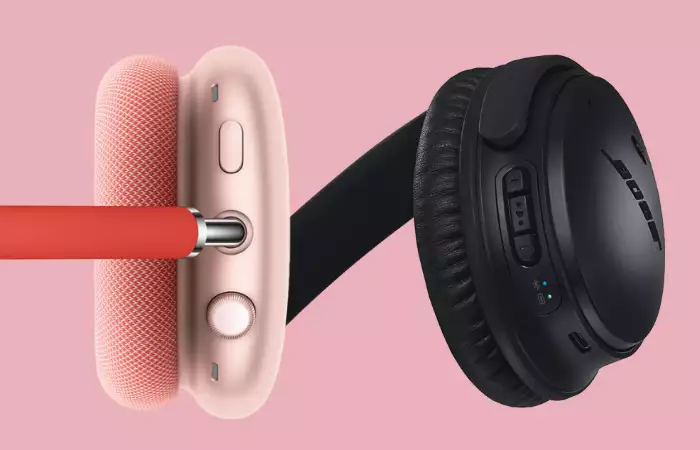 But unfortunately, it is only convenient when you use the case. If you don't place them in the case, they will remain on for a few hours and drain out the battery the entire time before going to sleep.
Another drawback is the digital crown. When you are about to adjust the headphone, it is highly likely to move accidentally and raise the volume to a dangerous level.
Well, I forgot to tell you that there are also tiny sensors inside the earcups, which will automatically play or pause your playback when you take off the headphone. And putting them back will resume your music.
Hmm, it seems like it is a feature that you can appreciate.
Moving onto the control scheme of Bose QC 35 II, it is more convenient than Apple's one.
There is a power/pairing button on the top of the earcup. There are three buttons on the right bottom for volume and playback control, while the left earcup has a dedicated Action button to activate the ANC.
You can even personalize this button as per your need, such as assigning it to access Google Assistant.
As both AirPods Max and QC 35 II are Bluetooth headphones, you need to check the connectivity of these two before the purchase.
Let's find out which headphone is better in this aspect.
Which One Can Provide Better Connection?
As you saw earlier on the table, both of these two headphones support only the AAC and SBC Bluetooth codecs.
They will work well without any issues on an Apple device. However, if you are an android user, I cannot say the same as AAC performance on Android varies depending on the devices.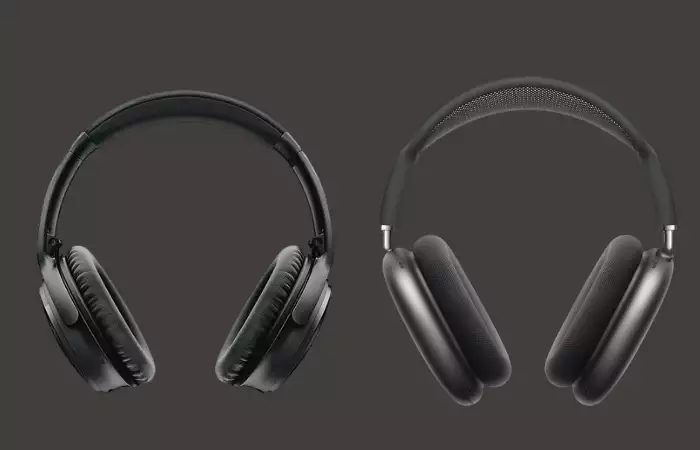 For using both of them on Android, you need to choose lower quality SBC codec.
And regarding the connection quality, Bose QC 35 II provides a solid and stable connection both on Android and iOS with almost no dropouts within the range.
It also supports Bluetooth multipoint connectivity, letting you connect and shift between two devices simultaneously.
On the contrary, AirPods Max will let you experience effortless listening when paired with an iOS device. However, you cannot enjoy 100% of its service on an Android device, as its performance is limited on such devices.
The automatic device switching of AirPods Max works on any Apple device operating with the latest version of macOS, iOS, or iPadOS. You just need to ensure that all your devices are logged into the same Apple ID.
Wired Listening Convenience: Bose QC35 II Vs Apple Max
While Bose QC 35 II is a wireless Bluetooth headphone, it also comes with a 2.5mm to 3.5mm headphone jack for the wired listening option.
You can use this wired mode to accomplish tasks that need little to no latency—for example, music production or video editing.
On the contrary, to experience wired listening with the AirPods Max, you have to spend extra money to buy a Lighting to 3.5mm headphone adapter.
Each headphone supports its own individual app to enhance the listening experience, but the app compatibility may vary with devices.
Check out the following section to know about it.
Software Features: QuietComfort 35 II Vs Airpods Max
Using the iOS setting app, you can customize your experience for AirPods Max on Apple devices.
However, Android users can't even perform the essential functions like customizing the Digital Crown, installing firmware updates, toggling automatic head detection, or enabling/disabling Spatial Audio.
Meanwhile, Bose Connect app is available on both Android device and iOS to let you customize certain things.
Using the app, you can adjust mic monitoring and the level of noise cancellation, access firmware updates, manage connected devices, and customize the Action Button.
You can even switch between the different ANC modes via the Bose Connect app.
Anyway, the only downside is that it does not have any EQ settings. Hence, you have to be satisfied with the default sound profile, which is not that bad either.
Well, I have shown all the possible comparisons between Bose QC 35 II and Apple AirPods Max. Now it's time to announce the winner.
Who Is The Winner?
I think you have already guessed the result as it's kind of a no-brainer choice.
Yes, I wholeheartedly recommend Bose QC 35 II over the Apple AirPods Max.
It is definitely a clear winner if you want to get the best value. Its comfortable and portable build, better active noise-cancellation, and convenient wired listening system is the key factor in its victory.
And not to mention its excellent sound quality, which is perfectly suitable for any music genre.
Well, I am not saying Apple AirPods Max is bad. If you have an iPhone and extra money to spend on luxury, you can consider buying it.
After knowing elaborately about these two headphones, if you are not satisfied with any of them, I can suggest some alternatives.
For that, check out the next section.
Alternative Options
You can consider the following two headphones as an alternative to both Bose QC 35 II and Apple AirPods Max.
Bose 700 is featured with 11 levels of active noise canceling, which will let you enjoy your music without any distractions.
With this headphone, you can also enjoy an exciting lifelike sound, unrivaled voice pickup, and premium comfort with 20 hours of battery life.
On the other hand, Sony WH-1000XM4 is equipped with industry-leading noise cancellation with dual noise sensor technology.
In addition, you can enjoy nonstop music with its 30 hours of battery support. And its smart touch sensor control scheme is also a notable feature to let you know.
I have nothing left to inform you.
Let's conclude it here.
Conclusion
Hopefully, this comparative discussion on Bose QuietComfort 35 II vs Apple Airpods Max will help you understand the difference between them and choose the right one.
Have a great time with your desired headphone.
Thank you for being with me till now.