The constant technological innovations each year have made us accustomed to getting a huge bang for out buck with each new headphone purchase. And the increasing demand for crystal clear audio by blocking out ambient noises is one result of that.
You are probably looking for a top-rated noise-canceling headphone.
While markets are flooded with this type of headphones, Bose 700 and AirPods Max stand out from the crowd by showing their class-leading performance.
Despite a glaring price gap between the two, you might be wondering how Apple's first over-ear AirPods will compete with the king of ANC, the Bose 700.
Then why is the delay? Let's enjoy the battle named Bose 700 vs AirPods Max face to face and know who the final winner is.
Apple AirPods Max Vs Bose Noise Cancelling Headphones 700
Before digging in-depth, I would like to give you an initial idea about them. It will help you understand the key differences between the two.
Have a glance at the below table.
| Features | Bose 700 | AirPods Max |
| --- | --- | --- |
| | | |
| | | |
| | 15 minutes of charging = 3.5 hours of playback. | 5-minute quick charge = 1.5 hours playback.. |
| | | |
| | | |
| | | |
| | | |
| | | |
| | Triple Black, Silver Luxe, Soapstone. | Space Gray, Green, Pink, Silver, Sky Blue. |
| | | |
| | | 9.43 x 9.57 x 3.15 inches. |
| | | |
Let's go for the detailed comparison now.
First, we will explore the outer look and build of the two competitors.
Design & Build: Bose 700 Vs Airpods Max
As Bose 700 and AirPods Max are headphones from two renowned brands, it is no wonder that they have proficiency in developing well-designed headphones.
So, you can expect two pairs of attractive and posh-looking headphones.
Talking about the Bose 700, it comes with a unique unibody frame that is different from Bose's other traditionally designed over-ears.
It has a distinctively shaped headband that unites directly into the ear cups without any visible hinges, giving it a futuristic, elegant look. You won't get to see any screws or bolts here.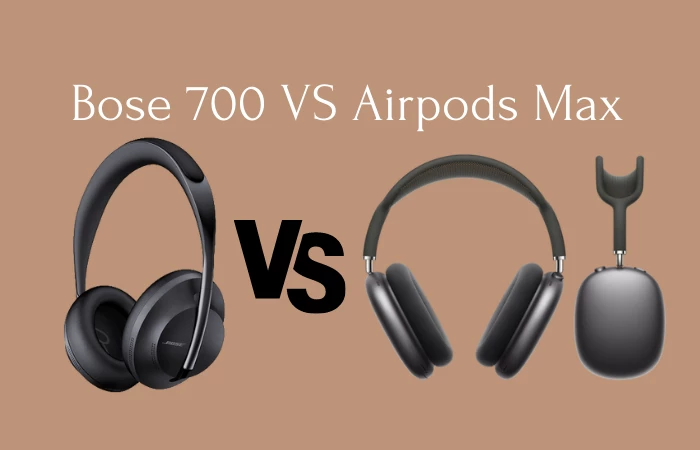 Bose used durable plastic around the ear cups with a nice lustrous effect, which makes the headphone look like a stunner.
Let's move on to the part of AirPods Max now.
It has oval-shaped brushed aluminum earcups that are linked to the U-shaped retro-style curved canopy headband with telescoping arms allowing for easy size adjustment.
The stainless steel headband is wrapped with a soft-touch fabric, and it has a breathable knit mesh material inside.
The headphone also features mesh earcups made from an acoustic fabric that conducts the sound better.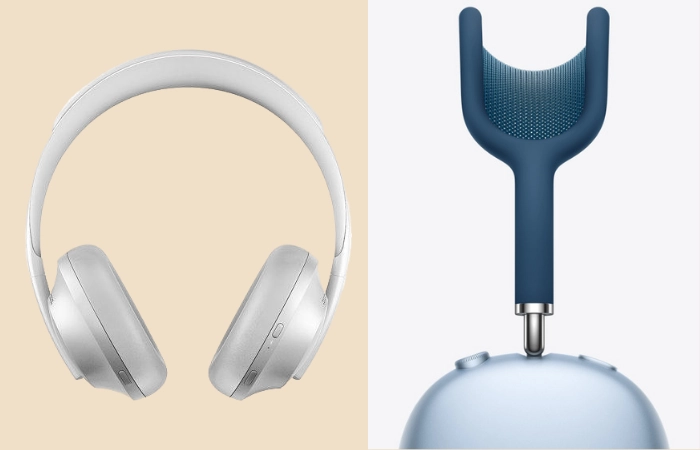 Their memory foam ear cups can rotate to balance the pressure within the frame.
Overall, the use of metal gives the headphone a durable and pleasing look.
Well, both of them looked great to me, but the Airpods Max could grab my attention in the first place.
So, I am keeping Apple's headphone a bit ahead.
Before purchasing a headphone, you need to be sure that the headphone is comfortable. In fact, who will want to do something with continuous discomfort?
Comfort & Fit: AirPods Max Vs Bose 700
Apple left no stone unturned not to compromise with comfort, but its full-metal construction somehow didn't let it happen, making the headphone bulkier.
They employed a headband with a combination of mesh knit material and stainless steel to distribute the overall weight evenly across the head.
Well, it can accomplish its task initially, but when you are wearing the headphone for a long time, the extra weight will feel like a burden to you.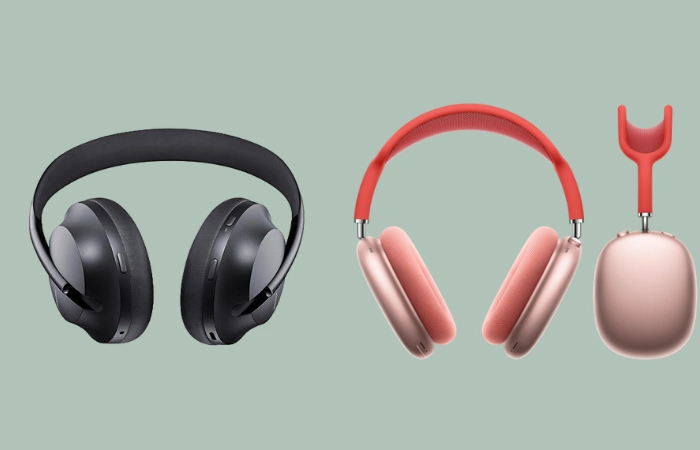 Moreover, the free rotation of the earcups was supposed to balance the pressure, but the increased clamping force destroyed it all.
On the other hand, Bose 700 headphones are very comfortable. They are lightweight and well-padded. Even if you wear them for a prolonged period, you won't feel any fatigue.
You may feel a slight pressure on your head, but it will be less burdening due to its lighter weight and slimmer design. So, I can assure you that it won't be a major issue.
Besides, its earcups are breathable enough to allow the air in and resist moisture buildup.
On top of that, the smooth texture of soft leather will offer a gentle touch to your skin.
And as for the fit, Bose 700 has its own unique sliding mechanism that enables maximum stability and seamless adjustment.
So, here is the score.
This time I will talk about the most important feature of a headphone, which is sound quality.
If a headphone sounds worse, it is nothing but a piece of junk.
Airpods Max Vs Bose 700 Sound Quality
Proceeding with the AirPods Max, it has a neutral although slightly warm sound profile. So, you will feel a bit of extra kick in the very low-frequency sub-bass region.
The extra volume in the low ends makes this headphone suitable for a variety of audio content.
Even when I was listening to Sunday Vibes at a moderate level volume, I could still feel a slight vibration due to the strong sub-bass kicks.
You will feel a little depth in the mids, but the vocals will sound quite clear. I felt no harshness in the highs either. It was neither overwhelming nor unpleasant.
Now let's take a look at the Bose 700.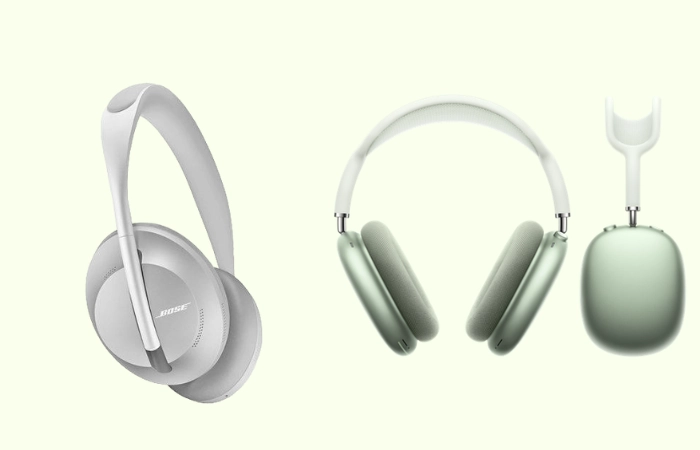 It has a slightly bass-heavy, warm sound profile. There is a bit of extra boom, which makes them ideal for bass-heavy genres like EDM and hip-hop.
The mid-range is fairly well-balanced. So, you can even enjoy vocal-centric content like podcasts with this headphone.
Its treble reproduction is pretty good, while the dynamics and timing are also on point.
And talking about the soundstage, it's quite nice and wide as well.
Both these headphones sound pretty good. You just need to go according to your preference. So, according to my judgment, it should be a tie.
You already know that these headphones are noise canceling. So, now we will see that which one can do it in a better way.
Noise Cancellation: Bose 700 Vs Apple Max
Bose has always been recognized as the gold standard when it comes to noise-canceling, but Apple hasn't fallen back to show their expertise in this aspect as well.
So, you can expect class-leading performance from both of two.
Let's start with the Bose headphone.
Bose 700 features 11 levels of noise cancellation to allow you only to hear the music. The highest level works incredibly well against low-end and mid-range noises.
Everything becomes inaudible with this headphone, no matter whether it's the sound of a doorbell, a crying baby, or a police siren.
I have never flown with this pair, but my friend says that the engine noise will become a second thought with its ANC on.
Well, I should also include the voice chattering and the humming sound of AC. Bose Noise Canceling headphones 700 can block out these sounds as well.
So, I can say that Bose 700 will make you feel like you are the last person on this earth, even if you are in the middle of Times Square.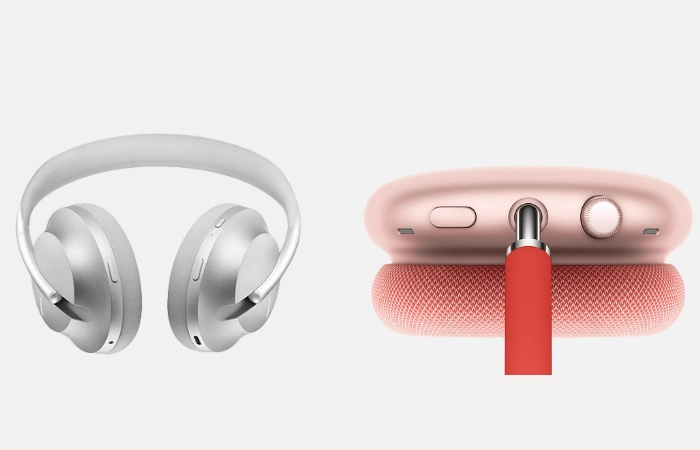 Now come to the part of AirPods Max.
It also has a superb noise-canceling ability like the bose 700.
It can effectively eliminate the ambient noises, including the low-frequency ones, which is quite praiseworthy.
Even if you listen to music on the flight, you won't likely hear much of the jet engine rumble. The same goes for the bus engine as well.
Besides, this headphone can efficiently block out human voices and higher-pitch sounds like the hum of the AC unit.
Besides the ANC, Apple AirPods Max is also excellent in terms of passive isolation. It can reduce the roar of drill machines and hammers from outdoor construction.
So, here I couldn't find the superior or inferior one. Both have enough capability to cancel different types of noises. Hence, the result should be a tie again.
Microphone or Call Quality: Bose 700 Or Airpods Max
As long as you are using the proper device, Apple AirPods Max will deliver you good feedback.
If you operate an older Android device, the mic of AirPods Max cannot reproduce clear vocal.
It lacks clarity in highs and lows, making the audio sound worse, which may be enough for quick phone calls but not anything more than that.
However, if you pair it with an iPhone, you will notice more detail in the high frequencies. It helps retain clarity even in hissing sounds, upgrading speech accuracy during conference calls.
Bose 700, on the other hand, offers a top-notch call quality even in a crowded place, separating the voice from any background noise.
Four of Bose's eight built-in microphones work efficiently to relay your voice to the opposite side as clearly as possible.
While talking outside with my friend, he managed to hear me loud and clear. He only faced some difficulties when encountering wind, but not to that point where we couldn't continue the conversation.
Anyway, your voice will be more audible if you use Bose 700 indoors.
So, we got a clear winner here.
Recording Quality
Now, what is the difference between AirPods max and Bose 700 in terms of recording quality?
Well, Bose 700 is better in this case also.
In short, recorded speech sounds natural and understandable here.
In contrast, AirPods Max has a mediocre recording quality. The recorded voice sounds thin and a bit muffled, but still, it will be understandable.
Probably you are concerned about their battery life. I already gave an idea on the table, but you may check out the following section for further details.
Battery Life: Bose Noise Cancelling 700 Vs Airpods Max
Bose and Apple both claim that their headphones will provide 20 hours of battery life.
Well, both of them could keep me entertained for more than 19 hours.
Their fast charging feature is also good.
If you forget to charge your Bose 700, you can leave it on charge for 15 minutes before rushing out the door to get 3.5 hours of playback support.
At the same time, AirPods Max will offer 1.5 hours of playback from only 5 minutes of charging.
As they almost have the same battery feature, the result should be a tie.
Now I am going to reveal their control system.
How Is The Control System?
The control system of Bose 700 consists of a touch sensor and button layout.
You will find the power and voice assistant button on the right ear cups, while the left one has an ANC button.
The touch sensor is on the right ear cup, which is responsive to some swipe and tap gestures.
Swipe your finger up & down to adjust the volume, tap it twice to play, pause or answer calls, and swipe left and right to skip your track backward and forward, respectively.
To know the battery level, hold the Bose logo and press it for one second to reject incoming calls.
On the contrary, Apple AirPods Max features two physical controls on the side of the right earcup.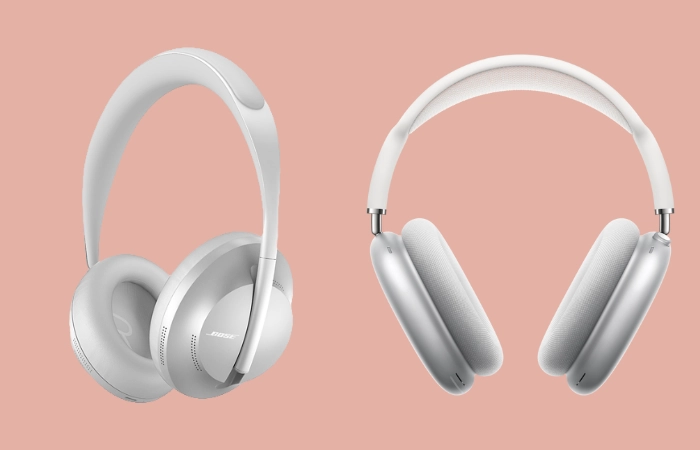 There is a simple button to toggle between noise-canceling modes and a dial inspired by the crown of the Apple Watch next to it.
You need to click it once to play or pause, double click to stay forward, triple-click to stay back, and rotate it to increase or decrease volume.
Hold down the crown to summon Siri, but you should know that AirPods Max is always prepared to listen to the 'Hey Siri' command by default.
This Apple headphone doesn't have any power button, which is actually a downside. When you put the headphone on the case, it will enter a low power mode only, and when you take it out, it is ready to go.
However, unfortunately, it is only convenient when you use the case. If you don't keep the headphone in the case, it will remain on for a few hours and drain out the battery the whole time before going to sleep.
The digital crown is another drawback. It may move accidentally and raise the volume to a dangerous level when you are about to adjust the headphone.
Oh, I forgot to let you know that besides all these, there are tiny sensors inside each earcup, which will automatically play or pause your track when you take off the headphone, and putting it back will resume your music.
Well, it is a feature that you can appreciate.
So, from the overall consideration, my vote for this round will go to the basket of Bose 700.
As both of them are Bluetooth headphones, you need to check out their connectivity before finalizing the decision.
Let's see which one can do better in this aspect.
Connectivity: Apple Airpods Max Headphone Vs Bose 700
Bose 700 and Apple AirPods max both are equipped with Bluetooth 5.0 and support only the SBC and AAC codecs.
AirPods Max will work without any significant issues on Apple devices, but it won't be the same if you use Android.
AAC performance on Android varies with the device.
To use this headphone on Android, you have to choose lower quality SBC codec.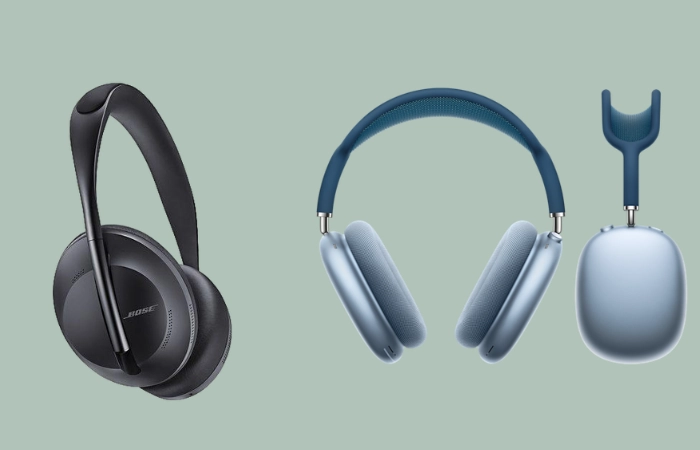 So, you can enjoy effortless listening on AirPods Max when paired with an iOS device. However, you won't get 100% of its service on Android devices, as its performance is limited on them.
The automatic device switching also works on any Apple device operating with the latest version of iOS, macOS, or iPadOS. You just need to make sure that all your devices are logged into the same Apple ID.
In contrast, Bose 700 can pair with two devices simultaneously.
It has lower latency on iOS and Android devices, but PC latency is likely too high for gaming.
Anyway, your experience may vary as some apps and devices sometimes offer latency compensation.
So, we have seen that if your device is Android, you cannot enjoy the connectivity fully on Airpods Max, which is a big downside.
Here is the score for this round.
App Support & Features: Bose 700 Vs Apple AirPods Max
Bose 700 has its own companion app, which is Bose Music app, while Airpods Max doesn't have any companion app, but it has an interface that only works on iOS and macOS devices.
However, the essential functions like installing firmware updates, toggling automatic head detection, customizing the Digital Crown, or enabling/disabling Spatial Audio cannot be performed on Android devices.
Bose Music app is easy to navigate, and it is the more appealing option.
It will allow you to adjust the ANC level, activate talk-through, change voice assistant settings, and access a list of Bose AR-enabled apps.
It also features a Self Voice mode that increases clarity on phone calls, along with a timer function and playback controls.
You will also get a 3-band graphic EQ for sound customization.
By the way, you have to create an account to use this app, which may feel annoying to some people.
All the possible comparisons are presented here before your eyes. Now, it's time to announce the winner.
Who Is The Winner?
Unless you have an iPhone and an impressive budget, the Bose 700 will be a better option.
Yes, Bose's headphone lacks some fancy features like Spatial Audio, but it does offer far better EQ support and configurable controls. Besides, the Bose 700 is more comfortable and has a better-performing integrated mic.
However, that doesn't mean that Apple's AirPods Max is not good.
They are also a good option in terms of noise-canceling and sound quality, but they come at an eye-watering cost that only a few of us can justify.
So, I think the price alone has made the AirPods Max a tough buy for the consumers.
Therefore, I wholeheartedly recommend Bose Noise Canceling Headphones 700 over Apple AirPods Max.
Are you not satisfied with any of their performance? What to go for an alternative?
Okay, no worries. Just have a look at the below segment.
Alternative Options
You may consider any of the following options as an alternative to Both Airpods Max and Bose 700.
The Sony WH-1000XM4 features best-in-class Active Noise Canceling, customizable sound, and a comfortable build. It has very good connection stability, and so does the microphone quality. Besides, it also supports Bluetooth multipoint like the Bose 700.
On the other hand, Shure AONIC 50 also comes with a top-notch noise-canceling feature and premium wireless studio-quality sound. Moreover, it will offer you up to 20 hours of battery life in a comfortable and durable wrap-around.
There is nothing more to let you know. So, I am ending it here.
Conclusion
Hopefully, this comparative discussion on Bose 700 vs AirPods Max will help you get the better product.
Explore all the differences thoroughly and then stick to the one that can fulfill your need.
Have a happy time.
Thank you.