If you often want to listen to music in noisy environments or travel on airplanes frequently, noise-canceling headphones are the solution.
In search of a good noise-canceling headphone you might come across the two names Bose 700 and Bowers and Wilkin's PX7.
But you need one, not two. Right? Then which one will you go for?
Now you need a solid comparison between the two before taking the final plunge.
So, take your load off and go through our comparative discussion on Bose 700 vs Bowers and Wilkins PX7 to make the right decision.
Bose 700 Vs Bowers & Wilkins PX7: Get The Best One
In the beginning, I would like to give you an initial idea about the two by comparing their key specs, keeping them side by side.
For that, see the below table at a glance.
| Features | Bose 700 | Bowers & Wilkins PX7 |
| --- | --- | --- |
| | | |
| | | |
| | Quick 15-minute charge: For up to 3.5 hours. | Quick 15-minute charge: For up to 6 hours. |
| | | |
| | | |
| | | SBC, AAC, AptX Adaptive, AptX HD, AptX Classic. |
| | | |
| | | |
| | Triple Black, Silver Luxe. | Space Grey, Silver, Carbon. |
| | | |
| | | 3.15 x 6.89 x 8.66 inches. |
| | | |
Now let's go for the details to get a broad idea of their differences.
What catches your attention whenever you see a new headphone? It must be the design and build. Right?
Okay, I am starting with it.
Design & Build: Bose 700 Vs B&W PX7
Both of them are over-ear, closed-back headphones, which have come with multiple color options.
Starting with the physical feature, Bose 700 is made out of durable stainless steel and soft-touch plastic. It looks way more exceptional than the Bose's other traditionally designed over-ear headphones.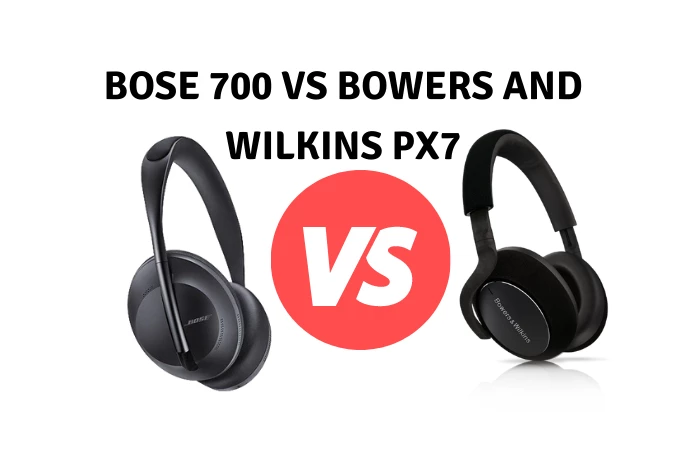 It features an ultramodern and sleek design with matte finished ear cups and an adjustable steel headband.
Its distinctively shaped headband could draw my attention in the first place, which integrates directly into the ear cups without any visible hinges. Bose gave the extenders an innovative futuristic design, placing them on the outside of the two swiveling ear cups adorned with the Bose logo.
On the other hand, I was not so pleased with the outer look of the PX7. Yes, it looks quite unique, but the design is not up to the mark like Bose 700. It won't give you a high-end feel.
This headphone retains an almost similar shape as the previous Bowers & Wilkins PX Wireless model, but with a few minor changes.
The hinges of the headphone's arms are now fully covered, hiding the cable, and this change is really praiseworthy.
Anyway, what I disliked most about this headphone was its backplate. It looks a bit plasticky and not as premium as the previous model.
Design just defines the external look, but comfort is how you feel while wearing a headphone.
And it is much more important to continue your extended use. In fact, no one of us wants to be in continuous discomfort. Won't you agree?
Okay, then let's see which one can offer us more comfort.
Comfort & Fit: Bowers And Wilkins PX7 Vs Bose 700
Moving onto the comfort feature, Bose Noise Cancelling Headphone 700 is very lightweight and comfortable.
They are well-padded, and the soft, smooth texture of the leather will offer a gentle touch to your skin.
Even though you use them for a long period of time, there won't be any fatigue feeling.
It feels less burdening than the Bowers and Wilkins PX7 due to its lighter weight and slimmer design.
Moreover, its earcups are breathable enough to allow the air in and resist moisture buildup. So, you can use this over-ear headphone for a light gym workout.
And as for the fit, Bose's headphone has its own unique sliding mechanism that offers maximum stability and seamless adjustment.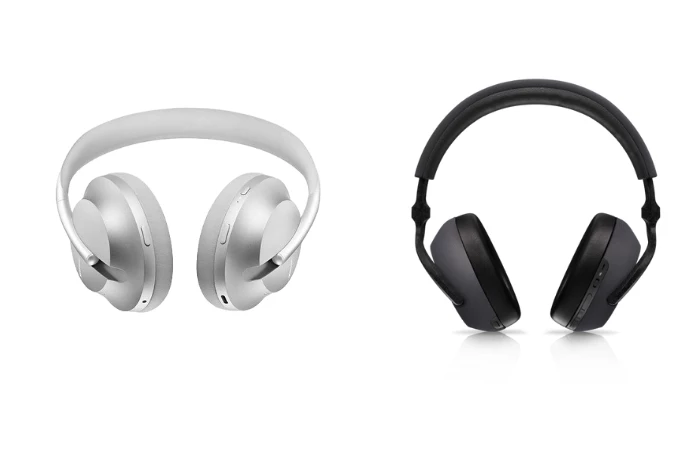 Now let's focus on the comfortability of its competitor, PX7.
The most important point you need to know is that PX7 is heavier than the Bose 700, which will affect the comfort more or less. So, it is obvious that Bose 700 is far ahead in this aspect from the beginning.
Apart from this, I can say that this headphone is quite comfortable with its soft and plush padding.
Its well-padded headband can evenly distribute the weight of the headphone, but still, it cannot reach the same level as the Bose 700 due to its relatively bulky construction.
Unfortunately, the ear cups are a bit on the shallower side, and they trap a bit of heat inside them, which will make you sweat more than usual.
Speaking about the fit, its ear cups have an exceptional range of motion, so anyone should find the right angle not to have any gaps in the fit.
So, no complaints about its fit, but it is undeniable that Bose 700 is way more comfortable than the PX7.
Right now, I am going to reveal the most important feature of a headphone.
Any guesses?
Yes, it is the sound quality.
Sound Quality: Bose 700 Vs Bowers Wilkins PX7
So, what is the difference between Bowers and Wilkins PX7 and Bose 700 in terms of sound quality?
Well, the bass is present at a similar level on both headphones. However, the bass on the Bose's one is cleaner and more detailed, while the PX7 has a slightly warmer and fatter bass response.
So, listen to your favorite genres like rap music or hip-hop on Bose 700. It will be more nuanced and natural in its presentation.
The midrange on the B&W PX7 is more well-balanced. So, you will get a more full-bodied and all-encompassing sound while listening to tracks with heavy instrumentation.
In contrast, Bose 700 produces more emphasized upper mids. Hence, vocals sit in front of the mix, offering a more dynamic feel.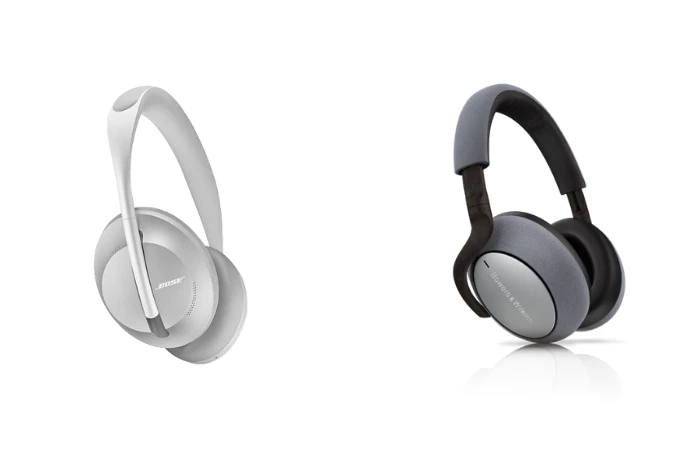 And again, Bose 700 has a superior resolution overall with a cleaner, and more crystalized feel, while the PX7 feels rounder and smoother in its presentation.
You will get more extensions in the high frequencies on Bose 700. It will give you a little more sparkle and presence in this range.
So, vocals within this range sound clearer and lighter on 700, while the B&W PX7 shows a thicker and more velvety performance.
And as for the soundstage, Bose 700 is better in this case also. It offers a more spacious feel with more precise imaging. In effect, it makes the PX7 feel a little isolated and tasteless in comparison.
Hence, if you value a roomy and colorful soundscape, then Bose 700 will be your perfect bet.
Here comes another important part to discuss now. Their active noise-canceling feature.
Bose 700 or Bowers And Wilkins PX7? Which one can do it better?
Noise Cancellation: B&W PX7 Vs Bose 700
We tested the noise canceling ability of both headphones, and the Bose is indeed the superior one in this regard. However, that doesn't say that B&W PX7 is bad.
It is just that Bose's noise-canceling is insanely good, thanks to its adaptive eight-microphone technology.
You are getting 11 levels of noise cancellation on Bose 700 that will allow you to hear your music only.
If you set the highest level of ANC, it will effectively block out all the low-end and mid-range noises.
Whether it is the sound of a police siren, a crying baby, or a doorbell, everything becomes inaudible with this headphone.
And when you fly with the Bose 700, it will block out the airplane rumble so well that the engine noise will become a second thought for you.
Well, I shouldn't exclude the humming sound of AC and the voice chattering. Bose Noise Cancelling Headphone 700 works well against these sounds as well.
In short, I can just say that Bose 700 will make you feel like you are the last person on this earth, even if you are amidst Times Square.
On the contrary, Bowers & Wilkins PX7's noise-canceling performance is pretty decent, but it is not something near the Bose 700.
It can reduce a decent amount of bass frequencies, like the deep rumble of a bus engine, making them suitable for use in public transport.
In case you cannot concentrate on your office work due to your talkative colleagues, this headphone can be your solution to block out their voices.
And again, you can suggest it to your younger siblings to help them concentrate on their studies, as PX7 is capable of reducing all the house chattering.
Besides, it can diminish the sound of the AC unit as well.
So, here is the score.
Microphone or Call Quality: Bose 700 Vs PX7
Bose 700 offers a top-notch call quality even in a crowded place, canceling the surrounding noises and separating the voice when talking on the phone.
Four of its adaptive eight microphone technology work efficiently to transmit your voice to the opposite end as clearly as possible.
Therefore, if you make a lot of phone calls on the go, Bose 700 won't disappoint you.
My friend could hear me loud and clear while talking outdoor with him. He only faced some issues when confronting the wind, but not to the point where we couldn't carry on our conversation.
Its performance is tremendous if you talk in a relatively quiet setting or indoors.
Anyway, don't expect the same while talking on the Bowers & Wilkins PX7.
Their microphone performance is poor, and many users report not being heard by the caller on the other end, even in a quiet environment. It also picks up a lot of noise during calls.
How Is Their Recording Quality?
Bose Noise Cancelling Headphone 700 is better in this case also.
In short, recorded speech sounds natural and understandable here, while on the other hand, B&W PX7 has sub-par recording quality.
Recorded speech lacks in detail and sounds noticeably muffled, even in a very quiet environment. However, the speech is still understandable, but the audio quality is quite disappointing.
The battery life of Bluetooth headphones is one of the biggest concerns of the users. Though you already got an idea from the table, you may go through the following section for further details.
Battery Life: Bowers & Wilkins PX7 Vs Bose 700
Bowers & Wilkins PX7 claims to provide around 30 hours of battery life, and surprisingly it could keep me entertained for up to 30.5 hours.
And for the very first time, Bose 700 is going to lose as it offers 20 hours of battery life. Though it is much less than what the PX7 offers, still, it meets the standard of a Bluetooth headphone's battery life.
However, PX7 takes half an hour longer than the Bose 700 to be fully charged to provide such a long playback time.
Anyway, PX7 is also much better if I consider the fast charging feature.
In case you forget to charge, you can leave it on charge for 15 minutes before rushing out the door to get 6 hours of playback support.
On the other hand, Bose 700 will offer 3.5 hours of playback from the same amount of charging.
So, this time the winner is different.
Now I will let you know which headphone is more-user-friendly. Yes, you guessed it right. I am going to talk about their control scheme.
How Is Their Control System?
Bose 700 headphone uses a combination of buttons and touch controls, while the B&W PX7 relies solely on buttons.
Let's start with the 700.
It has the power and voice assistant buttons on the right ear cup, while the left one has a dedicated ANC button.
You will find the touch sensor on the right ear cup, which is responsive to some swipe and tap gestures.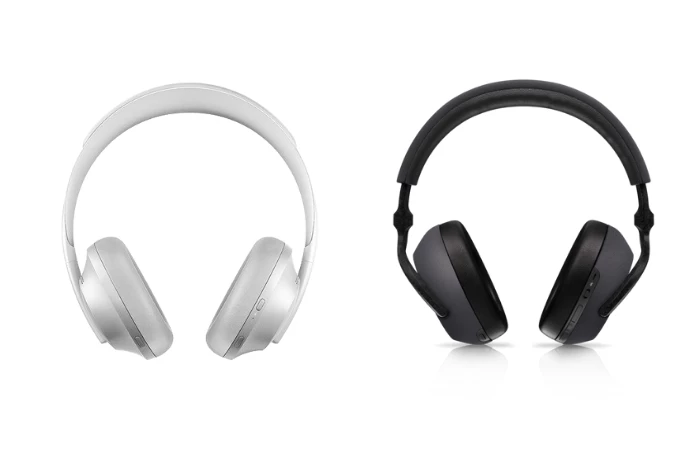 Swipe your finger up & down to adjust the volume, swipe left and right to skip track backward and forward, respectively, and tap it twice to play, pause or answer calls.
Hold the Bose logo to see the battery level, and press it for one second to reject calls.
Talking about the controls of PX7, it has many physical buttons that offer the most common functions.
You can play/pause or receive/end calls with the middle button. There are volume controls on both sides of the middle button.
You need to double-tap the middle button to skip track and triple tap it to go backward.
There is also a button on the left ear cup for ANC control, which allows you to switch between high, low, auto, and off. You can also enter the talk-through mode by holding this same button.
All the buttons are very clicky, and you will get a voice prompt, which is nice and clear.
Now it's time to give the score.
Well, I personally prefer buttons over touchpads. Want to know the reason?
When picking up the Bose 700, I sometimes unknowingly activate the voice assistant function from accidental inputs.
So, here is the score for this segment.
The connectivity of Bluetooth headphones needs to be checked before the purchase.
Let's see how they perform in this aspect.
Bluetooth Connectivity: Bose 700 Vs Bowers Wilkins PX7
The connectivity is more or less the same on the two headphones.
Both of them support Bluetooth 5.0 version and can pair simultaneously with two devices. So, it would be a great help at the office when you need to switch between a computer and a phone.
However, they don't support NFC pairing for an easier and quicker pairing process.
Latency is much lower on Bose 700 on iOS and Android devices, but the PC latency is likely too high for gaming.
But your experience may vary as some apps and devices sometimes offer latency compensation.
In contrast, Bowers & Wilkins PX7's default latency is average for Bluetooth headphones. That said, some people might not notice a delay, while some others might when watching video content.
So, from overall consideration, the score should be tied in this round.
Wired Connectivity
You can use both the Bose 700 and B&W PX7 in wired mode.
Bose 700 uses a 3.5 mm to 2.5 mm audio cable, which is a little bit more difficult to find than a regular 3.5 to 3.5 mm cable.
However, the convenient thing about the Bose 700 is that you can use this headphone in wired mode even if the battery power is depleted, but you won't get this benefit on PX7.
PX7 always needs battery power to function, even when used in wired mode. A 3.5 mm audio cable is offered with this headphone for wired listening convenience.
Overall, Bose 700 is the winner once again.
App Support & Features: PX7 Vs Bose 700
Bose Noise Canceling Headphone 700 is compatible with Bose Music app, which is different from the Bose Connect app that many of this brand's other models use.
This app is very easy to navigate.
You can set the ANC level, activate talk-through, adjust the auto-off timer, modify the settings of the voice assistant, and access a list of Bose AR-enabled apps.
There is also a 3-band graphic EQ for sound customization.
It also features a Self Voice mode to help increase clarity on phone calls, along with playback controls.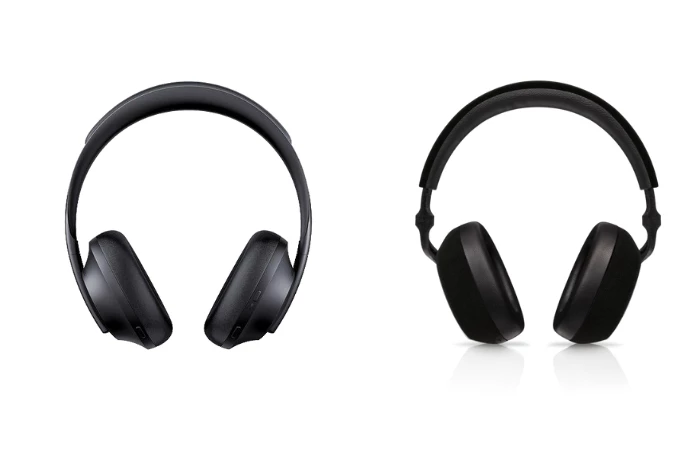 However, you have to create an account to use this app, which can be frustrating for some.
While Bose Music app offers a lot of options, PX7's companion app is quite basic.
It will allow you to access a few settings like ANC controls and a slider for ambient mode. The list of connected devices can also be seen, and you can reset the headphones to their default settings inside the app.
Apart from that, it doesn't offer much and can't customize its sound profile, which is quite disappointing.
Another downside of PX7 is that it doesn't support any voice assistant, which is totally unexpected from an expensive headphone like this.
By this time, I have presented all the possible comparisons between them. Now it is time to announce the winner.
Who Is The Winner?
You have seen that most of the segments are won by the Bose's headphone. So, the result is quite obvious.
Yes, I wholeheartedly recommend Bose Noise Canceling Headphone 700 over the Bowers and Wilkins PX7.
Bose Noise Canceling Headphone 700
It is more comfortable, has a more neutral and accurate sound signature, and class-leading ANC feature. Other reasons behind this recommendation are its capability to support smart assistants and extraordinary microphone performance for phone calls.
After learning about their characteristics thoroughly, if you still cannot like any of them, my next section is for you.
Alternative Options
Here I am presenting two suitable alternatives to Bose 700 and B&W PX7.
Sony WH-1000XM4 features industry-leading digital noise cancellation with dual noise sensor technology. It also offers you long-lasting comfort with 30 hours of continuous playback time, superior call clarity, and precise voice pick-up.
And you will get three levels of world-class noise cancellation on Bose QC 35 II for better listening in any environment. Its noise-rejecting dual-microphone system offers crystal clear calls even if you are in a noisy setting. What more you will get is 20 hours of battery life, easy Bluetooth pairing, and a comfortable and durable fit.
Well, I am already done with my today's discussion. So, let's end it here.
Conclusion
Hopefully, this comprehensive write-up on Bose 700 vs Bowers And Wilkins PX7 will help you understand the core differences between them so that you can make the right choice.
Lastly, have a pleasant time with your headphone.
Thanks for being with me till now.