Want to silence the noisy world and lose yourself in the realm of imagination with the melody of music?
Well, it may sound impossible, but the actual situation is quite different when you have Sennheiser Momentum 3 or Bose 700 – noise-canceling headphones from two highly renowned brands.
But which one should I go for? This or that? I know this is the question popping up in your mind right now.
Okay, then let's see which one can justify its expensive price tag.
Sennheiser Momentum 3 vs Bose 700!!! Are you ready to enjoy this battle?
Sennheiser Momentum 3 Vs Bose Noise Cancelling 700
Before the real battle starts, let's have a look at their key weapons that will be used to fight against each other.
Yes! I was talking about their key specs. See the below comparison table at a glance and get a solid grasp of them.
| Features | Sennheiser Momentum 3 | Bose 700 |
| --- | --- | --- |
| | | |
| | | |
| | | |
| | 10 minutes of charging = 1.5 hours of playback. | 15 minutes of charging = 3.5 hours of playback. |
| | | |
| | | |
| | SBC, AAC, AptX, AptX Low Latency. | |
| | | |
| | | |
| | | |
| | | Triple Black, Silver Luxe, Soapstone. |
| | | |
| | | |
| | | |
Now that you have an initial idea about these two headphones, let's go for a detailed head-to-head comparison.
The design or outer look of a headphone is the thing that catches our attention first. And that's why I am going to start with this point.
Design & Build: Bose 700 Vs Momentum 3
We are talking about headphones of two renowned brands. So, it is quite obvious that they have expertise in developing well-designed headphones.
So, you can expect two pairs of handsome and posh-looking headphones, though Bose 700 was able to grab my attention in the first place.
It comes with an exceptional unibody frame that stands out among Bose's other traditionally designed over-ears.
Its distinctively shaped headband gives it a futuristic, elegant look that unites directly into the ear cups without any visible hinges. Here you won't see any screws or bolts either.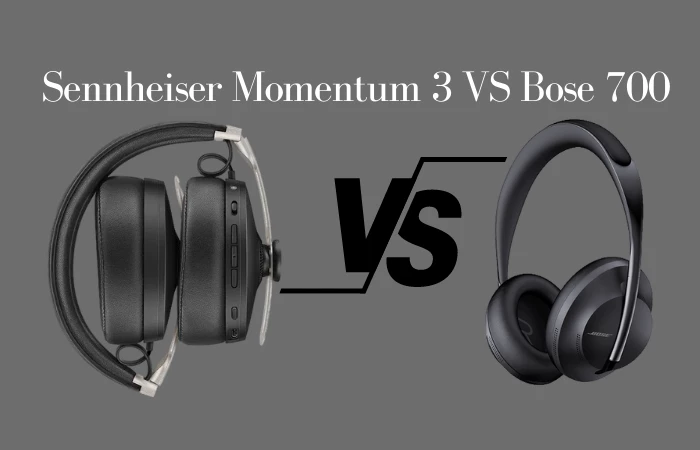 The plastic used around the ear cups is sturdy and has a nice glossy effect, making the headphones look like a stunner.
Sennheiser Momentum 3, on the other hand, looks nearly identical to its predecessor but with a little change in its design. It seems a bit bulkier to me.
The headphone still has the same matte back casing on the earcups, and the large oval-shaped earcups have come with leather padding. However, the leather feels a bit smoother this time.
The headband is quite simple and almost similar to the last model.
And as for the build quality, Sennheiser didn't use cheap material on its headphone either. So, you can expect great build quality.
When purchasing a new headphone, I always check its comfort feature beforehand.
You should also be concerned about it. In fact, you cannot continue doing anything with constant discomfort.
Comfort & Fit: Bose 700 Vs Sennheiser Momentum 3
Both of them are comfortable pairs of headphones as long as you sport them for a short period.
Plush padding cannot always offer pleasant comfort- these two headphones are great examples of this statement.
If you tend to use your headphone for long durations, you will find Bose 700 and Momentum 3 stifling on your skull after one hour.
Though both of their headbands will apply extra pressure on your head after a certain period, Bose 700 is less burdening due to its lighter weight and slimmer design.
I suggest you loosen the 700's headband a bit. It will ensure better comfort and make them eligible to use for a long time.
Besides, the earpads of Bose 700 are slightly comfier as well. They offer plenty of room for your ears while being breathable enough to allow air to come in and resist moisture buildup.
Its soft leather also has a smoother texture that will offer a gentle touch to your skin.
In contrast, Momentum 3's leather might feel more premium, but it traps more heat, creating a sweaty listening environment.
Speaking about the fit, neither of them will disappoint you in this case. Each pair has its own unique sliding mechanism that enables maximum stability and seamless adjustment.
You can even walk fast and chase down buses during rush hours without worrying about slippage. That said, these wireless over-ear headphones are also perfect for a light gym workout, especially the Bose 700.
So, the fit is quite good for both of them. Hence, the score will vary due to the variation in comfortability.
This time I will talk about sound quality, one of the most important features of a headphone.
Sound Quality: Momentum 3 Vs Bose 700
I listened to each pair of headphones for an hour to realize the differences between their audio quality.
The Sennheiser Momentum 3 features a bright sound profile, whereas the Bose 700 turns towards the warmer end of the spectrum.
I enjoyed both, but there is no denying that Momentum 3 has a more sophisticated and tasteful sonic option.
Let's get into the details of Bose 700 first.
It has a slightly bass-heavy and warm sound profile. You will feel a bit of extra boom, which can satisfy the fans of bass-heavy genres like EDM and hip-hop.
Due to its balanced mid-range, you can even enjoy vocal-centric content like podcasts with this headphone. However, the mids may feel harsh at times and lack details in some cases.
Its treble reproduction is pretty good, so does the dynamics and timing.
And if you are eager to know about the soundstage, it's quite nice and wide as well.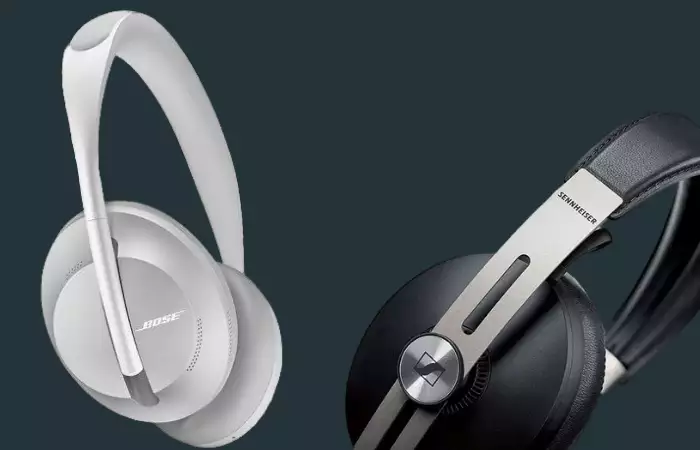 While Bose 700 can satisfy you with its warm sound profile, Sennheiser 3 can blow your mind away, as I said earlier about its superior sonic reproduction.
This headphone offers a show-stopping sound with depth and clarity and well-controlled bass. It will allow every instrument to have its own space to shine brightly while also smoothly integrating the rest of the elements.
While listening to orchestral pieces like Ahmad Jamal's "Wave," I felt like being right in front of the stage. The Momentum 3 deserves a round of applause for its tremendous job with instrumental separation.
It gives every instrument a moment in the spotlight while also bringing profound attention to sounds that usually go reserved on most other headphones. In a word, you wouldn't ask for more.
And as for the midrange, it is also packed with nuance, letting insight and character sneak into the vocals.
So, they are an expressive pair of headphones that will allow you to pick every tiny detail in terms of audio quality.
That said, the Sennheiser Momentum 3 is the clear winner in this round.
However, it doesn't mean that the Bose 700 doesn't produce good sound. Actually, the Momentum 3 knocks it out of this competition.
Now that you know about their sound quality let's check out their noise-canceling ability.
Noise Cancellation: Bose 700 Vs Sennheiser 3
Sennheiser takes a valiant step to develop its noise-canceling. It employs three different ANC modes in the Momentum 3 that can work against different ambient sound levels.
For example, while I was roaming through my Spotify playlists on this headphone, a whisking taxicab could rarely catch my attention.
It can also block out a good amount of bass range noise like bus and plane engines.
High-pitched noise like the humming sound of an AC unit is also cut down by Momentum 3.
And if you want to concentrate on your work by blocking out the voices of your colleagues, this headphone will make a way out for you.
You may also suggest it to your siblings to help them focus on their studies.
Well, whatever it is, the Sennheiser Momentum 3 still cannot reach the same level as Bose 700 in terms of noise canceling.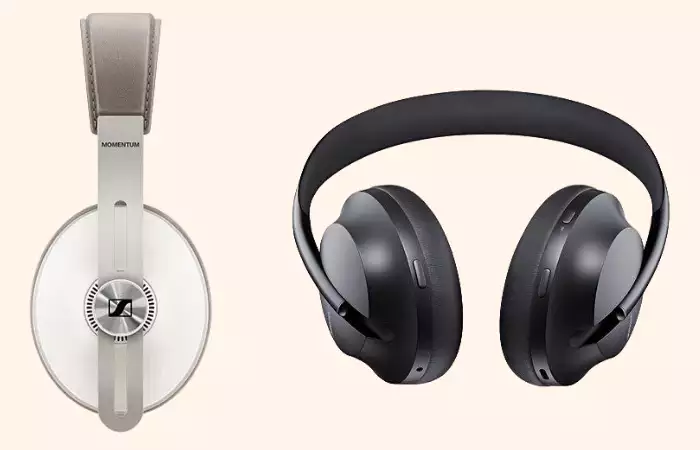 Thanks to Bose's all-new adaptive microphone technology, which gives this headphone a major advantage over its competitor.
This technology works very well, where six microphones analyze all the noise from your surroundings and minimize it at the highest possible level.
It features 11 levels of ANC to let you only hear the music. The highest level works incredibly well for blocking out low-end and mid-range noises.
Whether it's the sound of a doorbell, a crying baby, or a police siren, everything becomes inaudible with this headphone.
Though I have never flown with this pair, according to my friend, the engine noise will be a second thought with its ANC on.
Well, I shouldn't exclude the voice chattering and the humming of AC. Bose 700 works well against these sounds as well.
In a word, Bose's headphone will make you feel like you are the last person on this planet, even if you are in the middle of Times Square.
So, here is the score.
Which One Has Better Call Quality?
Out of the eight built-in microphones of Bose 700, four of them work efficiently to transmit your voice to the other end as clearly as possible.
Even if you are in a crowded environment, they can separate your voice from any background noise, offering a top-notch call quality.
While talking outside with my friend, he managed to hear me loud and clear. There was only some interference when I encountered wind, but not to that point where I couldn't carry on the conversation.
Your voice will be more audible if you use Bose 700 indoors.
On the other hand, Momentum 3 cannot get the job done.
My voice sounded distant and muddled, and there was a lot of background clatter as well that interrupted the calls. So, it seemed that I should have spoken in a completely silent setting.
Recording Quality: Sennheiser 3 Vs Bose 700
So, what is the difference between Bose 700 and Sennheiser 3 in terms of recording quality?
Well, Bose 700 seems to be better in this case also.
Simply put, recorded speech sounds natural and understandable here, whereas your voice will sound full-bodied on Momentum 3 though it will be clear and understandable in a quiet environment.
The battery life of a wireless Bluetooth headphone is a must-checking feature as you need to be sure about whether it can meet your requirement or not.
Let's see who can perform better in this aspect.
Battery Life: Bose 700 Vs Sennheiser 3
Bose 700 wins once again for its longer battery life with ANC on. Bose 700 claims 20 hours of battery support, which is better than 17 hours of Sennheiser Momentum 3.
Though Bose 700 could keep me entertained for almost 19 hours, the Momentum 3 was capped at 14 hours, which doesn't match what the Sennheiser advertised.
And if I consider the quick charge, the bose 700 also remains a few steps ahead of Sennheiser 3.
In case you forget to charge your headphone, you can leave it on charge for 15 minutes before rushing out the door to get 3.5 hours of playback support.
Meanwhile, Momentum 3 will offer only 1.5 hours from 10 minutes of charging. It takes a longer time to be fully charged as well.
So, we got a clear winner here.
The control system of a headphone defines how handy the headphone is. Now take a quick look at their control scheme to know which one is more user-friendly.
How Is the Control System?
Bose 700 comes with touch control along with buttons, making the button layout less crowded and well-distributed.
The right earcup has the power and voice assistant buttons, while the left one has an ANC button.
The touch sensor on the right earcup is responsive to some tap and swipe gestures.
Tap it twice to play, pause or answer calls, swipe your finger up or down to change the volume, and swipe left and right to skip your track backward and forward.
You need to hold the Bose logo to know the battery level and press it for one second to reject incoming calls.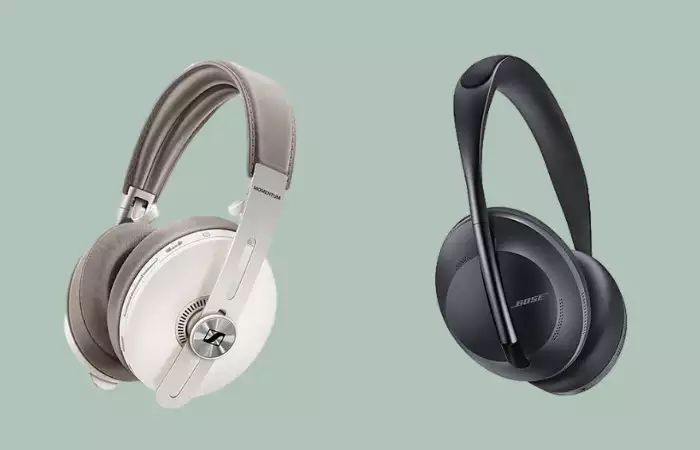 It can take a few days to get used to these. Anyway, speaking about the drawback of this touch panel, a slight touch can accidentally start any unwanted action.
Contrarily, the control scheme of Momentum 3 is quite decent. All the volume and playback control is situated on the right earcup.
There is also an ANC and a voice assistant button on the same earcup. You can play/pause, skip track, and answer/end calls with the middle button. And for volume adjustment, you need to use the top and bottom buttons.
Unfolding the headphones will turn on the power, and folding it back will automatically turn off the headphone.
As there is no touch sensor control panel on Sennheiser 3, there won't be any possibility of accidental inputs. So, its button layout seems more practical to me.
My vote for this segment will go to the basket of Sennheiser Momentum 3.
Connectivity: Bose 700 Vs Momentum 3
Both Sennheiser Momentum 3 and Bose 700 are equipped with Bluetooth 5.0 technology and can pair with two devices simultaneously.
Besides Bluetooth, the Momentum 3 also supports NFC for easier and quicker pairing, but this feature is absent on Bose 700.
For Bose 700, latency is much lower on iOS and Android devices, while PC latency is likely too high for gaming.
Anyway, your experience may vary as some devices and apps can offer latency compensation.
On the other hand, the latency of the Momentum 3 is very low over the SBC codec, and it is even lower than most Bluetooth headphones.
On the upside, besides the AAC and SBC, they also support aptX and aptX-LL, which offer very low latency. You won't notice any delay while watching video content.
So, Sennheiser Momentum 3 appears to be more convenient in terms of connectivity. Here is the score for this round.
Both Bose and Sennheiser have app support for their headphones to enhance user experience. This time I will discuss the features they offer to customize your listening.
App Features
The Bose 700 and Sennheiser Momentum 3 have their own companion apps that are easy to navigate.
Bose Music is the more appealing option, and this app has a sleek interface that is relatively easy to use. It will let you adjust the ANC level, activate talk-through, access a list of Bose AR-enabled apps, and change voice assistant settings.
You will also get a Self Voice mode that enhances clarity on phone calls, along with a timer function and playback controls.
What more you can get is a 3-band graphic EQ for sound customization.
Anyway, you need to create an account to use this app, which may feel annoying to some.
Sennheiser Smart Control has its own features to offer you. However, the killer feature here is the built-in EQ to customize audio and save sound profiles.
You can switch between 3 different levels of ANC, and it has a Tile device finder as well.
Other functions include toggle controls for on-ear detection and voice prompts.
Unfortunately, this app doesn't work properly. It is buggy as hell and causes a few problems, from missed connections to sending the soundstage out of smack.
I have shown all the possible comparisons between these two headphones. Now it's time to announce the winner.
Who Is The Winner?
We have seen that the Bose 700 outperforms its retro-looking opponent in nearly all categories.
So, I wholeheartedly recommend Bose 700 over Sennheiser Momentum 3.
The Bose 700 is better-performing headphones than the Momentum 3 Wireless. Bose's headphone is more comfortable, good-looking, and has noticeably better noise cancellation, battery features, and microphone performances.
Are you not satisfied with their performance? Want to go for a different option?
Well, don't worry. Just check out the following section.
Alternative Options
Here I am going to mention two appropriate alternatives to Sennheiser Momentum 3 and Bose 700. You may go for any of the following two headphones:
You can enjoy three levels of world-class noise cancellation and balanced audio performance with Bose QC 35 II.
Besides, it will offer a noise-rejecting dual-microphone system for crystal clear calls, 20 hours of battery life, and a durable, comfortable fit.
At the same time, The Sennheiser PXC 550-II headphone provides excellent low-frequency noise cancellation, 30 hours of extended battery support, AptX and AptX Low Latency codec support with a comfortable wraparound.
I think you have no more questions left to know. Therefore, let's conclude it here.
Conclusion
Hopefully, this competitive discussion on Sennheiser Momentum 3 vs Bose 700 will help you finalize your decision.
Explore all the differences thoroughly and finally choose the one that can meet your need.
Have a good day.