When you are on a budget, you may feel bothered by those expensive headphones on the market.
Of course, some expensive headsets have high-end performance, but as you are looking for an affordable option, how will you find the best one?
I know it's tough to search for headphones that provide outstanding features at a lower price.
It becomes more challenging when you are looking for studio-quality headphones.
But, what if I say that I have an exclusive solution for you.
Feeling excited! Right?
Yes, OneOdio Hi-Fi Pro is such a headphone that will make up for all your problems.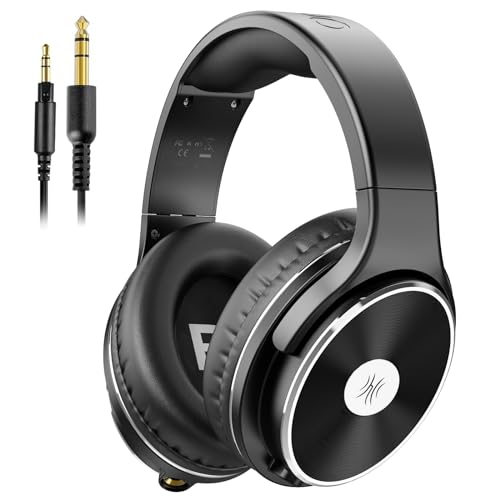 So, without further delay, get ready to go through my OneOdio Hi-Fi Pro review and see if they fulfill your requirements.
OneOdio Hi-Fi Pro Review: A Professional Studio Headphone
Before purchasing a studio standard headset, you need to know their sound quality, pros-cons, soundstage, comfortability, and many other vital facts.
And I am going to provide every little piece of information about these headphones, including their downside.
First, take a sneak peek of OneOdio Studio hi-fi from below.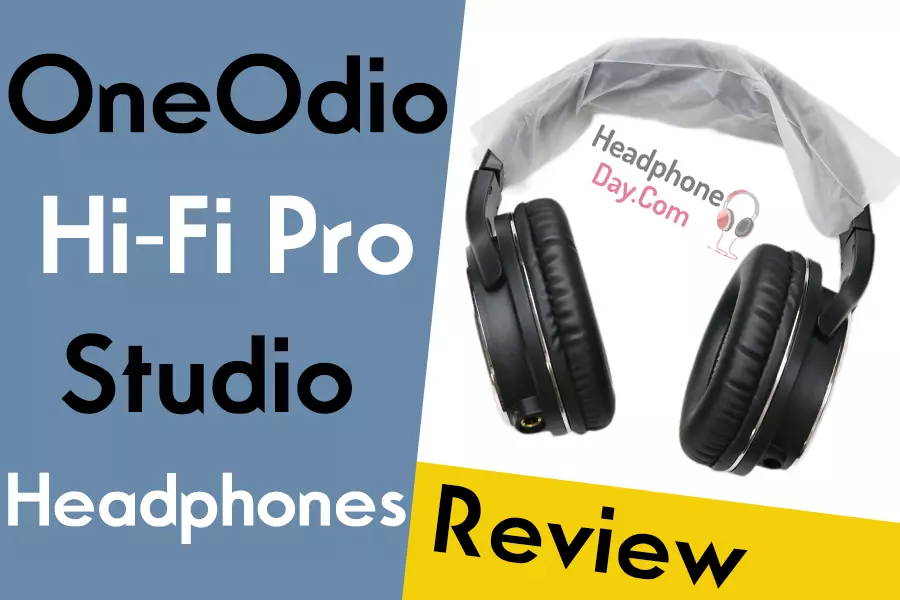 At A Glance
High-resolution and controlled bass audio.
Above-average noise isolation.
Adapter-free wired connection.
30 ° adjustable earcups.
Detachable dual cable.
Two years warranty.
The moment I finally received the package, I was excited to see all the provided components.
Even though I am a fully grown-up person, new products always make me curious like a five-year-old.
Are you eager to know what I got from the box?
Well, I am revealing it now.
In The Box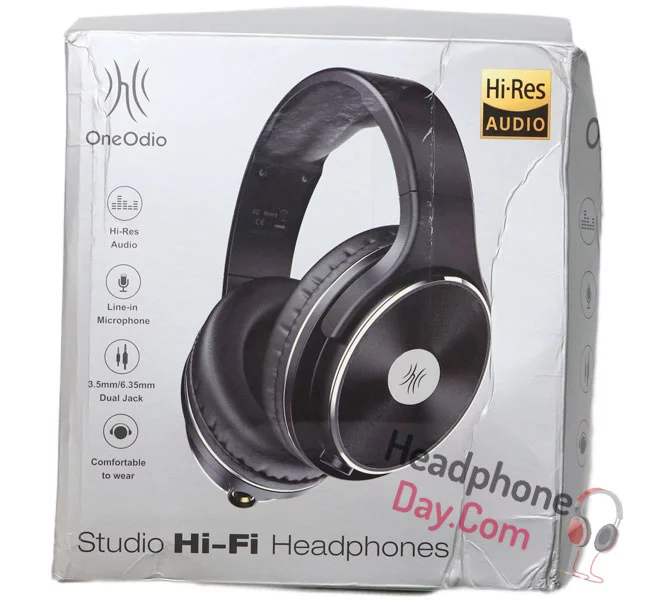 The box has a grayish color. And from inside, I found my desired:
OneOdio Studio Hi-Fi headphones.
1 x 3.5mm audio jack cable.
1 x 6.35mm to 3.5mm cable
one carrying pouch.
And the user manual.
Except for the materials mentioned above, they don't come with any extra replaceable components.
Yet, it's okay as I have seen many brands don't even provide portable bags while this one does.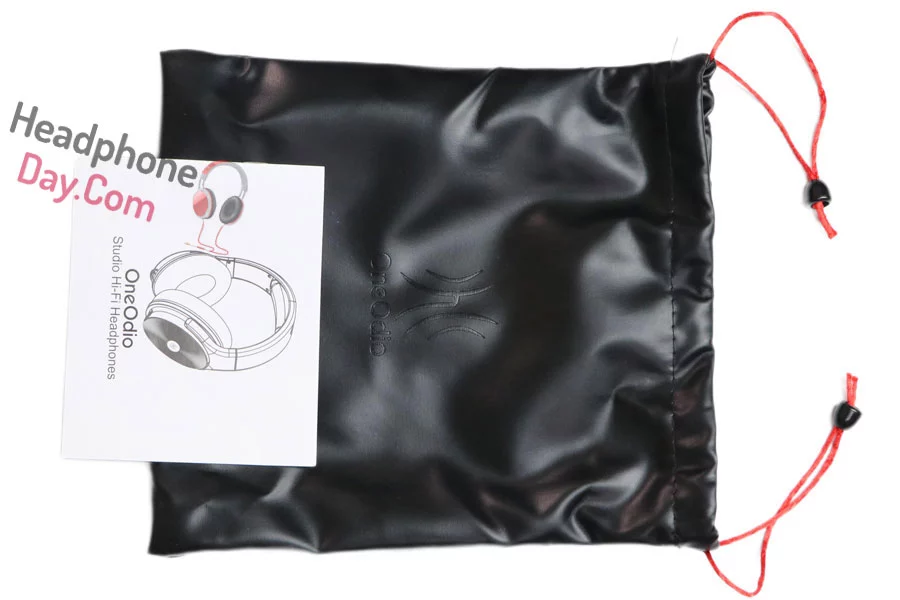 Anyway, let's know about their key specs with pros and cons before going into the main review part.
Key Specifications
Form-Factor: Over-Ear.
Design: Closed-back.
Connectivity: Wired.
Color: Black, Silver.
Frequency Response: 20 Hz to 40 kHz.
Driver Size: 50mm.
Magnet Type: Neodymium.
Impedance: 32 ohms ± 15%.
Sensitivity: 108 dB ± 3 dB.
Microphone Sensitivity: -38 dB ± 3 dB.
Microphone Impedance: 2.2 KΩ.
Rating Power: 15 mW.
Maximum Power: 1600 mW.
Connection Type: 3.5mm/6.35mm stereo.
Cable 1: 1.2-meter straight cable with a microphone.
Cable 2: 2m-3m coiled cable.
Net Weight: 260g.
Headphone Dimensions: 8.07 x 7.2 x 4.02 inches.
Pros
Share port technology.
Adjustable headbands.
Compatible with a wide range of devices.
Soft padding on headband and ear cups.
Impactful bass.
Large driver.
Cons
The headphone is not foldable.
No in-line volume control.
No wireless option.
I always get concerned about the comfortability while purchasing a new pair of headphones.
So, was it able to stand out on my expectations?
You will find the answer in my upcoming segment.
Is It Comfortable or not?
It has soft semi-padding on the headband, and the earmuffs are covered with sleek leather.
I felt very comfy when I wore it, and the headband pressure was just the right amount.
It wasn't too loose or tight on my head.
What I liked the most was the over-ear design. It covered my whole ear without creating any stress to my ear lobes.
Although I have medium-sized ears, there was enough space around my ears.
Hence, it seems to adopt any shape of ears, including big ears.
The ear shell of these headphones can tilt to 30 degrees, and the earcups can rotate to 3 degrees.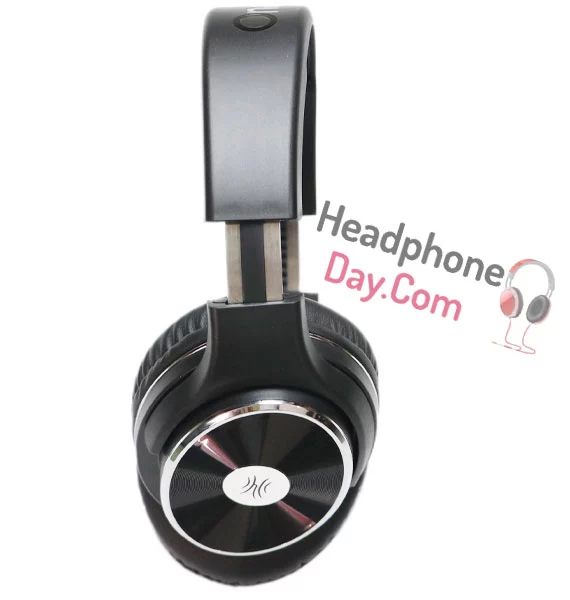 It's disappointing that the earcups can't rotate to 90 degrees.
I wish they could have done it because that type of function is necessary for one-ear monitoring.
Anyway, sometimes you need to wear headphones for long hours for a different purpose.
That's why they kept the weight as minimal as needed. And, I was able to spend a couple of hours wearing them without feeling any noticeable stress.
However, It starts to feel a little heavy after a while. Therefore, I won't suggest you wear the headset for long hours.
Wearing headphones for an extended period can cause hearing damages.
It has an adjustable headband that can stretch to different lengths.
Hence, you can adjust them as per your head shape.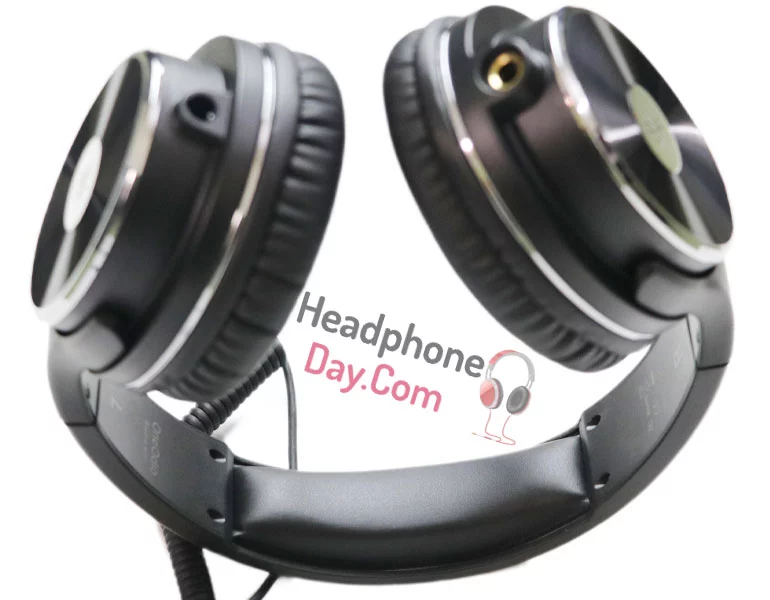 Now, I have a good news for all glass users!
This headphone will go perfectly with your spectacles.
As a glass user, I have never felt any discomfort wearing it with my specs.
Overall, I am pretty satisfied with the comfort.
I know that it has few downsides, yet they are considerable. As I believe, nothing in this world is picture-perfect anyway.
At least, OneOdio is providing you with a large driver and outstanding frequency response.
Well, it's high time to explore their sound profile. And I can assure you that they are going to amaze you.
Sound Quality
OneOdio Hi-Fi headphone is equipped with two 50mm drivers, 25 percent larger than the average headphone drivers.
So, they can produce a clear audio tune.
By the way, do you know what features audiophiles need the most?
It's the perfect reproduction of music with dynamics and controlled bass.
And that's the exact thing that these headphones provide.
Their highs are not too loud or piercing, and you will be able to hear nuances in music very clearly.
They have an impactful bass that doesn't overblow to cover up the other sounds.
That's why the vocals and instrumentals sound natural and give a life-like feeling.
On the other hand, the lows are deep and punchy, and the mid-frequency never gets bent out of the mix.
The trebles are bright enough to enhance your listening experience.
This OneOdio Studio Hi-Fi headset sounds great with every genre of music.
I listened to "Believer." by Imagine Dragons, and it sounds amazing with all the punch.
Besides dance music, you will also enjoy hip-hop songs and pop music with these headphones.
Oh, I forgot to tell you that it doesn't distort the high notes at high volume.
Listening to music with 60% volume for 1 hour is recommended as it's considered healthy hearing.
Hence, you can listen to music at any volume, and the level won't affect the quality.
It's overall performance is quite fantastic in low-end devices.
But, for a high-end device, it sounds a bit inferior, which is disappointing.
Sound Stage
The soundstage of these headphones is also impressive. It does a great job separating the vocals from instrumental sounds.
You will feel like the audio is coming from different sides instead of stuck in your head.
Nevertheless, all the above statements are true for low-powered devices.
When you connect them to a high-powered device without an amplifier, the audio will sound muffled and a bit unclear.
Also, the sound will lack punch, and you will feel like it's stuck inside your head.
So, while using them with a high-end system, make sure to use an amplifier to get the best output.
Does It Leak Sound?
Surprisingly, it doesn't leak any sound even if you listen to music at a high volume.
Once, I was listening to "She's gone by Steelheart," and my brother beside me didn't hear anything.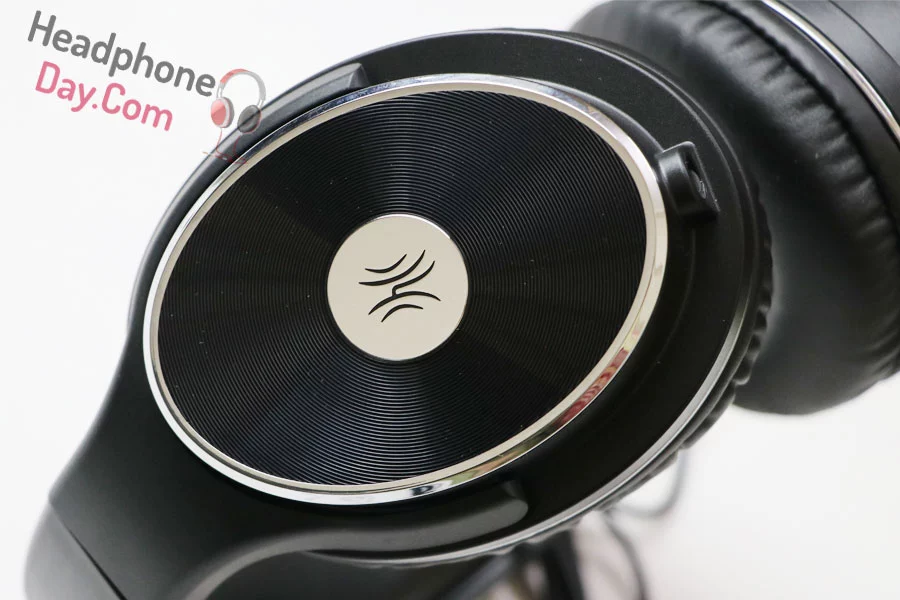 Honestly, I was looking for such headphones cause he always tries to hear what I listen to.
But, be informed that it will leak sound only when you take off the headphone.
I hope you will pause the music before taking the headset. Because if you don't, then the people around you will surely hear the music.
Noise Isolation
OneOdio studio headset doesn't come with an active noise canceling feature.
Their closed-back design can reduce a little bit of outside sound but can't cancel it completely.
On the contrary, if you hear songs with headphones on, you won't notice the outside noise that much.
In case you want an ANC headphone, you may check out OneOdio A30.
Be noted that A30 is not a studio headset.
Now, I will talk about their microphone performance.
How Is The Microphone?
You already know that this headset comes with two cables. The 3.5mm cable has an in-line mic for calls.
I called one of my friends to check the mic performance, and he said that my voice was coming crystal clear.
He didn't even hear the windy sound of my fan.
So you can trust the mic of these headphones for making calls from your cell phone.
Recording Quality of The Mic
While recording with their in-line mic, I have noticed that it picks up background noise a lot.
So, they are not suitable for recording purposes.
By the way, do you know how to control it?
It's okay if you don't as I am going to explain it in my following section.
Control System
Unfortunately, there are no control buttons on their earcups. Even in the cable, there are no volume control buttons.
You have to control the volume from your connected device.
There is a single button for audio (play/pause/skip track) control and calls (answer/end/reject).
Press the button once for playing or pausing the audio and answering calls.
Quickly press the button twice for skipping the track.
Press and hold the button for rejecting and ending the call.
One single press on the button after receiving calls will mute the call.
At first, you may forget the control, but you will get it after trying once or twice.
It's time to explore their build quality and design.
Build Quality & Design
The headband of this headset is made from plastic and has a metal strap inside.
You may assume that because of their plasticky construction, it will break soon.
Even though I never dropped the headphone accidentally, yet it feels like they can withstand a few droppings.
There are two regions on both sides of the band where it adjusts for a secure fit.
The earpads have an oval shape, measuring 10.5 cm high and 8.5 cm wide. And the speakers are covered with a thin layer of fabric with L and R marked on them.
Sometimes I don't want to search for the tiny left and right markings on the ear cups that some headsets have.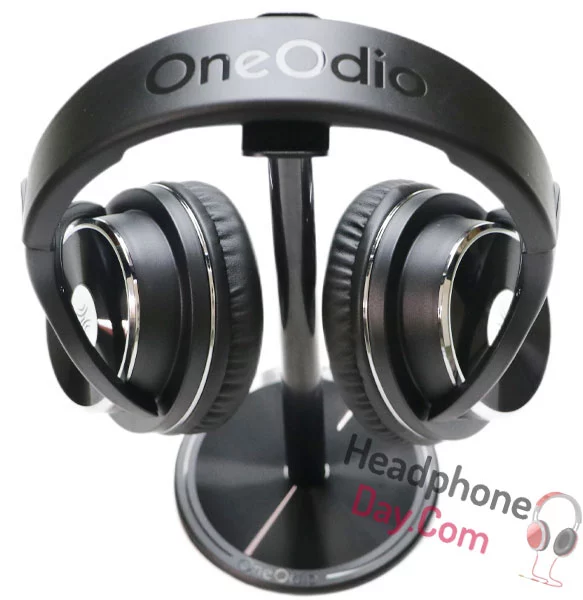 So, I found their large marking helpful.
Other than that, it has a typical look, like most wired headphones in this price range.
Although it comes in black and silver color, when the silver one will be sold out, the manufacturer won't restock them anymore.
On top of that, OneOdio offers two years of warranty on this product from the date of purchase.
For warranty service, first visit their website and provide your email address, order id and explain the problem during your usage.
Are They Portable?
Sadly, these headphones don't have a collapsible design. Therefore they are not appropriate for traveling.
However, they provide a carrying bag to put the headset inside.
Still, they are bulky enough to take a lot of space inside your travel bag.
Yet, if you need to carry them for an important purpose, always put them with your soft belongings to avoid friction damage.
Stability
These headphones won't slide off your head if you adjust them properly. They won't move much when you use them for a casual listening session.
But, if you wear them during a heavy workout, they may slip off.
Also, as it is a wired headphone, the dangling cable can create an issue during running and other sports activities.
Hence, I won't suggest you use them while exercising.
Is OneOdio Hi-Fi Waterproof?
No! These headphones are neither waterproof nor sweatproof.
As the earcups have a closed-back design, they are not breathable either.
Therefore, your ears may start sweating after a while. And if the sweat sits on the earpads for a long time, it may ruin the leather too.
It will be better if you quickly clean off the moisture against your shirt or cloth.
Furthermore, clean the ear pads regularly to avoid leather peeling.
Cable Details
They provide one 3.5mm audio jack cable and a 6.35mm to 3.5mm cable.
The 3.5mm jack has a bumpy line that goes straight inside the port.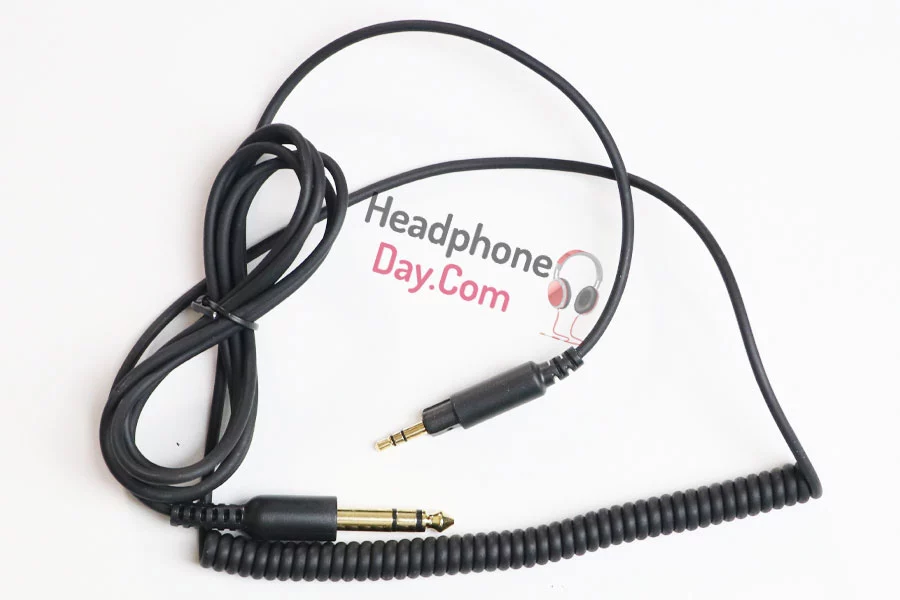 And while you connect the 6.35mm jack to the headphone, a little sound will be heard when it's locked inside.
After cable details, the real question is, are they compatible with different devices?
I will give you the answer in my later section.
Compatibility with Other Devices
The shorter cable connects to ordinary audio devices such as mobile phones.
And the DJ-style coiled cable is for connecting to professional musical instruments like Mixer, Turntable.
You can plug the 3.5mm side to the headphone and the other side to your guitar, drum, piano, electronic keyboards through an audio interface or soundbox.
This coiled cord can be stretched 9.8 ft to reach your home entertainment application from your couch easily.
Therefore, they are perfect for watching television.
If you want to share the same audio with your friend, their share port technology will give you this opportunity.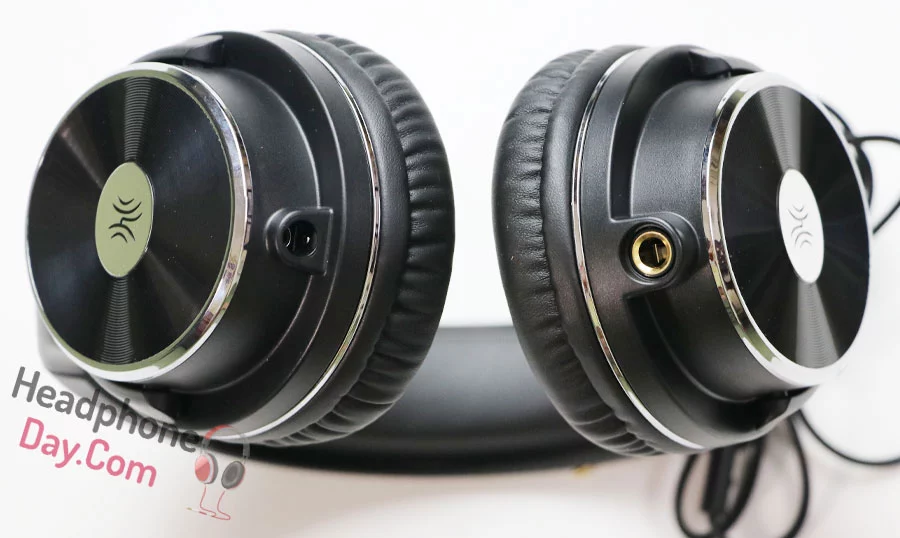 First, connect the 3.5mm to 3.5mm from your headset to the device. Then connect the 6.35mm to 3.5mm to your friends' headset.
Now that you know it's a wired headset, they are not compatible with any Bluetooth dedicated devices.
How Much Suitable for Gaming?
Because of the wired connection, these headphones will let you play without having any latency issues.
So, you can connect them to your Xbox One, PS4 controller, or other wired supported consoles.
As the shorter cable has an in-line mic, you can play multiplayer games too.
Since OneOdio hi-fi is a studio headphone, you have to be clear about their monitoring performance.
Let's go for it.
How Worthy It Is As A Studio Headphone?
Their largest-in-class 50mm transducers make them an ideal option for studio work.
It can produce high-definition sound with all musical dynamics, which will satisfy the audiophiles.
You will hear clear tones without any distortion.
In short, they are good enough for the price range.
Still, should you give it a try or not? Maybe you are confused.
It's okay as I am going to help you remove it now.
Who Should Buy This?
When you are searching for a budget-friendly headset for both casual listening and monitoring purposes, then OneOdio hi-fi will be a good choice for you.
Their cables are compatible with many devices, which is an extra advantage.
You can practice playing electric guitar, keyboard, and other musical instruments.
Although they won't provide service like some high-quality studio headsets, they are still good enough to begin with.
They have decent durability so that you can use them for an extended period.
You can also play games with it, and the sound quality won't disappoint you either.
Who Might Skip It?
If you need a portable headset to travel with, then you should skip it.
Their bulky design is not suitable for gym use too.
Also, the headphones' mic picks up background noises while recording, so they are not ideal for recording purposes.
On top of that, if you want a noise-canceling headset, avoid this one.
Is It Worth Buying?
I already described which purpose they are ideal for.
While starting your career in the production field, it's wiser to buy a low-priced headset like this one.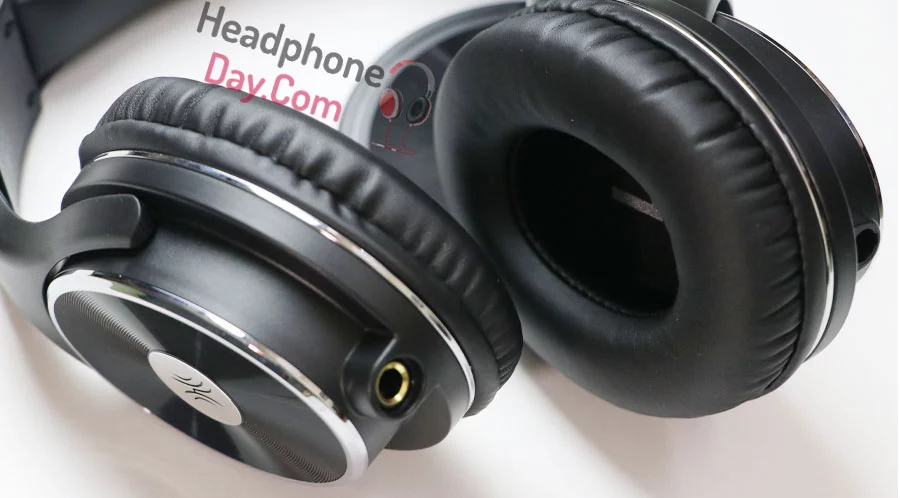 And for everyday listening, it is highly recommended.
From the time I am using this headset, I am enjoying my music to the fullest.
Few people might call it cheap, but I call it worth spending every penny.
However, if you are not pleased by their overall properties, I can suggest some alternative options.
Alternative to OneOdio Studio Hi-Fi
These three are excellent alternatives to Hi-Fi Studio.
All these headphones are budget-friendly and provide high-end performance for production work.
You can select one from them as per your demand.
Conclusion
Finally, we reached the end of the OneOdio Hi-Fi Pro review.
Here I have shared my personal experience with the headphone.
As preference varies from person to person, your experience can differ from mine.
Still, I hope this article is gonna help you to make the right decision.