Not long ago, you bought yourself a nice pair of headphones. After a certain period, your earpads leather starts to crack.
Isn't it frustrating?
As a music lover, I use headphones all the time. Once I bought a pair of headphones, but after a few weeks, the leather of the pads started to peel off.
It was annoying and uncomfortable for me to wear them.
So, I need to know how to keep headphone pads from cracking.
After doing some research, I have come through with some reasons and solutions to this problem. I followed the solutions and got benefitted.
If your headphones are already cracked then check out these inexpensive covers as a solution: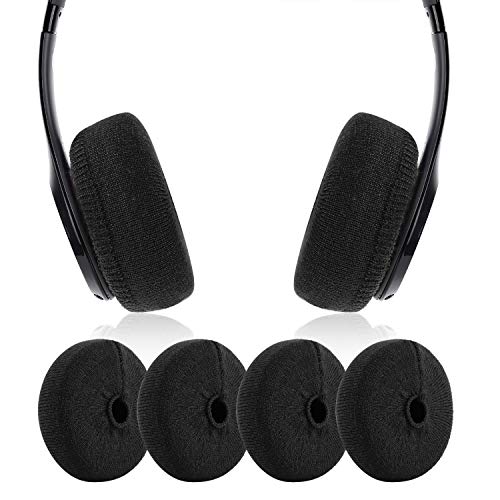 If you are experiencing the same problem like me then dive into the next section to know how to prevent your headphone earpads from cracking.
I am going to reveal all the possible solutions for you.
How To Stop Headphone Pads From Cracking & Peeling?
Now, I am going to share some tips and tricks with you one by one.
1. Clean Your Headphone Pads Regularly
Excess sweat and moisture are prone to headphones pad peeling.
So, it will be best if you wipe your ear pads after using them every time. You can simply brush them against your shirt.
Sometimes it's also necessary to wash the ear pads.
Right now, maybe you are thinking, can I wash my headphone pads?
Yes, you can.
Once a week, wipe them with a damp cloth (soft washcloth). You better not use soap or detergent water cause it can be rough to the leather.
You may also find some headphone cleaners that can help you to clean them easily.
2. Keep Headphones Away From Extreme Heat
The leather of earpads is soft. Keep in mind that extreme environments damage faux leather.
So, you need to take care of your headphone leather from the beginning.
Don't leave them in extreme temperatures like under the sunlight, heat, or humidity.
Besides, it's great to keep your headphones inside a box or drawer after using them.
3. Condition Once a Year for soft leather
Usually, headphone pads leather starts to get harder after a certain period. And, hard leather cracks sooner than softer ones.
Maybe you are thinking, how do I soften headphone pads?
The answer is, you can use a leather conditioning solution. It will keep the leather soft and protect headphone pads from peeling and cracking.
But, Conditioning them over and over can be as terrible as not conditioning at all. Your earpads can get rotted if you use the conditioner too often.
So, try not to overdo it.
I will suggest conditioning once or twice a year for a better outcome.
Wait, there are more solutions ahead.
Let's move to the next section to find out.
4. Avoid Wearing Them for Longtime
Wearing headphones for a long time helps sweat and dirt get absorbed into the earpads. Even if you clean them right after use, the sweat gets absorbed because of the long period.
At some point, the leather will start to peel off from the surface. It will also smell disgusting, and nobody feels pleasant wearing stinky headphones.
The NHS recommends wearing headphones for an hour at a time to avoid any health issues.
It also keeps your headphone earpads crack free.
5. Replace Your Headphone Earpads Periodically
Maybe you heard a quote that says, Nothing lasts forever, and It's just a matter of time.
Eventually, your ear pads will begin to wear out at some point, depending on the quality of the leather.
Cheap leather will wear out soon.
On the other hand, expensive leather will last longer but not forever. At some point, you will need to replace them.
6. Add Moisture Proof Cover on Headphone Pads
You can put a moisture-proof cover on your headphone cushion.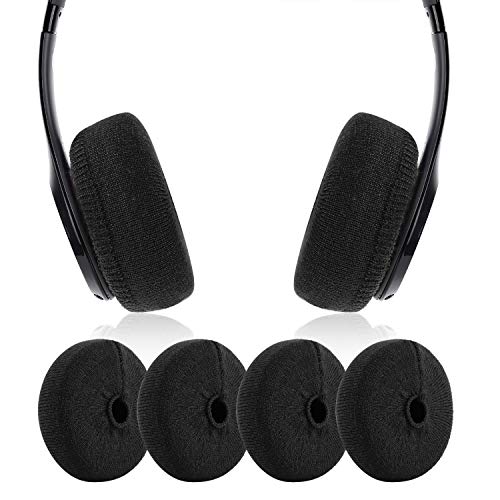 If you jog or exercise with your headphones on, it will protect the fabric of the earpads from sweat. Your earpads will remain clean and dirt-free too.
As a result, the leather will not crack or peel off.
The next point is kind of silly. But, trust me you may be doing it often without knowing that it is one of the reasons for your cracked earpads.
7. Stop Throwing Them Like A Frisbee
One day, I saw my younger brother throwing his headphones like he was playing frisbee. And you know what, right after doing it, one of his ear pads peeled in one spot.
Many people have this habit of throwing things here and there.
You cannot expect your headphones not to get damaged after tossing them. Yeah, you can be lucky sometimes, but bad things can happen at any time, and you will be doomed.
So, be cautious while handling your headphones. It is not a big deal to place them carefully.
Till now, you knew how to prevent it.
Do you wonder why headphone pads even crack?
Don't worry! The next section will help you to know the reasons behind it.
If you know the reasons, then you can be careful enough to prevent it in the first place.
Why Do Headphone Pads Crack?
Most of the time, we know the problem but don't know the reasons behind it.
Anyway, here are the reasons that may be surprising to you as I was surprised too.
1. Made Out of Cheap Leather
We know that leather doesn't last forever.
However, if your headphone pads are made out of cheap leather, then they will start cracking easily.
Sometimes quality leathers also keep peeling but last longer than the cheap ones.
2. Moisture Damage
Moisture damage is one of the common reasons for the peeling of your headphones pad. After using headphones for some time, we start sweating.
The sweat goes into the ear pads that can cause a crack.
And, of course, it starts to smell disgusting and looks hideous.
3. Leaving Them in Extreme Temperature
Sometimes we put our headphones under the sun. Hot weather does bring damage to the leather of headphones and makes them crack easily.
Extreme climates affect the pads as both the hot and cold will damage the ear pads.
This is one of the reasons behind your flaking headphone pads and you didn't even know it.
4. Over Movements of Ear Cups
We always need to wear headphones that fit on our heads perfectly. But if the headphone is inappropriate in size, then we keep adjusting them to feel comfy.
Therefore, over movements of ear cups scratches the leather material and creates some weak spots that cause cracking.
Isn't it surprising to know!
I never could imagine that moving my earpads over and over can be harmful. I used to do it a lot while listening to music.
But now I stopped doing it.
5. Improper Maintenance
Well, you wanted to know how you can care for your headphone cushion. Right?
But what if you throw them here and there often.
Will you expect it not to get damaged?
The answer is no.
And that's why you need to take care of your beloved gadget, and hopefully, it will last longer without cracking.
6. Using Tight Headphones
When you use tight headphones, it puts pressure on the structure of cushion foam. Sooner or later, the ear pads material starts to break.
The pressure also flattens the pad, and you can no longer have a fluffy and crack-free earpad.
7. Not Cleaning Properly
One of the general mistakes you may make is not cleaning your cushions correctly.
After conditioning, we often don't wipe the earpads, and eventually, the moisture penetrates inside.
Therefore, the headphone pads start to peel and crack.
You know what, a lot of people think that money is the ultimate solution to any problem.
Even some of my friends also think so.
They suggested me to buy an expensive headphone after knowing that my ear pads are cracking.
Are you thinking the same?
Do Expensive Headphone Pads Not Crack?
Have a look at the next section to find out the answer.
Even Expensive Headphone Pads Crack Too!
Beats headphones are pretty expensive. But they have a bad reputation both in sound and build quality.
Many people whine that their Beats headphone cushions are peeling within 12 months.
But there is one problem with the Beats that they use synthetic leather rather than genuine leather.
Some other brands like Sony and Bose also face the same issues.
Now, you are wondering about what happens with genuine leather earpads.
One of my friends bought Sennheiser headphones last year around December.
However, around June this year, the earpads start to crack and ultimately peel. It was heartbreaking for him because it was expensive.
It will be best if you replace your earpads or fix your headphone pads in such situations.
Wait! Did you read the previous line? What did I say there?
Yes, right. You can fix your ear pads too.
Don't worry, I am not leaving without sharing some tips on how to fix your cracked earpads.
So, let's jump into the following section.
DIY: CRACKED HEADPHONE EARPADS FIXING
If your ear pads get cracked and you refuse to buy a new pair, you can fix it at home. 
Follow the below methods to repair your headphone pads.
1. Peel Off The Leather Coat
If the leather coating starts to peel, but the foam is still in good condition, remove the layer. You can still feel comfortable as the headphone sponge is soft.
I think this is the easiest way to get rid of the crack.
I, myself, did this too when my ear pads were peeling.
2. Stitch A Piece Of Fabric Over The Headphone Pads
First, find a suitable fabric. Then place it over headphone pads. Now, Start to stitch the fabric over the ear pads with a needle and thread.
If you find this difficult to do, then you can try the next trick.
3. Using A Piece Of Sock
You can take a sock and cut off the toe end. Then wrap it around headphone pads and roll the other side over the cushion. It will give the cushion extra padding.
All of the above solutions are temporary.
Yet, replacing the earpads is the best solution.
4. Replace The Earpads
Several headphones come with an extra pair of cushions. You can replace it with a fresh one.
But, if your headphones have no extra cushion, then you can buy a new pair.
You will find headphone sponges in various nearby tech or online shops.
Conclusion
In this article, I did everything to explain how to keep headphone pads from cracking.
Here you learned why earpads crack and how to stop them from peeling. I also mentioned the ways of fixing cracked ear pads.
I hope this write-up will help you make your headphone pads last longer than before.
Thanks for being with me till now.