In this new era, gaming has become not only a passion but a full-time profession too.
That's the reason that there are so many gaming headphones in the tech market.
Turtle Beach 600 and 700 are two such renowned headphones that have gained popularity because of their outstanding features and capabilities.
But, between them, who is the most worthy of being considered?
If you are in search of the answer to the above question, then congratulations!!
You are at the right place.
In todays' Turtle Beach Stealth 600 vs. 700 comparisons, I will provide every ins and outs of these two headphones.
And, in the end, you will find who is the best among them.
Turtle Beach Stealth 600 vs. 700: Head-to-Head Battle
In this comparative article, I will present every aspect of these two headphones so that you can make your decision without any hesitation.
But, first I wanna show you a side by side difference between them through the below table.
| Features | Turtle Beach Stealth 600 | Turtle Beach Stealth 700 |
| --- | --- | --- |
| | | |
| | | |
| | Black/Blue, White/Blue, White/Green, Black/Green. | |
| Transmitter Frequency Response | | |
| | | |
| | | 3.5mm audio jack (cable not included in package). |
| | | |
| | | |
| | | 9.57 x 4.53 x 8.21 inches. |
| | | |
| Speaker Frequency Response | | |
| | | |
| | | |
As you got a quick concept about these two headsets, I will discuss their dissimilarities in-depth now.
The first round of this Stealth 600 vs. 700 battle is based on their build and design property.
Build Quality & Design
Turtle Beach 600 has a closed-back design and a simple gamer-centric style.
It is built with mostly plastic and has a matte finish.
The earcups have two colors of stripes according to their compatibility.
One is blue with the Turtle Beach logo for PS4 compatible devices, and the green color is Xbox One compatible.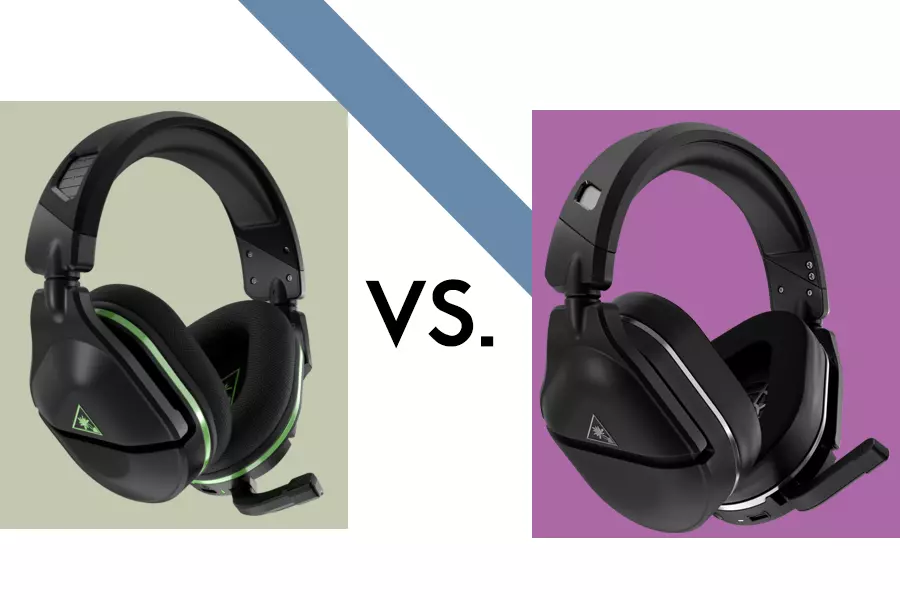 Unfortunately, the plasticky build of these headsets doesn't feel durable.
However, the earcups seem solid enough to withstand a few casual drops without suffering much damage.
Moreover, the frame and hinges have a mediocre build, and adjusting the fit of these headphones makes them creak.
On the other hand, Turtle Beach 700 has a similar look and size to the 600.
Though it has a slightly different headband design, yet all the other aspects are equivalent to 600.
So, both of them are even in this round.
Well, can we be able to find a winner in the next segment?
Let's find out.
Comfort & Fit
The ear cushions of Stealth 600 are wrapped with breathable mesh fabric so that your ears won't heat up even after prolonged hours of use.
Also, they are lightweight and don't feel heavy to wear.
Even the headband padding is well enough and doesn't put pressure on top of the head.
But can you guess which feature of this headset makes me happy the most?
Well, it's their glass-friendly comfort!!
As I am a spectacle user, I know how hard it is to find such headphones.
Hence, the Beach 600's ProSpecs glass-friendly design can remove stress on your glasses.
In contrast, the Stealth 700 has faux leather-wrapped ear cups that feel comfy and good on the skin.
Additionally, the ear cushions are more spacious than the 600.
Yet, there is a downside to them!!
Even though the headband has fair padding, they have a tight fit that some people may find uncomfortable, especially big-headed persons.
As comfort shouldn't be compromised at any cost, I am announcing Turtle Beach 600 to be the champion of this round.
Besides comfort, excellent sound quality is a must-have feature in gaming headphones.
Let's see which one can steal the show this time.
Turtle Beach 700 vs. 600: Audio Performance
Stealth 700 has a bass-heavy sound profile which is superb for listening to thumpy genres like EDM, hip-hop and rap songs.
It even performs great in terms of gaming.
Such as, when you play action games, the explosions and other in-game sounds will be detailed and fantastic.
What's more, is that they are equipped with surround sound technology that can create a highly immersive 7.1 channel soundstage.
Therefore, you will hear the audio coming from a different direction, and the sound won't be stuck inside your head.
Impressive!! Right?
These headphones are indeed one of the perfect companions to play action-based games on PS4.
However, their treble sounds dull that affects the brightness of cinematic scenes.
Also, the mid-accuracy is not good enough. And that's why the overall audio is not as clear as expected from a gaming headset.
On the contrary, Turtle Beach 600 has a well-balanced audio profile.
They provide neutral sound with extra intensity in instruments and vocals, which helps you hear the dialogue of the in-game characters more pronounced.
Although these two headphones have windows sonic surround sound technology, I think the 700's have more immersive and profound audio than the 600.
It seems like 700 is winning right now. But is it??
As 700 lacks clarity, 600 has changed the whole game by providing fabulous mid-range and treble accuracy.
The vocals and other sounds are much more transparent and bright too. They can bring your music, movies, and games to life.
While playing Hitman 3, you will hear the dialogues for cues clearly and will be able to play more efficiently.
In addition, playing Xbox One, PS4, and other console games will be more captivating with the 600 than the 700 headsets.
So, with a huge round of applause, the crown goes to Turtle Beach Stealth 600.
By now, you may be curious to know whether they can isolate noise or not.
Okay, I am going to answer it without any further delay.
Which One Has Better Noise Cancelation?
Unfortunately, Turtle Beach 600 doesn't come with an ANC (active noise canceling) feature, and that's why they can't separate noise very well.
Even though they have a closed-back design, their breathable mesh fabric ear cushions let in a lot of background sound.
Now come to Turtle Beach 700.
These headsets have ANC traits which is a plus point. They can slightly cut down noises of bus, car and airplane engines.
But they can't block out mid-range clamor like chatter.
I know you wish to have a noise-canceling headset that can give relief from the chatter of your annoying sibling.
Still, sometimes it's good to have such headphones so that you can hear what they are doing behind your back.
Anyway, you already know who achieved the high score here.
Yes, it's none other than Turtle Beach Stealth 700.
As both are dedicated gaming headphones, you need to know if their mic can transmit vocals clearly or not.
And that's what I am going to talk about now.
Microphone Features
Both Stealth 700 and 600 have a boom microphone attached to the headphone's left ear cups.
The mic has a flip-up to mute function, so you don't need to press any buttons to mute them.
When you speak to your teammates, they will hear your voice loud and clear.
One notable thing is, none of their mics are noise-canceling, so you should avoid noisy surroundings while playing online games.
When it comes to calling clarity, they both are mediocre in isolating voice from loud ambient sound.
Nevertheless, the person on the other end will hear you clearly if you are in a quiet place.
This time I will compare their control scheme. Check it out below.
Control System: Stealth 700 vs. 600
The Turtle Beach 700's controls are suitable for both mobile use and gaming.
There are three buttons on their left earcup.
One is for power on/off, and then there is a Superhuman Hearing Mode that emphasizes audio cues like enemy footsteps, and the last is a Bluetooth control button.
The power button also works as a noise-canceling on/off switch, and the Bluetooth button has music/call control.
You will also find two sliders: one is for volume, and the other is for channel mixing.
On the other side, Turtle Beach 600 has sub-par controls. You will have channel mixing dials for adjusting in-game and chat volume levels.
Like the 700, it also has power and a "Mode" button for EQ presets.
Apart from that, they both support the Turtle Beach Audio Hub App.
Although they support this app, there is a variance in controls.
With the 600 Xbox One version, you can reduce the volume level of voice prompts and monitor the mic level.
Otherwise, there is no sound control or customization options.
Meanwhile, with this app, you can choose your preferred sound in Stealth 700. It provides different EQ presets such as mic control, chats boost, and noise gate.
There is also a surround sound mode and other audio presets that you can customize as your preferences.
Personally, I like to use the bass + treble boost mode while playing games like COD (Call of Duty) because it makes me feel excited and thrilled.
And while watching movies, I prefer the surround sound mode so that I can precisely hear all the directions of sounds.
Anyway, as you can see that there are more controls when using the Turtle Beach 700 headphones app; my vote goes to it.
How will you feel when your purchased headphones can't be connected with multiple gaming devices?
Frustrated!! Right?
Then between Turtle Beach 600 vs. 700, who has more compatibility with devices?
Find the answer from the next section.
Connectivity Options
You can connect the Turtle Beach 600 to your Xbox One or Xbox series X consoles with the wireless USB dongle.
They are also compatible with PCs, but you need a wireless adapter for windows.
Note that there is no wireless adapter included in the package of the Stealth 600 headphone.
On the upside, the Turtle Beach 700 provides Bluetooth and wired connectivity along with a wireless dongle.
Wow! They just hit three birds with one stone!!
On top of that, you can connect the headset to your PS4 or PS5 console and a Bluetooth device simultaneously.
And there is a 3.5mm jack input in the earcup, which is for wired connection.
Hence, they are compatible with a wider range of devices than the 600.
Are They Suitable for Outdoor Use?
For outdoor activities, both of them are not very decent.
They have a bulky design and large ear cups that can't be folded into a compact format.
Hence, carrying them will be a hassle.
Furthermore, they don't come with a carrying pouch, so putting them inside your backpack can cause physical damage to them.
I want to mention that these two headsets have average stability, which is appropriate for gaming but not for running or exercising.
As you already know, both of them are wireless headphones, so battery life plays a major role.
Here, I am gonna compare this factor in the following part.
Stealth 600 vs. 700 Battery Feature
The Turtle Beach 600 has outstanding battery life.
They take approximately 2 hours to charge fully and last for around 16 hours of continuous playback, enough for most gaming sessions.
Even when you don't use them, they automatically turn off to save power.
But when it comes to Beach 700, they only provide about 11 hours of battery life.
Besides, they take nearly 3 hours to charge, which is longer than the Beach 600.
Thus, Turtle Beach 600 secured the trophy because of its excellent battery longevity.
Okay, I have finished discussing all the core factors to judge between Turtle Beach 600 vs. 700.
Now, It's time to declare my final verdict.
Which One Is More Worth Buying?
Although Turtle 600 has won in a few rounds, Turtle 700 grasped the most awards because of its diversity and functionality.
As a result, the final champion of this neck-to-neck battle is the Turtle Beach Stealth 700.
Yet, both of them are some of the best wireless gaming headsets for PS4 and Xbox One.
On the plus side, they are affordable in price with some super characteristics.
So, if you disagree with my opinion, you can choose the 600, and I will always respect your decision.
However, what if you are not satisfied with either of their performances?
Well, in that case, I have a solution for you.
Go through the next point to explore it.
Alternative Options
Here, I will refer to two alternative headphones of Turtle Beach Stealth 700 and 600.
ASTRO A20 Gen 2 is one of the top-rated budget headphones. They are built with flexible, lightweight materials and clothed ear cushions to minimize headset fatigue.
Moreover, they offer on-device audio balancing between game audio and voice chat on Xbox or PC.
And if you want directional sound, then HyperX Cloud II Wireless will be the best alternative for you.
They have an amazing sound quality along with low-latency wireless connection.
What's more surprising is that if you play around 3 to 4 hours a day, their battery will remain for more than a week!!
I guess you have no more questions left in mind that I didn't answer.
So, I am ending this topic here.
Conclusion
I believe this Turtle Beach Stealth 600 vs. 700 writing will help you find your desired pair of headphones.
Be confident and stick to the one that impressed you the most.
"Have A Good Day."