Nowadays, when you take a trip to the local malls, I think you cannot go without seeing at least twenty pairs of AirPods whispering into the ears of people.
So, AirPods are everywhere, and they have kind of taken over the world.
Obviously, there are a lot of reasons behind this, but still, they are not without problems.
And very smartly and conveniently, Apple introduced Powerbeats Pro fixing those existing issues.
Now the most burning question is which one is better?
Should you go for Beats Powerbeats Pro or stick to the standby Airpods?
Maybe you are confused between these two, and that's why you are here.
Don't worry. You are exactly at the right place.
Just go through the following write-up on AirPods vs Powerbeats Pro, and all your confusion will vanish in the air.
Airpods Vs Beats Powerbeats Pro: Make Your Right Choice
Before going into the in-depth discussion, I would like to give you a basic idea about these two earbuds.
I am presenting the comparison of their important specs in the table below so that you can understand the differences side by side.
Features
AirPods
Powerbeats Pro

AirPods: Wireless, Apple H1 chip

.

Powerbeats Pro: Wireless, Apple H1 chip

.

Powerbeats Pro: Up to 9 hours

.

AirPods: 15 minutes = 3 hrs

.

Powerbeats Pro: 5 minutes = 1.5 hrs

.

Battery Life with Charging Case

Powerbeats Pro: 24 hours

.

Sweat and Water Resistance

Powerbetas Pro: Yes (IPX4)

.

Powerbeats Pro: 0.64 ounces

.

AirPods: 3.98 x 3.98 x 1.34 inches

.

Powerbeats Pro: 10 x 7.87 x 11.02 inches

.

Powerbeats Pro: Black, Cloud Pink, Glacier Blue, Ivory, Lava Red, Navy, Spring Yellow

.
Now that you got an idea about their basic differences let's go for the details.
Then I am starting with design and build quality.
Design and Build: AirPods Vs Beats Pro
At first glance, you won't really think that these two pairs of totally wireless earbuds have come from the same Apple family.
They could not be more distinct when it comes to talking about design.
Apple's AirPods are featured with their familiar protruding antenna, an unmalleable acoustic chamber that sits just inside your ear canal to let the ambient sound in.
In contrast, the Powerbeats Pro borrows from other sport-friendly Powerbeats models, offering a design that is more suitable for the gym.
The most notable difference is the ear hook, which is absent in AirPods.
The AirPods are light and small and sit gently in your ears, while the Powerbeats are more intrusive as they sit deeper into your ear canals.
Another plus point of Powerbeats Pro is it has multiple color variations, as you have seen earlier on the table.
So, you can pick your favorite color among them.
With AirPods, you are not getting this freedom. It has only one color, which is white.
Besides these basic differences, there is another major dissimilarity between their construction.
Powerbeats Pro comes with an IPX4 rating which is absent in AirPods.
Hence, you do not even have to worry about the sweaty workout sessions or rainy commutes with Powerbeats Pro.
Now have a look at the differences between their portable wireless charging case.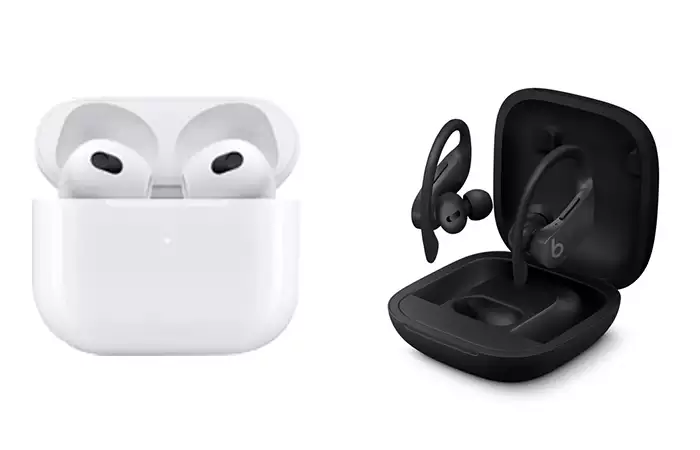 In front of the dental floss-sized AirPods case, the 3 by 3-inch case of Powerbeats Pro looks massive.
It feels ten times heavier than that of AirPods. You cannot hide it in your pant pockets either.
You cannot carry on with what you are doing when you are in continuous discomfort. And that's why you need to check out the comfort and fit of the earbuds that you are going to buy.
Comfort and Fit: Beats Vs Airpods
I have said earlier that AirPods don't go much deeper into your ears like Powerbeats Pro.
So, considering this, you can say Airpods are more comfortable.
However, The ear tips may not fit well in your ears as they don't come with any extra tips, only the default one.
So, when the fit is poor, I think you can guess what will happen!
Yes, they don't always stay in place and maybe fall out easily from your ears.
In contrast, the plastic ear hooks of Powerbeats clip around the ears to provide a more secure fit than the AirPods.
Though the Powerbeats feel a little bit heavier in the ear, you will get the perfect fit as four different sizes of ear tips are provided with them.
So, no matter how much you move, they will stay put in your ears.
And what do you think they put this much concentration on its stability?
Yes, Powerbeats Pro are earbuds that you can use at the time of working out because of their high stability, proper fit, and sweatproof construction.
Considering all these facts, I will keep Powerbeats Pro a little bit ahead of AirPods.
What is the use of a gadget if its sound quality is bad? Know the differences between their sound quality before sticking to one.
Powerbeats Pro or Airpods: Who Has Better Sound Quality?
When designing the new Powerbeats Pro, Apple gave the utmost priority to its sound quality. As a result, they really sound better and clearer than the AirPods.
I listened to R&B, rock, and electronic music with both Airpods and Powerbeats Pro.
The Powerbeats Pro offered punchier and stronger bass while not messing up with the voice focus and clarity.
Its default sound profile helps emphasize vocals and gives more precise bass than the AirPods.
But unfortunately, there is no equalizer app like the AirPods to tune the Powerbeats Pro to your liking, but you can adjust using the EQ in your installed music app.
Another extra benefit you can get from Powerbeats is good noise isolation due to its closed design and perfect fit. So, you don't have to rely on cranking up the volume when walking through busy streets.
However, because of the lack of a tight seal, Airpods cannot isolate any noise. You can take it positively, thinking it allows you to stay alert to what is happening around you. Still, I would choose the Powerbeats Pro every time.
I think it is very clear who is the winner of this important segment. Right?
Microphone or Call Quality: Beats Wireless Earbuds Vs Airpods
Both AirPods and Powerbeats Pro offer good quality calling experience. They have great-sounding microphones that can do a good job at filtering out ambient noise.
However, the Powerbeats may sound a bit clearer to you. On the other hand, you will get slightly better voice isolation in AirPods.
Though you have already seen a comparison between their battery life on the table, go to the below section for the details information.
Battery Life: Apple AirPods Vs Powerbeats Pro
While Powerbeats Pro remains a bit backward due to its bulkier charging case, they take back all those chips when it comes to battery life.
Powerbeats Pro offers 9 hours of battery life when the AirPods will support you only for 5 hours after a complete charge.
So, you are getting 4 hours longer battery support from Powerbeats than the AirPods. This also means you are less likely to need that bulky case when you take them on the road.
Powerbeats Pro is the winner in terms of the fast charging feature also.
AirPods will provide only 3 hours from 15 minutes of charge, where you will get 4.5 hours of battery support from the same amount of charge in the case of Powerbeats Pro.
Connection Quality: AirPods Vs Beats
AirPods and Powerbeats Pro have the same H1 chip under the hood, which enables Bluetooth 5 support and hands-free Siri.
Both two earbuds will pair automatically with an iPhone or Apple device as soon as you open the case.
You can also pair them with Android devices manually through the Bluetooth settings and by pressing the button on their respective cases.
The new H1 chip helps maintain a stable connection between the earbuds.
On iOS devices, you will rarely experience any dropouts or stutters while using the AirPods or Powerbeats Pro.
But on Android, we experienced occasional stutters, but not the connection dropouts. In case of stutters, both of them can resolve it before I need to reach for my phone to enter settings.
And if I talk about the Bluetooth range, there is no difference between the two.
Well, the experiment varied a little each time with both of them. However, it is not a big issue as sometimes AirPods performed better in this case while sometimes the opposite happened.
So, to me, it's a tie.
Another thing I want to let you know is that both earbuds transmit audio via AAC codec, and you won't experience any latency issues with them on iOS devices.
But unfortunately, you will likely experience some latency on Android.
Control System: Airpods Vs Beats
Airpods and Powerbeats Pro are pretty different when it comes to control systems.
The music will pause if you take one earbud out of the ear. This is the only similarity between them.
However, apart from this, the AirPods have gesture controls while the Powerbeats have physical buttons.
You have to double-tap on the side of the buds in the case of AirPods. By customizing the controls in the Bluetooth settings, you can play and pause songs, skip tracks forward and back or summon Siri.
In contrast, Powerbetas have a multifunction button for playback control on each earbud, as well as a volume rocker.
Though you cannot customize what the button presses do with Powerbeats Pro, here, you don't have to reach your device to adjust your music like AirPods.
I cannot deny it is among the handiest onboard controls a pair of wireless earbuds can offer.
Keeping all these aside, both pairs offer basic voice controls via Siri as well, but Siri only works for iOS devices, not for Android.
So, what do you think now? Shouldn't we keep the Powerbeats Pro in the top position?
My vote will definitely go to Powerbeats Pro.
Well, by this time I explained all the possible comparisons between AirPods and Powerbeats.
Now it's time to announce the winner.
Who Is The Winner?
I think you already understood who is going to wear the winning crown.
In case you are still unsure, I am saying that I wholeheartedly recommend Powerbeats Pro over AirPods.
Powerbeats Pro offers a better experience in almost every category.
You have seen that it achieved top position in every section except for two. And the Powerbeats Pro didn't even lose in those two segments. Instead, the scores were tied.
So, altogether, it is a convenient win.
If you are not convinced with the functioning of any of these two earbuds after reading the whole article, you can check out the following section for an alternative.
Alternative Options
Here are the two alternatives to both AirPods and Powerbeats Pro:
With a clear and detailed bass response, class-leading battery life, a wonderful sense of musicality, and comfort, the Sony WF-1000XM4 wireless earbuds can be your best companion. You can use these expensive earbuds both for your Android and iPhone.
On the other hand, JLab JBuds Air Sport True Wireless Bluetooth Earbuds are featured with outstanding battery life, IP66 rating, and an ergonomic ear hook fit to be the best workout partner on the go.
The most convenient thing about these JLab earbuds is that they are quite budget-friendly while offering top-class performance.
I think you have no queries left to know.
Then, let's wrap it up.
Conclusion
Hopefully, this write-up on AirPods vs Powerbeats Pro will help you understand every little difference between them and let you reach a good decision.
Have a good time.
Thanks for reading this article.